I had an amazing week in Mexico tasting as much as I could – and these two guacamole recipes are essential eating!
It rates as one of the best countries I've ever visited, and I can't understand why more of us from downunder don't go there.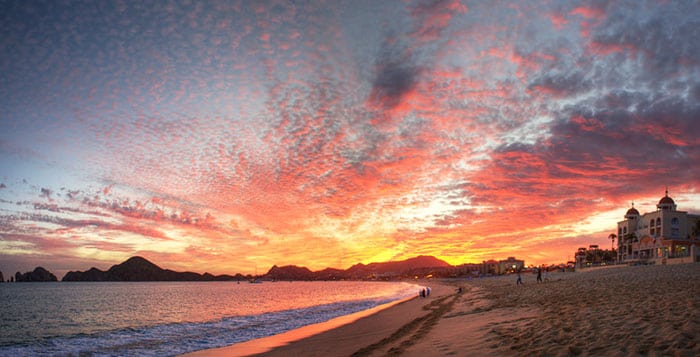 I started at the bottom of the Baja Peninsula in Cabo for a few days to explore the marina town of Cabo San Lucas and also about half an hour's drive to San Jose del Cabo which is more historic and known for its art galleries, cathedral and of course the great Mexican food and tequila tasting scene.
Then we flew to Cancun, with a change of planes in Mexico City. It's quite some distance actually. Takes about four and half hours to fly direct.
It was here I stayed at two fabulous places and asked for this very simple guacamole recipe from the Fairmont Mayakoba at Playa del Carmen.
Here is a recipe for guacamole – and another one below that Octavio, my taxi driver makes at home (yes I quizzed everyone!)
Playa del Carmen guacamole recipe
Ingredients
3 avocados, chopped or mashed
1 lime
½ tsp sea salt
½ tsp ground cumin
1 serrano chilli, seeds removed and minced (a medium/hot chili, if you need to substitute)
½ red onion, diced
1 ripe tomato, seeded and diced
1 Tbs chopped coriander (cilantro)
1 clove garlic, minced
Method
In a bowl toss avocado and lime juice to coat. Drain and reserve remaining juice. With a fork, mash in salt and cumin. Fold in chilli, onion, tomato, coriander and garlic. Stir in 1 Tbs of the reserved lime juice.
Or try this simple recipe that Octavio, who drove me to the airport, makes.
Octavio's Mexican guacamole recipe
Ingredients
3 avocados, chopped or mashed
1 lemon
½ tsp sea salt
1 medium or hot chilli, seeded and finely diced
1 tomato, seeded and diced
½ red onion finely diced
a little oil
1 Tbs chopped cilantro
And Octavio's big tip is to leave the avocado stone in the mixture to stop it turning brown until you serve it. He assures me it works!
If you're planning a visit to Mexico, you might like my post on 3 things you need to do in and around Cancun featuring incredible Mayan sites and an amazing water park set in a wild environment – you'll want a whole day here!
If you want to add a delicious raw fish salad (also known as kokoda in Fiji, poisson cru in Tahiti) see my kokoda recipe. So easy to make at home too!