Is New Zealand on your bucket list? I'm a Kiwi (not the fruit!) and live in Auckland. I was raised in Hawkes Bay and came to Auckland via a year in the United States and five years in London.
As I update this post, travel is just starting again and New Zealand is cautiously opening its borders to tourists once more.
So if you're planning a visit to Aotearoa (Maori word for Land of the Long White Cloud), this post will help you decide which regions to see and which ones you may not want to bother with.
In the meantime, here are some cool webcams, video tours at zoos and in other great places around Aotearoa. Have a look at my post Fun armchair travel in NZ >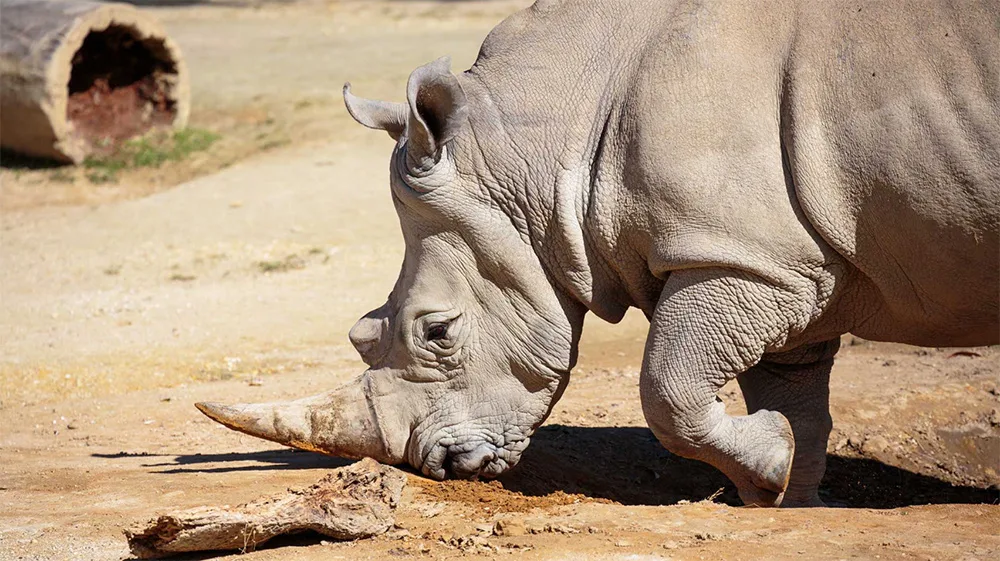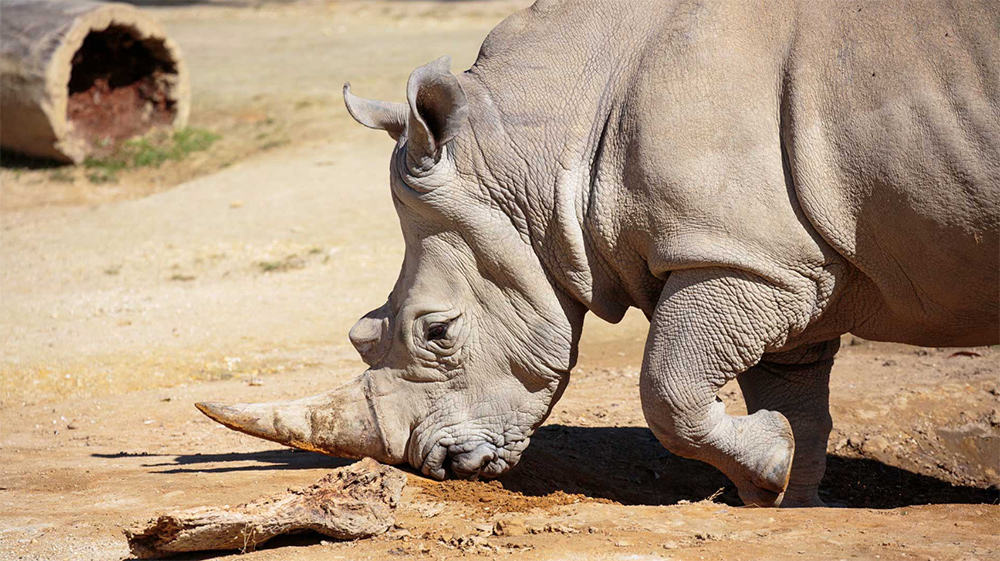 New Zealand may be small (about the size of Great Britain or California), but visitors often make the mistake of planning to see it all in a week!
Maybe they have a New Zealand road trip on their Bucket List, they've heard all the amazing things our country has to offer, and they think ten days is enough to see the whole country. Some even plan to add New Zealand on to their Australian trip.
DON'T DO THAT!
But however much time you have, from a week to a month (or more!) this guide will help you decide where to visit and where to leave out.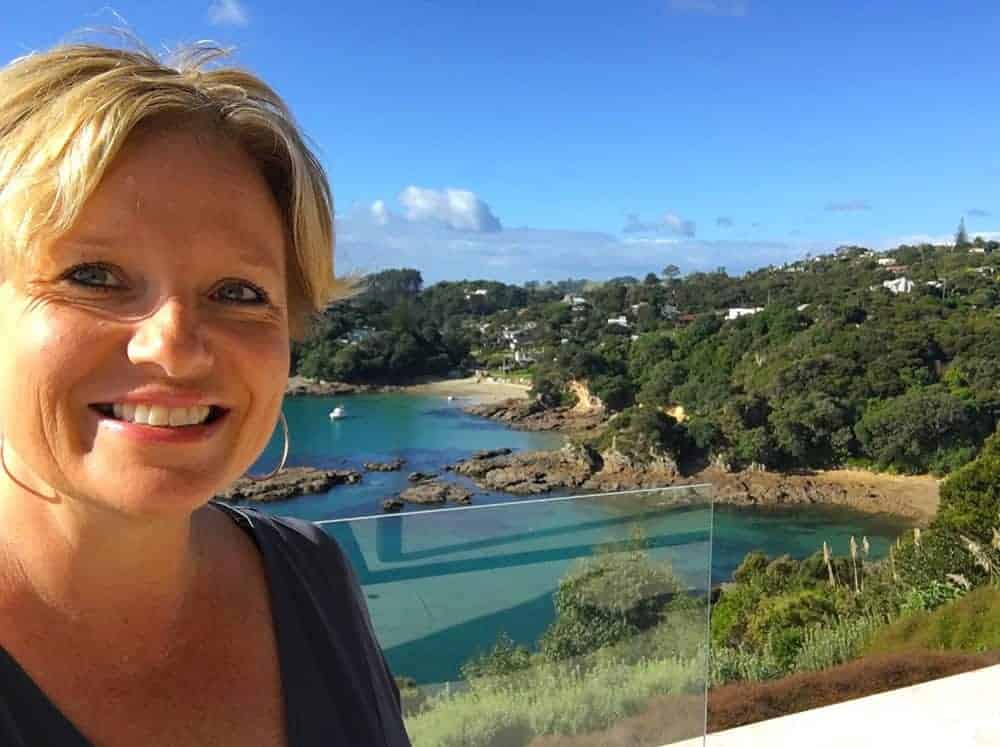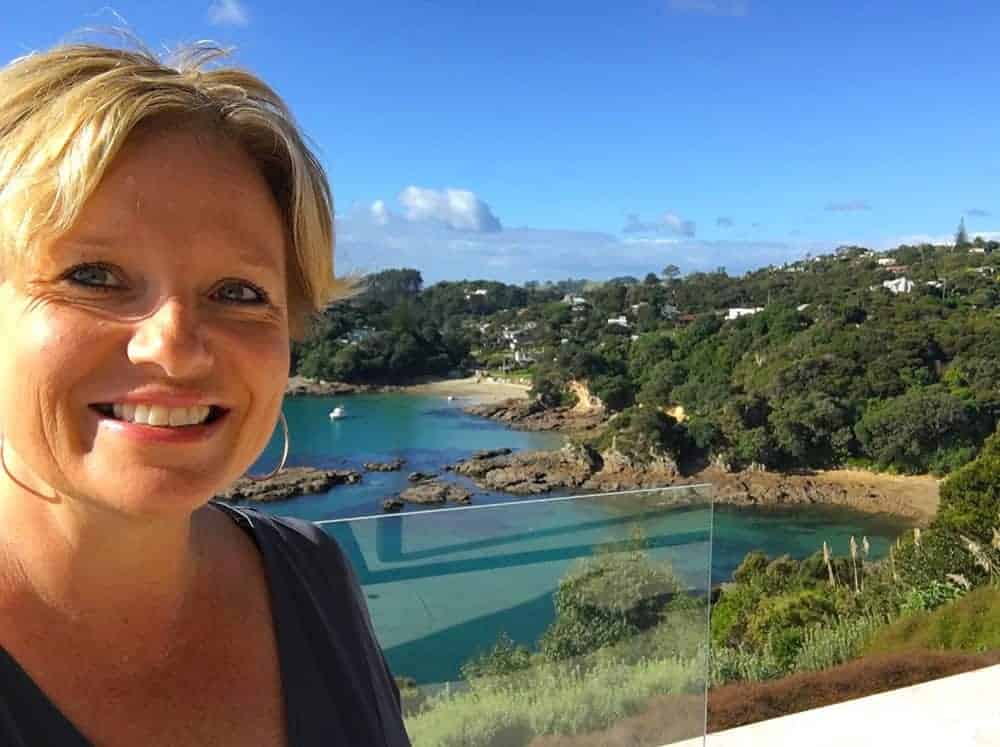 By the way, the kiwi is our national bird. It's also a nickname for New Zealanders. We love it. It's not derogatory at all. You'll find sports teams referring to themselves as Kiwis, as well as just your normal Joe.
But here's the big lesson for our American friends: a kiwi is NOT a fruit. A kiwifruit is a fruit. Think of it like a grape vs grapefruit or dragon vs dragonfruit, passion vs passionfruit!
Phew! Now that we've got that straightened out : welcome to New Zealand, the land of the kiwi, the Kiwi and the kiwifruit!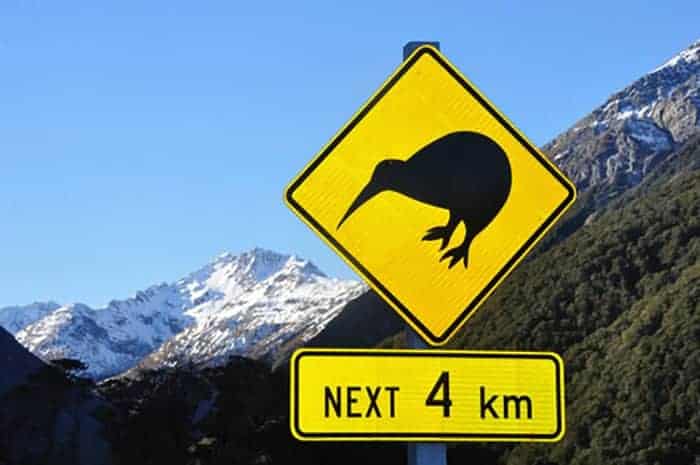 New Zealand is blessed with huge diversity. From the white sandy beaches for fishing or swimming with dolphins in the far north to the geothermal bubbling, farty, smelling hot spot of the central plateau, to vineyards rolling over hills producing award-winning wines, surfing on the rugged west coast, glaciers to climb or take a heli ride to, plus fiords and ski fields.
If you're looking for some great advice on New Zealand's best beaches, read this post from LeLong Weekend with the run down 25 of the best North Island and South Island beaches.
Then we have the cities (albeit few and far between – remember we are the size of California but we only have five million people dispersed throughout the country, with 1.4 million of those in the greater Auckland region).
We do have awesome coffee though and a great cafe scene (start with a flat white), and our amazing (yet surprisingly underrated) food scene and then there's the shopping.
To be honest, lots of our high street shops are also in Australia, but there are little pockets of awesome boutiques and New Zealand businesses scattered about.
I've written this post to help you figure out how long to spend here, and I've broken down the number of days in each place that I think gives you just enough time to see and do the highlights of the North Island and the South Island (very imaginatively named!)
Let's start with 2 weeks in the North Island
This New Zealand guide will help you figure out which places to see and which ones to leave out – this time. You'll just have to come back and see us again – and that's before we even get to the South Island!
If you'd like help with the nuts and bolts planning of your trip, check out this free New Zealand travel planning service. It covers car and camper van deals, tours to choose and buses to get you there, plus free personalised advice.
Here we go…
Explore New Zealand's 12 North Island regions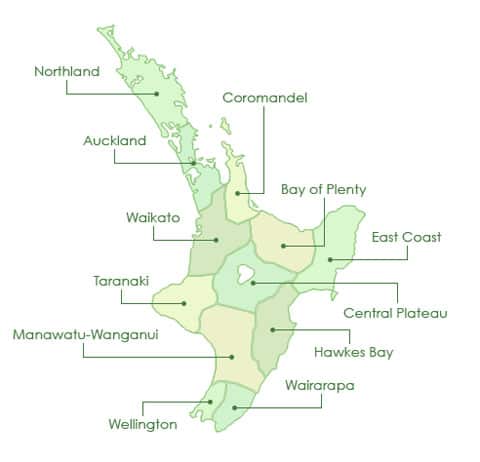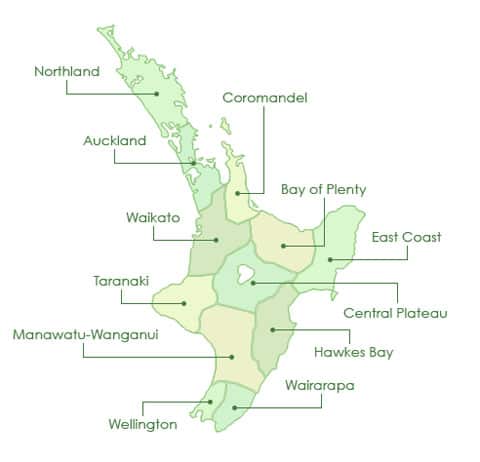 In all honesty, you don't need to visit all 12 regions as some have very similar scenic highlights and some are just not going to be easy to get to if you are on a time frame, but I've broken down the number of days I think would be a minimum in each region so you can pick and choose the right vacation for you.
Auckland : allow 2 days
Most visitors use Auckland just for the airport, but New Zealand's largest city has a lot more to offer than that!
For starters the Auckland food scene is amazing and is usually the first surprise to first-timers to New Zealand. The waterfront is an easy spot to base yourself for accommodation with too many great restaurants to choose from in the Viaduct, Britomart, on Princes Wharf and the Wynyard Quarter.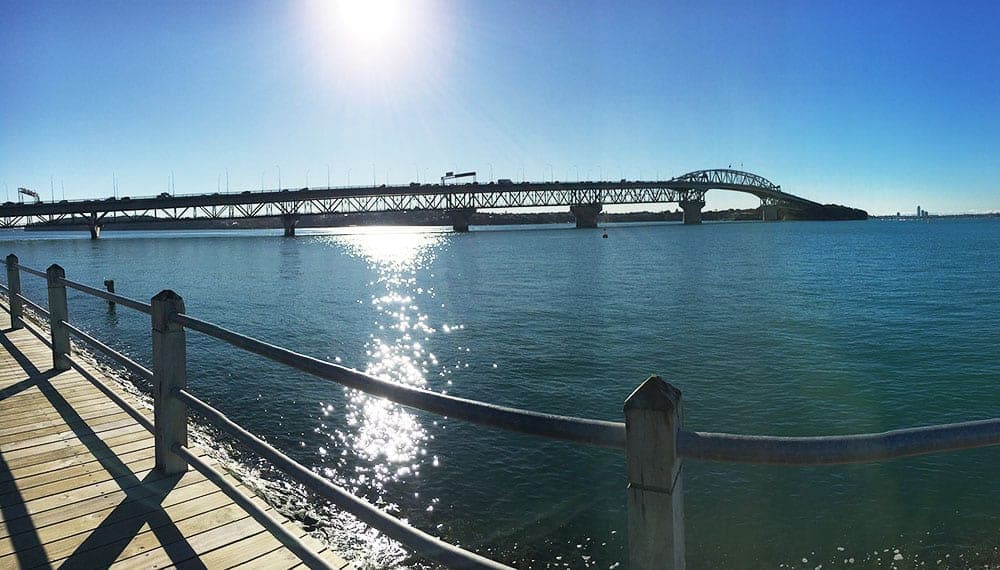 And that's before you get to neighbourhoods like Ponsonby, St Heliers or Mission Bay. And then there's Oh Calcutta, my favourite Indian restaurant in all the world in Parnell! (You can read my curry post here >>)
The Sky Tower is the city's syringe-looking icon which offers amazing views (which you can have for free if you book lunch or dinner up at revolving restaurant Orbit or Peter Gordon's fabulous Sugar Club) and you can walk around the perimeter or bungy jump off it.
Get out on the water either on a replica America's Cup yacht, a dolphin and whale watching boat or just take a ferry ten minutes across to the suburb of Devonport for lunch or spend a day (or overnight) on Waiheke Island.
Waiheke Island is about 35 minutes by ferry from downtown Auckland where 30 wineries await, plus a cute little village for shopping and cafes and plenty of beaches. It's great for a day trip, or even stay a couple of days.
(Here's my post on my favourite Waiheke wineries – so far! >>)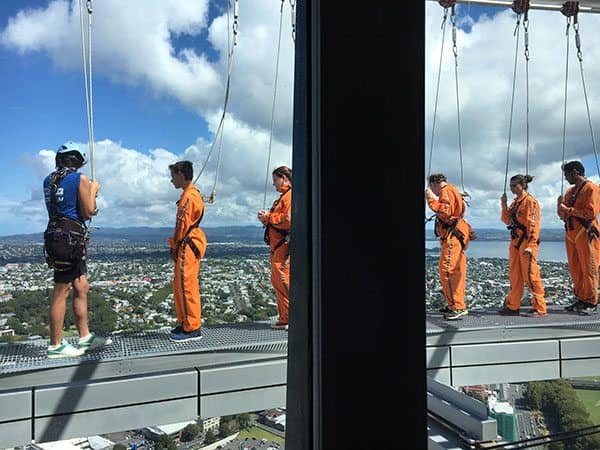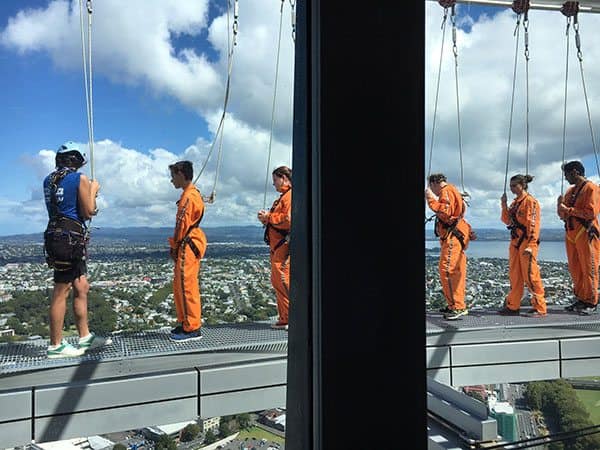 Auckland has plenty of free events in summer like concerts in parks, movies in parks, beaches for swimming, plenty of hiking and shopping in Newmarket, Ponsonby and around Queen Street. And that's before you hit the malls like Sylvia Park or St Lukes.
It also has a very cool zoo and Kelly Tarlton's aquarium with real Antarctic penguins, if your kids are into that. A fun thing to do is take your little budding photographers and let them loose to practice their wildlife photography, like I did here >>
And if that hasn't convinced you to stay at least a couple of days these 50 things to do in Auckland will!
____________________
Northland : allow 3-4 days
Take a car north from Auckland to the Bay of Islands (under 4 hours drive from Auckland) and stay at the Duke of Marlborough Hotel in cute, historic Russell on the waterfront, or across the harbour at the Paihia Beach Spa and Resort.
It's from Paihia that you take the dolphin and sightseeing tours, but only a 10-minute ferry ride from Russell.
The official birthplace of New Zealand is Waitangi where the Treaty was signed between Maori chiefs and the British governors who had settled here too.
Today the grounds tell the story of the ups and downs of that partnership. You'll see giant waka canoes, walk inside the marae to marvel at the carvings and can stand on the most beautiful front lawn in New Zealand.
The meaning of the Maori greeting of rubbing noses, also known as the hongi is told in the video above…
Northland is also a great pivot point to stay and take a day trip to the very tip of New Zealand, Cape Reinga. I would recommend an organised tour to drive along the sand of 90 mile beach (private cars are not insured on this "official" highway) and boogie board down the dunes like we did in this video!
(Note: the company we did the tour with supplied the boards, so that makes it easy)
Another nice day trip from Paihia is to travel west to the Hokianga coast and visit New Zealand's oldest forest, home to the mighty Tane Mahuta kauri tree. If you like hikes and also a good meal and a glass of wine at the end of the day, then plan to stay out here at the lovely Waipoua Lodge.
I have written a 6-day Northland itinerary which includes all the highlights and heroes of this region including the Bay of Islands, setting out a day to day guide for you to follow if you wish.
____________________
Central North Island : allow 2–3 days
Drive south from Auckland to the literal hot spot of New Zealand – Rotorua. Be warned though, this is a geothermal area and the fragrance is rather "fresh".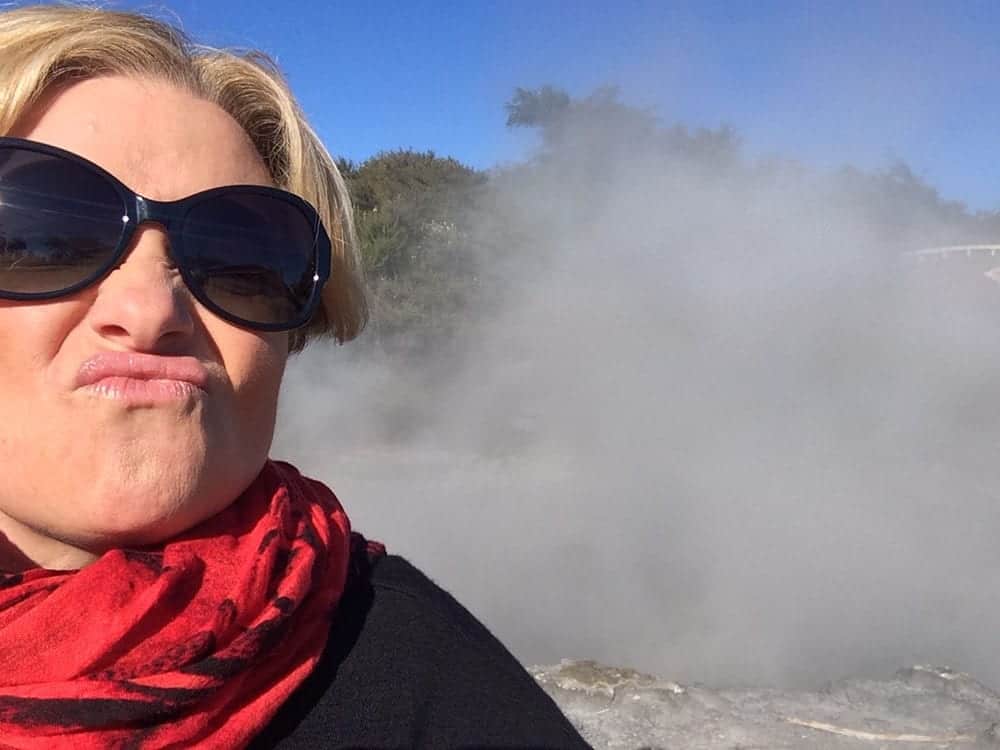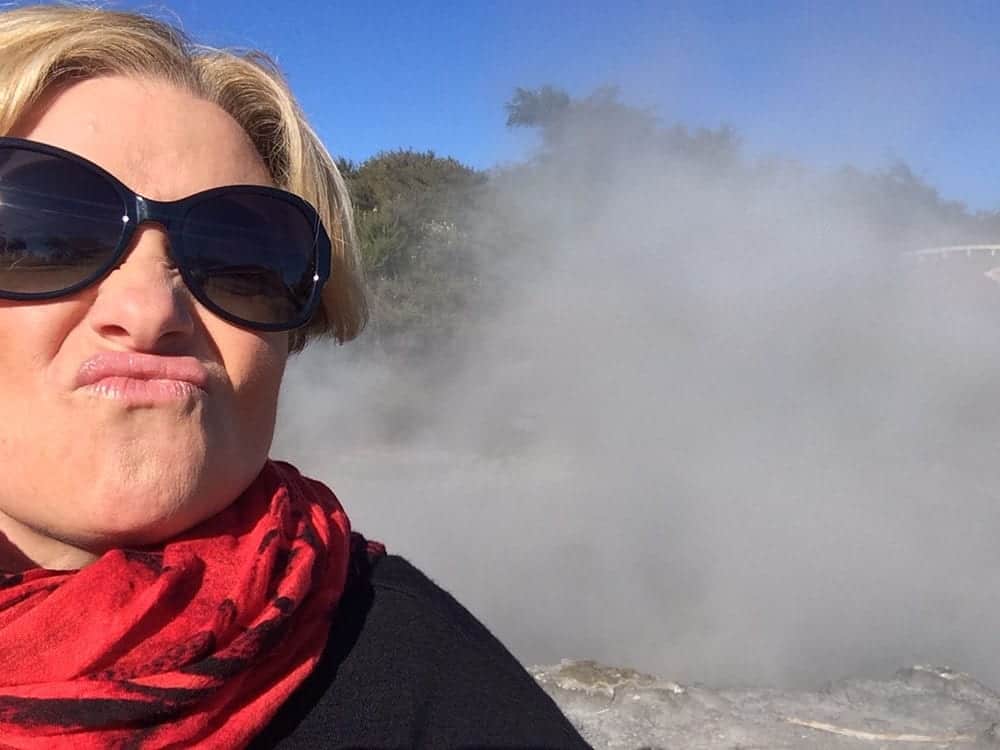 However Rotorua is where you'll find authentic Maori culture as well as plenty of adrenalin-inducing activities like luging, zorbing, jet boating and more. For relaxation, soaking in the Polynesian pools is a must.
For a secluded 5-star hideaway, award-winning Treetops Lodge is set in 70 hectares of native bush with game hunting available. It's luxury at it's finest with each lodge room having it's own fireplace and five-star dining in the restaurant. (I got engaged here!)
But for something closer to town, in fact right in the heart of Rotorua, try Regent of Rotorua. This used to be a humble brick and tile motel but has been imaginatively transformed into a chic boutique hotel that is within walking distance to the CBD and right on the corner of Eat Street lined with restaurants and bars.
____________________
Waikato or Taranaki : allow 2–3 days
This is really an either/or decision. Either you go west towards Taranaki to visit New Zealand's iconic Waitomo Caves where you can wander through the underground city of glowworms, taking a boat ride in the dark or even go black water rafting. I'd also highly recommend the Ruakuri caves too for incredible stalagmite and stalactite formations. Here's my post on them so can see pics and read more >>
From here you could tootle out to Raglan, a known surf town and a lovely place to stop for a night at a BnB or hotel. Then meander down the coast to New Plymouth to visit the famous Len Lye Centre, do a spot of shopping, attend music festival WOMAD in March, ride or walk the coastal cycle way, drive up Mt Taranaki or go hiking. Here's my weekend in New Plymouth, FYI >>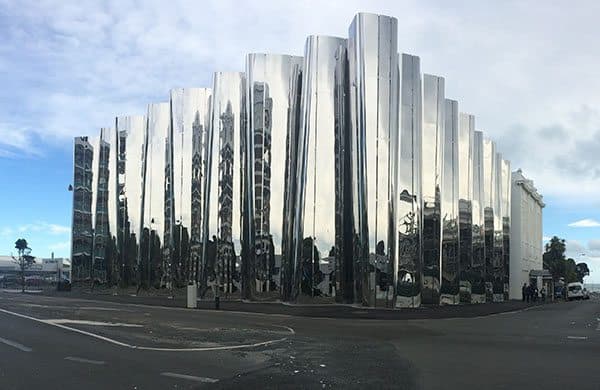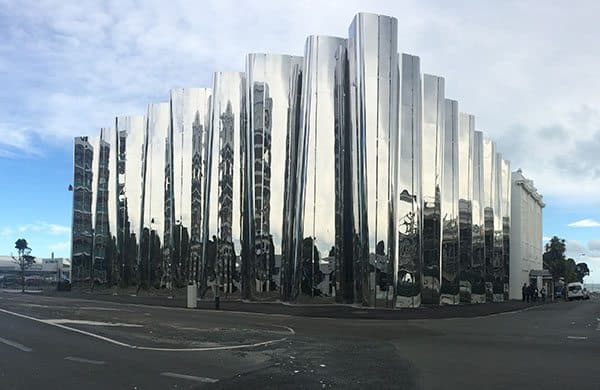 OR go east to Waikato and spend a few hours at Hobbiton just out of Matamata. If your family is into hobbits then you'll love the Shire. It's the actual set from Peter Jackson's Lord of the Rings and The Hobbit Trilogy, with the addition of a proper pub and restaurant for tourists. This ties in as an easy drive on to Rotorua or Tauranga, depending on which way you're heading.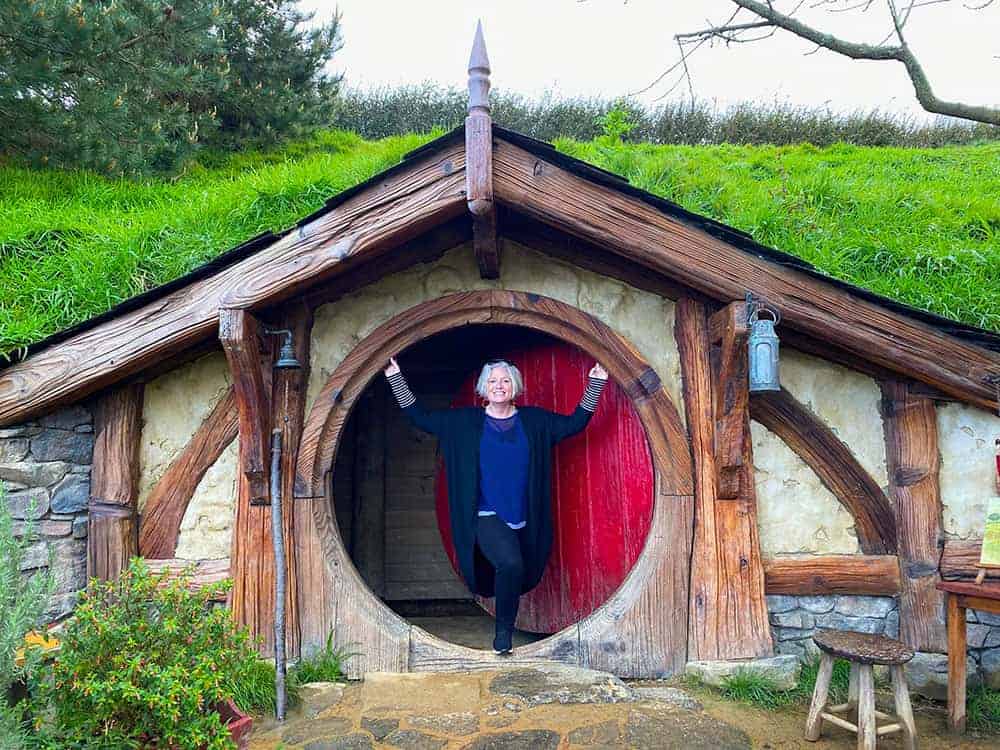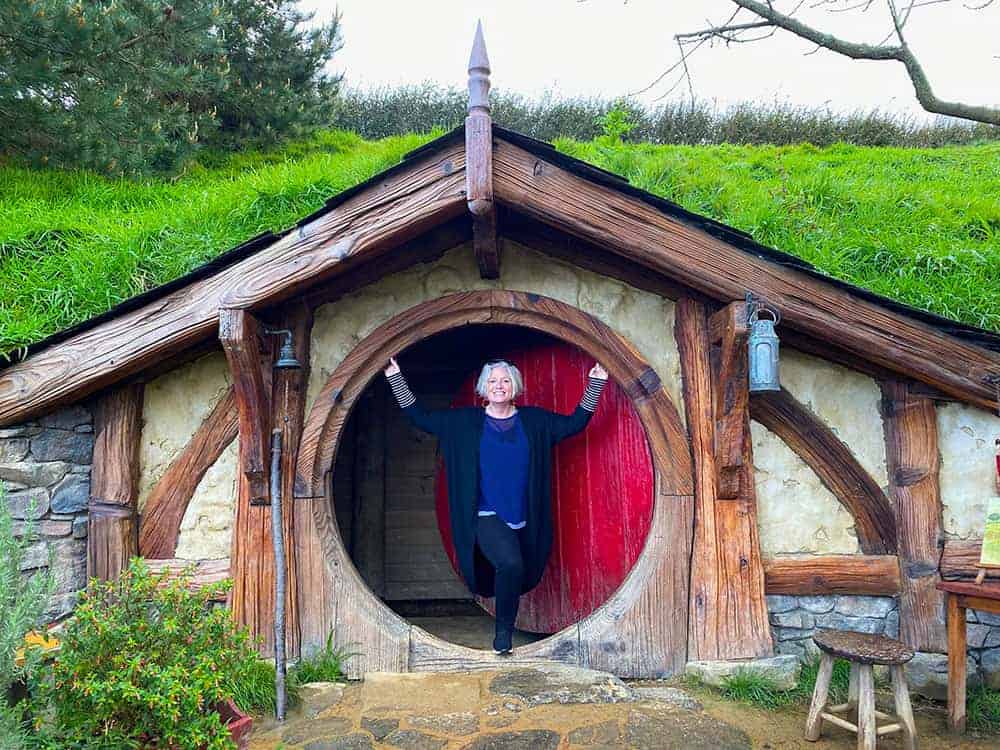 ____________________
East coast : allow 3–5 days
If you stayed in Waikato, then you can head to the Coromandel Peninsula and down to Mt Maunganui. This would be my next pick if a road trip to the Bay of Islands isn't feasible on your schedule.
You'll pass through some cute towns on the way and once you get there, it's long stretches of beaches and all that is on offer in the water (fishing, skiing, swimming…) I like Whitianga and Whangamata, and a must-do for something quite unique: pick up a sand spade and head to Hot Water Beach in Hahei around low tide when you can dig yourself a jacuzzi in the sand and allow the hot water to be cooled by the incoming or outgoing tide.
The whole driving distance would only take 2.5 hours, but spend a couple of days in one of those two beachside towns I mentioned above, then travel via Hahei (planning around the tide) to Mt Maunganui for a couple more days. They have a superb campsite at the foot of the mount (which is easy to walk around or up!) and hotel and apartment accommodation along the seafront with cafes and restaurants underneath. Spend a few hours in Tauranga too for some shopping (about 10 minutes up the road).
____________________
Southbound : allow 2–3 days for Hawkes Bay
Drive from Auckland or Rotorua to Hawkes Bay (5 hours from Auckland/2 hours from Rotorua) en route to Wellington. Stay for at least 2 nights here to experience New Zealand's first vineyard, Mission Estate and the plethora of wineries that have sprung up in Napier and Havelock North. My favourites for tasting and dining at are Elephant Hill, Clearview, Craggy Range, The Mission, Church Road and Black Barn.
Play golf at exclusive Cape Kidnappers (and stay a night at this exclusive 5-star resort if your credit card will stretch), shop in Napier, go to a vineyard concert if you strike it right. Napier was destroyed in 1931 by a massive earthquake and rebuilt in Art Deco style. Architecture and history buffs will love to take a walking tour of the historic buildings in the central city that are now saved and preserved.
In Hastings on Sundays is New Zealand's first and, I reckon, best Farmer's Market which is worth going to for artisan breads, meats, cheeses, coffee, jams, olive oils and a whole lot more.
____________________
Wairarapa : allow 2 days
This little lower North Island region covers Martinborough, Greytown and Masterton and is another great spot for visiting wineries and the annual Taste Marlborough wine and food festival held in November.
It's a weekend-escape destination for Wellingtonians, who can drive here in about an hour and a half, and would be a good stopover from Hawkes Bay en route to Wellington if you have the time.
In a nutshell, Martinborough is about wine and Greytown is about boutique shopping. However driving between the two towns will only take 15 minutes so you can stay in one and explore between them.
If you fancy a bit of a wild road trip and a climb to a lighthouse for great views, head down to Cape Palliser and hoof yourself up all 252 steps (and down again!)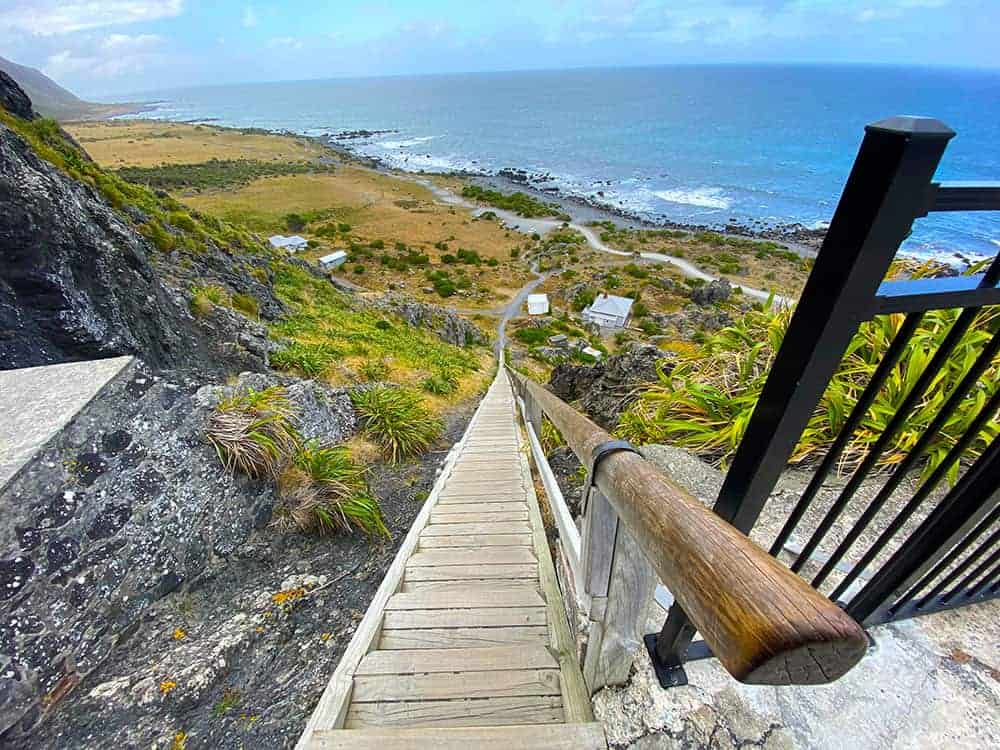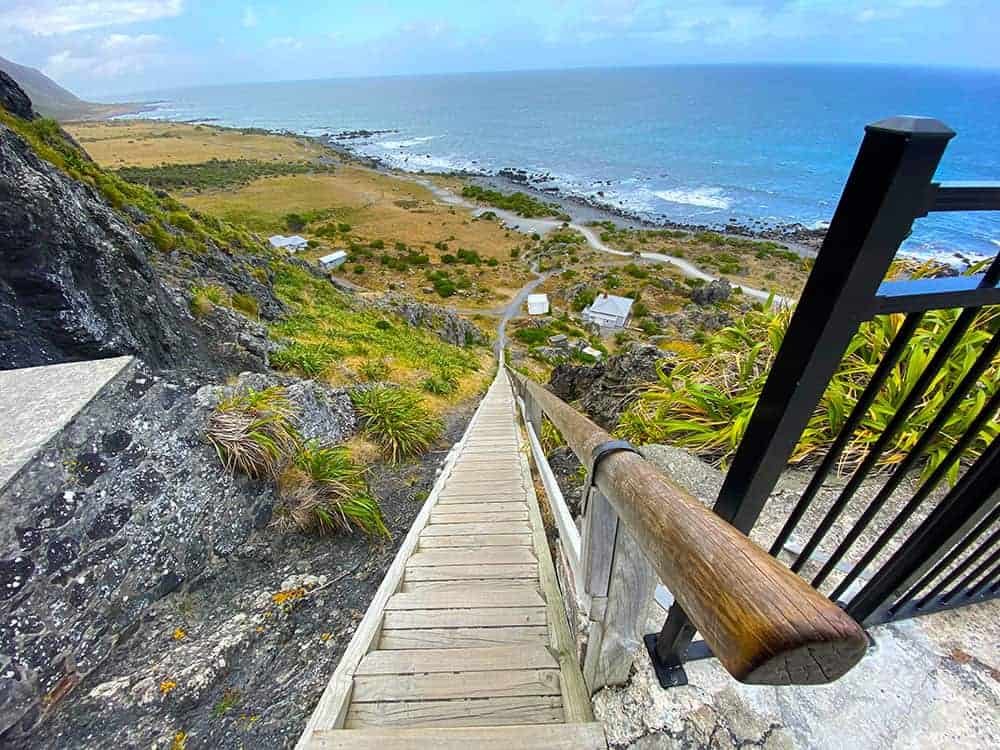 ____________________
Wellington : allow 3 days
Drive from Napier to Wellington (about 4 hours). This is our capital city and a tour through the Beehive (parliament building) is cool if you're into that sort of thing.
Wellington is easily walkable around the labyrinth of shopping streets and the picturesque waterfront that sparkles on a fine day. Take a trip in the cable car from Lambton Quay up to Kelburn for great views of the city and harbour (like my pic below).
Shop along Lambton Quay, have brunch on Cuba Street, and a drink on the waterfront.
If you're there in September/October get tickets to WOW, World of Wearable Art (see my post on WOW here >>), and prepare to be thoroughly entertained by the huge stage show and costumes designed all over the world for this prestigious competition.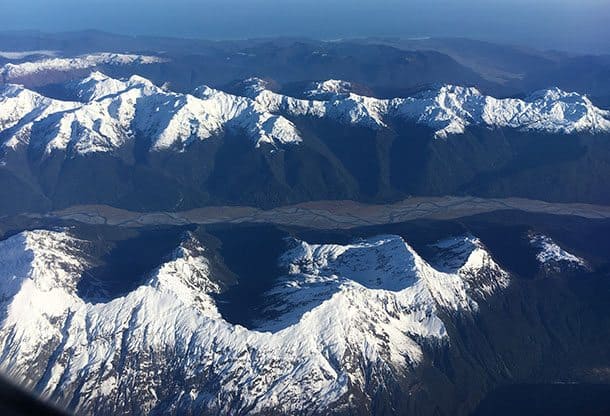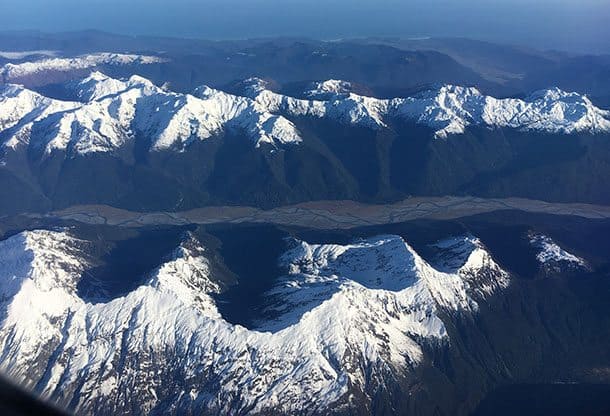 Need travel insurance? Grab a free quote from World Nomads, even if you're already on your trip!
Now for a South Island road trip
Most people agree that New Zealand's South Island is more scenic and breathtaking than the North. The locals call it the Mainland.
I wrote this post as a basic travel guide to the South Island…
How many days should I spend in the South Island?
Two weeks is usually the amount of time people allow to see all of New Zealand! Not many have the luxury of two weeks just in the South Island, but for the sake of this post I'm going to assume you have time (or could come back), or that you're not trying to see a country the size of Great Britain or California in a week!
I have written this post with a guide for how many days are the probably minimum to spend in each region or city, but if you want to see the South Island in two weeks, you can do that too, but bear in mind it'll be very fast with only a couple of days in most places. My suggestion would be to select just three or four areas and travel a little slower to really soak in all that this amazing part of New Zealand has to show you.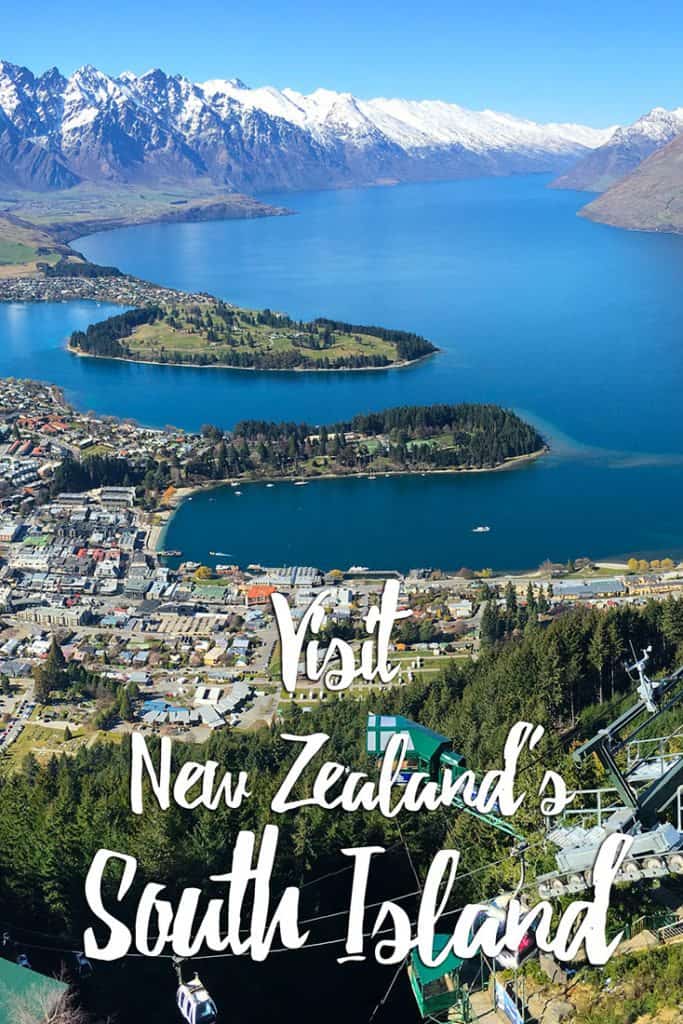 So, here we go – the South Island in two weeks!
Most people will fly into Christchurch (half way down the East Coast), so I'm going to start here…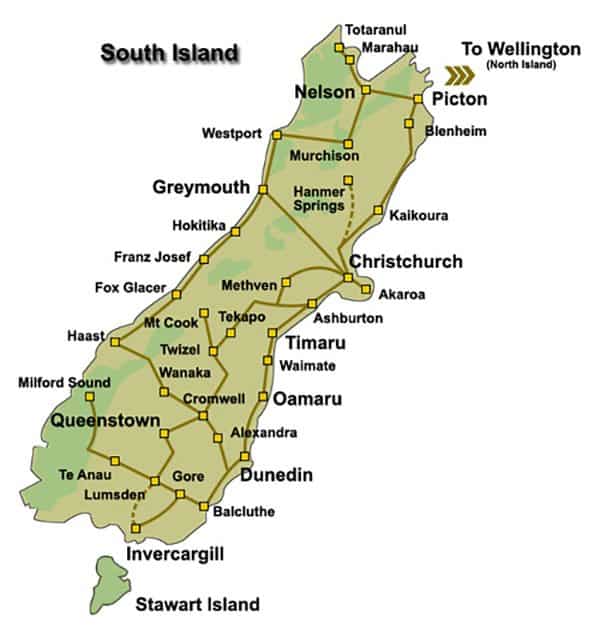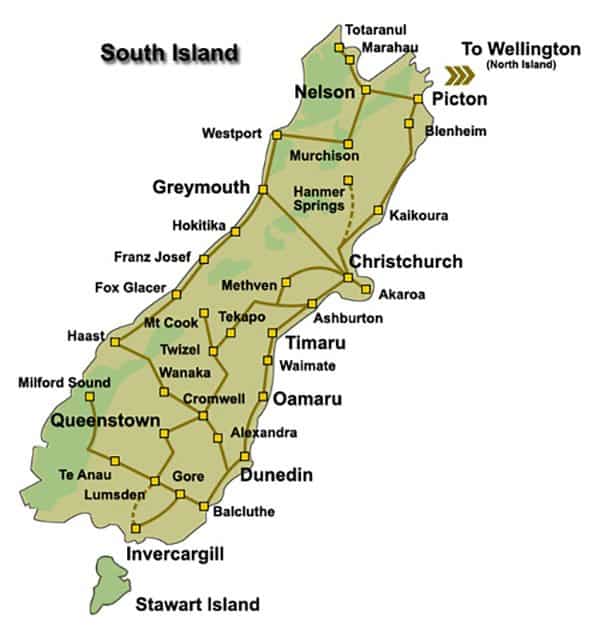 Christchurch : allow 1–2 days
I'm starting in Christchurch because that is the largest city in the South Island and where most flights go into.
As you might know, Christchurch had a massive earthquake in 2011 and seven years on the city is still slowly coming together. The CBD was pretty much wiped out and any buildings that didn't fall down were cleared out for structural checking and strengthening.
Sadly there are still buildings to come down BUT we Kiwis are a resilient lot and out of the ashes rose some great new businesses, an innovative pop up shopping mall in brightly painted shipping containers that can be moved as development occurs, and most excitingly the Avon River is being highlighted in a whole new way for dining, drinking and feeding the ducks!
Spend at least a night here and spend some cash in locally owned restaurants, bars and shops (they will be grateful for your business), then jump in your car and choose whether you're going to tootle north, south or cut across the middle to the West Coast.
Read my post on 6 great places to eat in Christchurch here >>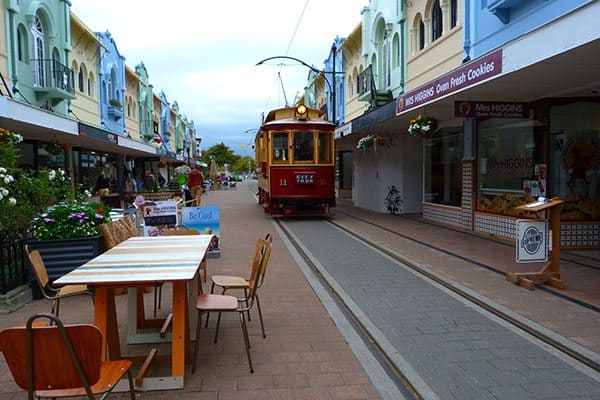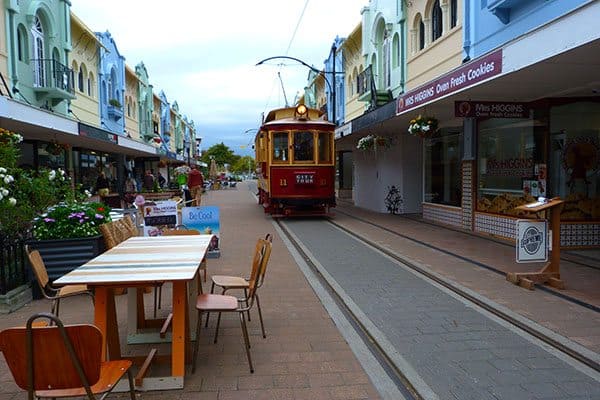 Canterbury : allow 2–3 days (north of Christchurch)
Christchurch is the hub of the Canterbury region and a day trip to Akaroa (about 1.5 hours drive) should probably be listed in the days you might spend in Christchurch. Be prepared for a windy road out to this historic British and French settlement on a stunning harbour, but the views are worth it. Swim with the tiny and very rare Hectors dolphins, eat locally made cheese, browse the shops, stay the night or just go for the day.
Hanmer Springs is worth at least one night. It's just under 2 hours drive north of Christchurch surrounded by lovely wineries where I have picked up stunning pinot noir on my visits to said cellar doors! I just drank my 2010 this year. Velvet! But as the name suggests, the hot springs are why people want to stay a night.
The most central hotel is the Heritage Hanmer Springs, across the road from the gorgeous hot springs which is great in the snowy depths of winter or the sunny days of summer. It also has a spa if you need a massage.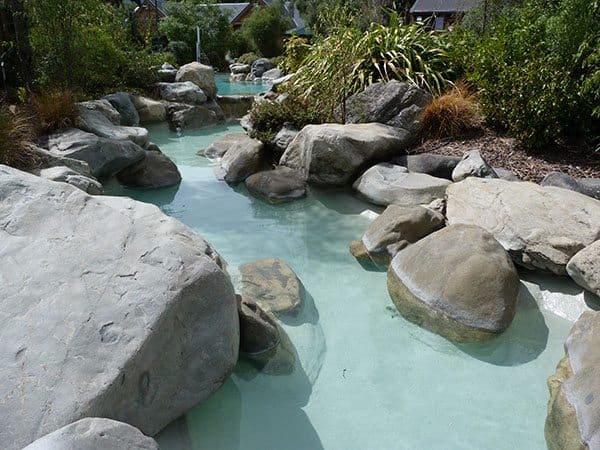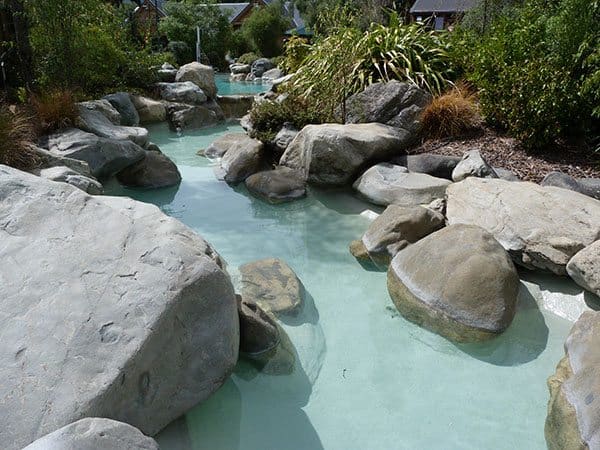 Kaikoura is a further 1 hour 45 mins north of Hanmer and is Maori for "eating crayfish" (spiny lobster) and there are two reasons why you'll want to spend a night (or two) here.
One is the aforementioned crayfish which you can buy from various joints in town, but for a real kiwi experience, drive out to Nin's Bin, a little caravan on the side of the road, where crays are brought in fresh each day to be cooked the way you like it. Bring a bottle of sauvignon blanc and some plastic cups to complete the experience! I stayed at Hapuku Lodge, a luxury treetop hotel which I loved, especially if it's chilly enough to put your own wood burning fire on!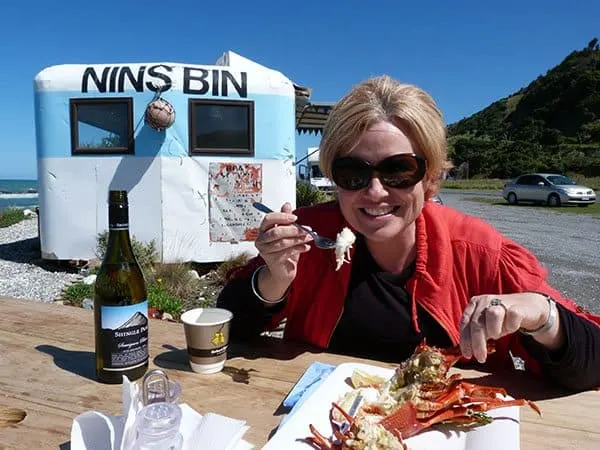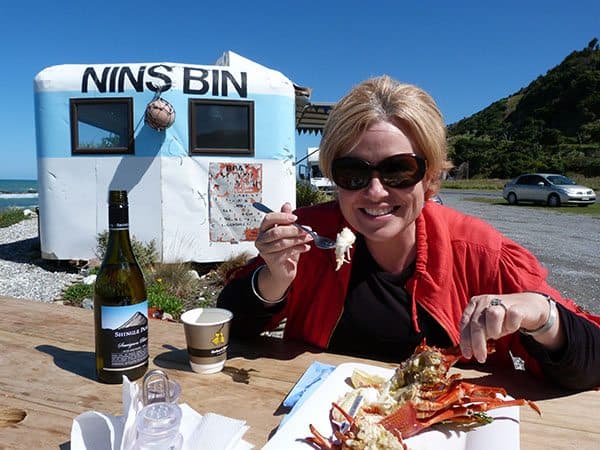 The other reason to allow a couple of days here is the amazing, gigantic sperm whales. Book a whale watching tour and chances are good that you'll see their giant flukes as they dive down to depths of a kilometre to the undersea shelf that they feed from.
They may look like huge graceful mammals floating and fluking on the ocean, but these guys dine on great white sharks! A very cool experience. Oh and not to mention the dolphins and seals you'll also see, but which honestly pale into insignificance!
Marlborough : allow 2–3 days (top of South Island)
Now you are north of Kaikoura and you're in the famous Marlborough sauvignon blanc wine region which stretches up to Blenheim and Picton at the top of the South Island. A night or two at a lodge in the Sounds is an incredible place to relax and melt into nature. Loads of hiking trails, kayaking, fishing…
But Blenheim has some deliciously gorgeous wineries too. Try Hanz Herzog for a Michelin star lunch (except we don't have the Michelin system in NZ, but the owner is a Michelin chef from Europe). I loved Auntsfield for their history and their quest to grow the original muscat grapes again. Their pinot was one of those 2010's I opened and was amazed by too!
But for fabulous sauvignon blanc tasting and a fun afternoon, take a winery bike tour through the "golden mile". (Read my post here on mountain biking v wine biking >> I came off my bike on one of these trails and it's probably not the one you'd think!)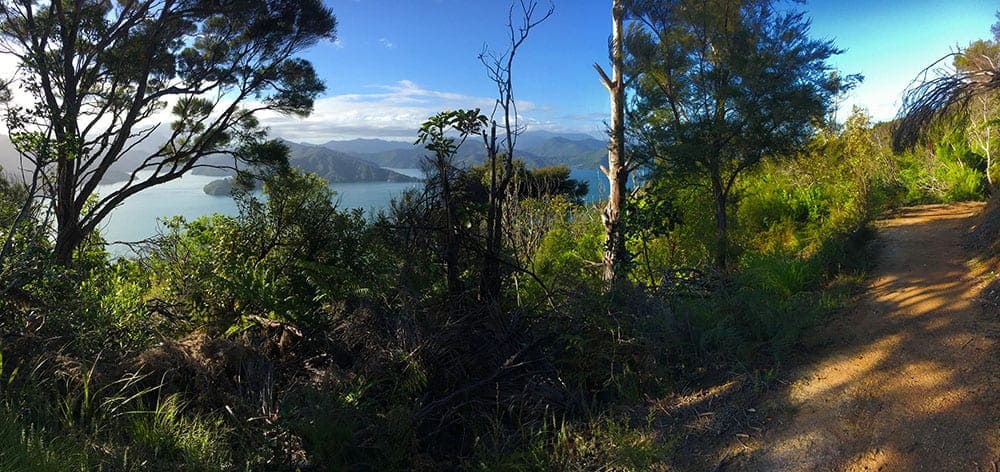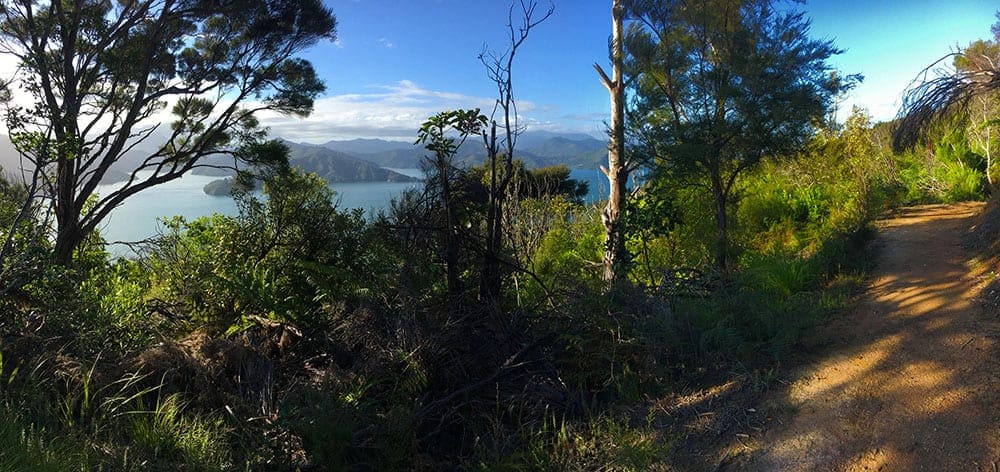 If you're a war buff you'll want to visit Omaka, film maker Sir Peter Jackson's WWI and II memorabilia museums that he has set up with recreated war scenes thanks to his mates at Weta Workshop. It's an incredible collection of real artifacts and antiques which seem to come alive.
I adore this part of New Zealand! Here's my post on 3 things not to miss in Marlborough (once you've drunk all the wine!)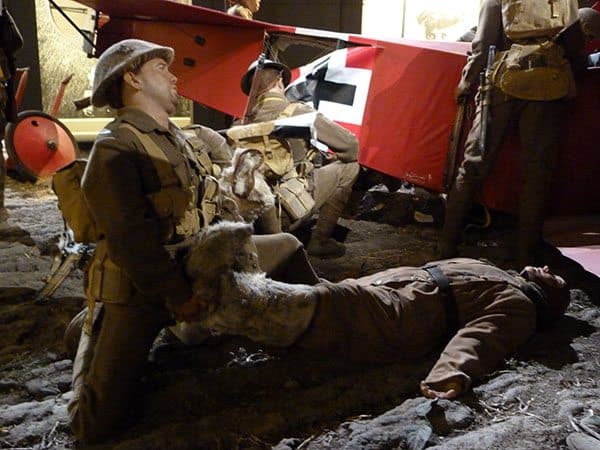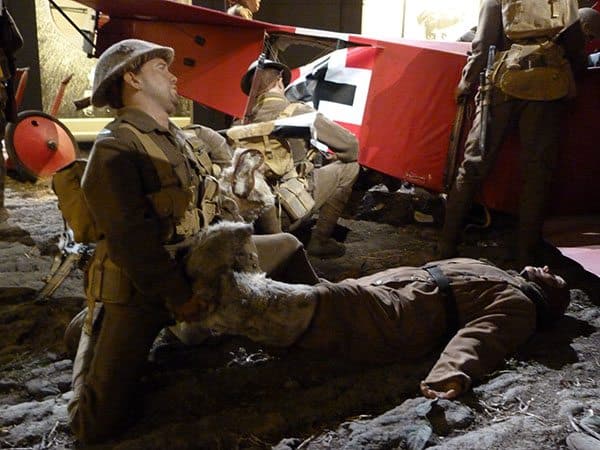 Nelson/Tasman :

also

2 nights to a week! (top of South Island)
Nelson officially has the most sunshine days in NZ each year. It's actually on my Bucket List as I haven't been for years and years. It was originally known for its artists and out of Nelson came the now internationally famous World of Wearable Art annual fashion show which Wellington is lucky enough to host now.
My ambition is to kayak on the crystal waters of Abel Tasman National Park, but maybe do it glamping style, which sounds more me than schlepping my stuff around in a waterproof pod for a few days!


West Coast : allow 2–3 nights
I remember driving down the west coast as a teenager on a family holiday (dad was actually driving) and I found it to be utterly boring! Bear that in mind if you have kids with you, but if not, then plan to spend a night in Hokitika or Greymouth.
The former hosts the crazy and innovative Hokitika Wild Food Festival in March where you can gulp down a shot glass of horse semen or chew on a fried huhu grub.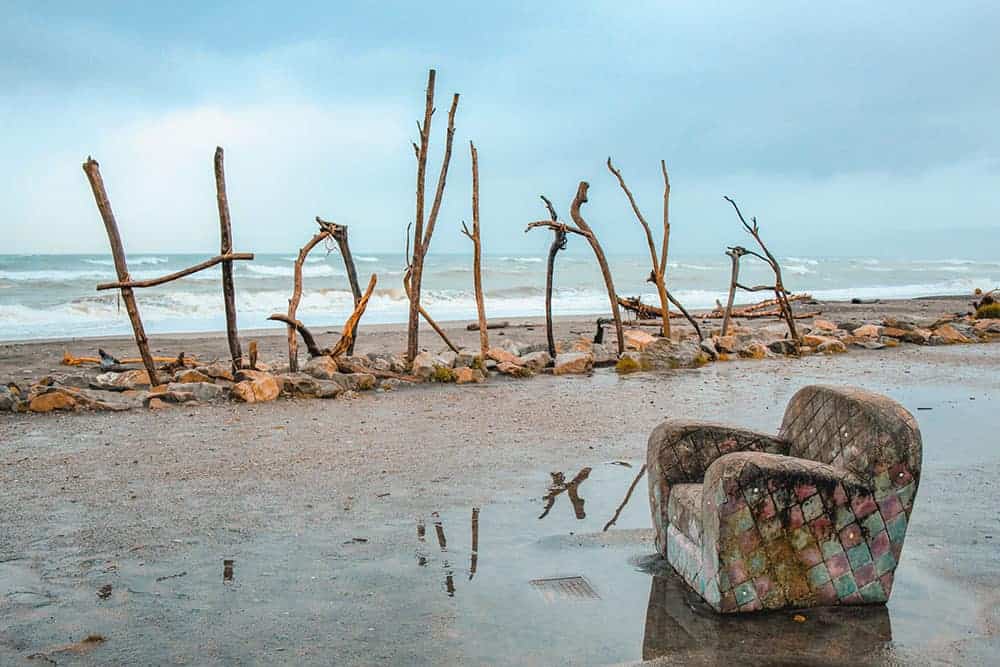 Most visitors to this rugged part of NZ come to see Franz Josef and Fox Glaciers, further down the coast. Driving down the coast from Nelson on Hwy 6, you must stop at Punakaiki, also known as the Pancake Rocks (where my sister nearly fell in! Note: you can't get that close these days 🙂
Or if you drive on Hwy 7 a stop at NZ's quirkiest pub, the Blackball Hilton, is guaranteed to put a smile on your face. Grab lunch and head south to the coast staying at either Hokitika or Greymouth.
To get to the glaciers you have a long drive ahead of you and while it's amazing scenery, it is rather same same! (Sorry, I'm being 17). After seeing them (and hiking further than you used to thanks to melted glaciers over the years) you'll continue to Haast and cut east through Mt Aspiring National Park and I'd recommend staying in Wanaka for at least 2 days (or 5).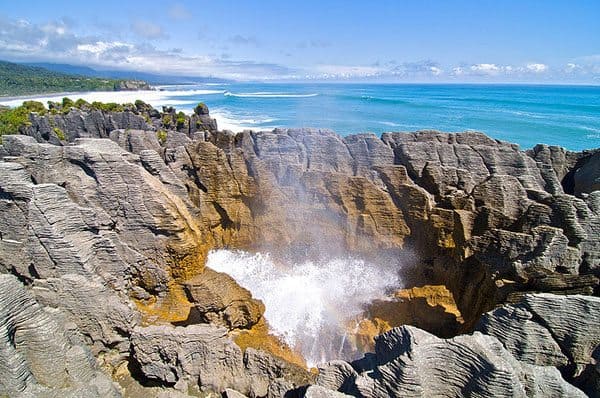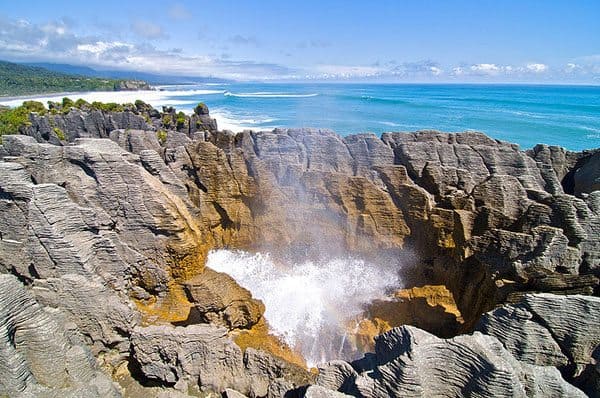 Queenstown/Wanaka : allow 2–3 nights (unless it's winter and you've come here to ski!)
Queenstown is the winter party capital of New Zealand! The annual winter festival sees the city and the ski fields heaving with visitors and events, but in summer it's just as magical.
Some people fly into Queenstown and spend a week just here. That would be a great way to see a slice of NZ too and take day trips from here into Central Otago. The lake is stunning and several restaurants and bars are located around it in the city.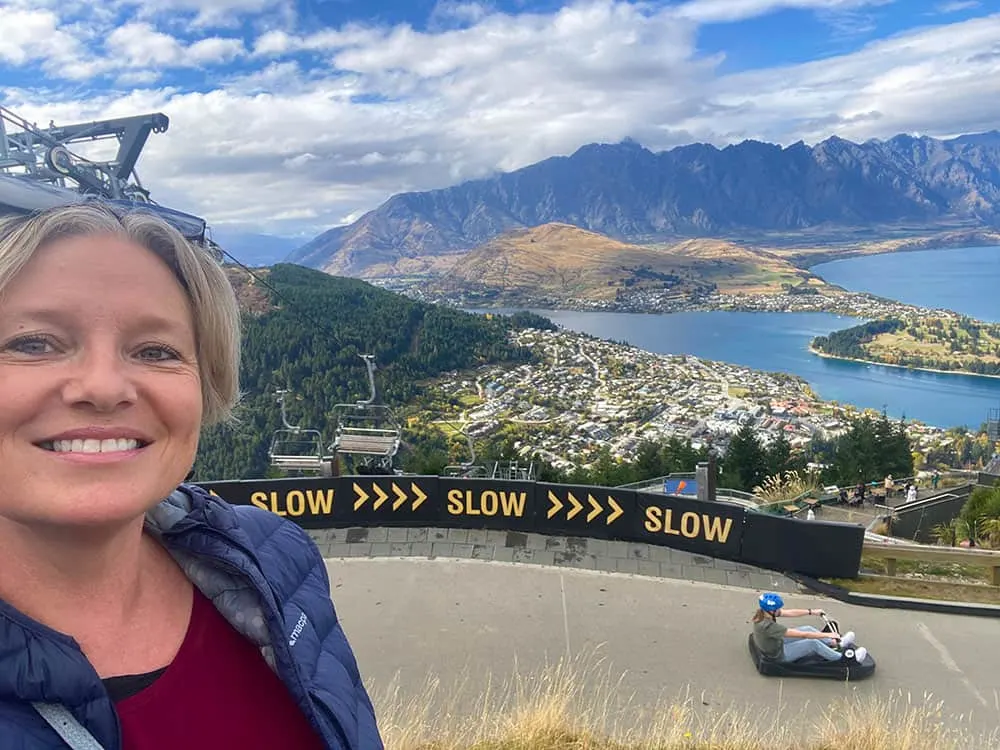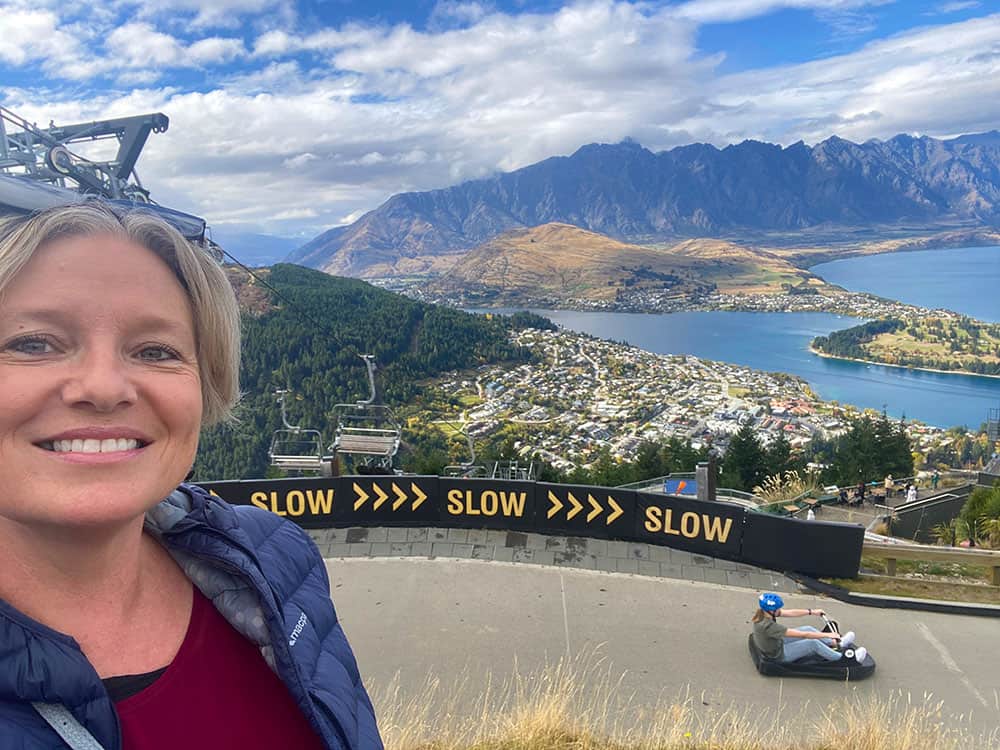 Here's a blog post I wrote with more detail about exploring Queenstown to Wanaka in 5 days >>
It's here you'll get to try screaming around in the rippingly fast Shotover jet boats, you could head out to Kawerau to AJ Hackett to do the longest bungy jump in the world and the newly launched Catapult which shoots you across the river like a rocket!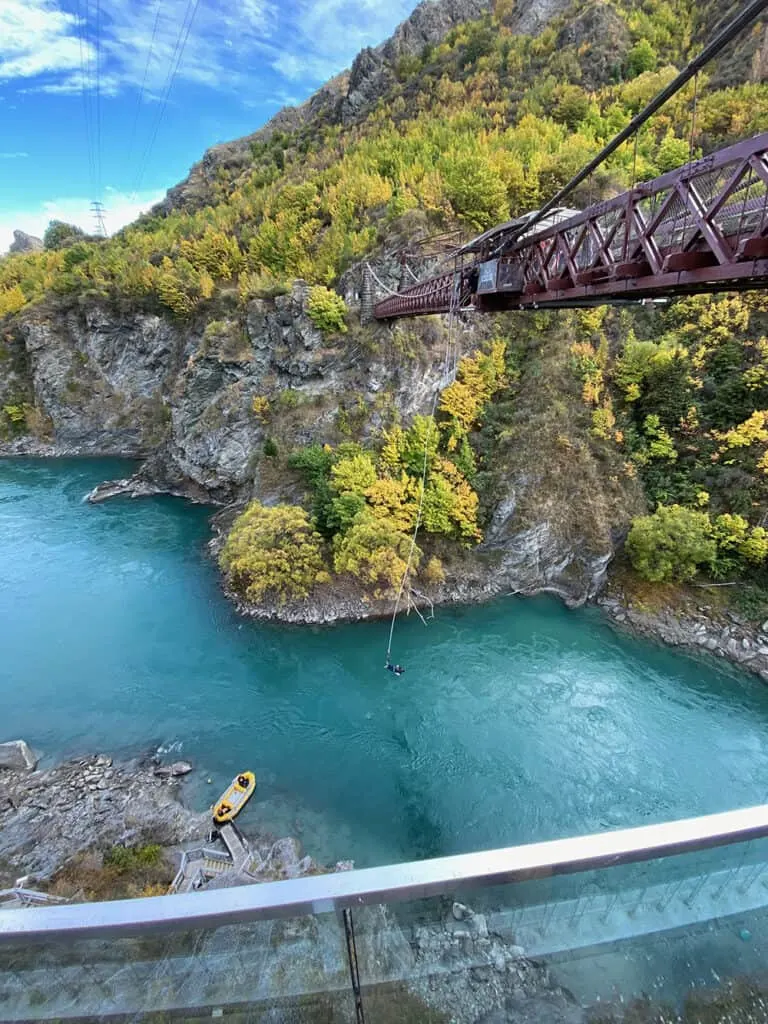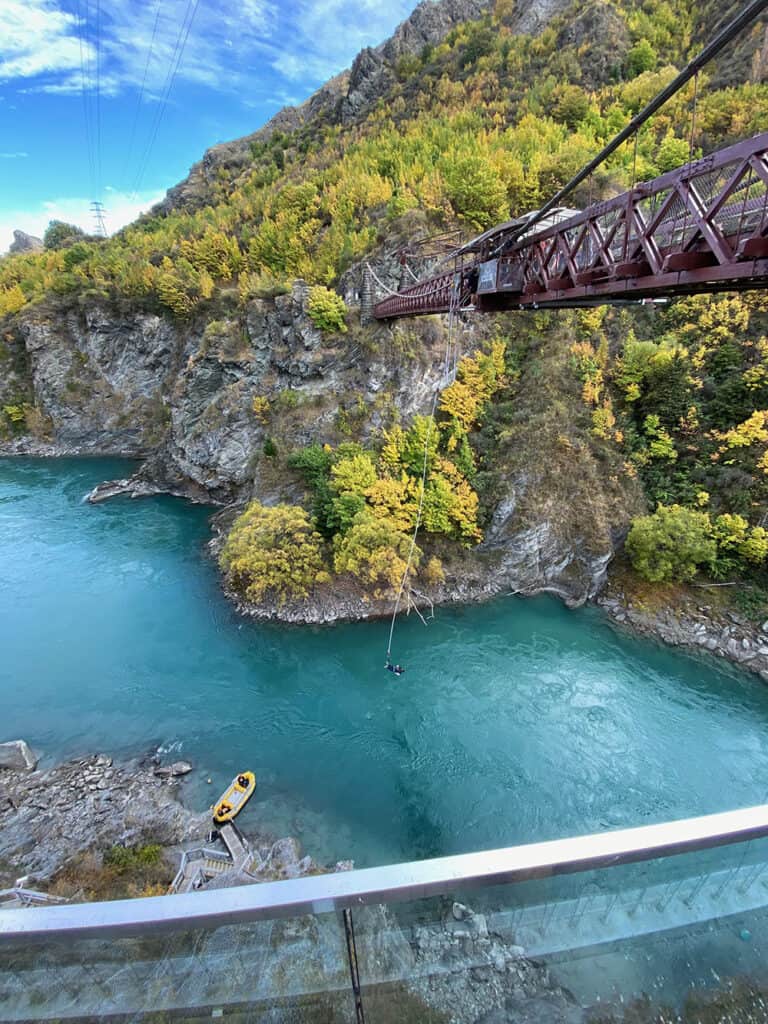 Amisfield winery is well worth stopping at for lunch if you're heading through to quaint Arrowtown, which is stunning in Autumn by the way.
If you do go on to Wanaka (or you're coming back from there) have lunch at the Cardrona pub. And of course, you are surrounded by NZ's best ski fields.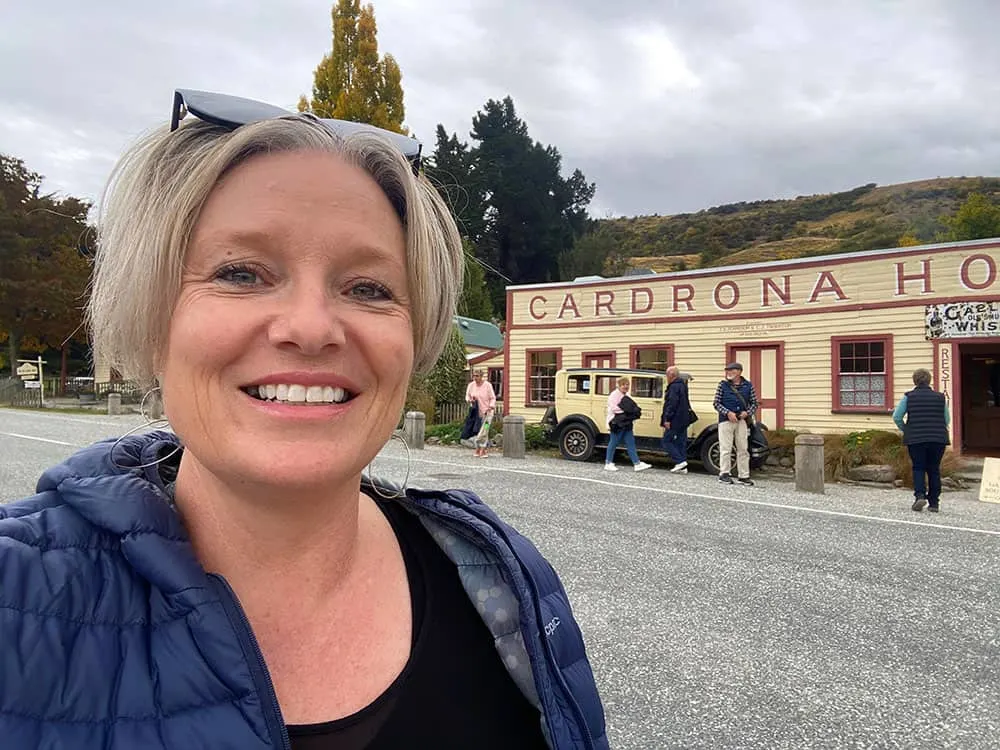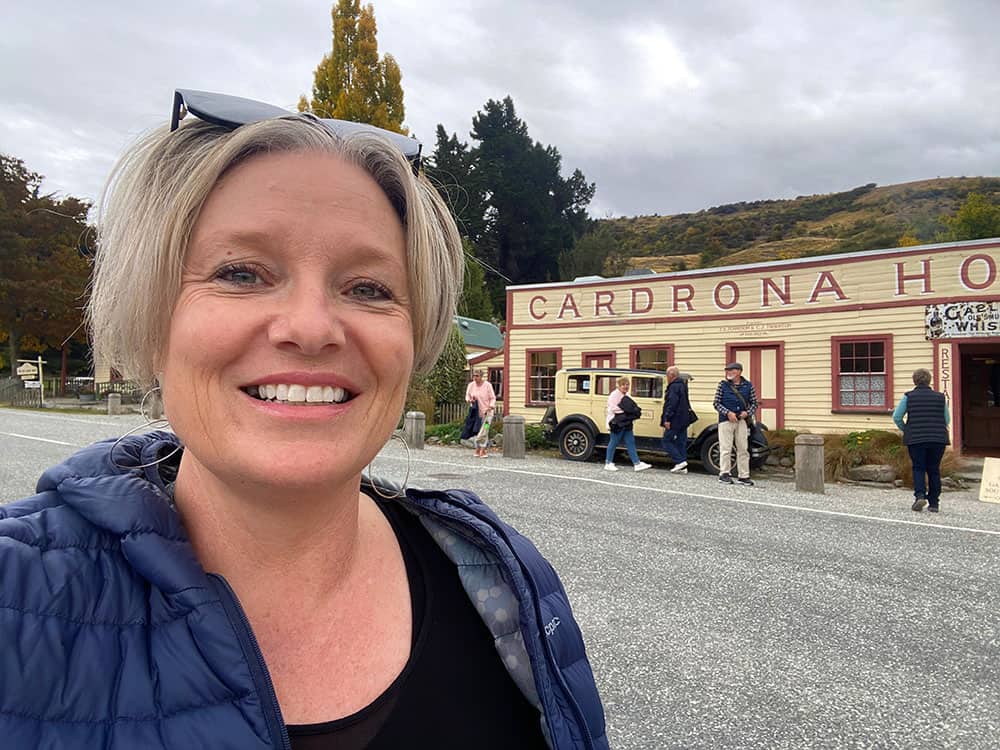 This is also the gateway to the wine region of Central Otago and gorgeous old mining towns like Clyde (read my post I'm bonnie in Clyde here >)
Stop at Gibbston Winery and Mt Difficulty near Cromwell too for lunch and a wine tasting, and if you like adrenalin, then a spin in a McLaren race car is a hair-raising must. (I did it here! >)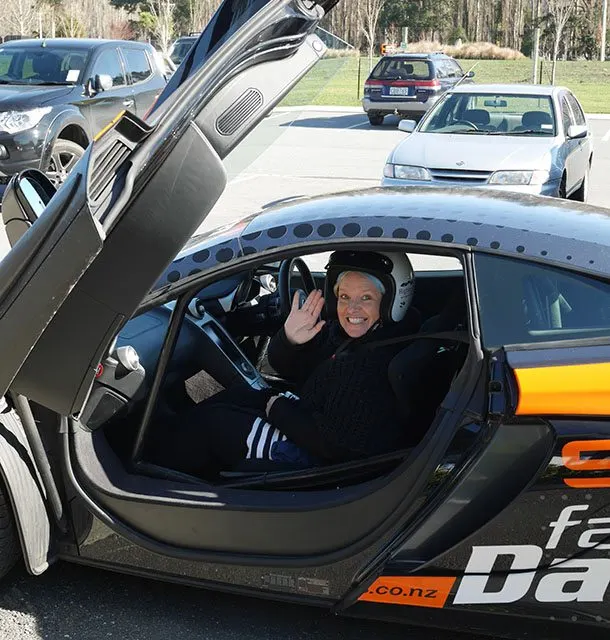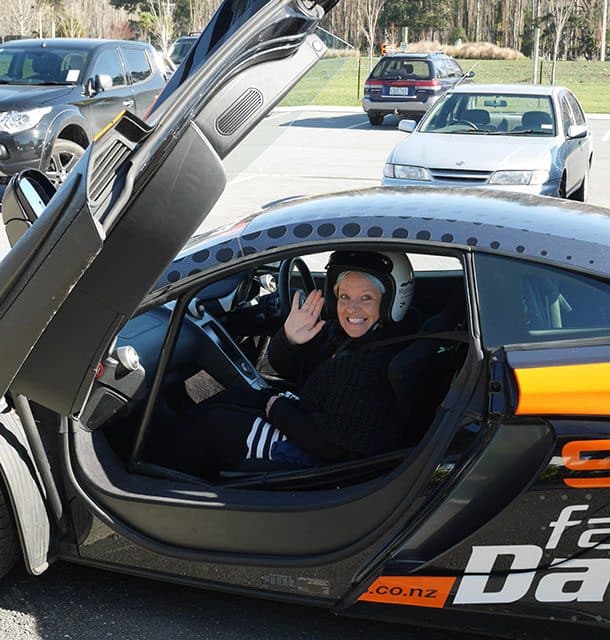 Fiordland : allow 2–5 days (depending if you're hiking!) south-west
To be honest I've only ever been to Te Anau and Lake Manapouri and taken (the very impressive) tour underground to the power station. But the reason Fiordland is on many people's Bucket Lists is for Milford Sound.
Breathtaking waterfalls, hiking trails, snow-capped peaks, lakes, bush, big skies. It doesn't get much better than this. You can also take cruises on the lakes and around the fiords.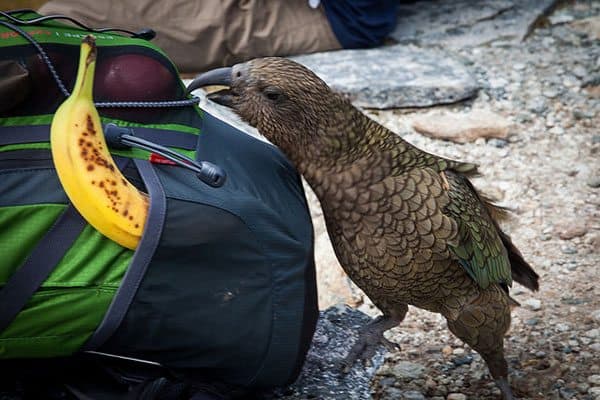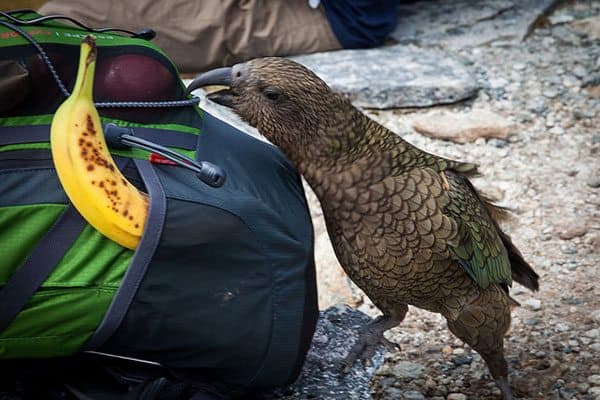 Dunedin/Otago : allow 2–3 days
Dunedin is influenced by the early Scottish settlers and the town has many old stone buildings as well as a slight accent that you'll notice if you have your ears on.
It's known as a university town, but don't let that put you off! Christchurch, Wellington, Hamilton and Auckland all have universities too! The Octagon is a great place to start for dining and shopping and as you would expect, it's octagonally shaped and streets lead from it.
If you're a rugby fan, Dunedin's Forsyth Barr stadium is the only one in New Zealand that has a roof. Not that that means it's a warmer experience, thanks to the open ends creating a wind tunnel effect – but at least it's dry!
Otago is the wider region and the peninsular is a great drive, especially if you want ogle at the huge albatross that nest on the mainland. And one of the best things to do with family or friends, and which is on my Great NZ Bucket List, is to cycle the Otago Rail Trail staying at BnBs along the way over a few days.
See the Albatross live web cams, just out of Dunedin
Mackenzie Country : allow 2–3 days (near

Christchurch)
We've now almost looped back to Christchurch where we started, but this time south west of the Garden City. I spent four days in the Mackenzie Country last winter, but you could do it justice in three days.
Tekapo is stunning in any season. The cute stone Church of the Good Shepherd is where you can expect to find marriage proposals and photographers – sometimes together, as I happened to be an unofficial and very surprised photog when I was there!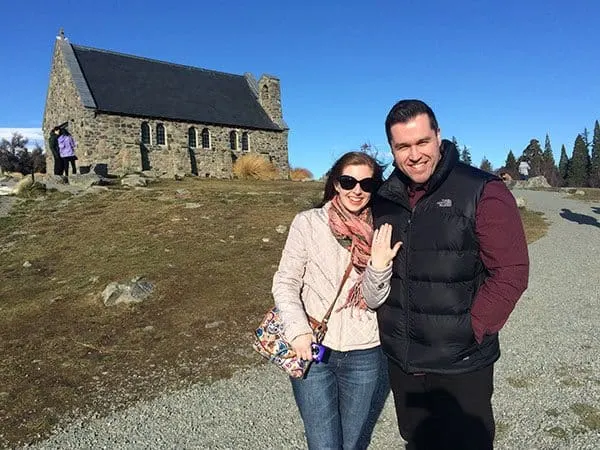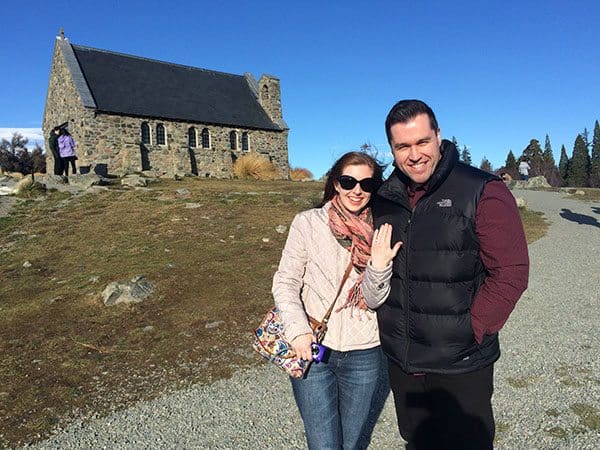 Tekapo Springs is a series of hot pools shaped to look like the surrounding lakes and positioned lake front for amazing views while you soak. They also have an ice skating rink in winter and an inflatable water slide in summer.
If you're a fan of galaxies far far away, Mackenzie Country boasts the largest black sky reserve in the world where enormous telescopes are set up and you can take a night tour up Mt John to star gaze and planet spot.
Then spend a night out at Mt Cook. I stayed at the Hermitage Hotel out here surrounded by soaring mountains and great for hiking, helicopter flight seeing and the Sir Edmund Hillary experience. Here's my post on how to spend 5 days in the Mackenzie Country in much more detail! >>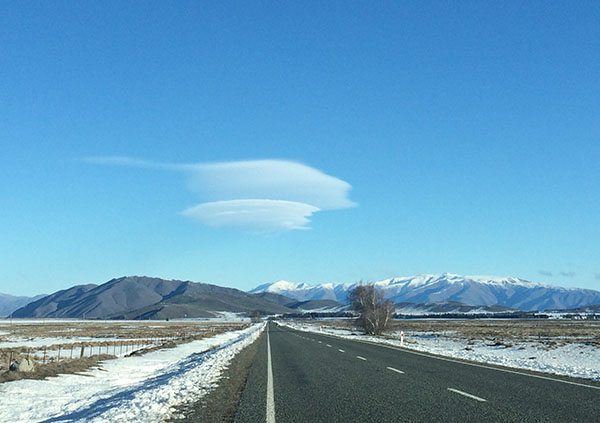 And now you can head back to Christchurch if you have a flight.
More great New Zealand posts on the blog:
The best annual events in New Zealand
If you're planning on renting a camper van and driving around New Zealand, read my post of tips and things you need to know about campervanning in NZ!