Remember when booking flights online first took off and everyone predicted it would be the end of travel agents? It was a huge worry for the industry, while holiday makers had the best of both worlds. Just type 'cheap travel' into Google and up comes a plethora of flights for you to pick out the like the yummy strawberry chocolate in a box of Cadburys.
If you book your holidays anything like I do, you surf around online for cheap flights, book them with the click of your mouse on your credit card then start trawling through all the places to stay. But if you're not staying at your friends' place, this might not be the cheapest way afterall.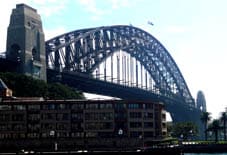 I was talking to Sam Fowler, Product and Marketing Manager at Go Holidays, last week and she was telling me that a lot of people who book their own flights online to grab cheap seats miss out on the accommodation options that are often thrown in for next to nothing.
For example, at the time of writing United Travel has return flights from Auckland and 2 nights in Sydney starting at $369. I decided to check it out for myself so went online and searched for individual flights (about $320 was the cheapest I found) then I went onto the hotel website that this starting price is being calculated on and rooms start from NZ$95 per night.
Therefore, the total to book this myself online = $500. But savings by booking this air/land package through United Travel = $130.
I tried the same on flights and accommodation in Fiji. United Travel has a deal on now that includes return flights from Auckland plus 4 nights at the Fiji Beach Resort and Spa managed by Hilton and meant to be fabulous! (according to my sister who just stayed there) starting at $1189 pp. I Googled flights – randomly in the travel period – and could fly return for NZ$720. Then I tried booking 4 nights in a beachfront studio (the starting price in the package) directly on the hotel website and would pay $936.
So the total price to book this Fiji holiday myself: $1650. But the saving made by booking the United Travel air/land package = nearly $500.
I'm gobsmacked. I had no idea!
So there you go. Before you let your fingers do your own walking, you might want to jump onto www.unitedtravel.co.nz and see what's on offer, then either book the whole shebang online, or pick up the phone and let one of their agents help you out.