I loved Hoi An. I was my favourite city in Vietnam – and not just for the clothes, shoes and glasses I had made!
Hoi An has a pretty ancient part of the city filled with cute boutiques and handicraft stores, plus a huge array of great restaurants to try a new place every night (see the best restaurants in Hoi An), and a lovely beach near by for when you're sick of shopping – yeah right.
I hosted a two-week tour taking 12 people to Vietnam in 2017, starting in Hanoi at the top and making our way down to Ho Chi Minh City at the bottom. (Here's my post on why overnighting on a boat in Ha Long Bay – just outside Hanoi – is a must).
It was my first foray into hosted tours and since then I've taken small groups to Italy, USA and China with more being planned. (Join my Blogger at Large Tours group if you're interested in joining me sometime!)
But one of the things I was most looking forward to about visiting Vietnam was getting some clothes made. I had been online for hours searching for where to do it, which shops were best and some idea of prices.
Turns out Hoi An was the most popular place to get tailored clothes – and yes, even shoes – made, so I narrowed down my search as to which stores to hit up. As it happens I didn't choose any from my list and instead found these places which gave me wonderful items and at great prices.
The Old Town of Hoi An is gorgeous and bumping with shops and tailors and restaurants and bars. But because it is so damn quaint – and old – the rents are high. And you know what that means, the prices you'll pay are high.
But go just outside the gates of Old Town and tailors are plentiful – and so much cheaper! Not only that but the place I finally chose had a much larger fabric selection than the raved about Yaly.
Where to get clothes made in Hoi An
Bao Diep – (28 Tran Hung Dao St) is the store I settled on with the delightful Dong who was such fun to deal with.
It has a 5-star rating on Tripadvisor too and is just outside the Old Town of Hoi An (and therefore quite a bit cheaper). Funnily enough she tried to steer me away from the green sheer fabric saying she didn't like it, and even when I insisted it was lovely and went to pick it up the next day all sewn beautifully, she still turned up her nose!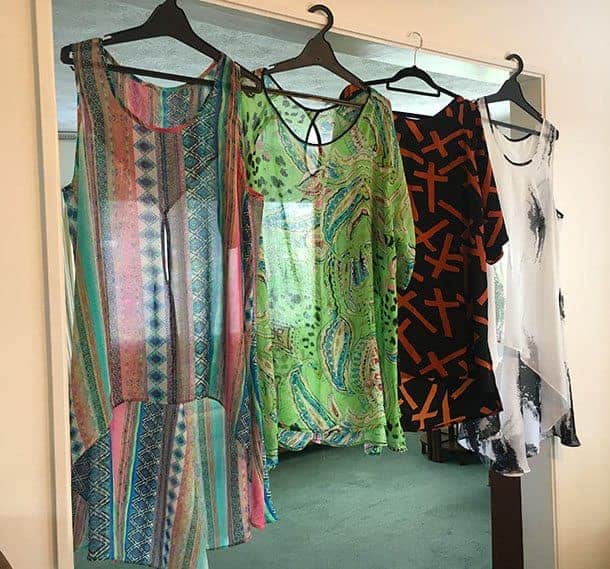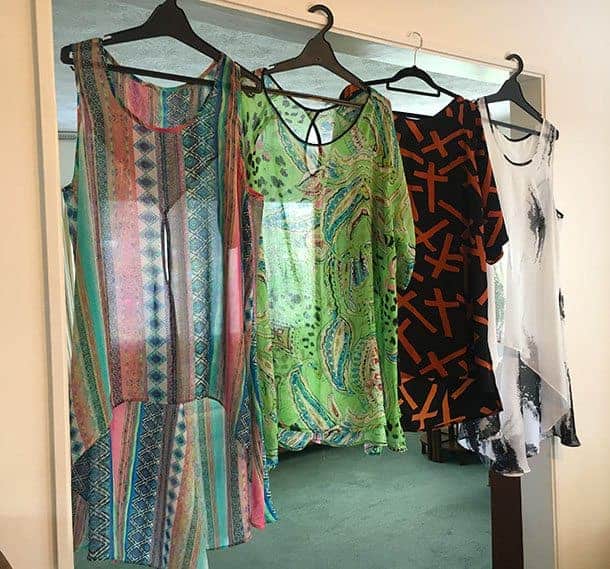 I had taken a couple of dresses/tunics from home especially to have them recreated and in the end I paid US$30 for each.
I was initially lured in by the pink/blue stripe fabric (which I chose to have made a sleeveless tunic with a little train) and then rummaged through the masses of bolts lined up floor-t0-ceiling, finally settling on four. One of the girls on my tour came with me and as our dress style was pretty much identical (new bestie!), we had some of the same things made – same fabric and all, and ended up wearing our matching outfits as co-tour leaders!
Once we had pulled the fabric, Dong set about drawing up a rough sketch of the design, but also kept our originals to send off to the tailor. A young girl clad in head to toe clothing including woollen gloves, jeans and a sweatshirt was the motorbike "runner" – and it was well over 30 degrees C! But the desire to have light skin is so strong here, they'd rather almost perish in the heat than risk turning brown. (Mind you I stared at her and she was not even sweating). Funny how we all want to "change" ourselves ay? Meanwhile I wore sleeveless tops to get my arms brown.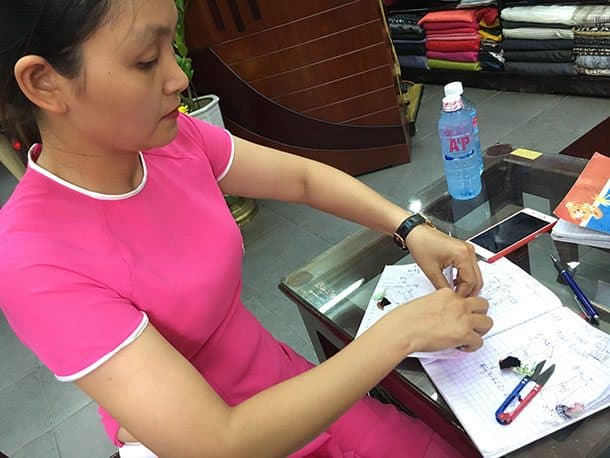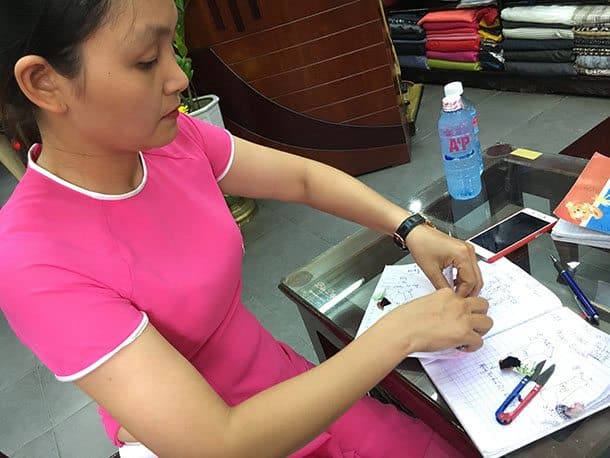 The next day we came back to try them on and Dong went meticulously through every seam to check she was happy. As our dresses didn't require "tailoring" (unlike other customers who were having fitted dresses made and men with suits), they were pretty much ready. However Dong found a seam she didn't like, so we returned about 7pm to pick the lot up.
Then I casually mentioned that I wanted to get shoes made but didn't know where… turns out the cousin of the owner is a cobbler just down the road so she walked with us a block down and pointed out his shop across the road and off I went for my next purchase.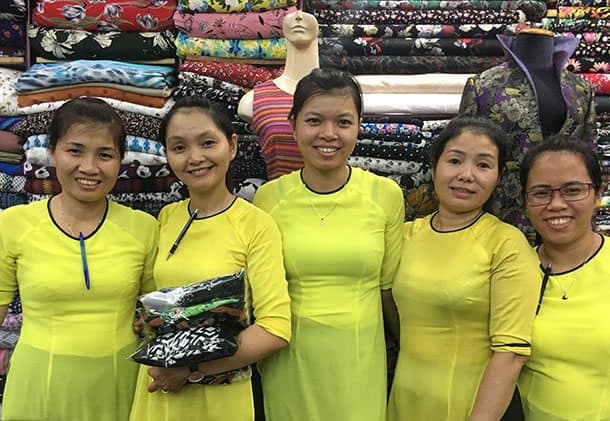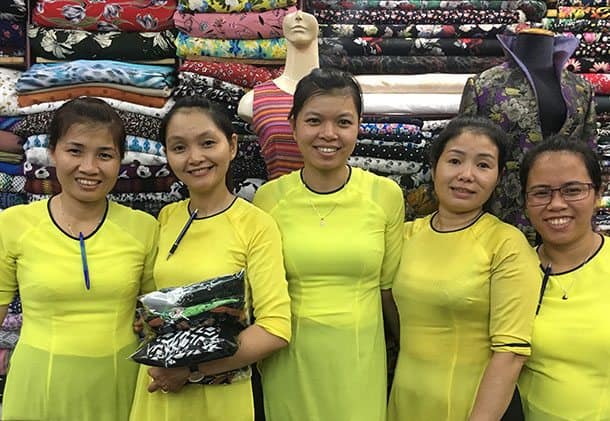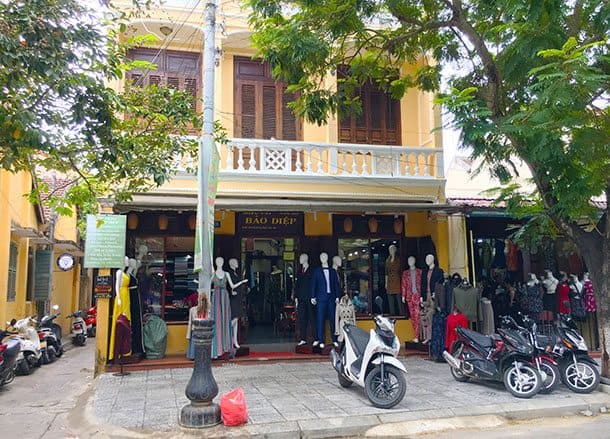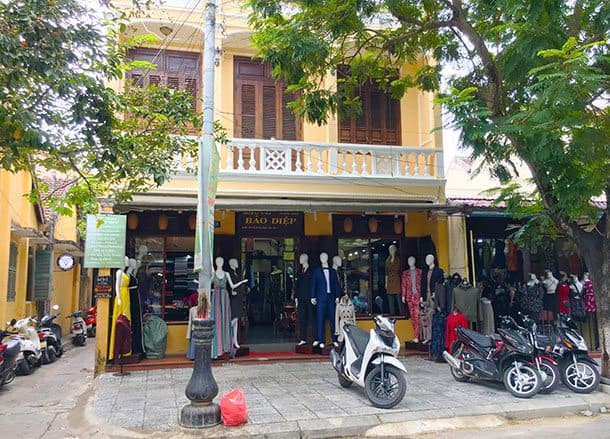 Where to get shoes made in Hoi An
New Stars (39 Tran Hung Dao St, Hoi An City) is the shoe shop I found, and it'd be hard to find if I hadn't been shown. It's also just a block from the Old Town and the shoes I had made here were 2,818,000 dong (NZ$168) for two pairs. Leather uppers, leather lining and rubber soles with metal buckles.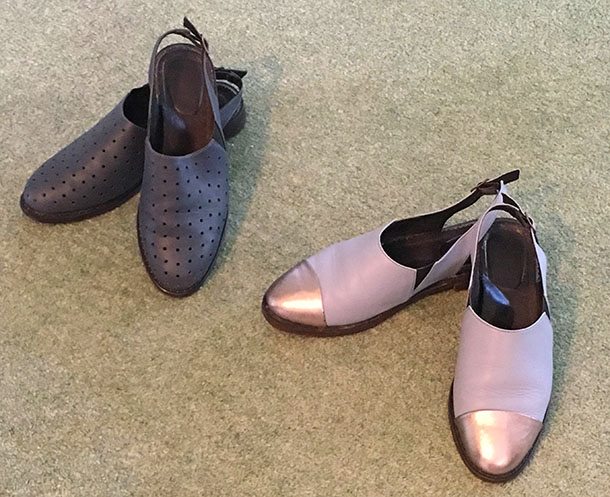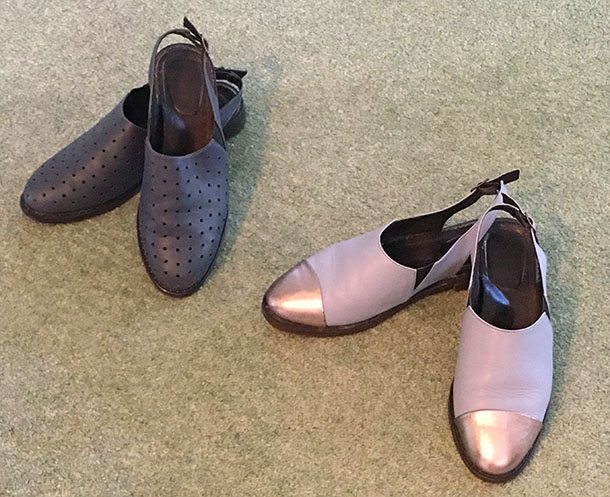 Again I had taken some favourites from home and they had a large range of colourful leather samples so I chose baby blue and silver for the toe cap, then for the other pair I drew that I'd like the navy leather to be punched with holes. The holes ended up being a bit bigger than I had imagined, but I'm trying to pretend they're not too Croc-like 😀
My feet were drawn around on a piece of paper on the floor and they wrapped a tape measure around my instep to see how high to make the arch. They are on the large size but the leather is so soft and they're very comfortable. I have added little cushions in the toe and my dad hammered an extra hole in the buckle strap, so they're good as gold!
Now for the glasses…
Where to get prescription glasses made in Hoi An
Again, I had come prepared and while I only use readers at home, I did want multi-focal lenses so I could wear them when working on my laptop and watching telly or when I'm presenting and need to refer to my notes then look up at the people without them appearing all fuzzy.
I'm only a 1.25 and a 1.5 (one of each!) and brought my Specsavers prescription with me (free for AA members every two years, FYI). However they will also test your eyes if you don't have your prescription.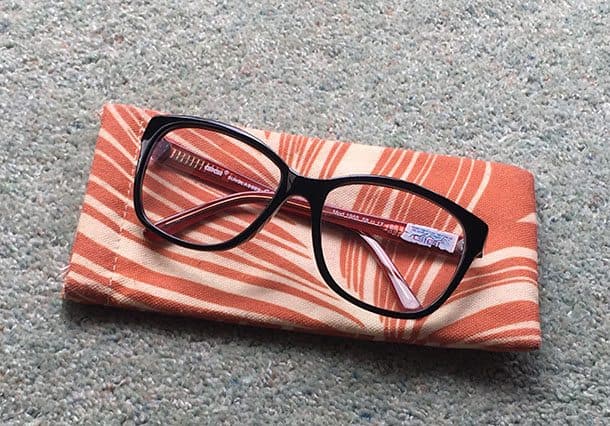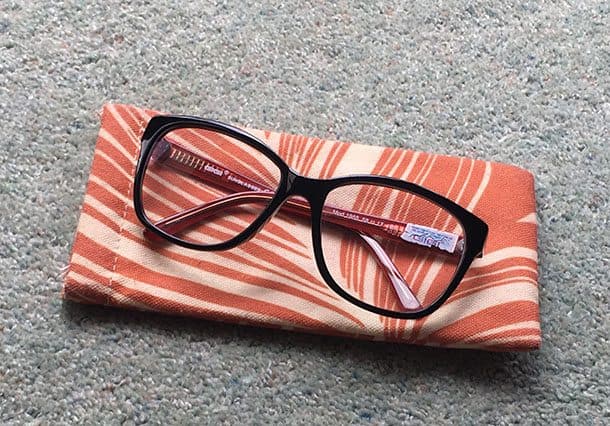 Our guide, Viet, knew a good place in Hoi An for getting glasses made so on our orientation walk through the Old Town he brought us to A Chau (23 Le Loi St, Hoi An City), a little shop on a corner which I would have walked right past if I didn't know.
They didn't have a huge range of frames to be honest, but I chose the ones above which were actually on the shelf as sunglasses, but as I wanted a "statement" pair of glasses, they popped the tinted lenses out and put my new lenses in.
The process involved me putting them on with a plain lens in and the man got me to look straight ahead then drew a dot in the centre of the lens at my pupil level, and that was it.
I handed my prescription over, haggled the sales woman down to US$100 (they are $700++ in New Zealand) and voila, they too were whipped up over night much to the impressiveness of my friends back home when I share them round the table in a restaurant!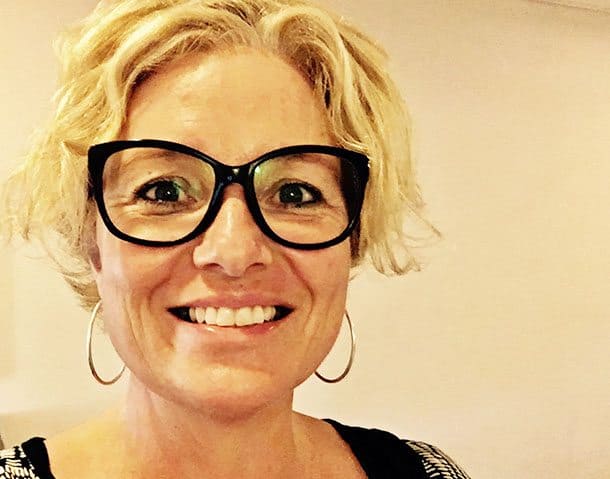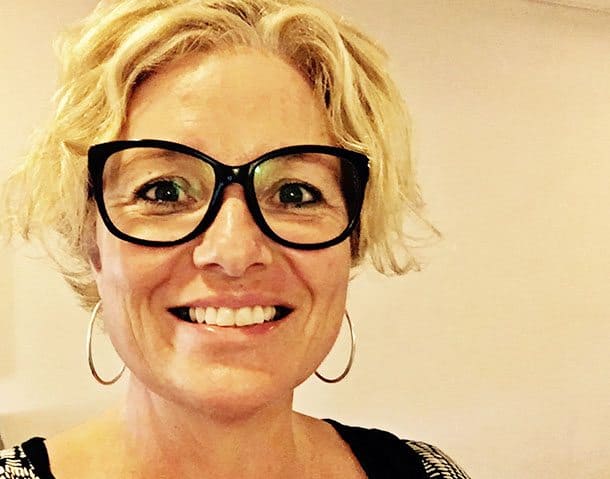 If you are planning a visit, here is a quick overview of top things to do in Hoi An.