Let me tell you an amusing little story and the lesson I learned about not believing everything your tour guide tells you…
I was in Cabo, on Mexico's Baja Peninsula, and was excited to have a guide for the day for our drive that would stop for delicious homemade food from roadside diners en route.
We drove from Jose del Cabo to La Paz up the eastern side of the peninsula on the Sea of Cortez for a bit of seal watching and cerviche made for us on the beach (as you do) then we drove back down the west coast via a little town called Todos Santos, specifically to visit the legendary Hotel California.
I was pretty excited. The driver put the Eagles hit song on in the van and we belted out the chorus as he regaled us with stories of how it came to be named.
We eventually pulled up and managed to find a car park among all the other tourists who had parked motorbikes in front. There are a few good local shops and bars in the neighbourhood, but it's the hotel and it's garden bar people come here for.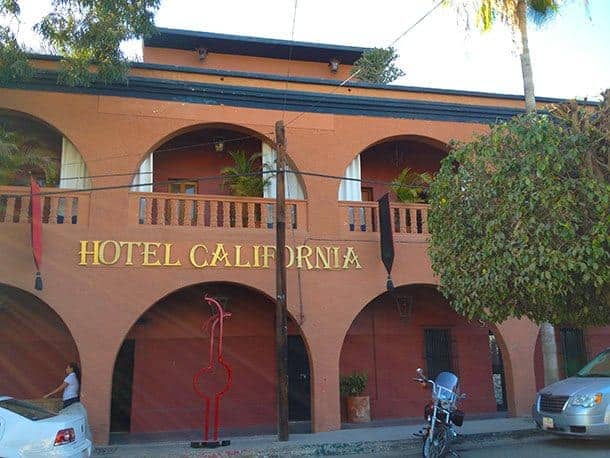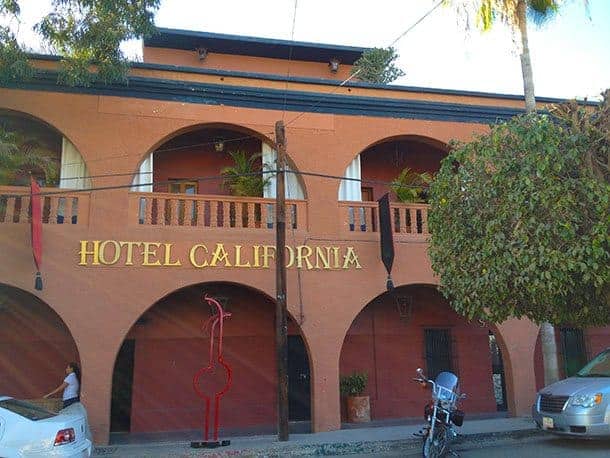 They have a gift shop too, The Emporium, which is so big it has its own entrance selling all sorts of merch and I handed over my hard-earned cash.
If you Google this hotel you'll find images of motorbike groups lined up outside while their riders have a beer in the garden bar which has a sound stage for live music. It's a great place. You'll find a gazillion selfies online of tourists keen to put themselves into a little piece of Rock n Roll history. Or so they think.
I went inside this 3-star hotel and into the eerie reception area. It's painted in blues and crimsons and I remember thinking that it was spooky at the time but only because we'd been belting out "you can check out any time you like but you can never leave".
The rooms and pool and the outdoor restaurant are bright and colourful and the reviews for the hotel are great. But…
Turns out the whole thing is a lie!
It is not the inspiration for the Eagles famous song. In fact I then read the Eagles have never been to Mexico!
In fairness, I honestly think my guide believed this was the hotel that inspired the haunted song, but as I came to write this post, I thought I'd better do a little research so I could add in things like the year they stayed and what the lyrics actually mean.
I was royally sucked in.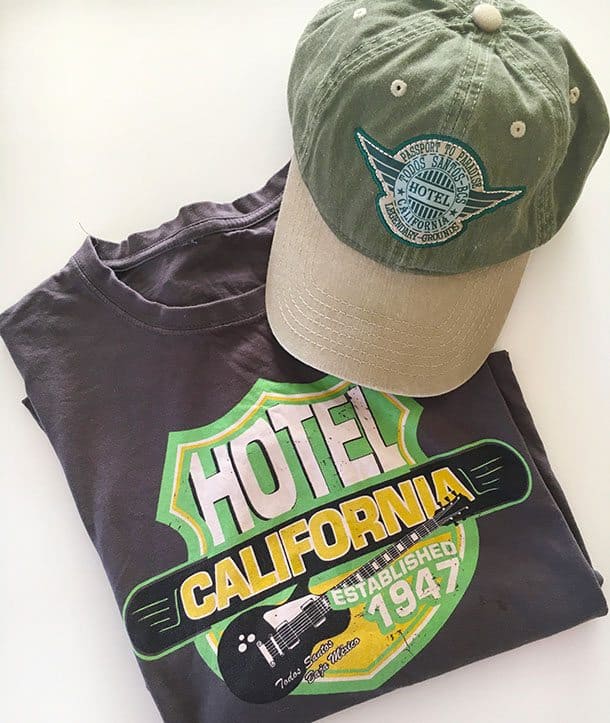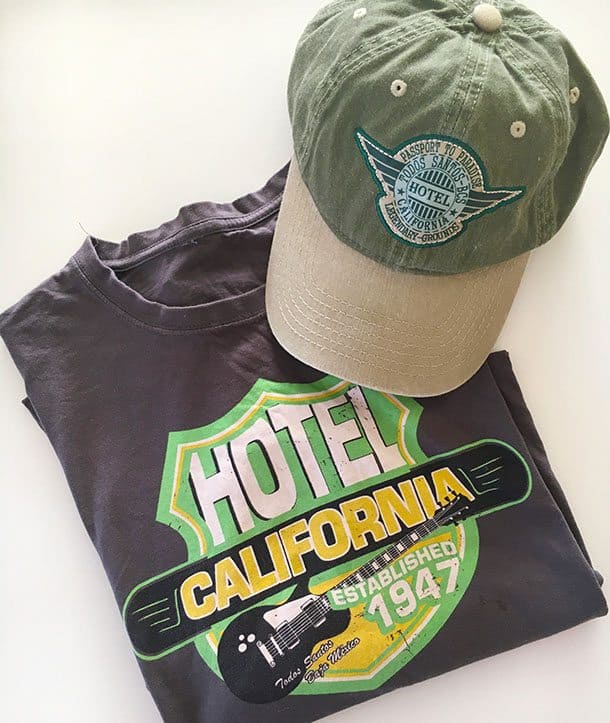 I literally bought the T-shirt – and a cap – for my husband. Their gift shop definitely trades on the song (although cleverly omitting any mention of the Eagles – which I didn't notice!).
In 2017 the Eagles sued the hotel. I was surprised it took the band's lawyers this long to try and get some of the money they have earned from hapless tourists like myself. But in January 2018 the courts allowed Mexico's Hotel California to keep its name, they just can't apply for trademarks in America.
So if you do fancy buying a "genuine fake" from the gift store, you've been warned!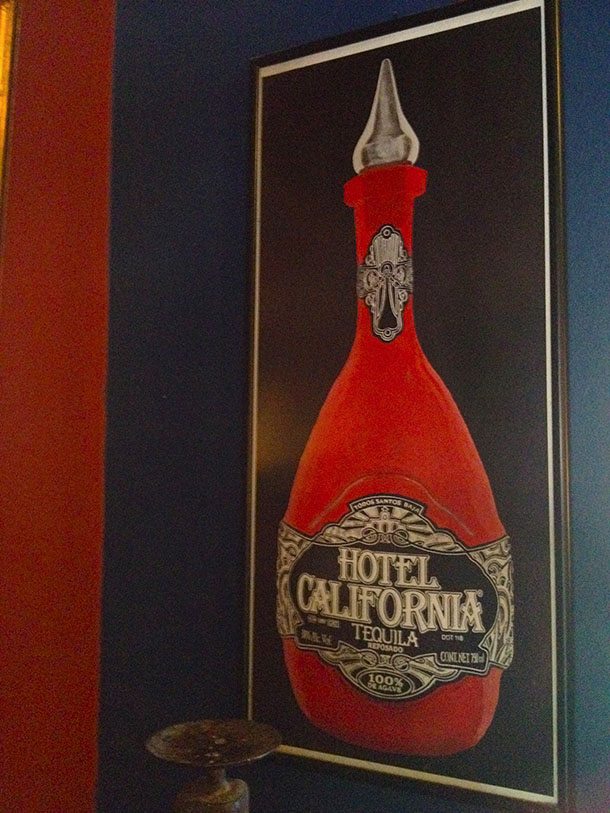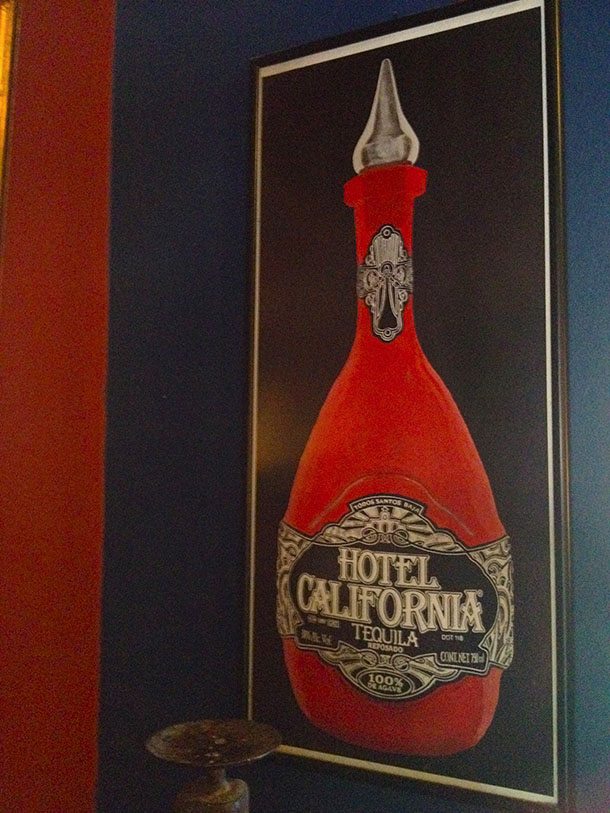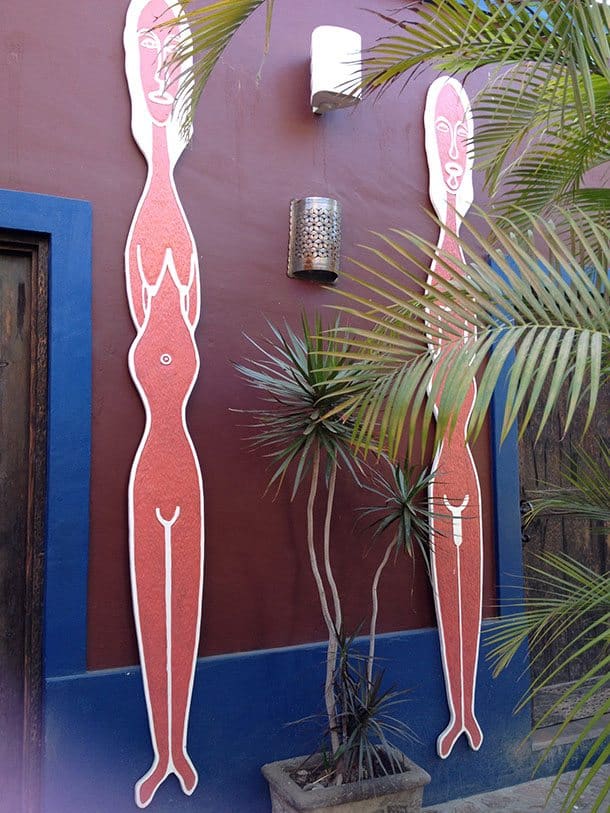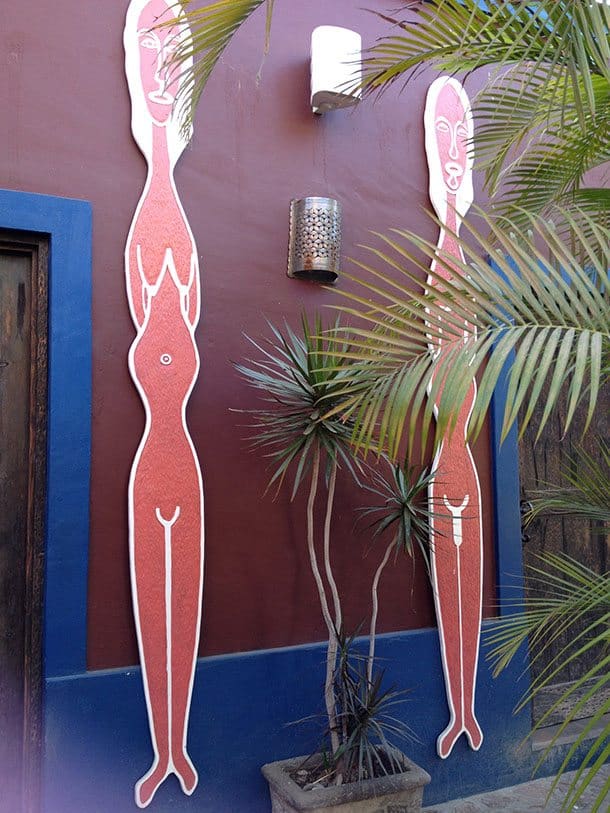 Hotel California Lyrics
On a dark desert highway, cool wind in my hair
Warm smell of colitas, rising up through the air
Up ahead in the distance, I saw a shimmering light
My head grew heavy and my sight grew dim
I had to stop for the night.
There she stood in the doorway;
I heard the mission bell
And I was thinking to myself
'This could be heaven or this could be Hell'
Then she lit up a candle and she showed me the way
There were voices down the corridor,
I thought I heard them say
Welcome to the Hotel California
Such a lovely place (such a lovely place)
Such a lovely face.
Plenty of room at the Hotel California
Any time of year (any time of year) you can find it here
Her mind is Tiffany-twisted, she got the Mercedes bends
She got a lot of pretty, pretty boys, that she calls friends
How they dance in the courtyard, sweet summer sweat
Some dance to remember, some dance to forget
So I called up the Captain,
'Please bring me my wine'
He said, 'we haven't had that spirit here since nineteen sixty-nine'
And still those voices are calling from far away,
Wake you up in the middle of the night
Just to hear them say
"Welcome to the Hotel California
Such a lovely place (such a lovely place)
Such a lovely face.
They livin' it up at the Hotel California
What a nice surprise (what a nice surprise), bring your alibis
Mirrors on the ceiling,
The pink champagne on ice
And she said, 'we are all just prisoners here, of our own device'
And in the master's chambers,
They gathered for the feast
They stab it with their steely knives,
But they just can't kill the beast
Last thing I remember, I was
Running for the door
I had to find the passage back to the place I was before
'Relax' said the night man,
'We are programmed to receive.
You can check out any time you like,
But you can never leave!'
Don Henley explained the song is about the band coming from the mid west to California to try and make it in the big city of Los Angeles.