Update Feb 2019: Uber Eats is in my 'hood and I use them about once every one or two weeks!
_______________________
I'd known about Uber Eats for a while now, but it doesn't yet operate in my neighbourhood at home (ahem), so I'd never used it – until last week in Sydney. What a discovery! Room service to your door from any number of restaurants within cooee of your phone.
Very few car drivers do it in the big cities because parking is an issue for picking up and dropping off the food, so you'll find it's more for cyclist and motorbike Uber drivers in places like Sydney.
It's also had it's criticisms (food arriving cold due to drivers picking up multiple orders to make more money), but I had a great experience using it instead of room service.
Here's what I did…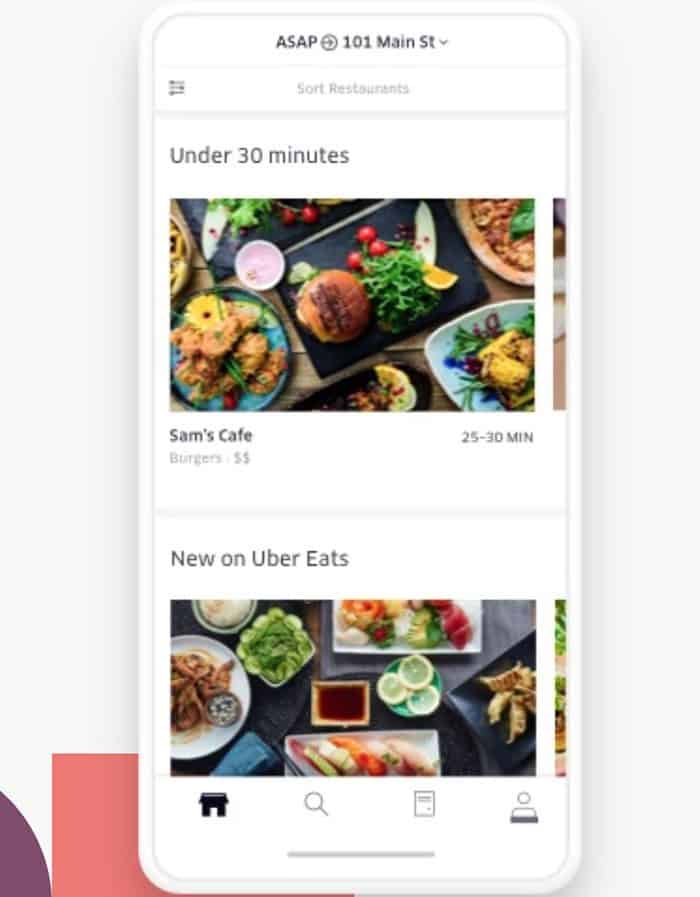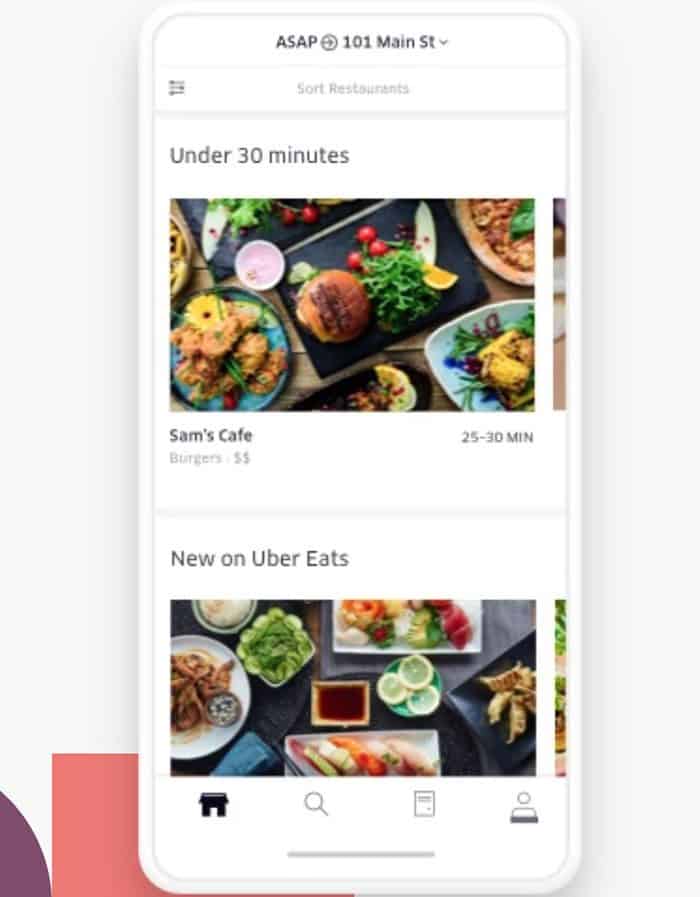 I had been out and about all day on a foodie tour by ferry from Circular Quay up the river to Paramatta then out on the harbour with friends on their boat (as you do!), and then at about 6pm I had to shift hotels from Potts Point to Darling Harbour.
I grabbed an Uber from the Woolloomooloo pier to that first hotel and he waited while I nipped in, grabbed my luggage from storage and on we went across town, all the while I'm thinking about what I might do for dinner.
My driver was an Indian man and used to run an Indian restaurant in Sydney before he sold his business and began driving, he told me. As we talked I was leaning more and more towards a butter chicken with naan bread, but not sure if 1) I had the energy to walk to a nearby restaurant – it was now about 7pm, and 2) if I wanted to book the "Singleton party of one" and sit alone, tired and wishing I was in my PJs eating curry in bed!
Cue: Uber Eats and curry in bed.
I'd never thought of it like this before, but as my driver explained, you pay $6.99 (in NZ) to have any meal delivered to your door (yes even up to your room if you give them the number). On the Uber app you'll see a list of restaurants by category and by estimated time of arrival. Uber also takes 30% from the restaurant as commission, hence why not every restaurant takes part as that seriously cuts into margins.
I browsed through my options by fastest delivery time, by cuisine type and by price, but that butter chicken was shouting at me now, so with a few clicks I had popped said rich and decadent dish into my cart, added a naan bread, my hotel name and address and hit send.
My credit card is already loaded in my account as I am an Uber customer so it was paid for immediately and I jumped in the shower knowing I had about 20 minutes before my dinner would be in reception. I knew this because the estimated time of delivery appeared with a little map of the restaurant location in relation to my location.
I kept the app open and watched my little man on a bike ride around nearby streets and his timing got nearer.
Now that I think about it, he was most likely delivering to other people too as he cycled right past my hotel (or at least his little caricature did on the app) and went around the block stopping for a few minutes which I presumed to be traffic issues, but now think it was him doing multiple deliveries.
Fortunately my meal was ok to eat warm (not piping hot, but I wouldn't use Uber Eats for a burger or a steak). I also had a kitchenette in my room so could have heated it if I needed to. I didn't.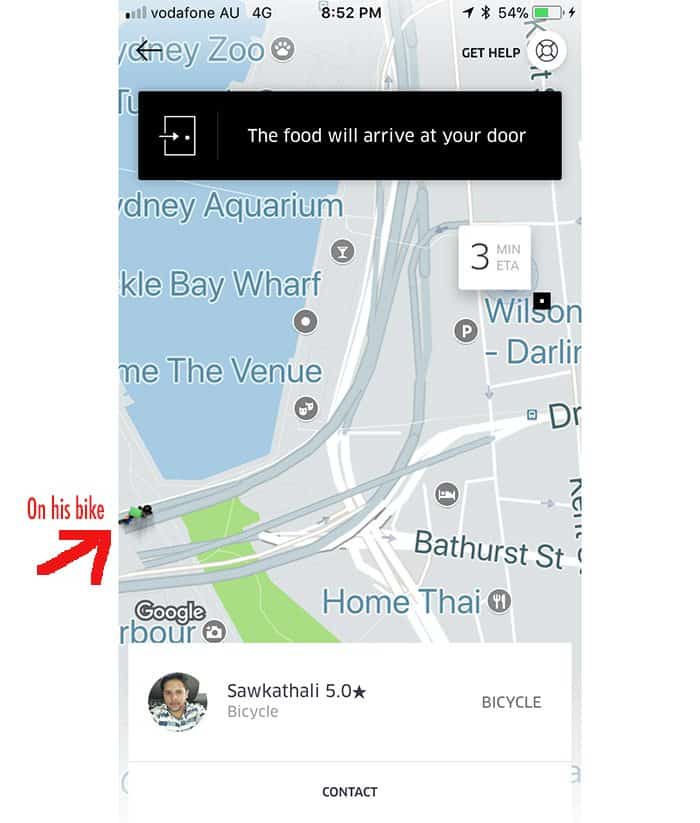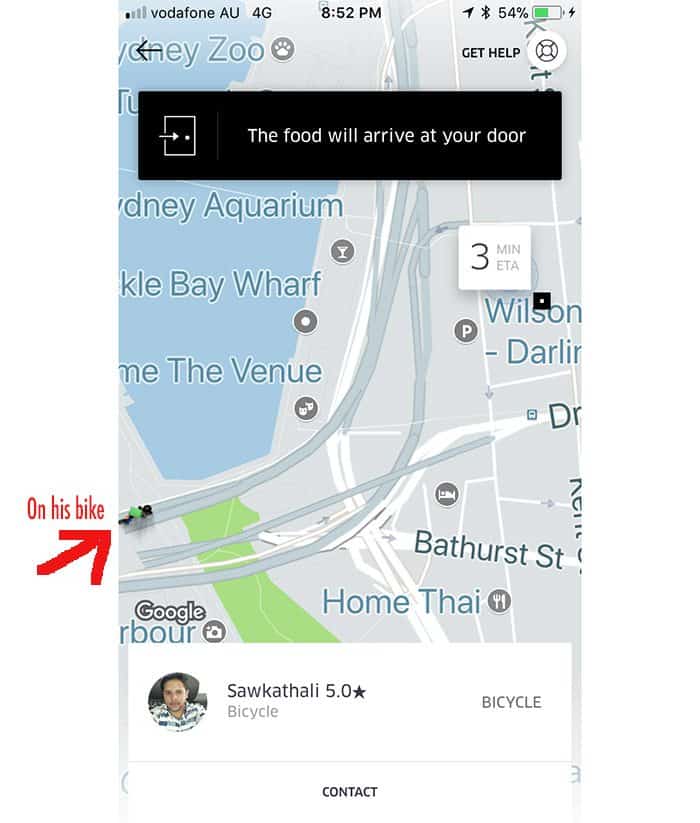 So updating now that Uber Eats is here in Auckland and my husband and I use it quite regularly to call in Thai, Indian, pizza and we've even tried a burger but as expected the fries arrived soggy.
Are you a convert?