A day trip to Windsor makes a wonderful day out from London!
But where is Windsor, how do you get there, how much does it cost and how long do you need to have a good look through the breathtaking Windsor castle? Let me tell you!
If you have an extra day in London – of course, after you've shopped Oxford Street, had high tea at the Goring Hotel (my favourite hotel in London where I have spent a fortune on teeny cakes!), dined out in Covent Garden, stood outside Buckingham Palace taking selfies hoping the queen would be driven out, then a day trip to Windsor Castle will top off your stay nicely.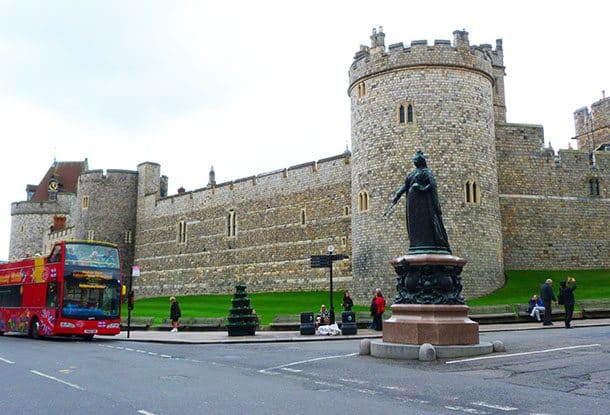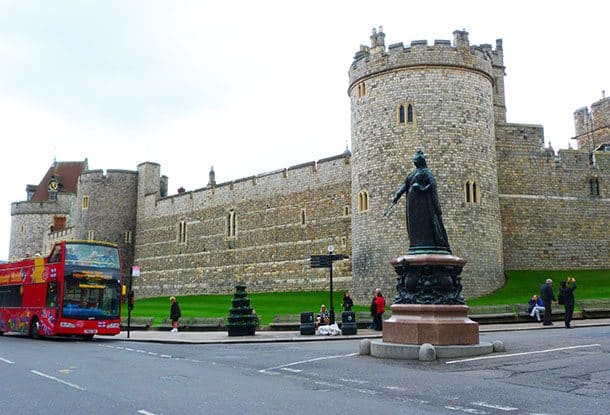 Windsor is a quaint little village just west of London, which is also home to Eton College (where princes William and Harry went to school) and of course, Windsor Castle. But frankly it's the castle you've come for!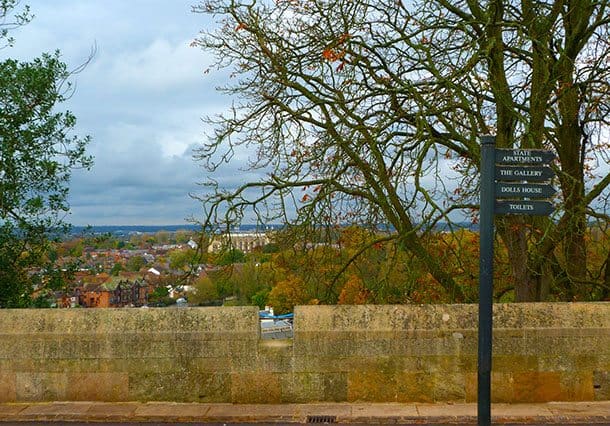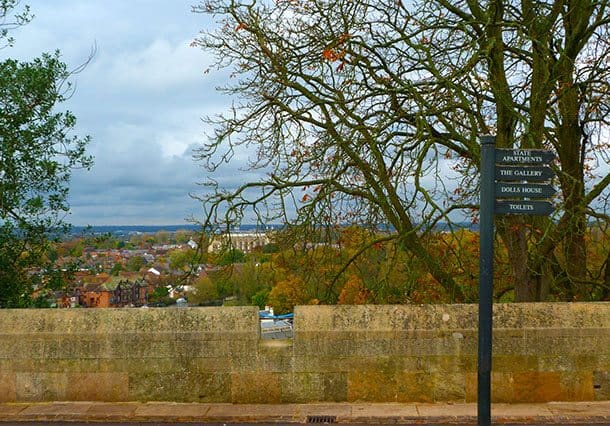 Happily you can wander through at your own pace but it pays to book your tickets in advance. They use a timed entry system and we were lucky when we rocked up and paid our money at the book shop and only had to wait 10 or 15 minutes.
Then off we went, wandering through the grounds and taking photographs. You can't take any photos inside Windsor Castle (and they have staff watching you in every room), but if you buy one of the little souvenir books, it has much better shots than I'd be able to take.
The history here is astounding for those of us from the Antipodes or America. The castle was built nearly 1000 years ago in the 11th century after the Norman invasion and is the largest and oldest occupied castle in the world, sitting on five hectares of land, filled with priceless, uninsurable artefacts and is the favourite weekend residence of the Queen. If the flag is flying it means she's indoors!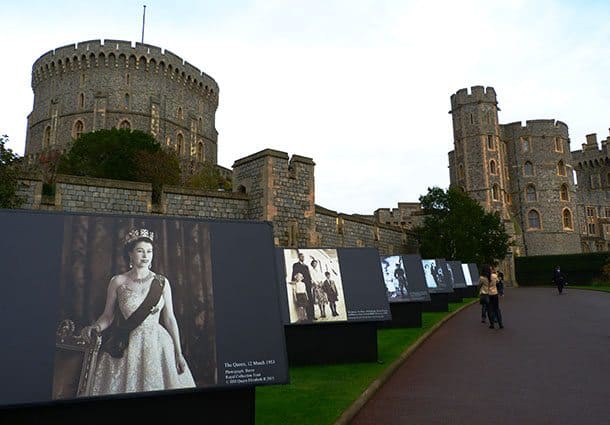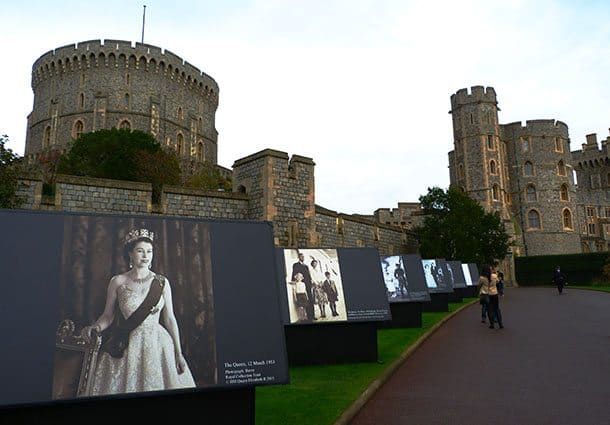 Here are some of my highlights of Windsor Castle
Queen Mary's doll house
The BEST ever dolls house in the world! This is was a highlight for me and for little girls (and those of us who still remember being little girls) this is the most gob-smacking feature of all. And in fact inspired me to create my own 4-story doll house as a 20-something after living in London for five years. I then embarked on a lifetime of collecting miniatures and still have it in my house today!
But Queen Mary's doll house was built by the leading architect Sir Edwin Lutyens for the little princess Mary in the early 1920s, and is the largest and most intricate in the world. (There is another amazing doll house in the Smithsonian's National Museum of American History in Washington DC, just FYI for doll house fanatics – and that is the one I modelled mine on).
Queen Mary's doll house is HUGE but at a tiny scale of 1:12, and the house is filled with one-off specially commissioned pieces from leading artists and craftsmen of the day.
Take your time peering at the minute detail of the nearly 600 miniature books in this library. 176 are manuscripts written by famous poets and authors of the 1920s who copied in tiny handwriting their work already published. On some occasions they wrote new works specially for the library.
Keep walking around and note the box sprung beds with mattresses stuffed with horse hair and you'll even see a safe gifted by Chubb with teeny working locks. Stare in wonder at the wine cellar and the utilities including running water and electricity!! I would allow an hour to walk around all four sides of this alone – and another 2 hours for the whole castle, FYI.
St George's Chapel
This is where Prince Harry and Meghan Markle married in May 2018 in a lavish star-studded event surrounded by thousands of people on the streets and another 2000 lucky souls within the castle grounds.
The chapel is open Monday – Saturday and closes at 4pm for visitors for the evening service at 5pm. It is a breathtaking building of gothic architecture and if those walls and stained glass windows could talk, how incredible would the tales they tell be.
It is the home of the Order of the Garter (established in 1348 as an order of chivalry founded by Edward III and dedicated to the image of St George, the patron saint of England). Take your time wandering through here as the chapel is also the final resting places of the tombs of ten sovereigns including Henry VIII – which the royal couple famously walked over as they left the chapel.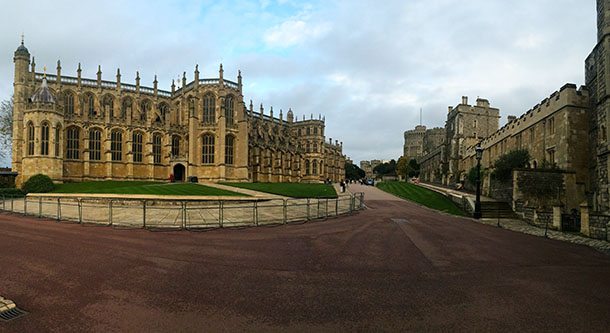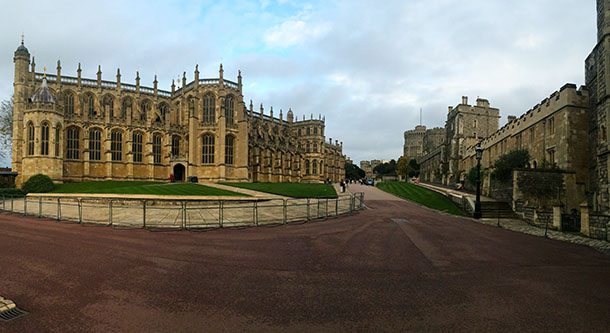 Windsor Castle State Rooms
These 19 rooms are where the Queen hosts big fancy events and it's open to tourists for ten weeks over summer and a handful of dates in winter.
They are worth visiting Windsor Castle for alone! We got to look through them and hear stories about the armoury on the walls that have been collected for hundreds of years by royal households and gifted from leaders from all parts of the world.
I hope you get to see them, they're so ornate, right down to the floor rugs and the delightful men and women who watch over each room have such a huge wealth of knowledge and are happy to chat.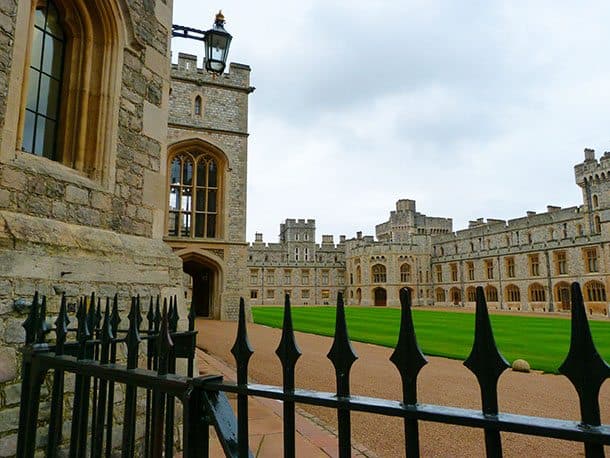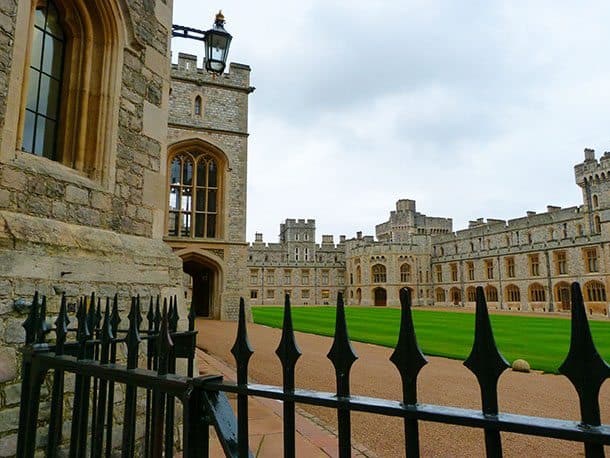 The Windsor Castle fire
I was in London when fire broke out in Windsor Castle in November 1992. Prince Andrew was in residence at the time as multiple fire engines lodged into the castle grounds and it spread rapidly, burning for a full day. I remember seeing him on TV watching his house and Britain's history burn. It was traumatic for everyone!
As mentioned above, the staff are positioned in each room (to make sure you don't touch or take photos) and they are also incredibly knowledgeable and often they're historians in their own right. I got talking to the guy in the new wing and he told me how they managed to save so much of the priceless artworks with one guy even burning his hands as he managed to get the fourth painting down. Since that fire and the £36 million repair bill, the Queen opened up Buckingham Palace to tourists to raise money and agreed to pay taxes on her income (as she should), which no monarch has done since the 1930s.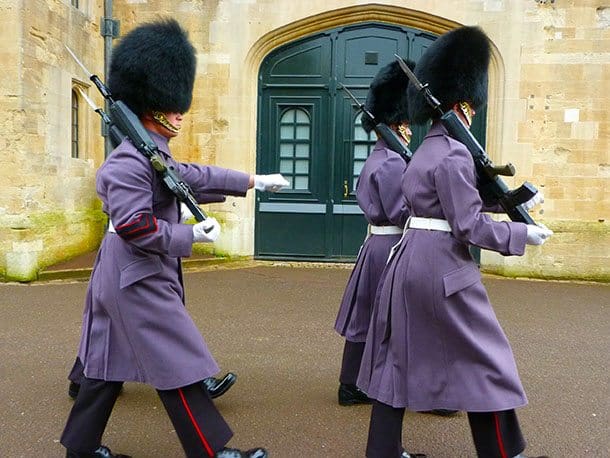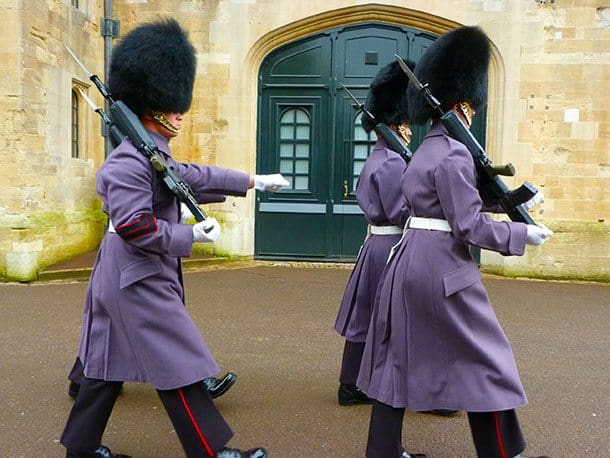 How to get to Windsor from London
Windsor is 22 miles (35km) west of London and there are several ways to get there.
We took the train from Paddington Station to Windsor & Eton Central. It takes around 45 minutes, and you'll change trains in Slough. Tickets start from £11.10 for a standard seat. You could buy a first class ticket too.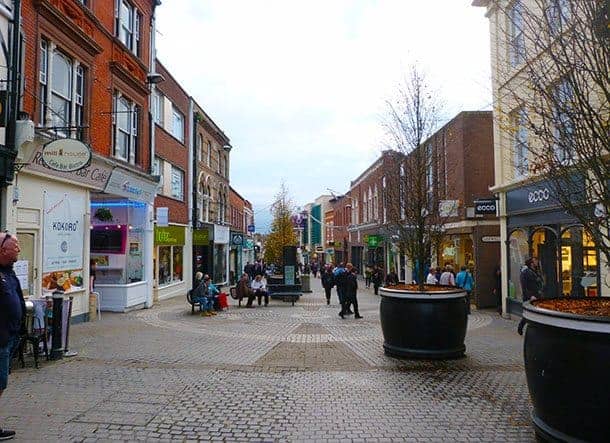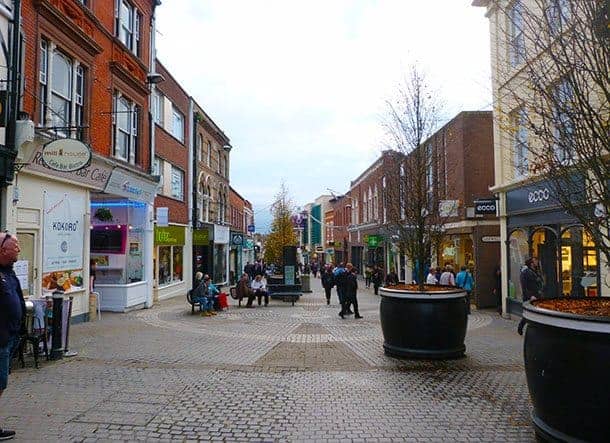 Have a pint or a scone before you leave
When we eventually left the castle we found the King and Castle Pub just across the road which served good old English pub grub and as luck would have it, high tea. That was me sorted. Oh how I love a warm scone, homemade jam and clotted cream.
Read more about Windsor Castle here.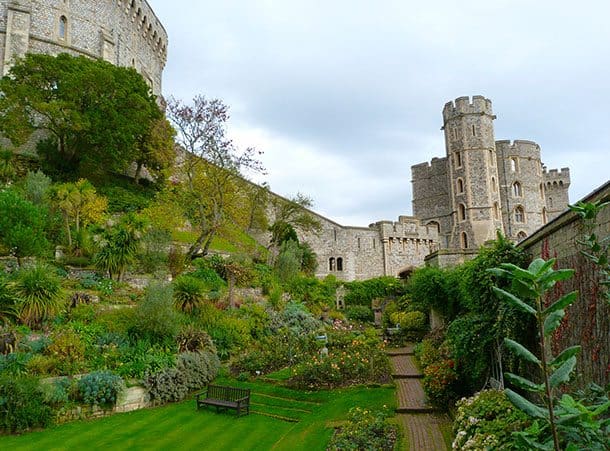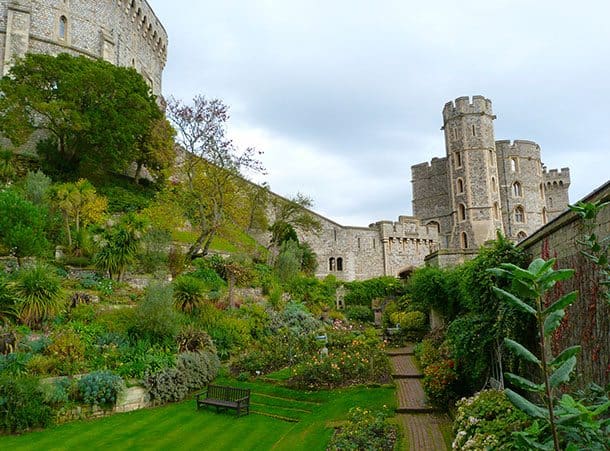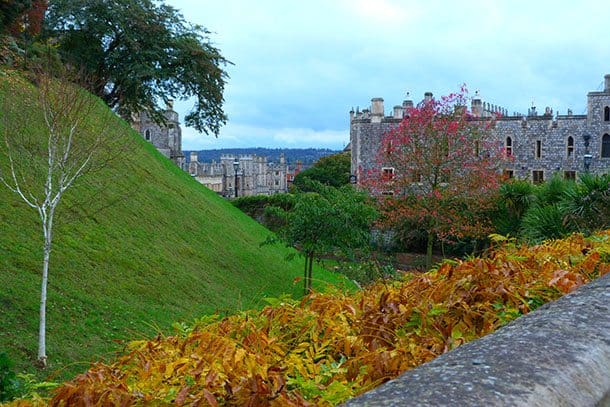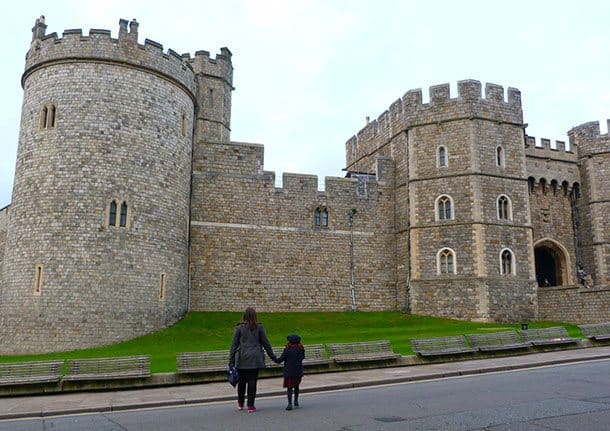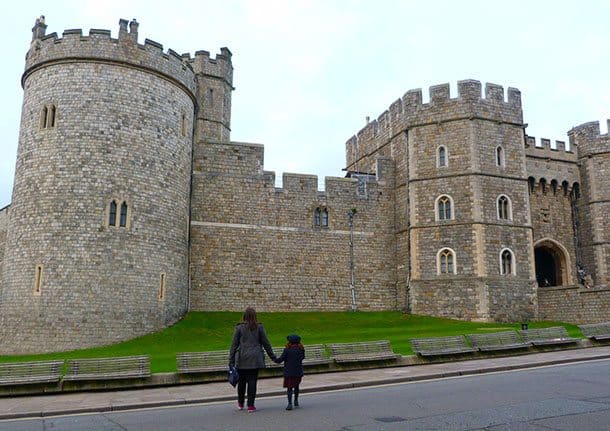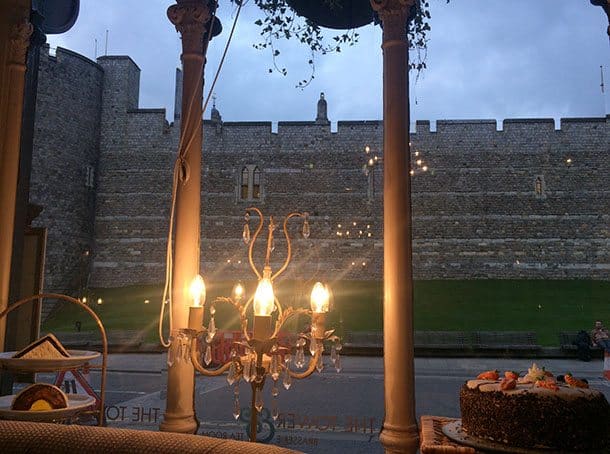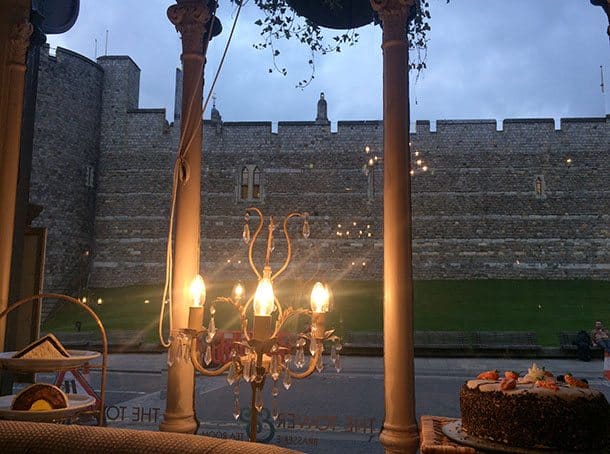 Or plan to take a couple of days in Windsor to shop, eat, go on walks, chat with the locals and spend a good amount of time without having to race back to London!