If you're an ink fan then you'll LOVE the real painful deal – a traditional Tahitian tattoo by one of Tahiti's last remaining traditional tattooists, James Samuela at Moorea Tattoo on Moorea Island, Tahiti.
As one of the last remaining traditional tattooists in Tahiti, James is a descendant of the very first tattoo artists from the Marquesas. He has tattooed in many countries like France, Spain, Switzerland and the United States. He ultimately ended up in Moorea, where you can easily find him. But what sets James apart from other tattooists is that he hand makes the tools for each client, which you get to keep as a souvenir of your experience.
How to get to James Samuela's Moorea Tattoo in Tahiti
Tahiti is the largest and highest island in French Polynesia. It is famous for its beautiful beaches, crystal-clear waters, and stunning coral reefs. You can find various hotels and resorts in this secluded paradise. The island also has a rich cultural heritage, which includes the traditional Tahitian tattoo, which got me fascinated knowing that I'm unto something.
Located smack dab in the middle of the South Pacific, Tahiti is a little slice of heaven that's definitely worth the journey. The easiest way to get there is by air, with Faa'a International Airport (PPT), also known as Tahiti International Airport, being the main gateway. It's the only international airport in French Polynesia and is conveniently located in Papeete, Tahiti.
Read my post on 5 amazing resorts in Bora Bora>>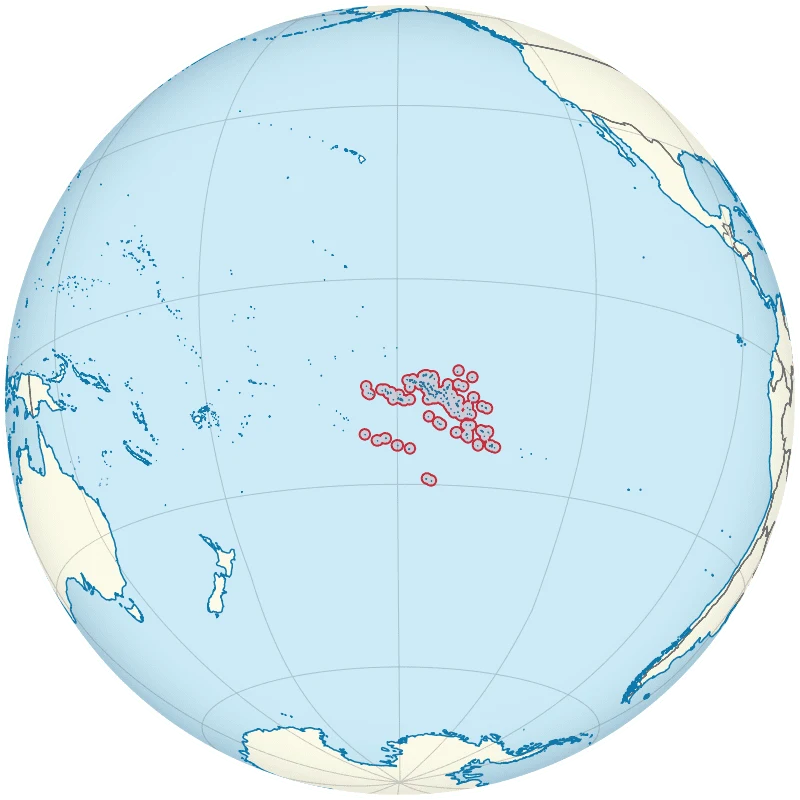 Papeete to Moorea
Moorea is another island near Tahiti, and it's very easy to get there. You can choose to travel by plane or boat, each having their own advantages.
By Plane
The plane ride is very quick and takes only about 10 minutes. There are several daily flights from Papeete to Moorea and vice versa, which is operated by Air Tahiti. The tickets are quite affordable, costing around $70.
By Boat
If you prefer a more scenic route, you can take a ferry from Papeete to Moorea. The ferry ride takes about 45 minutes, and you'll have the chance to enjoy the beautiful ocean views along the way. Ticket costs $15.
Once you get to Moorea, head out to Ha'apiti on the west side of the island, where you'll find James and his American wife Laurel.
Read my post on 6 cool things to do on Moorea >>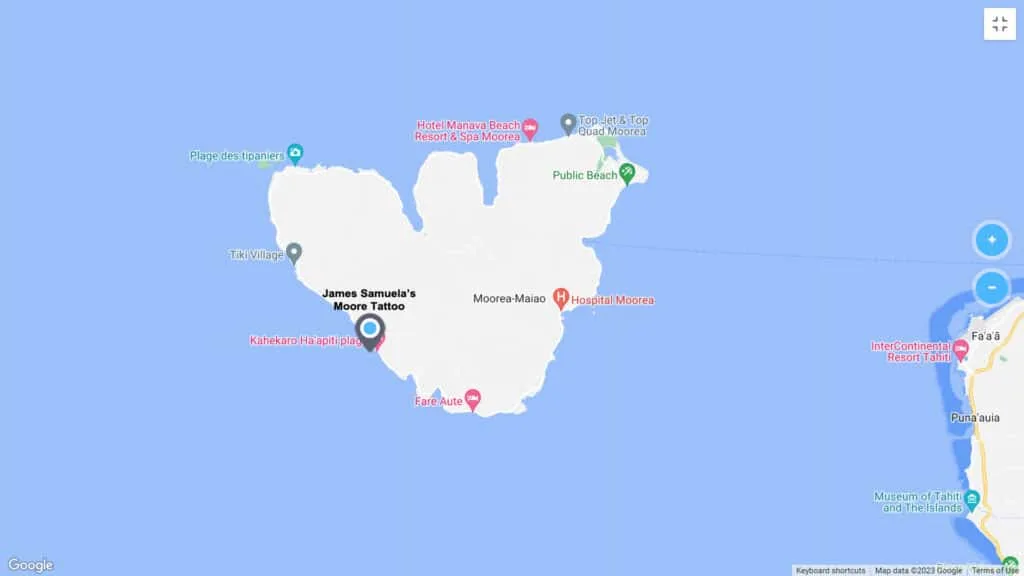 Tattoo Studio
Their studio is a humble hut and their home even more so, but in the front of the property is a gorgeous villa that they rent out to tourists as a little side business.
Ok, now I'm all distracted by the villa – we'll get to the Tahitian tattooing in a minute.
So yeah, James and his mates made Te Nunoa Bungalow, with the cute thatched roof, themselves. It's like a magical hideaway across the road from a stunning white sand beach. You get the use of kayaks, bicycles, snorkelling kit, an outrigger canoe and a bbq.
Inside, while the ceiling is high and made of local timber, they haven't spared the mod cons. You can find a fully equipped kitchen, TV, DVD, iPod dock, sumptuous king-size bed and 2 twin beds that can also be used for a family. The bathroom is the piece de resistance and plush white towels make this spot a little slice of heaven away from the tourist trap.
Traditional Tahitian Tattoo Specialty
Ok, back to the tatts. James is one of the only traditional tattooists left in Tahiti. He's a descendant of the very first tattoo artists from the Marquesas and studied the art extensively, even training in Paris.
He hand-makes the tools for each client (which they can keep). And if you know anything about traditional Tahitian tattoos you'll know that intricate, curvy little designs are very hard to achieve. But with James' fancy tools, even the tiniest turtle can be hammered onto a naked back.
He's not as covered in tattoos as you'd expect, either, and Laurel confessed that James' hadn't even done hers. But while I was there, a mate of theirs (and member of Tahitian royalty, I overheard) dropped in. He's definitely got the mark of James on him.
For info on anything and everything Tahiti, check out Tahiti Tourisme.