If you thought the seaside town of Raglan was only for wetsuit-clad dreadlock wearing surfers, think again.
I nipped down to the rugged west coast town (about two hours south of Auckland, 40 mins from Hamilton) to spend a couple of nights at Waoku Lodge. This new 5-star luxury B&B has just received a nod from prestigious Travel + Leisure magazine in the USA as one of only 40 of the world's Best Affordable Beach Resorts. Well done Rob and Sharon – it's nice for us kiwis to be able to afford to stay in swanky places without having an unending supply of US dollars!
We drove down Sunday afternoon, taking a right at Ngaruawahia and following the winding road all the way out to the coast until we reached the little town with palm trees up the middle of the road and cafes, surf shops and artsy-craftsy stores along the edges.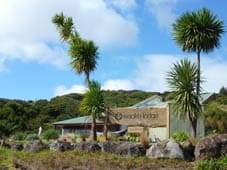 Waoku Lodge opened in 2008. But when Rob and Sharon Southern bought it, it was an unloved rat-infested property overrun with weeds and had no views of the sea until they fell in love with it. And after a full year of gutting and rebuilding, their property is being hailed in the fanciest of circles.
They are about 8km out of Raglan, past the surfers at Manu Bay and high up on the cliff near Indicators Point overlooking Whale Bay. It's a breathtaking spot. There are only 3 suites and 2 come with their own spa pool on the deck for sunset views with a glass of wine.
But it's the little things I especially notice when I visit a posh place. Like the bowl of lollies on the coffee table and the soap dish in the bathroom made of coarse concrete – I think, and the dramatic flax cloak on the wall. Of course that's after the big gasp at the view. We flung-wide the French doors onto Whale Bay that looked like it had a giant silver tray on it as the sun shone through the grey clouds.
Our two-bedroom (one upstairs) suite had an open plan lounge/dining/kitchen with a huge flat screen TV and comfy couch. There is a fridge, stove and dishwasher under the granite-topped island bench, but Sharon is a fabulous cook so we took advantage of her culinary prowess and browsed the menu early so she could set about preparing a delicious meal. At 7pm, after the sun had gone down and the spa pool was bubbling away for later, Rob arrived with an amazing warm crab and crayfish dip with caviar served in a paua shell with crostini, a couple of crayfish legs and a wee rocket and walnut salad – and that was just the starter! For $18.95 I'd have that every night if I could.
He lit the candles and set up our romantic table for two, then returned later with tender pork belly for The Bloke and grilled snapper that had been marinating in ginger, sweet chilli and coriander for me. We were so replete we couldn't even look at the desserts and vowed to make room the next night.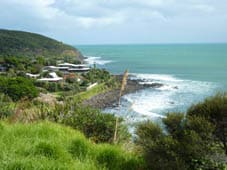 Ahhh, there's nothing like waking up to a stormy morning and deciding if it's spa time or perhaps a little venture into town. That's after Rob had delivered breakfast – as ordered last night: toasted muesli with Greek yoghurt, honey and fresh fruit. (We were too full to order anything more substantial!) So with a fresh brew of coffee we sat in the intermittent sunshine doing the crossword and watching the white caps race into the bay.
Waoku Lodge, 51A Whaanga Road, Raglan
_____________________
Read my post on hanging loose in Raglan here>>