Yes, website carbon footprints are a thing!
There's a conversation going around amongst bloggers and web developers and people who think about such things in recent years about how much energy their own websites use and therefore how big their carbon footprint is – and what they're doing about it.
To be honest, until a couple of weeks ago I had never heard of this. And it seems I am not alone, as some of the "greenest" companies have "dirty" websites requiring huge amounts of energy to run and even more energy to keep these enormous servers cool, contributing to overall heating up of cities and leading to climate change.
You might have been like me and think that our websites run on cloud software and are hosted somewhere in "the cloud". But this cloud we speak of is not actually in the clouds like some ethereal mish mash of signals that miraculously serve up website content.
All websites are ultimately run on physical servers located in enormous data centers all over the world, plugged into electricity and every page view requires energy to run.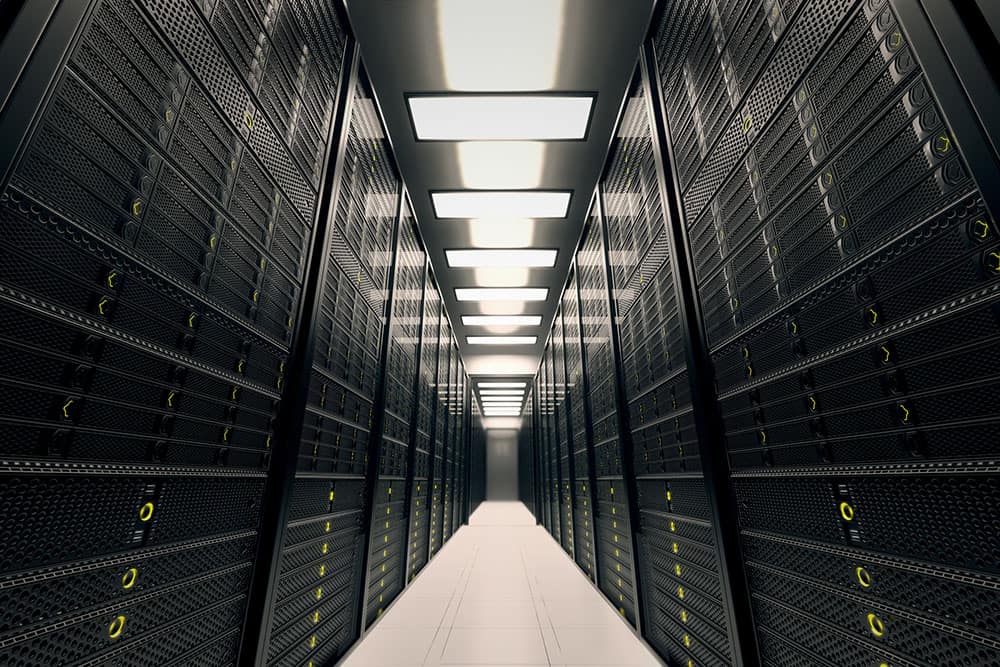 If you want to see how much resource your website uses and it's environmental impact, a company named WebsiteCarbon.com has a website carbon calculator that you can put any URL into.
It measures its energy consumption and equates it to the equivalent in C02 emissions, how heavy (in terms of sumo wrestlers!) that works out to, and how many electric cars could be charged using the same amount of energy as your website in a year, or how many trees would need to be planted to offset the grams of C02 that site produces.
In 2018 the song "Despacito" set an internet record when it hit 5 billion views on YouTube. BUT that very song burned as much energy as 40,000 homes in the US use in a year! What?! How? Every search, click, or streamed video sets several servers to work. Just performing a Google search for "Despacito" activates servers in six to eight data centers around the world. (Fortune.com)
I ran a few website energy tests
Ironically, while Greenpeace is quoted as saying "The IT sector already consumes an estimated 7% of global electricity" their Greenpeace.com/Aotearoa (New Zealand) website scores dirtier than 69% of web pages tested, according to the test I ran on WebsiteCarbon.com.
I ran a few URL checks and found some of the worst offenders are some of the most popular websites…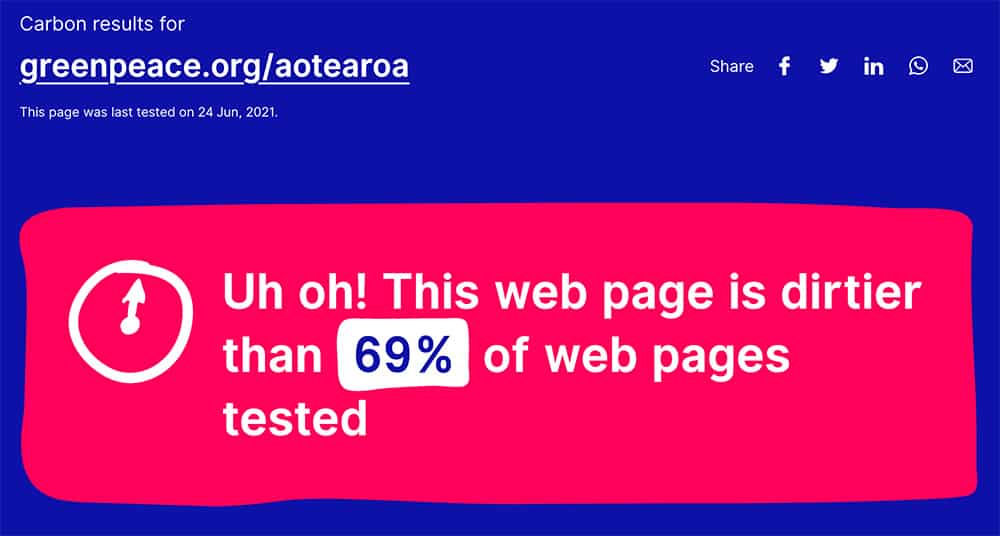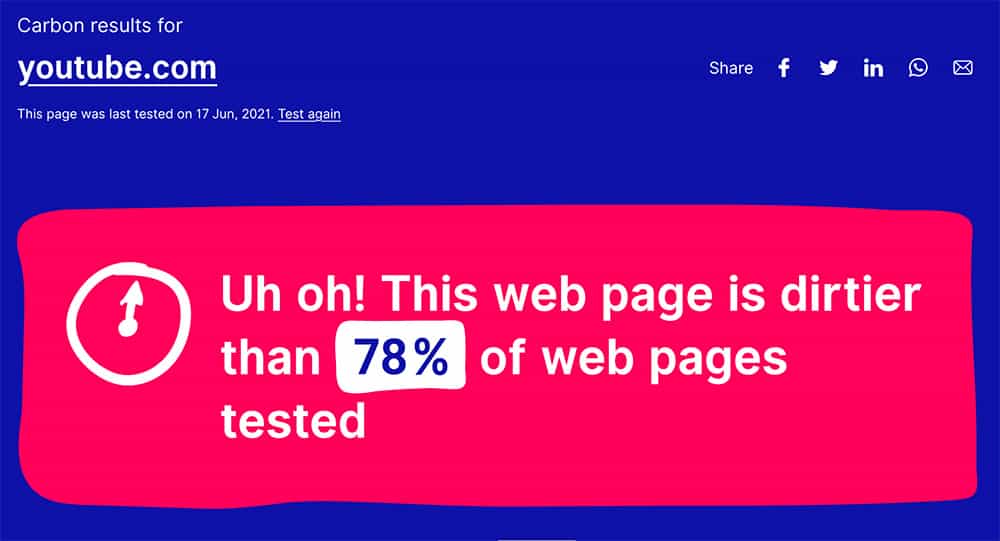 Even Tesla, the company that sells the enviable (and great looking, I might add) electric cars scores a shocking 88% worse than other web pages tested globally for electricity consumption.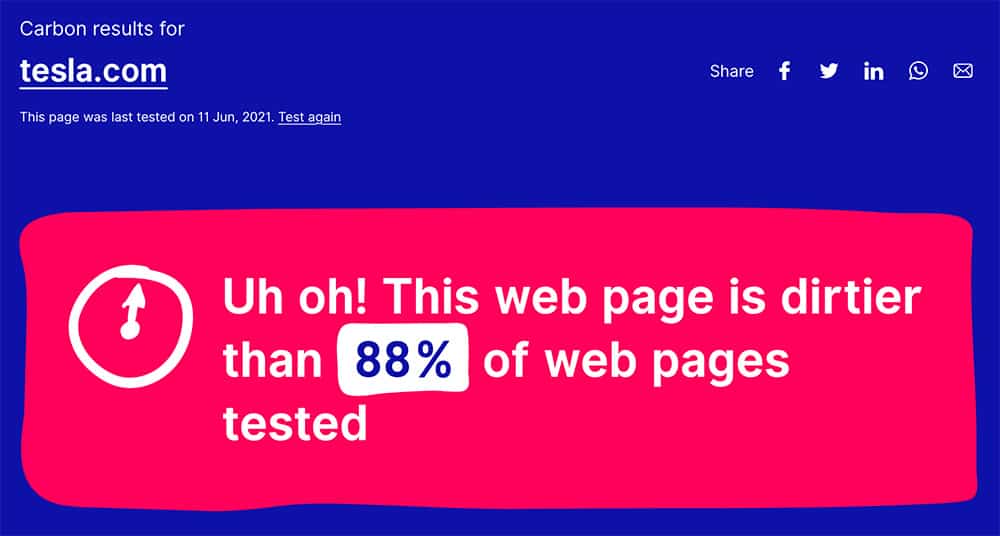 But that's not a patch on New Zealand's own television TVNZ website which ranks 99% worse than other pages on the web.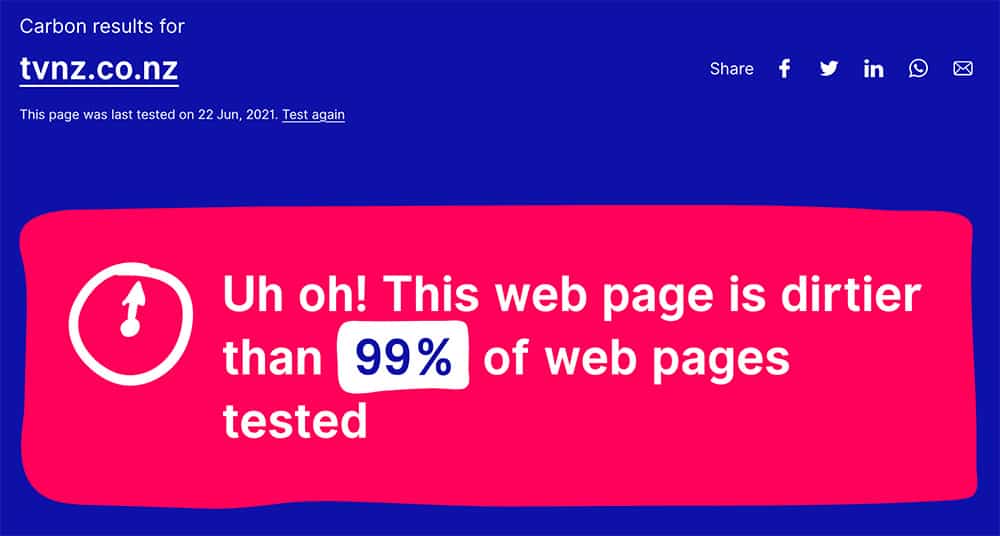 The Green Party of NZ shouldn't be so smug about carbon emissions either with their website ranking dirtier that 94% of web pages tested. Oh the irony.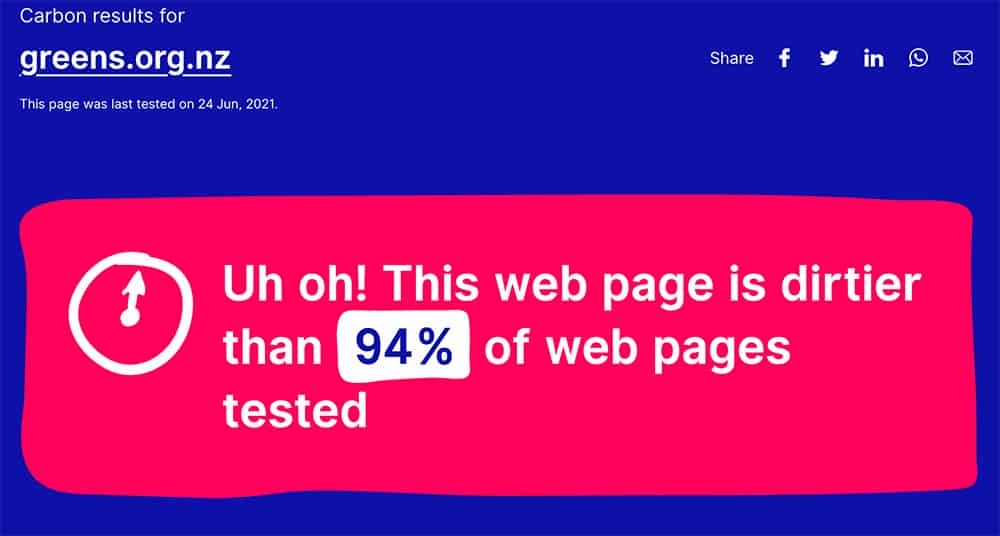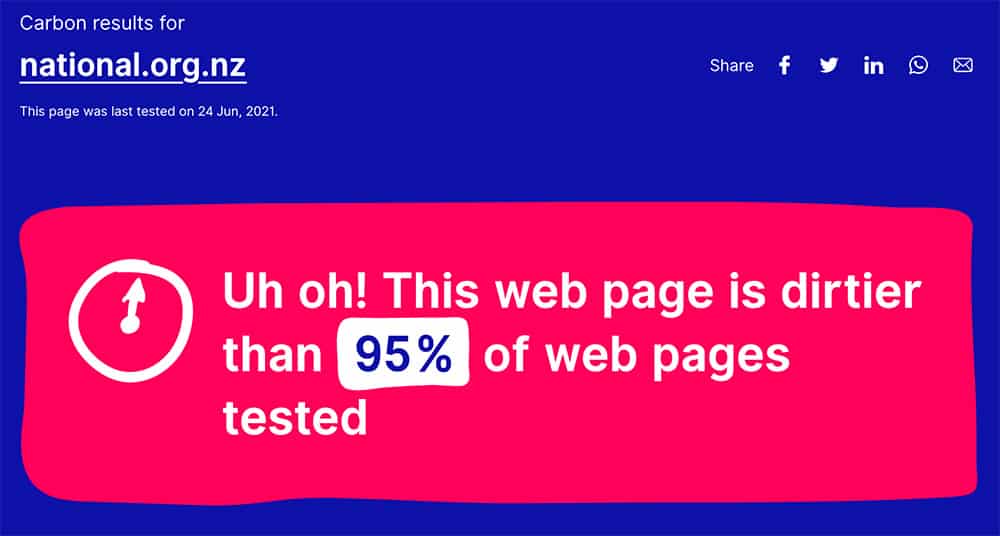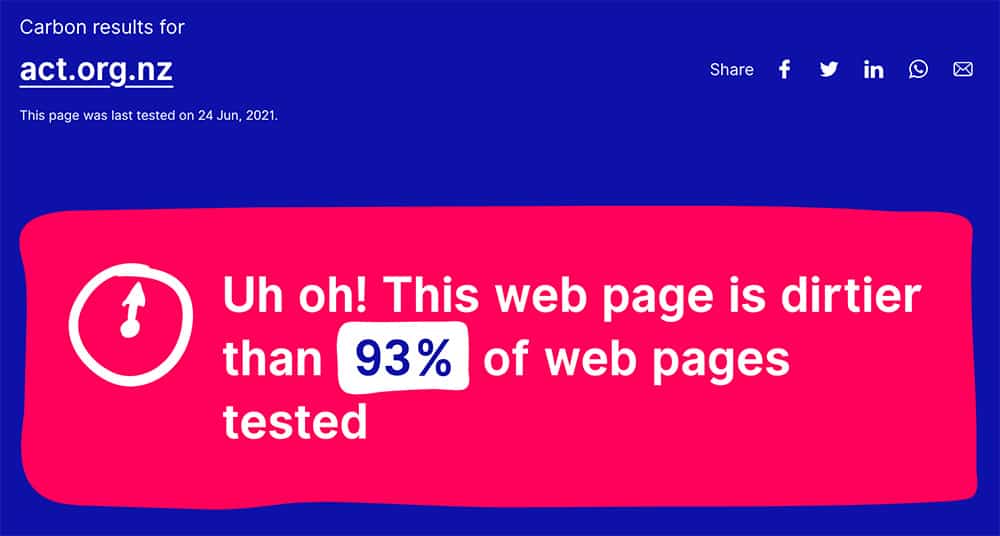 But keep reading for what we can do about building sustainable websites
YAY for those sites that are using less electricity – like this very blog. Through no specific work on my part, except to constantly try and make this site load faster for a better user experience for you, dear reader, therefore using low resolution images where possible and lazy loading my images and ads (in other words my whole site doesn't load when you open a page, it only opens as you to scroll to it), Blogger at Large is cleaner than 62% of other web pages globally.
New Zealand's Labour Party scrapes into the green for energy efficiency too.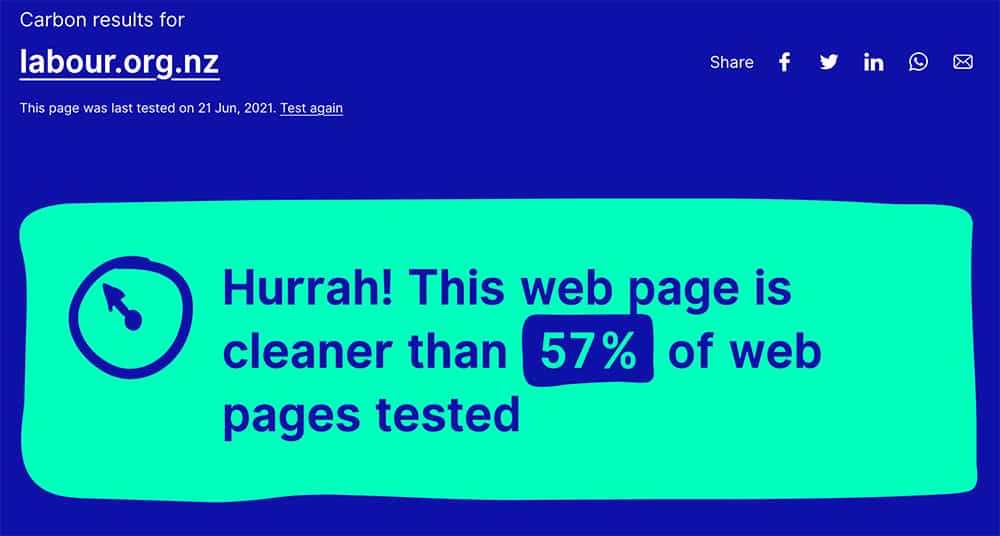 But here's a fascinating stat: Facebook is cleaner than 85% of pages tested, and think about how much content this social media platform has! Clearly there is a way for businesses to reduce their electricity generation and still serve up loads of images and videos.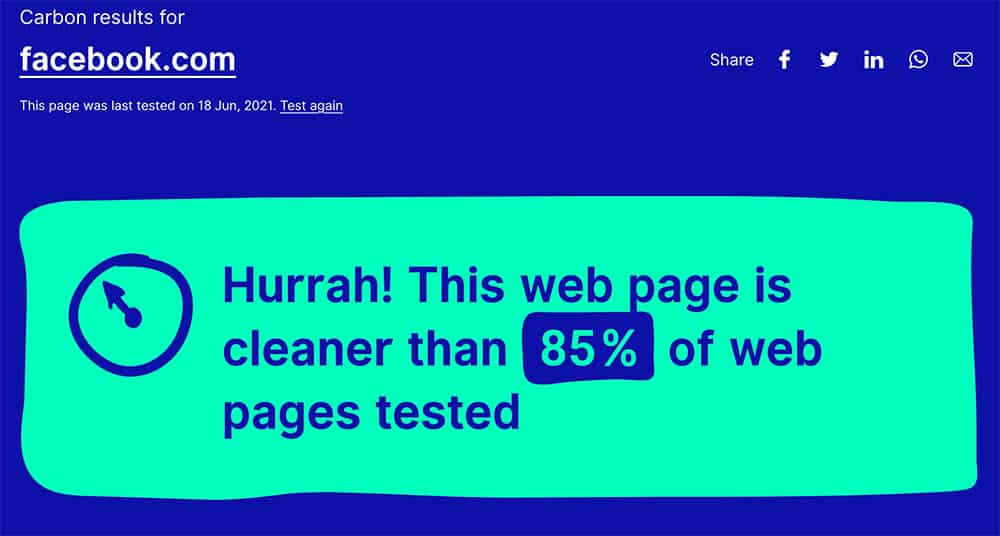 So now what?
Well next time your Millennial spends the evening on their device while proclaiming they are worried about global warming and environmental issues, here some things to alert them to, because helpfully there are tips on what to do if you run the test and find your website is using a large amount of electricity.
"The communications industry could use 20% of all the world's electricity by 2025"

Climate Home News
Personally I'm not sure that me planting 4 trees a year somewhere around New Zealand is really enough to offset my calculated carbon emissions. If my web server is located in the United States, for example, then the onus should really be on me to streamline my website so that it reduces the amount of energy it demands in the US and therefore contribute to lowering the energy and the heat that also produces over there – for those residents who live within cooee of my data server.
Another interesting fact: Google's total energy consumption in 2019 was 12.7 terawatt hours, up from 2.86 terawatt hours in 2011. (Statista.com) That's about 10 times more than the African nations of Chad, Guinea-Bissau, Somalia, Sierra Leone, and the Central African Republic consume in one year!
Where are data centres located?
In 2020, six of the top eight largest data centers in the world are located in the USA, with the largest being The Citadel in Tahoe, Reno in the former Enron building hosting anchor site eBay. It is surrounded by a 20ft high concrete wall and protected by armed ex-military personnel. It covers a total of 1.3 million sq feet (120,770 sq metres or 12 hectares).
Although with the huge global demand for more data, this is a rapidly changing landscape, especially since Covid with so many people working from home, so more data centres are being built around the world.
BUT the good news is that Citadel creates all its own renewable energy to power millions and millions of sites from millions of solar panels, and has patented much of its technology. In China, for example, 60% of the energy used to power data servers there comes from coal-fired fossil fuels. (Reuters) Two of the largest plants in China have vowed to use only renewable energy by 2030.
You might be fascinated by this video inside The Citadel for a glimpse into the world of cyber space here on Earth:
But here's the rub, the cooling equipment to keep the world's servers from overheating requires more energy than what is being created to provide the data in the first place!
How do you decrease your website energy use?
Great question!
There are some effective ways website owners make their site more energy efficient.
1 Make your site as user friendly as possible, using less energy for your readers to find what they're looking for.
2 Make it easy for a user to find their way around your site (good SEO actually helps by ensuring people don't spend too long wading through your site).
3 Writing concise copy will not only help your Google rankings, but also mean can get to your best content faster.
4 Decrease your page weight by making sure your images are optimised for the web: i.e. they are low resolution. Ideally they lazy-load meaning less time for the server to work in case your readers don't get all the way through a lengthy article filled with images they will never see. (Again, this is best Google practice too so will help your website ranking too).
There's more info here on using video, using web fonts, less Java script (I won't go on… if you're tech minded and really want to get into this, jump across to this Wholegrain Digital blog post on website efficiency).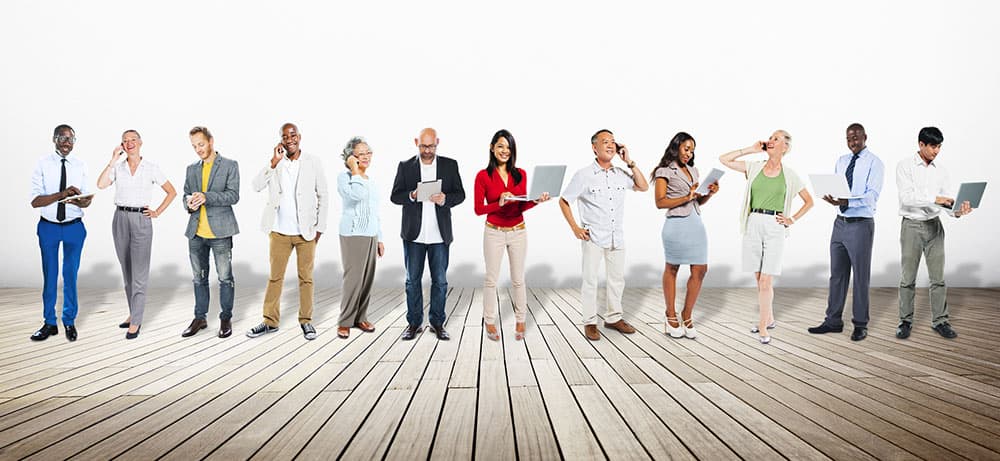 So, to conclude, next time your Millennial rolls their eyes at your composting attempts or plastic bag use, just ask them how they are offsetting their own carbon emissions with their constant device use 😀