Memphis is such a great destination for music lovers, foodies, and history buffs alike!
I've rounded up 13 things you won't want to miss in the birthplace of rock n roll, plus some suggestions for where to eat in Memphis too.
This historical city, named after the ancient city of Memphis in Egypt which also sat on a mighty river – the Nile, has a vibrant and creative atmosphere due to its heavy influence on the music industry – and the music industry's influence on it.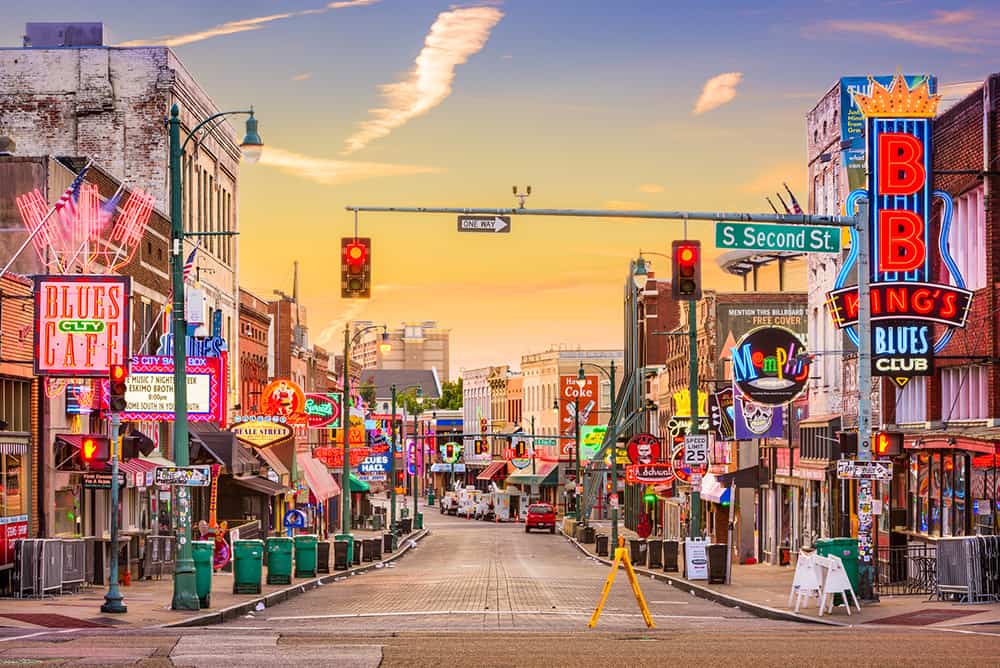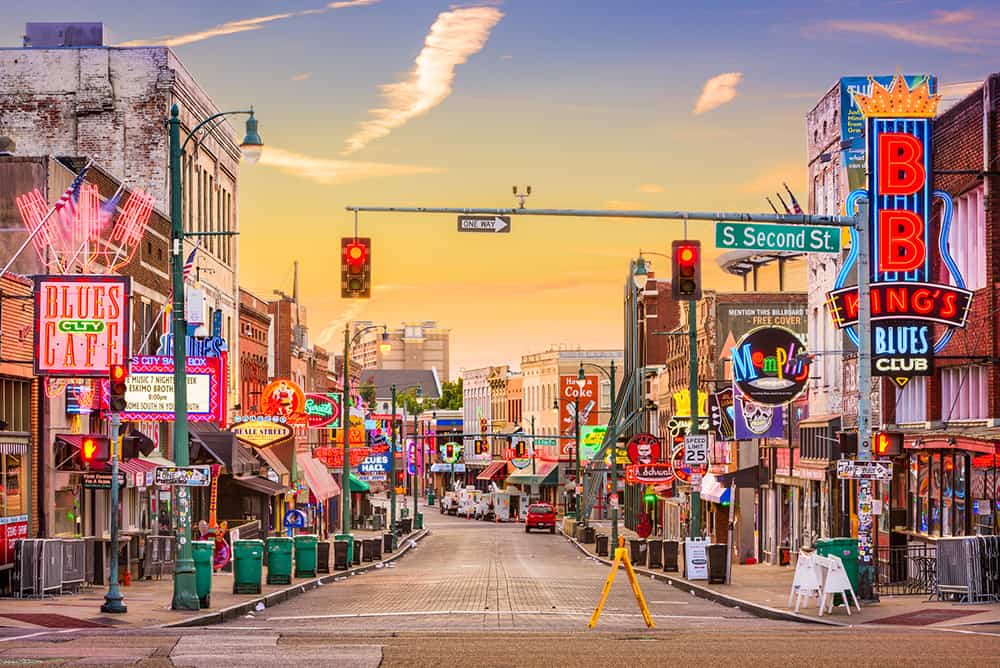 You can still discover new artists in Memphis today and learn about the city's fascinating past here on the banks of the Mississippi River.
Pair all that with some traditional southern fare, including Memphis' famous slow-cooked ribs for a stellar vacation.
Best things to see in Memphis
There is so much to explore in this famous city, whether you're here for a weekend or making it part of a music-inspired road trip – which we did with my parents from Nashville via Memphis through to New Orleans.
Here are some of the best must-visit attractions that Memphis has to offer:
If you're looking for fun things to do in Memphis, a great place to start is with a stroll down Beale Street is one of them! Beale became popular during the early 1920s when musicians from all over the United States flocked to make their mark.
As a result, this iconic strip has been featured in various elements of popular culture including books, films, and of course, music.
During the day it is open for vehicle access but from about 4pm the barricades go across and it becomes a pedestrianised street of bars and good times.
Although, the street is most famous for its myriad of nightclubs, dive bars and restaurants that host live music events, it also played a significant role during the jazz and blues era.
Some notable musicians like BB King , Jerry Lee Lewis and Louis Armstrong have played a set at venues on Beale Street.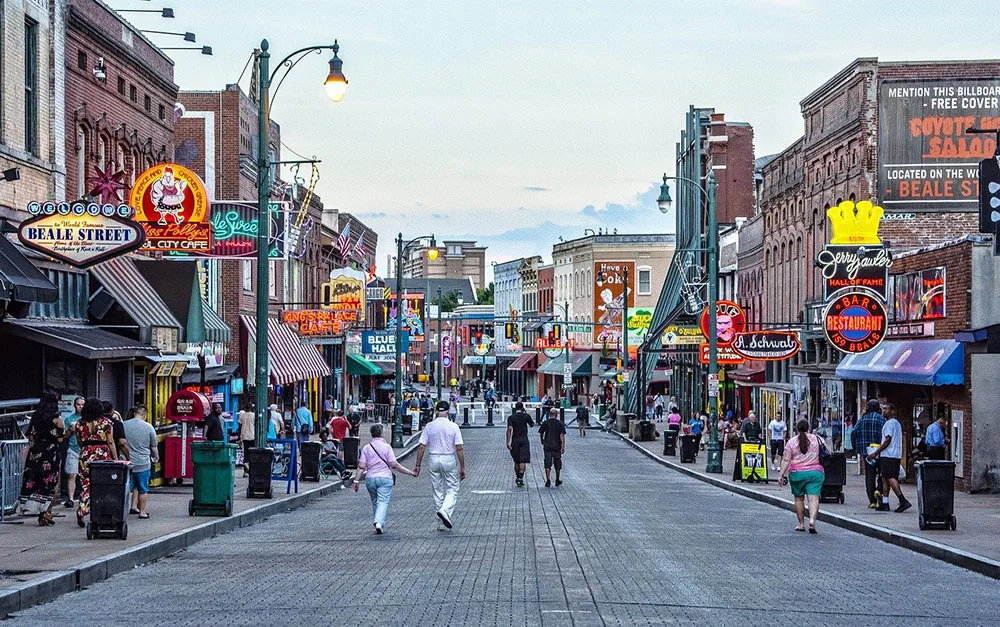 My husband tells the (enviable) story of visiting Memphis some time in the 1990s (with a pre-incarnation of me, I might add!) and being in the BB King Cafe watching a band play when Mr King himself walked in and joined the band jamming on stage. At the time he thought this must be a regular occurrence, but found out later that BB King only visited about twice a year. Wow!
Other musicians and dancers, including the delightful Beale Street Flippers who literally flip and cartwheel their way down the street, can be seen performing along the strip today.
The Elvis Presley mansion is a must-see for first-timers to Memphis. The second most photographed house in the United States behind the White House, Elvis purchased Graceland in 1957 when he was only 22 years old filming the famous Jailhouse Rock.
The property spans approximately 17,500 square feet with unique rooms, including the TV room, Pool room and Jungle room. And no, you can't go upstairs. Not even the staff are allowed up there!
I have explored Graceland twice and taken loads of photos. I highly recommend visiting Elvis' home for fans. It is especially fun to check out during the second week of August, where various festivities are held commemorating the King during Elvis Week.
Oh and don't forget the gift shop. In fact, it's a gift world filled with so many items you could spend an hour here choosing with items from the King of Rock are going home with you!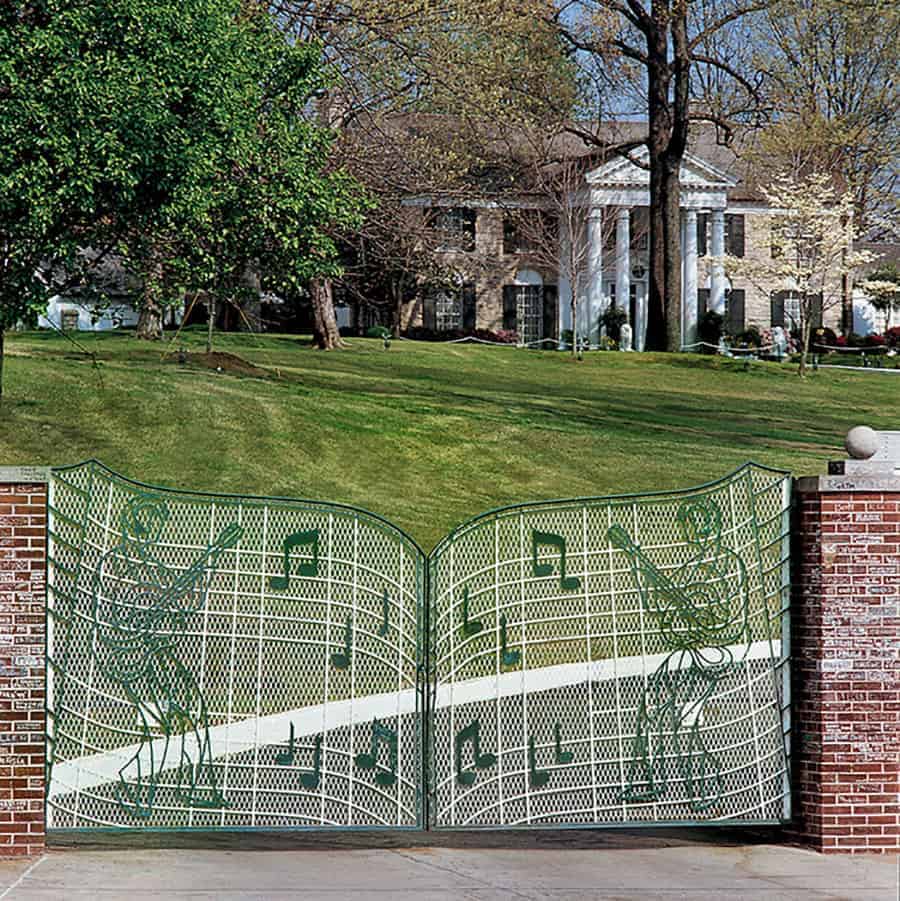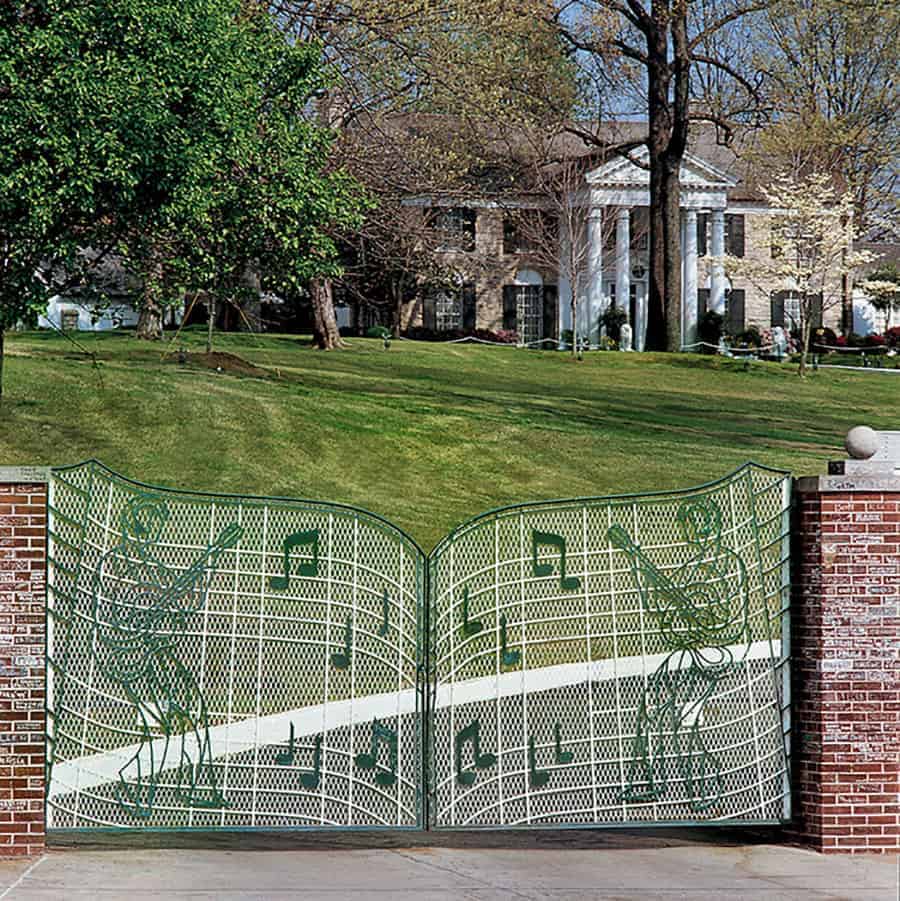 This famous recording studio jumpstarted the careers of incredible artists like BB King, Johnny Cash, Elvis Presley, Ike Turner, and Roy Orbison.
It was established back in 1952 by Sam Phillips, who had previously worked as a DJ until opening his first recording studio. He was known for taking a chance on amateur artists, many of whom quickly grew to fame upon their newfound spotlight.
Today, you can still stop by to record your next hit single or catch a tour of the studio, which boasts unique memorabilia collected from their successful artists over the years.
Take a 3-hour guided music tour Memphis with professional Beale Street musicians as guides. They play and sing, do comedy, tell tales of history, and stories about your favorite Memphis personalities. You'll see Sun Studio, Beale Street, Stax Studio, the Lorraine Motel, Cotton Row, Peabody Hotel, Overton Park, Historic Central Gardens, St. Jude's Children's Research Hospital, and the early homes of Elvis, B.B. King, and Johnny Cash.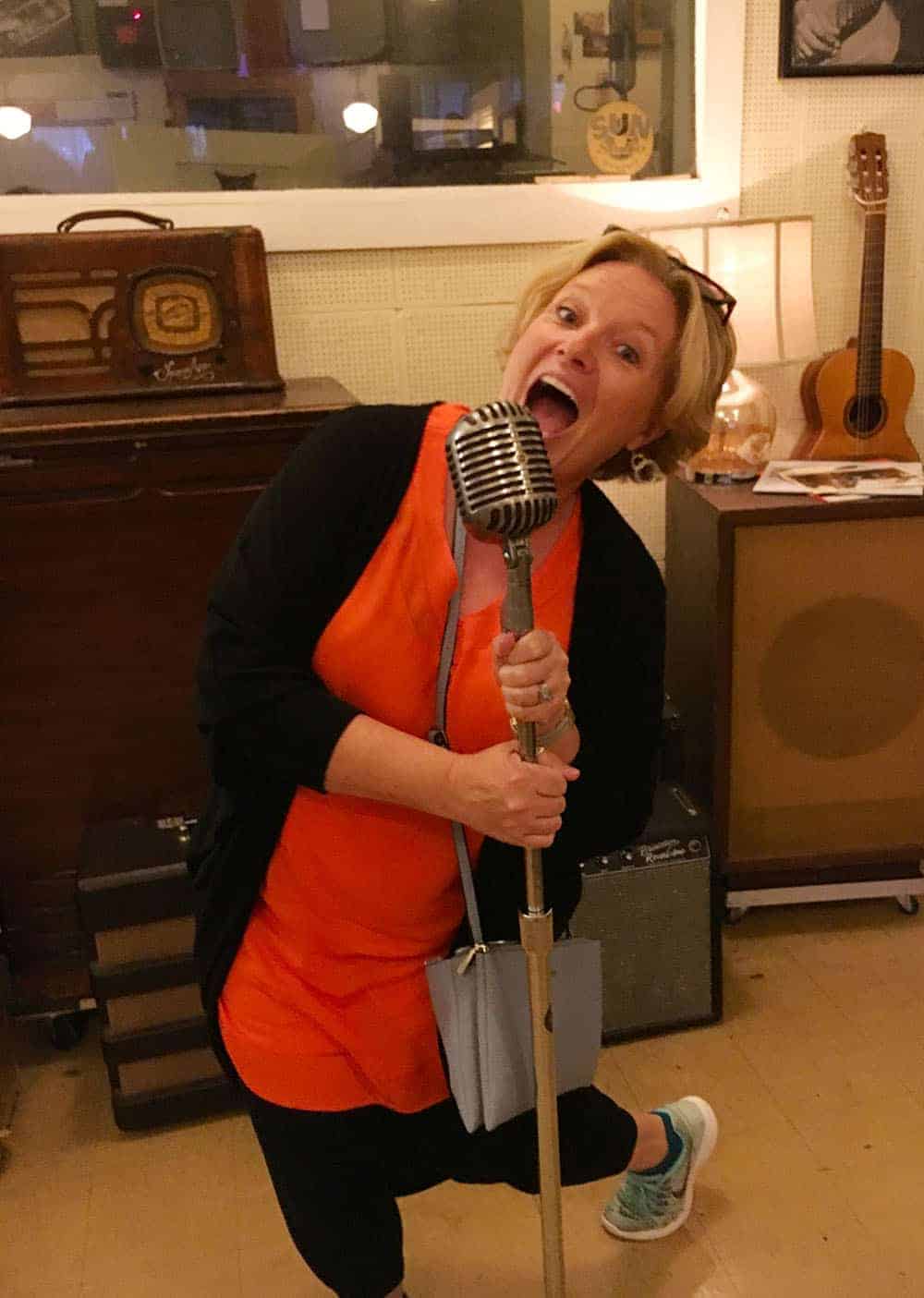 Set in the historic Lorraine Hotel where Rev Dr Martin Luther King Jr was assassinated is the National Civil Rights Museum.
The hotel, owned by Walter Bailey and his wife Loree, was once a haven for African American travelers. Dr King's room at the hotel remains untouched since his assassination and now acts as an exhibit at the museum.
Bailey, unfortunately, did not live to see the conversion of his hotel but would likely be proud of the memorial for their most esteemed guest.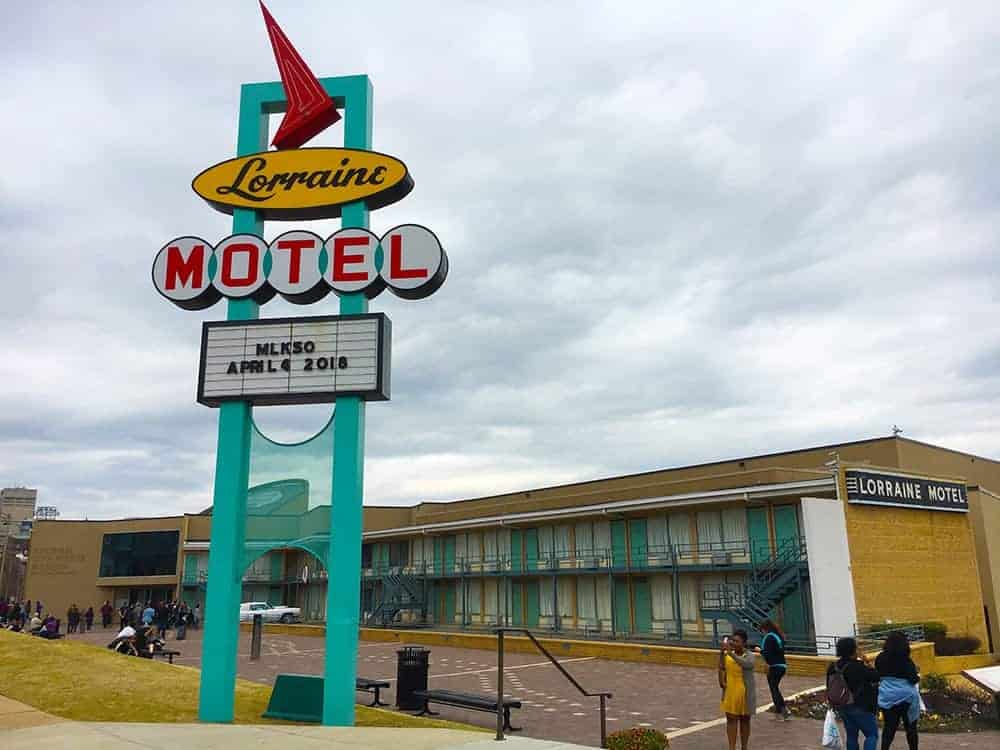 The museum, now part of the Smithsonian Institute of Museums over in Washington DC, honors the memory of Dr King and other noteworthy civil rights activists like Rosa Parks and covering much of civil rights history.
I recommend allowing about 2 hours to fully explore this fascinating museum if you would like to learn more about the history of slave trading through to the civil rights movement and Dr King's legacy.
Renowned R&B artist Al Green founded this church in 1976. The singer devoted his life to his faith and was ordained as a Baptist minister the same year.
He also switched music genres, releasing much more gospel and soulful music throughout much of the 1980s.
To this day, Al Green is still the minister of his church and preaches there often (although he wasn't there the Sunday we went – but he is an old man so I'll forgive him!)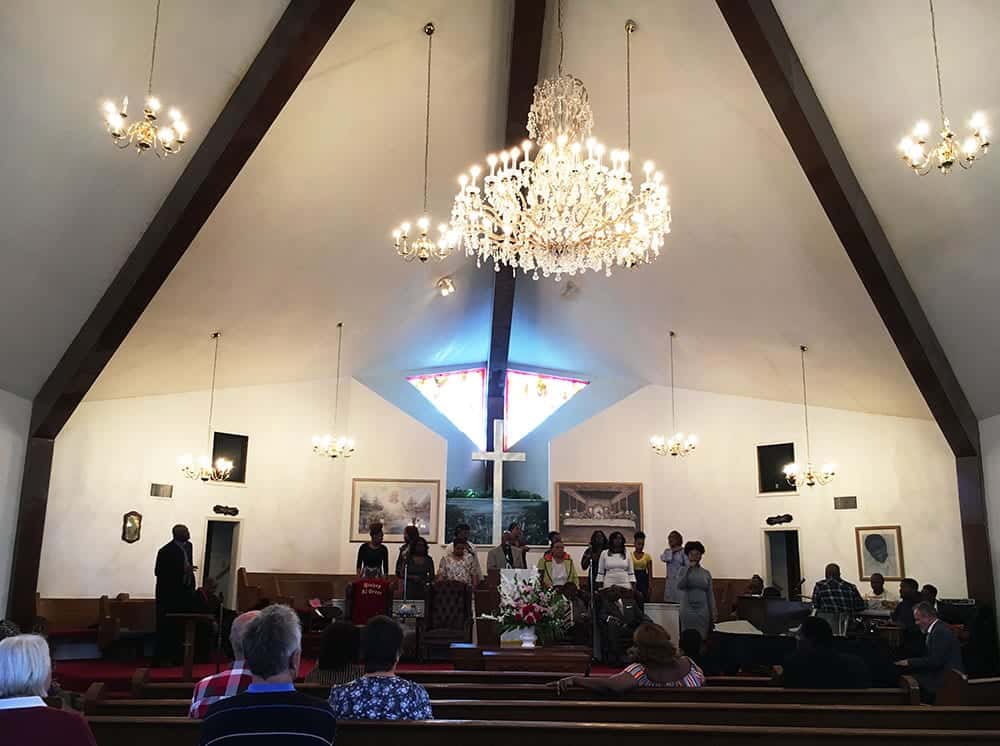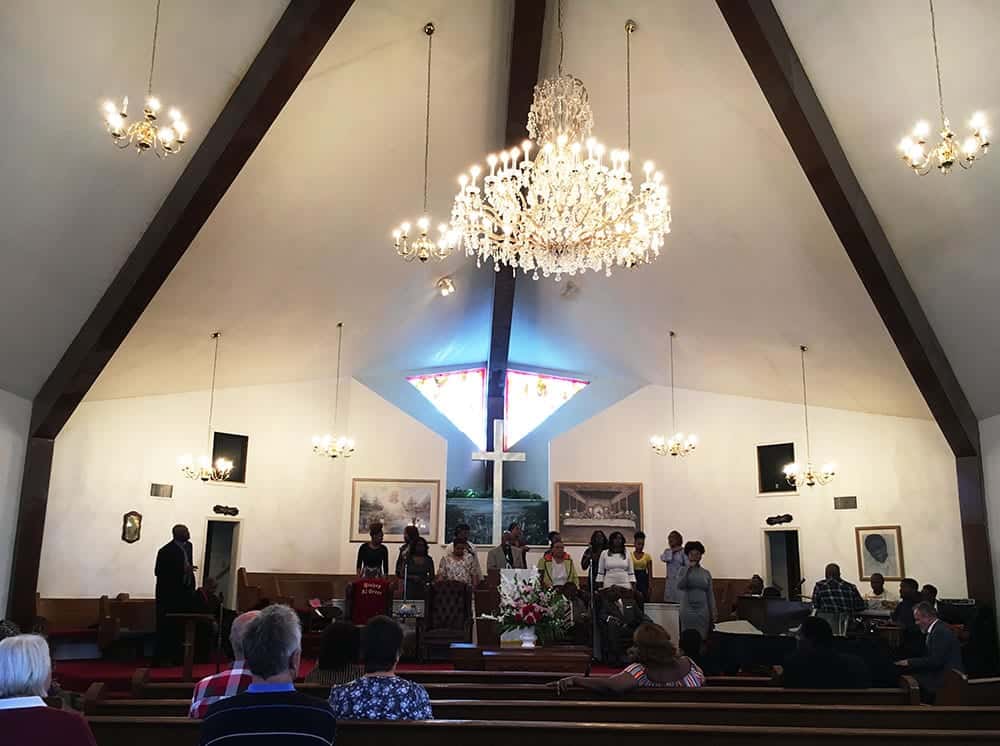 Sunday services are held at 11:30 am, leaving plenty of time for parish members to "nurse their Saturday night hangovers." Services also include a live band and gospel choir which allows for a memorable and unique experience for parishioners or tourists visiting the church.
Basketball fans will love the chance to see this spectacular team in action. The Memphis Grizzlies used to play in the Pyramid Arena but have since moved to their new home at the FedEx Forum, a stone's throw from Beale Street.
If you are not in town for Basketball season, please check out some of the other events held at the FedEx Forum throughout the year. Some upcoming events include bull riding and concerts featuring James Taylor, Kane Brown, and Chris Stapleton.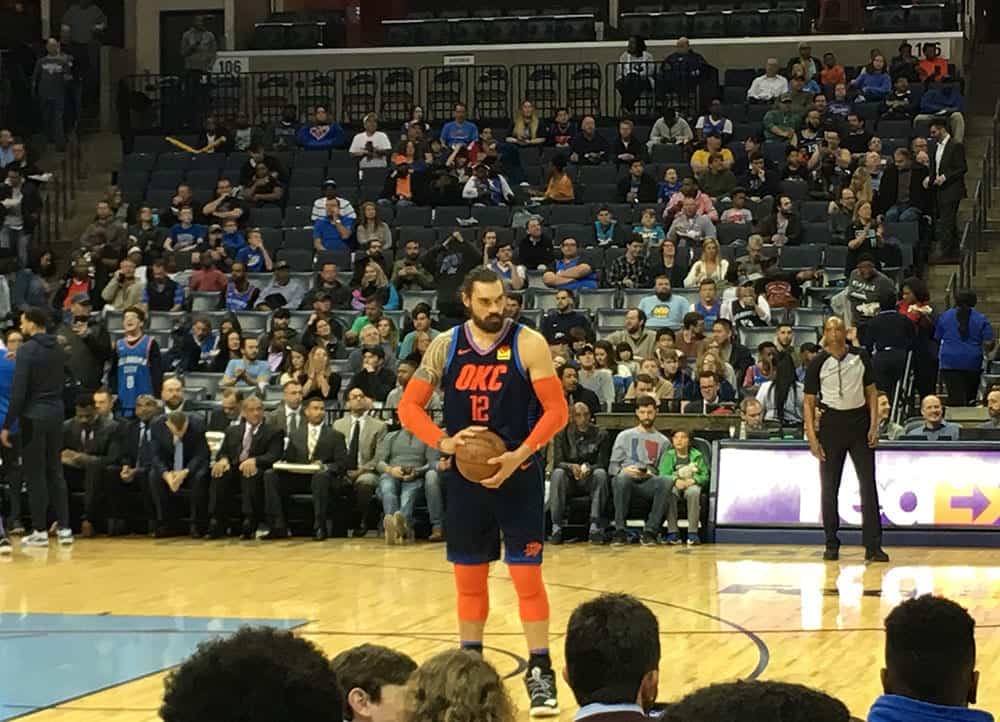 The Memphis Zoo is a wonderful attraction to visit with children.
There are numerous animals to see, such as African Elephants, Giraffes, Tigers, Giant Pandas, Kangaroos, and a fierce Komodo dragon (which I've walked with on Komodo Island, Indonesia. You might like my post on all the gory details of this ferocious reptile!).
In addition, several of their interactive exhibit features allow visitors to learn essential facts about these animals and participate in the zoo's conservation efforts.
Whether you are a tourist or local, this zoo is well worth a visit for some family-friendly fun. In addition, if you are a Tennessee resident, you are eligible to enjoy free admission on Tuesdays from 2:00 pm to closing time.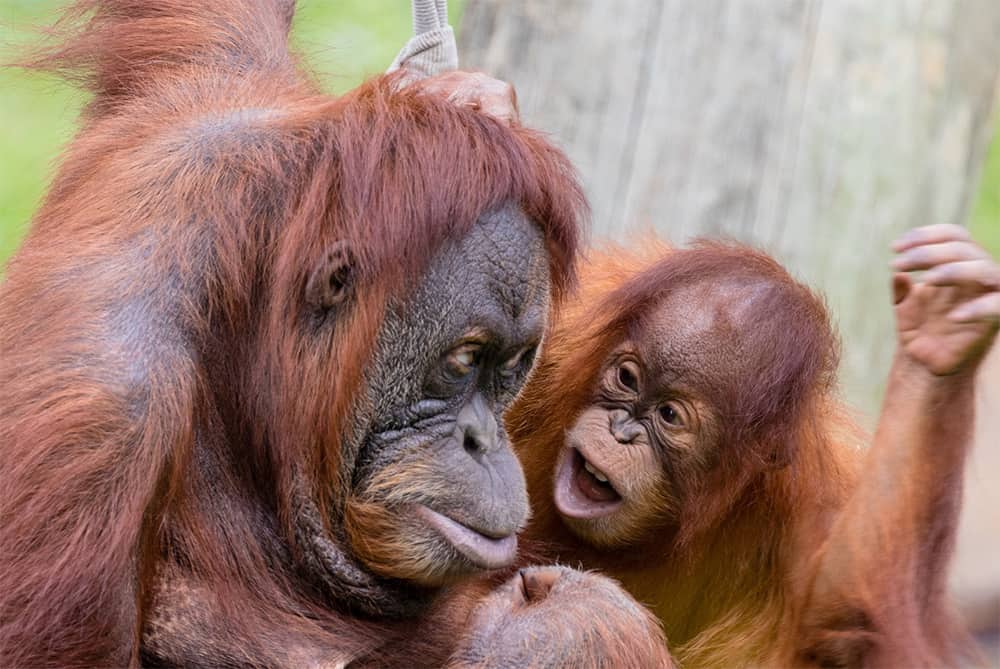 This record label recording studio-turned-museum boasts an extensive collection of memorabilia and interactive exhibits. It is situated on the original site of famous Stax Records, an historical American soul music recording studio.
Some notable artists that worked with the label are Isaac Hayes, Otis Redding, Booker T. & the M.G.'s.
The museum is a must-see for soul and R&B fans. From historical films to vintage vinyl records, there is plenty to indulge music fans in here. Grab your Stax Museum tour tickets here.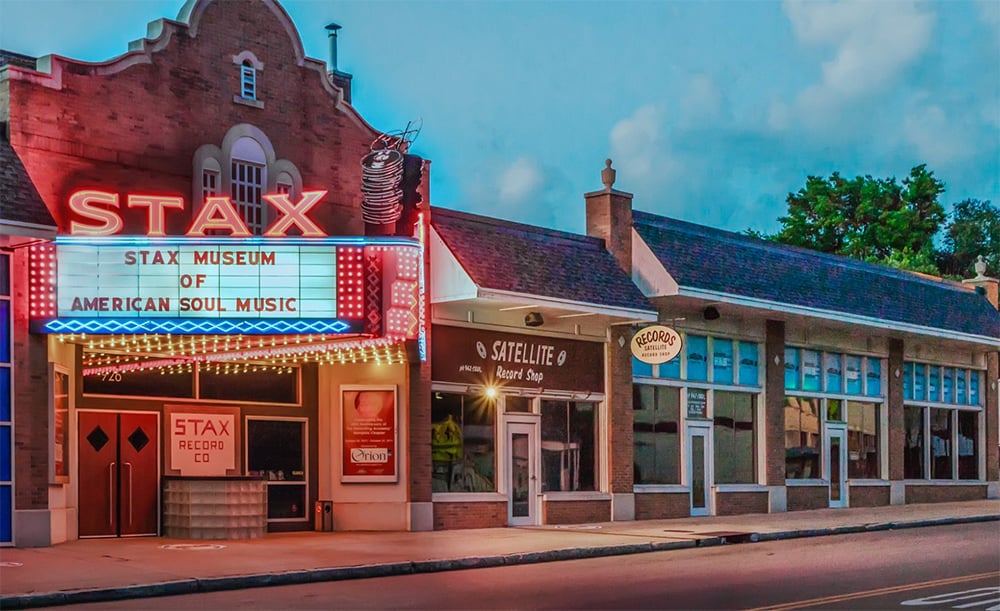 Memphis Rock n Soul Museum
If you're still all about the music, then you'll want to grab tickets for the Memphis Rock n Soul Museum too. Located on Beale Street, you'll be in the neighborhood anyway, and this one tells the story of rock n roll from its early roots.
It's not a big museum, but plan an hour or two to do the self-guided tour, play the jukeboxes, see the clothing, read the stories.
You need to catch a glimpse of the adorable ducks that live at the Peabody Hotel!
Sharing the hotel with live ducks has been a tradition since the early 1930s when the general manager, Frank Schutt, allowed a few to stay in the hotel lobby's fountain.
The ducks live on the hotel's sunny rooftop, where their enclosure "Duck Palace" has been in place since 2008. But it's seeing them in the lobby fountain each day that draws the crowds, especially when they arrive and leave.
Tip: get here early if you want a photo of the official duck walk on red carpet from the elevator to the fountain twice each day!


The Peabody Hotel takes the care of their ducks very seriously, even establishing a position of duck master, a man dressed in full royal regalia. Some honorary duck masters over the years have included Kevin Bacon, Peter Frampton, Patrick Swayze, Queen Noor of Jordan, Oprah Winfrey, Gayle King, Roy Williams, Paula Deen.
Check the best rates for the Peabody Hotel >
This fascinating museum is located in Overton Park along with the Memphis Zoo. It is the oldest and largest art museum in the state.
They have a diverse and beautiful collection. Several of the exhibits frequently change, allowing for a unique experience at your next visit.
In addition, the Brooks Museum will be offering an Andy Warhol exhibit starting in September through January. Check out their website to learn more about all of the upcoming exhibitions.
The museum is featured in Memphis' Museum of Science and History. The Pink Palace was initially planned to be the home of the Saunders Family, the founders of the grocery store chain Piggly Wiggly.
Although, the family lost their fortune and never got the opportunity to live in the home they had designed.
The city turned the mansion into the first natural history museum. It has since grown into the large campus it is today.
It is a great activity to do with children or to learn more about Memphis's unique history. The Pink Palace also makes for an excellent backdrop for the most Instagram-worthy photographs.
The fisherman in your party is sure to love checking out the largest bass pro shop in the world. So big it even has a hotel inside it!
The massive 535,000 sq ft Memphis pyramid is outdoor lovers dream destination, but also plenty for kids too.
The hotel, Big Cyprus Lodge, offers 103 wilderness-themed rooms and free access to most of the attractions in the famous multi-level building.
The entertainment possibilities are endless with a world-class selection of fishing gear, an interactive wetlands museum, a bowling alley, and an aquarium hosting live fish feeding shows.
There is also a stage for live music and fire pits to sit around with a cocktail and some appetisers. Plus an archery and pistol range as well as the Memphis Beretta Gallery, which is located on level two, and plenty of dining options, including at the top of the 28-story building with a great lookout.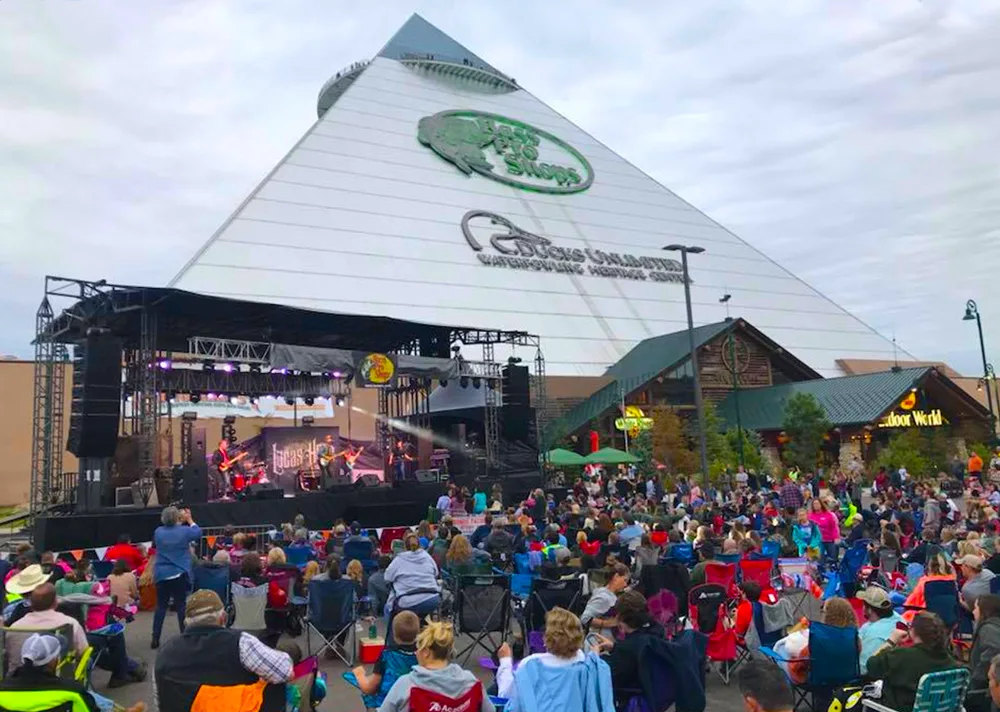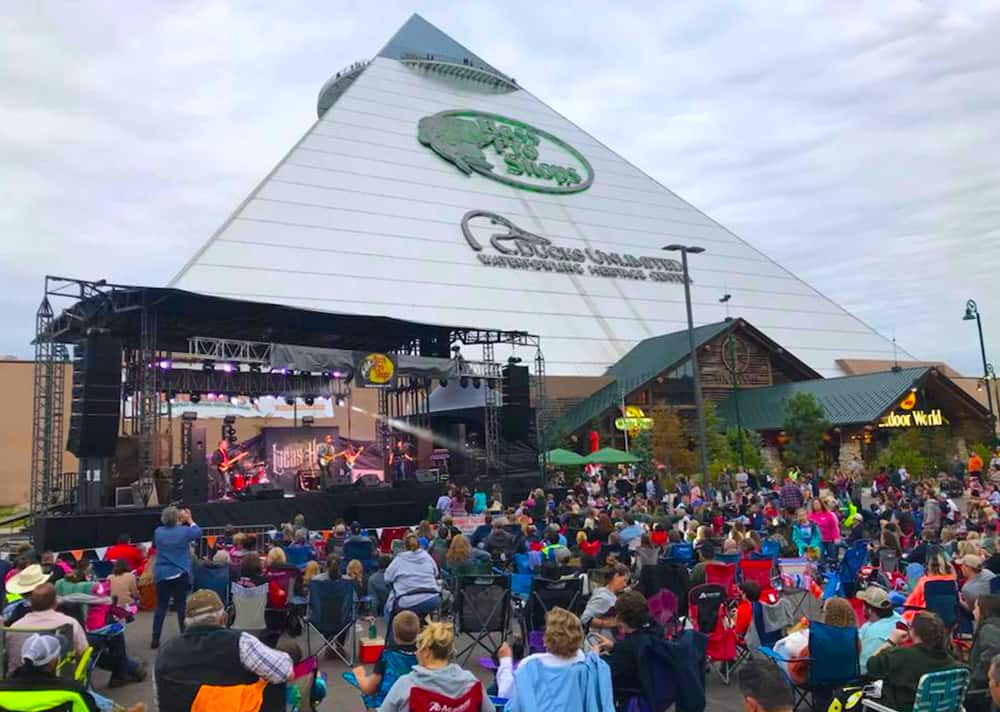 Best Places to Eat in Memphis
Memphis boasts many excellent restaurants, but here are some staples that are worth a try:
This spectacular little restaurant has such a classy vibe. Chef Karen Carrier has crafted such a creative menu, with options from classic Reuben sandwiches to espresso honey lamb chops.
It also makes for a fun brunch location, even offering "big boy" mimosas and "bad boy" bloody Mary's. In addition, the outdoor patio is the perfect place for photo opportunities for those on bachelorette or girls' trips.
Memphis is known for its delicious barbeque. Central BBQ has a few locations throughout the city. The restaurant serves some of the best in the area, gaining recognition for their one-of-a-kind secret dry rub.
I adored the meal I had at Central BBQ. You cannot ever go wrong with some pulled pork or perfectly smoked baby back ribs.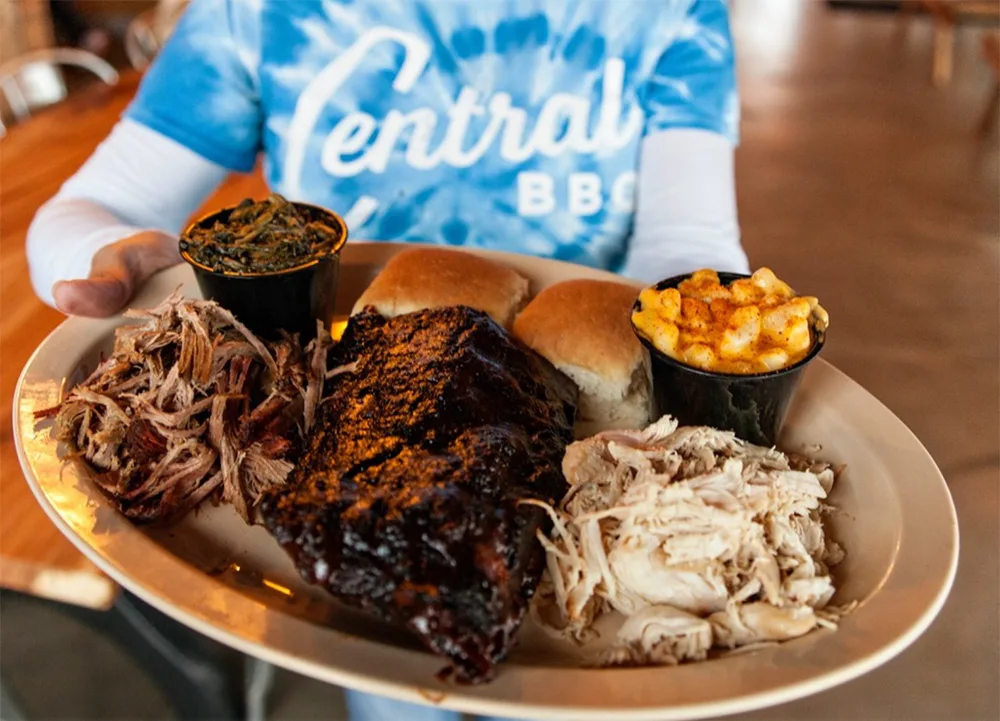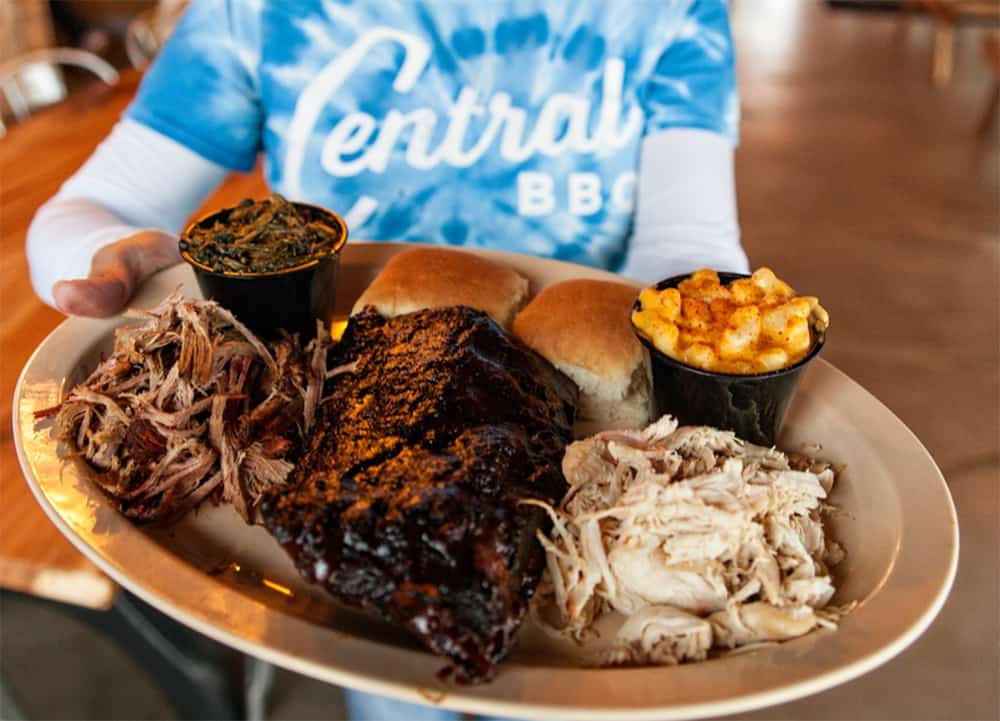 This Memphis staple has been serving the community since 1953. Gus's menu is simple yet delicious, offering several cuts of chicken and an assortment of sides.
They also feature some delectable desserts on their menu, like pecan pie.
There are numerous locations throughout Tennessee and other parts of the United States, all sharing the same iconic family recipe over generations.
Best Places to Listen to Live Music in Memphis
Seeing a concert or listening to live music is essential for any traveler making their way through Memphis.
This Beale Street landmark is the original B.B. King's Blue Club, established in 1991. It has a lively and soulful vibe that makes for a great experience listening to live music. Occasionally, even B.B. King himself is known to stop in to make an appearance.
The Lafayette Music Room was the place to be during the 1970s, which hosted numerous live music events during the time.
Famous musician Billy Joel began his career at this delightful music venue in 1974. It has since been restored to Lafayette's Restaurant and Bar but still pays homage to the original location.
Today, many new artists still attend and perform concerts at this venue.
If you are searching for some top-notch live country music, look no further than Tin Roof.
This quirky dive bar boasts some incredible southern fare and nightly performances. You can even get in on the fun at their karaoke night after sipping a pint for some liquid courage.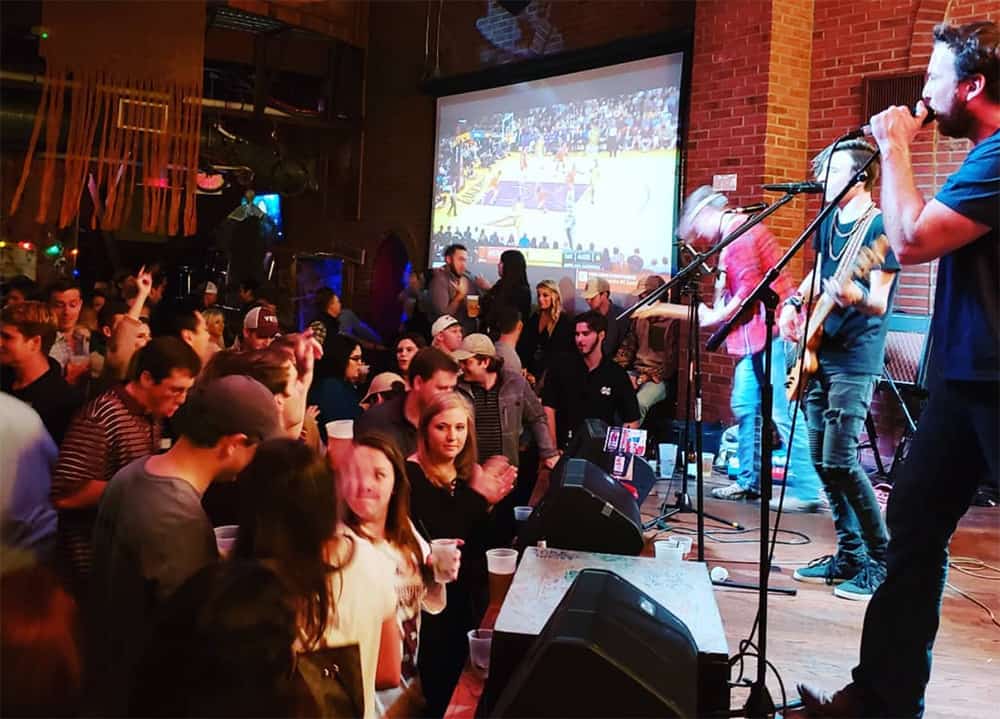 Where to Shop in Memphis
Memphis is home to many intriguing independent boutiques as well as large retail shopping centers.
A few stores that you should check out during your trip are:
Burke's Book Store – a quaint book shop that has been in operation since 1875.
Flashback Inc. – an eclectic vintage store with items dating back to the 1920s.
Beale Street Shops – a collection of unique shops to snag vintage items, souvenirs, and even voodoo healing potions.
Wolfchase Galleria – the largest mall in Memphis that is home to more than 120 stores.
Next stop New Orleans! Read some of my cool New Orleans posts here if you are continuing to follow the music including my Totally Awesome Guide to New Orleans featuring Bourbon Street, Jackson Square, French Market and a cemetery tour. Read the full guide!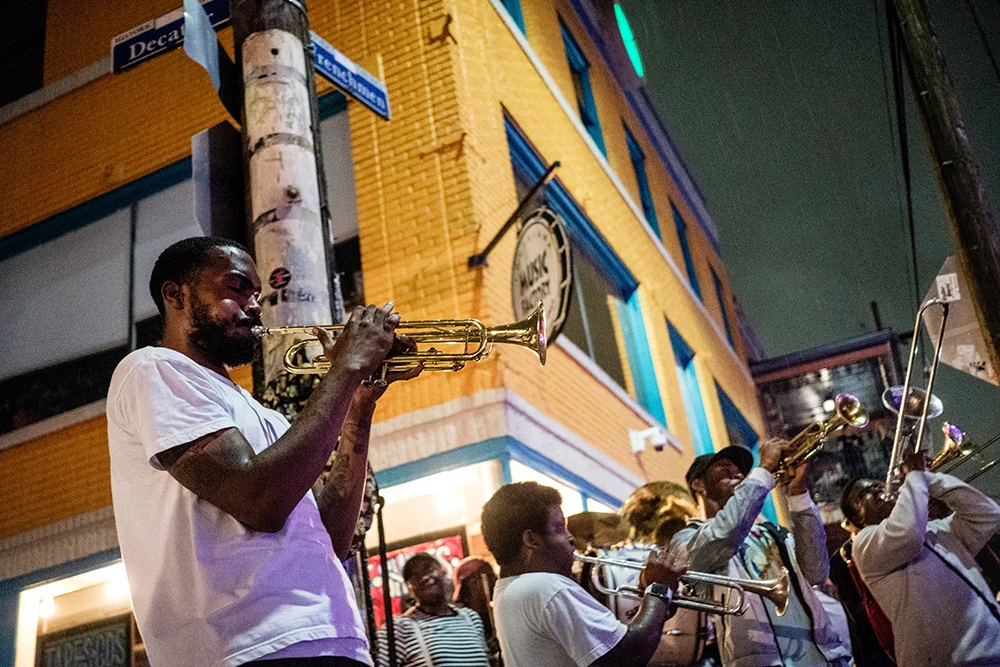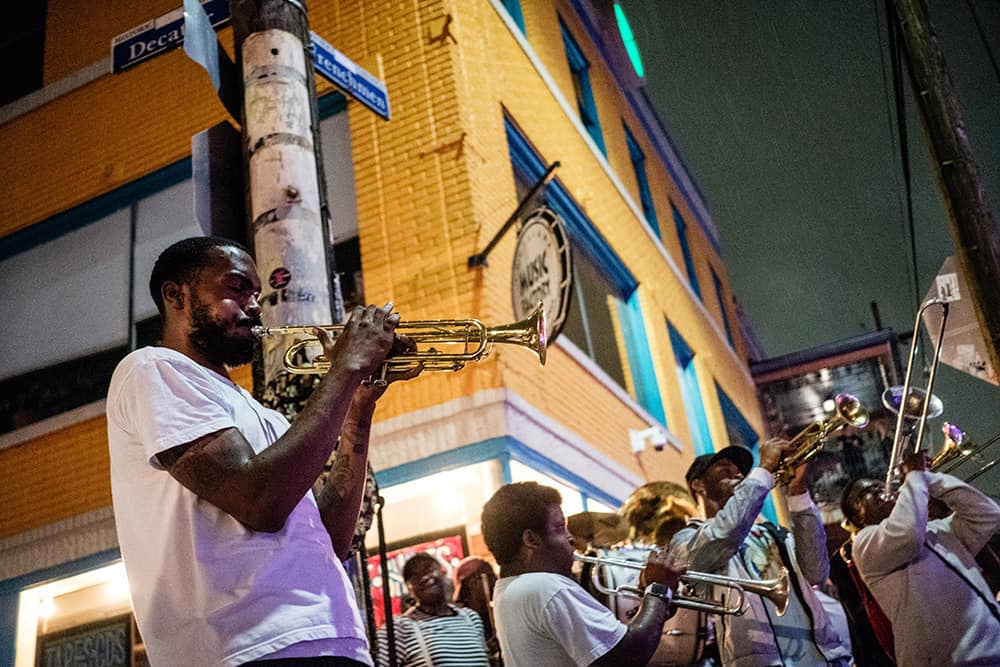 Listen to my new Blogger at Large Travel podcast as I talk you through some of my best travel tips and advice and interview fascinating people!
You might also like my updated post on 19 travel accessories for 2021 also has loads of helpful links to make your pre-travel prep easy! Includes face masks, hand sanitizer, anti-bacterial wipes as well as packing cells and more…