As recommended by Rob Broadfield, author of the West Australian Good Food Guide – so he should know.
I've just been away on a travel writing trip to Africa with Rob so picked his brains about the best his home town has to offer the breakfast/bruncher. As it happens the 2011 Good Food Guide has just been released but it's not online so here's his pick for Top 5.
1. Van's at Cottesloe. He says it's in the wealthy leafy suburbs, but is buzzy and clearly the place to be seen. The coffee's great, they do fresh fruit juices and his favourite item on the menu would be their boiled eggs with soldiers and dukka. Mmm, I am picturing that. I reckon that would work!
1 Napoleon Street, Cottesloe
2. Aubergine at South Fremantle. This has a different vibe, it's hippier and gritty. They do innovative breakfasts as well as the classics. Rob's fave would be huevos rancheros with fresh beans, chipolata, bacon and tomato with 2 eggs broken and cooked on top.
21 South Terrace, South Fremantle.
3. The Café at Subiaco Hotel. This is a posh old 1950s pub with beautiful modern architecture that punches through the old lady, says Rob. The primo spot to sit here is on the balcony overlooking Hay Street watching the beautiful young things and cool cats strut by.
465 Hay Street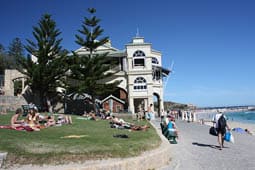 4. The Blue Duck in Cottesloe. You don't come here for the food, says Rob. It's perfectly adequate bog standard fare "indifferently cooked" but the coffee's good. It's the views to write home about though, over the North Cottesloe Surf Life Saving Club.
151 Marine Parade, Cottesloe
5. 44 King Street. He took a while musing over the last of his Top 5. How about a place for a 50th birthday, I helpfully suggested. This place is in the fashion precinct (Gucci and Louis Vuitton are an egg-throw away) and it's set in an old red brick, former rag-trade building with the original steel beams. It has and open – and innovative – kitchen which churns out homemade bread and interesting combos.
44 King Street, Perth CBD