If you're looking for the New Zealand All Blacks rugby haka translation, you've found it!
Plus this post gives you a little bit of background on who wrote it and why the rugby team has two hakas.
Let's face it, the All Blacks are as famous for winning two back to back Rugby World Cups (played once every four years) as they are for their spine-tingling haka performed at the beginning of a test match against another country.
If you visit New Zealand during rugby season (winter) you should try and see an All Blacks game! But you'll need to grab your tickets well in advance because we Kiwis love our team and international test matches between our beloved All Blacks and another nation always sell out.
If you are already a rugby fan then you'll know all about the haka, but you may not know what the words mean, or even why they do it.
This post explains why we have two hakas: the traditional Ka Mate and the newer specific All Blacks haka: Kapa o pango, as well as the haka translation so you can understand what they're so fired up about!
What is the haka?
The haka is a traditional Maori war cry.
It is fierce and involves a male leader and a group of mainly men (women have only recently been doing the haka, but traditionalists would still not women performing hakas) chanting, stamping feet and hands in choreographed movements with some pretty scary looking pukana (wild eyes with the tongue out that they do!)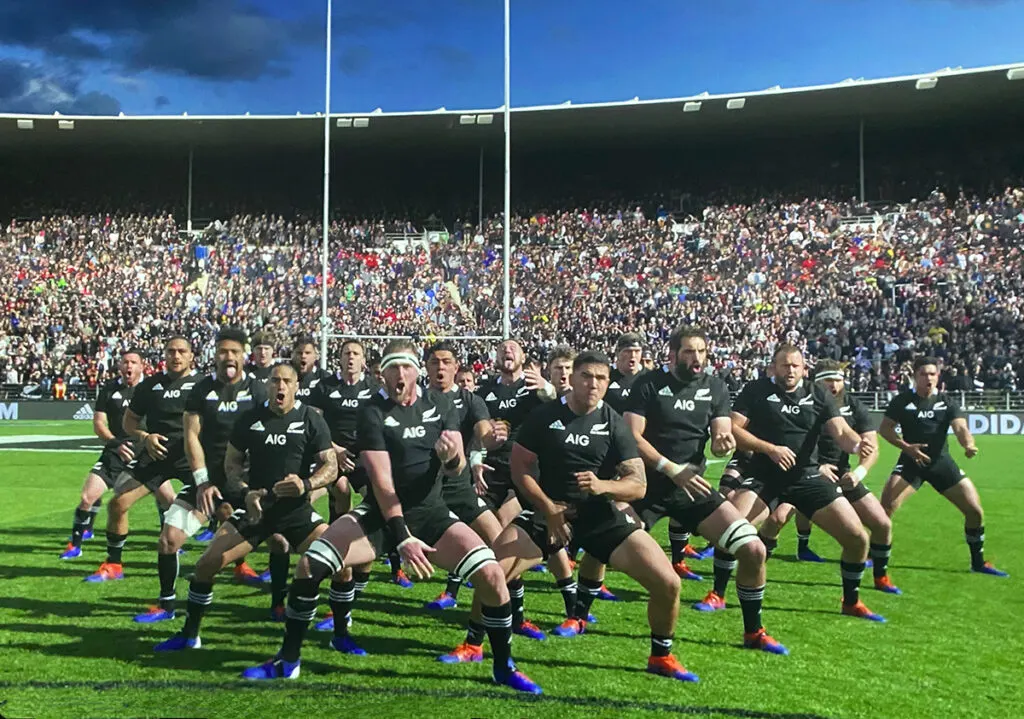 The All Blacks perform two hakas, and you never know which one you're going to get at a game: The iconic and traditional Ka mate haka was written by Maori chief Te Rauparaha as a war cry in 1820 before the warriors would go to battle to try and scare the living daylights out of their opponents (click here for my blog on the Ka Mate translation).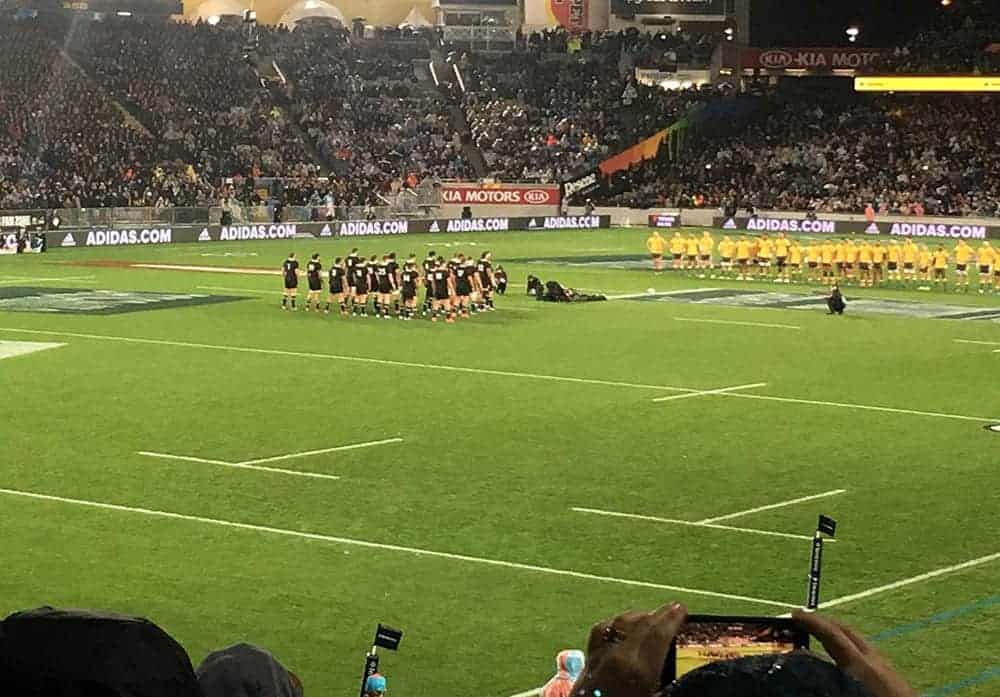 The Ka mate haka is synonymous with Maori culture in New Zealand.
It's our most famous haka and there'd barely be a Kiwi male on their OE (overseas experience/gap year) who hasn't performed it in a London pub! But there are many hakas in New Zealand: schools have their own, iwi (Maori tribes) also have their own.
While most people equate the haka with the start of an All Blacks rugby match, the haka is also done on occasions to honour great people.
One of the most moving things you'll ever see is a haka done to honour someone like a dignitary with a huge welcome, or at a funeral of a cherished person or leader, or when someone has achieved something great like a gold medal at the Olympics.
Watch this spine-tingling haka from Palmerston North Boys High School in front of a hearse carrying their beloved teacher. The haka performed in honour like this brings tears to my eyes.
But in 2005 a new haka was written for the All Blacks (which I've not seen performed in a pub. Too sacred for that!).
Kapa o pango was first performed by the All Blacks against the South Africa Sprinkboks rugby team in 2005 at Carisbrook, Dunedin. The All Blacks won 31 – 27.
Written by Derek Lardelli of the Ngati Porou iwi, this haka is performed before special test matches – and we the excitable fans never know which one will be performed until the national anthems have been sung and the boys assemble in their signature arrow formation before kick off.
If it's Kapa o Pango, the stadium will erupt in cheers because this one is only pulled out a couple of times a year by the All Blacks for super special games. Although so far in 2023, it's been the one they are now using.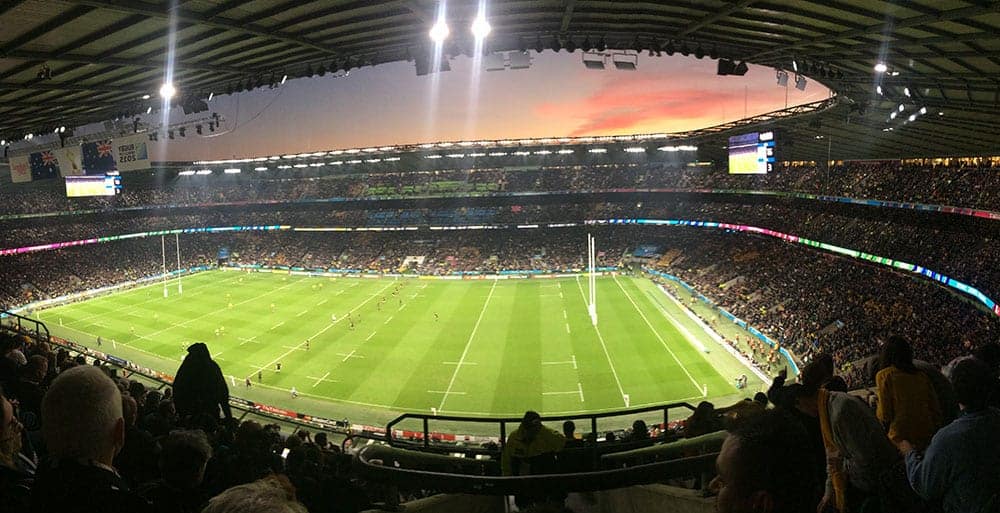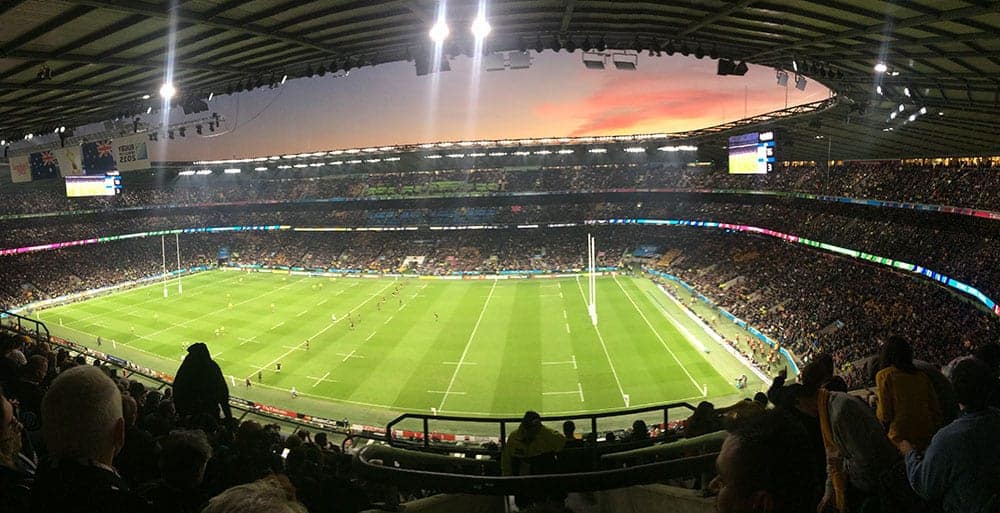 Kapa o pango haka words in English and Maori
Kapa o pango kia whakawhenua au i ahau!
Let me go back to my first gasp of breath
Hi aue, hi!
Ko Aotearoa e ngunguru nei!
It is New Zealand that thunders now
Au, au, aue ha!
And it is my time!
It is my moment!
Ko Kapa o Pango e ngunguru nei!
The passion ignites!
This defines us as the All Blacks
Au, au, aue ha!
And it is my time!
It is my moment!
I ahaha!
The anticipation explodes!
Ka tu te ihiihi
Feel the power
Ka tu te wanawana
Our dominance rises
Ki runga ki te rangi e tu iho nei, tu iho nei, hi!
Our supremacy emerges
To be placed on high
Ponga ra!
Silver fern!
Kapa o Pango, aue hi!
All Blacks!
Ponga ra!
Silver fern!
Kapa o Pango, aue hi, ha!
All Blacks!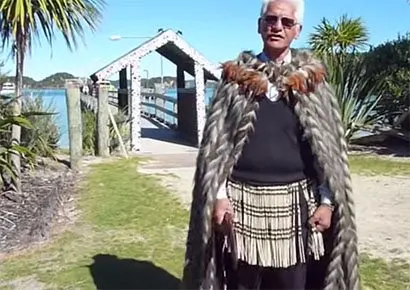 For the meaning and translation of the traditional Ka Mate haka, visit this post.
And if you're a truly mad keen All Blacks fan, jump here for my post on where to download a FREE haka ringtone >>>
Also read: the meaning of the hongi, the traditional Maori greeting of touching noses.
Over in my Travel Store I have this great range of All Blacks luggage and travel accessories for delivery NZ-wide (sorry if you're reading from outside of NZ!)