One of the best things to do in London is go and have a frightfully expensive high tea in a fancy hotel. What I mean by frightfully expensive is dropping about £50 on a cup of tea and some tiny morsels – but it's so worth it!
Here's why…
I've dropped hundreds of dollars on afternoon tea in London over the years and poked my pinky out of dainty china handles with the best of them! But at THIS place, my favourite, you can literally brush shoulders with royalty – if you strike it right. Okay, maybe their security team won't let you actually brush their shoulders, but keep your eyes peeled at least, as this is THE place royals are seen.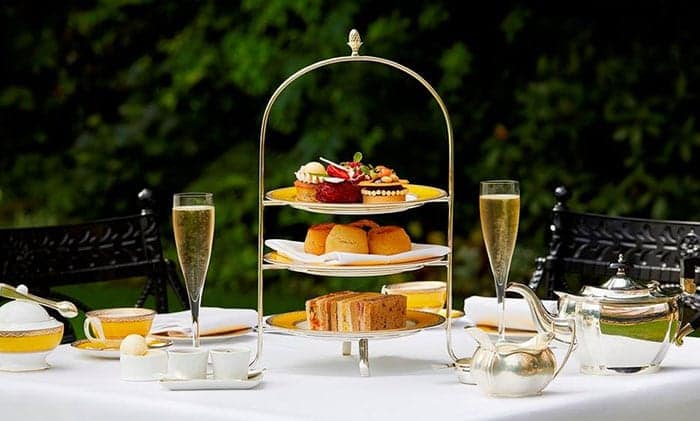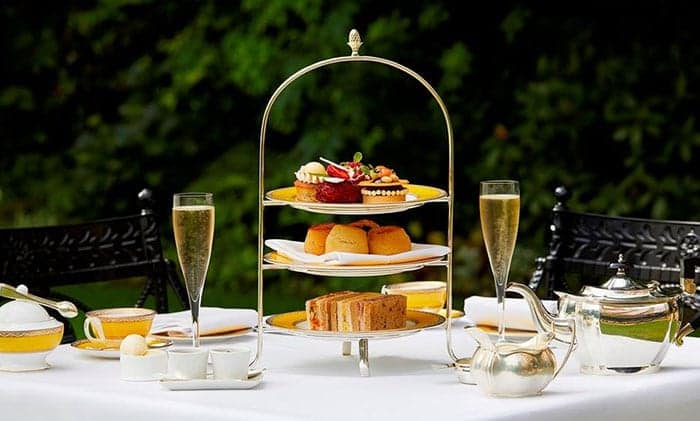 I love a teeny sandwich on a three-tiered cake rack, but quite honestly it's all about the warm fluffy scones, jam and thick clotted cream for me. We can only get clotted cream in very rare places in New Zealand, so I found a recipe for anyone who can be bothered making it (spoiler: it takes 12 hours of slow cooking). The taste reminds of when I had a high tea in central Hawkes Bay a few years back.
So after dropping the better part of $400 on two London afternoon teas for hubby me on my last trip, and having already enjoyed an afternoon tea some years before in this fine establishment, I pronounce the Goring Hotel as the winner of the best high tea in London for me!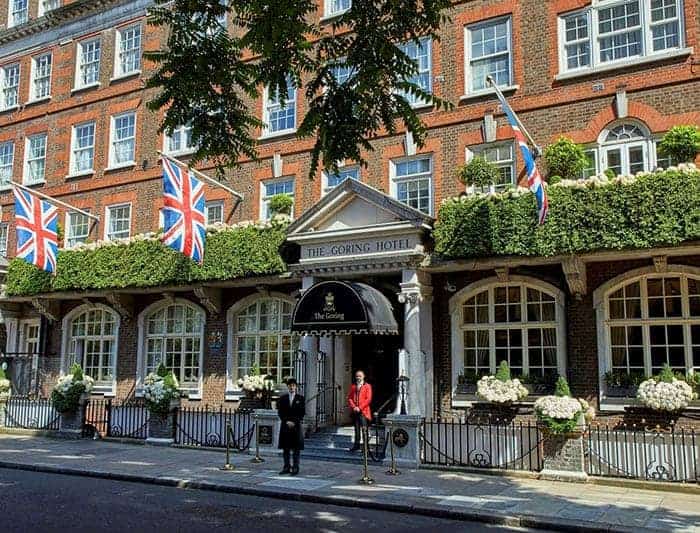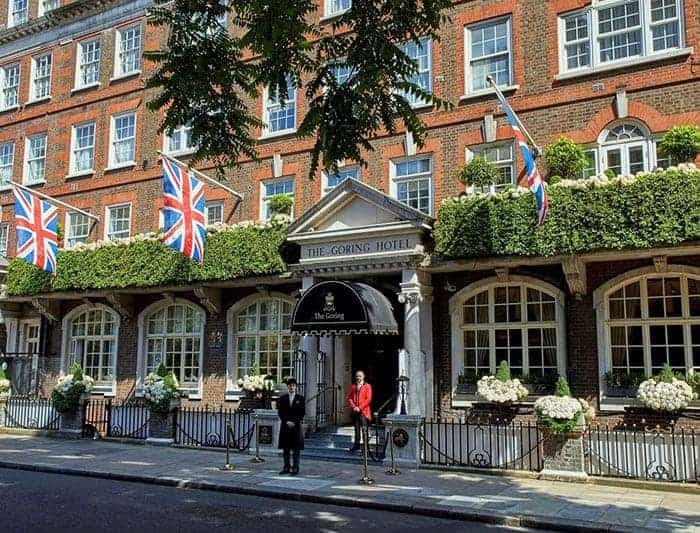 Why the Goring afternoon tea?
Sipping on a cup of black tea at the Goring Hotel, and knowing who could pop in at any minute, you can't help imagining you're a little bit royal.
Prince William's wife Kate Middleton, aka Duchess Catherine of Cambridge, spent her last night as a spinster here at this boutique hotel in London's Victoria and then it was me here drinking in the decor of the rooms like I would my tea in just a minute.
The Middletons booked out this elegant and discrete family-run hotel for three days to get ready for the royal fanfare. Not that I thought too much about her nerves or the pressures of performing in what would be the biggest day in her life, I was too busy enjoying the crayfish mousse in a shot glass and the tiny salmon sandwich while eyeing up the next one – a coronation chicken sandwich – before my friend ate it first.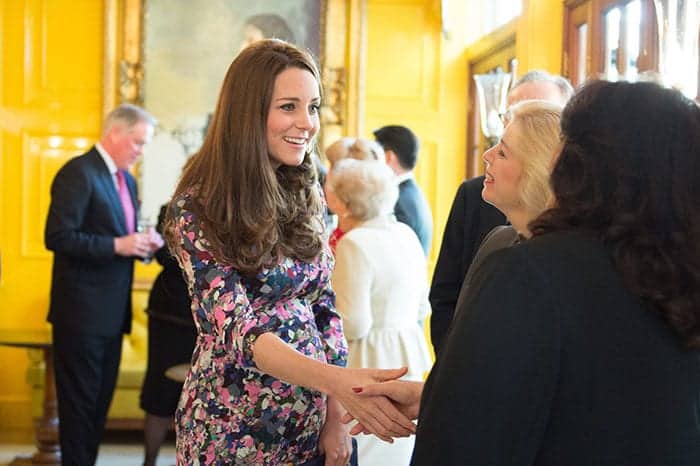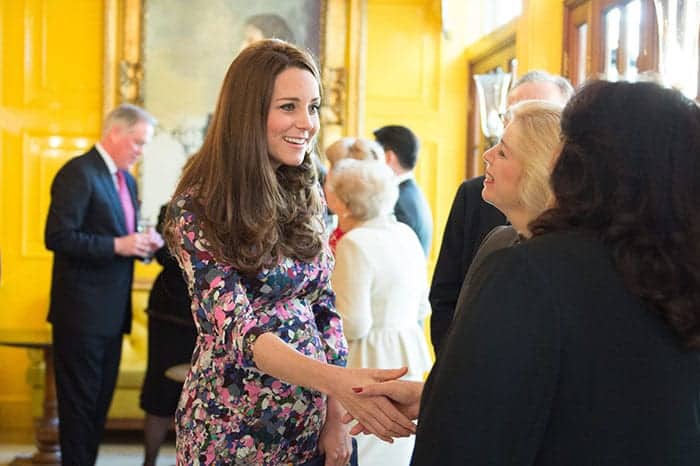 Virtually a Royal Dalton cup throw from Buckingham Palace, the Goring Hotel is the Queen's second "guest house" when the palace is full and she has more dignitaries than she can handle.
Aside: you can also just come for cocktails or make reservations for dinner in the Michelin star restaurant, or heck stay the night in one of their dinner-included packages!
Four generations of the Goring family have run this fine hotel for over a century. Mr Goring senior-senior (Otto Goring), persuaded the Duke of Westminster to sell him the plot of land in 1910. He pulled down the cottages and the pub that was standing and built the last grand hotel of the Edwardian era.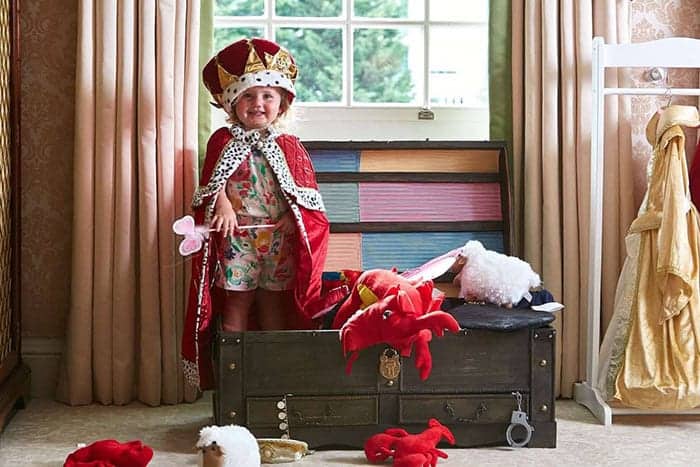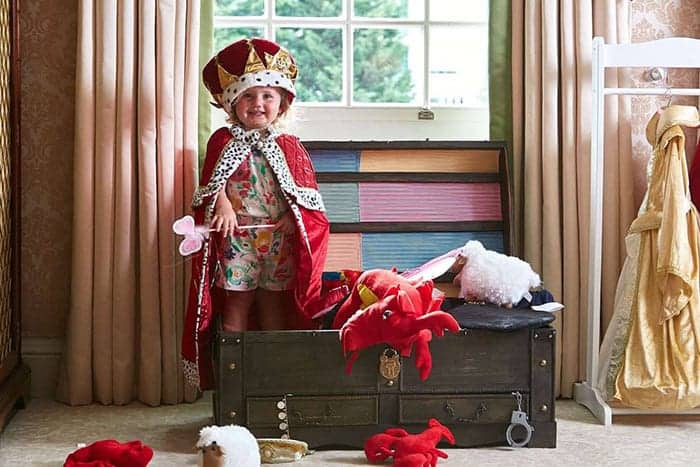 So stay in one of the 69 rooms (if you have the budget) by all means, but for a touch of class without needing to be terribly classy the Goring Hotel afternoon tea is £50 (or £62 with a glass of Bollinger).
High tea is served from 3pm to 4.30pm each afternoon (1pm to 4pm Saturdays) on the terrace overlooking the garden and in the sumptuous chairs in the lounge.
The list of teas is extensive, and coffee is also on offer to accompany the absolutely stunning array of teeny sweets, savouries and warm scones with clotted cream that arrive on that three tier stand.
You'll need to make a reservation in advance as it fills up quickly.
The Goring dress code is smart casual. That means don't wear jeans, shorts or T-shirts, but you can leave your tiara behind.
It's spendy, but about the same price as the Berkley (which I also tried) which is not a patch on the Goring!
If the Goring is booked out, or you fancy somewhere else, have a read of my post on 7 great places for high tea in London >>