I'd heard so much about Byron Bay – usually with much sighing, eyes glazing over and wistfulness – so when I was given the rough assignment of heading up there to write about its spas for Tourism Australia's Explore supplement I rolled my sleeves up and took one for the team…
It was actually part of a 4 day assignment, flying into Sydney, hiring a car and driving north for some crazy outdoor activities in Port Stephens. (You can read about parasailing and quad biking on sand dunes here). I then drove back to Sydney thanks to my handy GPS – although signs to the airport with big aeroplanes on are pretty obvious – and flew up to Ballina the next morning.
Ballina is the closest, but tiny, airport to Byron Bay (you can also fly into Gold Coast/Brisbane) so with a car and a map the size of a rug I followed directions to Gaia Retreat (co-owned by Olivia Newton-John. More about that in the next blog). Byron at Byron Resort & Spa was my home for 2 nights and set in native bush with 90 different species of birds flitting around, it was beautiful. Confession: I had a holiday. Justification: it was Sunday and I'd driven about 700 kms since Thursday…
Byron Bay is known as a bit of a hippy hangout and on cruising through town there's your usual combi vans and dreadlocked crowd, but some nice seaside bars have popped up, lots of touristy shops as well as a few art galleries and boutiques. It's a popular surf beach too and the wind had all the kite-surfers out in force when I went was there.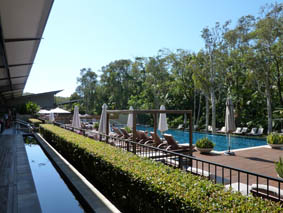 But the resort is a haven. Its set in 18 hectares and with only 90 rooms spread throughout the bush, you hardly see anyone. Each suite has 2 balconies so a coffee with a book or a glass of wine pre dinner is magic. I ordered room service the night I arrived and can honestly say the recommended fish n chips were awesome!
But the spa treatments are divine and as I am nothing if not professional I had to try out their signature – the 2-hour Spa Bliss which started with an hour-long remedial massage whereupon my body was diagnosed as being in stress! I didn't even know. Mind you it might explain the neck and shoulder tensions… The Spa at Byron was just awarded Best Spa by Pevonia – the products they use – and I concur.
The icing on top was the Vichy Shower. Lying face down on a table under a hose with 7 shower heads running along it, Angela massaged a salt scrub all over me with ylang ylang, lavender, tangerine and marine and mineral salts. It smelt divine, but the washing off was even better. The hoses are cleverly designed to massage your muscles as warm water relaxes the muscles and you get a massage at the same time. Sublime. (You also get a little g-string.)
For the full comprehensive guide to Aussie, check out Australia.com.