Olivia Newton-John's Gaia Retreat and Spa is a haven for those seeking to detox, relax, and rejuvenate in a serene environment.
Tucked away in a tiny farmlet community near Bangalow, this wellness retreat offers a range of holistic experiences from yoga to spa treatments. I was excited to see what this place had in store for me as a first-timer at a wellness retreat.
Their 22 chalet style rooms from standard to executive suites are clearly designed to have a major focus on wellness. And for the record, I have it on very good authority that all these rumours about her ex showing up? Rubbish.
My not so confusing journey to Gaia Retreat and Spa
I flew into Ballina from Sydney, picked up a car at the airport, and proceeded to head north toward Byron Bay. Inconveniently, the signs coming out of the airport direct you either left to Ballina or right to Tweed Heads.
Nothing said Byron Bay, and nothing said north. I chose left because that was only 2kms away – and, as per usual, got it wrong. But at least I found someone within 10 minutes who could put me right.
The next navigational trick is to know that Gaia is in a tiny farmlet community near Bangalow and is a sudden left off the motorway before you get to Byron Bay. If you get to Byron Bay, you've gone too far. I went too far.
Feeling like MaGoo, I phoned Gregg Cave – Gaia's other co-owner and Olivia's bosom buddy who pretty much grew up with her – and he gave me directions back. Arriving exhausted, frazzled and in need of Nurofen, I was also clearly in need of some of the relaxing tonic this place is renowned for. And man, did they deliver!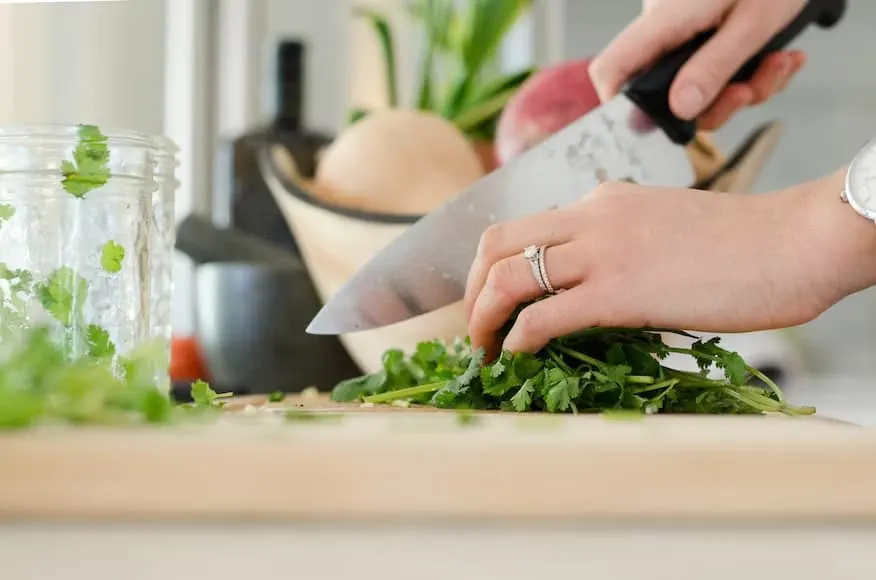 Arrival lunch and award-winning wellness cuisine
Gaia Retreat and Spa offers a multi award-winning menu dedicated to creating the world's best wellness cuisine, using the finest local, seasonal, whole and organic produce. Their world-class chefs personally select the freshest organic produce grown in their very own organic garden.
I have to try their cuisine. First, I had the healthy organic lunch platter that was on the menu for today. A selection of delicious hummus, beetroot spread and something else the hippies in these parts live on.
It was accompanied by wholemeal pita bread and a salad grown in the garden. No wine allowed at lunchtime, but organic wine is on the menu for dinner.
Embracing wellness
People come here to detox, relax, and retreat. They can as well embrace the nutritional lessons, yoga, meditation, spa treatments, and eating plans – or not. Only smoking is not allowed on site.
I was in a semi embracing state of mind now that the headache had gone. After lunch, I toured the property with its sweeping views over the Byron shire (such a quaint name).
Lastly, I cosied up on a day bed in the sun before joining a bunch of fellow detoxers for an organic cooking lesson with chef Todd Cameron.
Very delicious is a statement he uses often and very delicious was the macadamia nut satay sauce he prepared. But I have already practised it at home with prawns. (If you want the recipe, just make a comment below, and I'll post it up – this blog is getting mighty long, and I haven't got to the incredible spa yet…)
Healers, not just masseurs
There are 35 spa therapists, and I'm not going to lie, I experienced the best treatment in my life here.
These guys (and girls) are not only masseurs but "healers", Gregg told me. A treatment here is an holistic experience, and I tried their signature Body Polish and Massage. The massage truly worked on its promise of leaving my skin feeling smooth, soft, and rejuvenated.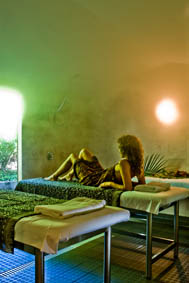 Steam room and water experience
I was quite unprepared for the steam room and water experience. There I am, laying on the bed in a room with showers and a sarong for modesty. Then the room filled with steam.
I kept peeping from under my eye mask until the room was white-out and my skin was wringing. Tamara, my healer, then weaved her way in to start the exfoliation.
I had chosen the wattle seed scrub made from seeds picked on the property, mixed with lemon myrtle and oils whereupon she scrubbed all my dead skin cells off, and I was left to marinate for another ten minutes while the room turned white again.
In she came, this time dressed in a lycra/swimsuit dress and with a hand-held shower, massaged the seeds off and worked the oils into my skin. It was truly sublime, and I almost wished I could be bedridden for life if this was what bath time was like!
Kahuna massage
What followed was even beyond relaxing. The hour-long Kahuna Massage that followed with long, relaxing Hawaiian strokes tipped me into Nirvana. It was both relaxing and invigorating at the same time, and I could feel the tension melting away from my muscles.
At one point, the therapist started to gently stretch my limbs and move my joints in a way that felt almost like yoga. I felt my mind drifting away and my body sinking deeper into relaxation. It was unlike anything I had ever experienced before. I could feel the energy and healing power of the massage flowing through my body.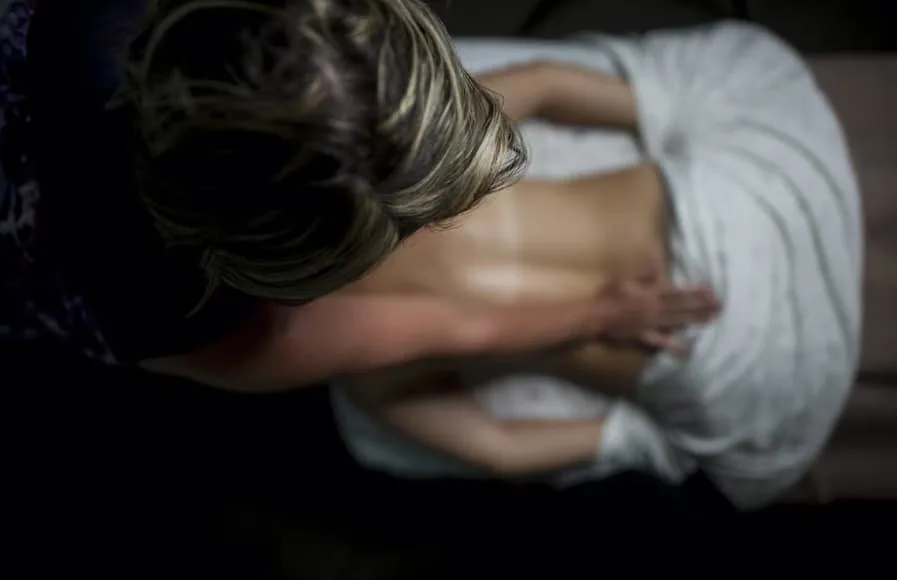 Off to Byron Bay
After my incredible spa experience at Gaia Retreat and Spa, it was time to move on to my next adventure. I gathered my things to bid farewell to the serene and tranquil surroundings of the retreat.
It was 6pm by the time I staggered out for a wine and a chat with Gregg, then drove the ten minutes to Byron Bay Wellness Retreat with clear directions in mind.
For the full comprehensive guide to Aussie, check out Australia.com.