This chilli coconut prawn recipe is so easy you'll probably add it your weekly repertoire!
If you need inspiration for dinner this week, pick up these easy ingredients on your next supermarket visit and throw this delicious prawn recipe together in a jiffy.
I learned how to make these coconut chilli prawns at a cooking class in Fiji and it is so simple, I make it at home regularly.
I'm not much of a "fly and flop" sort of person on holiday. I get bored easily and I think that's why I love blogging so much – it makes me get out and do and try things on the pretext of needing to write new material, otherwise I'd probably lie in bed and poodle about on Facebook never seeing anything.
And so it was that I found myself booked in for a cooking lesson at the Outrigger Fiji Beach Resort on Fiji's Coral Coast with executive chef Shailesh Naidu and his very able assistant Priya Darshani.
Both are local kids turned pro chefs and Shailesh is an inspiration, as president of the Fiji Chef's Association he has started a mentoring programme to encourage local kids into cooking.
What he began as a masterchef style of training in one high school has turned into 10+ schools all now competing for prizes that are better than the ones handed out at exec competitions!
I put on my hairnet and donned my Outrigger brown apron, then we were divided into two teams. My team had the enviable dish of chilli, lime and coconut prawns.
Here's the recipe. Disclaimer, I do tend to throw it all together so I have evolved it below over time. But it's so easy, you must try it at home!
Fijian chilli, lime & coconut prawns recipe
Ingredients
Tiger prawns x 8 (tails on or off) I use a bag of frozen shelled prawns (defrosted)
Kaffir lime leaves (optional)
150ml coconut milk
15gm chilli jam (quarter cup maybe? Add this to taste. Sweet chilli sauce can also work, but it will make the dish very sweet. I now combine a little hot chilli with sweet chilli to suit my taste)
10gm chopped onions (1 whole onion is about right)
5gm garlic paste (it looked like about a tbs to me)
salt & pepper to taste
A little fish sauce (optional) if the chilli is too sweet
Spinach leaves
Method
In a pan saute onion, garlic and prawns
Add chilli jam followed by the coconut milk, tear the lime leaves and throw in
Simmer until prawns are cooked and the sauce thickens.
Adjust seasoning to taste (more coconut milk if chilli is too strong. We also added lime juice to take some heat off the chilli)
Serve with rice (I love the crunch of brown rice). I also wilt spinach leaves over them in the pan to add some veggies!
If you liked this recipe, you might also like one on two ways for making kokoda (Fijian raw fish salad). One is simple and the other involves toasting the fresh coconut before making the milk. Yes super fiddly, but oh my, the taste!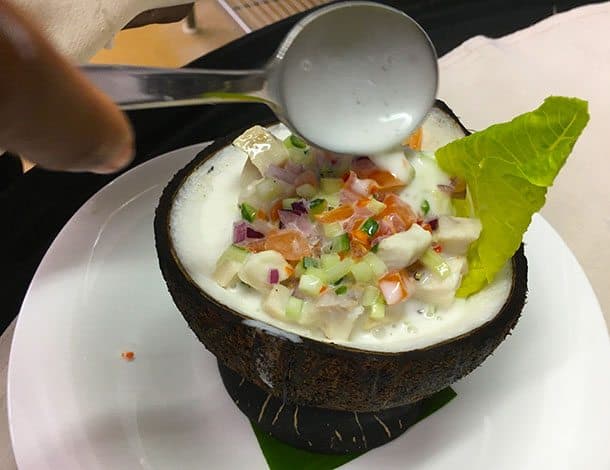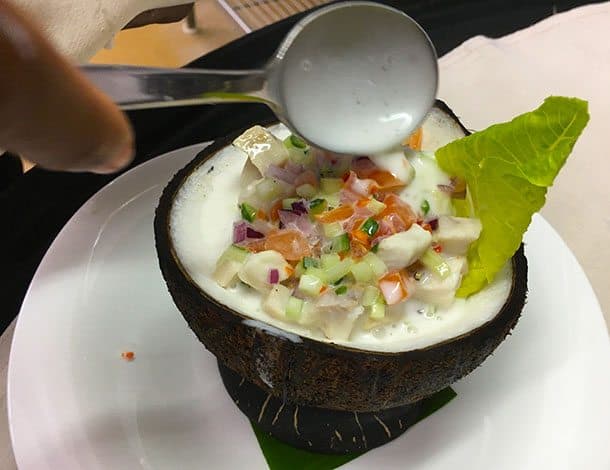 Read my review on Outrigger Resort Fiji, on the Coral Coast about an hour and a half from Nadi/Denarau, and why I can't wait to get back there again.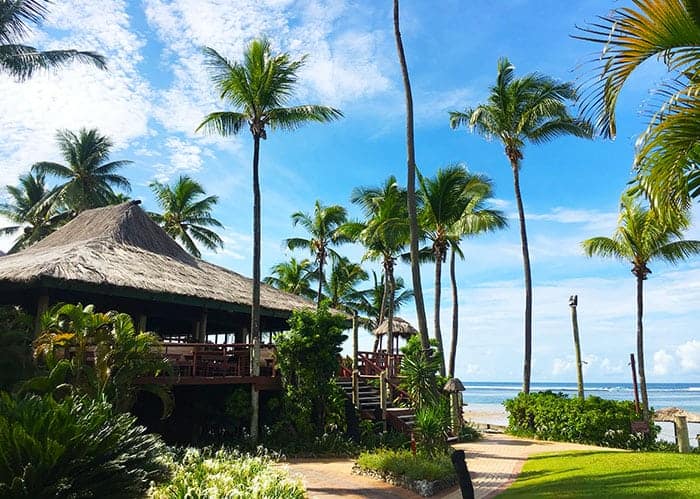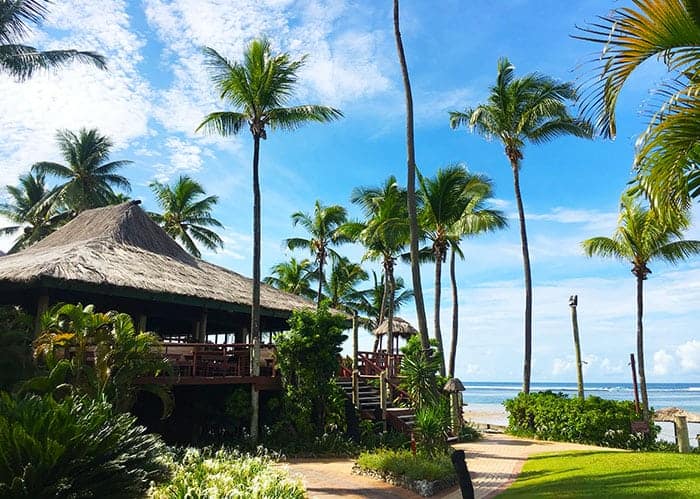 If you need a little something sweet which is super simple to make, I've perfected this no-bake ginger slice recipe. So good! A biscuit base made with butter and condensed milk and just add the topping.