If you are planning a New Zealand road trip and are looking for some really great things to do in Rotorua, read on, because I had a quick 48-hour visit and found some fabulous things for you to do!
When most people think of things to do in Rotorua they think Maori culture and geothermal parks. And certainly, this is the city to see and do those things, but there's so much more too.
I was hosted by the wonderful team at Rotorua NZ and they pretty much showcased the best Rotorua has to offer in a whistle-stop weekend away.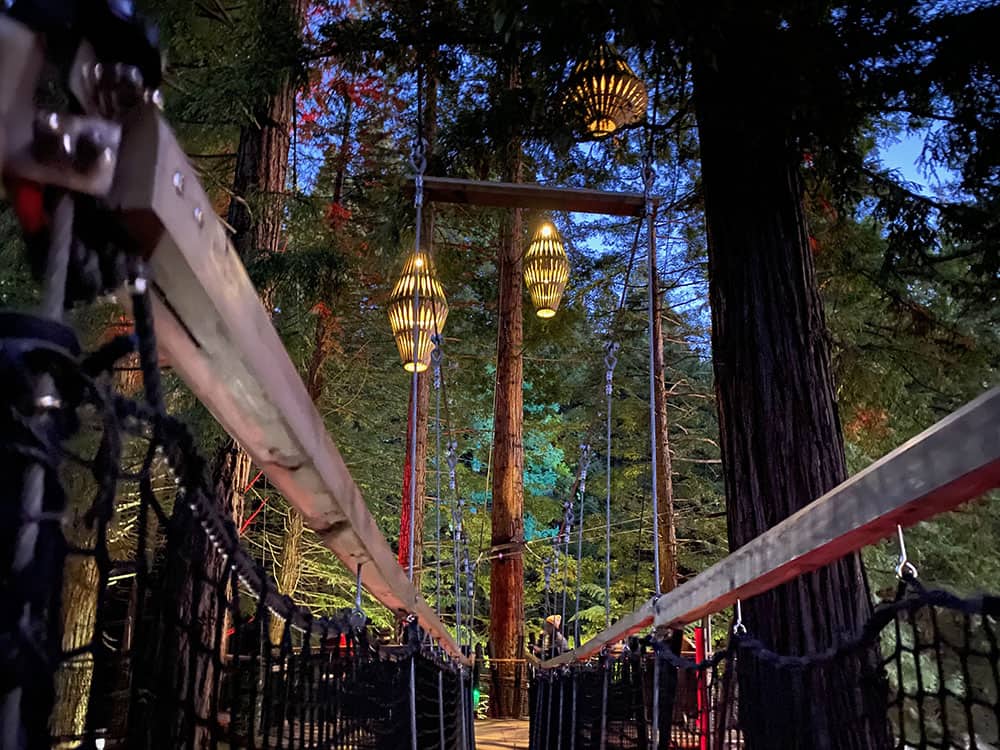 If you are looking for a complete guide to Rotorua, you'll find it on NZ Travel Tips, run by my friend Sarah.
But for our weekend, my husband was unable to join me, so I contacted my cousin (and bestie) Kate who jumped at the opportunity to have a girls weekend in Rotorua as neither of us had been for at least three or four years.
She drove up from Hawkes Bay and I drove down from Auckland and we started our epic weekend with a hot swim at Secret Spot. As you do.
Best things to do in Rotorua
Secret Spot Rotorua
This is both called Secret Spot AND is located at a secret spot! It was the perfect way to start our Rotorua holiday, soaking in a hot tub in mid afternoon, surrounded by trees and overlooking a little river.
It opened in October 2019 and is the brainchild of brothers Keith and Eric Kolver, who were on a rafting expedition about five years ago when they hit terrible weather and whilst sitting on the bank of the river shivering, they challenged each other to think warm thoughts. Those thoughts included a hot tub and a glass of mulled wine.
Now, five years on those warm thoughts have become a reality with 12 cedar hot tubs dotted along the edge of a river in Waipa State Park surrounded by lush planting and mature trees to gaze into.
But not only that, it's posh hot tubbing to the tune of tub-side service! Either take your wine or coffee to the tub, or press the button and someone will come to take your order.
The other thing to know is to come earlier than your booking slot for a shinny dip. Yes, a dip of your feet and shins in the outdoor cafe area where for just the price of a coffee you can sit with your friends and have a foot soak and a natter.
They offer a locals rate too, so if you're a Rotorua resident don't forget to mention that. Grab a discount code for Secret Spot here.
Redwoods Nightlights TreeWalk
One of the best things to do in Rotorua is visit the 118-year old Redwood forest. It's New Zealand's largest Redwood forest and is worth visiting any time of day (it's also very popular with mountain bikers with loads of free tracks to whiz along), but it's the Nightlights treewalk that is a real must-do.
The Redwoods tree walk takes about 40 minutes (although there are platforms to sit and just stare) walking across 700m of swing bridges (more bouncy than swingy as they are well connected) through the treetops between platforms about 20 metres up the 75-metre tall trees.
By day you'll notice the David Trubridge light shades hanging high above you. But by night the lights come on and I now MUST have a David Trubridge in my house!
As well as his gigantic lantern installations the ferns and plants below are lit with laser lights and as you get to the end you'll see what looks like a firefly show of tiny green lights dancing through the trees below. It really is spectacular.
This is a fun activity for kids too, but you will struggle to walk across the narrow bridges with a child on your hip. They do have clever wooden trolleys which you can clip a carseat capsule onto for really little ones.
They currently offer a free nighttime walk with your day pass.
Volcanic Air floatplane ride
What a sensational way to spend a morning! A Volcanic Air float plane picked us up on the jetty from our hotel, Peppers on the Point, and flew off from Lake Rotorua over to Lake Rotoiti for us to spend an hour soaking in hot pools on the edge of the lake at Manupirua Bay.
If you're not staying somewhere with your own jetty, you can drive to their base on the lakefront in the city.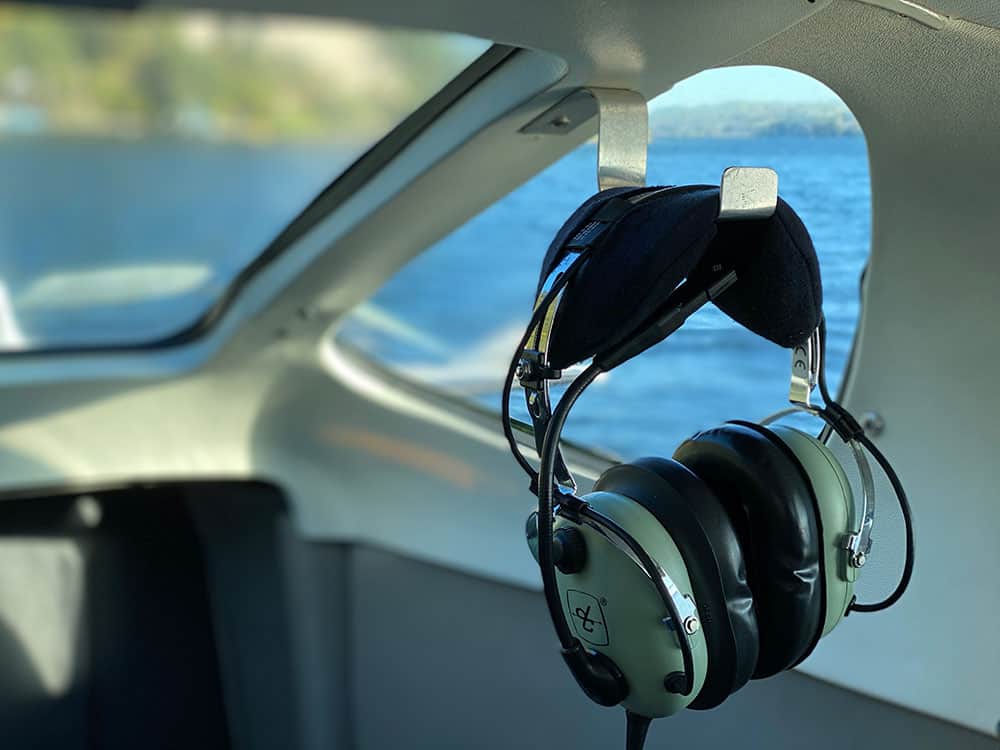 This 90-minute tour is a new offering the company has added (now that White Island is no longer an attraction). The hot pools over here at Lake Rotoiti is only accessible by water and they've been here for decades – the facilities that is, the water has been here for millennia.
They are emptied and refilled every day from natural hot springs but are only really known by the locals.
Some of my friends remember boating here as kids for a picnic and a soak. You can still do that and in fact a boat arrived as we were just finishing our dip, out hopped three guys and proceeded to barbecue some bacon butties.
These hot pools come straight out of the ground and are cooled only by air as the pools overflow into each other. Beware of your silver jewellery as it will turn black! (But nothing that a little jewellery cleaner won't fix.)
Waimangu Volcanic Valley
If you love a mud pool, a bit of geothermal activity and fancy a lovely long walk (about 2 hours) through a geothermal park (pretty much all downhill) to Lake Rotomahana, you'll love this.
I wouldn't advise families with toddlers do it though as the lakes of boiling water are not fenced off. However the tracks are wide and easy to use with a buggy.
Waimangu Volcanic Valley is located about a 30 minute drive south of Rotorua towards Taupo and they call themselves the world's youngest geothermal valley, having been formed by the Mt Tarawera eruption of 1886 when the mountain was split in two.
But the name Waimangu means black and was so named after the world's largest geyser erupted here in 1900 spewing black ash, water and smoke.
You can do a self-guided walk (about 2 hours) or do the whole Waimangu experience which includes a boat ride on Lake Rotomahana where you'll see little geysers and steam vents all hissing and spitting around the water's edge.
The famous (now buried and destroyed by the 1886 eruption) pink and white terraces were once here and you'll see silica terraces and tones of pink colour which help remind us what they were like.
The walk down to the lake is long, and to be honest, there are more spectacular geothermal parks in Rotorua (I love Wai-o-Tapu and Te Puia), but this is a lovely park with lots of fascinating features to read about as you wander including this inferno lake below.
Kayak to the Glow Worms
We joined Paddle Board Rotorua for a twilight kayak (it was too cold for paddle boarding!) across Lake Okareka to hidden glow worm caves on the edge of the lake.
The lovely Tom picked us up from our hotel about 4.30 (it was the middle of winter and sun was setting soon after 5pm). We drove about 20 minutes to the lake where we donned our life jackets and a head lamp, pulled our double kayak into the lake and hopped in.
Can I just say, IT WAS 4 DEGREES! But the lake was as calm as a millpond and the moon was out. It was surreal actually. Still, silent and eerily low lit as we paddled quietly with Tom across the lake to the first of about five caves we poked our kayaks into to see the cities of glow worms.
In the summer you can stay out for longer, float in the caves and lie back and watch. You can also paddle board, but if you've read about my experiences learning to paddle board (and my now informative post on 10 tips for paddle boarding), you'll understand why we chose a double kayak!
Tom was disappointed that the moon was so bright as he said the glow worms weren't showing as brightly, but I was thrilled with it. I liked being able to see, albeit in the dim moonlight, and the worms looked pretty amazing to me!
Oh and we didn't get toooo wet – just a little soaked through from the paddle, but we'd sensibly brought a change of clothes for dinner in the city.
Ziplining through native forest
I absolutely love zip lining and have done it in Christchurch (the longest zip lines in New Zealand), California and Vanuatu, but I confess that while this was on my itinerary, I didn't get to it. As you can see from everything above, we were crazy busy for two days and this was a three-hour experience before we were to leave town.
HOWEVER I did canvas several locals to ask what it was like and now I have regret!
Rotorua Canopy Tours have an amazing experience through prehistoric forest on zip lines, swing bridges, cliff walks and tree top platforms where the guides bring the forest to life through their stories. But the main thing people told me about was the work the company has done to restore the native forest, eradicate pests and bring back the wild birds.
Their award-winning canopy tours are either 3 or 3.5 hours long (depending upon which you choose), so certainly another activity to consider if you have the energy.
Wine tasting at the top of the gondola
Ok, so I did manage to fit this in…
Brent and Larissa Park are the owners of Volcanic Hills, a winery that makes it's wine here in Rotorua, despite there being no vineyards in this region. They realise this is where most visitors to New Zealand come though and they also realise that most of them are not going to high tail it around the whole country to experience all the various varieties we grow.
So they bring in their red grapes from Central Otago and their sauvignon blanc grapes from Marlborough and make their wines in their building at the bottom of the gondola and sell it up here at the top.
We sat down for a wine tasting (5 tastes for $16) and heard from Brent about New Zealand wines and what his focus is on his own wine. A nice way to kill an hour or so and certainly a great idea if your family is luging or mountain biking below you!
Where to stay in Rotorua
Oh my! Peppers on the Point was our luxurious home for two nights right on the edge of Lake Rotorua. We sat down with Lodge Manager Ann Gregor-Greene and over a three course meal and a couple of wines we learned all about this stunning and iconic New Zealand lodge.
Mostly frequented by international tourists, they are on a quest to entice kiwis to experience what they have to offer in this 1930s mansion with separate cottages dotted around the property that sprawls down to the lake.
Kate and I had the suite upstairs with sunrise views out to Mokoia Island. Two cottages have their own outdoor spa pools and you'll see farm animals including two miniature donkeys who live on site (Danny Boy and Milo) along with a cheeky sheep that jumps fences, depending on what she wants to eat.
But the dining is really worth writing about and you don't have to be staying to come and eat here. You can choose where to sit for your fine dining experience, either at a discrete table in a nook in the lounge, or in the main dining room with other guests.
Peppers on the Point have typically offered four-course degustation menus, but with the pivot to more New Zealand guests than internationals, the restaurant is now serving an a la carte menu for those who wish to dine here with or without staying.
This luxurious property oozes character and charm and the views to the city and across the lake are simply breathtaking. There is also a chapel for weddings on site and plenty of little spaces by a fire, on a couch in the sun, outside with a glass of wine or even organise a massage, to while away some time.
Our room was easily converted from a superking to two king single beds for our girls' weekend and I made good use of the spa bath with a glass of wine after our evening kayak!
Where to eat in Rotorua
Eat Street is the place to come for dinner in Rotorua. It is a covered, pedestrianised part of Tutanekai St in the centre of town edged in restaurants and bars and is THE place to come. But make a booking!
Atticus Finch was highly recommended so we made a booking for 8pm (after our glow worm kayak tour) and had a delicious meal. Their menu is designed for sharing in small and large plates. I personally love this style of dining but admit it's probably more suited to women than men – who often don't want to share their meals, I have discovered!
We had pork belly (which I scoffed before I took a photo so the staff told me I'd find a photo on their Facebook page), smoked fish cakes and a couple of wines. We then Uber'd back to Peppers on the Point.
FAQs
Where is Rotorua?
How far is Rotorua from Auckland? It's 228km and will take approx 2 hours 45 minutes to drive.
How far is Rotorua from Taupo? It's 82km and will take about an hour to drive.
How far is Hobbiton from Rotorua? It's 71kms and will take about an hour to drive.
Does it smell in Rotorua?
Oh my gosh yes! Like rotten eggs and farts. There are places you'll smell the sulphur much more than others and first thing in the morning is usually pretty pungent! The locals say you get used to it and don't even notice, but for the rest of us it's all rather comical.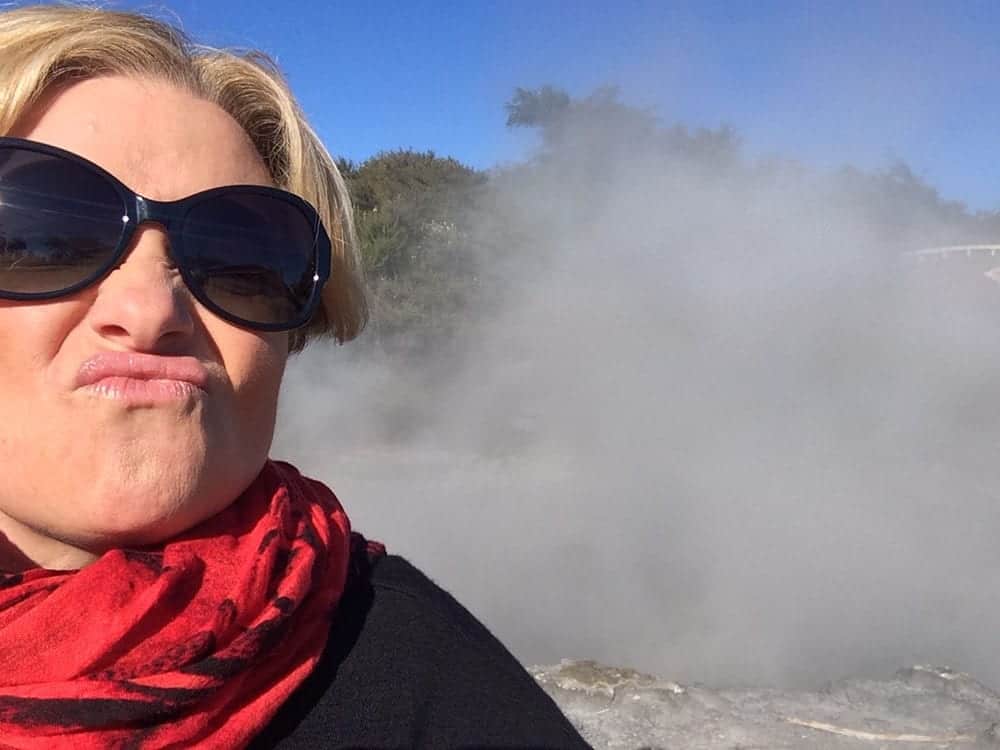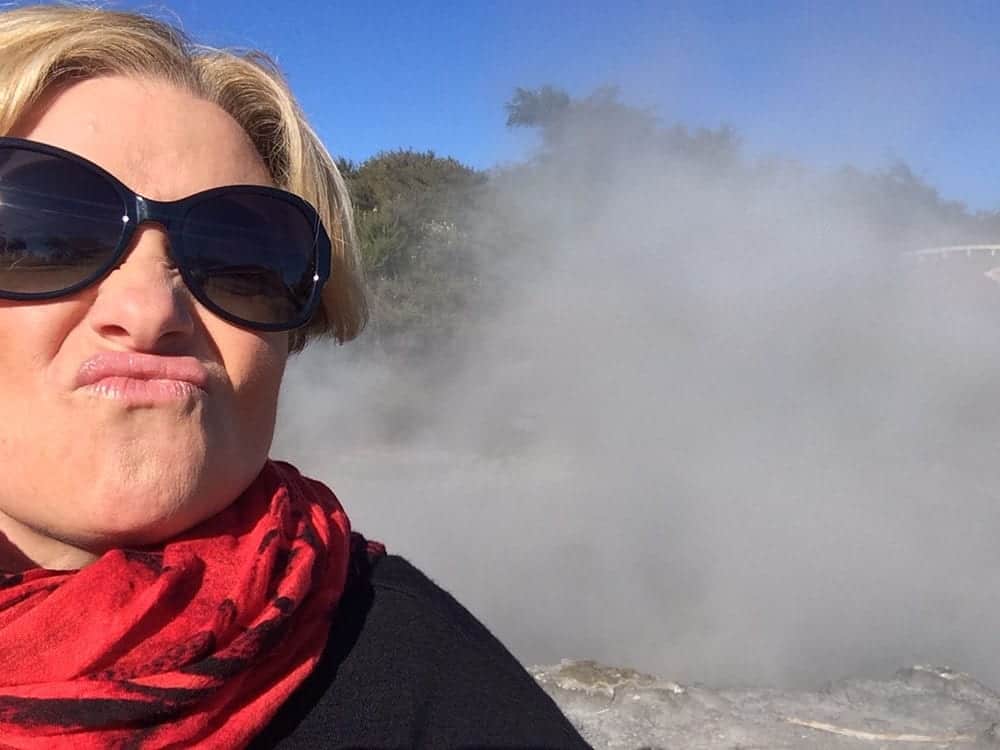 Where are the hot pools in Rotorua?
Rotorua is literally a hot spot. A geothermal hot spot. Natural hot springs are dotted everywhere and many are boiling so don't go jumping in!
You'll find lake side hot pools like the Polynesian Spa, which is easy to get to. There are hot pools located in the various geothermal parks which you can soak in, plus heated pools at hotels and Secret Spot. Click for a full list of Rotorua's hot pools.