A Central Otago road trip is always a good time!
It may only take 58 minutes on a good day to drive from Queenstown to Wanaka, but I took five nosey days in a Maui Motorhome to explore as many nooks and crannies as I could find.
Update: I returned to this stunning part of New Zealand in April 2021 hosting a group of 12 wonderful people and this time we had a coach and driver and accommodation booked in lovely hotels. I'm not going to lie, hotels are more me!
But however you plan to get around Central Otago, these places will help you put your itinerary together in an easy round trip from Queenstown to Wanaka and back through Cromwell.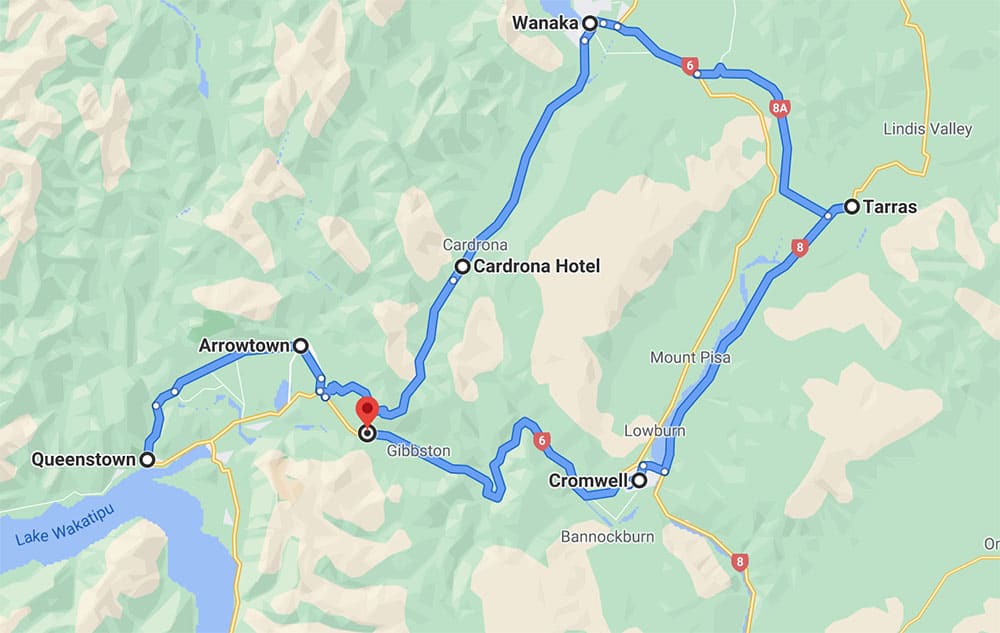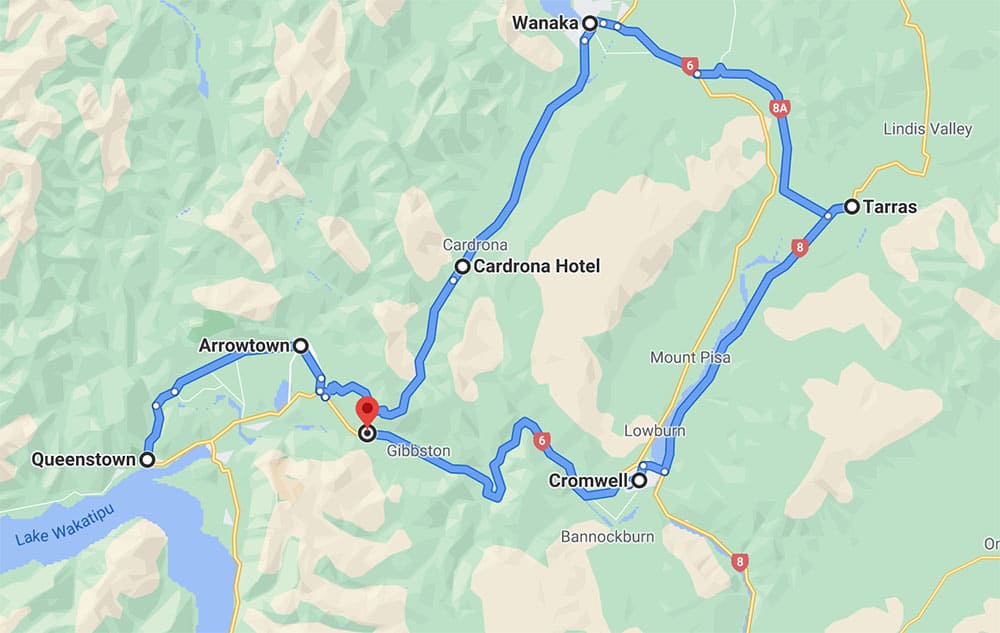 Slow travelling is a bit like slow cooking: the smells, tastes and the chance for a fabulous experience makes it far better – if you have time. Of course, sometimes that's not possible. I get that (see my blog on driving around Ireland in 4 days), but this road trip has been on my Bucket List for a while and I had loads of things I wanted to do in this western part of Central Otago.
Read more: 12 things to do in Queenstown for non skiers! I wrote this post because I'm not a skier (!) but it is also handy for any time of year or when the mountain might be closed.
Where to stay in Queenstown: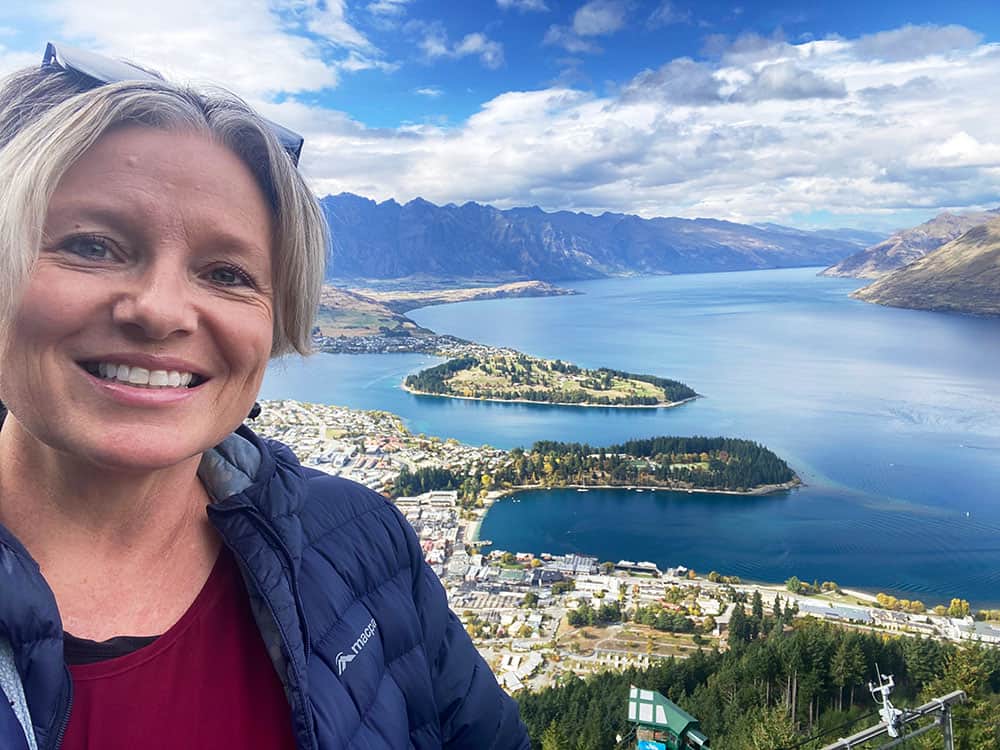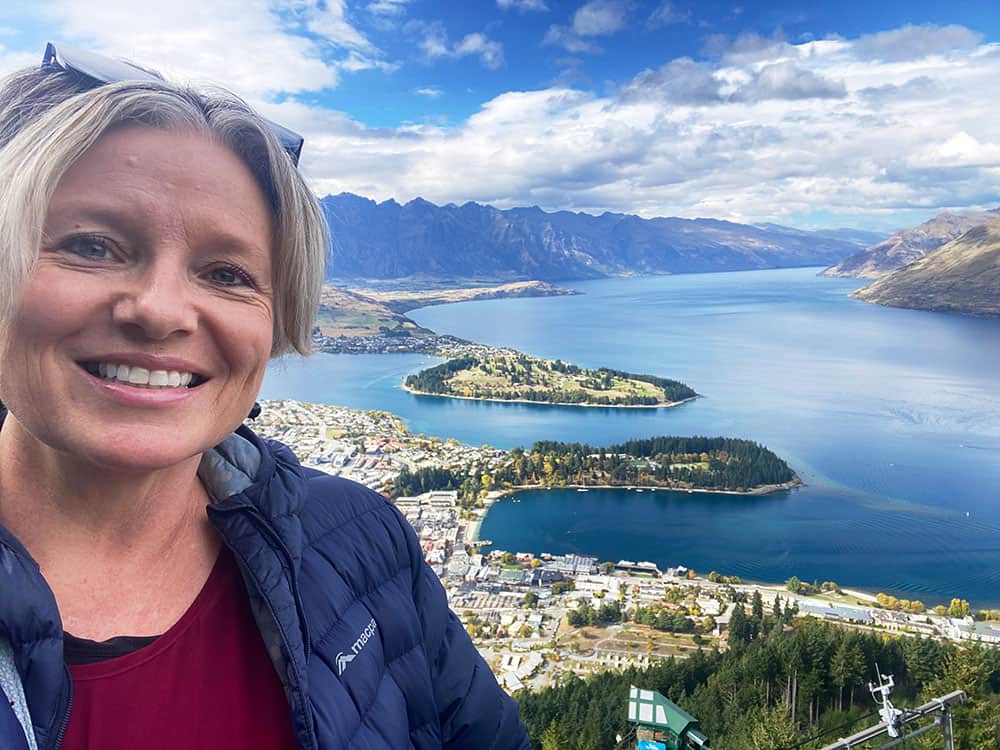 If you're in a motorhome:
We chose Creeksyde because of its central location – a five minute walk from the hustle and bustle of Queenstown's CBD (if you can call it that). It was $55 per night for the 2 of us. That included our parking spot (next to the creek on the 1st night), power for our heater, microwave and to keep lights, TV etc charged.
They were also redoing their ablution facilities and the new one that I discovered on our 2nd visit has great showers and very cool scenic wallpaper. They have kitchens here and TV lounges with fireplaces, although we stayed cosy in our motorhome.
We spent two nights here, one at the beginning and one at the end. We ended up choosing the same Top 10 Holiday Park both times, despite having a few options.
For a full list of Queenstown Holiday parks, click here >>>
Hotels in Queenstown
On my last visit we stayed at the Sofitel which is even closer to town than the Camping Ground. You are one street away from the famous Ferg Burgers, Ferg Bakery (I can recommend the pies!) and Ferg Bar. This is part of the Accor Group of hotels and their standard rooms are luxurious to me!
Another one to look at would be Novotel which is on the lake front down the other end of town from Sofitel, beside the incredible (but expensive) Botswana Butchery.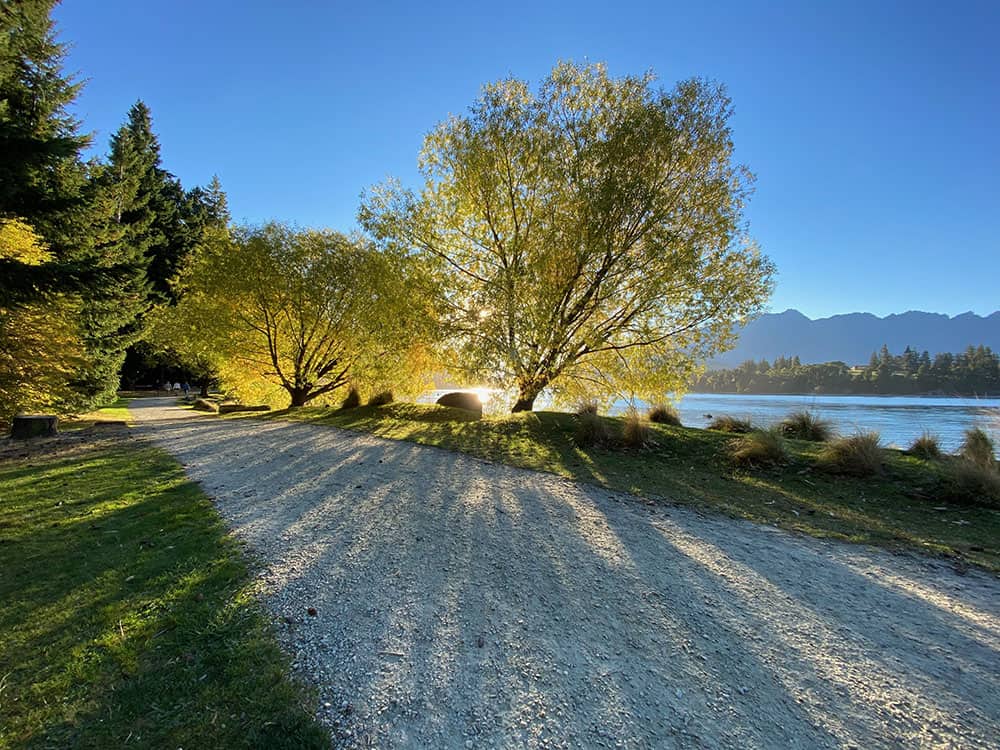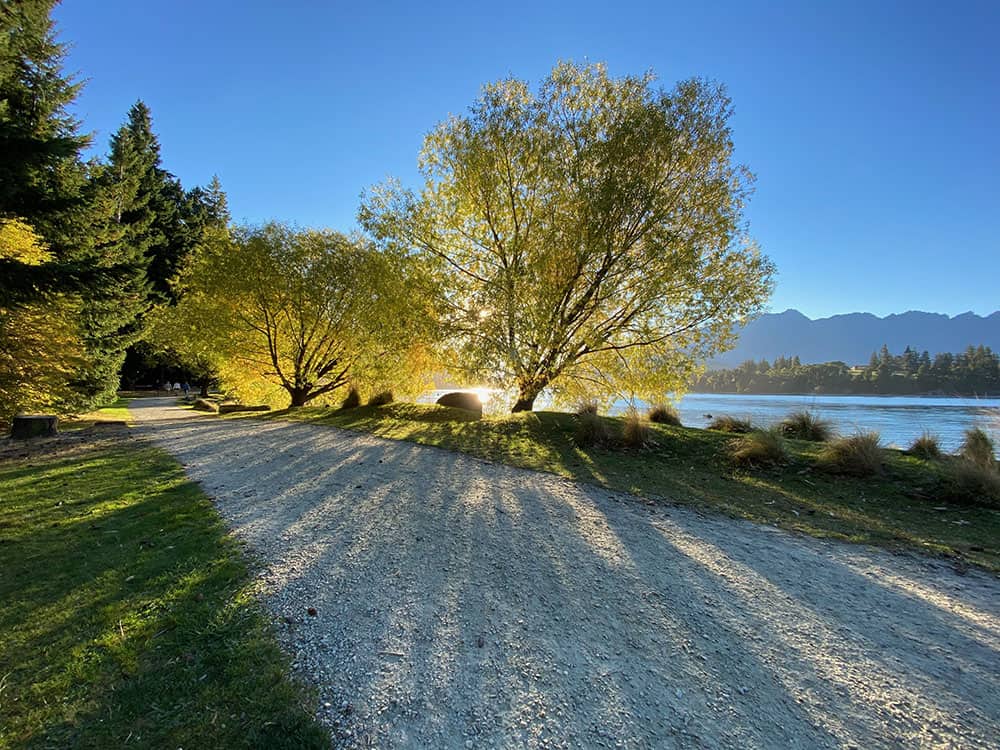 Where to visit between Queenstown and Wanaka:
Shotover Jet boat ride
On your way out of Queenstown to Arrowtown, you'll pass over the Shotover River where the jet boats run.
I visited the Shotover Jet when the Duke and Duchess of Cambridge came for a spin on the Shotover River when I was working for Tourism New Zealand looking after the British press pack in 2014. Which was just as well because due to heavy rain up in the canyons the jet boat rides were cancelled thanks to flooding. If you're after a few thrills and spills, this is brill!
Arrowtown
As luck would have it, we arrived into Queenstown on the last day of the two-week Arrowtown Autumn Festival (April), so we hightailed it over there (20 minutes away) in our campervan, pulled into the riverside parking area and got amongst the action.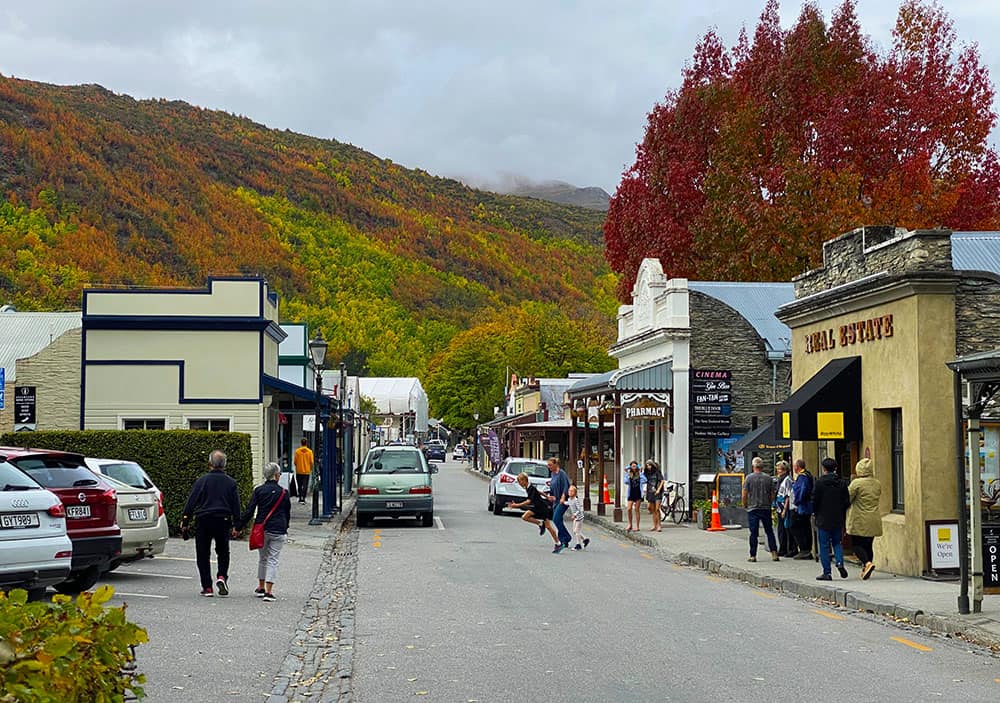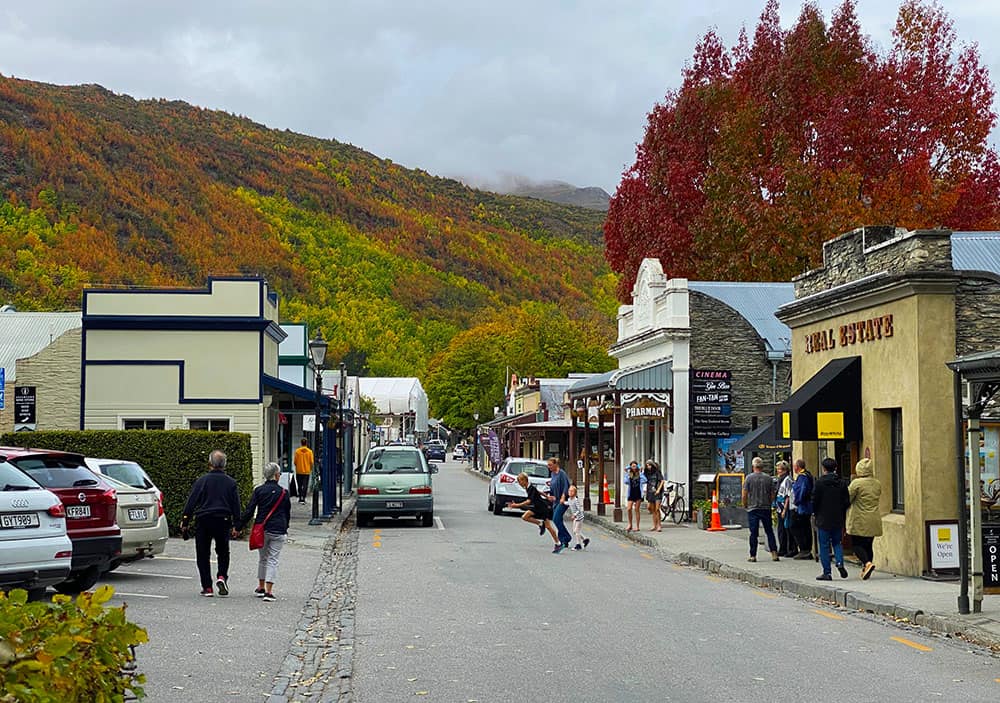 Arrowtown was a gold mining town and its museum ($8) is worth a browse – especially if you have (or still are, like me) reading the Luminaries. There is one main street with boutiques, wine shops and cafes and it's as pretty as a picture. So I did.
If you're not needing to be anywhere tonight (or are just driving the 20 minutes back to Queenstown) see a movie at the tiny Dorothy Browns Cinema with a cheese platter and a glass of wine. They also have a little Gin Bar in front with some delicious tastes to get you started.
Down the little lane to Dorothy Browns is Blue Door. It's a bar in a low lit room with stone walls and is not sign posted. But you can't miss it – it has a blue door.
Cardrona Pub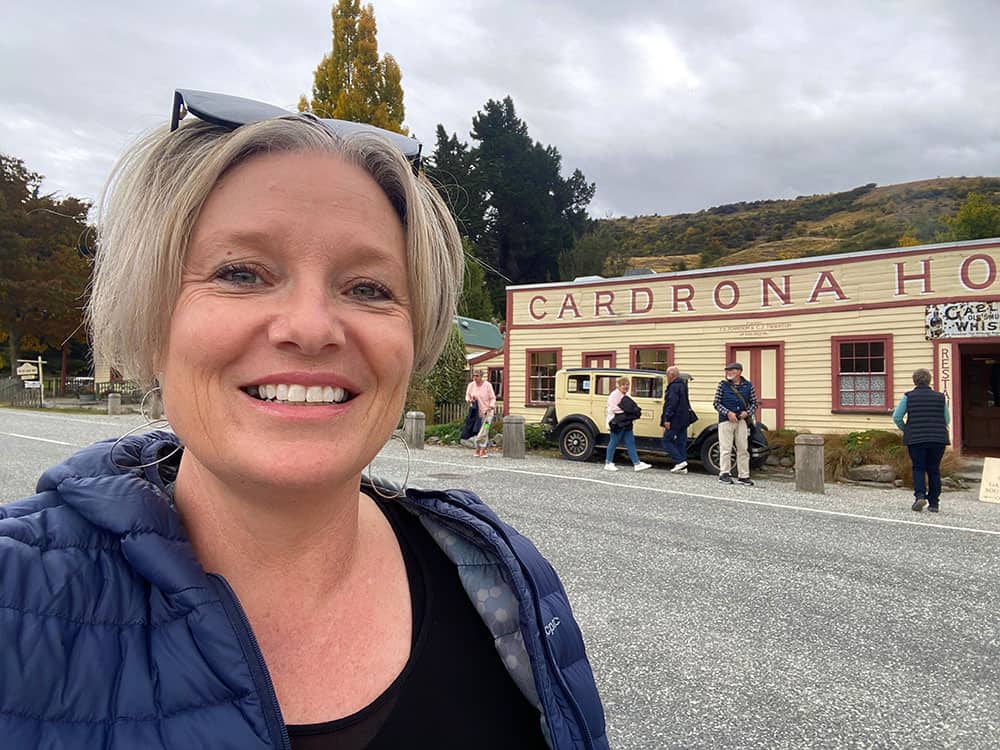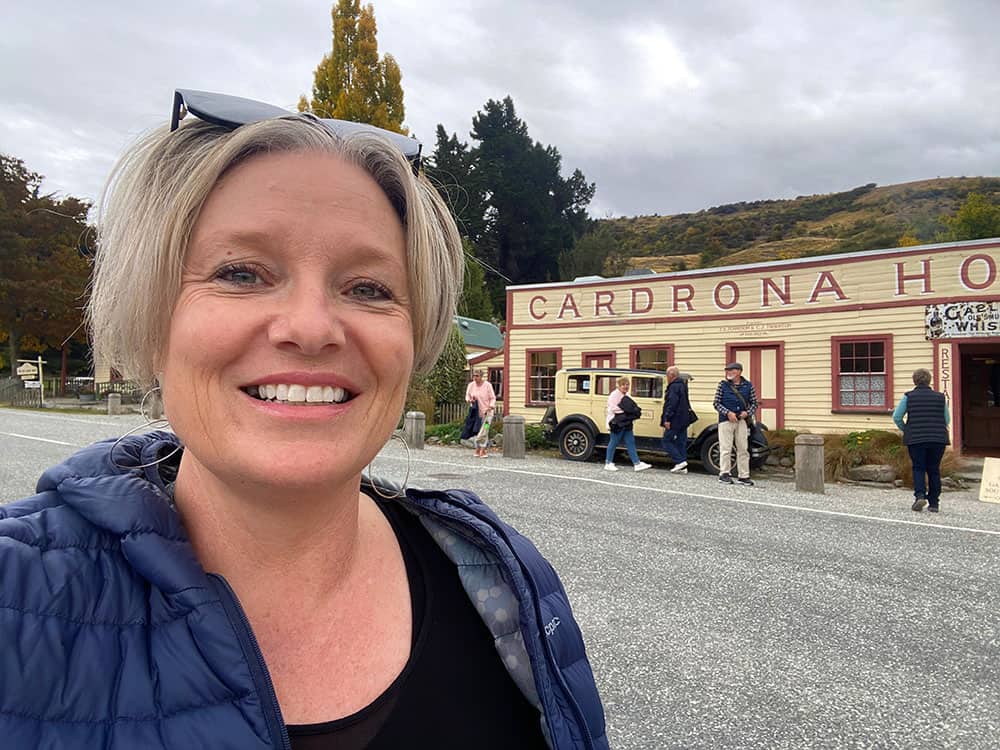 The shortest route from Queenstown to Wanaka is over the Crown Range (don't do this in a camper van), and its main feature (apart from the views) is a stop at the Cardrona Pub. In the few years since I last visited a little town has sprung up around it with holiday homes and little stores.
This famous gold miners drinking establishment sits at the foothills of the Cardrona ski field. It's one of New Zealand's most historic pubs. Out the back is a beer garden or if it's chilly, two roaring fire places keep the inside rooms snug. I had a nosey through a couple of the rooms – they have 16 hotel rooms which are popular during ski season.
About three minutes along from the pub (towards Wanaka) is the Cardrona Distillery which has a restaurant and also offers free gin tastings. We had fun learning about the gins they're making and a little taste – both neat and with tonic. You can also take a 75-minute tour for about $25 if you're that interested!
But to get to the Distillery you'll turn in at the Bra Fence. Yes, a fence decorated in hundreds and hundreds of bras!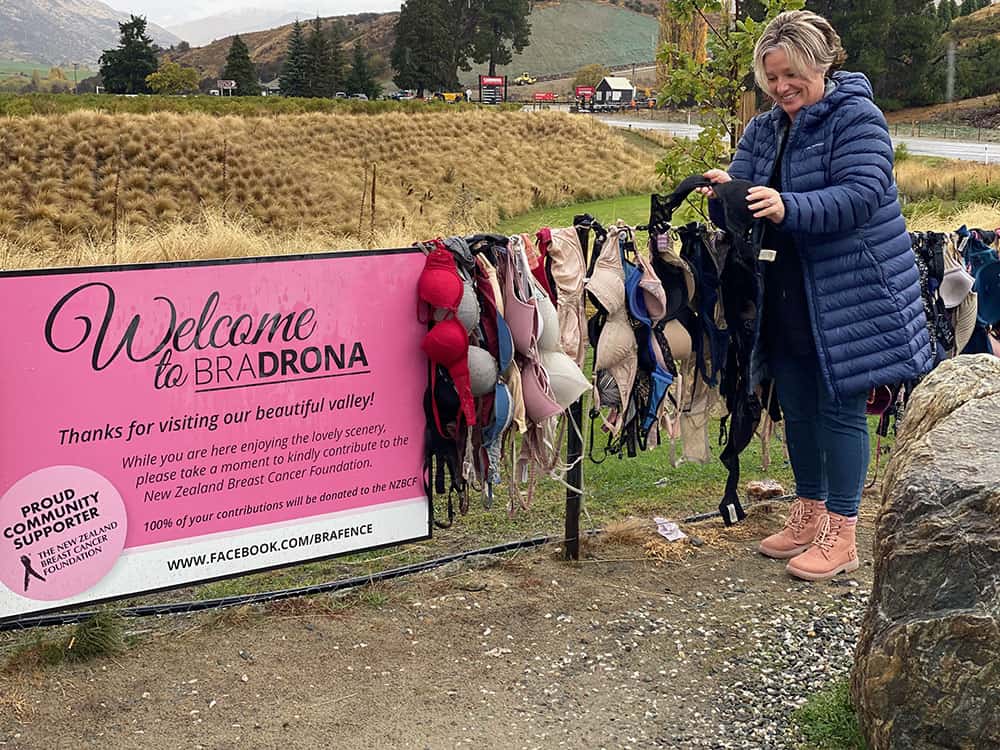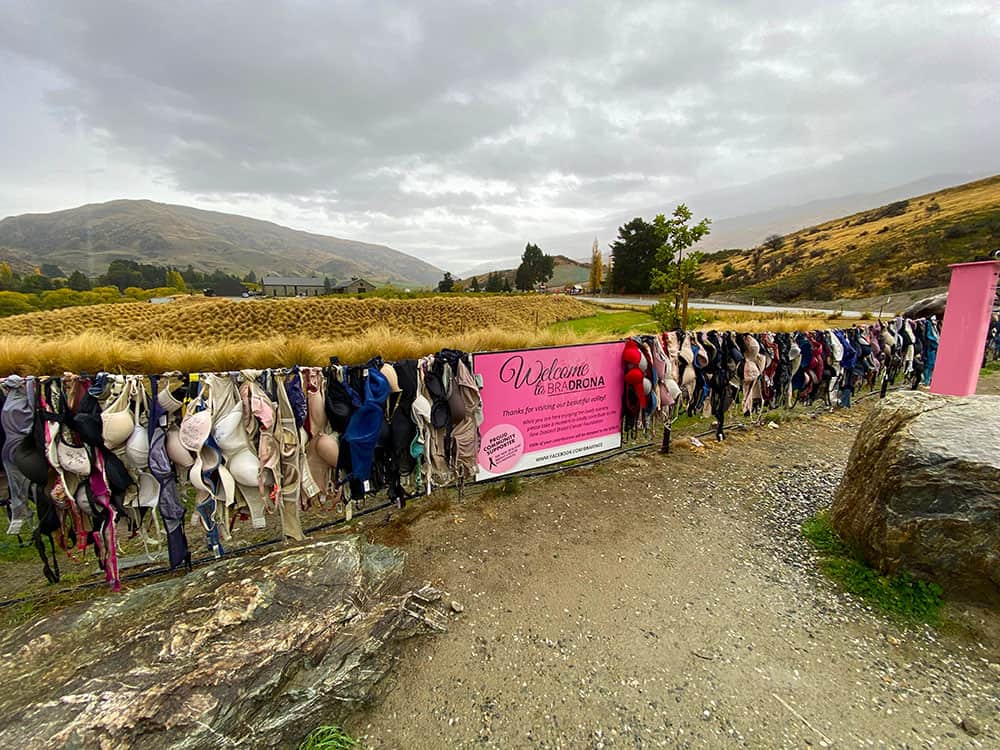 Wanaka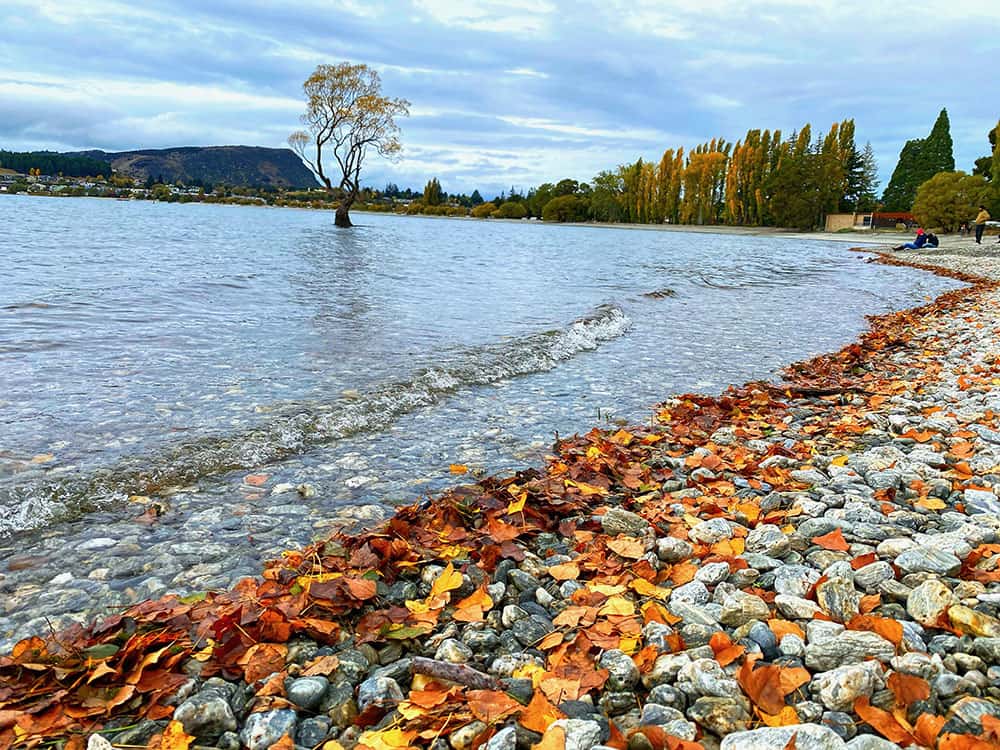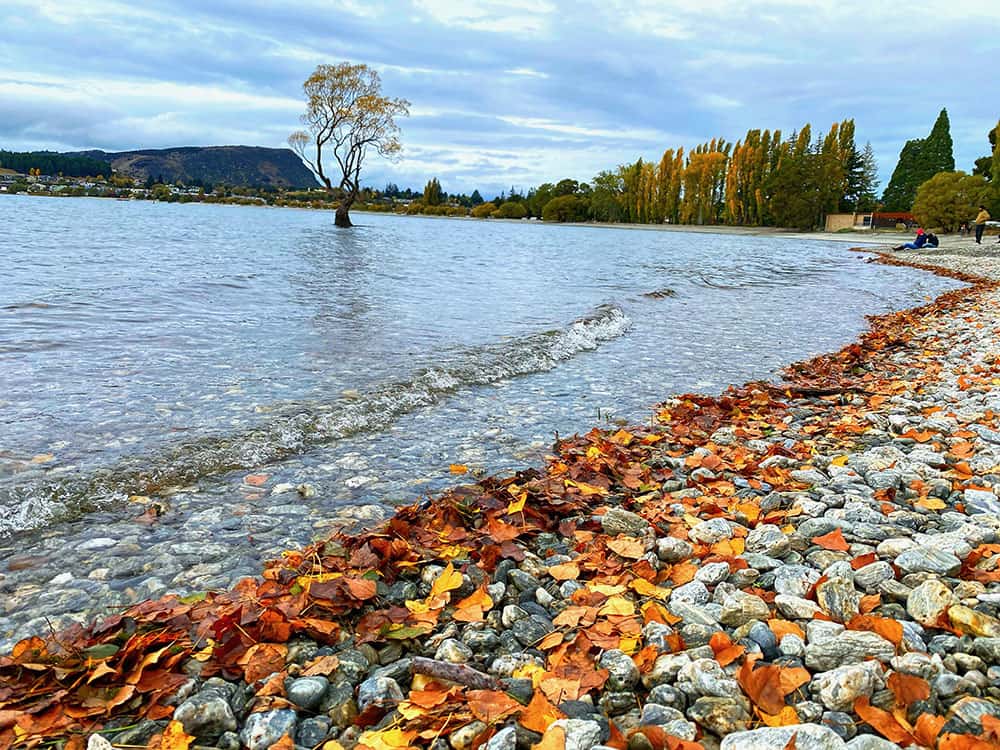 Where to stay in Wanaka
When we brought the camper van here, I confess, my aunty has a house, so we pulled up and slept in a proper bed! However, before that last minute arrangement was made, I had been researching where to stay, as no freedom camping is allowed in Wanaka. The Wanaka Lakeview Holiday Park is an easy walk into town for dinner, cafes, shopping etc. But if you are all set up and would rather something more remote, I liked the look of Lake Outlet Holiday Park with sweeping views over the lake and lots of 5-star reviews on Tripadvisor.
For a full list of Wanaka Holiday Parks, click here >>>
Edgewater Hotel
The biggest hotel in Wanaka is Edgewater, literally on the edge of the lake. It has rooms and apartments, some with laundry facilities. The restaurant is lovely too and even worth staying in for an evening just to try their chicken liver parfait!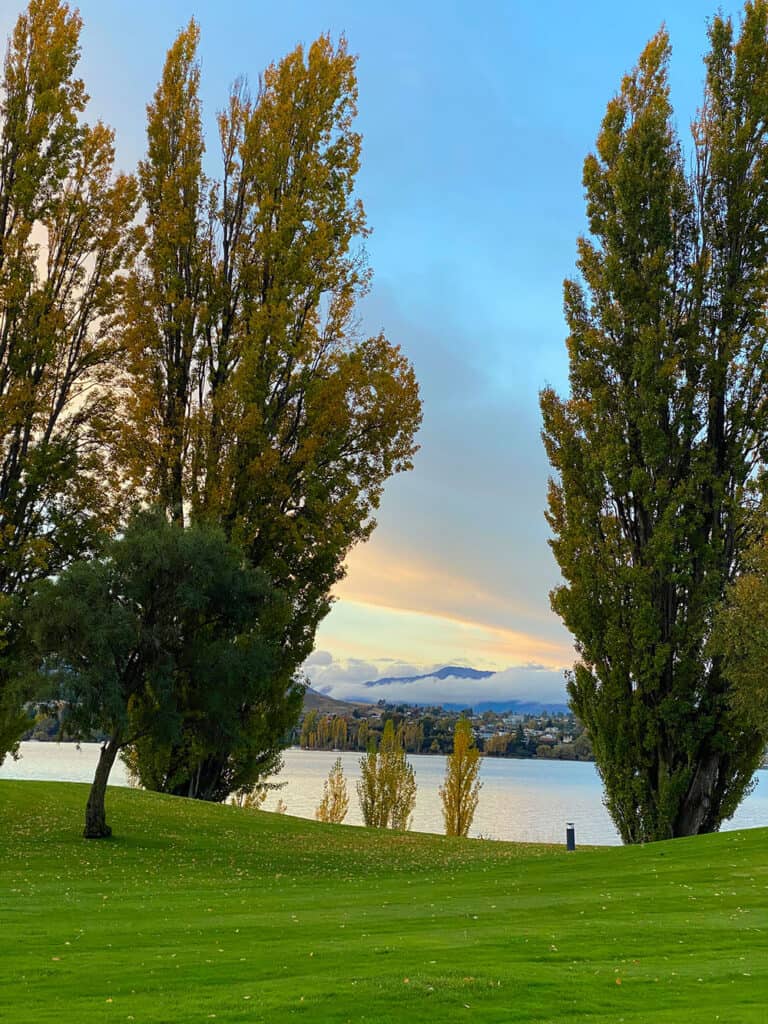 Tarras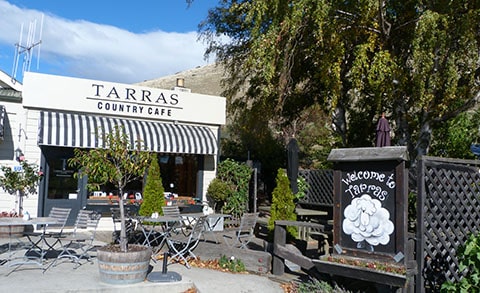 We only stopped in Tarras because it was about 1 km out of our way to Wanaka. It's most famous for Shrek the woolly sheep that was found hiding up in the high country and had avoided being shorn his whole life. His fleece is here in a little one-room museum, along with a general store selling local goodies and a cafe. That's it.
Cromwell
I first came to Cromwell as a kid on a family holiday in 1985 just after they had announced plans to flood the town and move it up the hill. I remember being quite disturbed by this and hoping all the people would be able to get out. They did.
I really like Cromwell. We've stayed here before down at Pisa Moorings on a little lake with our own spa pool underneath. Then there is the old heritage precinct with a handful of shops and cafes.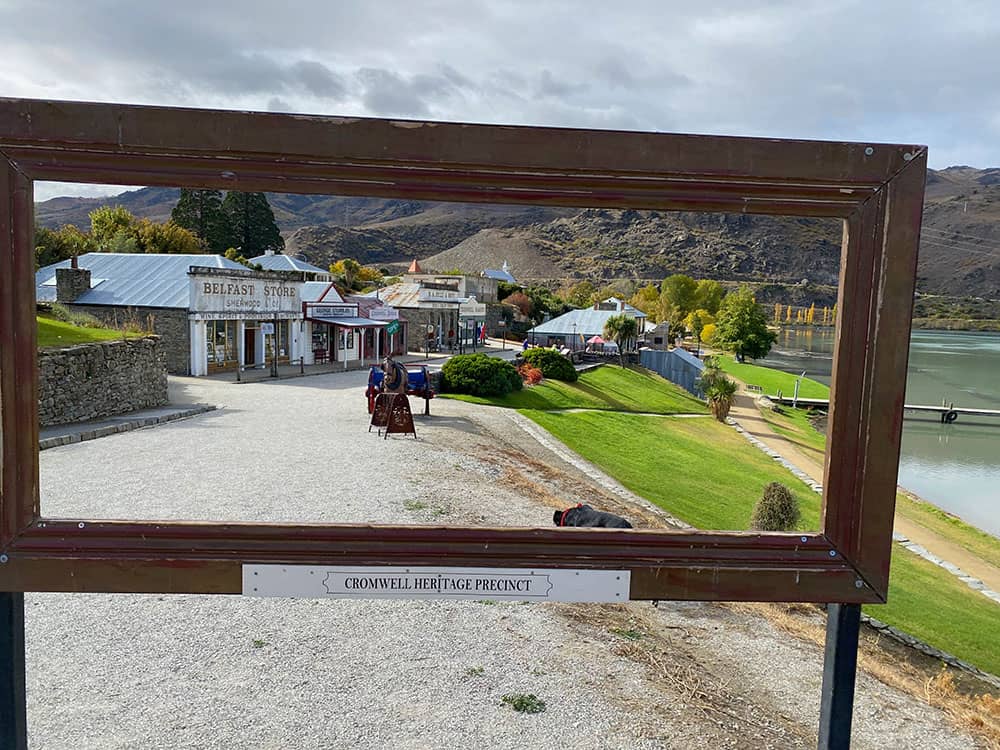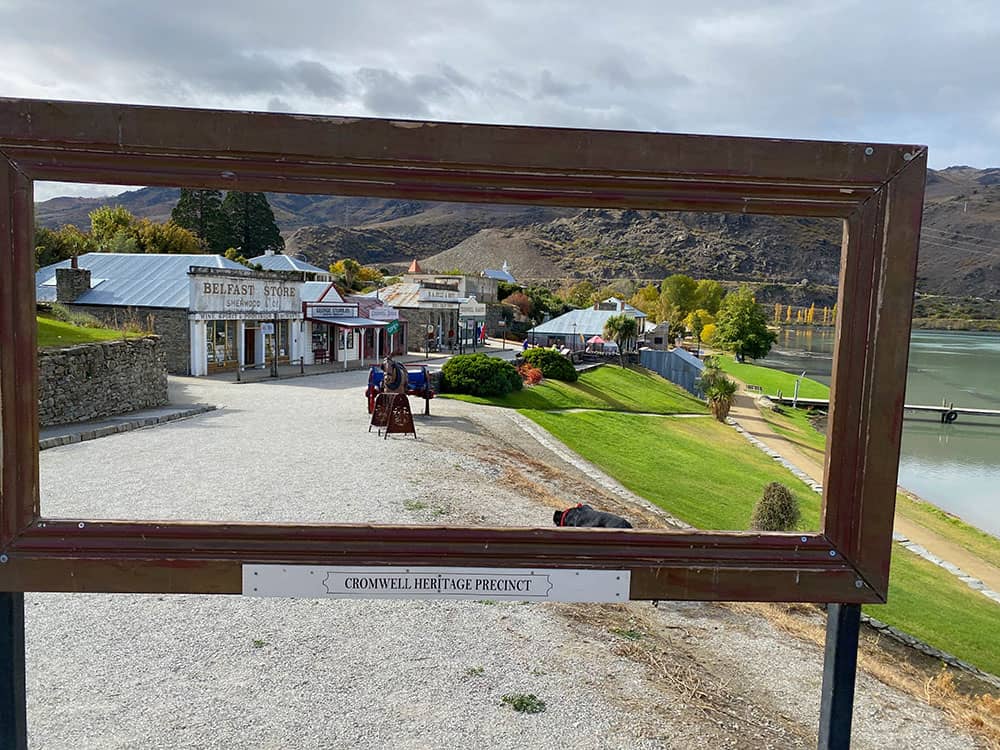 If you are not driving over the Crown Range from Queenstown to Wanaka (and check your rental car/camper agreement as you may not be permitted to do so), you will drive the other way past the A J Hackett Bungy jump and zip line across the Kawarau River to Cromwell. Or as this itinerary is laid out, I'm taking you in a loop.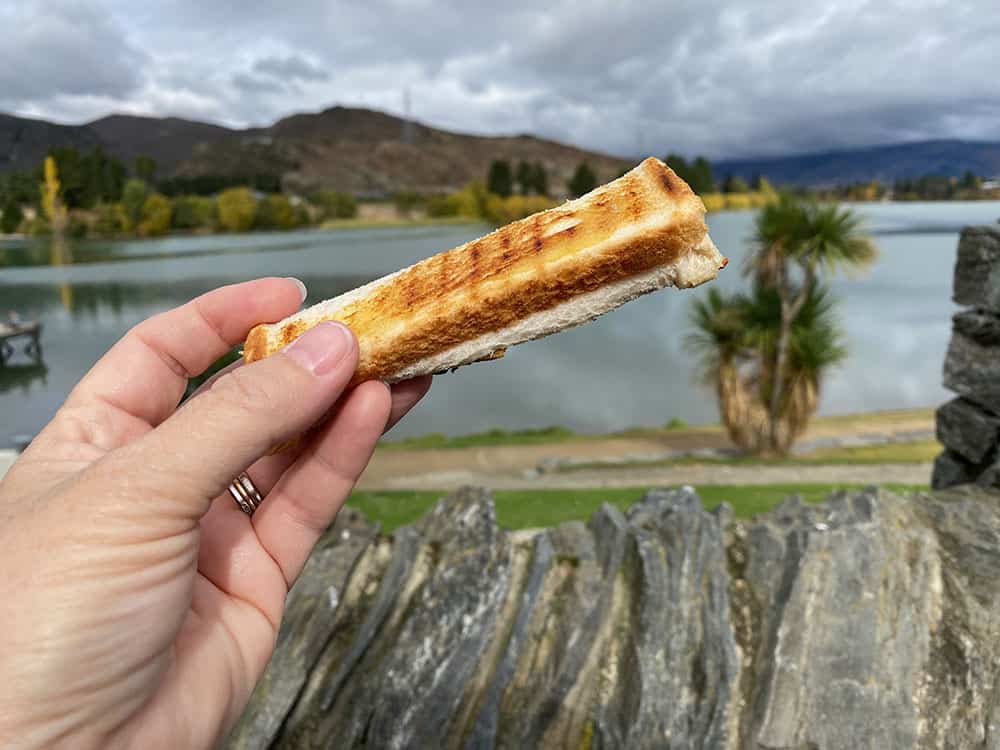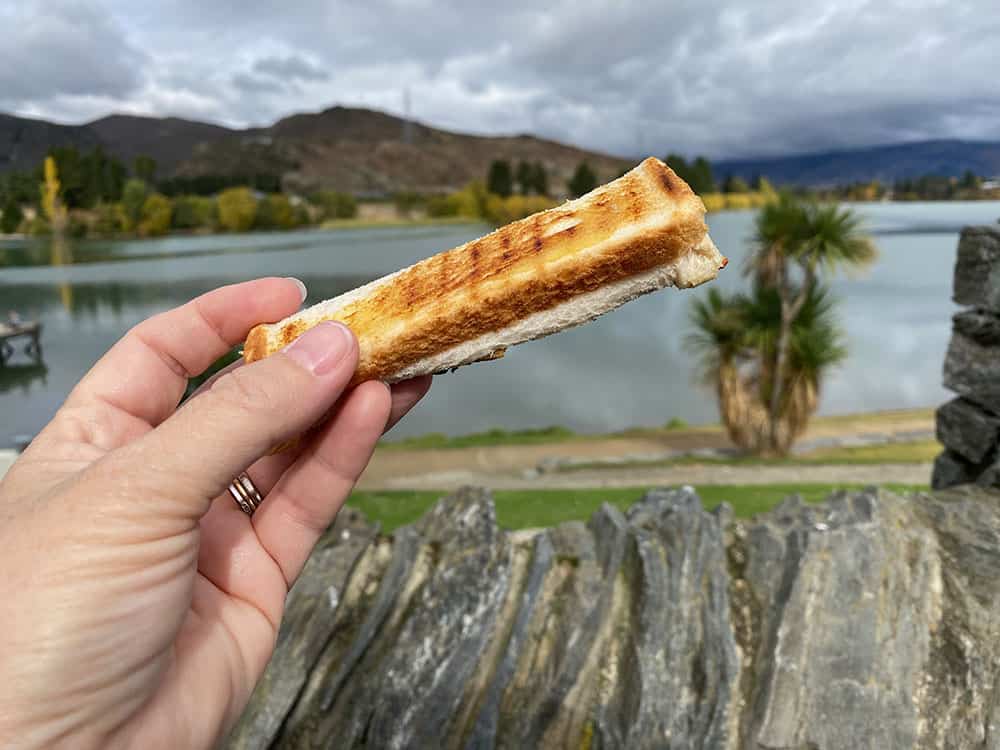 This little historic street of buildings they moved up the hill is worth popping into for a look and a coffee. It has loads of potential and I just hope some enterprising person grabs hold of the old post office and turns it into a pub with outdoor seating and live music…
Kawarau Bungy Jump
The very first bungy jump in the world is right here just out of Queenstown. It opened in 1988 when A J Hackett and Henry Van Asch decided to throw themselves (and anyone else who they could convince) off the highest bridge in New Zealand with nothing but a giant rubberband tied around their ankles.
Thus the jump over the Kawarau River at the Kawarau Bungy Centre was born. There is also a zip line and a canyon swing.
Note: you can do the zip line on your tummy but I was reliably informed (thanks Glenys) that is feels like a mammogram (!)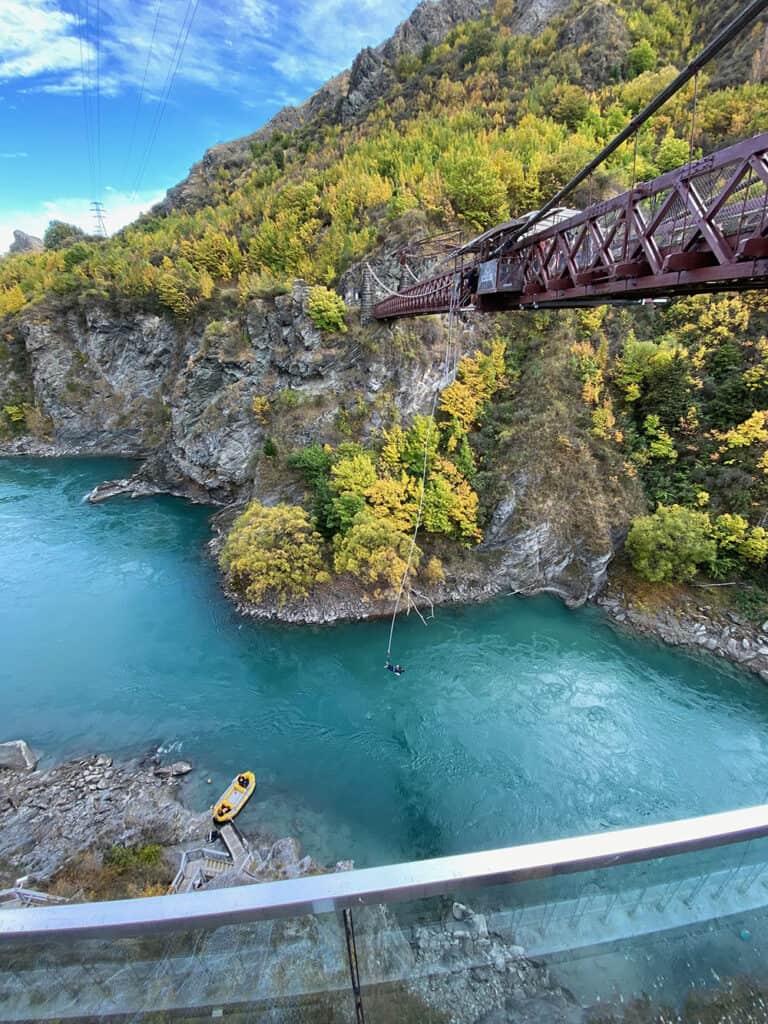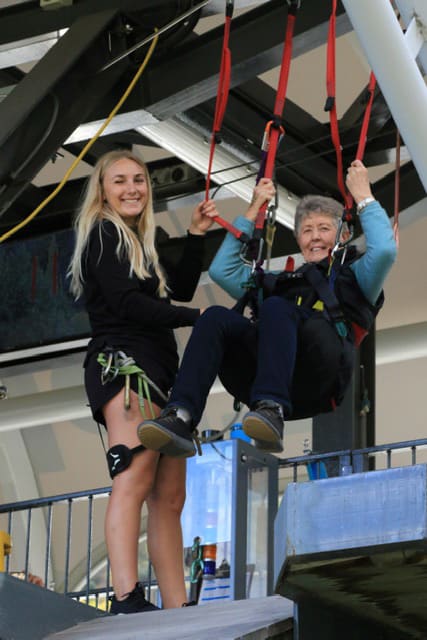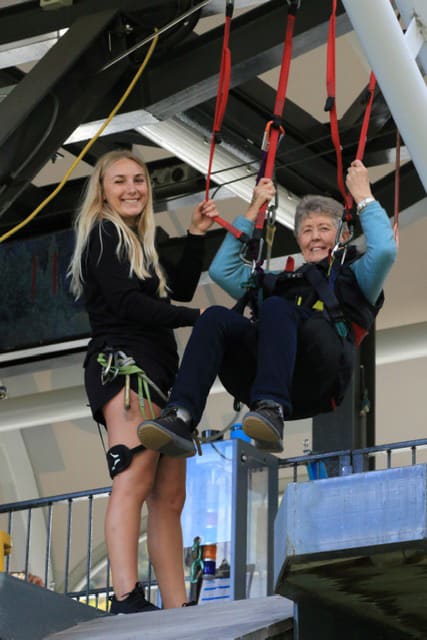 A stop at Gibbston Valley Winery and cheese shop is a good idea, and if it's a bit early for a wine, they do an amazing cheese scone (which three of us shared) with a coffee in their cafe.
Clyde is just up the road and I last stayed here for three nights from where we visited local wineries and drove through the beautiful Maniototo region. This is also Otago Rail Trail territory. I have not as yet done this, so stand by for the day that I do! You might like to read my post Feeling Bonnie in Clyde.
Read more: If you like a road trip, you might like this one: my 5 day road trip through Mackenzie Country in Canterbury.
I've also just completed a fabulous 10-day road trip from Nelson down the West Coast of the South Island to Hokitika and the Trans Alpine train across to Christchurch. You can copy this itinerary if you like!