I've just returned from hosting a small group tour of the upper west coast of New Zealand's South Island.
It was simply fabulous, so I'm going to lay it out here for you to copy on your own self-drive holiday if, like me, you also hadn't explored this picturesque part of New Zealand.
This road- (and boat and train) trip begins in Nelson, includes Abel Tasman National Park, St Arnaud, Punakaiki, Hokitika and the mesmerising Trans Alpine train journey from the Tasman Sea to the Pacific Ocean across to Christchurch.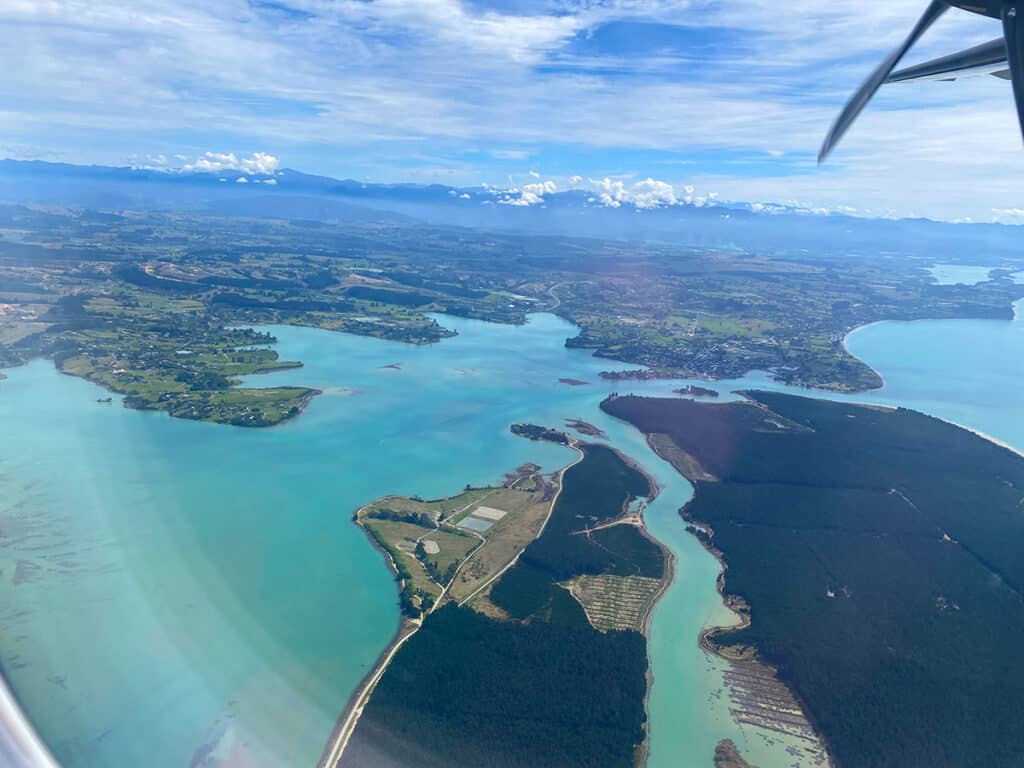 Nelson
I loved Nelson. It has a Hastings kind of feel to it. And I don't say that derogatorily, I'm from Hastings and that town is starting a little hospo rennaisance. But the hanging baskets, really.
Although, I'd also say Nelson has a lot more to offer than Hastings and the heart of the CBD is really beautiful with landscaping and big leafy trees. I'd suggest you start with at least a couple of nights in Nelson and stay nice and close to the town centre for some great eating and drinking options.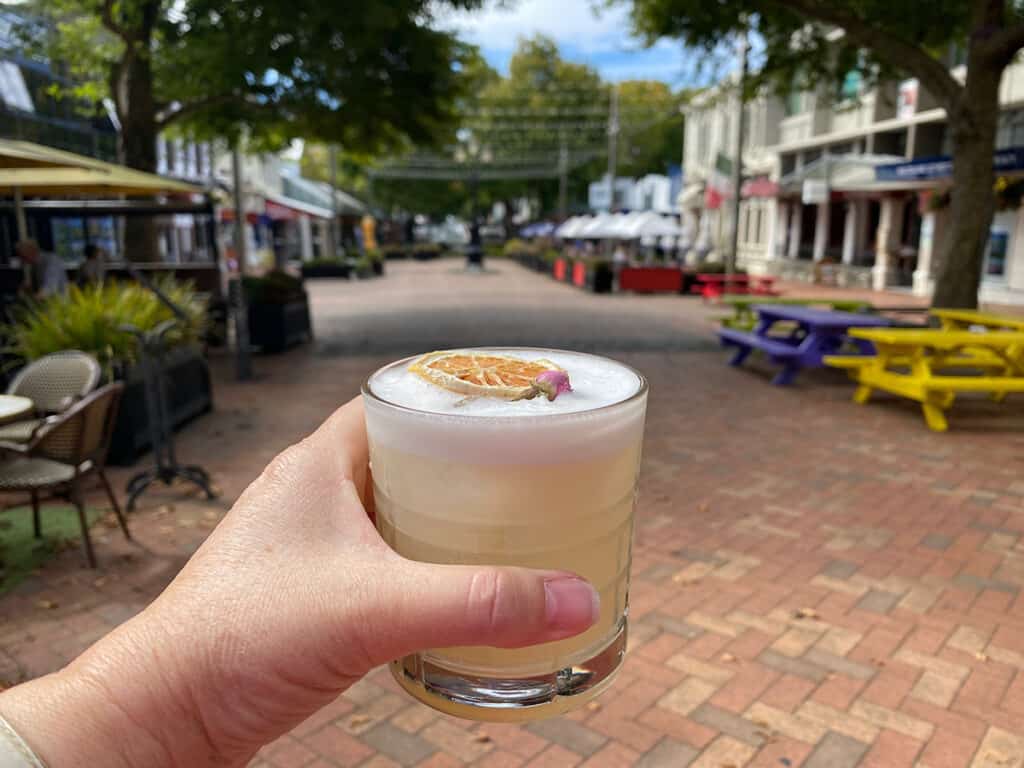 The partly pedestrianised main street, Trafalgar Street, is lined in bars, restaurants shops with veranda awnings decorated in those hanging baskets of flowers (which are automatically watered about 6pm so don't be walking underneath at that time!)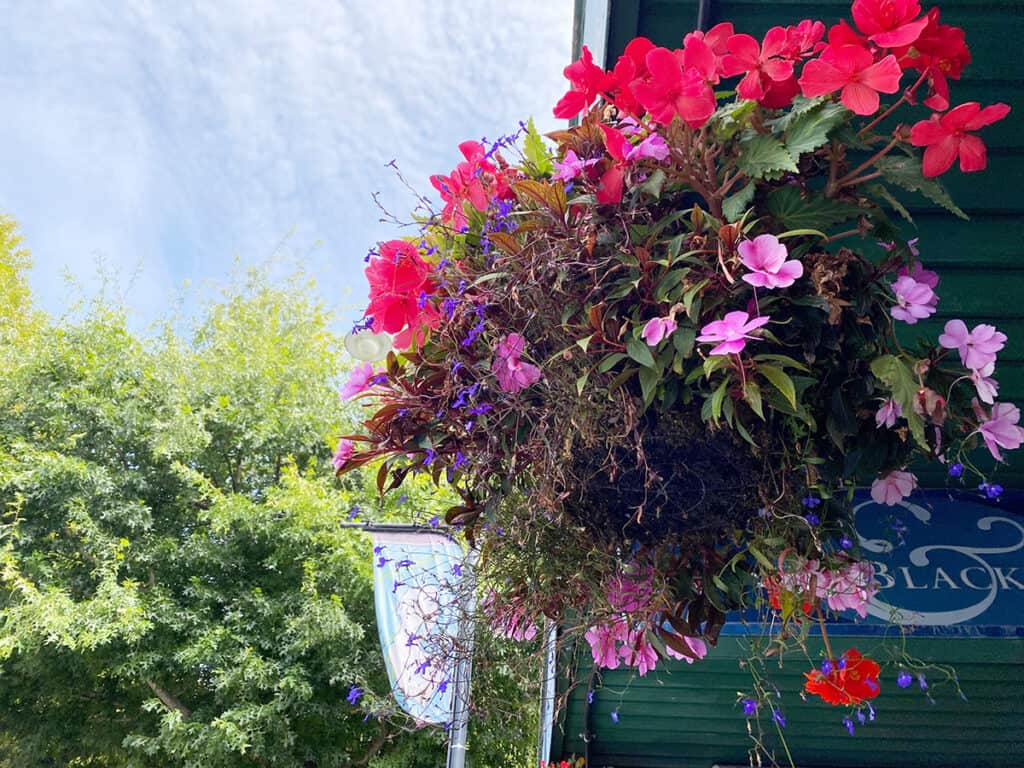 Where to eat and drink in Nelson
We happened upon Mama Cod on the first afternoon and as luck would have it, my group were slowly gathering from all over the North Island, so we started as we meant to go on with a cocktail (or two!)
That night we decided on a burger. Something cheap and cheerful but a tasty meal – especially with a beer, right? We made a reservation at the highly recommended Burger Culture. For some reason, they were inundated with people and phone orders and we had to wait an hour for our meals which also arrived luke warm. However they were very tasty, so I recommend them.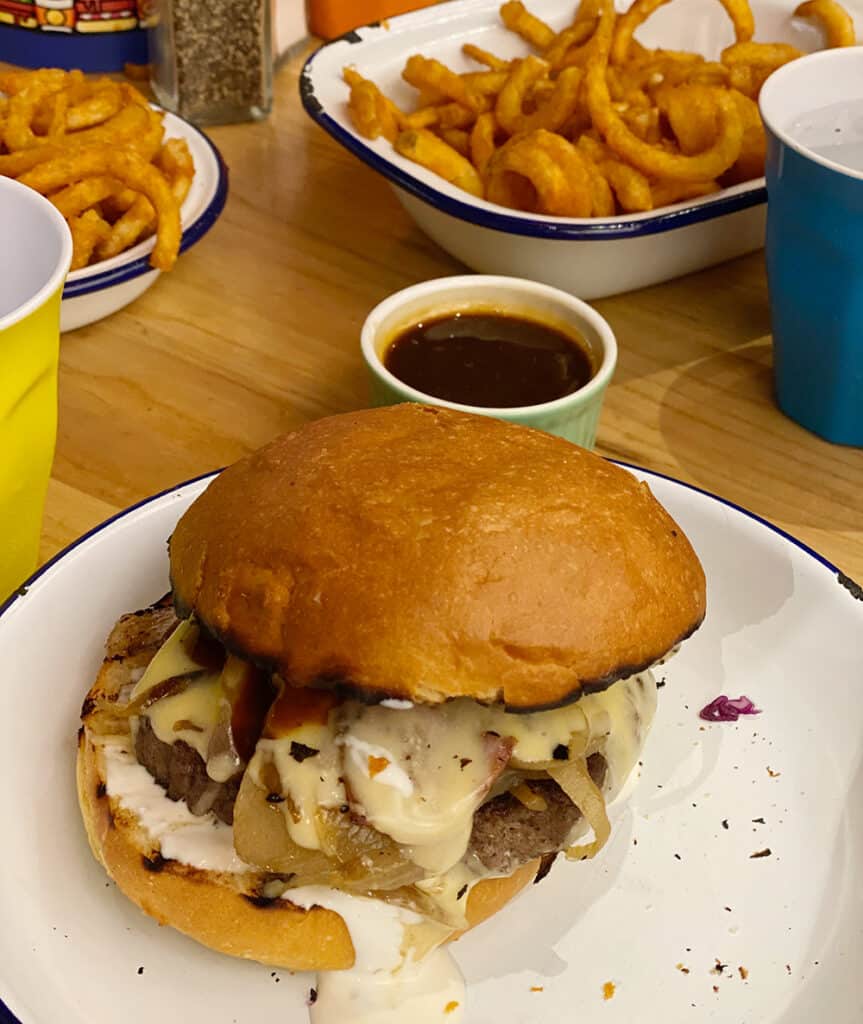 Admittedly, we were there on the cusp of the return of tourism to our cities after months of lockdowns and restrictions, so they were understaffed and even borrowed a waiter from the Vic next door to wait tables!
The next night we had the most sublime dinner at Hopgoods. About half the group had steak and even days later, were still declaring it the best steak they'd ever had! We even asked how they did it: sous vide (souveed!), then fried to make the bark. Melt in the mouth!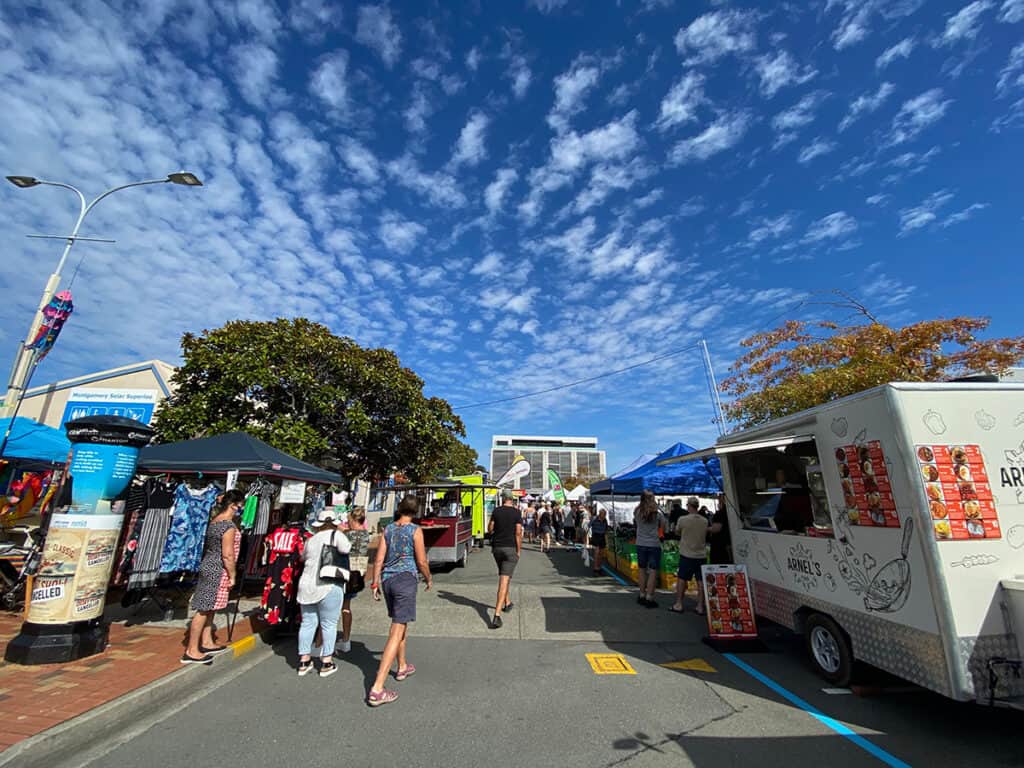 If you're here on a Saturday you can wander through the Nelson Market in Montgomery Square between 8.30am and 1pm rain or shone. You'll find stall holders selling handmade jewellery, knitting wool, sculptures, paintings and plenty of fruit, veggies, honey and food. Grab a coffee and have a browse, and find something yummy for brunch.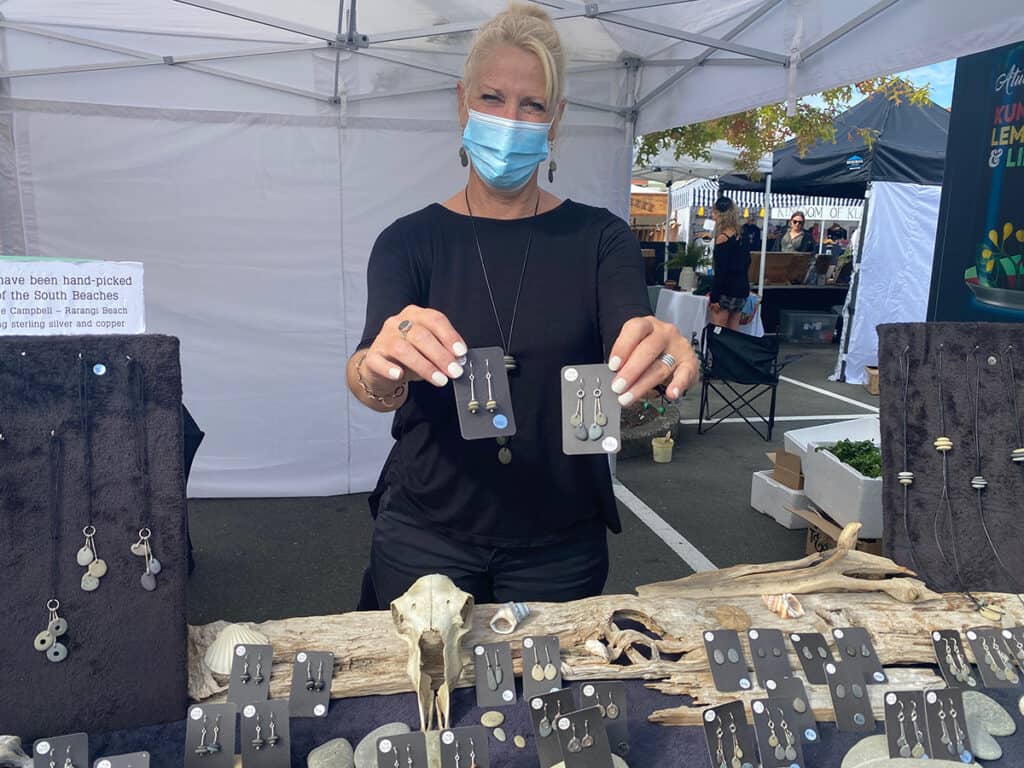 This afternoon head out to Gravity Winery, Old Coach Road, Mahana, which means a lovely drive around the stunning harbour into the Moutere hills.
It's called Gravity Winery because, as you will see when you arrive, the wine making occurs through a gravity fed process in a building stepped down the hillside.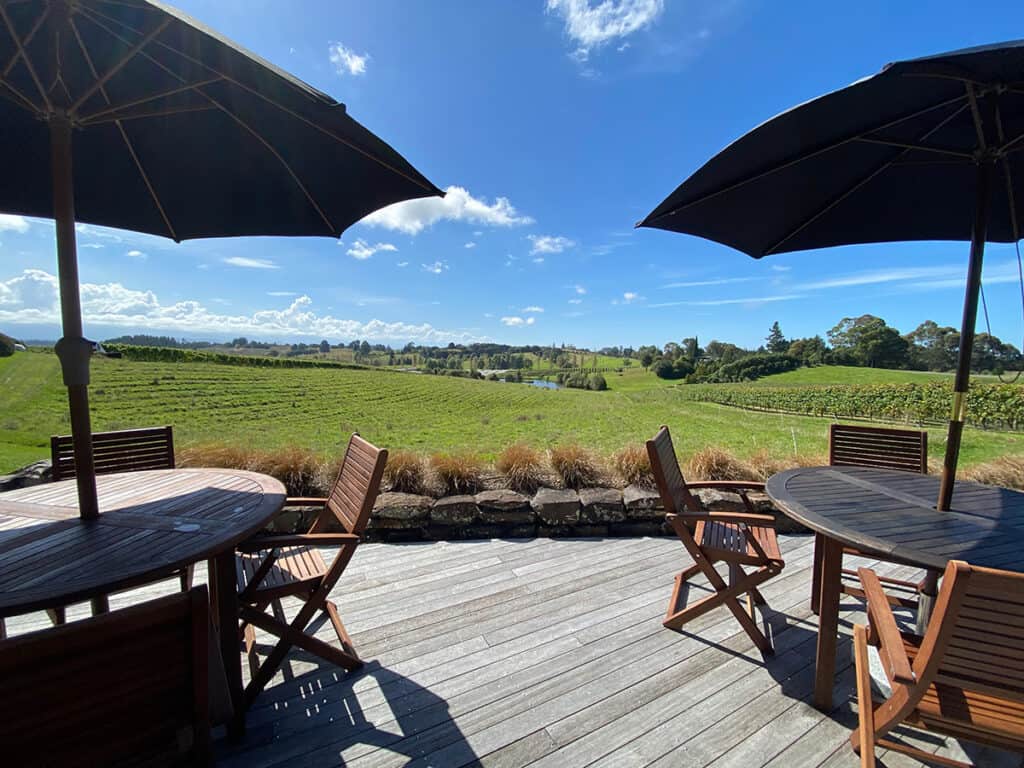 Abel Tasman
We had two nights in remote Abel Tasman National Park. Next time I would make it three. It's utterly stunning and relaxing – or energetic if you want it to be.
We opted for the former and were lucky enough to have a tailored 2-night experience with Wilson's Abel Tasman. Normally known for their multi-day hikes where your luggage is transported for you and all your meals are included, my group opted to be boat transferred between their two homestead accommodations and take little beach strolls instead.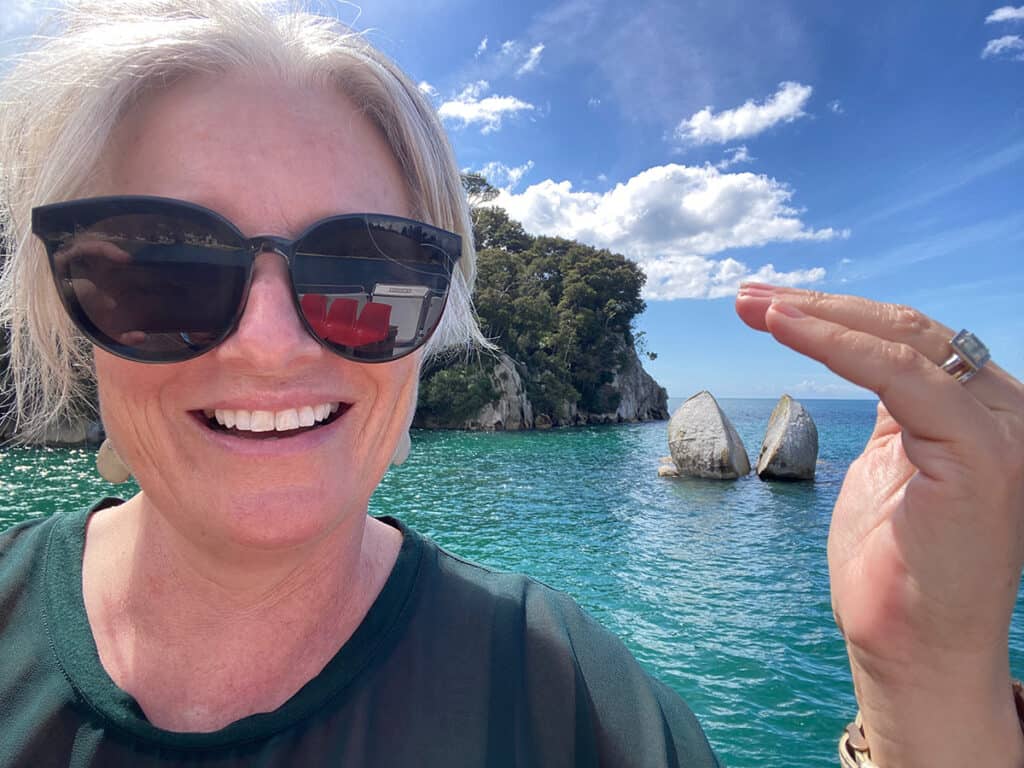 Back in Nelson we had been delivered Wilson's overnight bags. They hold 40L, so plenty large enough for two nights (plus we took a shoulder/carry bag each).
So we dropped off our large suitcases off for locked storage at Wilson's office in Motueka, then drove to Kaiteriteri to meet their catamaran, which drives straight onto the beach and you board via a long drawbridge. Too easy!
You could just take this boat as a water taxi to send the day seeing the national park from the water if you wish.
Our adventure began with a packed lunch (provided by Wilson's) and about an hour and a half boat trip via Split Apple Rock (photo above), and a slow down to see the seal colony, en route to Awaroa Bay, where we stayed the first night in Meadowbank Homestead.
It was high tide, so we were met off the boat by one of the Meadowbank team who had a quad bike to take our overnight bags around the lagoon.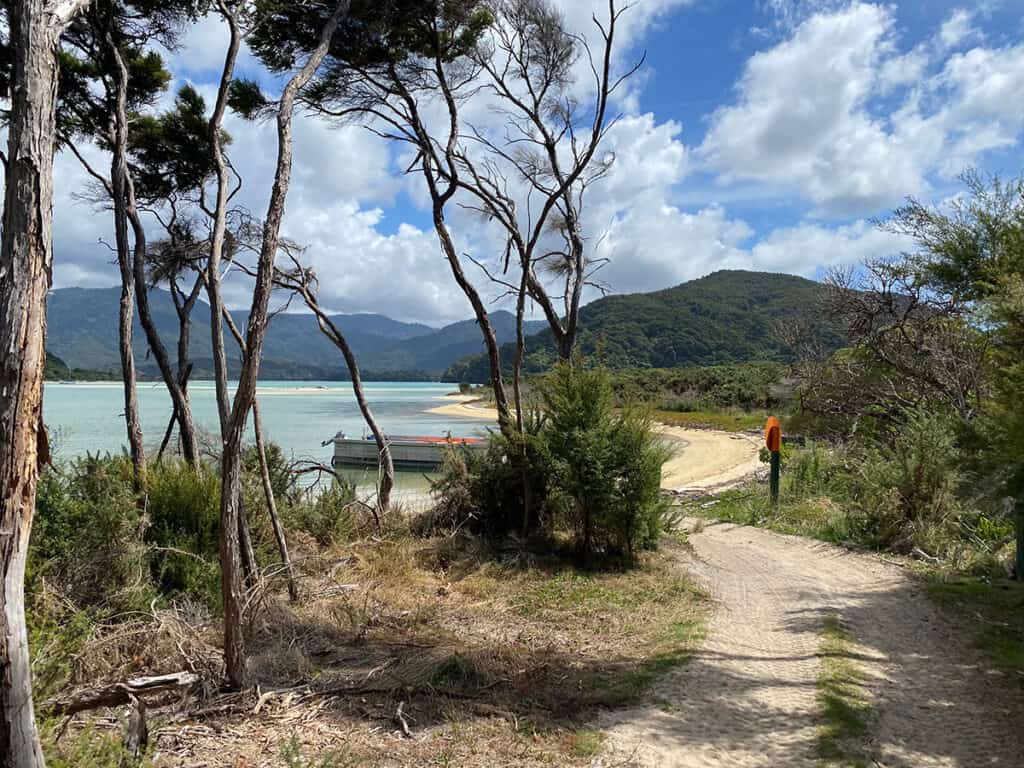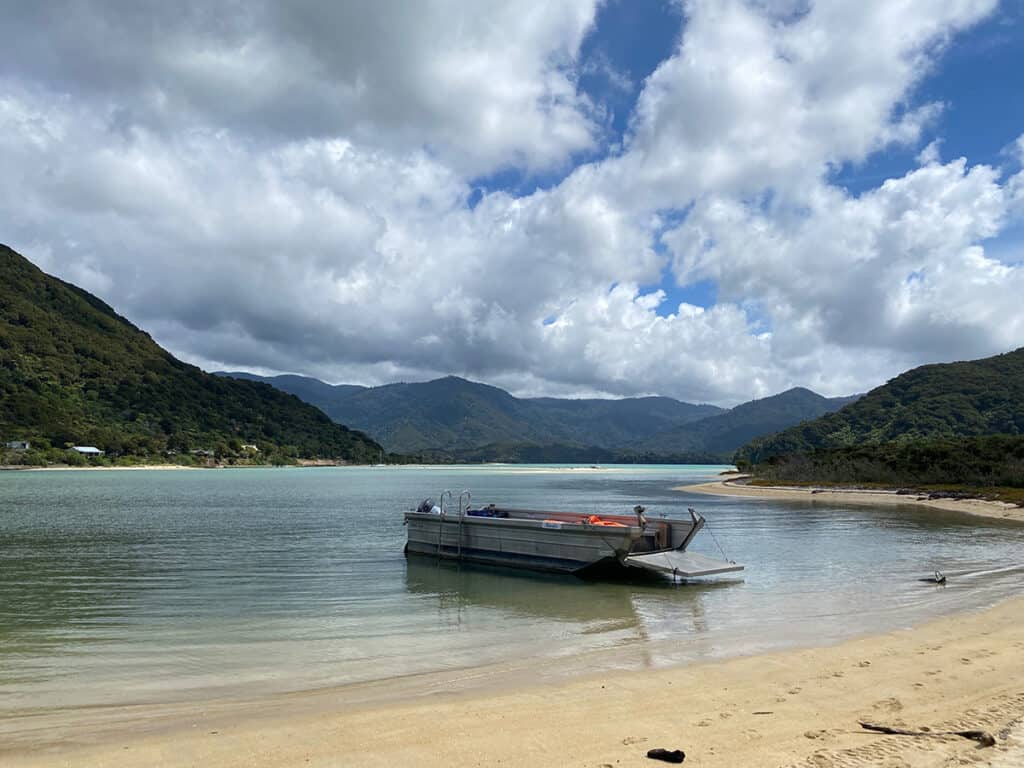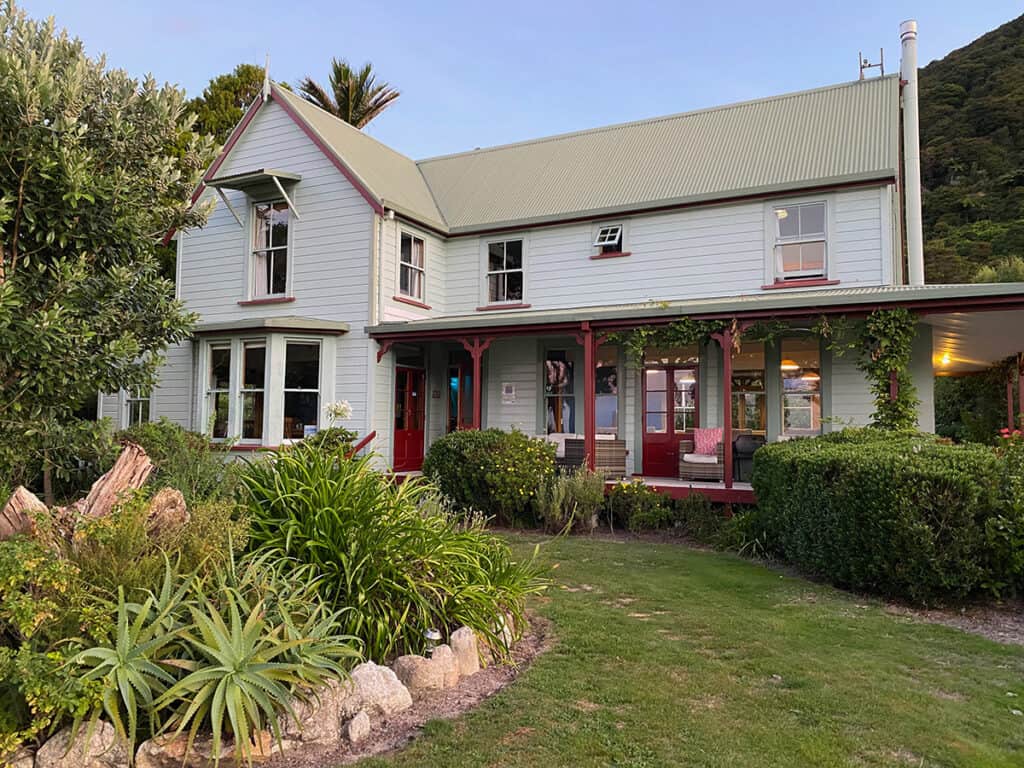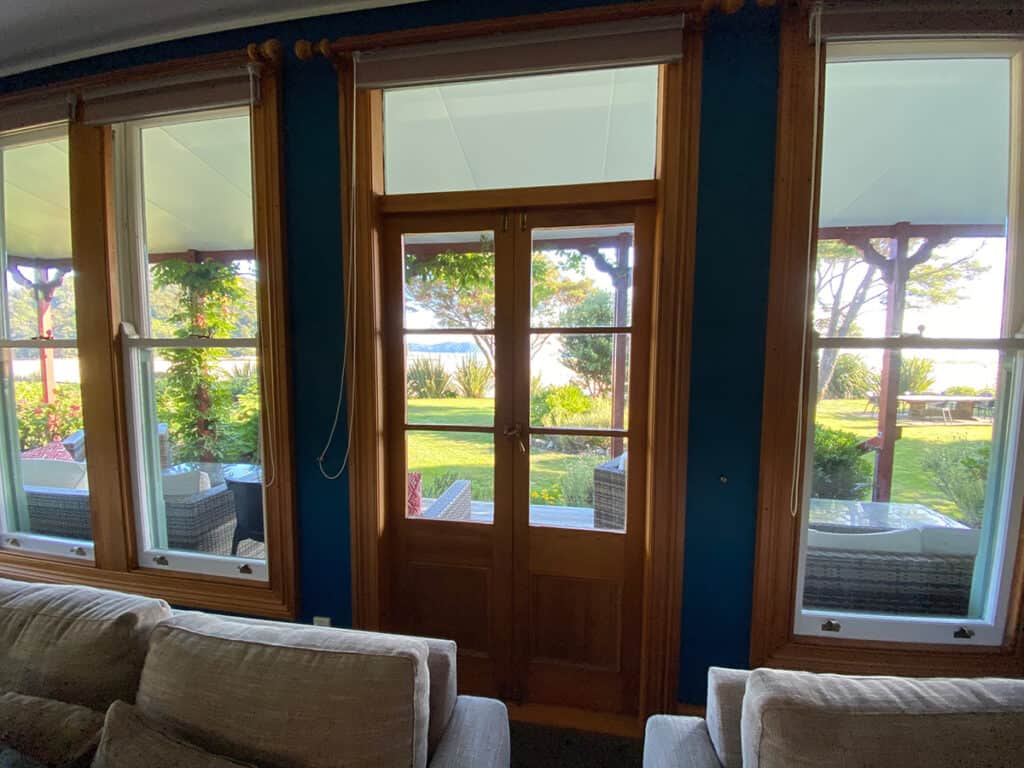 It was just our group of 11 staying at the time, so we had this lounge to ourselves. The lovely staff cooked a simple three-course dinner (tomato soup, roasted chicken leg, mango sorbet) and afterwards we watched a fascinating video about the history of Meadowbank and the ancestors of the Wilson family.
It was so interesting we watched it twice! Such hard living, so remote, a bit of skulduggery and ultimately a lot of tragedy.
But today this place is no longer the tough working conditions of 100 years ago, but a gem of a place to relax, walk, swim, read, explore…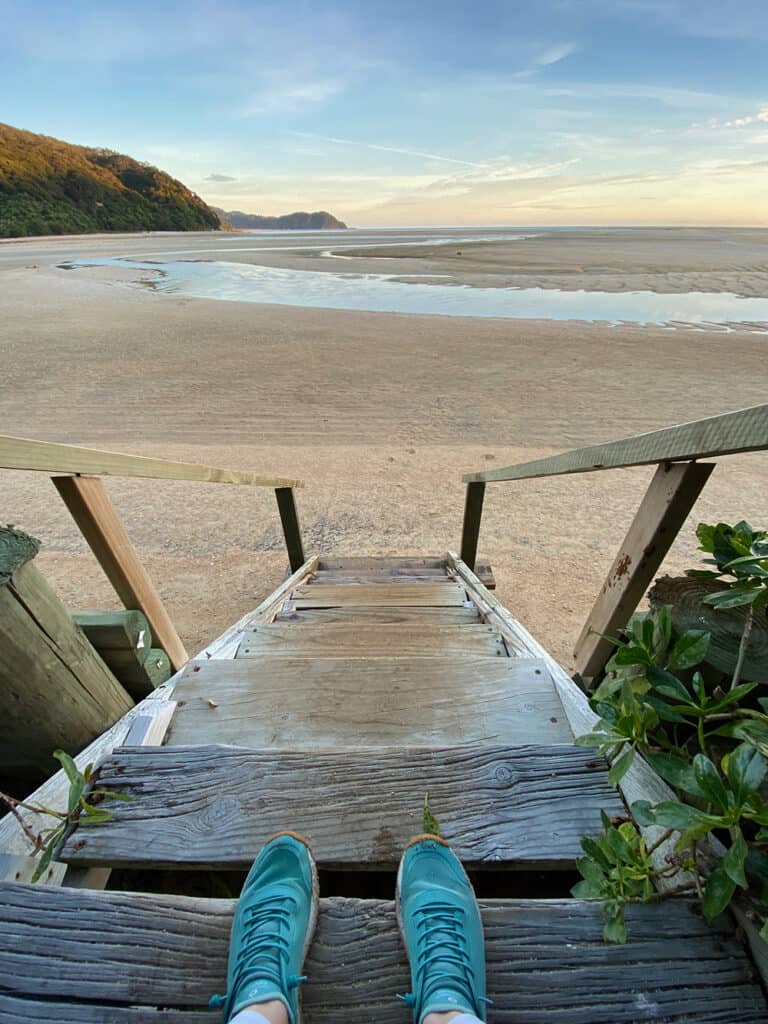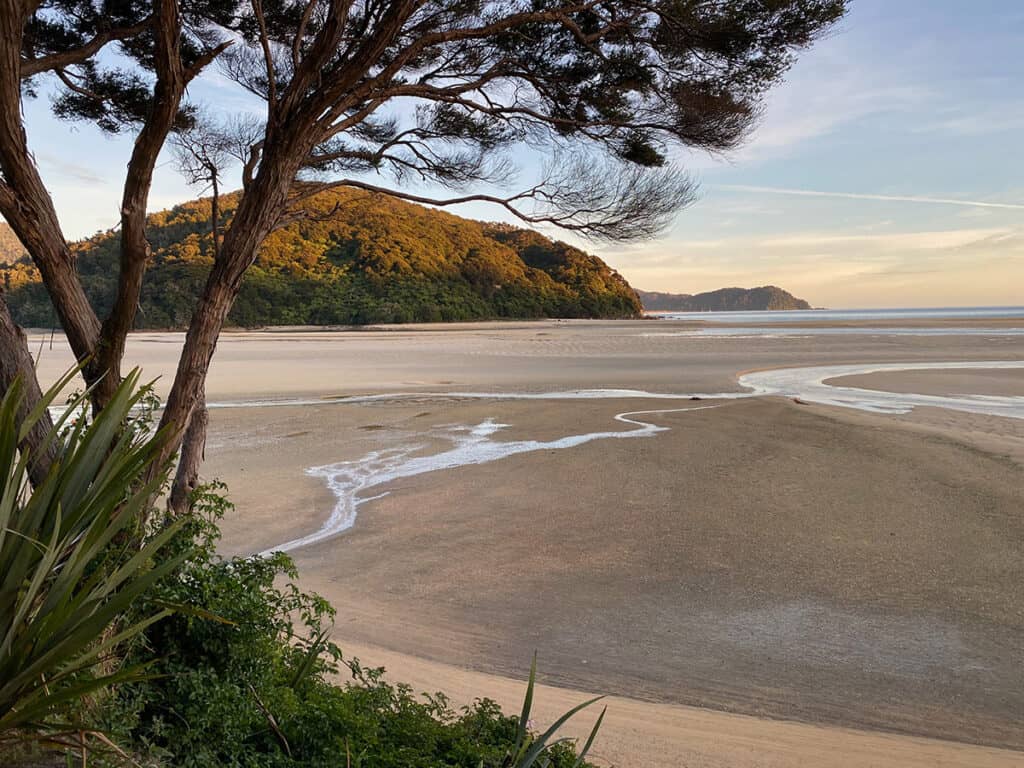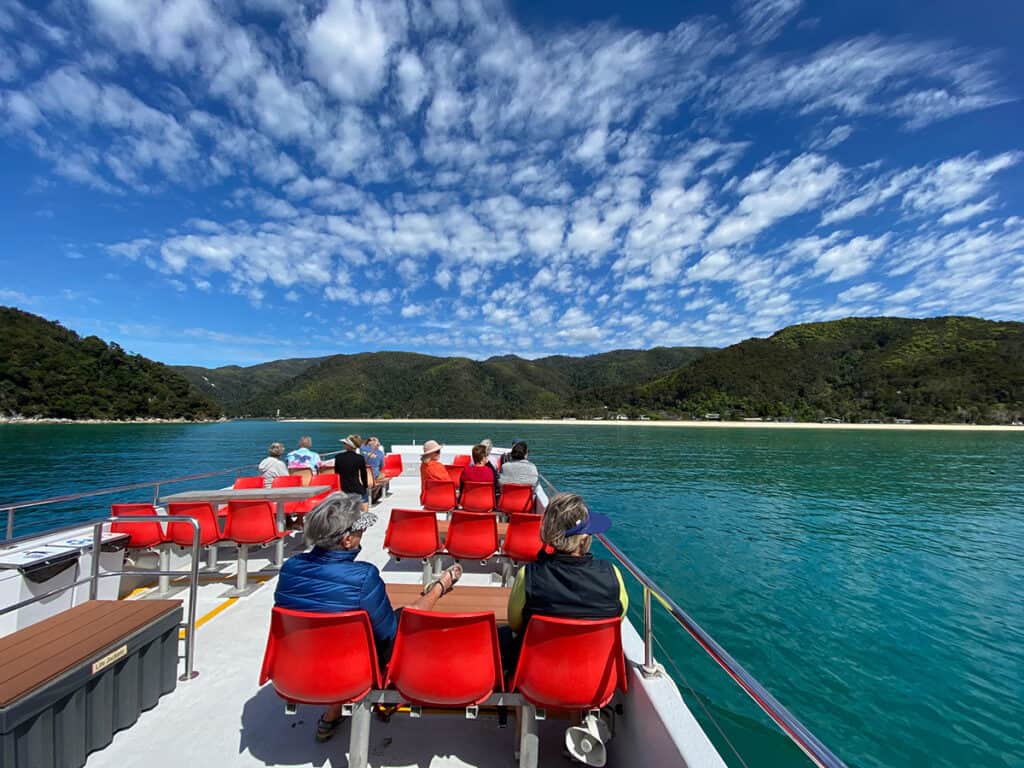 Torrent Bay
The next morning it was low tide so we walked across the (almost) dry lagoon to wait on the beach for our transfer to the beach front Torrent Bay Lodge.
This is kind of kiwi bach meets hostel meets homestead. I was warned it was "rustic" but honestly, I thought it was fabulous. I would so love to book it out for a birthday weekend or some such celebration with friends. The rooms were super cute and the beds very comfy.
Again, we were the only guests in and the staff were just delightful, but as we were not their normal "sporty" group, Doc – the guide – ended up on the bar.
You can take lots of local walks and they will show you on a map where the trails are. You can also go out kayaking but we chose instead to read books and explore on our own.
The low tide is long and you can enjoy some really great walks here for wonderful views. I took my phone, not just for my step count (!) for also to get some of the fab photos.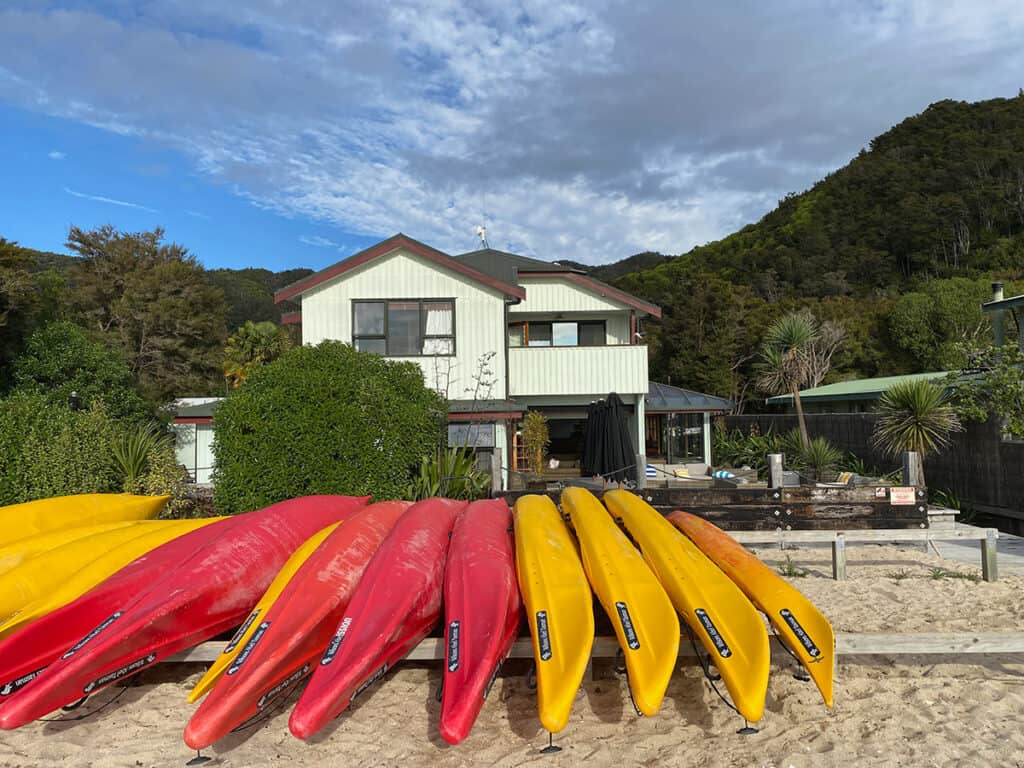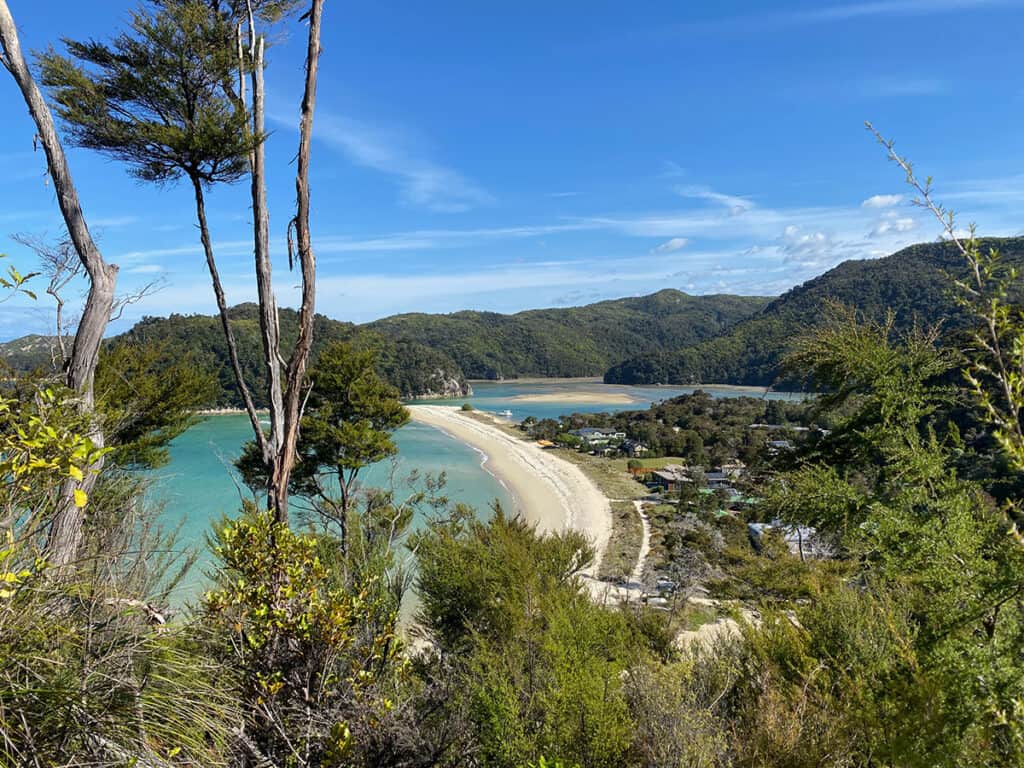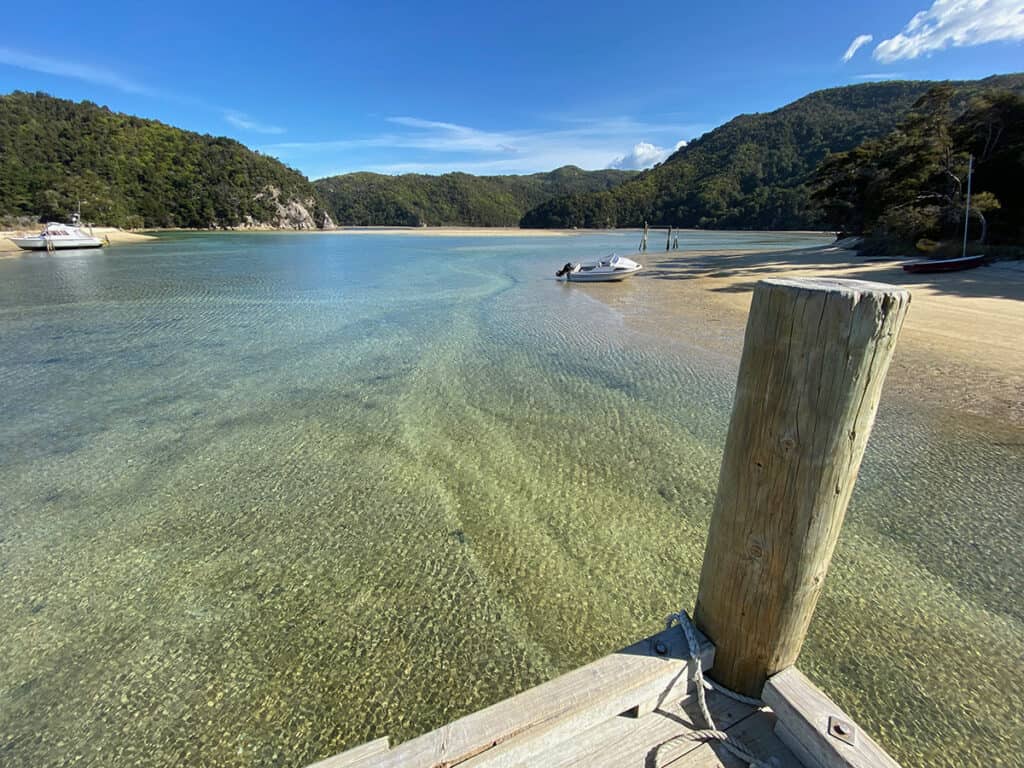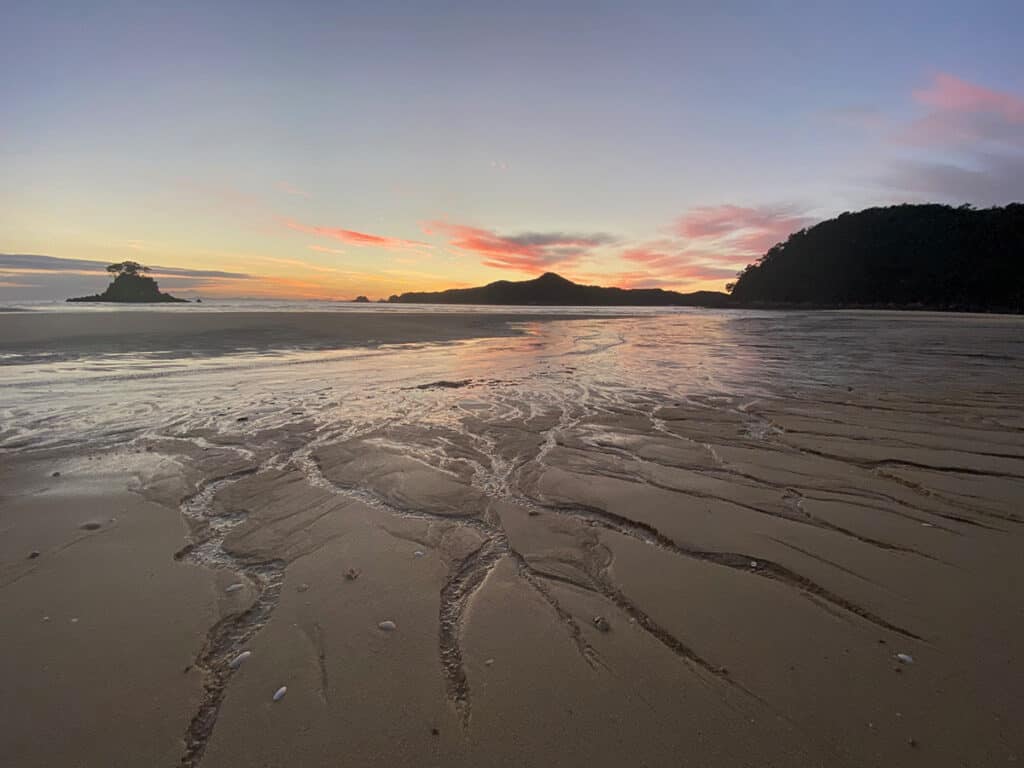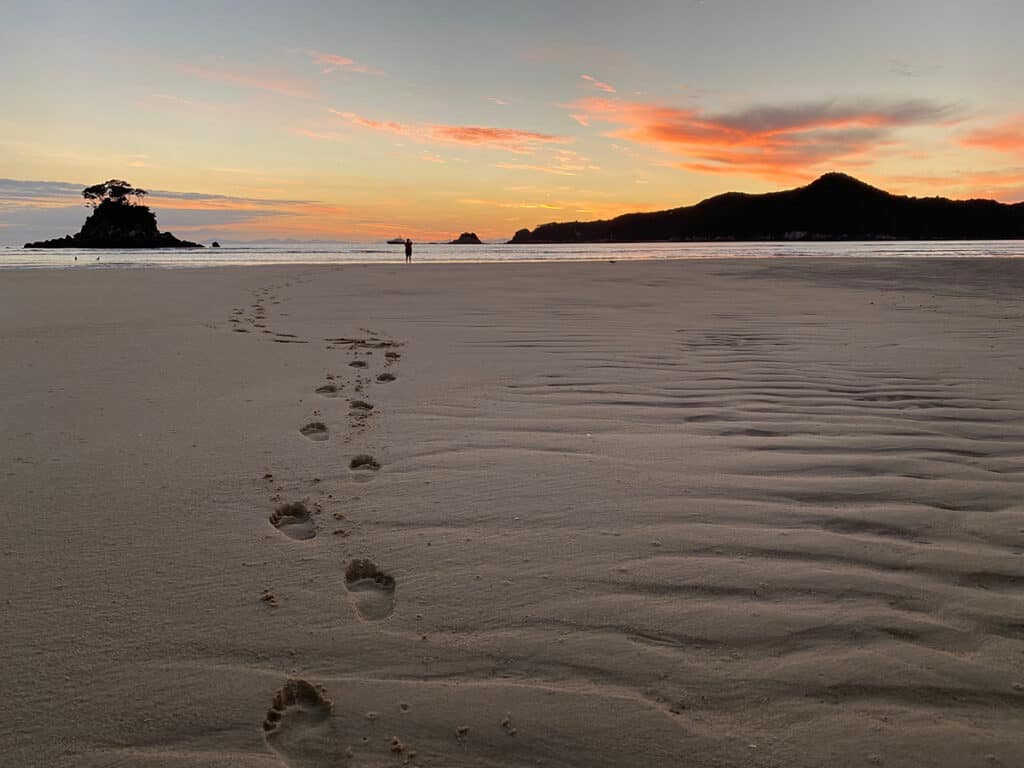 St Arnaud
It would be a mighty long drive from Abel Tasman all the way through to Punakaiki, so because we wanted to stop and take in some of the views and break our journey up, we stayed a night in St Arnaud on the edge of Lake Rotoiti.
Under the pier I'm standing on are a tangle of eels who hang out here feeding off the millions of midges who probably breed right on the water! (I don't know this for a fact, but I do know that you need to slather yourself in insect repellant from here and all the way down the west coast).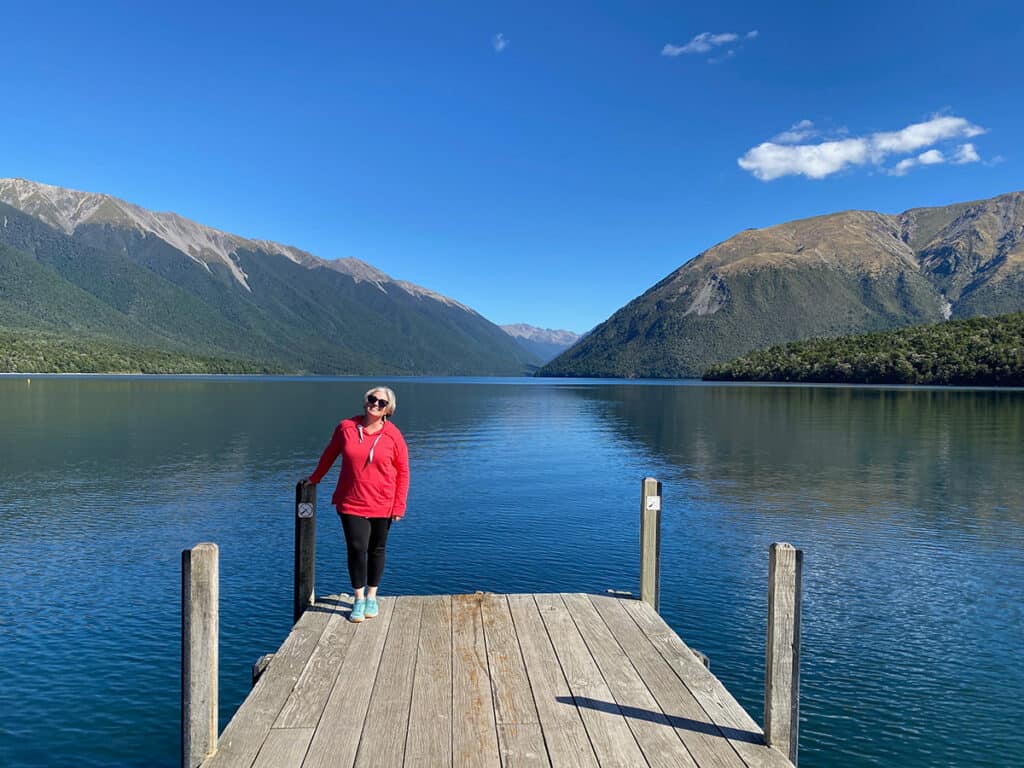 We stayed at Alpine Lodge. A perfectly adequate 3-star hotel, but with a lovely restaurant and bar area, including this outdoor area for pizzas, which some guests were tempting me with.
They also have a guest laundry here. $3 for a wash and $3 for a dryer load, plus $1 for a sachet of laundry powder. Just FYI!
There are two lakes, and not to be confused with the North Island lakes of the same names: Rotoiti and Rotoroa. The river runs directly behind the lodge and has a lovely walking track too.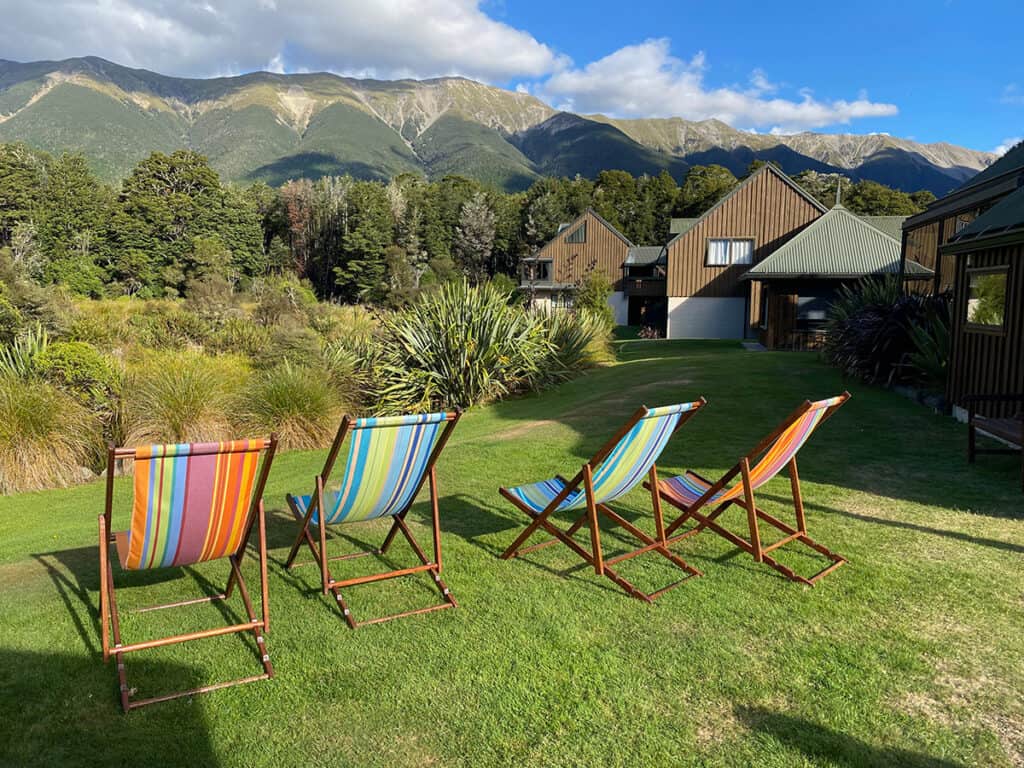 Visit Reefton
We departed St Arnaud en route to Punakaiki for this evening, via Reefton (about a two-hour drive).
Nestled deep in the untamed wilderness of New Zealand's West Coast, Reefton is a quaint small town but with international acclaim.
Officially established in 1870, just a few years after the discovery of gold bearing quartz reefs in the area, Reefton has a rich history defined by innovation and entrepreneurship. In 1888 Reefton became the first place in the Southern Hemisphere to have a public supply of electricity. In fact even before London and New York lit their streets with electricity!
Of course we couldn't not visit the Reefton Distilling Co, home of Little Biddy gin. The distillery is housed in one of Reefton's original buildings which has been carefully restored to accommodate the working distillery, tasting bar and retail store. They have gotten so successful that they will be moving their production into a new, larger site soon.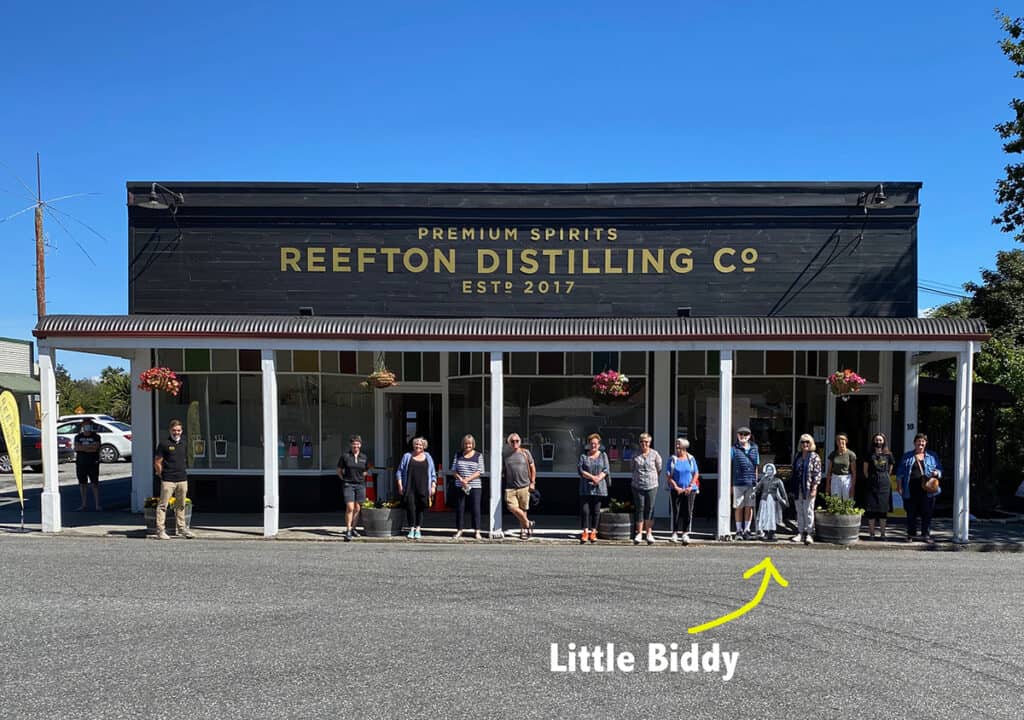 See the little cut out of Little Biddie? She was a fascinating woman in real life, and these gins are named after her.
Grab some lunch from one of the cafes, check out the first electric light bulb, then hit the road for th4e stunning Punakaiki coast.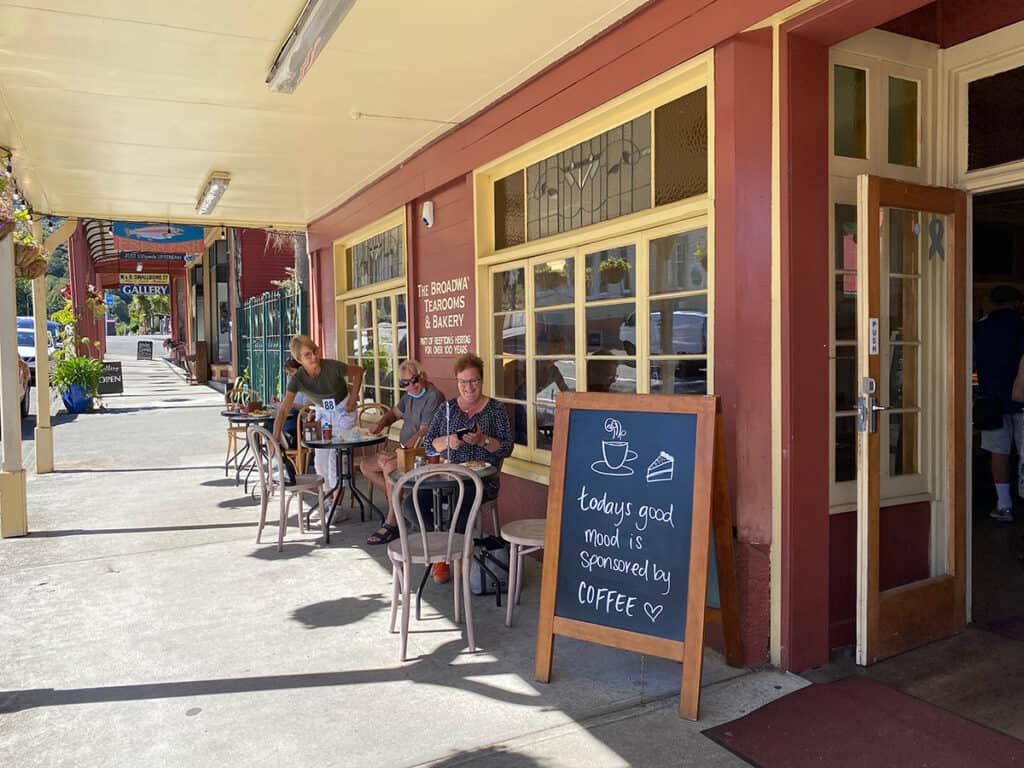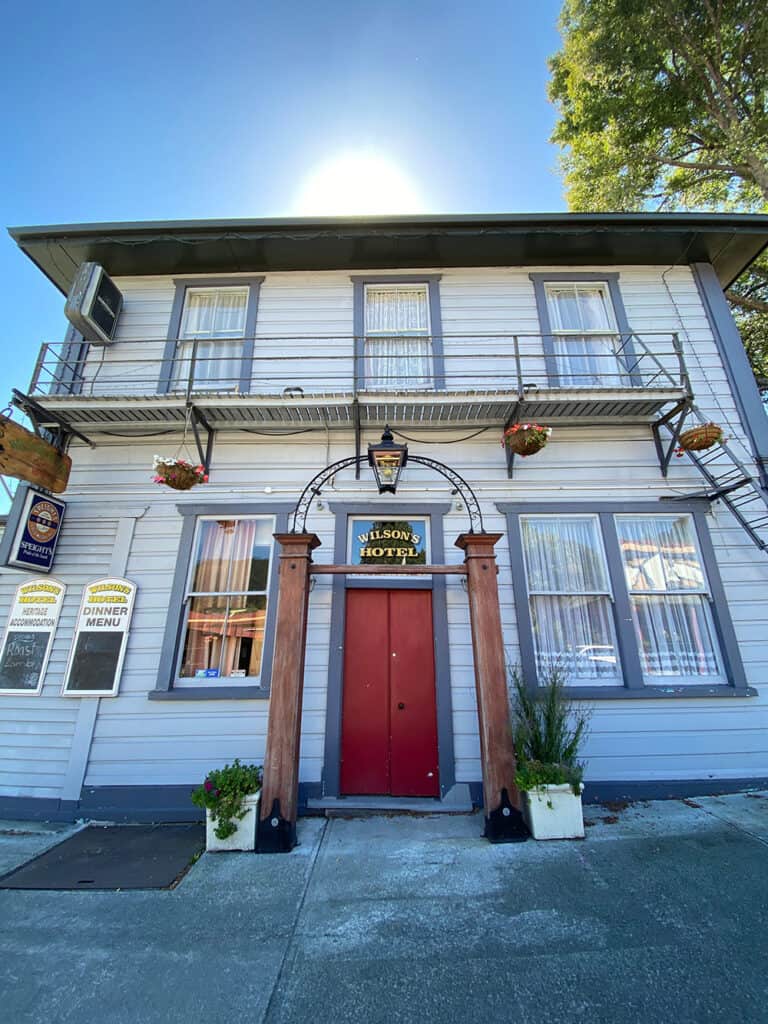 Punakaiki
The rugged West Coast is covered in gorgeous nikau palms and spiky cabbage trees, flax bushes and native plants. A concerted effort is being made to eradicate wilding pines and other non-native flora which choke our native species.
The sea was calm and almost inviting! But it's the pancake rocks we'd come for.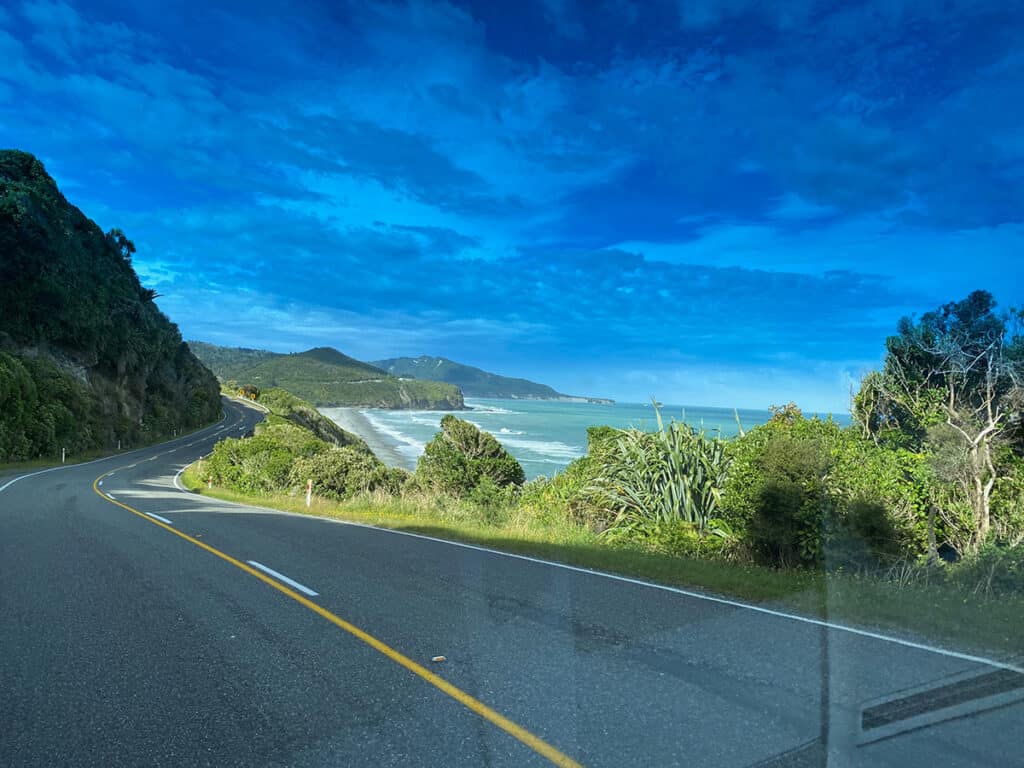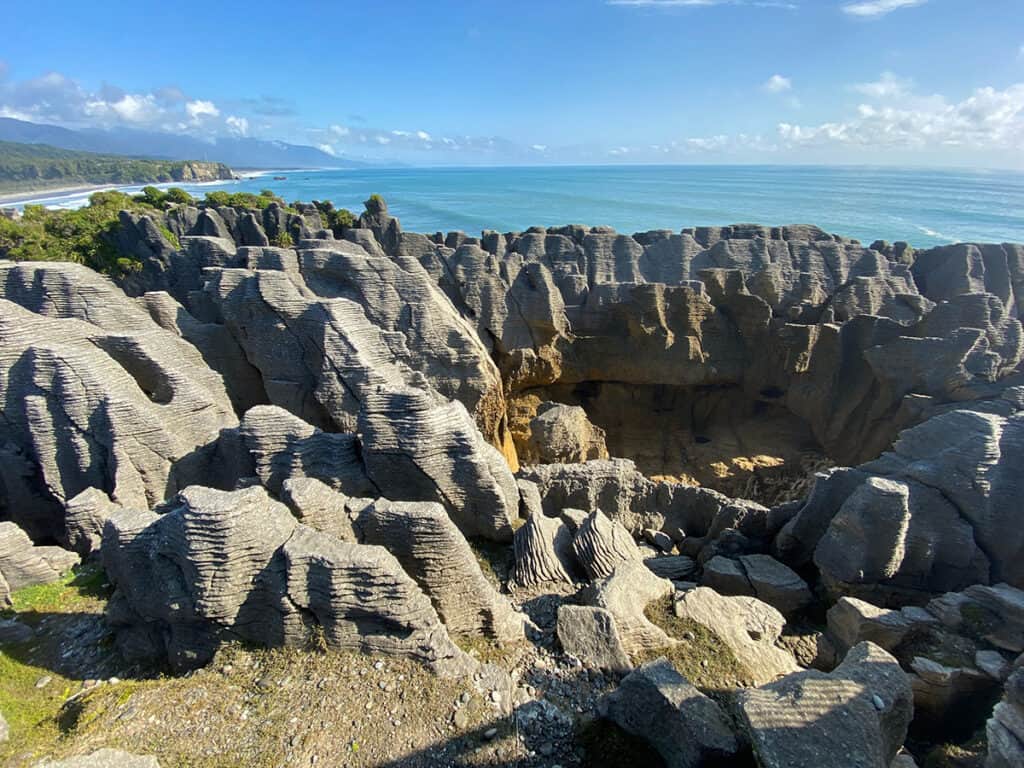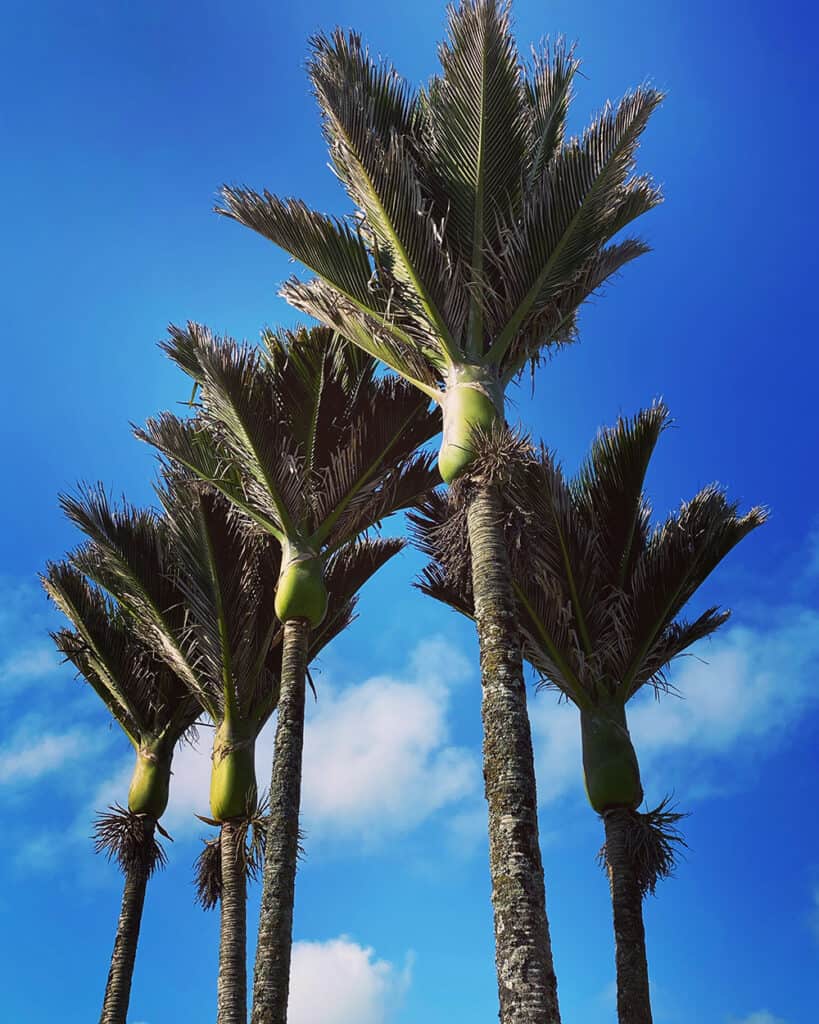 We stayed two nights at Ocean View Retreat and it was stunning, about 1km from the blow holes. In fact you can walk there – although not along the beach as you'd be crashed against the rocks (!), and the main road is a highway, so do it with caution.
But staying literally beach front with the sound of waves lulling you to sleep, plus a lovely restaurant and bar for the killer west coast sunsets, you'll want to stay for a week!
They also have fire braziers on the beach which staff will light for you if you'd like to take your wine and drink there. Make sure you wear your insect repellent though for those flying fleas (aka midges)!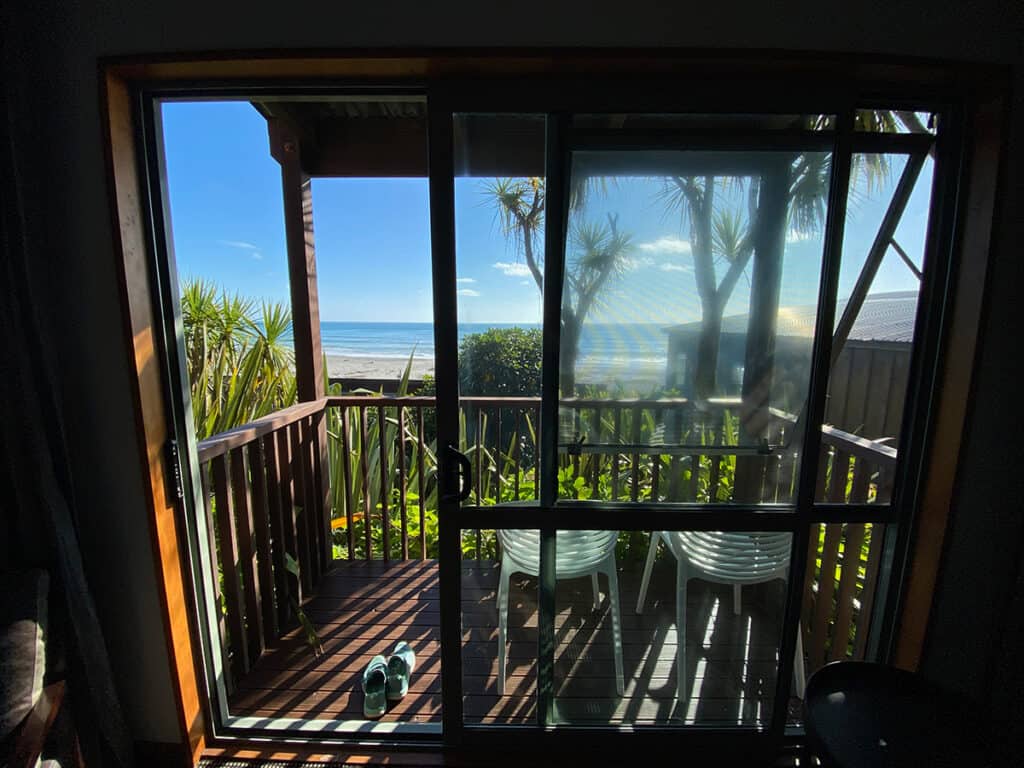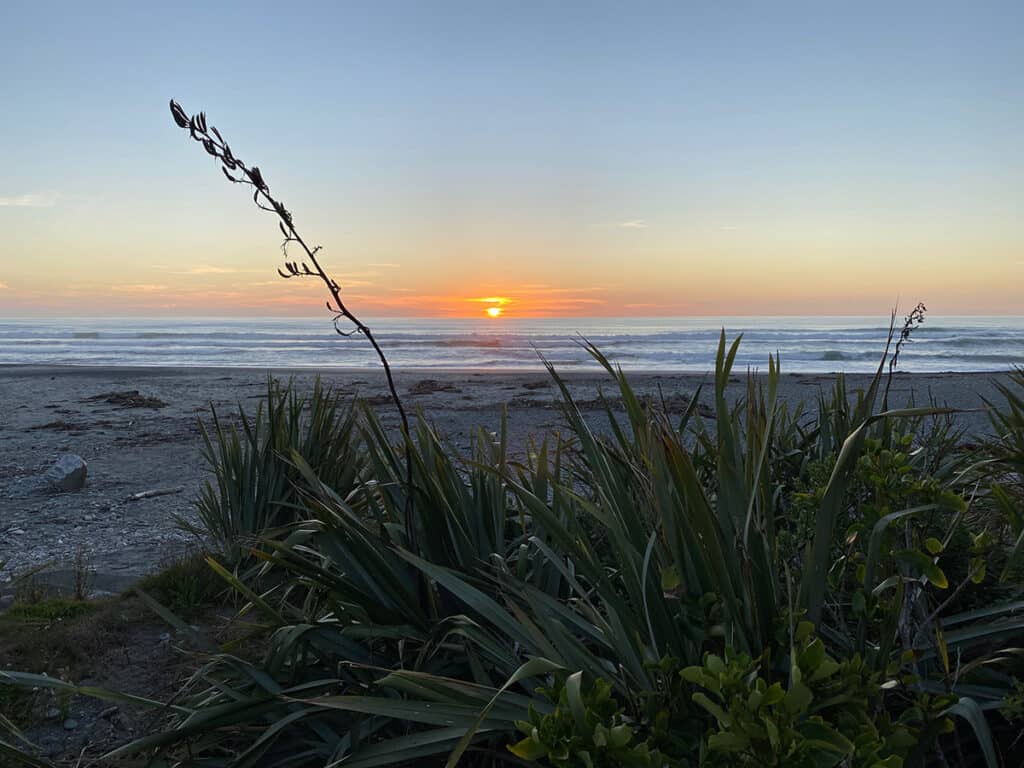 Shantytown
The drive to Greymouth is about 40 minutes, so we popped in for the morning to visit the old gold mining "museum" village of Shantytown.
I remember coming here as a kid on our family holiday. You can pay a little extra ($7) and learn how to pan for gold. (Spoiler: the man has already put gold flecks in your pan). They still have those old fashioned family photos where dad sits down and mum stands, and you all dress up and don't smile. We still have that photo about 30 years later!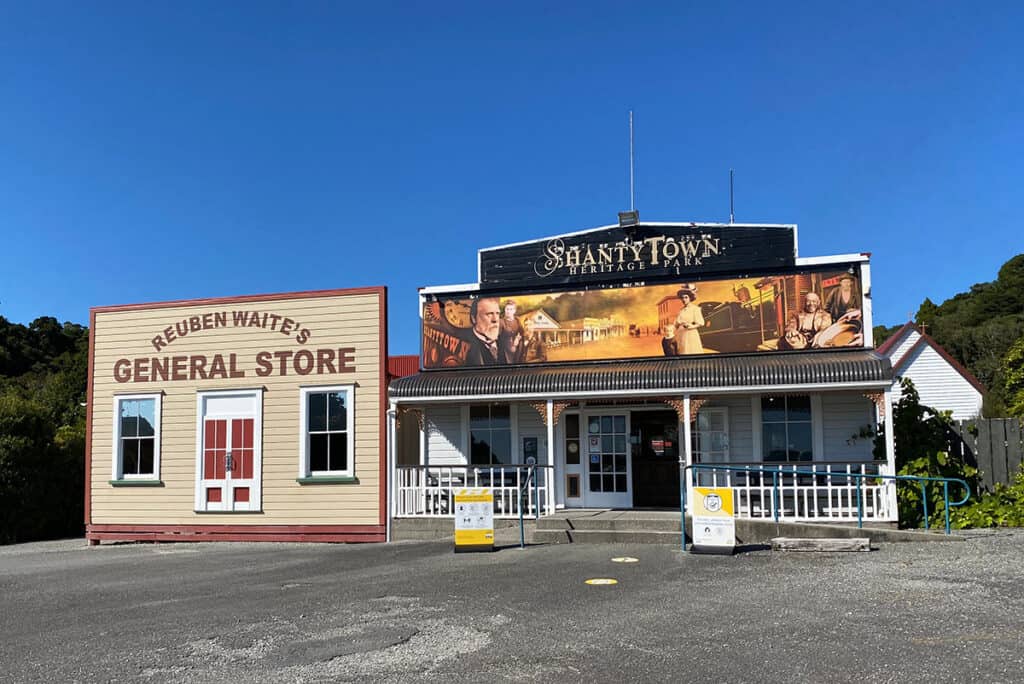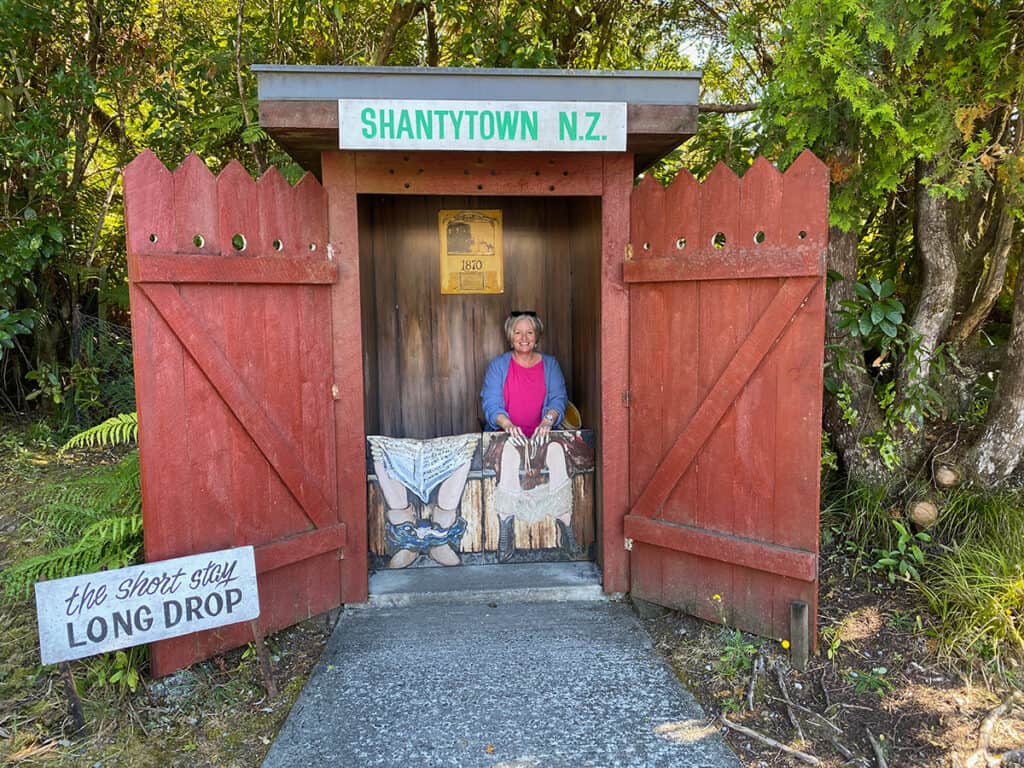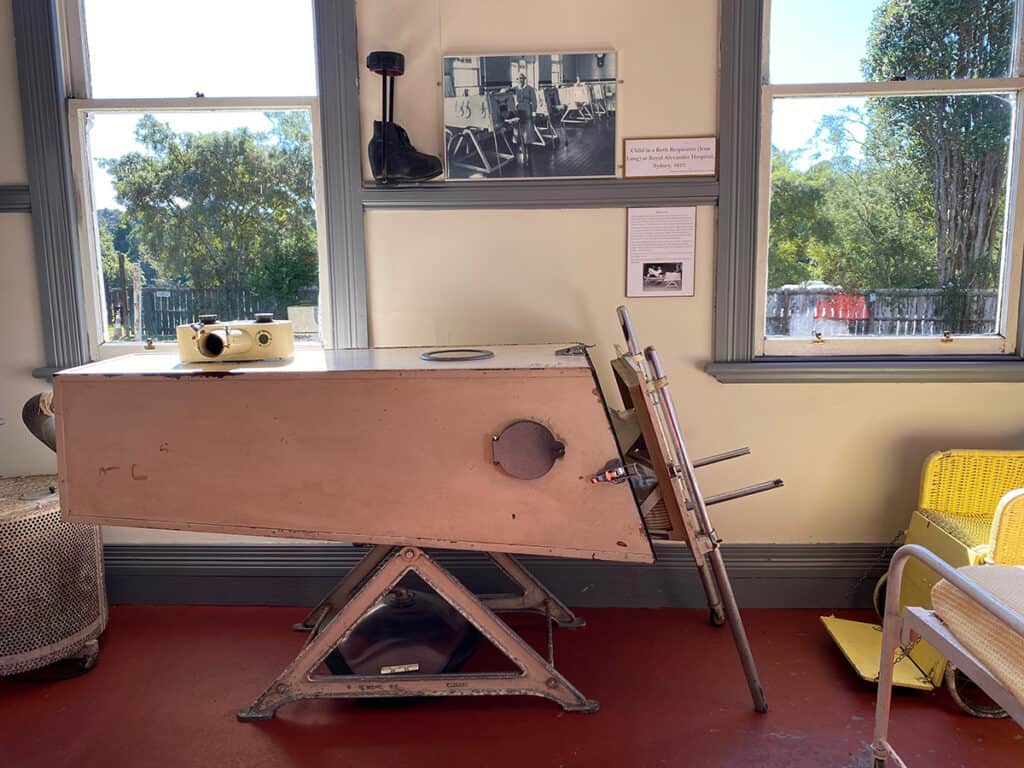 The (formerly) Blackball Hilton
The next day we departed Punakaiki for Hokitika via the legendary (Formerly) Blackball Hilton Hotel. Well, it'd be rude not too, right?
This funny little pub, built in 1910, had a law suit slapped on them by the mighty Hilton Hotel group in the 1990s, so added the "formerly" and apparently that's done the trick. Turned out Hilton didn't have the international naming rights in New Zealand back then like they thought they did!
This old school style pub also has accommodation and has been kept in as close to original condition. Take time to read the posters and pictures on the walls, have a pint and share a yarn.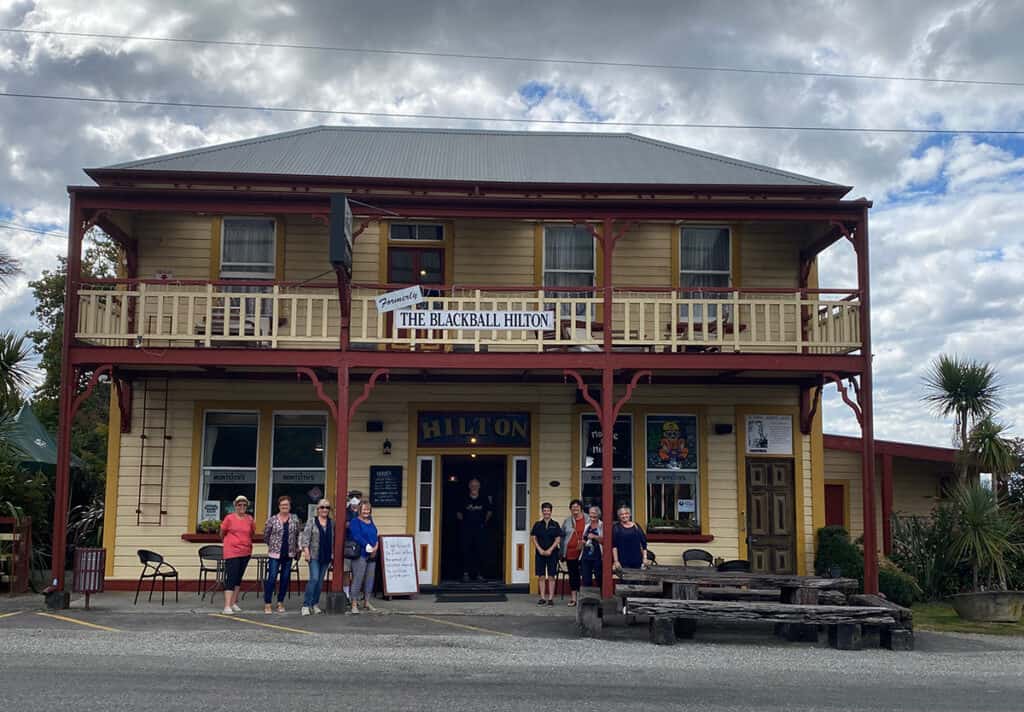 Blackball was a gold miners town. But from around around 1893 the coal industry is what made the town boom. I hope Blackball will be taught in New Zealand's new history curriculum, because in 1908 this little town made history!
The coal miners, who used to get just a 15 minute lunch break and were about to have their work days extended to 10 days, went on strike in their quest to get 30 minutes for lunch and work an eight hour day. This was the first strike in New Zealand's history. Ironically the court officials hearing the arguments took an 80 minute lunch break.
But history was made, 30 minutes was granted and the labour union movement was born, which ultimately became the New Zealand Labour Party.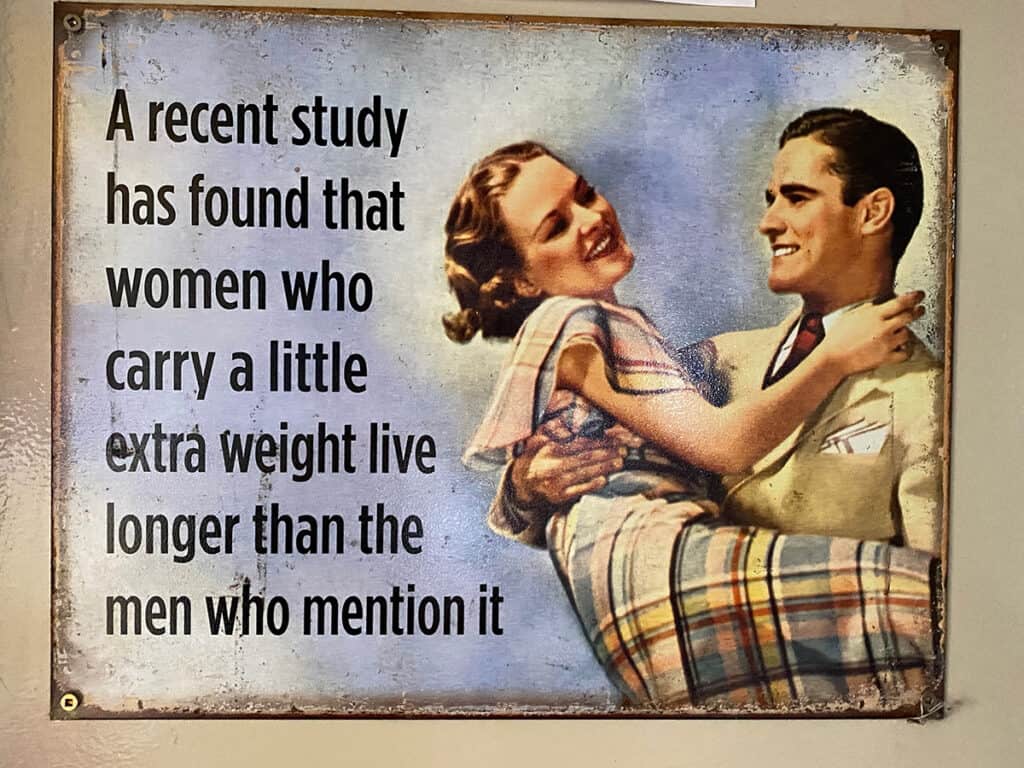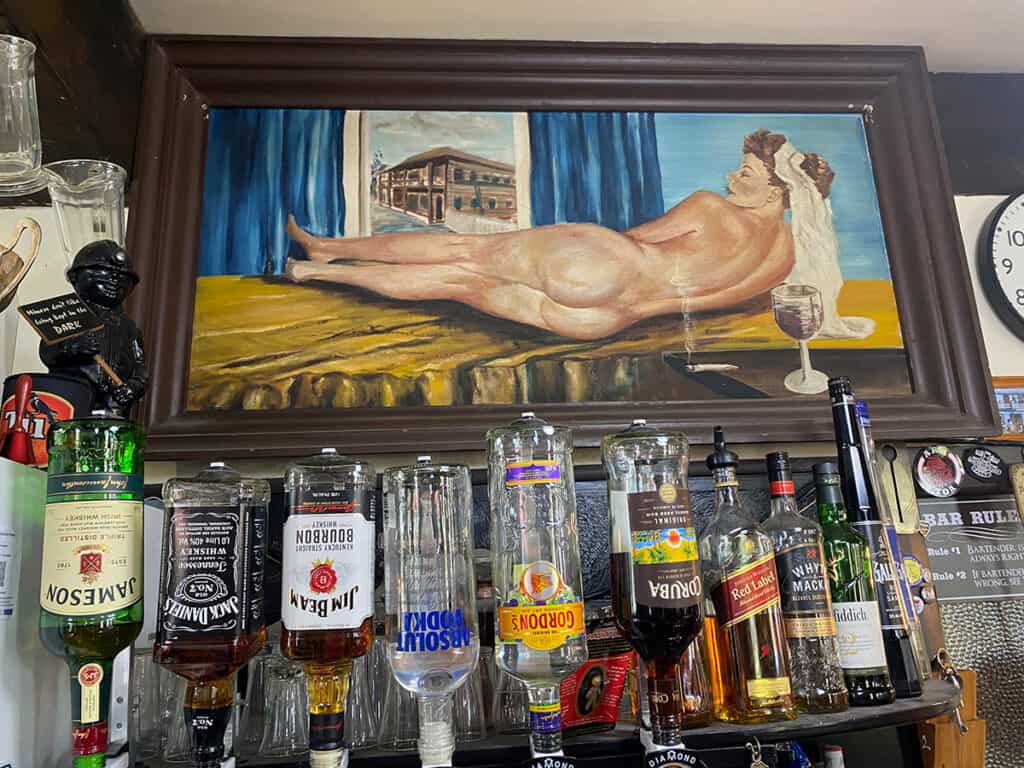 Hokitika
Our final stop on the West Coast was Hokitika.
We had intended to be here for the annual Wild Food Festival, but due to the red light setting, that had to be cancelled this year. However, it really didn't bother us as there was plenty we found to do! Including take too many photos of the famous driftwood sign on the beach, about a two minute walk from the town centre.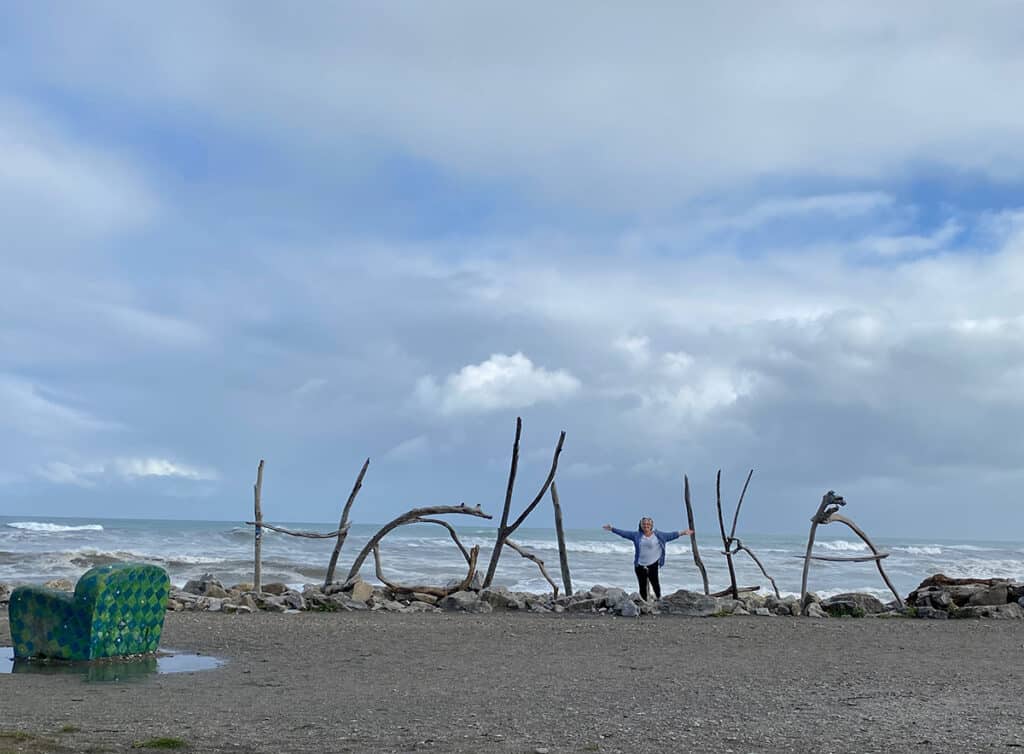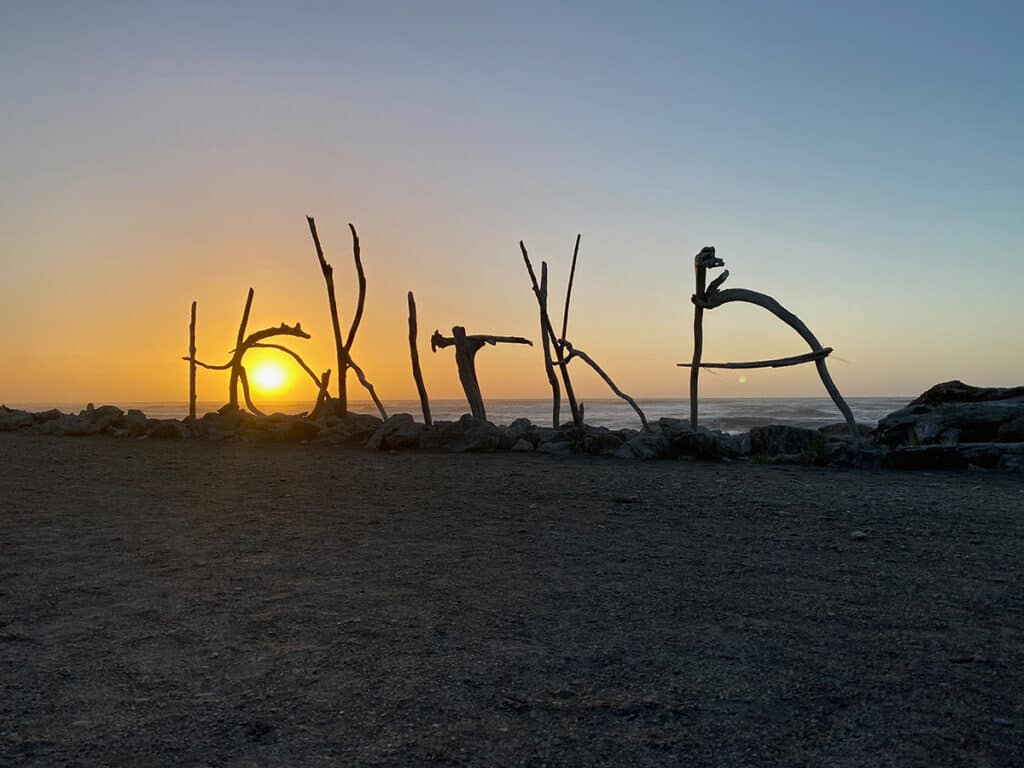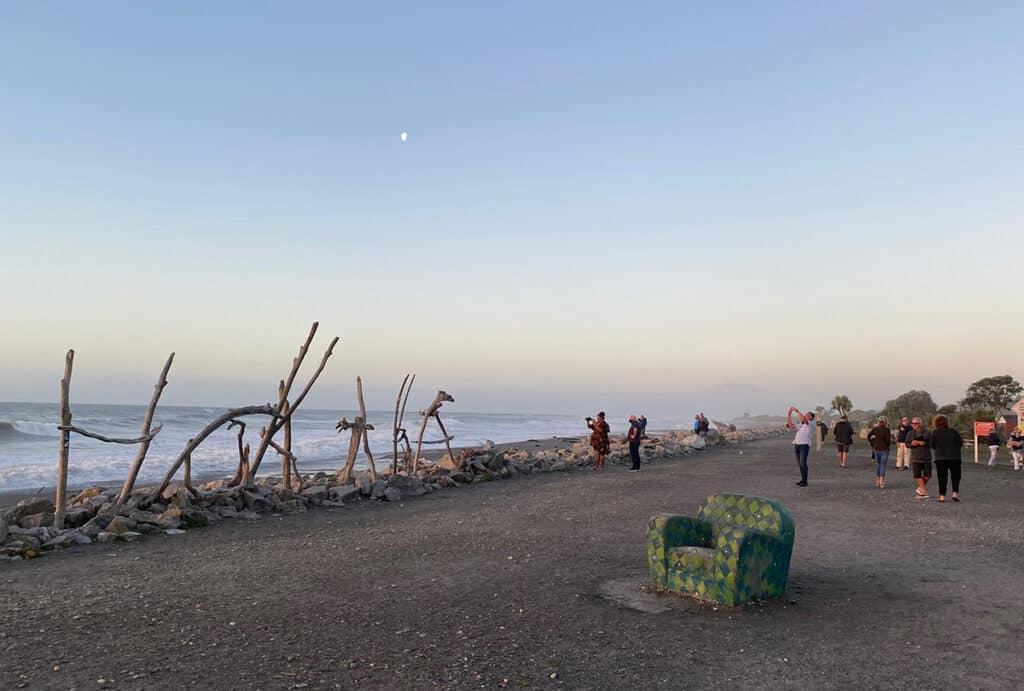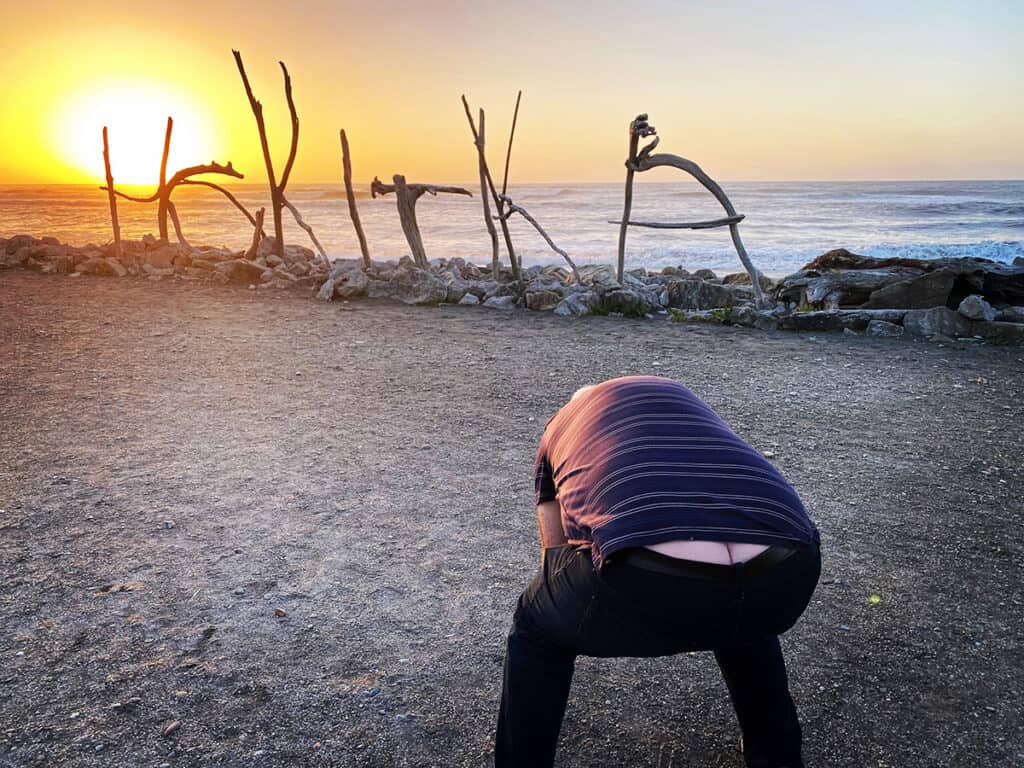 We popped into town about three times and splashed some cash into the local businesses. It can't be easy in Hokitika for retailers as many businesses are tourist focused selling blown glass (I bought a gorgeous bauble for my Christmas tree!), greenstone (pounamu), sheepskin and possum skin stores.
But never fear, we also found a few clothing stores that don't have as many things in them as they had last week before we arrived!
We had a delicious dinner at Stumpers Bar and Cafe, which also was a great place for a coffee too.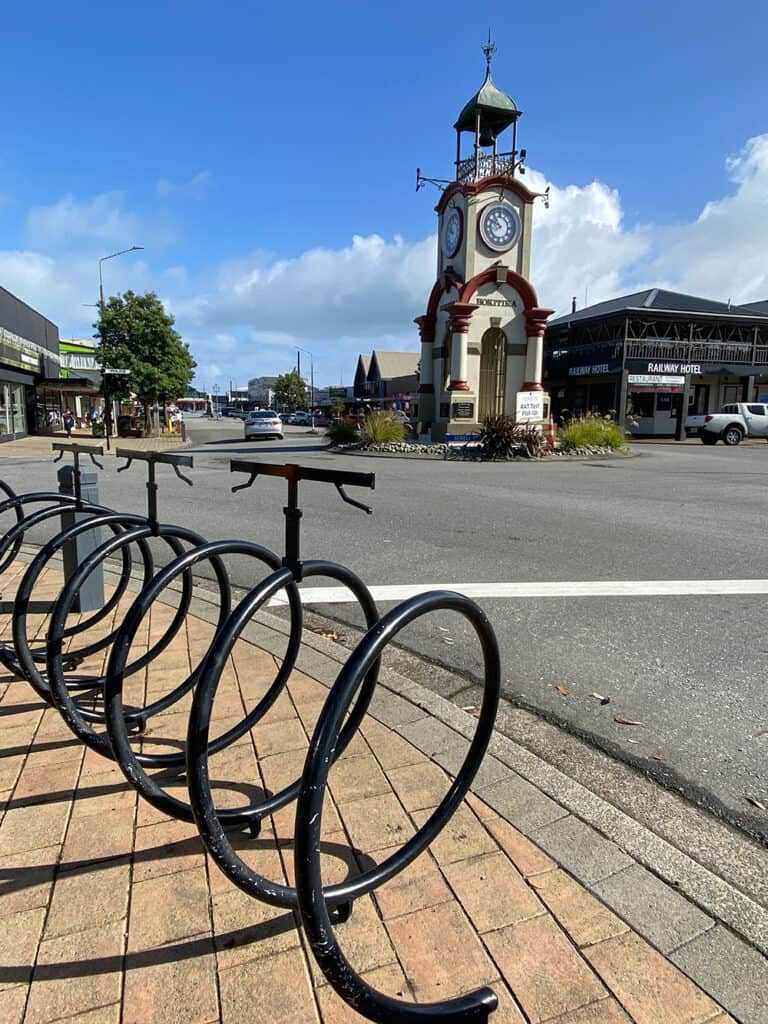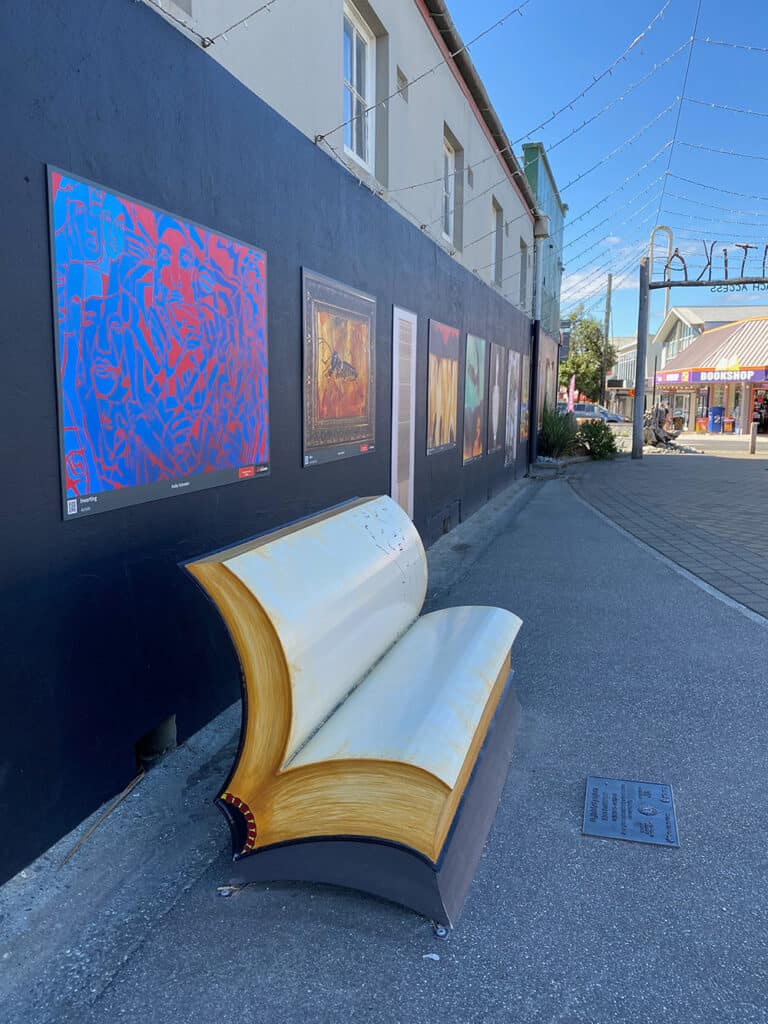 But jump in the car and go for a drive to the picturesque Hokitika Gorge where you can do a loop walk, including across a couple of swing bridges (don't worry, they don't really "swing").
We did it in under an hour in a leisurely walk. My husband even did it twice to check on any stragglers in our group and still managed an hour. He did tell me he broke into a bit of a run too!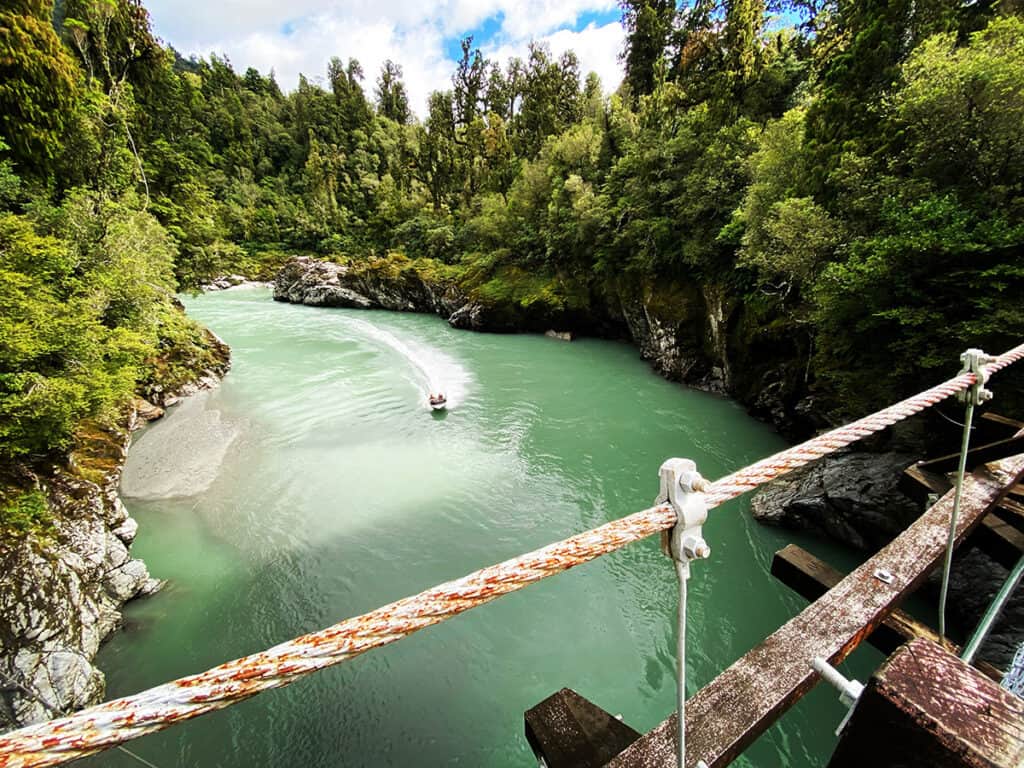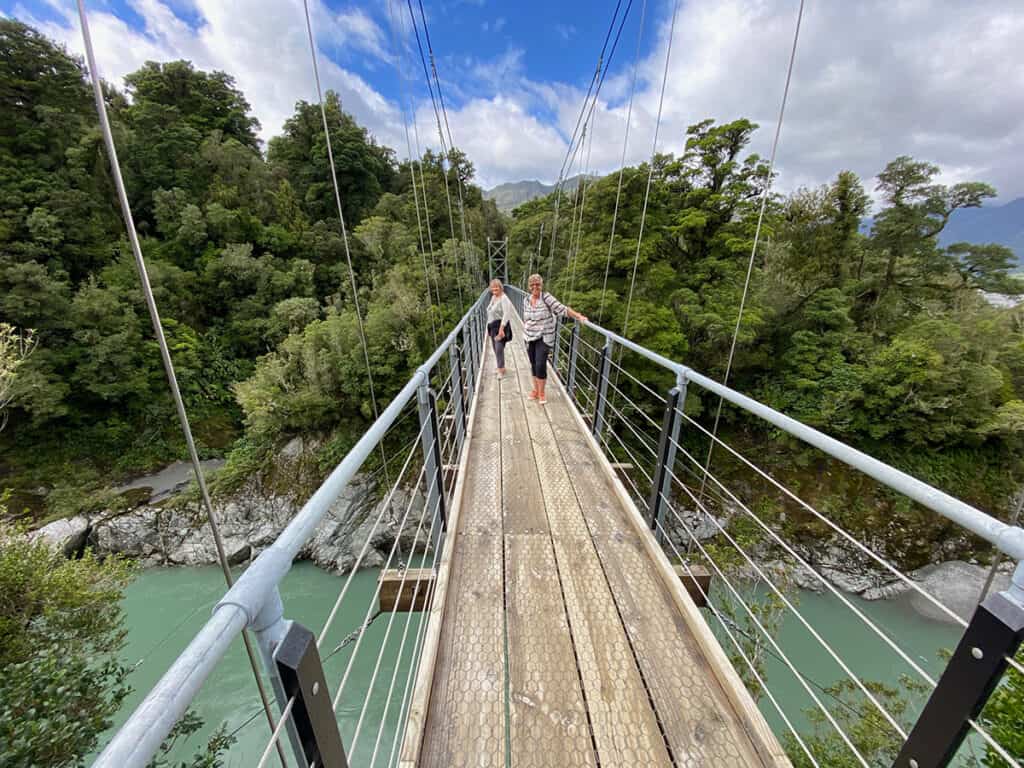 Visit West Coast Treetop Walk
They have a cafe and gift shop here at West Coast Treetops Walk, so after the gorge walk we came here for lunch. Warning, the nachos are huge!
It's a bit of a hill walk up to the treetop metal bridge walk, but you can ask the friendly staff to get a lift in the golf cart. Once up there, even wheelchairs and pushchairs can enjoy this really cool walk high in the canopy of a fabulous native forest.
Reminded me of Tree Adventures in Woodhill Forest with my nephew Jake, but that one was more daring and really built for adventure. West Coast Treetop Walk is more of a strolling and sightseeing.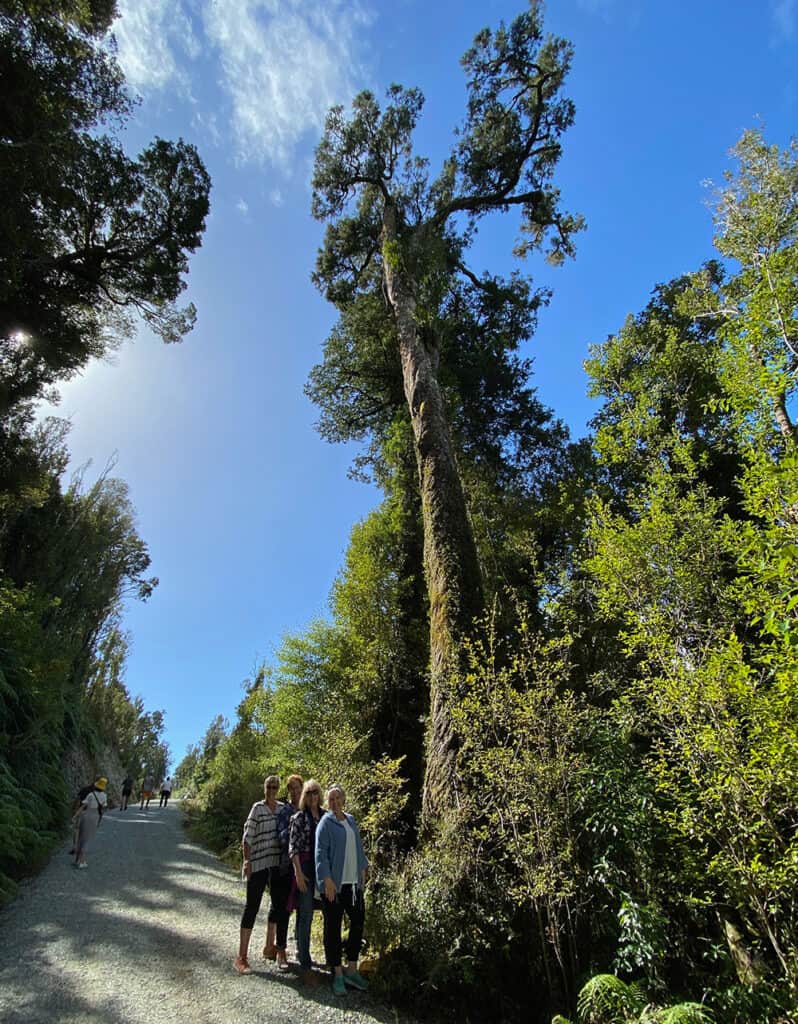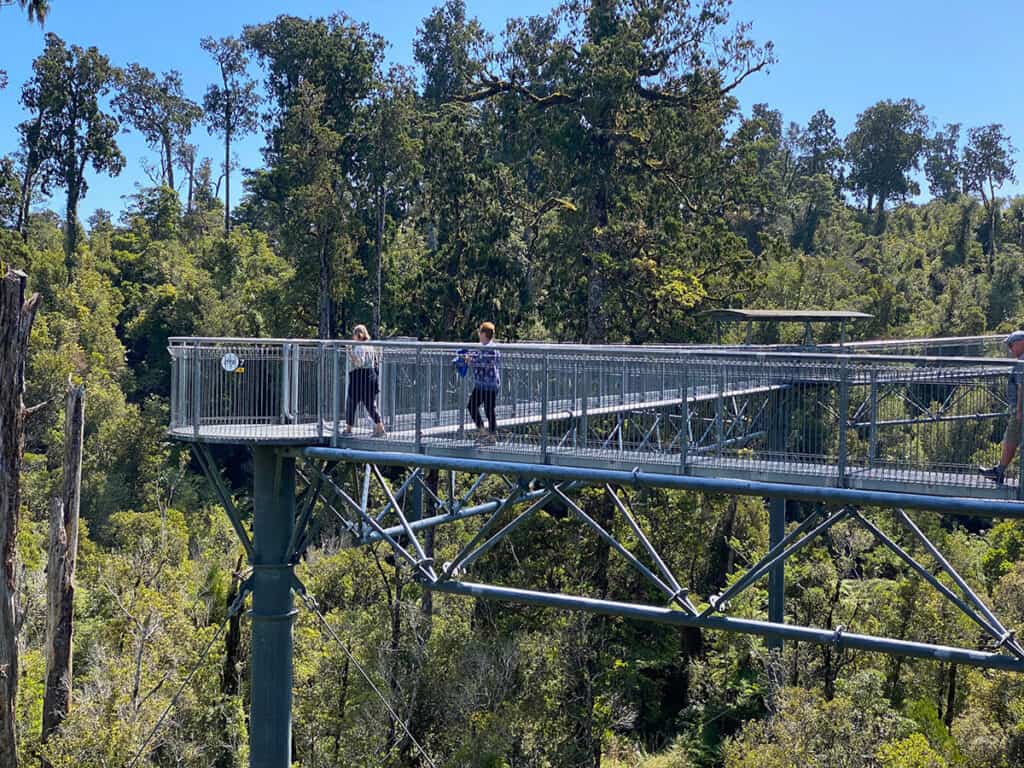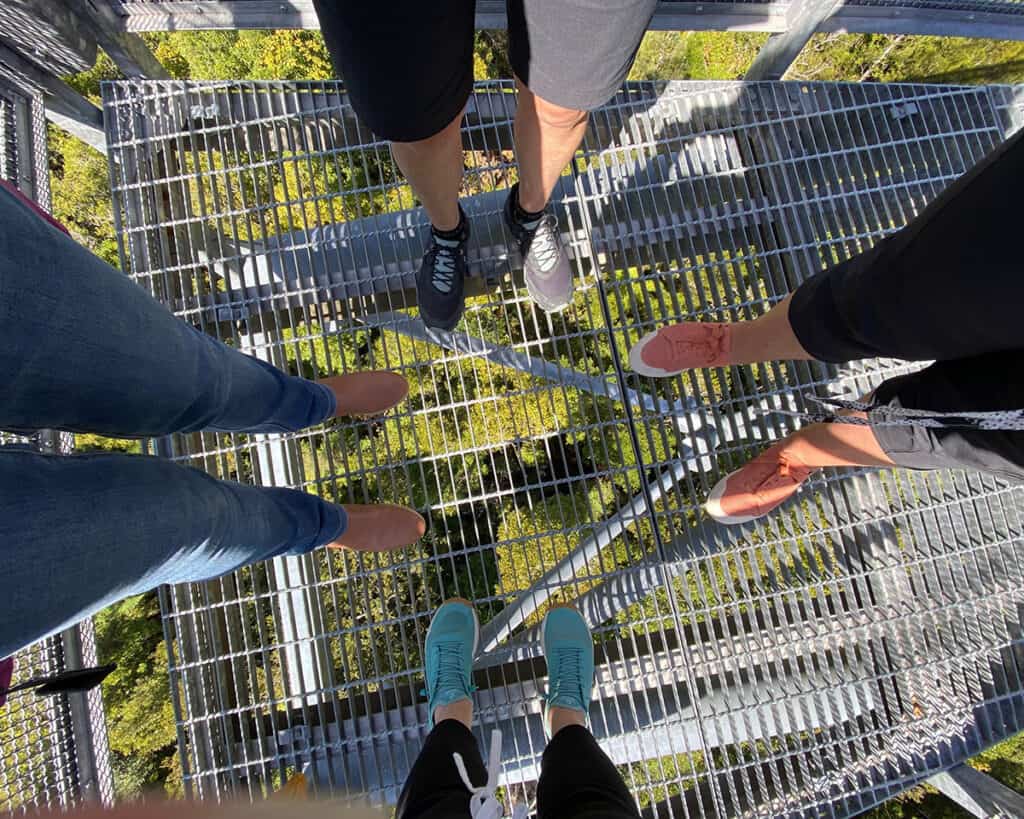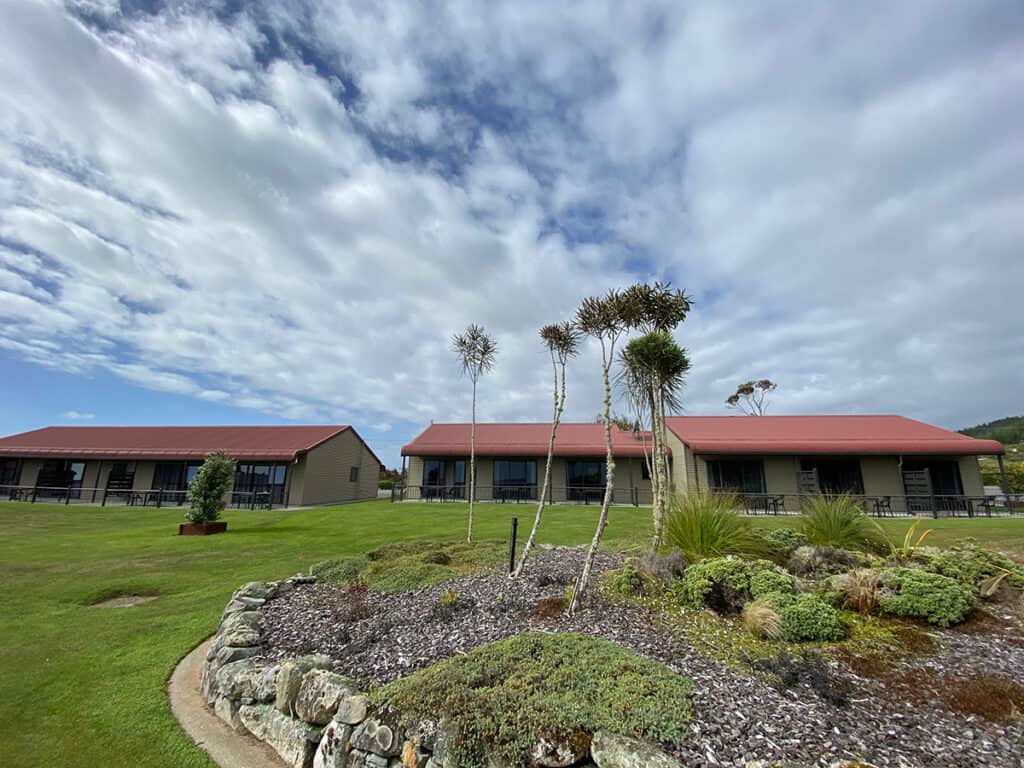 Trans Alpine to Christchurch
The Trans Alpine train runs between Greymouth and Christchurch twice a week. It was such a highlight!
We checked in after a yummy pub lunch at Speight's Ale House, across the road from the train station in Greymouth.
The staff checked our luggage and loaded it onto the train, and off again in Christchurch. Nothing like trains in Europe or China where you have to rush them on in three minutes!! Actually this is the first/last stop, so the train had arrived about 1pm into Greymouth from Christchurch and departed at 2pm.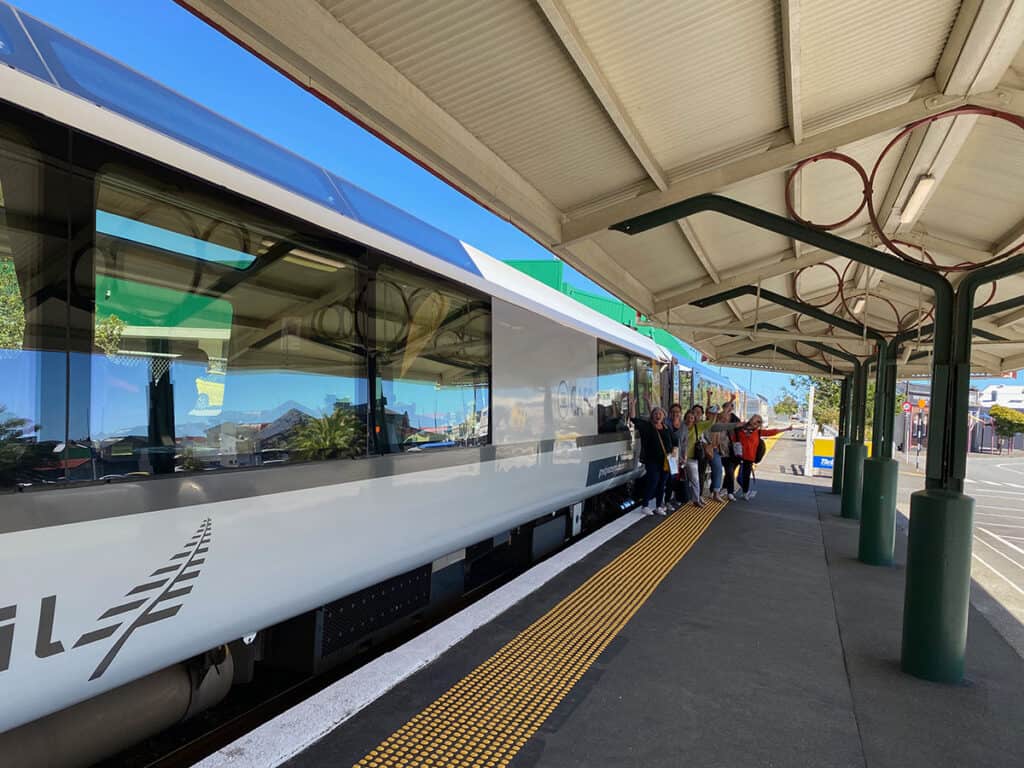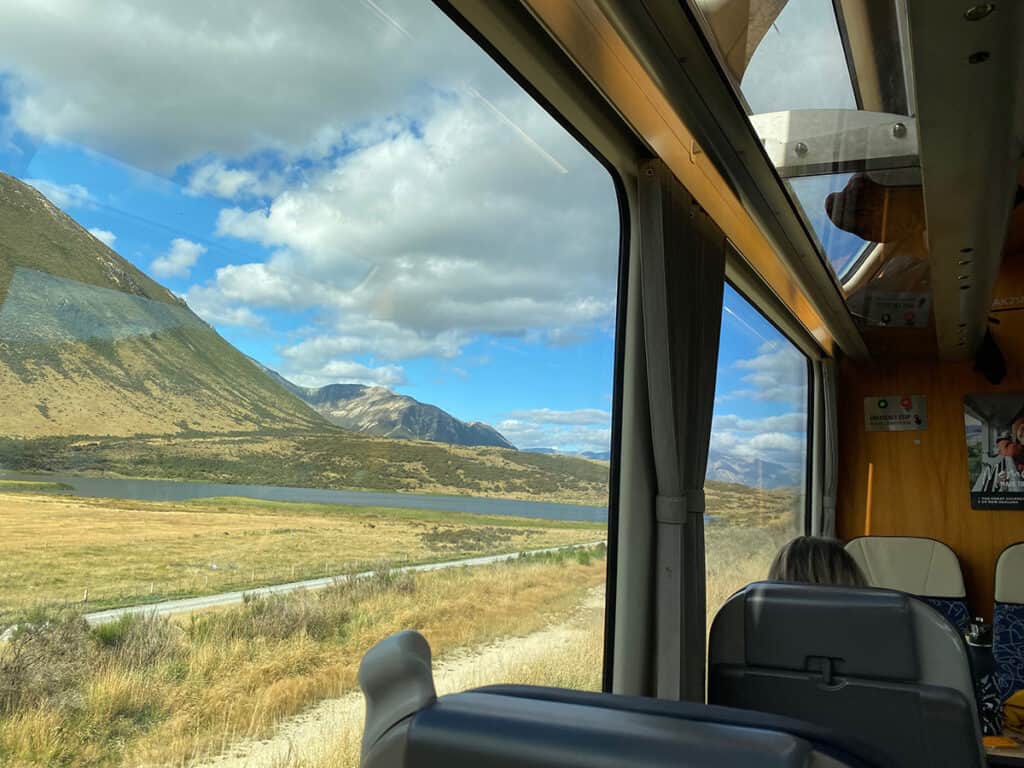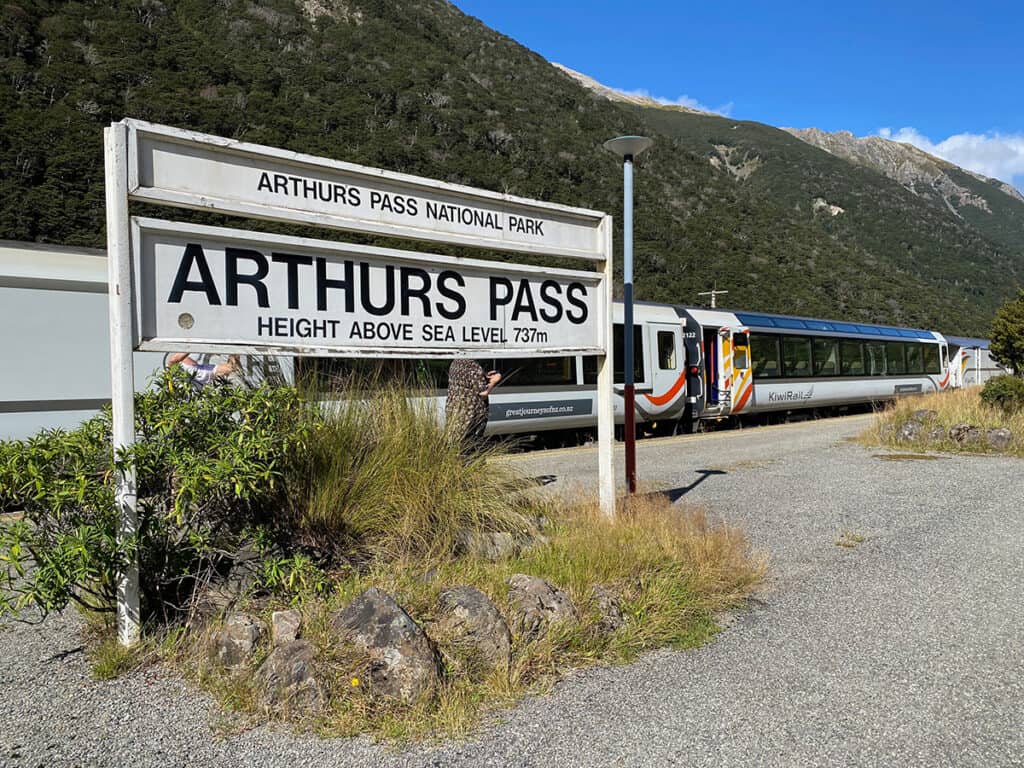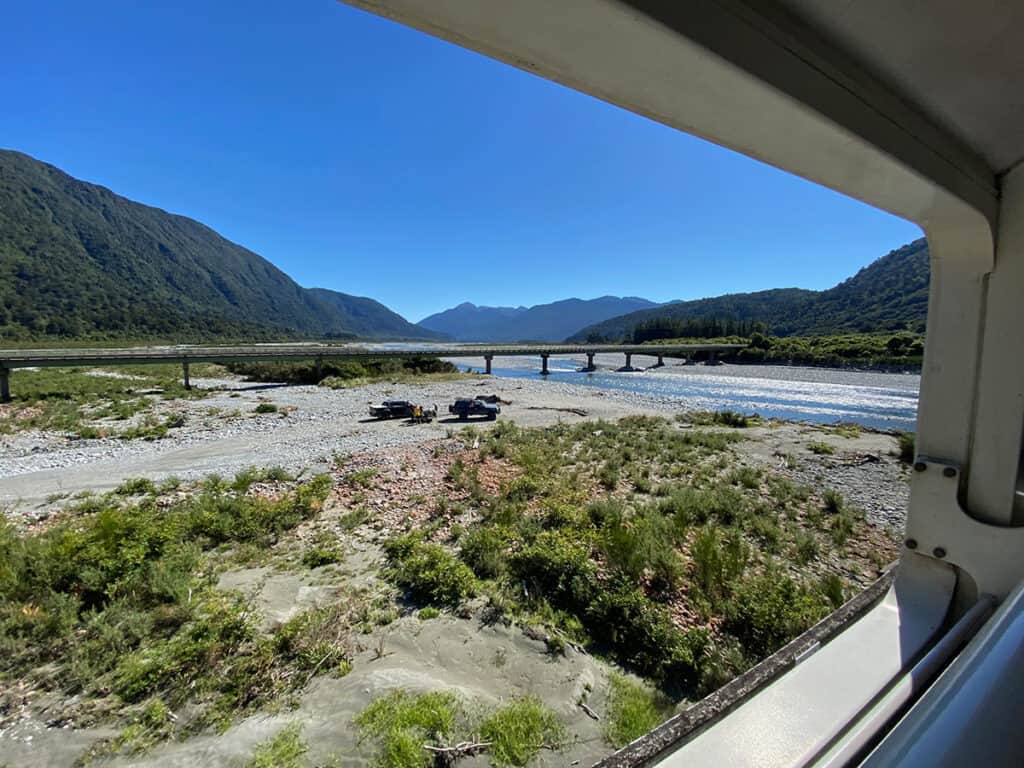 Christchurch
This time we stayed just one night in Christchurch. Just enough time to nip up to my favourite rooftop bar, Mr Brightside for a sunset drink, and then for dinner at Amazonita, located on the Terrace. Both of these places make my list of yummy places to eat and drink in Christchurch.
If you'd rather drive on down the West Coast and to Queenstown and Wanaka, you might like my 5-day Central Otago road trip itinerary, including gorgeous Clyde.