Downtown Disney is the name of the area just outside the gates to the Happiest Place on Earth: Disneyland and Disney's California Adventure, and it's full of shops, cafes, restaurants and bars with live music happening at any given moment. And the best part is, it's all free!
A lot has changed here in the last year as a new Disney hotel will be built in place of the Rainforest Cafe (that served the most amazing cocktail I'd ever seen: the Corona-rita – a huge bowl of margarita with an upturned dinky bottle of Corona in it! It tasted better than it sounds – but ahh those were the days).
At the moment the Rainforest Cafe is standing derelict though 🙁 Also gone is the ESPN restaurant and bar which had a gazillion TVs around the walls so you could watch any game anywhere. Right now that is being used as a pop up Disney gallery which is immersive (for the gaming kids!) But at $30 to get in, I thought nah.
Read on to see where you can watch the Disney fireworks for free!
Not that it's even broken ground yet, but the new 700-room hotel will have the monorail rail running through it for quick and easy access straight into the park. It'll boast water features for those hot summer days and lots of dining options. An upper level lounge will have views over the park and be the ideal place to watch the nightly fireworks – if you're not sitting in the park in front of them!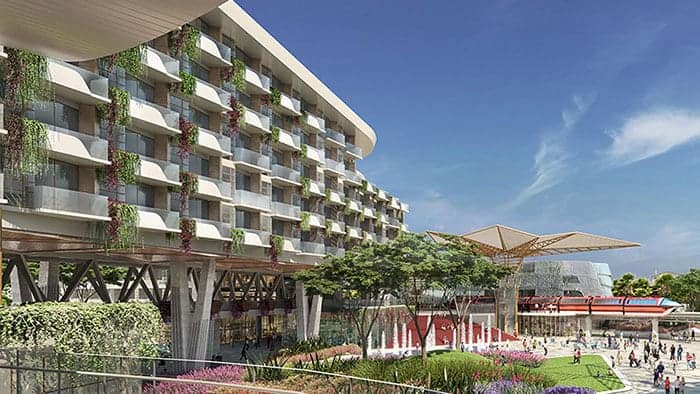 BUT to see the fireworks WITHOUT PAYING TO GET IN from the vantage point of my video above, head into Downtown Disney and you'll be caught up in the happy Disney music piped through the PA systems, the enticing shops filled with Disney-themed merch for your princess or favourite character and lots of dining options.
You'll also find makeup store Sephora which sells makeup from a huge range of brands that could keep you busy for an hour, but if your kids are Lego mad, head to the Lego store.
Star Wars boxes are here with the monstrous Millennium Falcon going for about $800, right down to little boxes from about $20.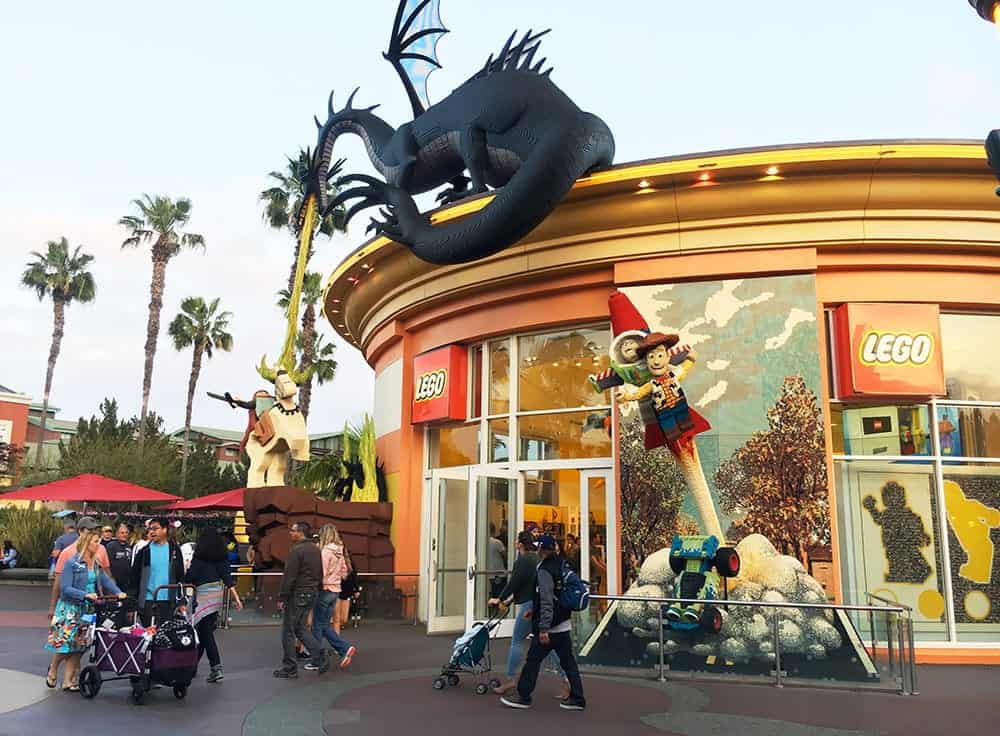 Out the front there is a play area which is great for whiling away some creative time as the kids build things. (It's basic blocks only, and I don't blame them. I bet stuff is stolen from here daily!)
Build a Bear and RideMakerz are gone – if you remember those shops, but if you're not visiting with little ones, head for a late dinner to watch the nightly fireworks at 9.30pm at Catal.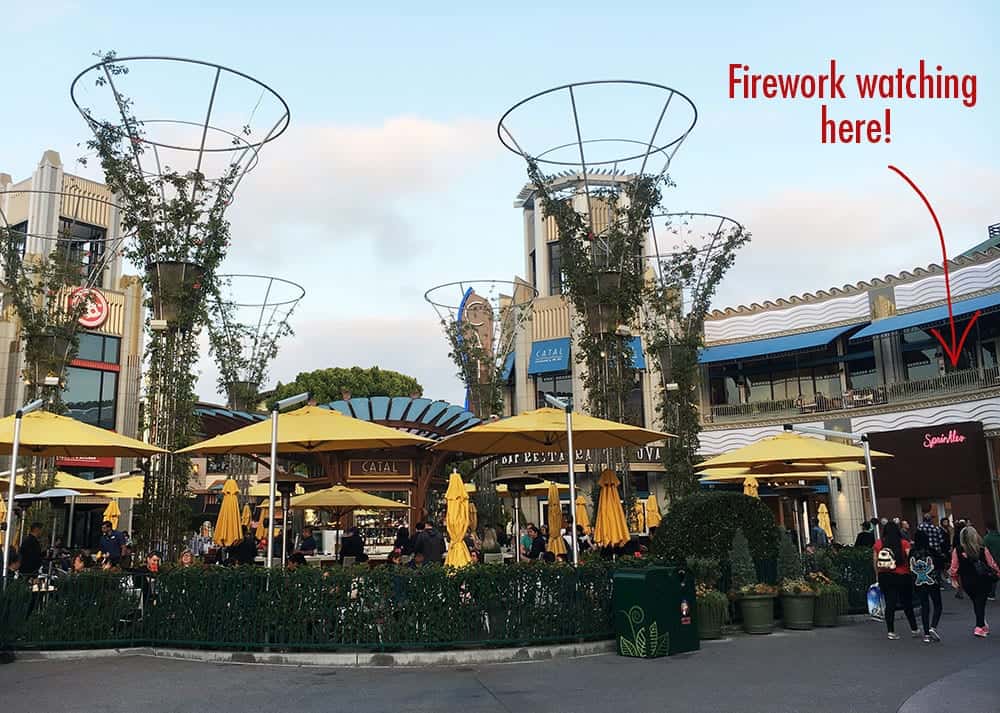 It was a Friday when hubby and I popped into Downtown Disney. We didn't have Disneyland tickets as we were in town for a conference I was attending, so to get our Disney vibe on we decided dinner in downtown was the trick.
I knew about the balcony at Catal and thought we'd be lucky to get in, but actually it was almost empty! This is a great tip for a bit of fireworks with your fresco dining.

Other places in Downtown Disney to eat, drink, grab a snack range from southern cuisine at Ralph Brennans Jazz Kitchen to step into a little New Orleans time warp, pizza and pasta at Naples Ristorante & Pizzaria and cupcake shop Sprinkles.
Catch live jazz and Flambeaux Jazz Club with shows at 7pm and 11pm or head to the House of Blues.
And if this is your first night in Anaheim, you should be entertained enough now to hit the sack and be up bright eyed and bushy tailed to take on the Park in the morning 😀