If you have 24 hours in Singapore on your stopover like we did, here is what myself and my group of 11 bound for Italy got up to…
I bought the Singapore Explorer Pass (with my own money so this is not a sponsored post), which is such a great deal I need to tell you about it – and it's what we utilised on our stopover.
For S$60 (24 hours) or S$90 (48 hours) you get entry into several major attractions and but sadly, since we visited the sightseeing Hop on Hop off bus ticket which offers four different routes, has been removed. You'll need to buy that separately now.
You exchange your voucher from your travel agent at their desk at Changi Airport when you arrive and it's brilliant. The link is at the bottom to see what else you can visit on this pass, but this is how we used it…
Our arrival time from New Zealand was 7pm so it was after 8pm by the time we got to the Miramar Hotel after flying for 10 hours from Auckland. But some of us were not ready for bed (even though it was about 1am NZT!) so we headed out across the road from our hotel for a Singapore Sling at one of the many bars and restaurants lining the river at Robertson Quay.
I'd chosen the Miramar specifically for this purpose actually, and as luck would have it the sightseeing hop on/hop off bus stopped right out the front for the next day's activities.
You might still decide the bus pass is worth buying, otherwise download Grab, which is the Singapore eqaivalent to Uber, and just get taxis around.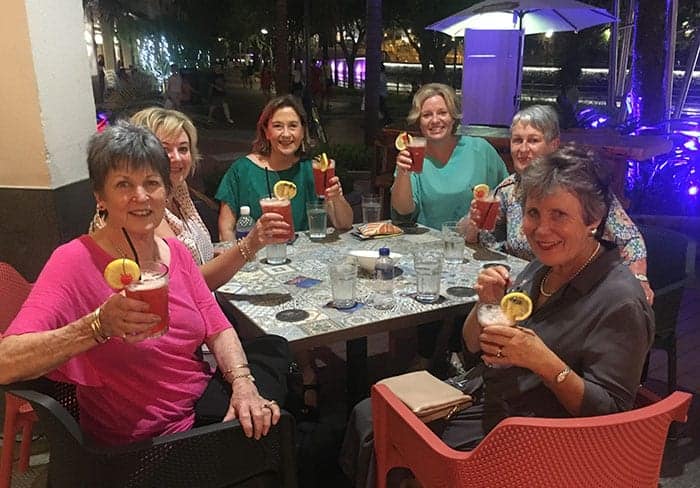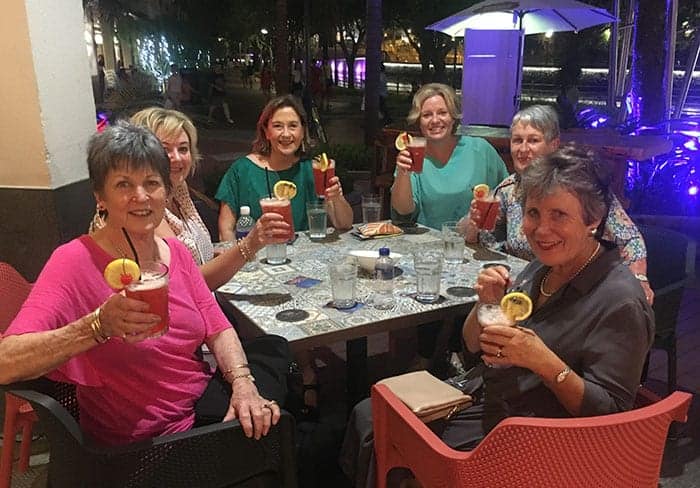 What to do with 1 day in Singapore:
Armed with our passes we met for breakfast in our hotel then assembled to take the Red Route at about 9.30am. Our original plan was to take the bus around the full circuit and then hop off on our second lap.
But pretty soon we decided that some places on the route just looked too cute to wait for, so after enjoying about an hour of being driven around bustling streets of Singapore, listening to the English commentary on our complimentary ear phones, and dropping off people at the Botanic Gardens, we alighted at Arab Street.
Arab Street and Haji Lane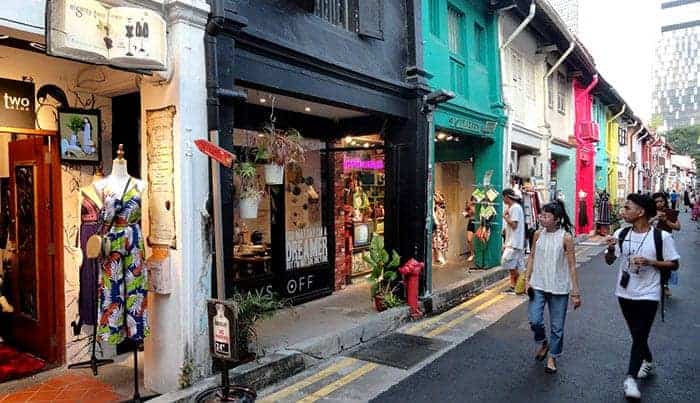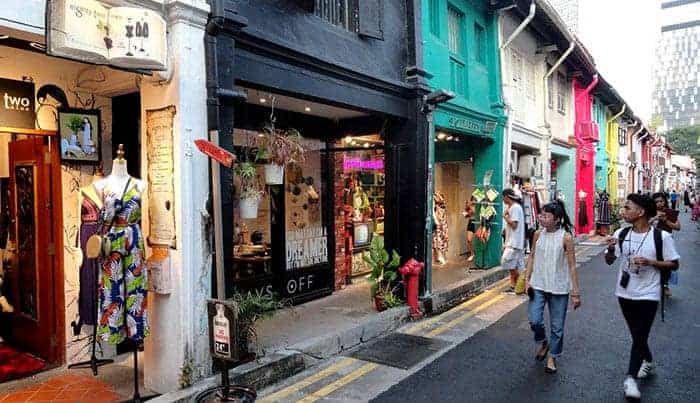 Famous for its colourful wooden houses which are now shops and stand as a reminder of a different past in front of soaring skyscrapers, Arab Street actually includes a couple of streets and lanes lined with shops and restaurants. You'll still find fabric and hand-knotted carpet shops and the restaurants serve delicious Middle Eastern food (try a lemon and mint drink to quench your thirst after a hot few hours strolling around), but you'll also come across hipster boutiques.
This is Singapore's Muslim Quarter and the hero is the 200-year old Masjid Sultan Mosque.
See my post here about staying in the Arab Quarter and enjoying the restaurants of Haji Lane at night >>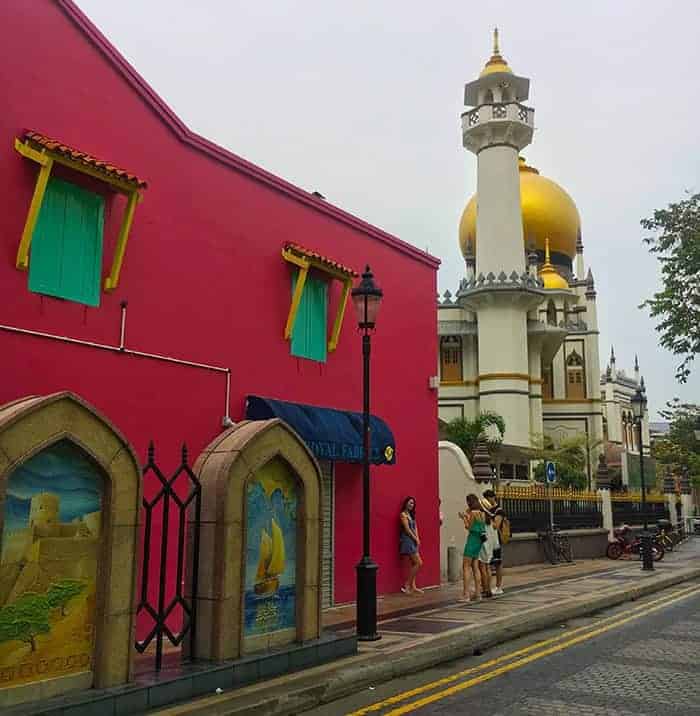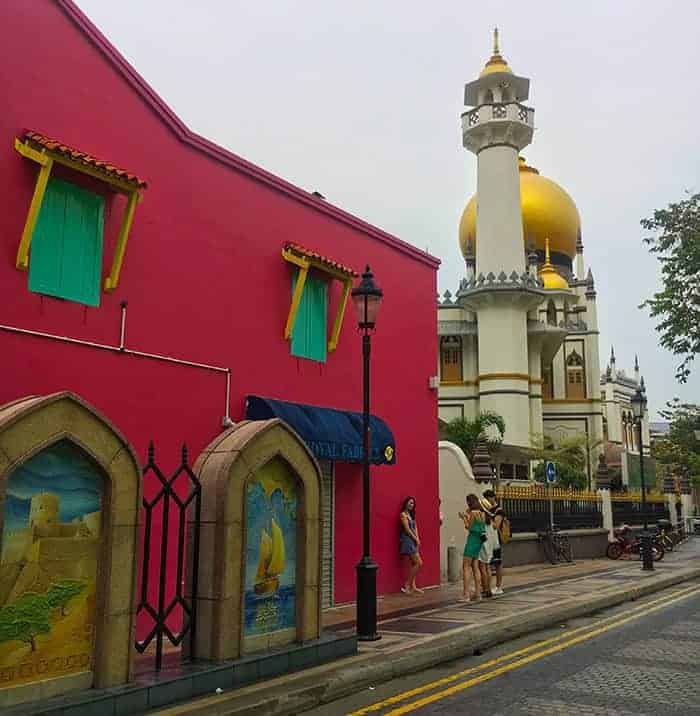 Chinatown Food Street
Back on the bus we hopped and the next stop we decided was lunch in Chinatown. Check your Explorer pass because it's only now that I'm writing up this post and researching the things you can use the pass for that I have seen we could also have used a $5 voucher for food at Chinatown Food Street!
We ate here anyway as it's an exciting street filled with amazing hawker food kiosks selling everything from lobster and Singapore chilli crab to noodles and satay sticks and edged by more restaurants who will try their best to entice you in – but you'll probably just eat the street food at one of the plastic tables outside. It's had a roof added now so no matter the weather you can enjoy a cheap and cheerful meal here.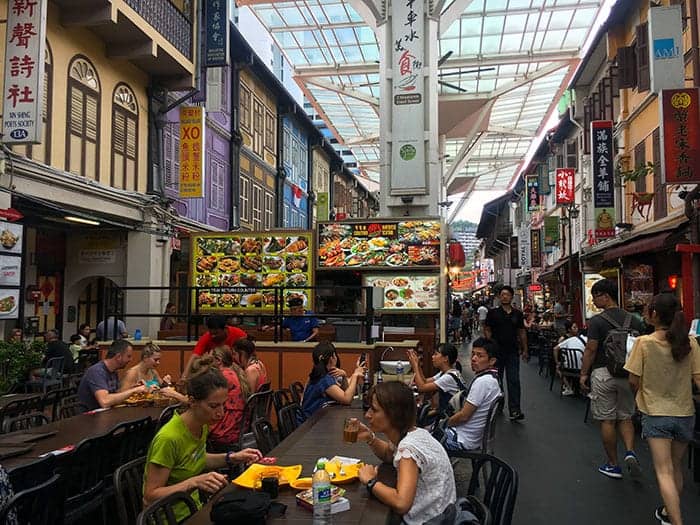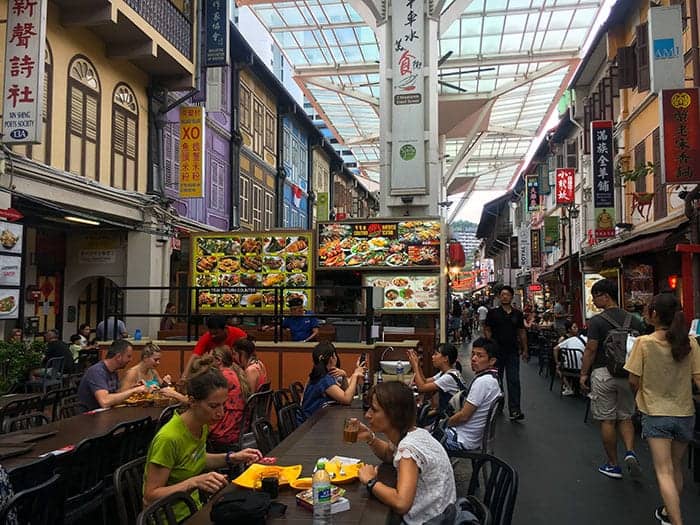 Walk through Marina Bay Sands
We jumped back on the bus and headed for Gardens by the Bay. I've been a couple of times before and I knew the ladies I was with would love it and as admission was included, we hit that next.
We were on the Red Route so that meant the nearest stop to the Gardens was to hop off at Marina Bay Sands – the soaring hotel with the famous pool on the top deck.
It was a great excuse to have a nosey (and a toilet and coffee stop in the monstrous lobby). We didn't go up to the top as you need to book tickets for that if you're not staying here. But the walkway across the busy highway into the Gardens connects to Marina Bay Sands, so we followed directions to the lift (outside the building!) and enjoyed the walk across taking photos along the way.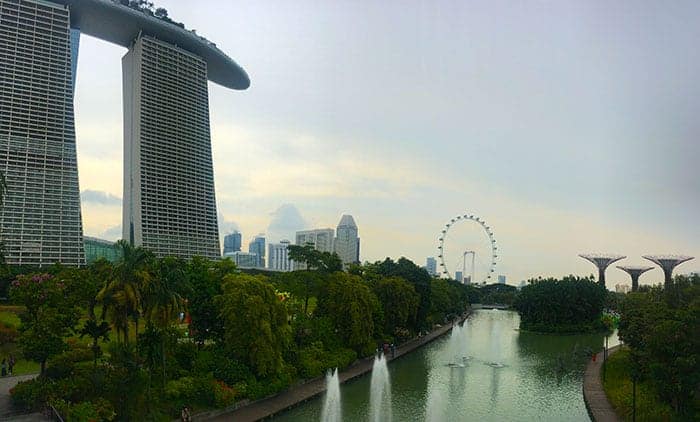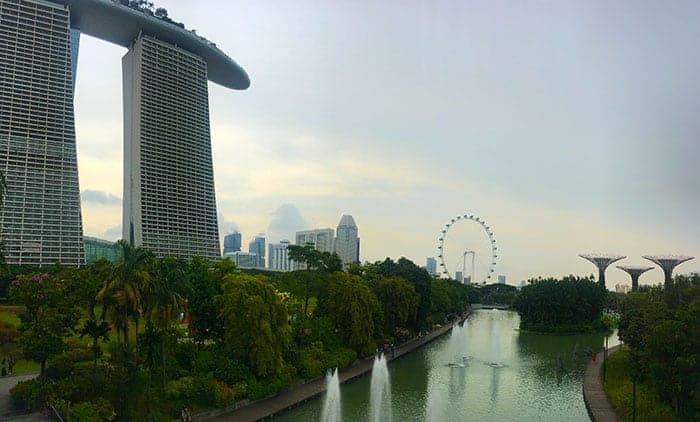 Gardens by the Bay
Our last stop for the day was here at Gardens by the Bay which I think is worth visiting for two things mainly: the Cloud Forest Conservatory and Supertree Grove.
It is actually home to 1,500,000 plants and there is also a Flower Dome with an extensive floral and tree collection and themes running throughout the year, but it's those two attractions that captivated us the most.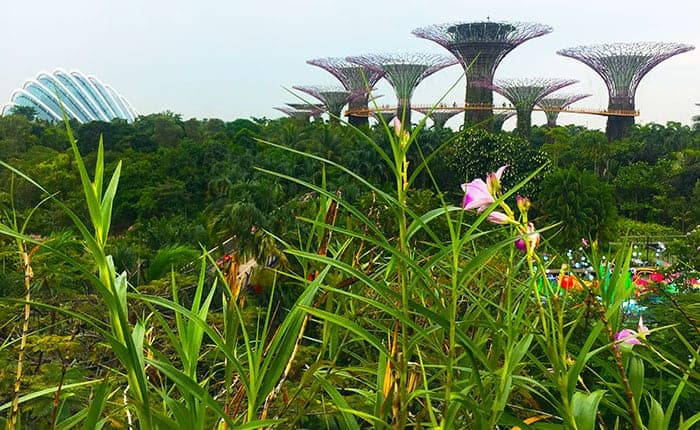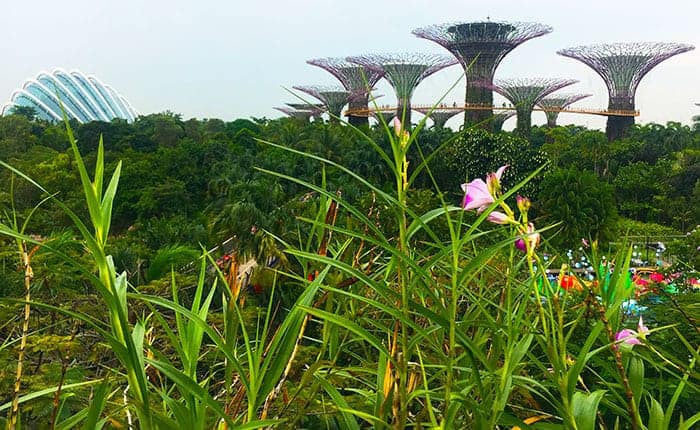 The Cloud Forest is a temperature controlled tropical rain forest inside a glass dome with an elevator in the middle to take you up about four floors and then you walk your way down on the bridges and fill your eyes with the amazing plants, flowers (loads of beautiful orchids), waterfalls, ponds and some clever gadgets like magnifying glasses positioned over teeny tiny flowers. Usual cost is $15 for the two conservatories but included in your pass.
I first visited Supertree Grove soon after it had opened. Twelve huge metal "trees" up to 50m tall with plants embedded in them and a skywalk linking them together. It's free to come and check these out, although you pay extra to climb up and walk the bridge, but just being here and seeing how they're growing is great. And if you're here at dusk the sound and lighting show is wonderful – and all free.
If you're not traveling with Singapore Airlines and don't have the Singapore Explorer Pass, you can buy tickets online for Gardens by the Bay here.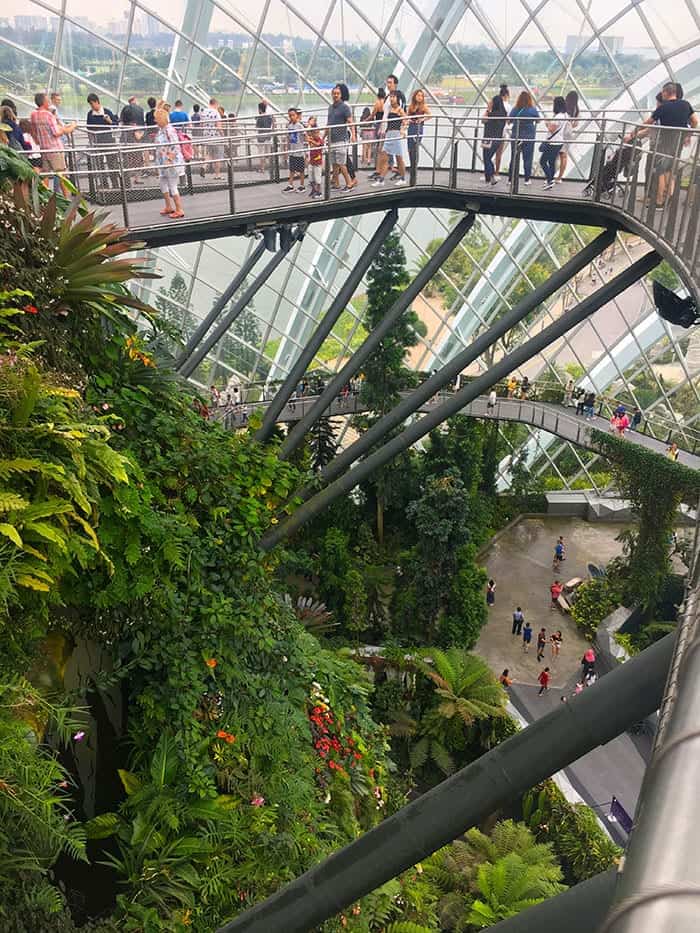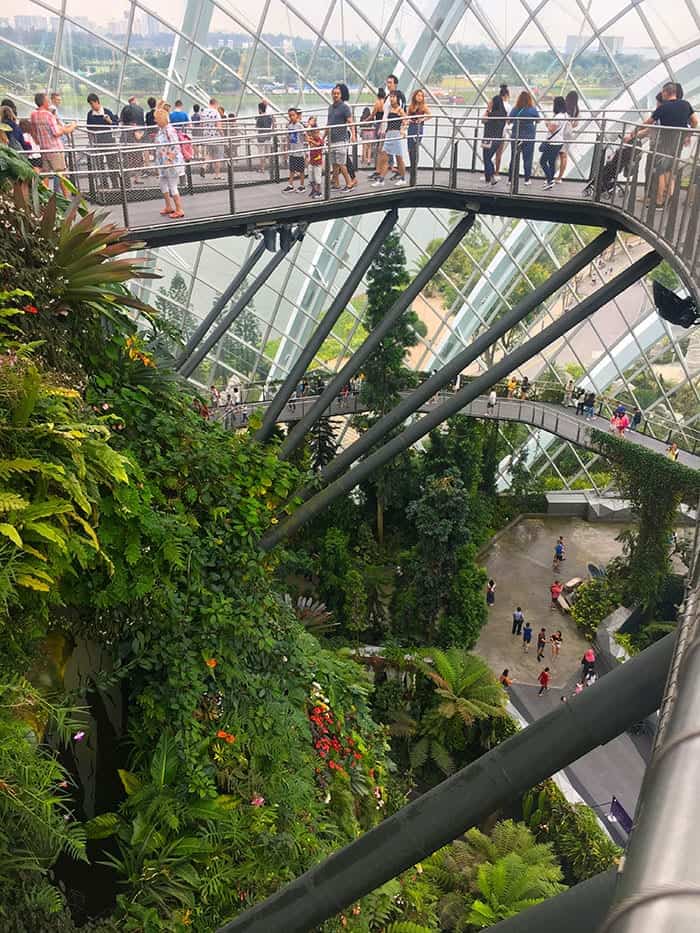 Then we hopped on the bus and got back to the hotel in time to have a quick drink before our 6pm transfer to the airport for our flight to Rome.
_________________________
You can also go out to Sentosa Island and the Hop On Hop Off pass and combine with the Singapore Explorer for admission to some of the theme parks, or perhaps add the zoo, a river cruise and some galleries.
Click here to read more about the Singapore Explorer Pass >> and ask your travel agent about adding this pass to your booking.
You can also check out my Sentosa Resort upgrade from staying at a subpar hotel after a single tweet.