Oh, how we love social media! Look what a tweet did. I suddenly had a Sentosa Resort upgrade!
So there I am in Singapore on my way to London, staying in a very basic hotel near pretty much not much at all. Despite this, I tried to make the most of my stay while I waited for my luxurious Singapore Airlines flight.
The reservation girl was going to give me a single bed, but in the end found a room with 2 beds. Lol, at least one was a double, so I didn't have to fear falling out.
Ugh, my room was just on the cusp of not completely clean (how much do we HATE finding another human being's hair in the bathroom!) and the WiFi was flippin pricey.
A tweet that changed everything
I took to Twitter to vent my frustration as I sucked up the cost and logged on to check email and send a Tweet out to lament my dire circumstances when, who should spot it, but Small Luxury Hotels in Australia.
"Oh, you should be staying at Sentosa Resort", they tweeted back. "Yes I should", I replied quick smart.
Then suddenly, after a couple of emails and a phone call from the swanky resort on Singapore's Sentosa Island, I was packing up my things. I found myself telling the receptionist "something had come up" while jumping in a cab.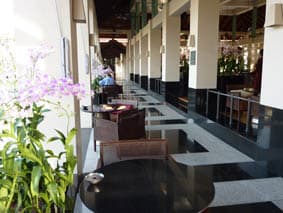 A luxurious Sentosa Resort upgrade
Sentosa Resort & Spa, which is now rebranded as Sofitel Singapore Sentosa Resort & Spa, sprawls over 11 hectares of lushness where peacocks roam the grounds, sometimes wandering past as you sip a drink with an umbrella in or eat your morning buffet waffles.
Cheeky monkeys try and cadge a morsel but are shooed away by attentive staff before you find yourself negotiating over a banana.
It's only ten minutes away from the hustle and bustle of traffic and the endless building works going on over the Bridge. But it's a million miles away in feel, ambience, tranquillity, and poshness.
Dining at The Garden
I had a 3-course lunch at one of their 3 dining spots on the grounds, The Garden. Expect quirky twists on famous Singaporean dishes like Chicken Rice, which is presented in this fancy-pants way with organic chicken and a crisp rice cake.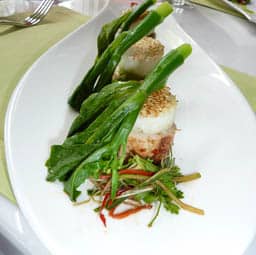 Since we can't buy trout in New Zealand, I had to try the Trout Tartare for the entre – which comes with caviar – and was completely delicious.
Then my host insisted there was room for dessert (I always knew the pudding stomach was separate from the dinner one) and recommended her fave – the organic Soy Milk Pannacotta with fresh raspberries.
A day at the award-winning spa
As I update this post, I'm saddened that the Spa Botanica in Sentosa Resort permanently closed down. But that won't stop me from sharing to you my experiences there. I'm probably one of those people who encountered heaven on earth after spending some time in their spa treatment.
So after heaving myself out of the restaurant, a spa treatment was waiting (oh Twitter how do I love thee? Let me count thy ways…)
I arrived over an hour before my treatment at Spa Botanica and highly recommend coming early – in fact, spend the whole day.
Spa Botanica was an award-winning spa built on a heritage site at a cost of S$10.5 million, the 6000-square-metre facility had 21 treatment rooms, 15 of them indoors. There were 6 outdoor pavilions that come with private gardens and spa baths.
They had two duplicate outdoor garden areas – one exclusively for women as the Middle East market is huge and as they hade a No Men Allowed (unless wearing the full body Burkini) view, there was a second outdoor area for girls.
Both had a pool complete with cascading waterfalls, a meditation labyrinth. It was actually a place with a quiet circular area surrounded by bamboo and with bricks embedded in the grass to walk around in a spiral, then unwind and walk back again.
Mud pool spa and relaxation
But my favourite thing was the Mud Pool. I was told it was geothermal mud from New Zealand!
However, I cannot find any reference online to such a thing. But wherever it comes from, it's basically an enormous cauldron of wet clay that you slather all over your skin then go and lie on a deck chair until your full body-mask hardens.
Then you return to wash it off in a specially designated pool. My skin felt great afterwards!
This was a bit different when I had my mud spa in an Eco Beach in West Australia, where Jodie had to collect them from the nearby mangroves at low tide.
Rotorua: if you're not into this, yet you should be. Singapore is stealing our thunder – and mud!
---
Overall, my trip went from subpar to unforgettable thanks to a single tweet. The luxurious upgrade to the Sentosa Resort & Spa made all the difference.