I am about to embark on an 8-day whirl with Rail Europe from London: Belgium, France and Switzerland. My first stop? A day in Brussels where I explore this vibrant and charming city located in the heart of Belgium.
Eight days in six cities with 12 strangers is probably not the way most tourists would do it, but I'm here to work (ahem).
Photographing millennia-old cities, exploring Europe's best hidden secrets, and experiencing the vast Rail Europe system is a hard job. But never fear, I'm willing to sacrifice myself for the sake of the mighty pen (well actually a keyboard).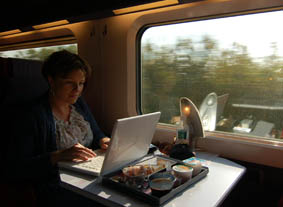 London to Brussels
The Eurostar from London to Brussels took about 2.5 hours, and suddenly we were in the middle of the city. To be honest, the countrysides look pretty much the same… farms, hedges, old homes with thatched roofs.
But as soon as we arrived in Brussels, it was clear that we had left the English countryside behind. The city was alive with activity and bustling with people going about their life. I have to make the most of my day here!
Cobblestoned streets wound their way between beautifully preserved buildings, adorned with ornate ironwork, and colourful shutters. The air was filled with the sweet scent of waffles and chocolate, and the sounds of French and Flemish mingled together in a melodic symphony.
I was excited, and the vibe was telling me that it was a perfect time to spend a day in Brussels.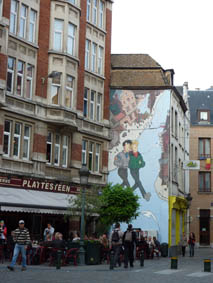 Comic Strip Capital
But did you know Tin Tin and the Smurfs are Belgium's claim to fame? As well as beer. And chocolates, of course. But here in Brussels you'll find huge cartoon murals painted on buildings and walls around the city.
In fact, a cartoon tour of Brussels would be a fab little story idea. I'll bet my dress it's been done before.
With over 650 comic strip authors in the country, Belgium has the highest concentration of such creators in the world. That's why Brussels is rightfully named the comic strip capital.
This fascination with comics can be traced back to the early 20th century, when American comics arrived in Belgium, inspiring several local authors to create their own works.
Discovering Brussels' Murals
The city boasts an impressive collection of over 50 huge murals painted on buildings and walls around the city, making it a popular destination for street art enthusiasts and tourists alike.
The city's love affair with murals began in the 1990s when the authorities decided to commission artists to create murals on the city's empty walls. There are 2 murals added each year, which are created by five different artists.
The result is a vibrant and colourful city, which has a place referred to as the "Comic Strip Route." No superheroes can be found here, but only comic book characters that are lesser-known but equally captivating.
Magritte Museum
I was surprised by Brussels. It was far prettier than I expected. We also toured the newly opened Magritte Museum.
The Magritte Museum is located in the heart of Brussels, just a stone's throw away from the Royal Palace. It was dedicated to the life and work of René Magritte, who was born in Brussels in 1898 and became one of the most important figures in the surrealist movement.

The building itself is a work of art, with a modern glass façade that contrasts with the traditional architecture of the surrounding area. As I entered, I was struck by the open and airy feeling of the space, which seemed to invite me to explore.
During my one-day tour, we had a cute little guide who spoke exotic English and wore mussed up hair who was so enthusiastic I almost wanted to do a Masters on the subject myself. We learned that Magritte pushed the boundaries with his art and did actually become successful before he died. Unlike most famous artists, sadly.
Blogging on the tracks itinerary
The Mannequin Pis
The most famous statue here is this little one called Mannequin Pis. Yes, it is a bronze statue of a kid peeing into the fountain.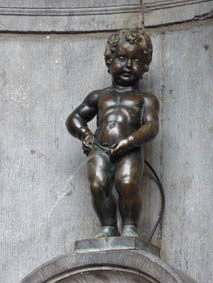 What we weren't expecting amid the melee of tourists photographing the cheeky tyke was the woman who walked up in her trench coat and flashed us all while her male partner took the pics.
So stunned was our little group of journalists that no one took a pic! (Or did they…)