As I embarked on my fifth day of blogging on the tracks, I felt a rush of excitement to explore the stunning landscapes of Switzerland. From the moment we arrived in the picturesque Lake Lucerne to the charming towns of Bellinzona and Locarno, I knew this trip would be an unforgettable experience.
As the train moved through the snow-capped mountains and crystal-clear lakes, I couldn't help but feel mesmerized by the breathtaking scenery. The beautiful architecture of each town we visited only added to the charm of our journey.
So I settled back into my seat, ready to immerse myself in this adventure and explore every new sight and sound that this place had to offer. Join me as we embark on this train journey together, and let's discover the wonders of Bellinzona and Locarno.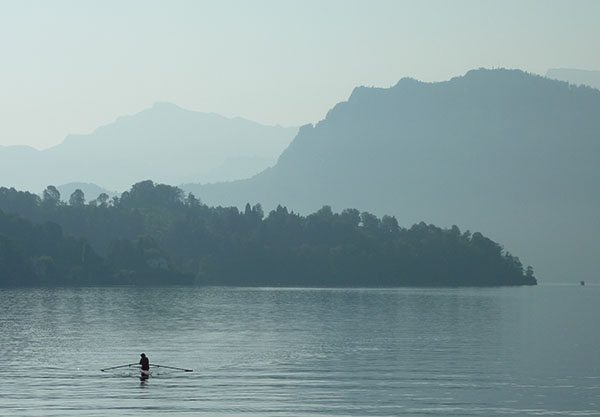 Lake Lucerne
There used to be a ferry operated by Wilhelm Tell Express that plies from Lucerne to Flüelin, but it had been replaced by another company. This is worth mentioning because it led to one of the most unforgettable experiences of my journey, which I'm sharing to you right now.
Our travel to Bellinzona started with a boat trip. The sun smiled down on Lake Lucerne as our party of 12 walked in single file like ducklings with heavy wheelie bags to the boat ramp.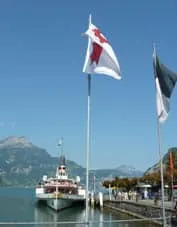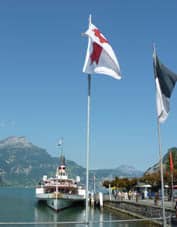 We used our Swiss Pass to take the Wilhelm Tell Express, which we know now as Gotthard Panorama Express since 2017. It'll start with a voyage on a paddle steamer to Flüelin at the southern end of the lake and a panoramic train (with windows curved over the ceiling) to Bellinzona.
The Swiss rail/boat/bus network runs like very efficient clockwork (is that why they're famous for cuckoo clocks?). But when the connection time is only 7 minutes, and you are 5 minutes delayed, it makes for a frantic scurry.
I ran as if vampires were chasing us, my ever-heavier suitcase (day 5 worth of shopping and press releases) slowing me down. But with the strength of a woman whose infant is stuck under a truck, I managed to hoist it up the stairs and onto the next train.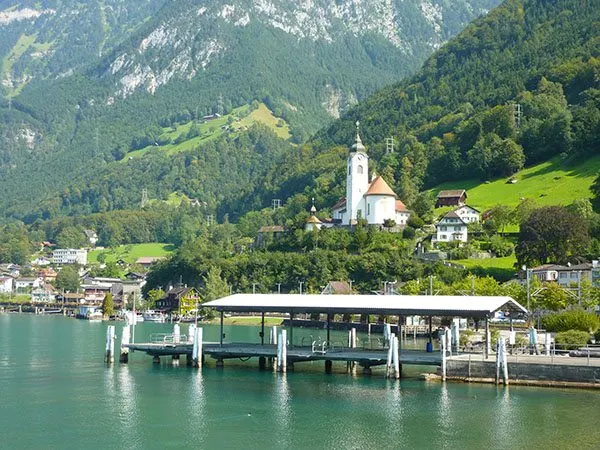 Apparently they would have waited knowing we were scrambling, but fortunately we didn't hold up the train, as 2 Indian couples I later met had a 12-minute connection at the next stop on their overnight to Amsterdam.
Bellinzona
Bellinzona is a charming town renowned for its three stunning castles, recognized as UNESCO World Heritage sites dating back to the 13th century. Besides the castles, the place also boasts delectable local cuisines.
At Bellinzona, an American guide met us in the name of Julie, who fell in love with the place – and a boy – about 17 years ago. She married the latter and her love for this little town famous for three castles and not much else was evident in her tour. (I'm a bit of a sucker for history, castles and canon holes except for the castles fit for a princess.)
I was also quite enamoured by the horse salami sold in the deli, although refrained from purchasing. You can have weddings and events up here at Castelgrande (say that with a heavy Italian accent Castelle Grrrande – this kept us amused for hours) the biggest of the 3 and built around the 13th Century.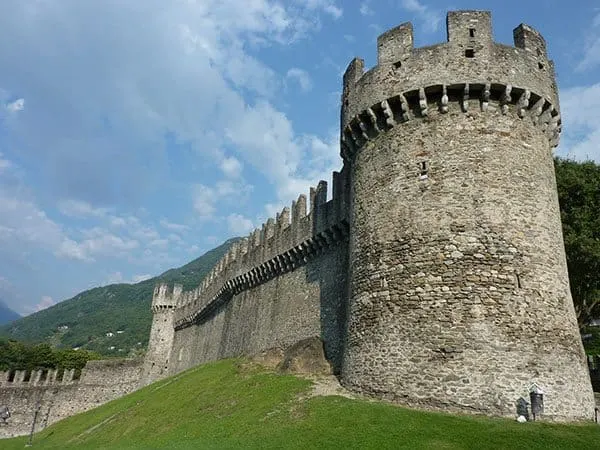 After 3 hours of walking the cobbled backstreets and taking many photos, we boarded the train for the 27-minute journey to Locarno on the Swiss/Italian border of Lake Maggiore.
Locarno
Locarno is most famous for the annual Locarno International Film Festival each August. We had a great (and very hilarious) dinner at Cittadella restaurant after walking up a steep, wonky street high above the town square, which was still packing down after the festival.
I tasted grappa for the first time. Ugghh! All I can say is you need to keep candles well clear of your face when drinking. Not that there was an incident, but you can never be too careful when swilling meths, I always say.
The Hotel Ibis is where we stayed – modern little rooms, opened last July 2009. If you manage to put your laptop or iPhone in the right place you can steal a free WiFi signal from somewhere, otherwise they do have paid WiFi for non tight-wads. It's a good price though and nice and central. I'd recommend it with, mmmm – 7/10?
Blogging on the tracks itinerary