Sadly this campaign has now ended.
______________________
If you are heading away on holiday or perhaps you just fancy heading away on holiday, I have an amazing offer to make it even easier…
I'm so excited to be able to partner with huge worldwide accommodation booking site Booking.com to offer you NZ$40 (€25/US$25) off your next booking ANYWHERE in the world for bookings over NZ$80!
I'm already a fan of Booking.com and use it to browse and book properties all the time, after all they have 1.2 million accommodations so you name it and they'll have it.
So you can imagine how my eyes lit up when they called and said, "we're running a campaign and want to offer your readers a discount, you want in?" They'd barely finished speaking before I shouted YES, and here we are.
All you do is jump into their website using my unique link (below) and if you spend over NZ$80 you'll get a discount of NZ$40 (which equates to about €25, or the local equivalent in your currency) which will be credited back to your card after you've stayed and boom, you're away laughing!
Here is a pic of what you should see on your screen so you know the link is working…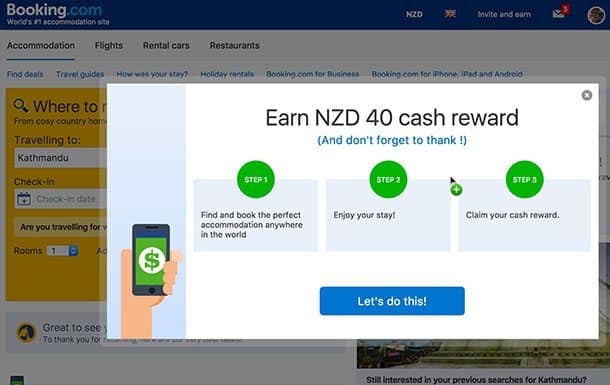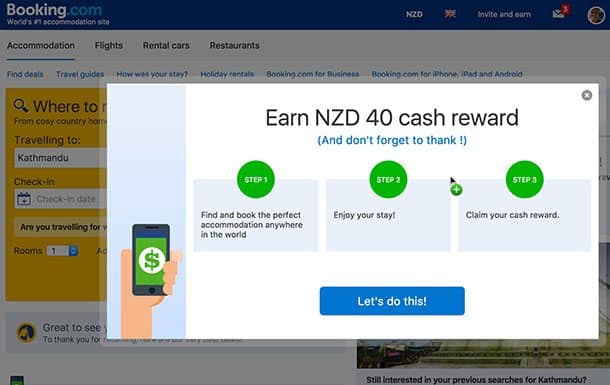 Note: after you have stayed, you will get an email from Booking explaining how to receive your refund onto your credit card.
Also note: you can only use this link once. If you've used my unique link ID before you won't see the above box.
#SponsoredSaveSave