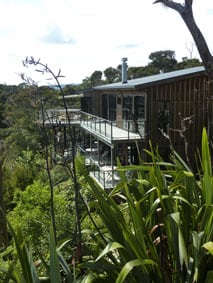 We were lucky to get in for a night at The Sanctuary at Bay of Islands (formerly known as Bay of Islands Lodge) and only managed thanks to a sudden cancellation.
Situated on State Highway 11, Port Opua, this fancy 5-star lodge clings to a cliff at Paihia and has stunning views over native bush to the Veronica Channel. (I have no idea who Veronica is either. Do feel free to enlighten us, oh Trivial Pursuit winners.)
Owner and master chef Peter Meier came over from the Hunter Valley, where he had been the legendary award-winning chef at Casuarina, and built this two-storey lodge in 2005. Over there he was known as the Flambe King and would cook your meal right at the table!
These days it's a little more relaxed. More about mixing with other guests who are staying in the four guest rooms with an infinity pool that drops off into the ocean views.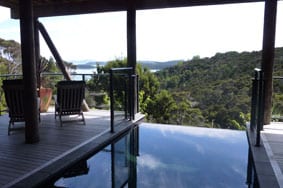 Wine/ food/ lifestyle/ travel are what Peter (originally from Germany) and his Kiwi wife Glennis are all about. They don't actually live on the premises but must keep very long hours waiting on those who do.
They were here to serve a continental and cooked breakfast this morning on the veranda and right through the day for those of us who'd booked in for dinner.
When we arrived at The Sanctuary at Bay of Islands (after a quick squiz at Waitangi and a perusal through Paihia) Peter was in the kitchen preparing the evening's hors d'oeuvres. These are served with complimentary wine at happy hour which is the opportunity to meet fellow guests and pick their brains about New Zealand.
Memorable dining experience
Dinner is served at one big table and the food is placed in the middle family style to help yourself. Asking for the seared beef from the guy across from you is a natty way to break the ice – or any ice that hadn't already been broken over a drop of local sauv.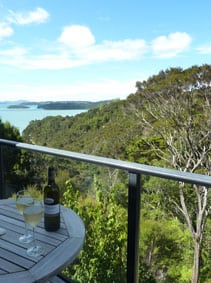 Their wines are "middle of the road", as Peter described them – in other words, affordable so he keeps it flowing all night at no extra charge. In fact, when we arrived Peter delivered a bottle of Stoneleigh Pinot Gris to our room, which we sipped overlooking views to Russell and twirling in circles to take it all in.
Peter doesn't cook every night, so when he doesn't, he sends guests to the local cruising club for a cheap and cheerful meal in nearby Opua. But tonight he was cooking. Four courses of simple, local fare.
We started with scallops served in a scallop shell, old-fashioned style, sitting on a leek and potato mash with butter and wine sauce, followed by seared beef and stir-fried veges placed on two large platters for the seven of us.
I thought we were done and had luckily kept a room in my pudding stomach when out came seared salmon on saffron risotto with bok choy and hollandaise sauce. It was too delicious to resist so I made a solid attempt.
Aah, but as we all know, the pudding stomach stays well away from savoury repleteness so I was able to gobble down most of my vanilla bean pannacotta on a strawberry and passionfruit coulis.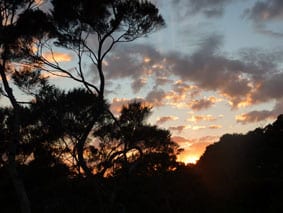 Stunning views and a spirited atmosphere
And just when the conversation was getting louder, the meal nicely sitting in our bellies and firm friendships forged (at least for the evening) out came a bottle of Kirschwasser. This is supposed to be a German digestive, Peter assured me. Yeah right! It was like methylated spirits and he was in grave danger of undoing all his good work behind the stove, to my mind.
Yep, it's an idyllic spot up here. The Sanctuary at Bay of Islands is positioned for the sunrise while native birds gaily do their thing in the bush below. Touristy Paihia is just a five-minute drive down the road and quaint Russell is a short ferry ride across the bay.
And Peter's quite happy for his guests to hang out in the main kitchen/dining room and watch him cook, "as long at they don't annoy me," he said with a grin. Having said that, the wry German will be running cooking classes during the winter for guests and I can only imagine what will happen when the Kirschwasser comes out of an evening…