Since Covid, campervanning in New Zealand has taken off in the domestic market as Kiwis explore their country like never before!
I've rented a camper van twice in New Zealand now and wrote this post after spending five days in a 4-berth Maui camper van in Central Otago, exploring Queenstown to Wanaka and following my nose with no (or very few) fixed plans.
Below you will find some important and handy tips for what to know before you go campervanning in New Zealand.
I've also created a Kiwiana crossword (below) so you can have a bit of fun on your roadie!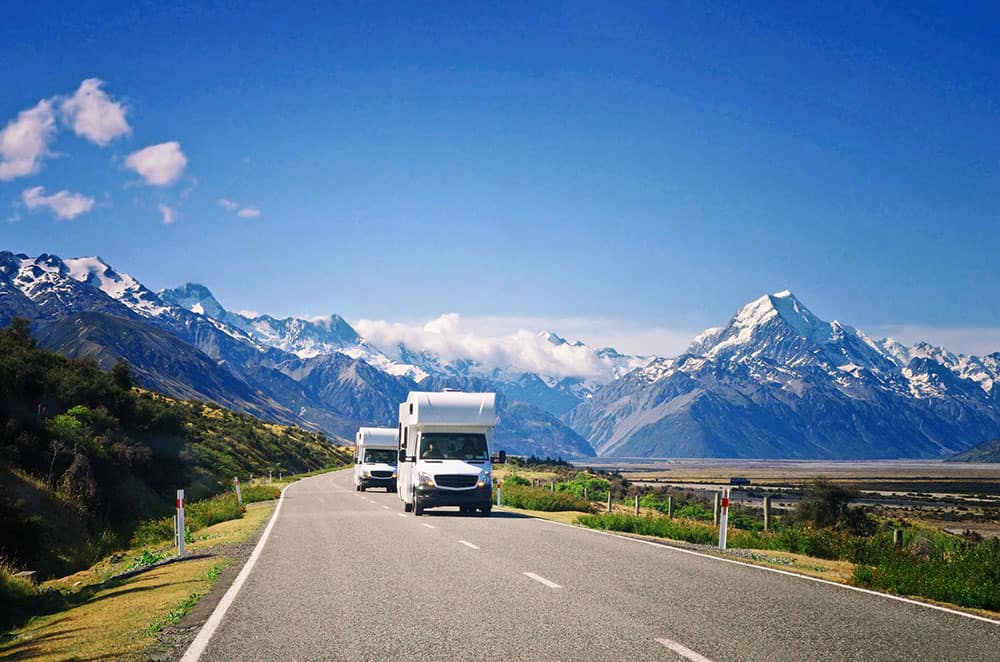 It's the tail end of Autumn (May) here in New Zealand, as I write, and pinot noir country was holding on to its canopy of its yellows, reds and golds and grape vines were turning from green to dusk to begin their winter cycle. Leaves fluttered to the ground as we drove through and the late afternoon sun made the scene look like a movie set.
This is quite possibly the best time of year to be tootling around these southern New Zealand parts in your mobile tiny house with the wind in your hair. Well, it would be if I had the windows down. Which I didn't.
You might also like to read my New Zealand itinerary if you are planning a self-drive holiday in New Zealand as I've broken the country into its regions with suggestions for how long to spend in each place (or miss out) and a couple of highlights in each.
Essential campervan tips for New Zealand
In this post I'll talk about tips for what to take in your camper van, what to leave behind and things to know about driving on the left, parking your big beast, where you can stay, as well as sleeping in your motor home.
The first time I hired a motorhome I was with my cousin Kate and we were planning a road trip from Auckland to Hawkes Bay, via Mt Maunganui and Rotorua.
We picked up our 4-berth camper van from the depot in Auckland and after a quick once-over from the boss lady learning how everything worked, we loaded in our suitcases and hit the road. She's big machine but she's not actually hard to drive once you get your eye in.
First tip: stow your luggage well. I braked heavily at one point and we could hear our suitcases coming before we saw them as they scooted down the aisle and ended up between us in our comfortable (lounge chair) driving seats. Oh how we laughed! Kate leapt up and put them on the seats rather than under the table so they would not do that again.
In hindsight, packing into a couple of smaller, soft suitcases would have been better. And we also should have unpacked into the storage cupboards.
If you have large luggage, packing cubes are an essential must-have. That way you can place them into the smaller locker spaces and keep all your clothes and essentials easily accessible. (You can buy them separately from my online Travel Store).
Tips to know before you go campervan driving in NZ
What is a campervan like to drive?
While the 6-berth motor homes are huge (7.2m long), the automatic transmission makes them easy to drive.
Just be aware of your overhead height when it comes to parking under trees! (Oops – that scraping sound). You don't need a special licence to drive it, just your regular car licence, but you are only allowed to go 90kph on the 100kph roads – like trucks are also meant to.
Tip: keep an eye on the traffic behind you and pull over to let cars pass as you can.
Stow your luggage!
Our little story above illustrates this point. There were only two of us in our 4-berth van which meant we had plenty of room, but if you're more than two people, pack your luggage in small cabin-size bags or squishy bags so you can unpack into the cupboards around the sides and stow your bags under the seats.
Make sure you stow other things like coffee cups (we just put some things like this in the sink). The toilet area makes for a handy little stow away compartment too for bulky suitcases – especially if you are trying not to use it (more on that below!)
What are campervan beds like to sleep on?
If you have as much room as we did (a 4-berth van for 2 people) you'll find it very comfortable. There are likely to be two double size beds (one above the cab and one when you lower the dining table). Your linens are provided which includes sheets, blankets, duvets and pillows so you don't need to pack those.
When my husband and I went campervanning we used both duvets on the one bed as it was wintery and chilly, so a tip if you're campervanning in winter would be to bring sleeping bags too if you want to be able to throw them over the top and to snuggle into of an evening at your table playing cards with a wine.
Will I get cold in winter?
Anyone who knows me will know I can't stand to be cold. No skiing for me! So I was quite worried that our Autumn/Winter camper van trip in Central Otago would be too cold for me…
Here's a tip: stay in a camp site where you can hook up to power and you can run the little heater (that should be provided) all night if you need to. Some travellers recommend taking a fan heater with you in case one isn't provided (check this when you book). Some also use a diesel heater when they have no power supply.
What about campervan toilets?
I tried to make a rule that we would not use the toilet. Not ever. But nature doesn't work that way, so of course I drew the short straw and was responsible for emptying the cassette. You won't need to do this every day – and it depends on how often you use it.
We'd had a demonstration before we pulled out of Maui in Queenstown on how to empty the toilet cassette, but I did need to re-read my instructions on that final, fateful day.
You can only empty your "black water" in a designated dump station which are located at camper van parks.
We had used our loo sparingly in five days so it only needed emptying the morning of our departure.
I'm not going to lie, it stunk! I'd suggest you empty it every 3rd day and add the little blue disinfectant powder they give you for down the loo regularly to keep it fresh.
What is showering like in a campervan?
I only used our onboard shower once because we stayed three nights in a holiday park and used their facilities for more space and less mess. But the bathroom is really very clever with a basin that folds open over the toilet seat and a shower head that serves as the basin tap when you position it low on the pole or fold the basin back up and raise it up to shower height.
Just make sure you turn your gas bottle on at least 20 minutes before you want hot water – I didn't wait that long!
Where can you stay with a campervan in New Zealand?
Free camping is not allowed in Queenstown or Wanaka or indeed within 10km of residential areas. That's not to say you can't park by a stunning lake and tuck down, but just look for signs that might say No Freedom Camping. The reason for this is that too many tourists abuse the natural environment by doing their bathroom business outside.
We stayed in a Top 10 Holiday Park for $52 per night for the two of us which gave us power to hook up to (you'll need this if you want a heater on and to run the lights from the mains not your battery).
The one in Queenstown had undergone upgrades on the bathroom facilities and they're great. Just remember take your own towel, soap (they don't provide soap) and your toiletries lest you have to run back to your van semi-clad.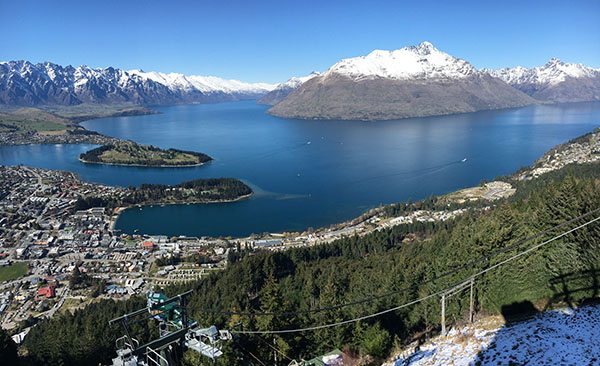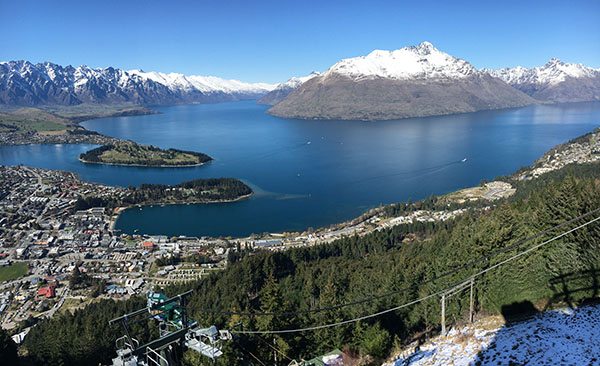 How to find campervan sites in New Zealand
Visit freedomcamping.org for all the info you need on finding a place to park, including apps you can download to locate a place while you're on the road.
Do my Kiwiana crossword!