Hawkes Bay is my childhood stomping ground, and Havelock North is a little village that punches above its weight for eating, drinking and being generally merry.
Here's my list of places for great Havelock North restaurants that I try and get to each time I visit, which is about 3 or 4 times a year:
Piku Japanese restaurant and cocktail bar
There's a new complex housing two restaurants and a cafe at 15 Joll Road and it's quite the attraction! I went two nights in a row on my last visit and tried Japanese restaurant Piku. It moved from its former location in the Red Barrel down by Black Barn into the village and I only just discovered it.
There are two areas, inside (bookings are advised) or outside where you order at the cocktail bar, but the menu is the same.
We nabbed a table outside (Havelock North was busy thanks to Elton John being at the Mission) and started with salty, tasty edamame (soy) beans and a glass of wine. All their plates are designed for sharing, so we went for the tempura chicken (like karaage) with a side of blue cheese dip and a side of hot chilli (which wasn't too hot at all – in small doses!)
Then we loved the slow cooked beef cheek on a miso kumara mash. Devine! We looked at the dessert menu, but decided that was enough. Totally recommend Piku 😀
This place is great summer or winter with outdoor seating and bean bags on the slither of lawn road side, or a thick velvet curtain to make it cosy when the overhead heaters are on. They also have inside seating and it's a rustic kind of restaurant that I just love.
They specialise in small plates. Try the crispy bites of pork belly on fennel and apple slaw, get the Southern style chicken pieces with watermelon. We love the prawns with coconut and chilli, and they usually have a lamb that I hope everyone wants to tuck into. Of course you order any dish just for yourself!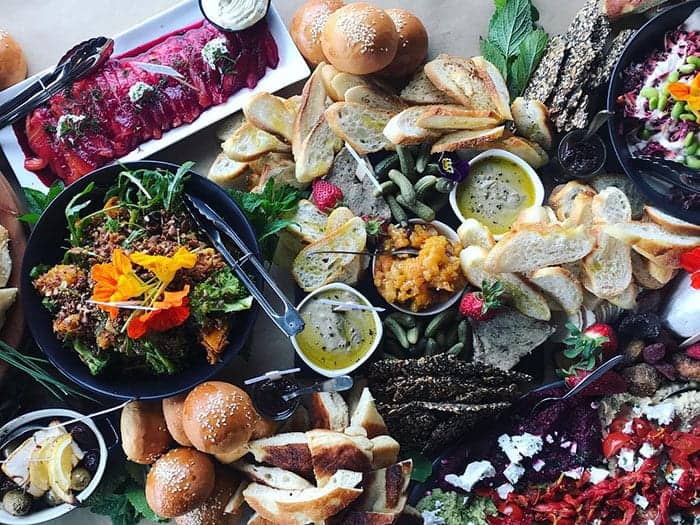 Coffee at Wright & Co
I like Wright and Co, up Joll Road, for a morning flat white and brunch. This is my new go-to and that of my family who live in Havers too. A busy and bustling meeting place for friends and family. Oh and they forgot our coffees last time I was there and offered me a full refund with apologies. That was unexpected and says a lot about them too.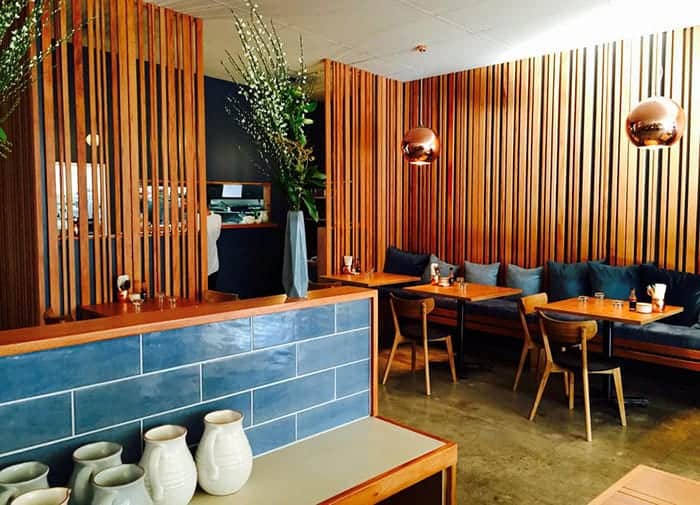 This bright pink building is hard to miss on Joll Road, but whatever you do, don't miss it. It's open from 4pm till 10pm every night and is the closest thing to a real fair dinkum Italian experience you'll find in these parts. You help yourself to beer and soft drinks from the old fashioned fridge and they just add up the empties.
Their meatballs on pasta is sweetly delicious and the pizzas generous in size. They also have a truck (below) and if you follow them on Facebook you'll find where they'll be to go and grab one on the run.
If you can't get into Pipi, or you don't fancy the loud buzz that comes with this energetic place, Alessandro's Pizzeria has moved from just down Havelock Road, to the new complex with Piku (opposite Pipi).
The old place only had about six or eight tables. This one is twice the size – but with that comes twice the work, said the owner as we were paying to go. It was a bit of an undiscovered gem in the old location, but now it's buzzing with indoor and outdoor seating blending into Piku's outdoor seating.
They make a Neapolitan style pizza from Naples with a sourdough pizza base and pop them in the wood fire for 60-90 seconds and serve it hot. They can do gluten free pizza too. You'll also find a page of pasta dishes, like lasagne and meatballs, but it's the pizza everyone comes for.
Pronounced May + Low (after the two guys who built it), this restaurant has opened in the new Porters Hotel in the heart of Havelock North (once the Happy Tav for you former locals!).
It's got a reputation for being fancy, so with my husband's 50th to celebrate we decided that was fancy enough. I have to say, I think my meal was the dish of the night. Pan fried snapper with sweet corn, roasted almonds and then they poured over a crab sauce. OMG! ($34) A few at our table had the sirloin which was beef cooked two ways including a couple of rare slices and a slow cooked style which was also raved about. The wine list starts at about $45 per bottle and you'll get a Hawkes Bay red from $46 to $250.
This kid on the block just arrived late 2013 and my family waited for a table in the busy throng to wrap our laughing gear around their delicious small plates.
You won't find piles of nachos, but the ribs, fresh cerviche, pulled pork tacos and other little plates of spicy delights have made this my new fave in Havers. Prices are small too – we ordered two plates each and with a jug of sangria and other drinks for those weren't persuaded by the chilled red wine, we were out spending $35 each.
If you love a good Indian, this restaurant just beside Wright & Co is great. It's open 7 days and I've added it to this list after eating here when I last visited with my family. As is usual for Indian restaurants, we shared several dishes and polished each one off!
Update: the next time I came down we got takeaways from here. Yum!

This vineyard on the slopes of Te Mata Peak has a fine dining restaurant and a number of really great events including open air cinema in the summer in their amphitheatre where you can take a picnic and drink their award-winning wines in a civilised manner whilst nibbling on your chicken wings and coronation salad, but it's the Grower's Market which runs on Saturday mornings from 9am-12moon through summer that is worth going to sample at.
It's set out in a circle under the giant plane trees with canvas awnings – kinda like an olde worlde market. All you need is a chook running round as you browse the locally produced oils, relishes, veges and wine with a hot espresso.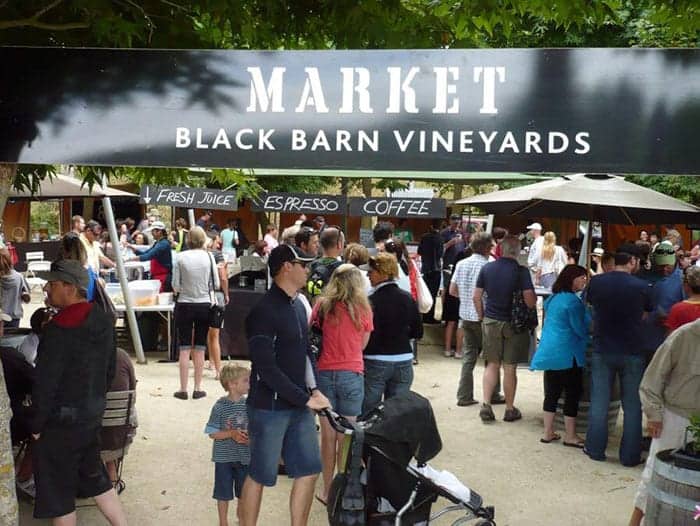 Jacksons is an institution in Havelock North! It's not exactly a restaurant, but it's been here 30 years and is the first place my cousin visits when she comes from Australia to see family – and get a mock-cream donut, and their meatballs are the stuff of legend. At $3.40 a pop, they'll set you back if you need more than a couple, but take it from me – they are worth it!
The award-winning cafe itself is very tired looking and the front facade is in desperate need of a lick of paint, but don't let appearances deceive you!
For more info on Havelock North, click onto www.villageinfo.co.nz.