Nashville surprised me! In a good way, I have to say.
I found so many cool things to do in Nashville, so I've listed my favourites in this post.
We arrived (bleary eyed having flown from Hawaii via Los Angeles – hubby, mum, dad and me) and having not done a heck of a lot of reading or Googling about Nashville so my expectations were quite low, except that I wanted to go to the honky tonk bars. Boy, was I in for a pleasant surprise.
Music City USA was a surprise and a delight!
How to get around Nashville
You don't need a car in Nashville if you just want to hit the hot spots of Downtown, Midtown, the Country Music Hall of Fame, Johnny Cash Museum and the bars. Most of it is walkable and cabs are cheap.
But I'm traveling with my parents and husband, so we picked up our Chevrolet 7-seater van from Avis at the airport and began what we have dubbed our Music Road Trip from Nashville to Memphis and ending in New Orleans for a family reunion with my brother, sister-in-law and niece from the Cayman Islands.
If you don't have a car, one of my favourite things to do in a new city is to get a Hop On Hop Off bus pass (ideally for 2 days) and use that as my "Uber".
Where to stay in Nashville
We stayed at the Loews Vanderbilt Hotel in Midtown for two nights.
It's opposite Vanderbilt University which was alive with baseball fans attending a game. A gas fire behind glass in the outside wall of the hotel is a great look (one for Pinterest) as we pulled in and had the car valet parked for $30 per day. It would have been $26 if we'd parked it ourselves.
The hotel has cool touches of the vintage Nashville music scene blended with a contemporary design using dark wood and natural fibres and colours. I love the back wall in the lobby lounge which from a distance shows the face of an old country singer made up of thousands of photos of other musicians.
But next time I would stay within walking distance of more of the downtown highlights, especially Honky Tonk Row!
Hotels are more expensive downtown but I recommend you have a look at:
Hyatt Place Nashville Downtown
Things to do in Nashville
Honky Tonk Row
If you love your live music this is where you'll want to be.
We grabbed an Uber and for about $8 from Midtown we headed straight down the road into the honky tonk bar district of Downtown. Bar hopping along here, stopping for a drink where the music lures you, is a great place for a night (or afternoon) out.
All the great musicians got their starts along here in the Tennessee state capital, and you'll find everything from contemporary country music to Elvis Presley and Johnny Cash covers being played by local artists at the Legends bar.
The highlight for me was the Big Bang piano bar with two grand pianos and a team of incredibly talented young guys in T-shirts and jeans taking requests and belting out Bohemian Rhapsody or Piano Man like I would play chop sticks. Brilliantly, I might add.
Johnny Cash Museum
The Johnny Cash Museum opened the day before we arrived and people were lined up around the block. Fortunately it was quiet the next day when we went, entering through the gift shop and scooping up a couple of items like a limited edition poster and a T-shirt.
You'll see Johnny Cash's stage outfits here and that of his wife June Carter Cash and the Carter family. Dining room bits and bobs from their home are on display, love letters from Johnny to June and a huge collection of his gold and platinum records. The staff even dress like Johnny in black shirts and bryl'd black hair.
Country Music Hall of Fame
The Country Music Hall of Fame is probably what Nashville is most known for.
Housed in one of the most impressive buildings I've seen, it's three floors of the history of country music, featuring display cases filled with memorabilia including Elvis's pimped up car that he drove here to donate. He has a TV in the back with what looks like a coathanger for an aerial.
You'll get an audio handset to take yourself on a tour which is well worth doing.
Get your Country Music Hall of Fame tickets online.
RCA Studio B Tour is a must!
But Studio B is a must-do to add to your Country Music Hall of Fame ticket. I wouldn't have done this if I hadn't bumped into the Nashville Tourism girl at Johnny Cash who said we must. It was an absolute highlight.
I can now say I have sat at the original Steinway grand piano that Elvis cut 250 of his songs at and jammed on with his band. Yes, me.
This is the same piano that all the greats from Roy Orbison to Charlie Pride to Dolly Parton have used. It is still used for recording sessions today and tuned every Friday, in the room that is just the way it was back in the day of the king.
Rugs are still rolled out on the floor for the accoustics and coloured lighting helps set the mood for any diva.
You'll be taken on a little tour complete with recording artists voicing and singing their hits and end in the recording studio above. Note the red light bulbs? Elvis insisted on recording Love Me Tender with only red lights to set the mood!
Get your combo Studio B Tour plus Country Music Hall of Fame ticket online here.
Ryman Auditorium
Ryman Auditorium (the original Grand Ole Opry House) is another iconic music venue located downtown. We were in town for only two nights and it was mid-week, so there weren't any live events on while we were in town, but you can
This National Historic Landmark is worth poking your head inside, just to feel the vibe of the 1940s though 70s music scene that was born here and influenced generations of country music artists and fans.
Its history actually began in 1892 when it was constructed by Thomas Ryman as the Union Gospel Tabernacle until 1943, to hold large scale Christian revival meetings. Today the 2,362-seater auditorium still plays host to international artists like Vince Gill, Men at Work, Chris Izaak, Lyle Lovett, Blondie, Crowded House (all of these bands are playing soon at the time of writing this post), as well as new and up-and-coming performers.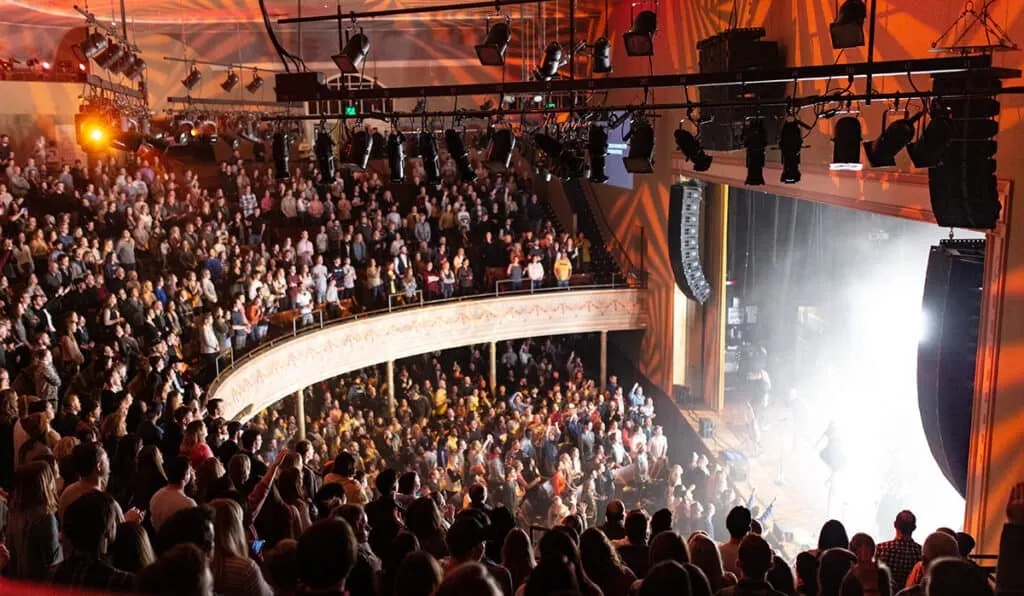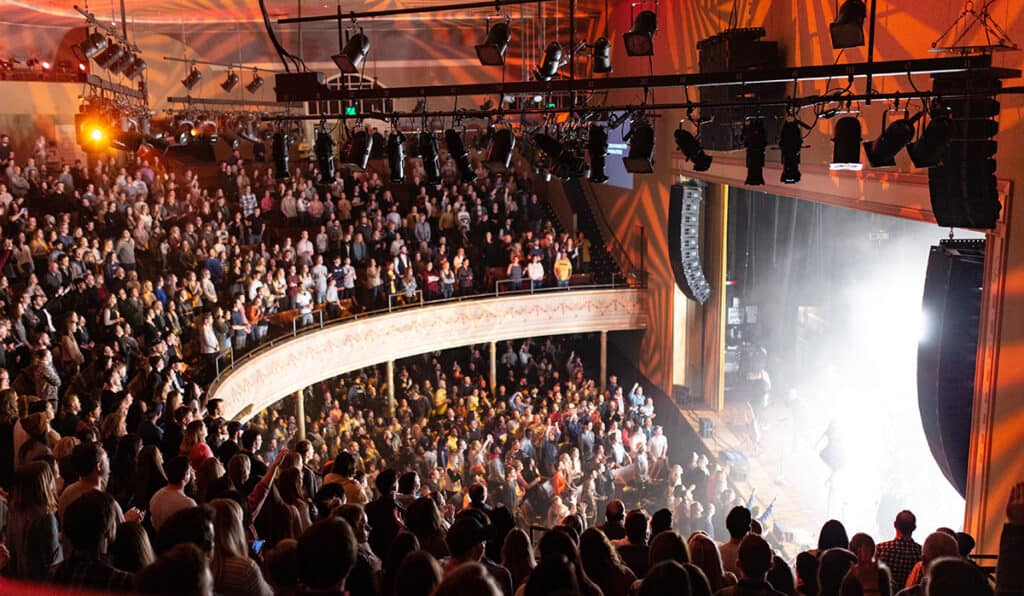 Grand Ole Opry
The most famous of music venues for Country musicians, the Grand Ole Opry started out a music radio station that drew crowds of music fans to watch the show. It became so popular, they moved into ever larger buildings and since 1974 has been located around the river in Music Valley.
The 4,372-seater auditorium has cushioned church-like pews with performances every night from Tuesday to Saturday, featuring new artists as well as the greats. Every country musician worth their salt has played at the Opry!
You can also take a backstage tour and hear the stories about country music and the history of the Opry – and even step on the stage.
Get your Grand Ole Opry show tickets online now.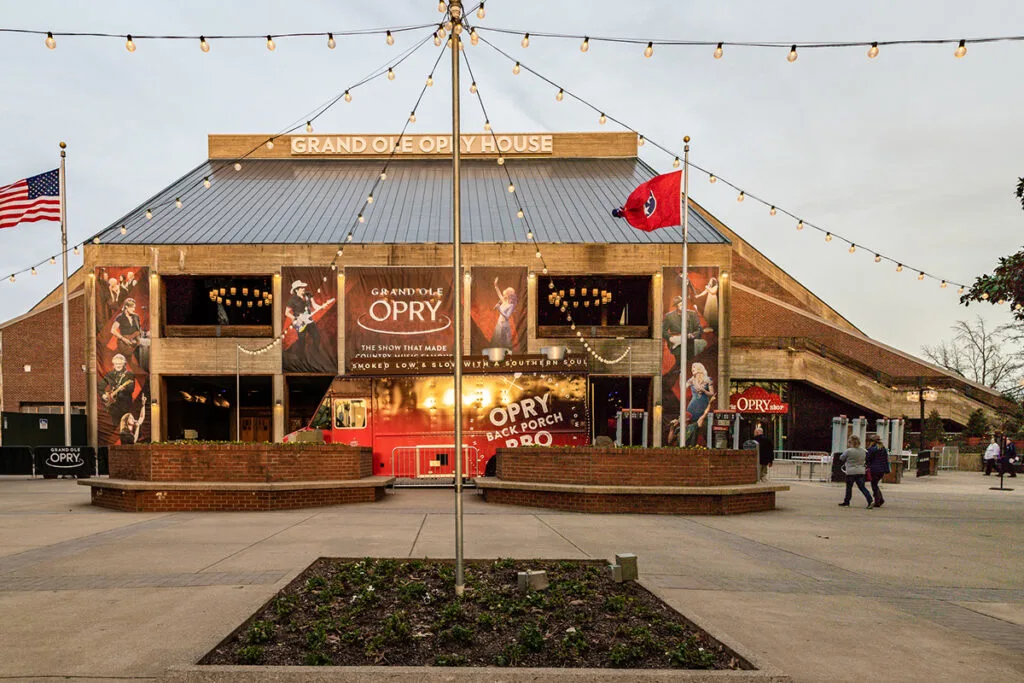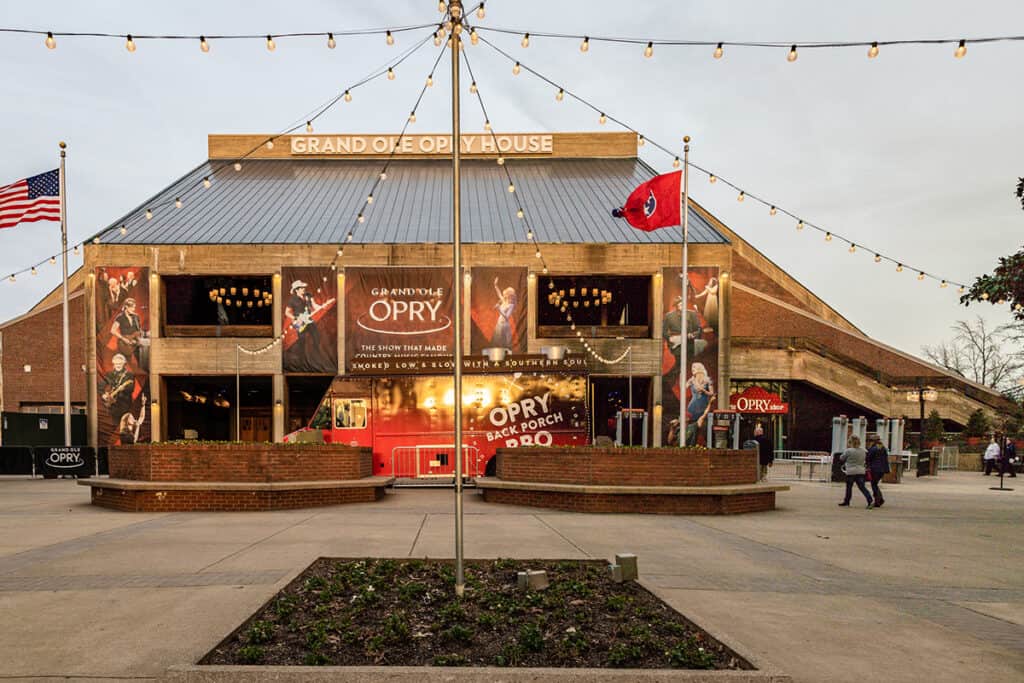 Ride a beer tour bike!
The first time I saw one of these group pedal carts I laughed so hard I could barely get my camera out in time. Think several of your friends, all sitting facing inwards along a bar pedalling like crazy, with a sober driver/steerer (who you hire with the bike) guiding you around downtown Nashville. Totally hilarious!
There are a few companies you can rent one of these pedal cars from including Pedal Tavern and the Nashville Bike Bar. You won't actually be served drinks on this tour, you BYO. You also can only bring under 7.9% alcohol – no wine or champagne. Music and ice is what you get!
Centennial Park
Located in Midtown, about two miles west of downtown Nashville, Centennial Park is a huge 132-acre park featuring the iconic Parthenon, the Centennial Art Center, a sunken garden, a one-mile walking trail, monuments and a band shell where live events are held.
The Parthenon here in Nashville is a full scale replica of the Greek Parthenon (built 447 BC, that is!). This one is over 100 years old though, it was built in 1897 as part of the Tennessee Centennial Exposition.
Nashville Zoo
Get your skip the line Nashville Zoo tickets online.
Belle Meade Plantation
Cheekwood Estate
Catch a game!
See the Nashville Predators hockey team at their home stadium, Bridgestone Arena. Located downtown right on Honky Tonk Highway and near the Country Music Hall of Fame and the Ryman Auditorium, it's an easy walk from your downtown hotel.
Or the Tennessee Titans NFL team who play their home games at Nissan Stadium, just across the river from the downtown Arts District.
If you plan on doing a few of these attractions, you will get better value for money with a Nashville Top Attractions City Pass. Check out what's included and see if it's right for you.
Where to eat in Nashville
If you're after an authentic Southern breakfast, drive about 25 minutes out of town to Loveless Cafe.
They smoke their ham and bacon out here in a smoke house next to the country-style cafe that serves biscuits (which look and taste like scones) and grits (a savoury porridgy dish oomphed up with butter and spices).
The Tavern in Midtown is a great spot for dinner – and one of the barmen was a kiwi. Say hi to Taylor (if he's still there!) and order the lobster sliders. Hopefully you'll also have room for a little campfire to be brought to your table so you can roast your own marshmallows and make smores. It's an easy walk from the Loews Hotel to here.
Nashville is one incredibly talented city and I'm so thrilled we started our Music Roadie here!
Next stop: Memphis! In this post I cover the best things to do there from where to eat, where to stay, and of course – Graceland!
Save