Want to know when the best time to visit Graceland is?
It's January and August, during Elvis' birthday celebrations and Elvis Week, which this year runs from August 9-17.
The latter is more crowded as it's filled with live events at Graceland, plus some special online events for those of us who can't get there in person.
This post has links to all the fab Elvis events coming up, but in the meantime, as well as a peek through Graceland with me. I'm planning my third visit and will take lots of close-ups of curiosities for you.
But since I last visited, Lisa Marie passed away on January 12, 2023. A memorial service was held on the front lawn of Graceland, January 22. She was laid to rest, along with her father, uncle and grandparents in the Meditation Garden, and fans can visit.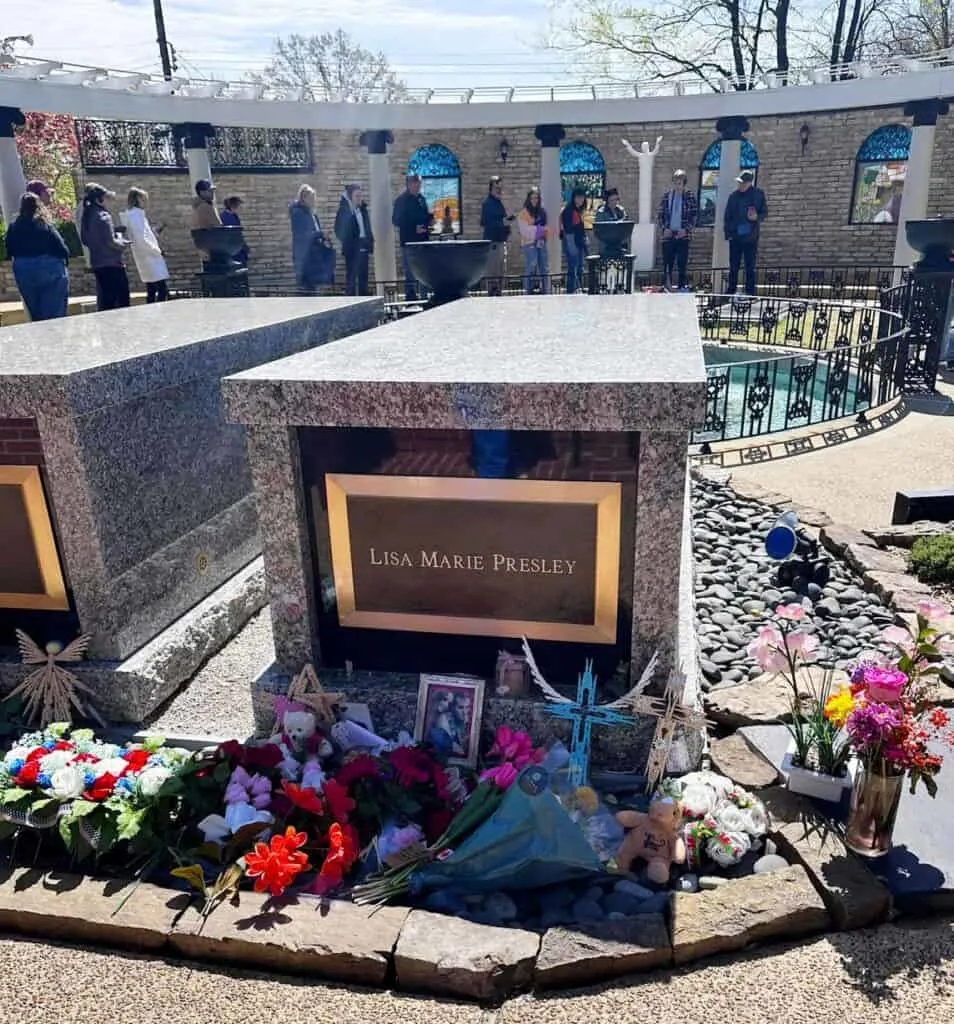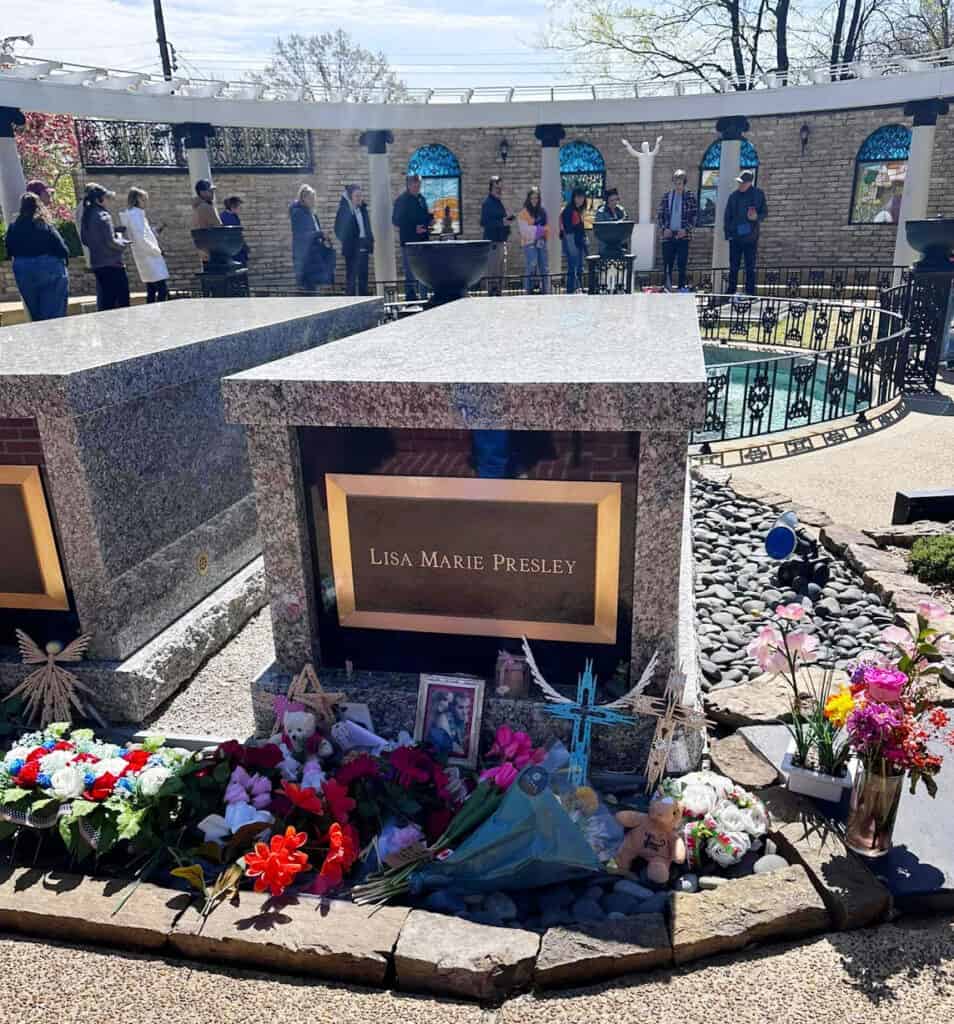 ---
Elvis Presley's house, Graceland, in Memphis Tennessee, is the second most visited house in the entire US after the White House.
Of course the difference is you can go inside Elvis' house on a mansion tour and take as many photos as you like without a horde of bodyguards or a throng of reporters waiting for a press conference.
In fact a pilgrimage to Graceland, at 3764 Elvis Presley Boulevard, is on the Bucket List of a huge array of Elvis fans, from rock and rollers to country music lovers and the squealing girls (now grandmas) of the 1960s and 70s.
Elvis Week is held every August which sees Graceland hosting Elvis fans in real life and though live streaming exclusive content.
But all year round, you can peek inside the Presley mansion, check out the Graceland Hotel just next door (yes you can stay there) and shop for shirts and shoes where the king (and I) shopped in Memphis!
Hilariously you'll also see dressed-up Elvis lookalikes roaming through Elvis Presley's home any day of the week, eating a burger in their onesie at the burger bar across the road or browsing through Elvis' collection of classic cars.
(*This post contains affiliate links, if you purchase from these links I will make a small commission, at no extra cost to you. Thank you for your support)
In 2019 the new Graceland Guest House hotel opened next door with rooms themed like Elvis Presley's House. See those images below!
Visiting Memphis
Of course, there's more to Memphis than Elvis. It is a wonderful city to visit any time of year for music lovers and more.
In fact I wrote this post about the many things to do in Memphis apart from visiting Graceland, that you could stay a week and not see it all.
I've visited Graceland (a national historic landmark) twice with about five years between visits.
The first time we were on what we called our family Music Road Trip, a 10-day itinerary starting in Nashville, down to Memphis and ending in New Orleans, with my husband and parents.
We spent three nights in downtown Memphis staying at the legendary Peabody Hotel, just a stone's throw from Beale Street (which I was little underwhelmed by to be honest) but LOVED the hotel!
We had amazing ribs at Central BBQ and I can also recommend taking a couple of hours to visit the Martin Luther King Jr Civil Rights Museum to understand the whole back story that led up to that fateful "shot that rang out in the Memphis sky" on April 4th 1968, and which affected Elvis deeply.
The second time I visited Memphis I brought a small tour of nine people to New Orleans (where we found great music venues in NOLA and ate all the food) and then we visited Elvis's Memphis!
Each year, the second week of August is Elvis Week, commemorating the death of Elvis Presley on 16 August 1977.
Taking care of Business – TCB
Elvis Week draws fans and Elvis Presley tribute artists to a huge convention right here in Memphis. So diary August if you want to join in.
I just created a fun Elvis Presley crossword to test your knowledge.
When did Elvis buy Graceland?
Elvis Presley was 22 years old when he bought Graceland in March 1957 for just over $102,500.
Elvis bought the house and 13.8 acres of land. It was actually his parents (Gladys and Vernon) who put down the $1,000 deposit and they and his grandmother moved in first, in the May of 1957 while Elvis was away filming Jailhouse Rock. He didn't get to spend his first night here until the next month.
He married Priscilla Presley in May 1967 and they had their daughter Lisa Marie here at Graceland. Both women protectively guard this house and Elvis Presley Enterprises closely – and make a lot of money doing it!
Why is it named Graceland?
The 17,552 square feet house used to be part of a 500-acre farm and was named after original owner Dr Thomas Moore's aunt Grace.
The Graceland mansion sits on a small hill behind trees on the front lawn that slopes down to the iconic gates. Some people are actually quite surprised by how small the house looks – maybe because it's been hyped up for so many years!
Elvis, the movie, recreated Graceland!
Have you seen Baz Luhrmann's Elvis movie? I loved it so much! I thought scenes were filmed here at Graceland, but in fact the mansion and every other venue in the movie were recreated in Australia by award-winning designer Catherine Martin.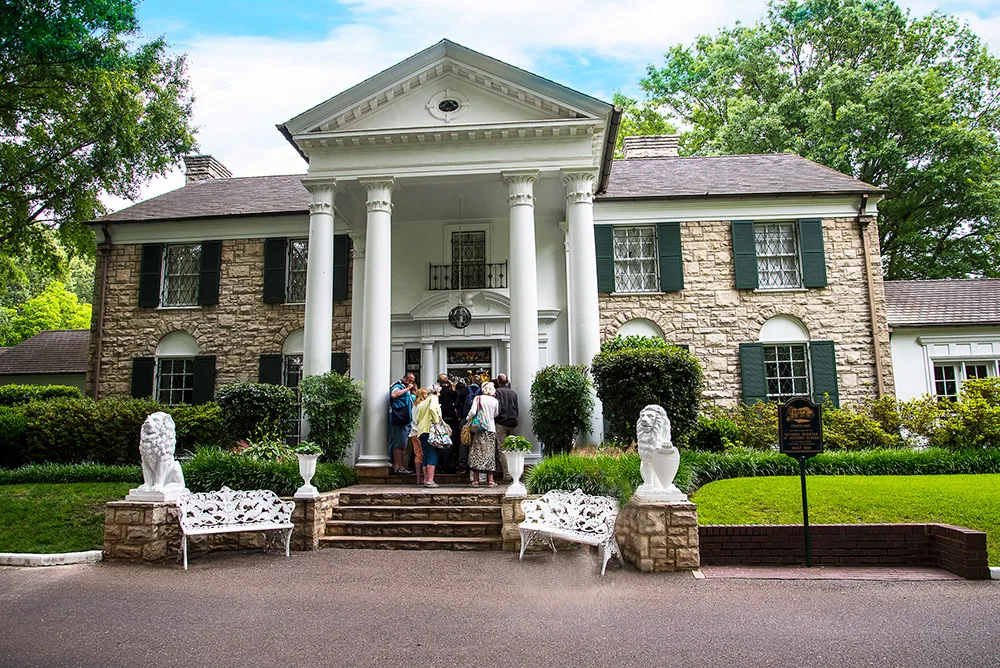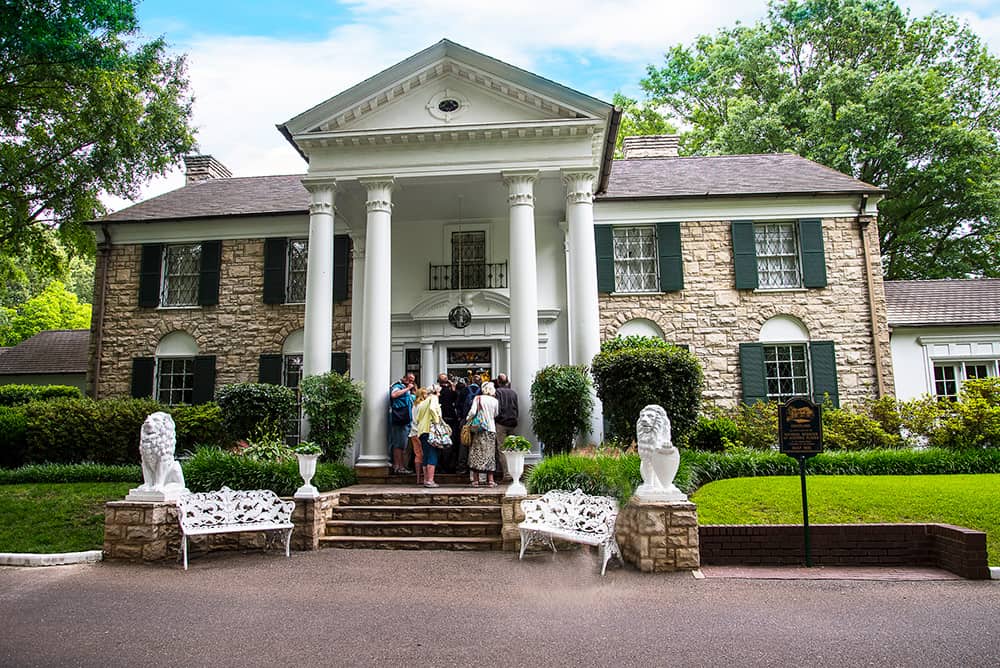 How much time should I allow at Graceland?
Allow two to three hours to tour through Graceland and to spend time across the road from the Presley mansion where there is a veritable shopping and dining mecca.
This is where you buy/pick up your tickets and hop on the buses that take you across the road into the grounds.
Scroll to the bottom to buy fun Elvis memorabilia and shop at Lansky's where Elvis shopped!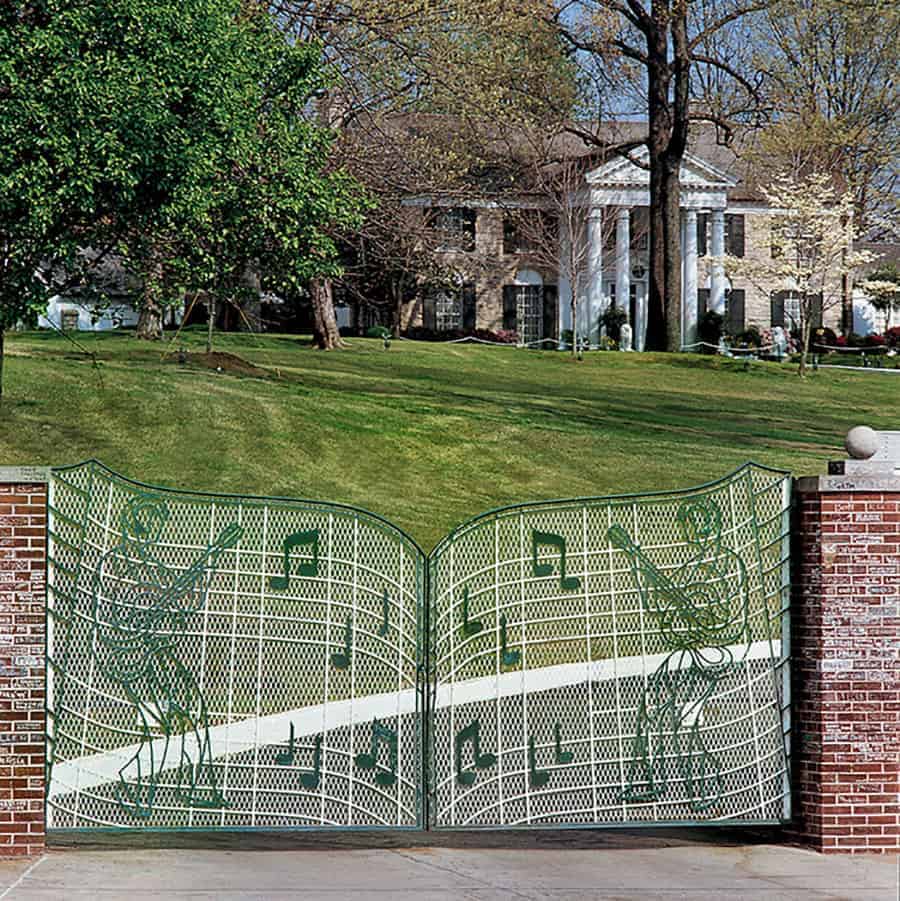 The only way to get through the famous gates of Graceland is to buy tickets (online or in person) for a self-guided audio headset tour and take the shuttle bus from what I call "Elvis-ville" across the road. It really is for crazy, hard-core Elvis Presley fans over there!
Save room to eat at Graceland!
When you come to Graceland, you should also allow time after or before your tour to eat.
Elvis Presley's Memphis across the road from the house, is a 200,000 sq ft entertainment complex where you buy your tickets, view the planes, tour the automobile museum, and tour through the life and times of the king.
You'll find several dining outlets like Gladys's Diner. This 1960s inspired diner serves Gladys's repertoire of his favorite food like burgers, hog dogs and grilled sandwiches.
Or try Vernon's Smokehouse to fill up on smoked meats like ribs, brisket and chicken. Try the classic southern cuisine that Elvis' loved. His favorite home cooking, included meatloaf, catfish, BBQ spaghetti – and Peanut Butter and Banana Sandwiches.
New attractions were added in 2020 to allow you to take "selfies" with the king and email them to yourself. You'll find souvenir shops and other exhibitions, but my pics below are what you'll see inside Elvis's house.
You can also take virtual tours of Graceland on their website if you want to whet your appetite before you get here for real!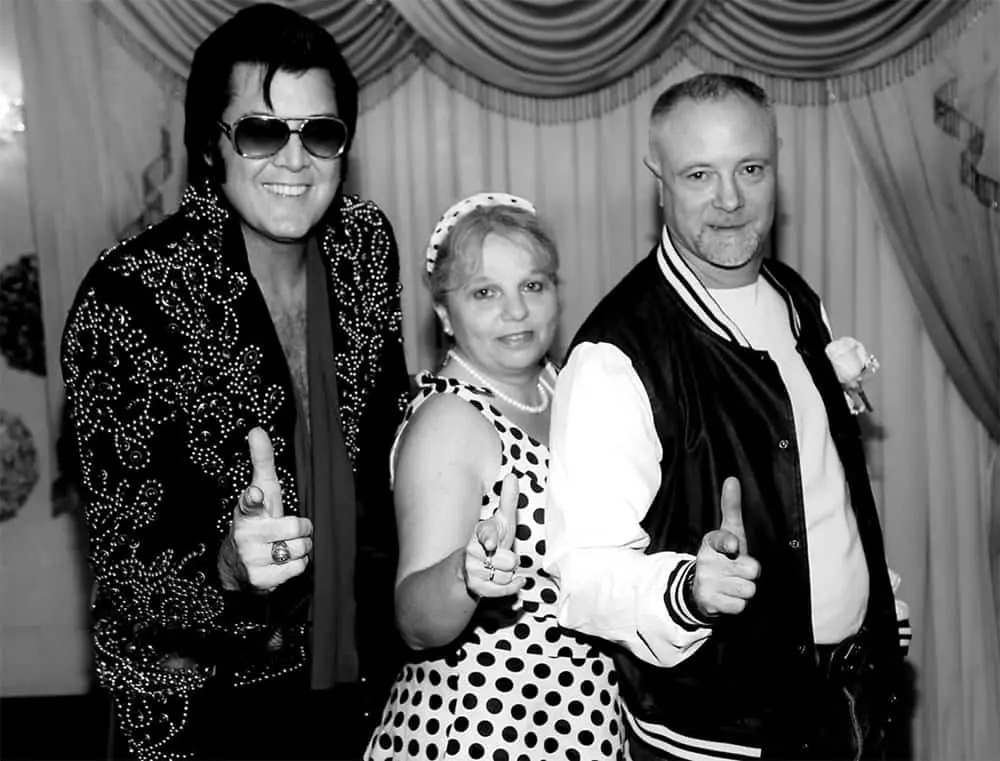 If you fancy getting married by Elvis, read about the Elvis wedding in Las Vegas I gate-crashed!
Peek inside Graceland
Can you go upstairs? The upstairs rooms at Graceland are locked and alarmed and no one is allowed up there except members of his family. Even staff are not allowed up here, out of respect for the family as it includes Elvis' bedroom (and the bathroom where he died) as well as little Lisa Marie's room.
But there is great news for true Elvis Presley fans – the Guest House at Graceland, a new 450-room hotel with rooms and suites, bars and the lobby all decorated with a nod to the decor of Graceland has been built up the road. Scroll down for a peek at the hotel pics too!
But first, here are my photos inside Graceland
Imagine the parties that would have been held in these rooms…
Vernon and Gladys Presley had this downstairs room at the end of the hall in the main house, just before the kitchen.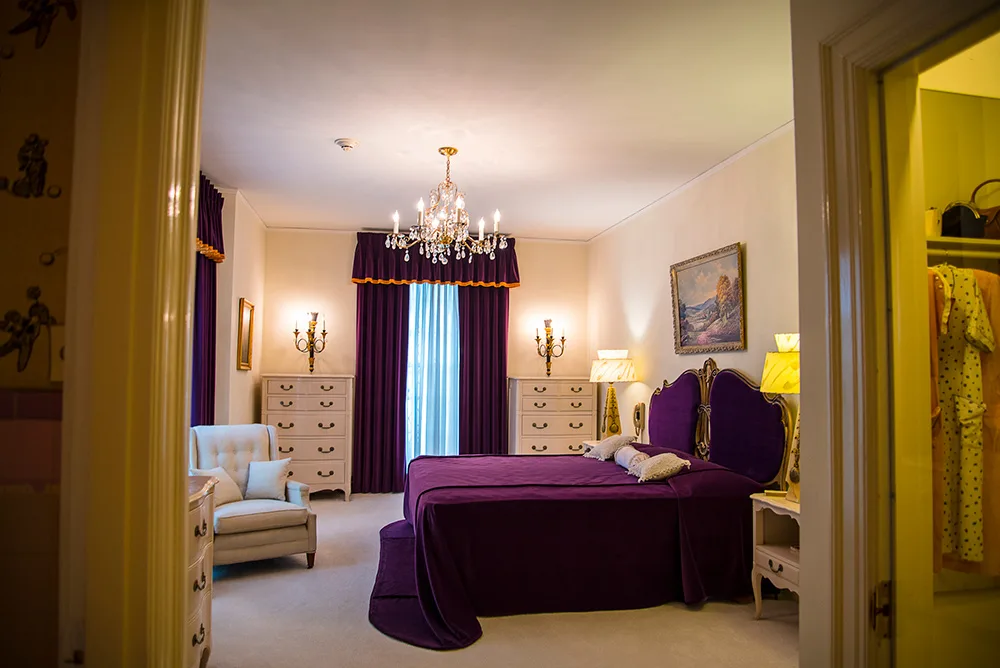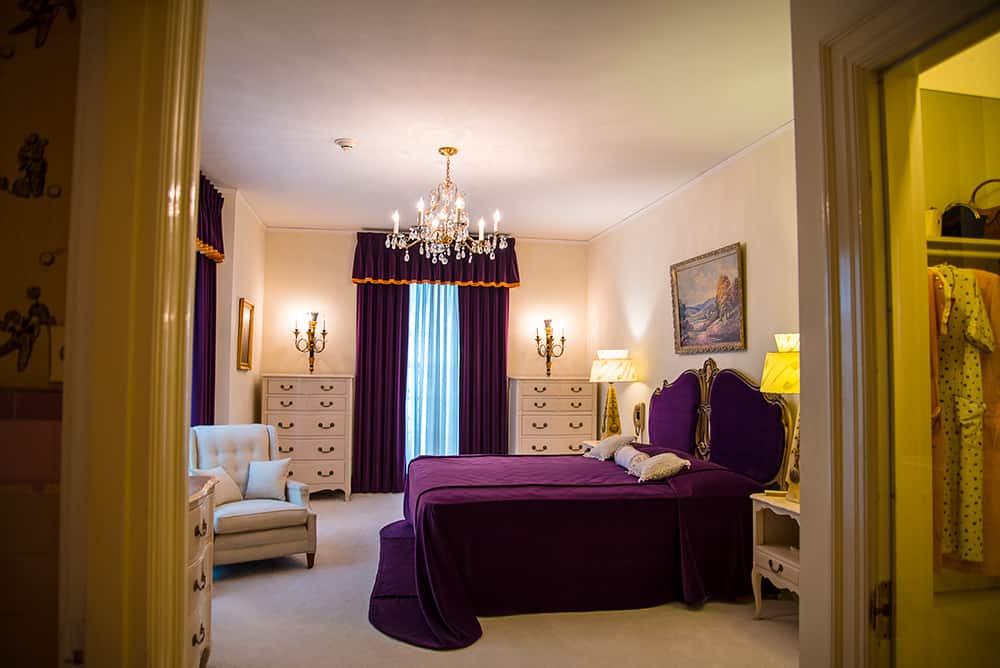 You'll pass through the kitchen where someone told me Elvis had the first microwave in the United States (?) Anyway, it cost $1000 back in the 70s. You can also spot a television set in the back.
Are you ready for the Jungle Room?
Turn left and go down the hallway from the kitchen where you'll find the wackiest room in the whole house – or maybe not. Check out the pool room too!
The floor and walls of the famous Jungle Room are covered in green shag carpet and wooden furniture is carved into animals, with stuffed animals sitting on the oversized furniture. Oh if walls could talk!
But wait! Here's the billiards room, so you can decide which room would have been more fun.
Check out the fabric wall and ceiling coverings.
Once we finished walking through the house with our headsets on telling us about each room we came outside around the back of the property.
It's really quite spacious out here, kind of farmland. He kept horses here.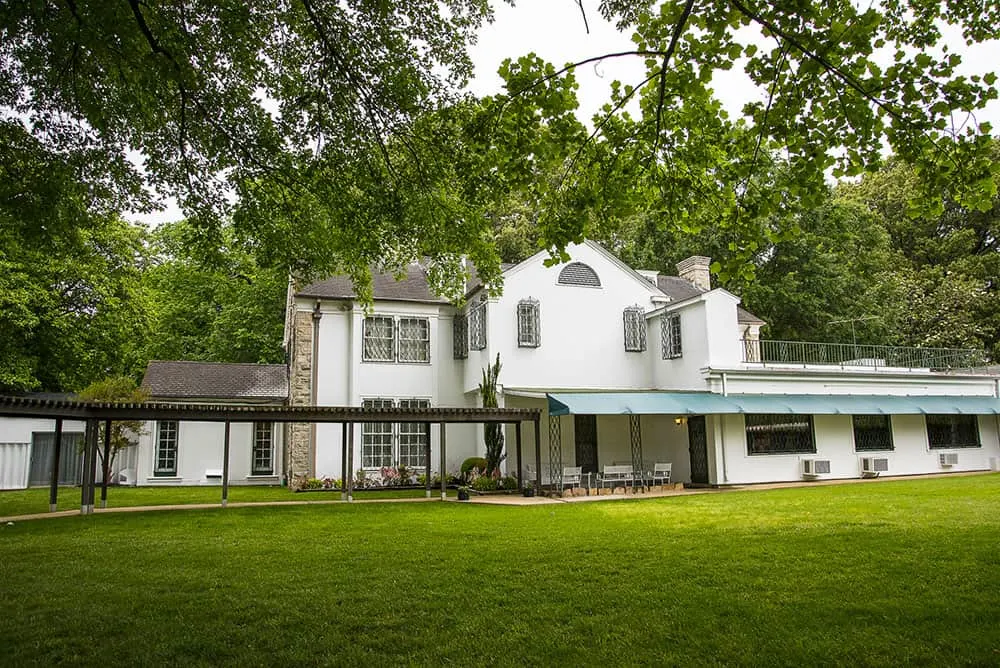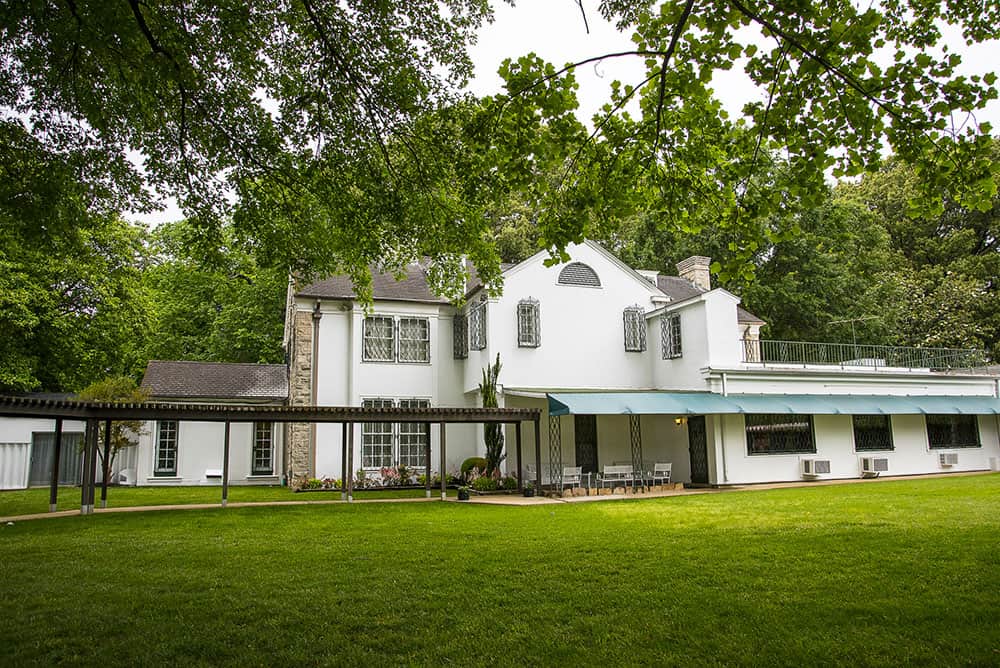 You'll walk into Elvis's office, then past his private shooting range and an indoor racquetball court.
He played this piano (below) on the morning of his death in his music room before he went upstairs to his bathroom.
This room used to house his massive platinum records and gold records which have since been moved into their own gallery.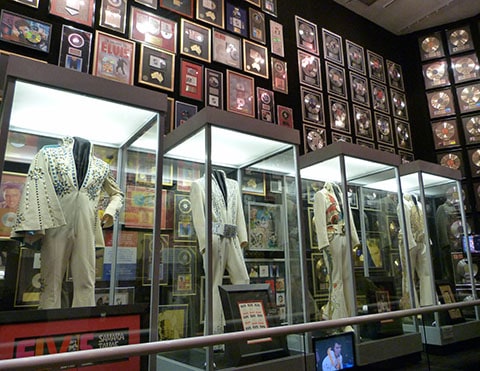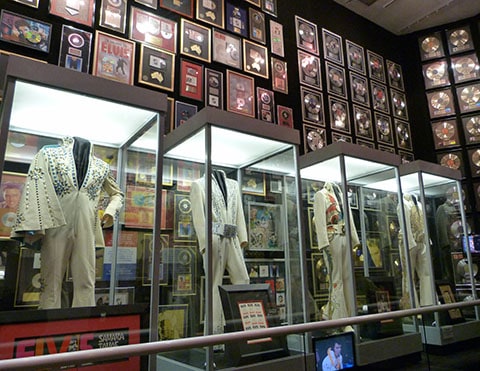 The Presley graves
At the end of the tour you come to the Meditation Garden where Elvis's grave, alongside his parents and grandmother, also lie.
Each day gifts still arrive by mail from fans around the world and staff make sure they all get placed here for a turn with the king.
An eternal flame burns and a statue of Jesus, given to Elvis by his friends and that used to stand in the garden, now stands at his feet.
Elvis Presley was a twin, but his brother Jessie died at birth on January 8, 1935 in Tupelo Mississippi. He had a plaque made for his big brother (by a few minutes) that he never met, placed beside his parents here in the memorial garden at Graceland.
Do some Elvis Presley shopping!
Of course, it wouldn't be a tourist attraction without the shopping!
Back across the road where you got your tickets are several stores selling Elvis Presley merchandise, including the king of rock 'n' roll's onesies that go for upwards of $3000!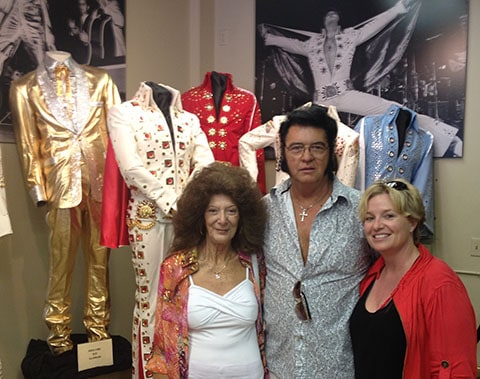 Where did Elvis shop for clothes?
Elvis himself shopped at Lansky Bros, a clothing store inside the Peabody Hotel and another store on Beale Street. We've twice visited the Peabody store and it's great to get chatting with Hal Lansky.
The Beale Street store was opened by his father Bernard Lansky in 1946 and his son Hal, now runs them. He remembers as a boy going with his dad in the delivery truck to take a selection of their classic shirts to Graceland for Elvis to choose from.
The classic Elvis-style cotton shirts are still sold here, along with jackets (see the gold ones below) and blue suede shoes (!), as well as men's and women's fashion.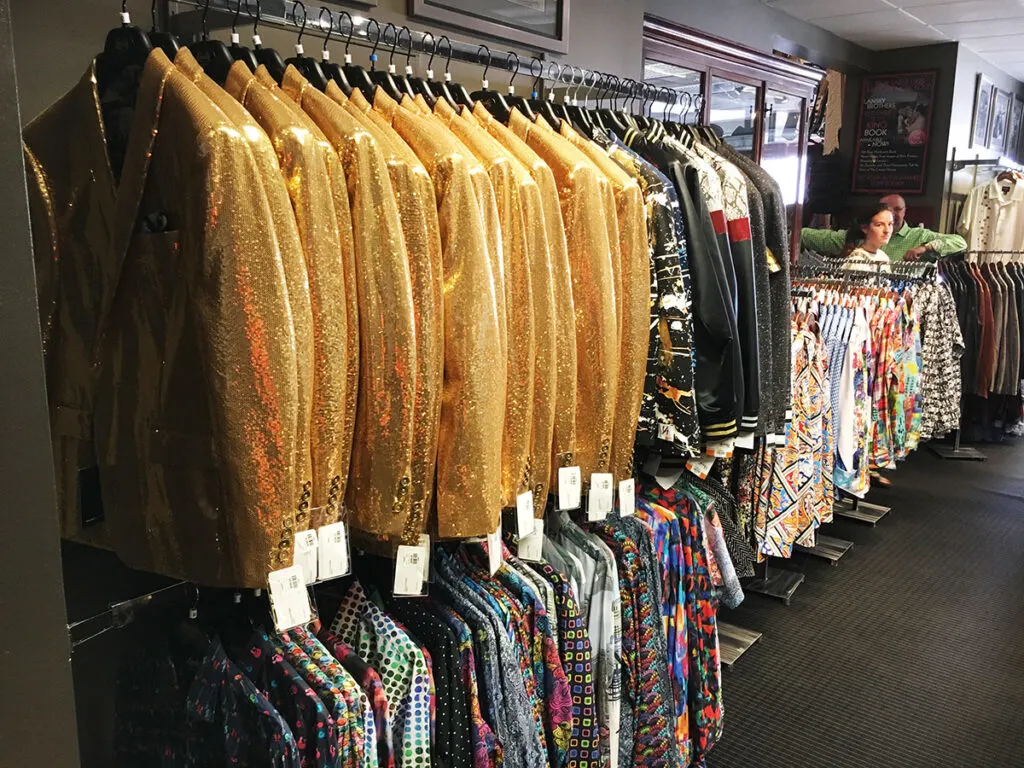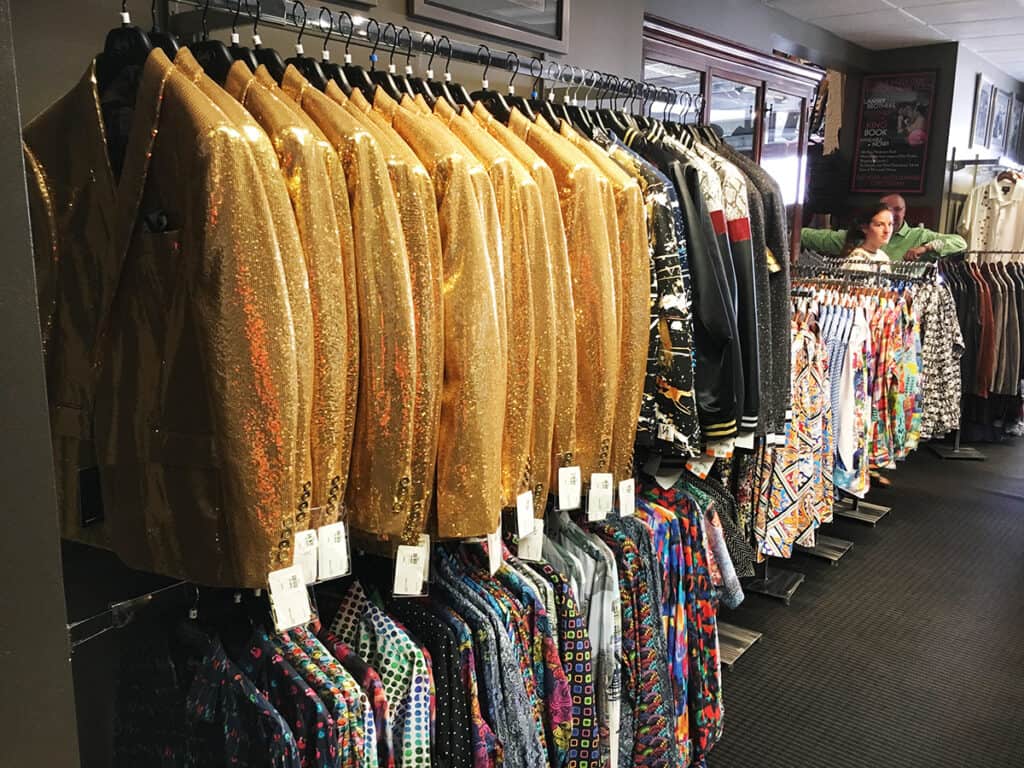 History has it that a young 17-year old Elvis would look in the shop window but never come in. When he finally did, the conversation that ensued saw a lifetime of custom with the Lansky's dressing Elvis throughout his career, including his outfit for his first appearance on the Ed Sullivan show in 1956
The first exchange between Bernard Lansky and Elvis is painted on the windows of the Lansky Brothers Peabody store, showcasing the pride the family still has in dressing Elvis.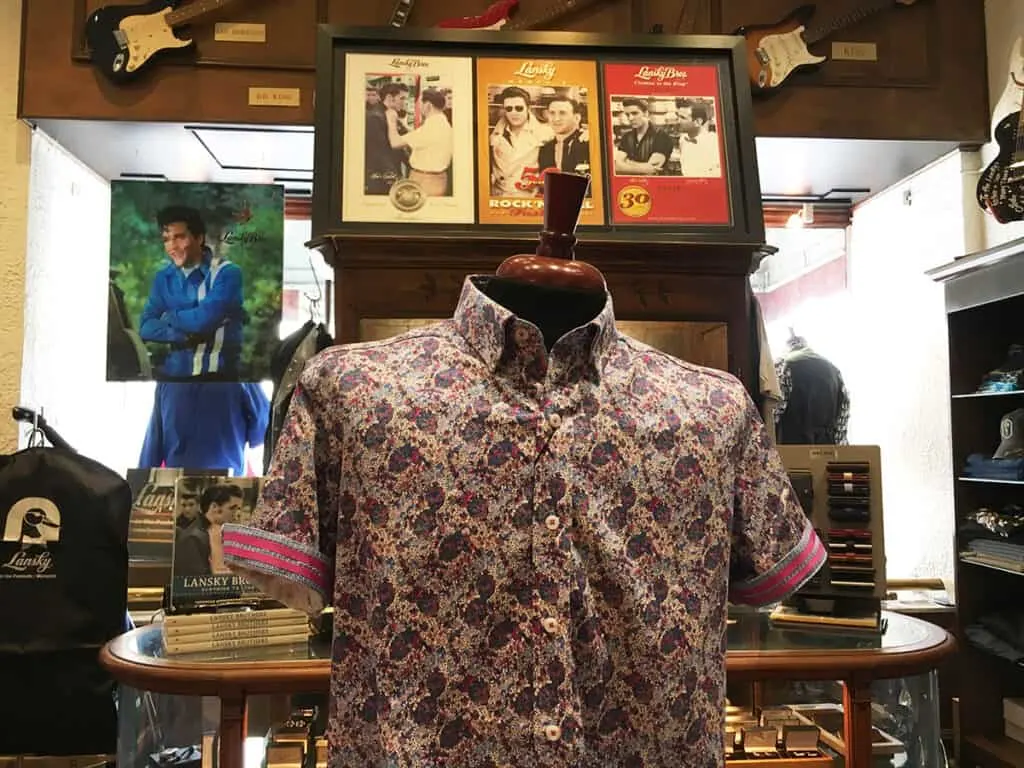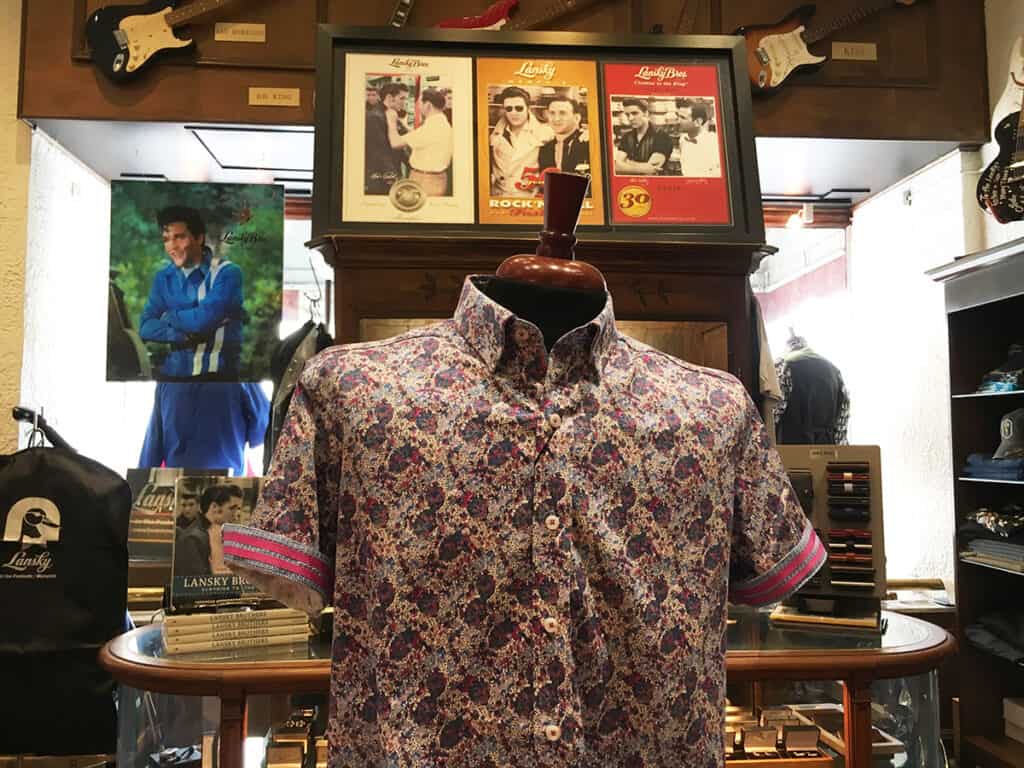 Tour Elvis's planes at Graceland
The "Lisa Marie Presley" is named after his daughter who used to be taken on whimsical jaunts as a little girl. One time they flew just to see the snow and touched down for only an hour!
You can pay extra to take a tour through the planes.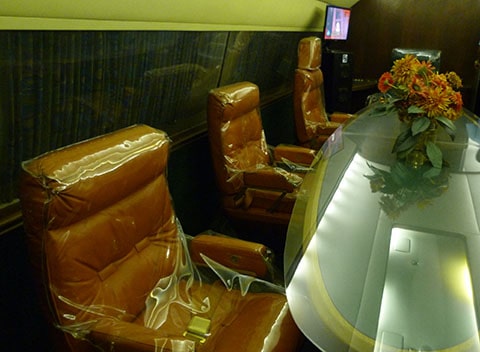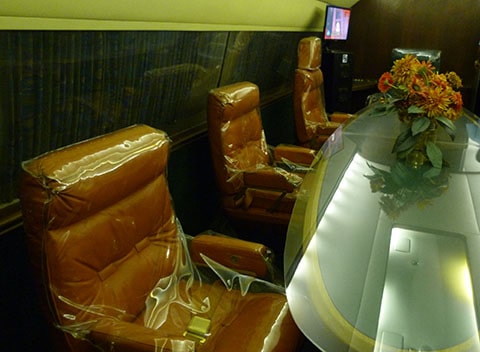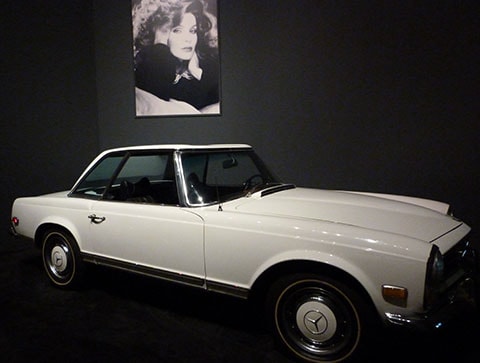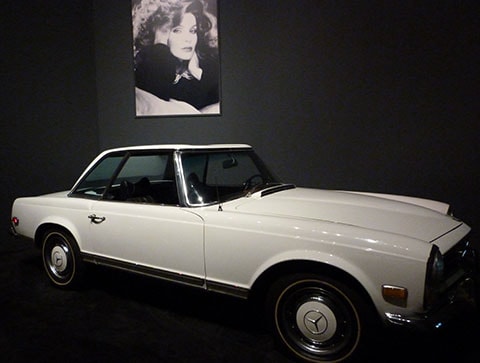 Read the 12 Best Things to Do in Memphis next >>
This post has been my one of my most popular posts of 2021. See the rest of them, if you want to read only my best content!
Test your Elvis knowledge with my fun Elvis Presley crossword!
Graceland Events
All year round various events are held at Graceland, some are live on the Graceland sound stage with music icons, Elvis tribute artists and rising stars, some are live-streamed for members only.
You can also check out the livestream webcam at Graceland to check on crowds and the weather and look at the mansion.
Or become a Graceland Insider, for $23.95 per year. For that you join an online group of VIPs and get ticket pre-sales, join a private Facebook group which will give access to exclusive livestream tours and videos, get access to Member's Only webcams, including one that looks out of Elvis' bedroom window, plus discounts and a whole lot more.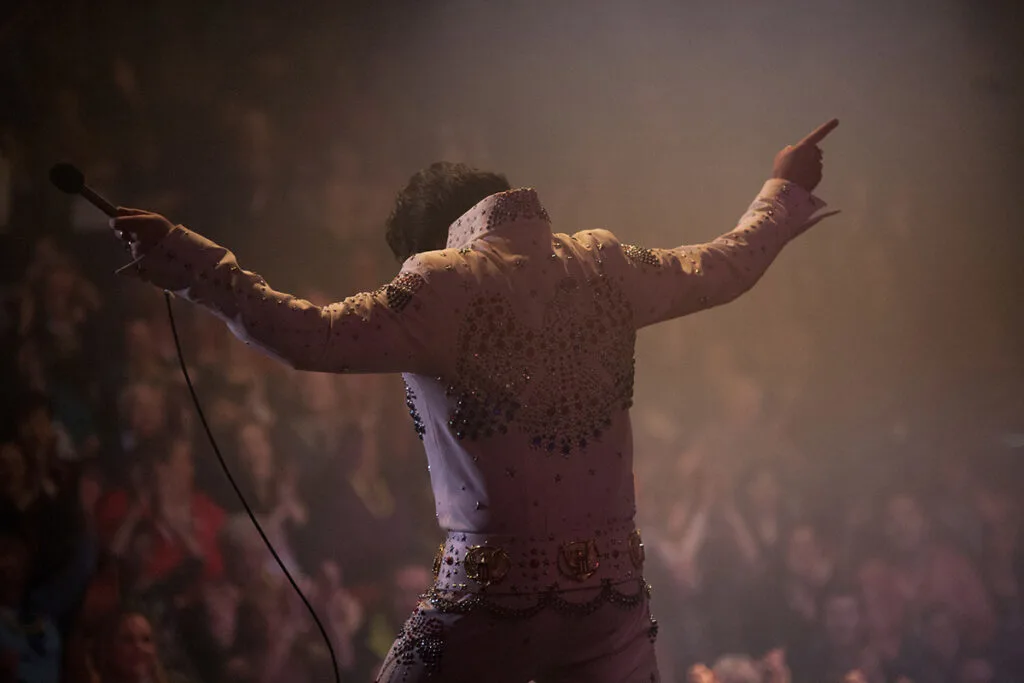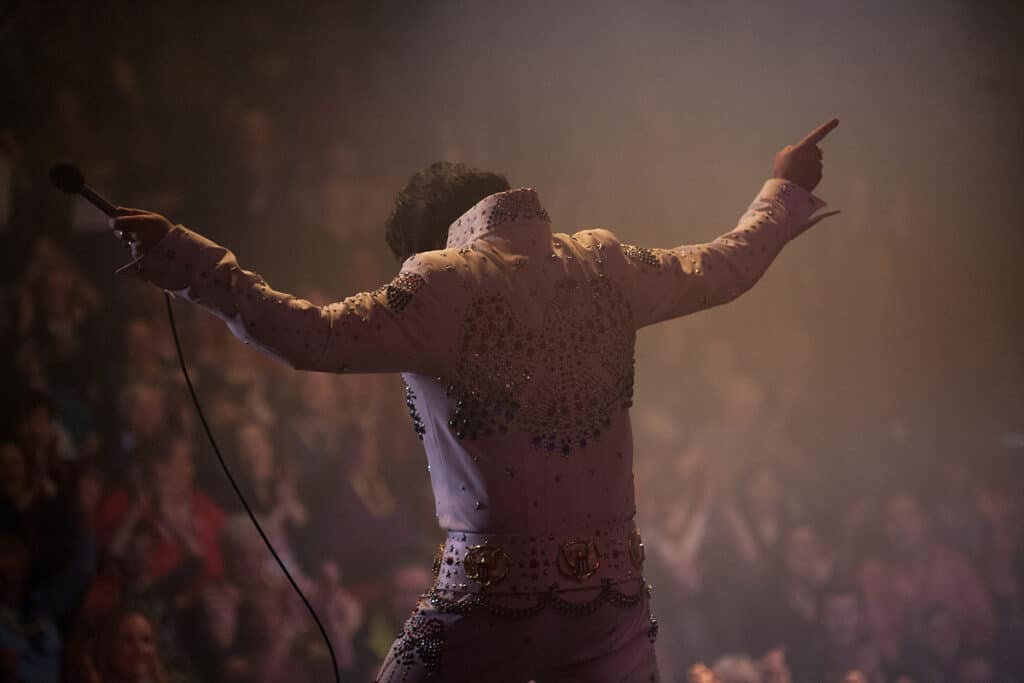 This 450-room hotel with a pool, a ball room that can hold 1000, convention hall and theatre is just a few steps from Graceland and as you'll see below, its rooms have been decorated with a nod to Elvis Presley's quirky 1970s design aesthetic.
Pro tip: Check out latest prices for Graceland Guest House here on booking.com
For a bit of fun: Test your Elvis knowledge with my Elvis Presley crossword!
Elvis also came up with a few cool quotes and I put a great travel quote of his in this post.
---
FAQs
Is Graceland worth visiting?
I'll be honest, if you're an Elvis fan, visiting Graceland is a pilgrimage you need to make at least once in your life. You will gain insights into Elvis the man here. If you're just visiting Memphis for a few days and you're not all googly-eyed over the king of rock n roll, probably not. Feedback from one of my friends was, "it's a lot smaller than I expected".
When is the best month to visit Graceland?
The best time to visit Memphis is mid-May to mid-June and mid-September to mid-October. Either side of the hot, sticky summer months.
Can you go upstairs at Graceland?
Unfortunately not. Even staff are not allowed upstairs. This is for family only – which only makes it all the more curious, don't you think!
How long should we allow to visit Graceland?
The mansion tours are self guided with an audio headset, so you can take as long as you like. You'll probably want 60-90 minutes in the house, then another 60-90 minutes back across the road to dine at the restaurants, visit the museums and planes and shop for souvenirs.
Can we take pictures?
Yes! No flash photography is allowed inside, for obvious reasons.
Pick up some fun Elvis memorabilia on Amazon!
Other things to do in Memphis
Need a car while you're in Memphis? Discover Cars is a car rental search site. You just put in your dates and city and it will come up with all the prices across several car rental companies.
If you're looking for the best things to do in Memphis (now that you've put Graceland on your list!) you should read my The 12 Best things to do in Memphis post.
It covers Sun Studios, the Civil Rights Museum, seeing a Grizzlies game, Al Green's Gospel Church and more, plus some great suggestions for where to eat like Central BBQ.
A visit to the Lorraine Motel and Civil Rights History Museum is another Memphis must-do. It is about so much more than the Martin Luther King era, but a sobering insight into the back story of the slave trade and Rosa Parks, right up to MLK's murder.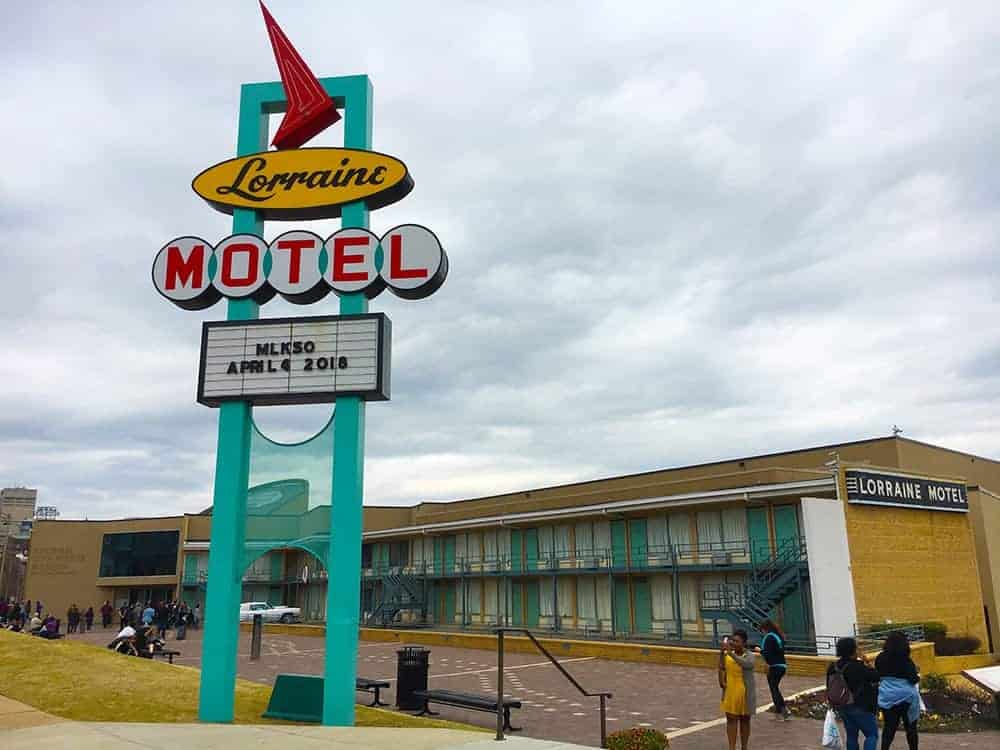 Other posts I think you'll love!
If you're planning a Music road trip, check out my 10-day itinerary including Nashville, Memphis, New Orleans >
Listen to my new Blogger at Large Travel podcast as I talk you through some of my best travel tips and advice and interview fascinating people!
Read: 19 must-have travel accessories – it includes masks (of course!)
See my fun (and practical) Gift Guide for Travelers
This post has been my one of my most popular posts of 2021. See the rest of them, if you want to read only my best content!