Day 3 of my 12-day Rail Europe tour: Strasbourg. Specifically, one day in Strasbourg.
Strasbourg is a beautiful city with a rich history and culture. It is home to many stunning landmarks, including the Strasbourg Cathedral, the Petite France district, and the Palais Rohan.
It is a city that captures the heart of anyone who sets foot in it. With its unique blend of French and German influences, the city boasts a captivating atmosphere that blends traditional and modern styles seamlessly.
Strasbourg's enchanting fusion of contradictions has resulted in a place where old and new coexist, and where the city's past and present merge in a captivating way.
It's no wonder why, after a day in this city, I'm declaring Strasbourg to be quite possibly the most picturesque city in all of Europe! In this article, I invite you to read on and discover why.
Where is Strasbourg located?
Strasbourg is a city in the heart of the Alsace region, nestled on the French-German border. This unique location has gifted the city with a fascinating mix of cultures, reflecting the best of both worlds in its architecture, cuisine, and even its dialect.
It's a little island city, with the River Ile meandering around the old town after branching off the Rhine River, which is one of the mighty rivers for cruising. Trust me; you'll be hard-pressed to find a more charming city in Europe.
Arriving in Strasbourg
We arrived by rip-roaring high speed train from Paris right into the middle of the city at about 11am.
The train station, which is a work of art itself, is conveniently located right in the centre of the city. From there, we caught a city tram to our oh so quaint hotel, the 'Romantik' Hotel Beaucour.
The station is also just a short walk to the city's top attractions, such as the Strasbourg Cathedral and the picturesque Petite France district.
Around every corner is yet another photo op with geraniums out in force. But be careful on the wobbly cobblestone streets and squares, as they're not made for stilettos!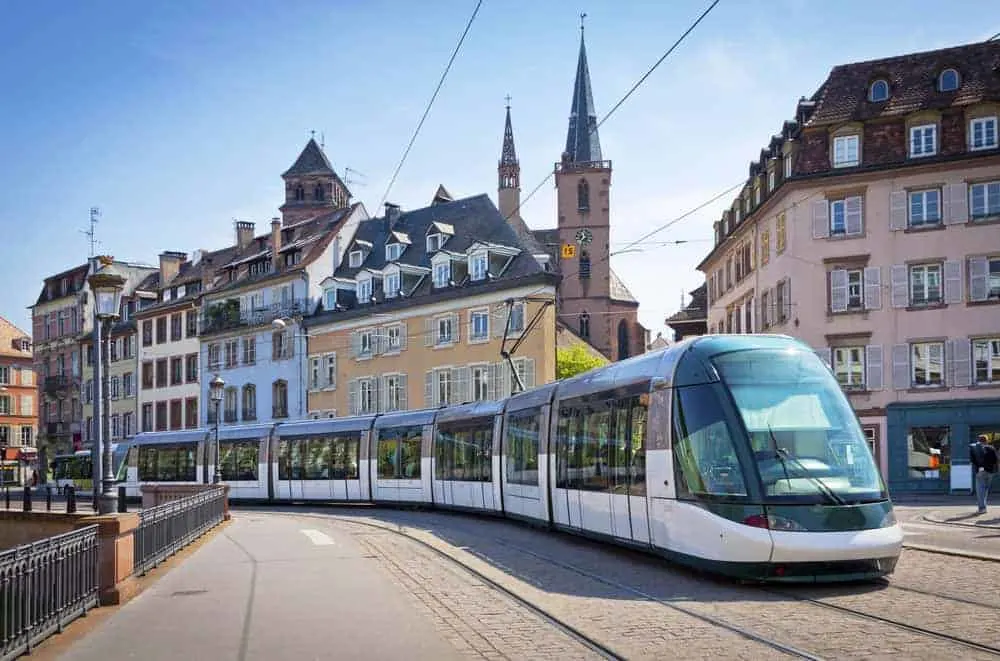 Exploring the Old Town
Exploring the old town of Strasbourg is like taking a step back in time, with its half-timbered houses and picturesque lanes.
Don't deceive yourself into thinking that this town may be behind in technology. Their electric trams are very modern and seem to glide around the city with no steps or even a gap between the platform and the train. It makes it very easy to hop on and hop off – even when dragging luggage.
About €1.70 will get you a one-way ticket from the train station that will transport you into the pages of a story book.
As the capital of the Alsace, you will even get the chance to see the European Court of Human Rights, European Parliament and many other governing bodies. A Kiwi or Aussie can be forgiven for twirling in circles with their jaw open at the history of this place. It was permanently settled over 3000 years ago!
Of course, you can't miss the iconic Strasbourg Cathedral, which towers over the city. It is also one of the most impressive Gothic structures in Europe. This church took 200 years to build and until the 19th Century had the tallest spire in the world. Window boxes and shutters, Tudor style buildings. Q for quaint.
Taking a Boat Tour
If you want to take a break from walking and see Strasbourg from a different perspective, then taking a boat tour is a great way to do it! The UNESCO protected historic centre is full of old buildings and encircled by the Ill River, so this is just the perfect way to see them.
Board a traditional Alsatian boat called a batorama, and get ready for the stunning sights that will unfold before your eyes.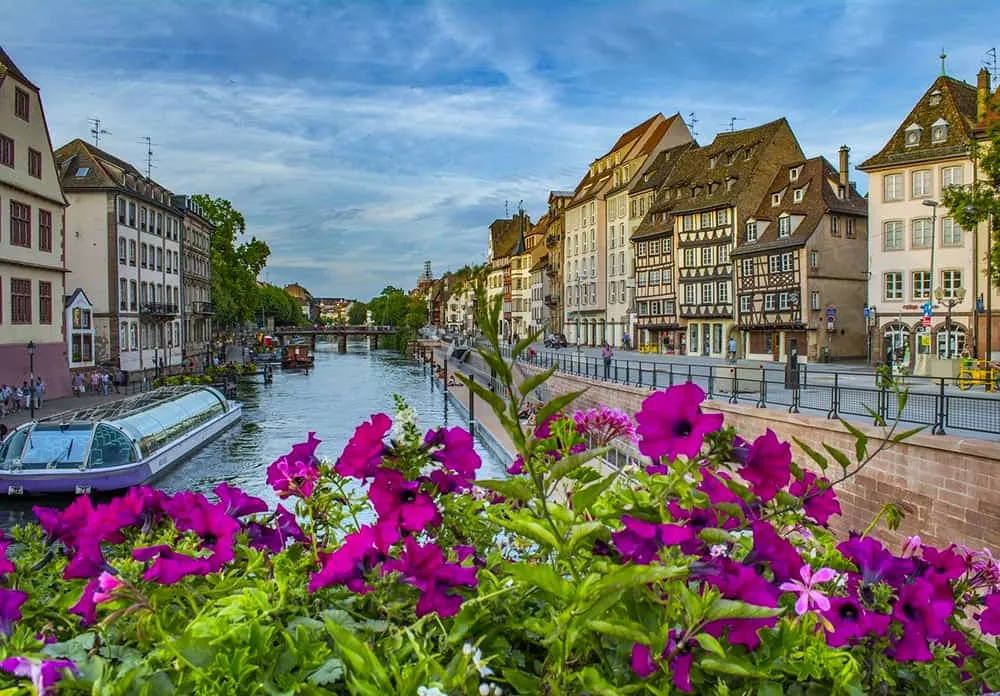 The boat tour will take you along the Ill River, where you can see the famous Petite France district, the historic Covered Bridges, the Vauban Dam, the European Parliament, and many more.
You will also pass under the Bridge of Torture that has a dark history of being a site of brutal punishments, which will leave you with a sense of awe and horror.
There you'll hear about evil murderers sewn into sacks and dropped alive into the water. Not only that, you will also hear stories of petty thieves and women of ill repute put in cages and dunked into the raw waste outlet from the butchery beside the bridge.
Visiting the Flea Market
I stumbled upon this flea market the next morning (we only had 1 night) and if French antiques is your thing you'd get a little adrenalin rush here. Though not as big as the markets in Bangkok, this bustling environment offers a wide array of vintage finds, antiques, and collectibles.
Located in the heart of the city, it's one place every shopaholic should not miss.
But the market is not just about shopping. It's also a great place to immerse yourself in the local culture and meet some friendly locals. You can even strike up a conversation with vendors and fellow shoppers alike. This way, you'll learn more about the history and traditions of Strasbourg.
And when you're done shopping, grab a bite to eat at one of the many food stalls and cafés.
One day in Strasbourg is not enough…
Spending one day in Strasbourg is an experience that shouldn't be missed. From the picturesque old town to the stunning landmarks and delicious cuisine, Strasbourg has something to offer every type of traveller.
Whether you choose to explore the city on foot, take a boat tour, or wander through the flea market, the city will enchant you of its unique blend of French and German cultures.
Around every corner is a photo opportunity, and I hardly stopped clicking for an entire day. All these activities are truly not enough for one day, so better have a longer stay here.
Any visitor will leave a lasting impression on the beauty and charm of Strasbourg. So, why not add it to your travel bucket list and experience it for yourself?
Plan to spend at least two days in Strasbourg and continue my 12-day Rail Europe tour below!