Cinque Terre means five lands, or five villages. It is made up of the five iconic coastal villages with brightly painted houses jumbled down the hillsides that you see in photos of the best places to visit in Italy.
But choosing where to stay in Cinque Terre is difficult as most of the pictures you find online of the little bays and buildings don't give you any indication of how easy it is to get there, whether it has lots of restaurants, what the shopping is like and most of all – does it have access to a sandy beach?
Getting to Cinque Terre
The easiest way to get to Cinque Terre if you don't have a car is by train.
Florence to Cinque Terre is over two hours by car and just on two hours by train. The train also stops at each of the five villages. It's also an easy day trip from Florence if you are based down there, but my suggestion would be to stay a few nights in both Florence and at one of the cute coastal towns of Cinque Terre so you can really explore them.
But if you only have a few days, here's a helpful 2 day Florence itinerary to get you started.
Rome to Cinque Terre by train can take three to six hours, depending on which train you catch and how many stops it makes along the way.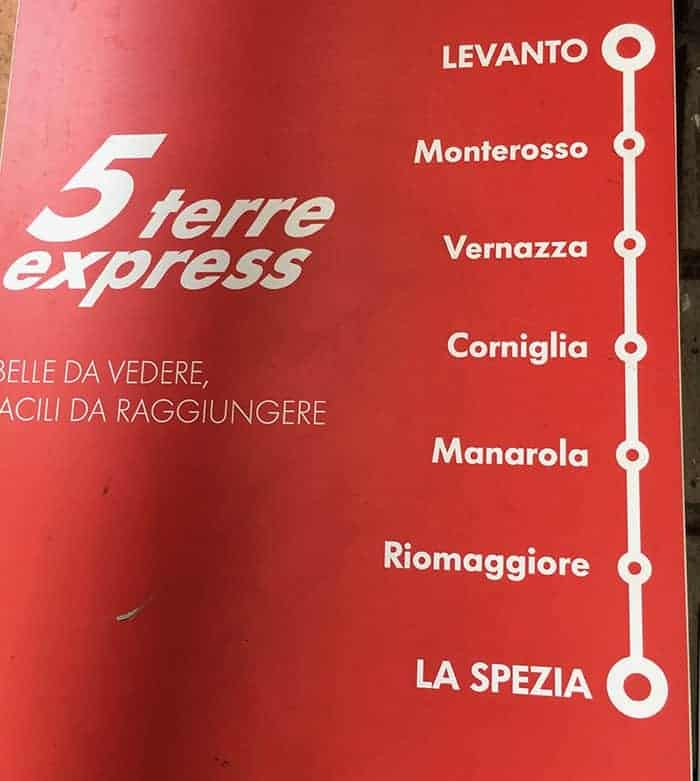 What is Cinque Terre like?
Cinque Terre is very popular and depending on the time of year, can be super crowded. If you want a quieter coastal experience, try another town on the Ligurian Coast – the Italian Riviera.
I'd seen so many amazing (heavily colourised – see the comparison of real life v filtered pics below) photos of Cinque Terre on Italy's Mediterranean Sea, the riot of houses piled up the hillsides, that I thought I would need to be a mountain goat to stay here. Wrong.
You can actually hike between villages, but expect steep steps. Instead I tried out the train and the ferry. More on those below.
So which Cinque Terre village is best to stay?
For me the best village you want to stay in for all of the above (the dining, the shopping and the beach) is Monterosso al Mare. It's the last of the five villages (or the first, depending on which way you look at it), and the best to stay at in my opinion.
But the next village along, Vernazza, is also very popular. You might like to read this post on the best hotels in Vernazza.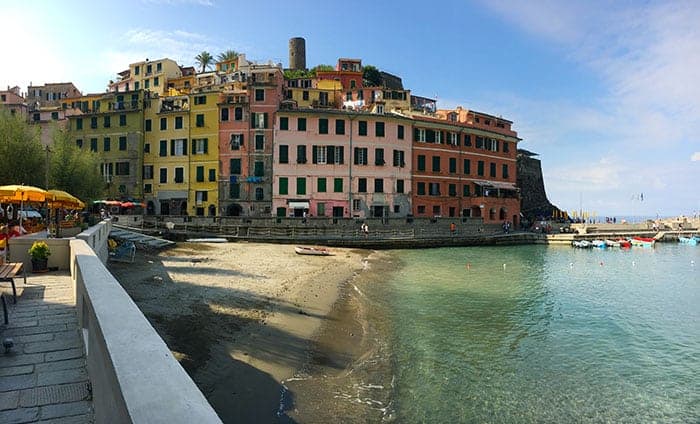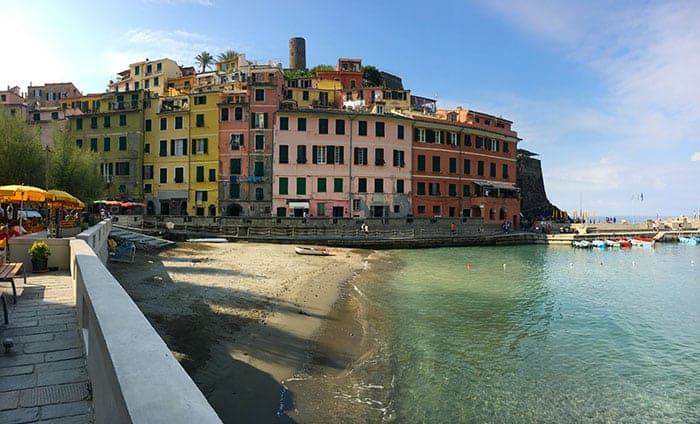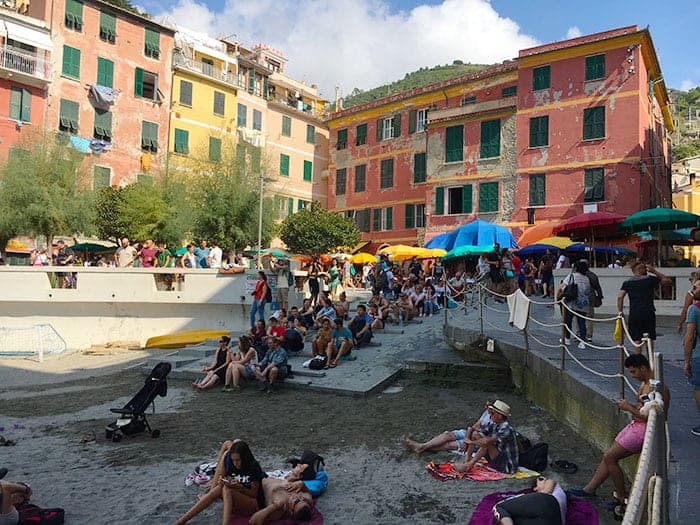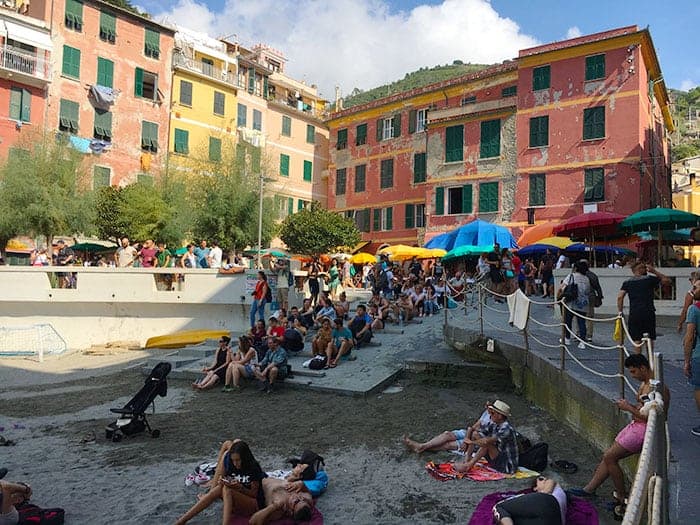 Here is what I discovered staying in Monterosso for three fabulous nights and exploring as much as I had time for…
Why stay in Monterosso al Mare?
Monterosso is the only village with a sandy, easily accessible, swimmable beach and that's a good enough reason right there!
It's also larger and spread out along the beach with an old and a new town (the new town is still older than New Zealand).
The old town has some very cute shops and there is a plethora of dining options dotted between the two.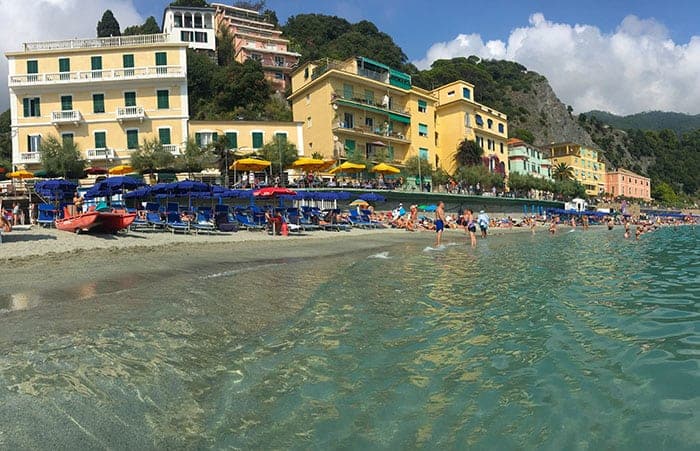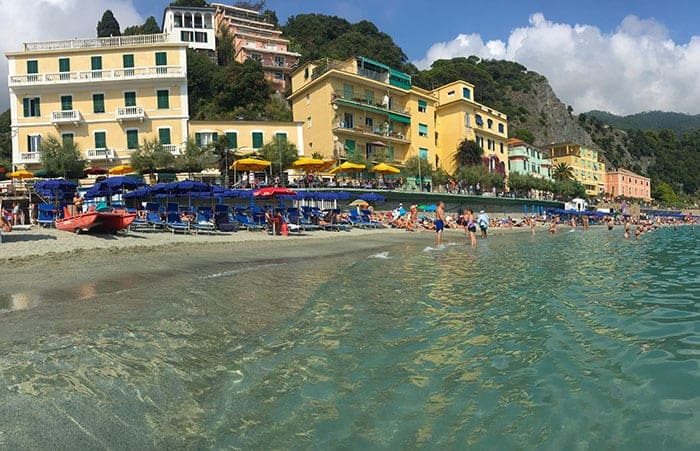 Where to stay in Monterosso?
We're at Hotel Baia which is perfectly located across the little road lined with trattorias and the beach.
It also has it's own portion of the beach with blue umbrellas standing over double loungers which you can book for €15 for two chairs per day, or wander along to the slither of public beach and pay nothing – but prepare for it to be crowded and the lithe French tourists beside you will probably light up a ciggie.
All of the beach is pretty much taken up with paid sun loungers, so if you're going to be here for a few hours (or a whole day) just pay the extra and enjoy the peace – and enjoy not being harangued by hawkers trying to sell you a beach towel.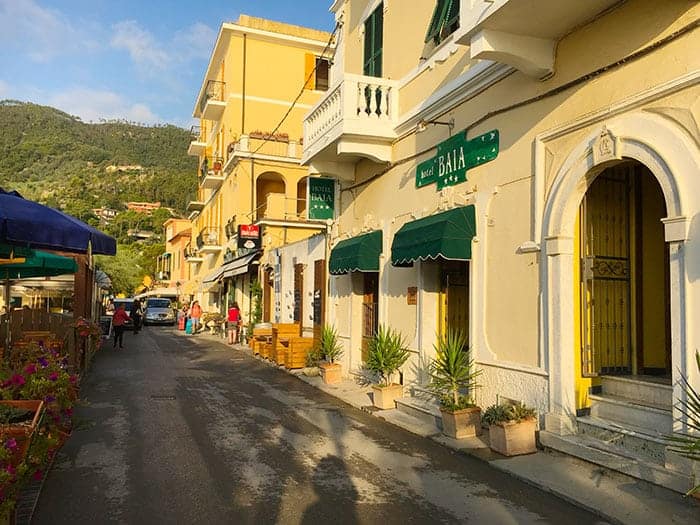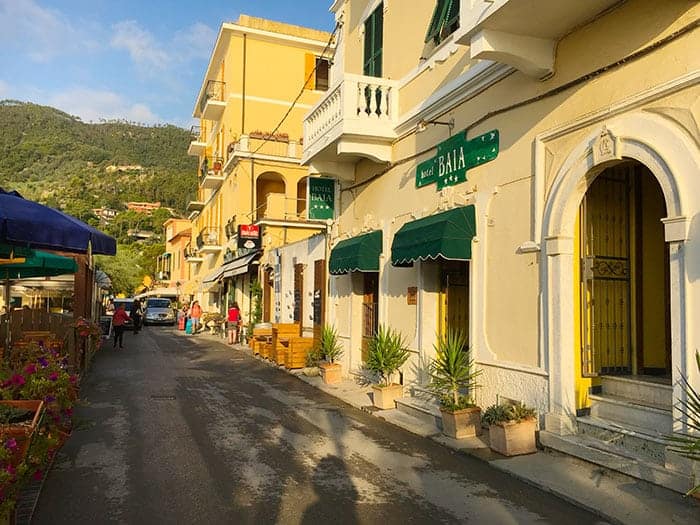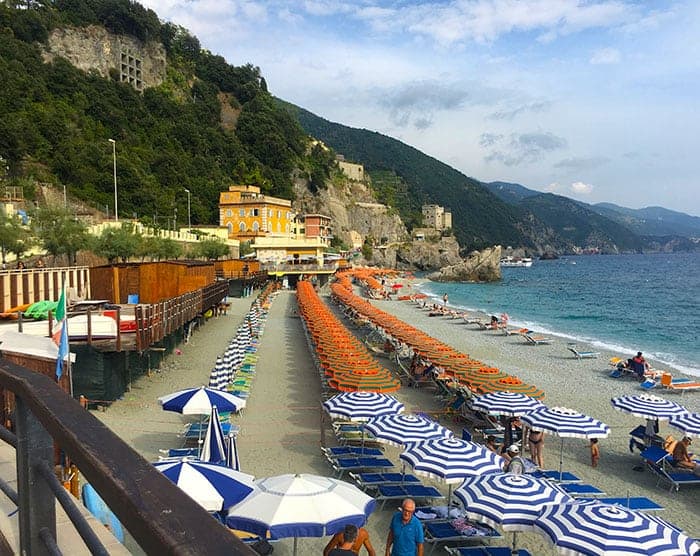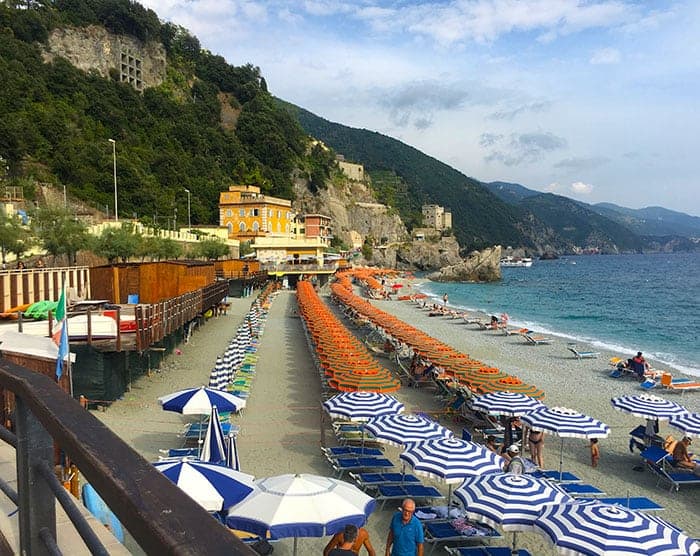 Where to get laundry done in Monterosso?
You'll find a Lavanderia about a block from the hotel and if you drop off your bag of washing in the morning they will deliver it, washed, dried and folded, back to your hotel late afternoon.
We had two bags full which went into two baskets and paid €26 for the whole service. She also asked if we wanted medium or cold wash and hot or medium dry.
Is there a supermarket in Monterosso?
Why yes there is! It's right beside the Laundry so you can stock up on your picnic items (buy your cheeses and oils and pesto from local boutiques stores up and down the Cinque Terre though).
There are also pharmacies everywhere in Italy and it's surprising how many times our little group of 11 have popped in and out for this and that (including antibiotics they'll sell you over the counter!)
But there's also a lovely deli along the waterfront too, near Michelin starred Miky restaurant, so grab your bright red vine tomatoes, lettuce and pesto from here and take it to the beach or back to your room.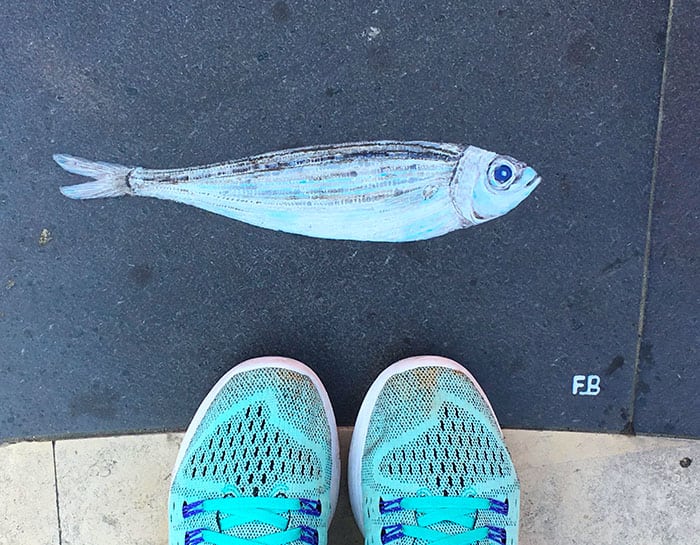 How do you get around in Cinque Terre?
Despite what you might have heard about hiking between the villages of Cinque Terre, it's waaaay too hard for me. Only the serious mountain goat tourists do it and even then only early in the morning before the heat gets up. Expect climbs of hundreds of steps up hillsides lined with grape vines and impossibly balanced houses.
However, the best walk to do would be between Monterosso and Vernazza. It should take about an hour to two hours and while a good level of fitness is required, you'll find lots of flat bits as you zig zag up and down the hills.
For the rest of us there are trains and ferries!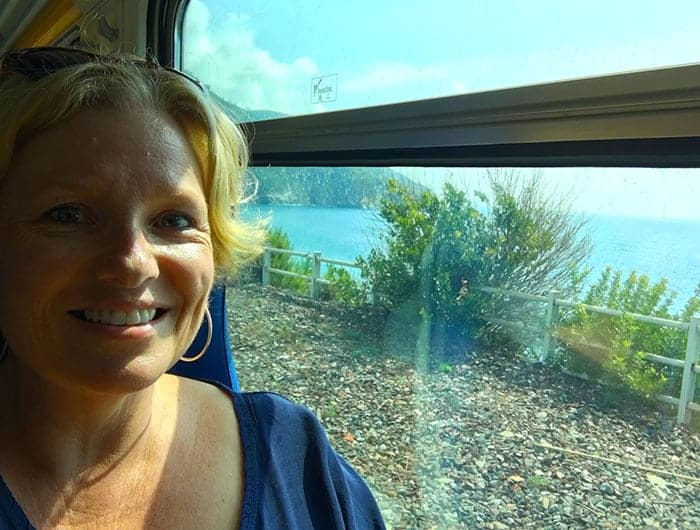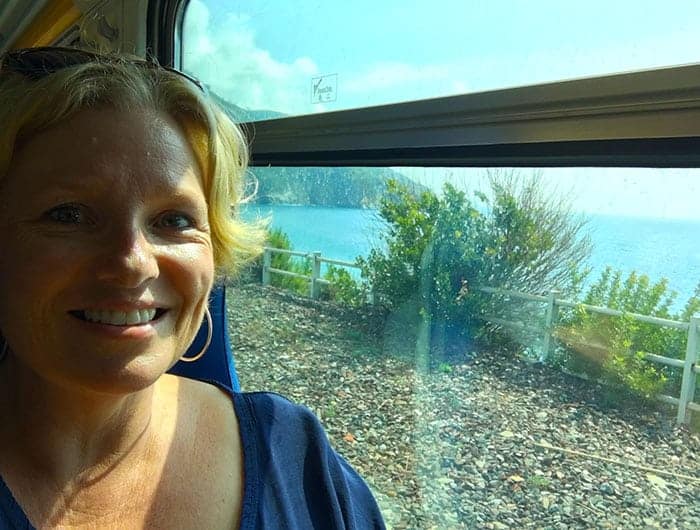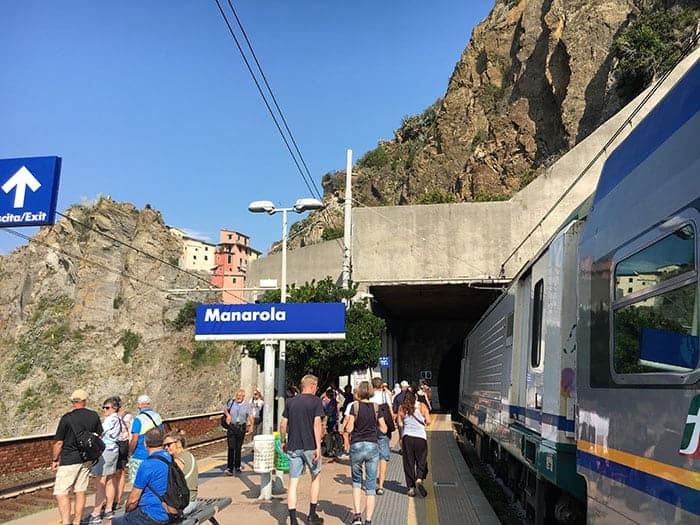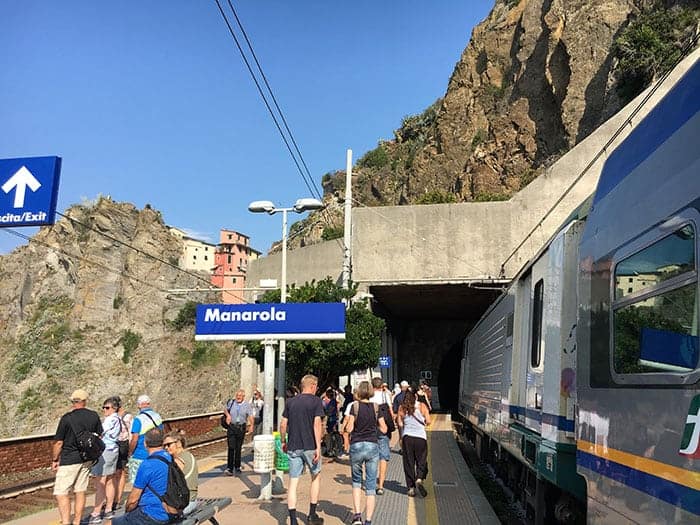 Trains – these are not picturesque but get you from A to B (or E) quickly and cheaply. You'll spend most of the journey in tunnels. They are air conditioned and often crowded as it's the same train to Florence (so don't fall asleep!) and there are two levels and you can get a day pass to zip up and down and as many times as you like for about €16 (€13 if you're over 70 or under 12 years).
Ferries – a day pass on the also very crowded ferries is €33 and while it'll take you longer, it's much more picturesque as you enter each harbour to pick up and drop off passengers in a very slick and efficient operation of a ladder being pulled out from the bow onto terra firms, the hordes filing off then on, ropes slung back on board and you're off again.
What to do from Monterosso
Explore the Old Town of Monterosso (it's also where you take the ferry from). The old part is located through a tunnel about a 5-10 minute walk from our hotel in the "new" town. It has lots of good shops for things like linen, leather bags, pottery and souvenirs. You'll also find restaurants and bars here. If you're staying here you'll probably find yourself popping in and out a few times!
Take a ferry ride all way past the official "five" Cinque Terre towns to Porto Venere. This is now the start of the Italian Riviera in the Gulf of Genoa. But it's only an hour or so ferry ride away, so plan to shop, visit the old church on the head land (there was a wedding when we went so we watched everyone throw rice instead) and then you can work your way back to Monterosso by ferry hopping off at Riomaggiore, Manarola or Vernazza.
Porto Venere is a much larger town than any of the others and you can expect to see swanky luxury yachts in the harbour and plenty of bikinis and speedos reclining on the rocks and onboard said vessels. One of the gorgeous ladies on my tour described the below shot as the "bikini line"!
Swim in the sea! The Mediterranean Sea is at your doorstep so make sure you at least dip your toes in. If you're really feeling energetic rent a peddle boat with a slide! I think from memory four people can peddle (yes peddle not paddle) and you can have turns sliding into the sea.
Go to Manarola for lunch at Nessum Dorma (pics below), a restaurant on the hillside looking down over the harbour. We lined up for opening at noon, but others were already seated having just completed a pesto making class up there – which would have been great fun! Cinque Terre is known for its yummy pesto as well as anchovies.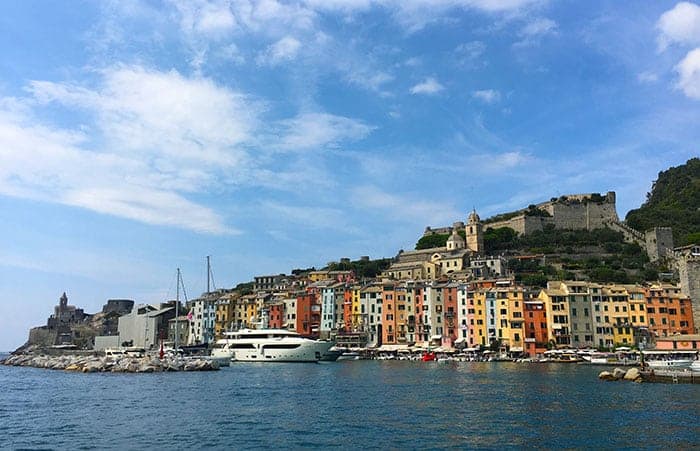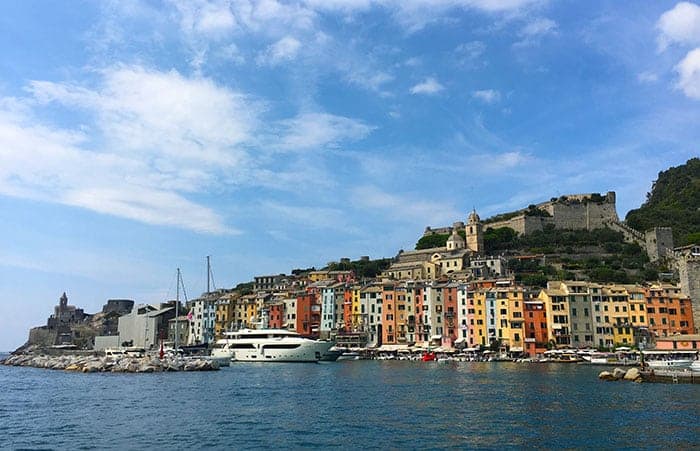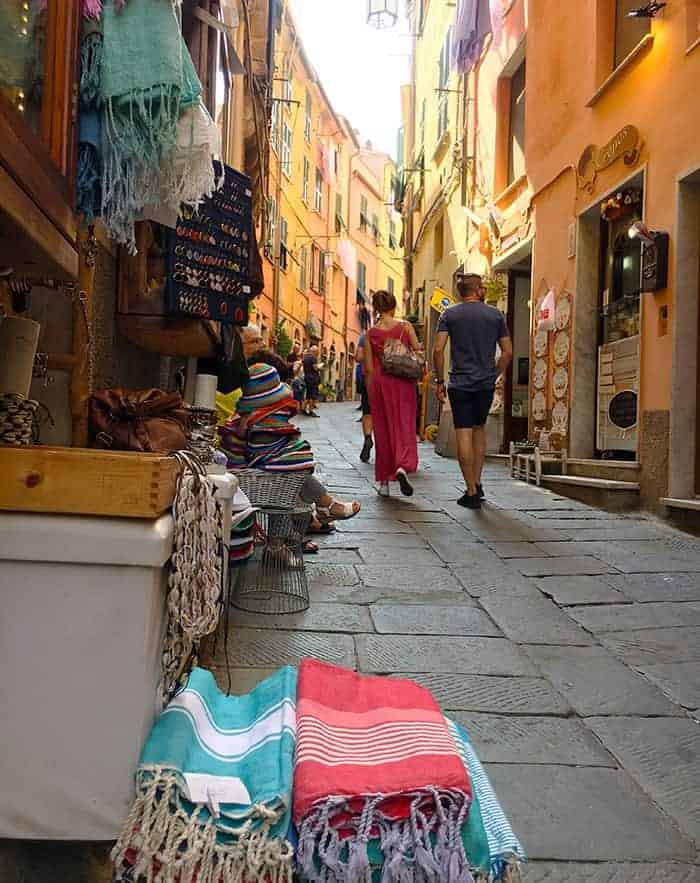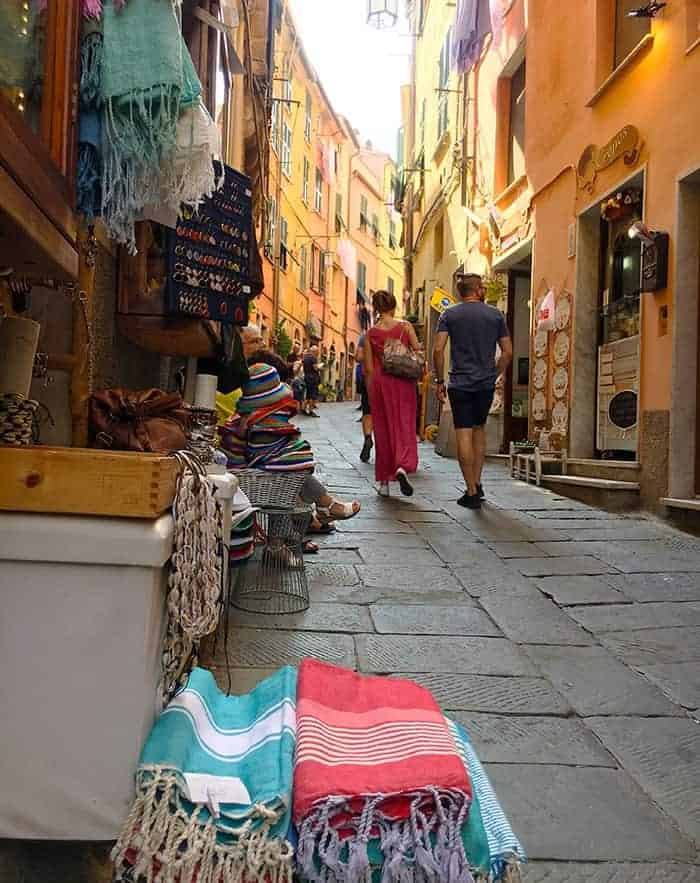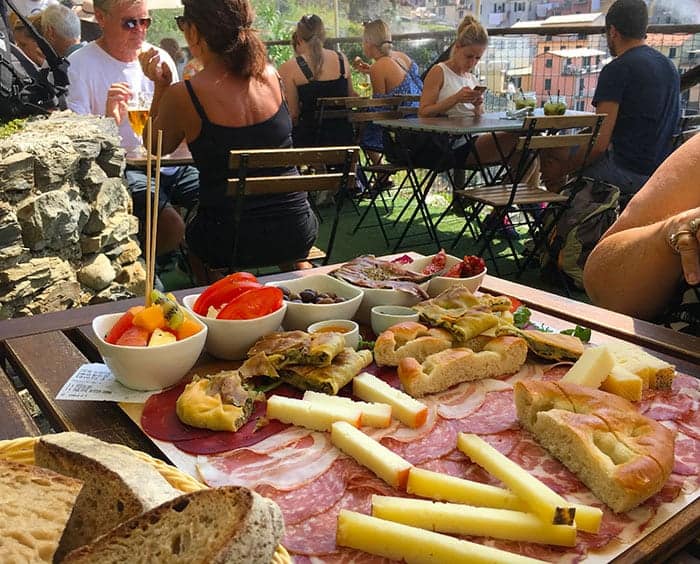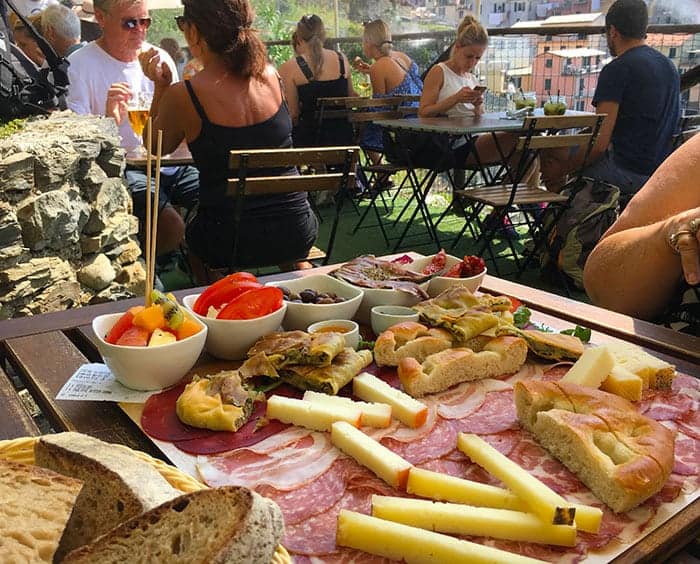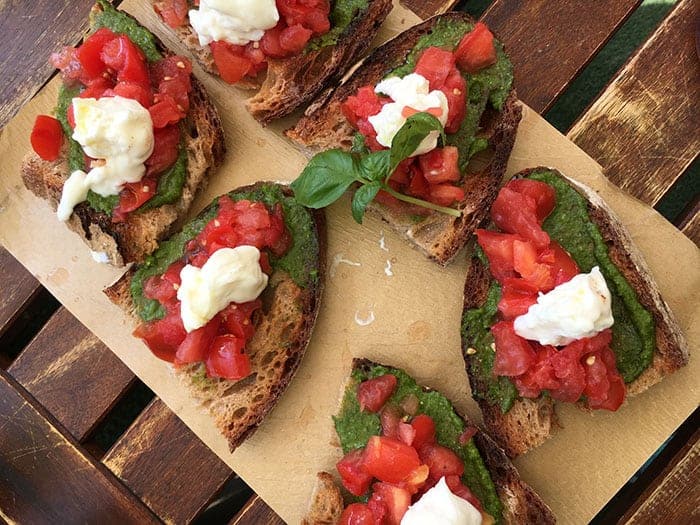 Compare these two photos of Manarola below – one with a colourised filter and the other just as the day found me!