On June 18th the much awaited and top secret project behind the high walls at Orlando's Universal Studios in Florida finally opens. Welcome to the Wizarding World of Harry Potter – straight from the movies and into touchy-feely real life complete with rides, shops for wand purchasing and a pub serving Butter Beer.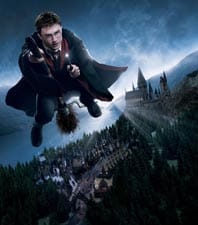 I had a sneak preview (along with 5000 others at Pow Wow, the US Travel Association trade event) at the about-to-be-opened Hogsmeade. It was just on dusk and the moon rose making the whole scene seem even more surreal. In fact it took a moment to realize the moon wasn't another prop.
As you come through the gates, past the Hogwarts Express blowing steam, you literally enter the mind of J.K. Rowling.The shop fronts are replicas of the movies. In fact Hog's Head pub was already designed here for the theme park before the sixth movie – where the pub features – was made so the designers headed out to Orlando and used this as the model. I tried a pint of Hogshead brew (it was very good but could have been a Bud Light or anything else as far as I could tell) and chatted to the staff who quite possibly know the Harry Potter series better than their own family history.
I tried treacle fudge at Honeydukes (which was delicious) but avoided Bertie Bott's Every-Flavour Beans lest I get a garlic jellybean instead of a sweet one. Zonko's Joke Shop is packed floor to ceiling with wooden shelves of tricks and gags, some from the movies and other general magic tricks and games you might find in muggle shops.
Over at Owl Post people were queuing to send letters with a Hogsmeade postmark and also to buy wands and stuffed owls. There are two shops selling wands, one is the post office and the other is Ollivanders where some lucky person has the wand choose them – just like Harry's first day at Hogwarts. And speaking of wands, there are literally hundreds stacked higgledy piggledy in boxes on shelves up to the very high ceiling, all shapes and sizes, colours, straight and crooked with different handles and ranging from $25 to $45.
Clearly no expense has been spared on this, the latest theme park to cause more than a little ruckus to those in the theme park know, not to mention Harry Potter geeks. I walked up to the spectacular Hogwarts Castle which is also where the rollercoaster is. This is going to fly past freezing dementors, the whomping willow and into a quidditch match. Sadly, with a month before opening, this wasn't in use yet, but they're expecting lines of up to 6 hours and have tried to keep their audience's attention with clever gimmicks, like talking paintings and a hologram of Harry, Ron and Hermione.
The Dragon's Challenge ride was open however so on I went. Flippin eck! There are two so you kind of have this dueling dragon thing. One is said to be faster and the other has more twists and turns. I was on the faster one. Suffice to say, my head was still spinning and my breathing was irregular for quite some time afterwards. Nothing that a pint of Butter Beer won't cure however.
Photos were banned so this is the best I could find from the official press kit. But to see it is truly unbelievable.