Singapore is a great stopover city for those of us heading to Europe from New Zealand or Australia, or on calling in on the way home.
I've been a few times (since my first trip at age 19!) but each time for just two or three nights. So I've put together all the best things to do from all the nights put together, plus some of the latest highly-rated things, so you can choose which ones suit you.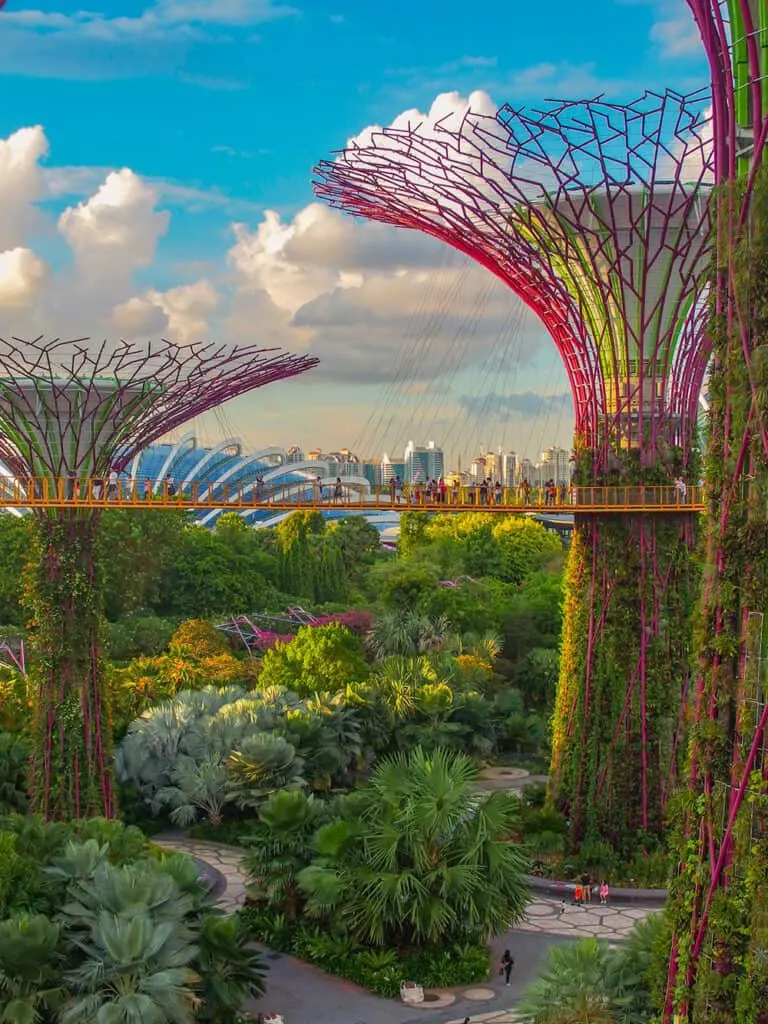 I remember my very first trip to England was via Singapore – waaaay back in about 1988 as a teen! (Back when the airplane had a smoking section and I was one row in front of it – no curtain of course – and thought I might die).
I looked like a slither of my current self too and one evening sitting in a restaurant on Orchard Road with my friend, the waiter was staring and then he said to me "you are huuuge"! I was so stunned. I weighed about 8-9 stone (about 50-60kgs/110-130lbs). But then Asians have always been tinier than those of us who are thick-of-thigh and hail from the origins of the Motherland.
If they really want to see huge, they should look at me now! Lol, I wasn't offended, more shocked that one: he would think that and two: that he would say that! If only I had that body now…
Anyhoo, I wasn't put off the Lion City and have visited many more times over the years, spending stupid money on Singapore Slings at Raffles and shopping at malls and markets and eating everything from street food to fine dining.
So if it's been a while since you've been to Singapore, or you're researching your first trip, here are some ideas to get you started.
*This post contains some affiliate links. That means if you make a purchase I may make a small commission, at no extra cost to you.
What to do if you have a few hours to kill in Singapore
Stay at Changi Airport! The Jewel is the most incredible area, attached to the airport, with a waterfall crashing down about five floors in the centre. It is all under a massive dome and filled with tropical plants, shops and restaurants. You could spend a couple of hours here.
Note, it is land-side. So if you have flown in, you'll need to clear customs and give yourself enough time to go back through security to catch your onward flight. I did not do this and had to skedaddle as it's one of the best places I've been for a layover!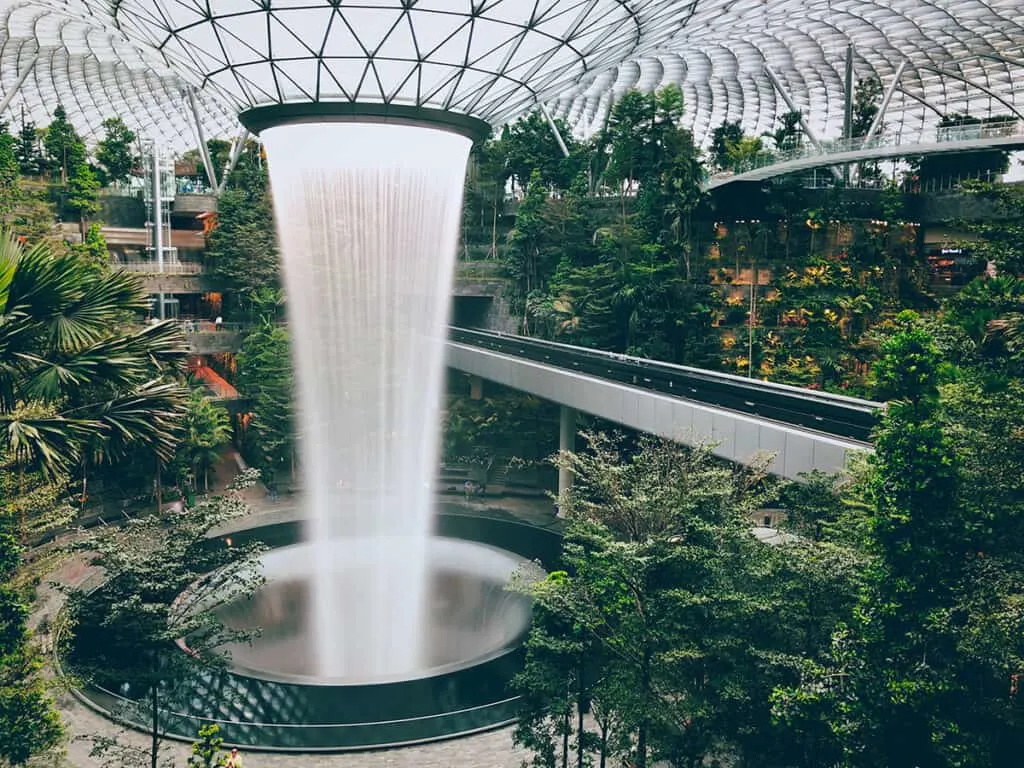 But there are still lots to do air-side if you don't want to go through. Kids will enjoy the Butterfly Garden. Walk slowly through and allow them come and land on you in all their colours and sizes.
There are movie theatres, so hopefully you can time it right and catch one from the beginning. A playground with Macdonald's-type tunnels and slides. There's also a couple of hotels that you can book for a few hours and get some sleep if you have a long layover.
See more things to do at Changi Airport on their website.
The best things to do in Singapore
Go shopping!
One of the top things to do in Singapore, and one of the main reasons people choose to fly to or through here, is the shopping! You'll find shopping malls, open-air markets with knock offs and cheap goods, and streets lined with expensive stores in Singapore.
Orchard Road is the main shopping street (all 2 kilometres of it), lined with high end stores and big international brands. If it's a shopping stopover you're primarily after, then a hotel near Orchard Road will be where you want to stay.
Raffles City Shopping Centre is spread over five stories, located about a block from the famous Raffles Hotel, where people flock to slurp down a Singapore Sling made by the dozen in one go! See my post on Raffles with a recipe for making an authentic Singapore Sling. Raffles City Shopping Centre has over 200 luxury stores and dining outlets.
Bugis Street (pronounced Boogie) is an outdoor market in front of a huge shopping mall with about 800 stalls. I like it for picking up cheap goods and souvenirs.
Bugis Mall at Bugis Junction with over 100 shops or local and international brands, plus delicious food outlets.
VivoCity is located on the river and is where the gondola from Sentosa Island starts/ends. Bars and restaurants spill outside onto a boardwalk. It's a good mall for a shopping fix and some restaurants and convenient if you're staying on Sentosa and need a shopping fix.
Haji Lane is in Kampong Glam, in the Muslim quarter. It's a great location for the vibe, the murals and the food. I wrote more about visiting Haji Lane in this post, including a delicious Italian restaurant I found in the heart of this Middle Eastern dining district.
Little India is the place to come if it's beautiful fabrics you're after. There are so many shops filled with colourful silks and ribbons. You'll find ready-made clothes along Serangoon Road, as well as electronics and delicious restaurants. You'll also find Mustafa Centre here for knock offs and cheap fashion.
Visit – or stay on – Sentosa Island
If you're travelling with kids, Sentosa Island is a great place to base yourselves. You've got water parks and Universal Studios theme park here, plus a 3km beach for those hot and sticky days.
Siloso Beach is scattered with restaurants and lovely yellow sands with volleyball courts. It's a lovely place to stroll and swim.
There's a championship golf course, swanky resorts and a huge array of dining options along the waterfront. About a dozen hotels are located over here including Sofitel Singapore Sentosa Resort & Spa where I got an upgrade after a tweet, and you're only 15 minutes from the central city, either by monorail from Vivo Centre shopping mall or take the cable car from Harbourfront. Read more about what there is to do on Sentosa Island here >>
Gardens by the Bay
Gardens by the Bay is an 'only in Singapore' attraction set over 101 hectares including towering glasshouses and an amazing laser light and music Garden Rhapsody show every evening at 7.45pm or 8.45pm.
Located behind the iconic Marina Bay Sands hotel, the awe-inspiring space also includes the Supertree Grove of metal trees that you climb up inside, embedded with tropical plants, and walk along the canopy.
The Cloud Forest dome is a mysterious world veiled in mist, and home to the world's largest indoor waterfall that splashes down x floors watering the millions of plants as it falls.
where guests can take in mountain views surrounded by diverse vegetation, as well as learn about rare plants and the environment. Listed as the largest glass greenhouse in the world by 2015 Guinness World Records, the Flower Dome is filled with plants and flowers from the Mediterranean and semi-arid regions.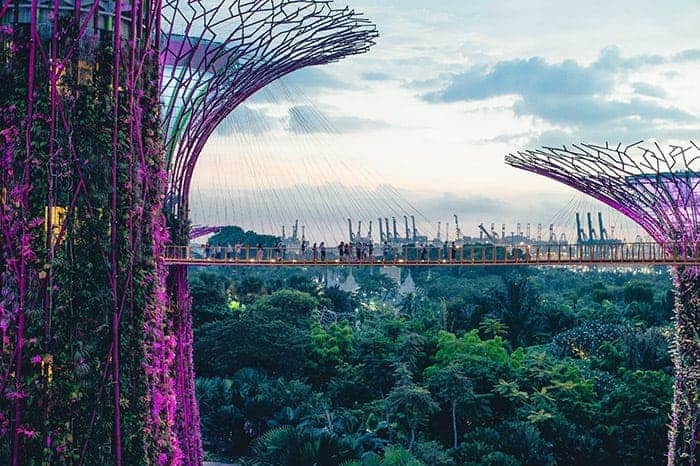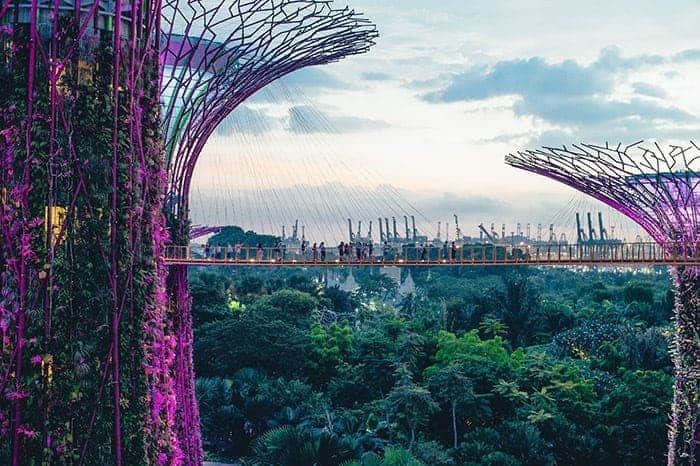 Singapore Botanic Gardens
Not to be confused with Gardens by the Bay, the Singapore Botanic Gardens are a UNESCO World Heritage site located at the end of the Orchard Road shopping district. The gardens were established in 1859 on 60 acres of land. They boast the world's largest orchid display. There is also a children's garden for them to play and learn, plus restaurants and cafes.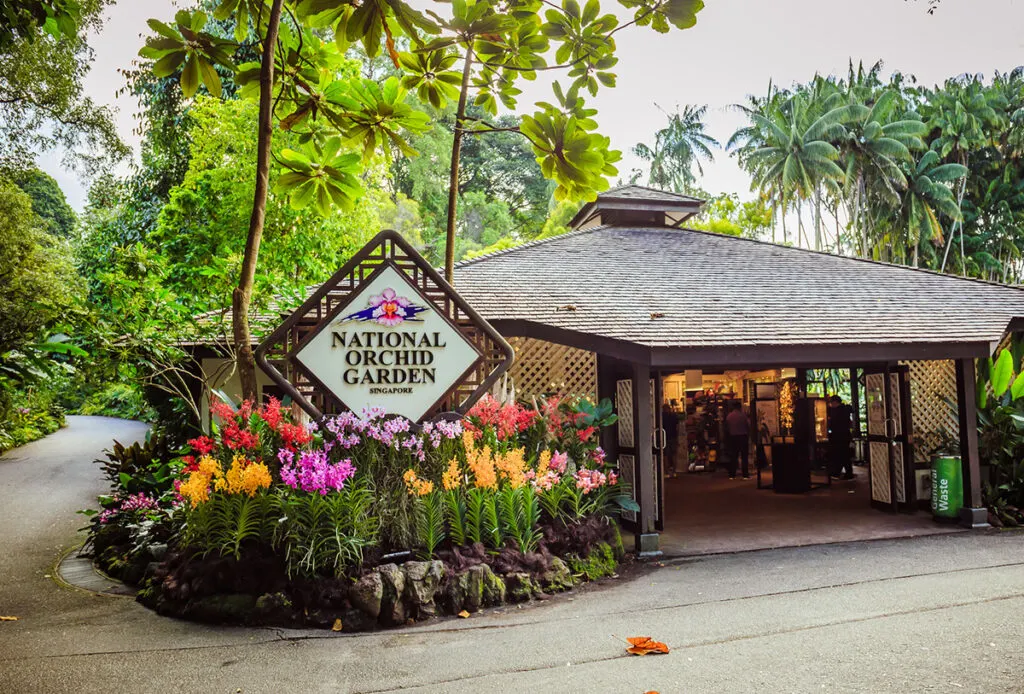 Visit Singapore Zoo
I'm not a fan of zoos that exist just as a showcase of healthy animals for those us who want to satiate our curiosity. But Singapore Zoo is one of the best rainforest zoos in the world and ranked in the world's top 5 zoos with a rehabilitation program and wildlife rescue. They work with threatened primates and the southeast Asian chelonians, and have a world-leading free-ranging Orangutan exhibit.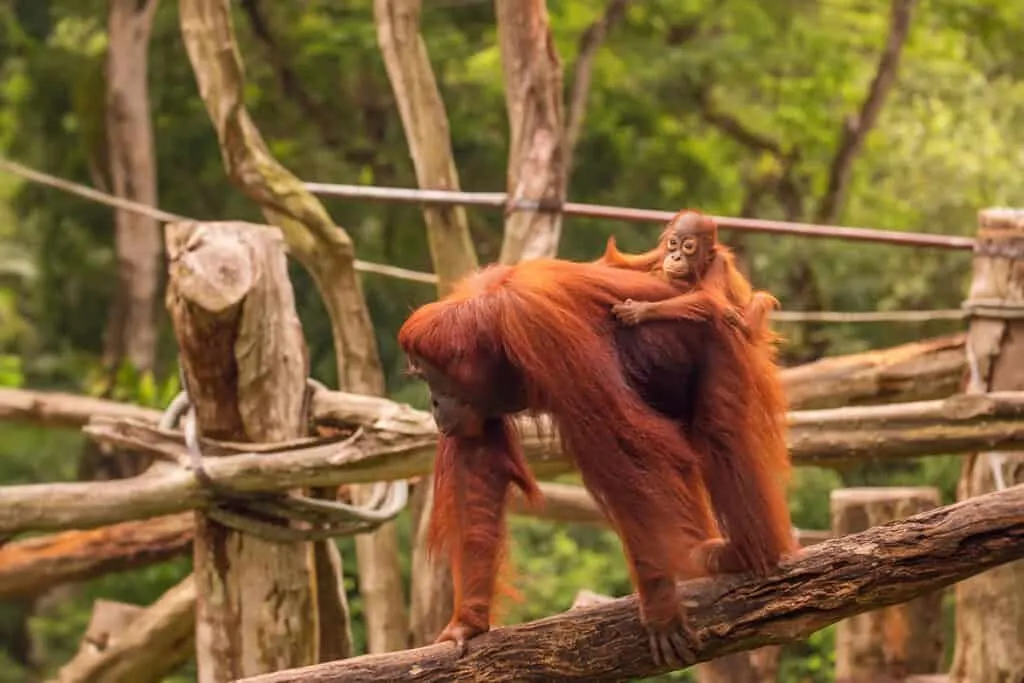 Join the Singapore Night Safari
I really enjoyed the night safari when I did it a few years ago. Your ticket can include dinner and then, once it's dark, you'll hop on a trolly and be driven slowly through the park which is low-lit in blue lights and as your eyes adjust you'll silently watch the animals as they come out to graze.
And not just nocturnal animals either, but all the animals seem to be out at night. It's more low key than the daytime zoo, so little ones might be bored – and it's at night!
Buy your Singapore Night Safari tickets here >
Ride the Singapore Flyer
Singapore is yet another city with a massive flyer wheel, and if you love views or want to take some great photos, you'll want to have a spin. Located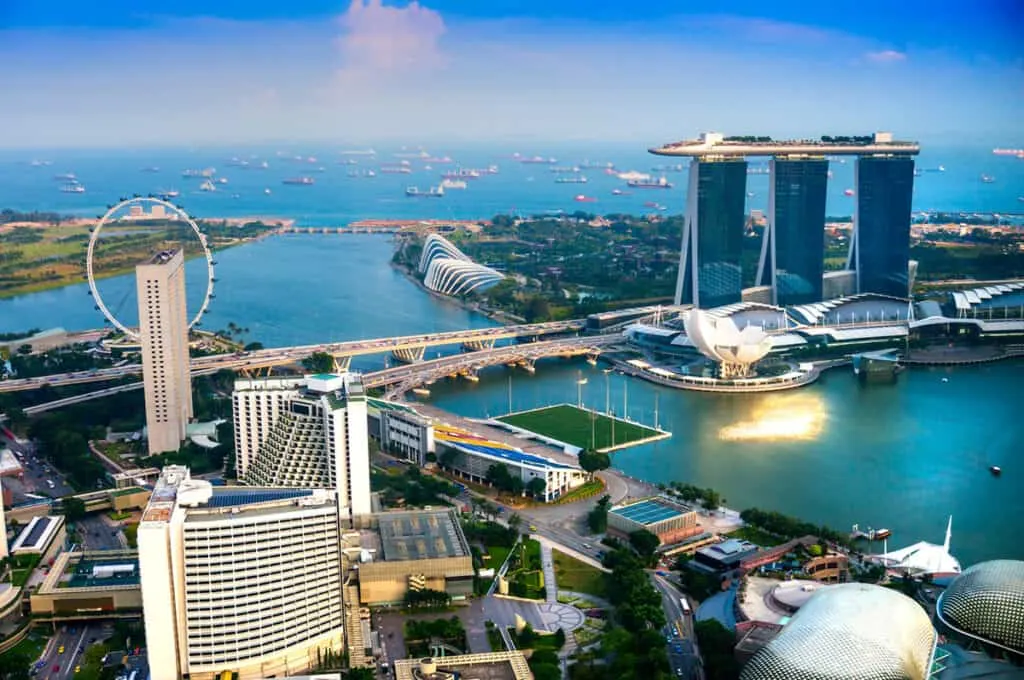 Chinatown is a favourite cultural hot spot even among the locals. The heart of Chinatown is a bustling, colourful mix of old and new, with night markets, spas and delicious dim sum restaurants. You'll find popular bakeries like Tong Heng Oriental Pastry on South Bridge Road, hawker stalls and cool bars along Club Street.
Must stop bars along Ang Siang Road include Oxwell and Co, Operation Dagger and the Nutmeg & Clove. Or head to Potato Head in a four story heritage building on Keong Saik Road for a cocktails and a burger to listen to their visiting DJs on the rooftop bar.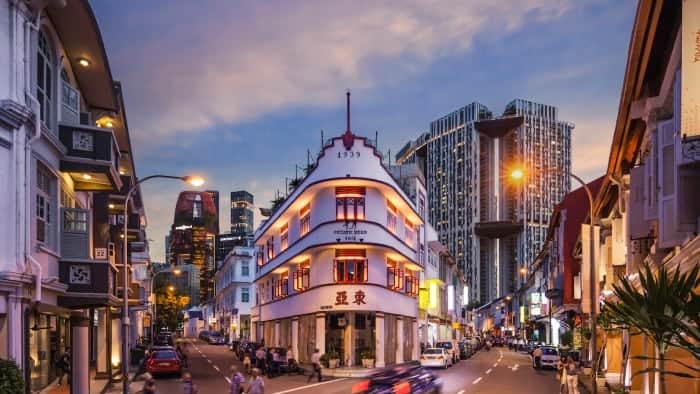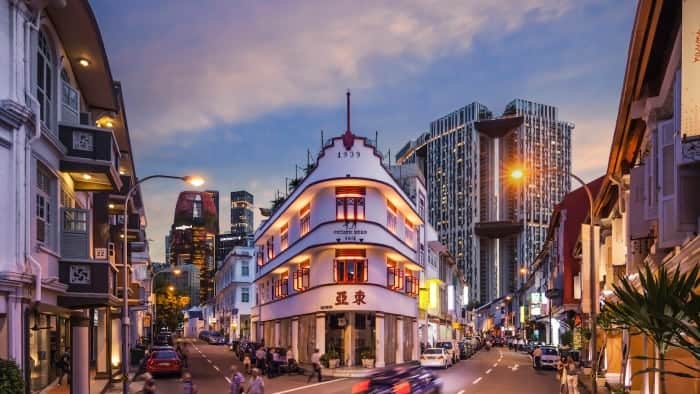 Take the boat to Pulau Ubin
Also known as Ubin, this island used to be home to several granite quarries. It's only about 10sqm and is about a 15-minute boat ride from Changi Village. There is no electricity, just a handful of residents and is now a habitat for flora and fauna. You can find more about Pulau Ubin, including things to know before you go here.
Cruise on the Singapore River
For an easy look at your surrounds, take to the river! The Singapore River feeds into the Marina Bay and a cruise, by day or by the twinkling lights of night, will reveal the city's icons like Merlion statue, and the place Sir Stamford Raffles first set foot on Singapore.
Get your cruise tickets here >
Singapore's dining scene
Dempsey Hill
This former nutmeg plantation, then military camp, has been transformed into a thriving dining, drinking and retail precinct just minutes from Orchard Road.
It's one of Singapore lesser known tourist destinations and one that ex-pats enjoy with the fine dining on offer. You'll find Candlenut, the world's first Michelin star Peranakan (straits-born Chinese) restaurant, by homegrown chef Malcolm Lee here, as well as COMO Cuisine, and Michelin-starred Dempsey Cookhouse & Bar.
Read more about what's on offer at Dempsey Hill here >>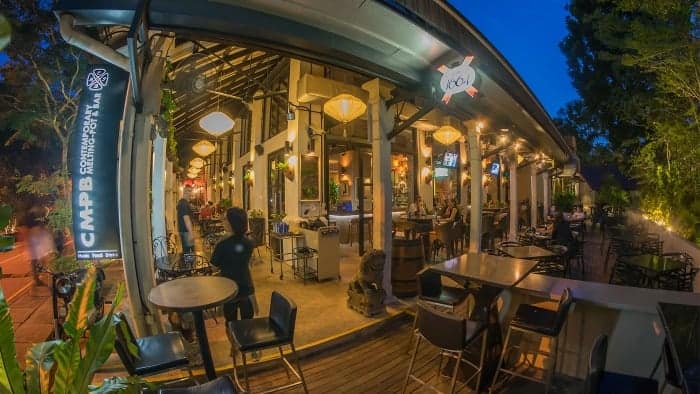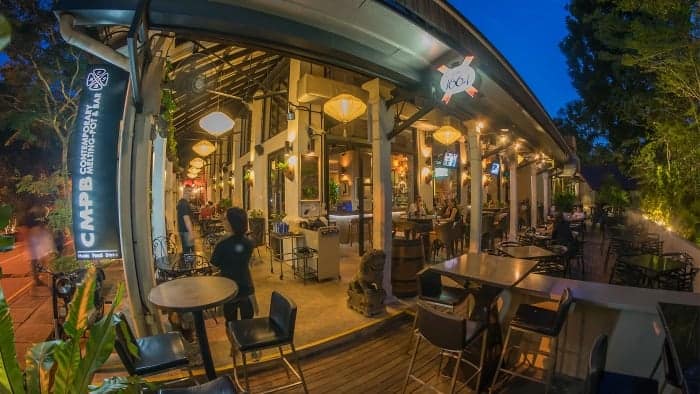 This is the ultimate destination for dessert lovers! Located in the chic Holland Village, 2am Dessert Bar is famous for its sumptuous modern desserts and great wine list.
Try their smoked white chocolate with hibiscus jelly and cinnamon beads, which the word on the street is to die for. This delightfully sinful haunt is open until 2am Monday to Saturday.
When night falls, the road is closed and out come the hawker stands on a portion of Boon Tat Street, Singapore's famous "satay street" between 7pm – 2am every night.
Order from sizzling stalls selling mouth-watering satay sticks for about 50c each and other Malay delights like mee goreng and barbecued chicken wings, and enjoy your cheap and cheerful meal at plastic tables with a pint of beer.
Getting around in Singapore
I love to get a Hop On Hop Off Bus ticket for 24 or 48 hours, so I can hop on an off all day and get to places like the zoo, Gardens by the Bay, Botanic Gardens, and the drinking and dining hot spot of Clarke Quay.
But if you're more savvy, the simplest way for zipping around is to get a one, two or three day Singapore Tourist Pass for unlimited travel on buses, MRT and LRT trains. From $22-$34.
Taxis in Singapore are reasonable but just know that they are only allowed to stop in designated areas. Surcharges apply at various times of the day and night too. Uber is banned, but they have Grab, so download that and you're good to go. Again, just make sure you're standing in a place where they are allowed to stop – i.e. not along a busy road.