Put your sensible shoes on because this is a comprehensive plan for two days of shopping in London until you drop!
I used to live in London. Five years I spent as an expat trying to merge with the locals.
I knew how to do the empty stare on the Tube on my way to work before anyone had phones to stare at, and if there were no seats I stood like a surfer riding the bends in tunnels without holding on. It was the lurching stops that threw me, but I digress.
I loved London in the summer because everyone else headed for Ibiza or some other country where English was a foreign language. I love the rooftop bar scene in London.
The long London summer days when the sun doesn't fade till nearly 10pm and picnics in Regent's Park or watching outdoor Shakespeare that I couldn't understand, was so cultured.
I love the markets in London, so much so that I wrote this post about the best markets in London.
But now when I go back I must be ruthless for I no longer have the luxury of weeks and weeks to see all my favourite things.
So here is my hit list for a 2-day shopping trip in London:
Buy an Oyster Card for all-day access to buses and Tubes (£30 for 7-days in Zones 1 & 2. Plus a refundable £10 when you finally finish with the card and buy your last ticket to Heathrow)
If you don't want to go to the hassle of an Oyster card, you can use your credit card by slapping it on the electronic turnstiles and the fare will be deducted. Just make sure you tap in and out with the same card.
Day 1: shopping in London
Start in Knightsbridge and head into Harrods.
This iconic department store has rooms upon rooms over several floors and one can get quite lost in here. Make a beeline for the basement and grab something for brunch. Their food is fantastic.
If you have more time (and money) dine at one of their restaurants, but honestly, I never have that much time and really love the basement deli. Then lose yourself in the fashion floors, homewares and accessories.
My favourite is the souvenir room for a little memento.
Step out of Harrods onto Brompton Road where you might get waylaid ferreting through Hobbs, Benetton, French Connection, Monsoon, Zara, Russell and Bromley, Coast, Warehouse, Gap. You may be lured into Jimmy Choo, Gucci or Ted Baker, but if you're anything like me you won't stay long!
Time for afternoon tea in London
By now you'll be needing a late lunch and my tip is to make it a lavish High Tea.
Read my post about the best gorgeous high teas in London.
I loved the high tea at the Ampersand Hotel in South Kensington when I stayed there and do some quirky things like a Science High Tea.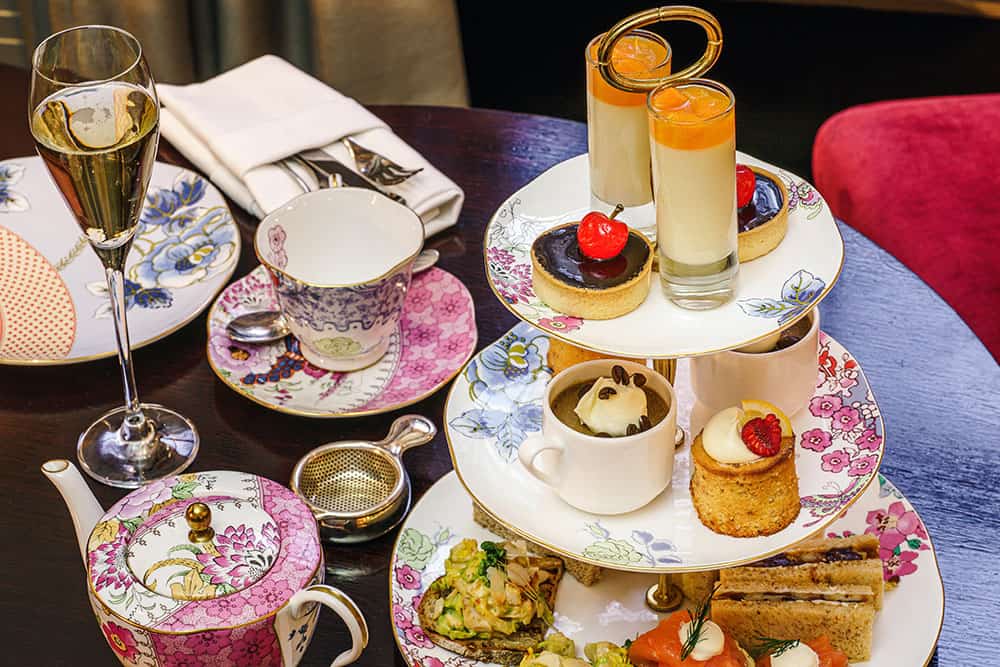 This 5-star hotel is tucked away on its self-named street and has sumptuous couches in front of the fire or a veranda in the summer to stick out your pinky and sip your tea while a three-tier cake stack is laden with club sandwiches, hot scones with jam and clotted cream and teeny cakes and pastries. (You can also make it a Pimm's high tea, but I don't recommend this as there is plenty more shopping to be done!)
From King's Road, start at department store Peter Jones before high tailing it up the high street.
I love the Conran Shop on Fulham Road for funky home decor and accessories, Anthropologie for more home bits and bobs and gorgeous fashion. Pop into Jigsaw, Cath Kidston, Whistles, Banana Republic.
If you're in the market for a pair of Cowboy-style boots you'll love the cheekily named R Soles. Cross over and browse through Habitat if you're looking for homeware. You'll also find a few of the same shops as Brompton Road, in case you saw something you are umm-ing and ahh-ing about.
Now for somewhere awesome for dinner…
I say Covent Garden where you'll find wine bars, pubs and restaurants.
Porterhouse is a 2-level Irish pub where they brew their own and is fun if you're meeting mates. (They also have free WiFi so you can use your phone to find somewhere close by for dinner.)
Of course when you're in London you really should have a curry! I can recommend Dishoom for modern Indian cuisine. It's not far from Porterhouse and is busy but they have a downstairs bar to wait in and get your starters underway.
Day 2: shopping in London
Start early and plan to have the best part of a day to shop along Oxford Street. Hours are 9am-8pm. (Covid restrictions allowing)
Starting at Marble Arch I head straight for Marks and Spencers then next door to Next and Dorothy Perkins before having a good look around Selfridges: I love the stationary section, and of course the floors of fashion. Selfridges is also the place to stop for lunch, or for a designer sandwich on the run try Pret a Manger across the road.
Read my post about the day I hilariously worked undercover at Pret a Manger in London here >>
Then continuing to shop towards Oxford Circus whiz into department store Debenhams to see what's on the racks here. Just along and House of Fraser is worth popping into. You'll find more of what you've seen elsewhere too, but H&M is up at the circus and Top Shop is across the road, who incidentally have a free personal shopper program to save you time.
Then you need to decide whether to head down Regent Street or continue along Oxford. I like to turn right and take on Regent Street – and I always browse through Liberty for fabrics that my mum loves.
If you have kids to buy for you can't go past Hamleys (although there is almost always a crush in here). You'll find Esprit, Calvin Klein, Levis, Zara, Mango (across the road from Burberry) and before you know it, you've reached Piccadilly Circus.
This evening take in a West End Show
Your choices are overwhelming, so head for a ticket office in Leicester Square and see what's available. If you've never seen the Phantom of the Opera, make Her Majesty's Theatre your first show in London and pay for the best seats you can afford.
But seriously, you can't go wrong. Musicals, plays, even the longest running show in town: The Mousetrap, which has been playing in the West End since 1952 would be worth it.
But to whet your appetite, other long running and hugely successful London shows are Cats, Les Misérables, The Woman in Black, Blood Brothers. Even Mamma Mia! opened in 1999 and the Lion King that same year.