If you have your sights on visiting San Francisco, these ideas for the best things to do in the Golden Gate City will give you a great place to start.
The last time I visited, we were passing through on our way to Chicago bringing friends who had never been before. We landed about 2.30pm, taxii'd in from the airport. We could taken the BART train (Bay Area Rapid Transport) but calculated at $10 per person x4 was more expensive than a taxi which took us door to door.
Throwing our bags into our rooms, we set off on a walk to blow the airplane cobwebs away, from our hotel in Union Square, through Chinatown and down to Fisherman's Wharf.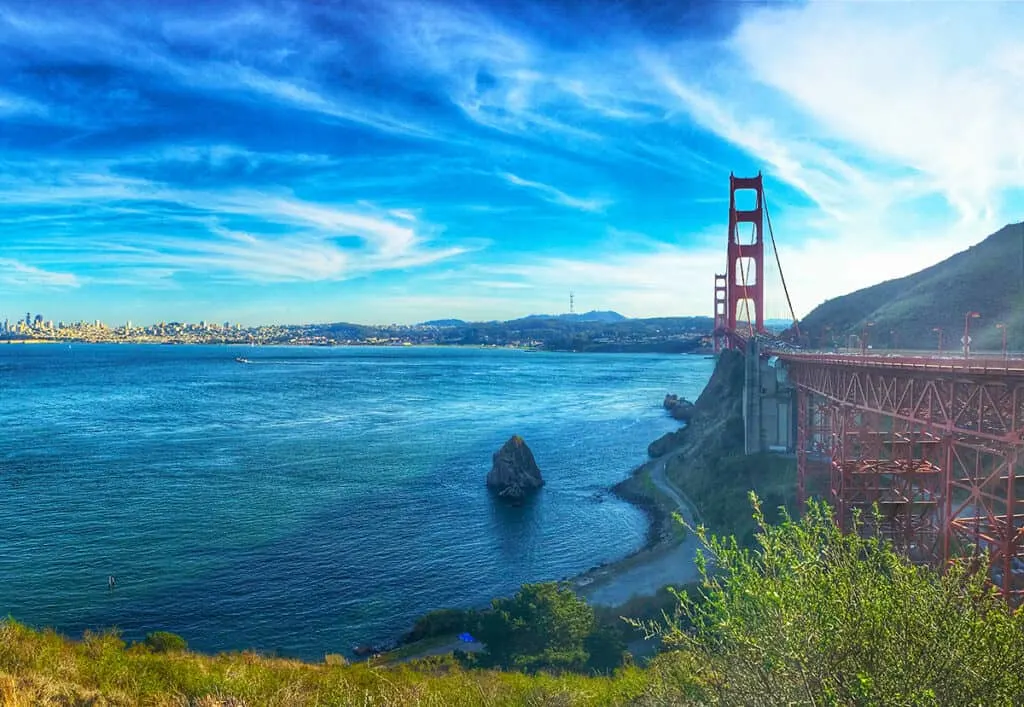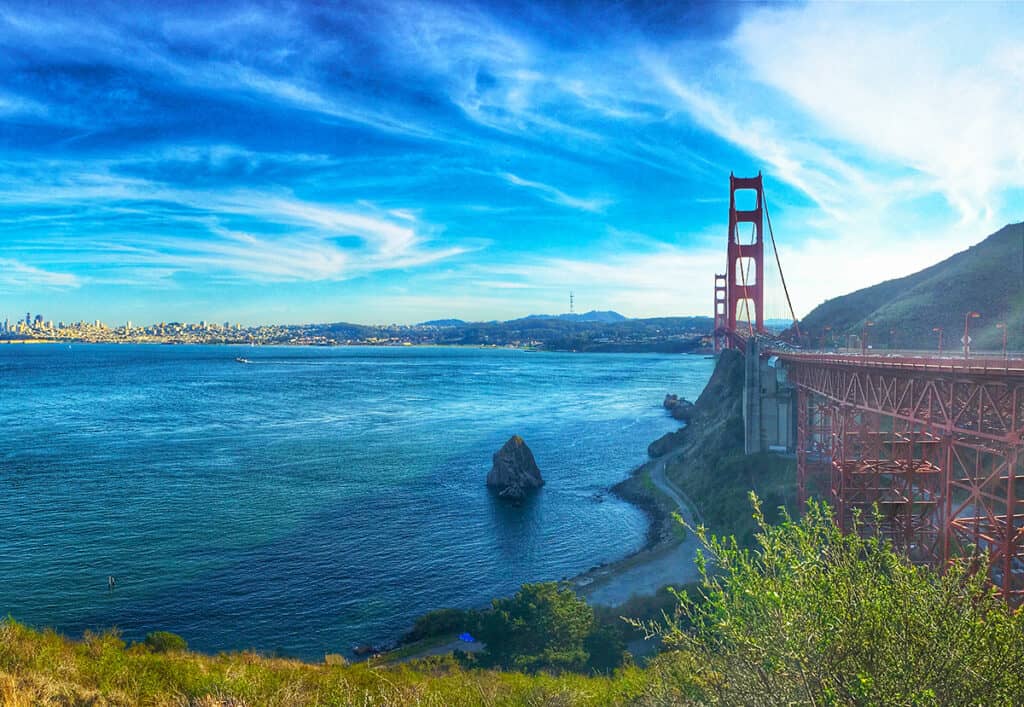 That's three of the big must-sees that you will already have on your bucket list right there, but others in this post I reckon you won't even know about!
We only had 36 hours in San Francisco on that visit, so I wrote this post on the best places to visit in such a quick window.
I've put this list together with the help of several US travel bloggers who all have a little something special to share about San Francisco, as well as some of my own favorite things to do and see here.
*This post contains some affiliate links. That means if you make a purchase I may make a small commission, at no extra cost to you. Thank you for your support of my blog.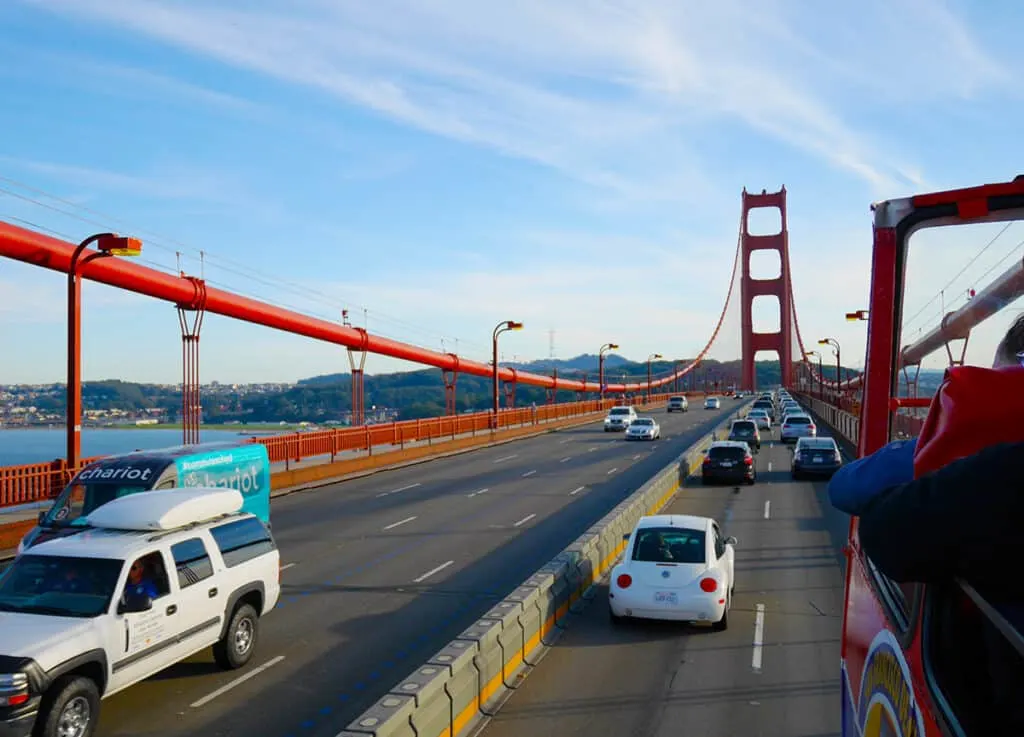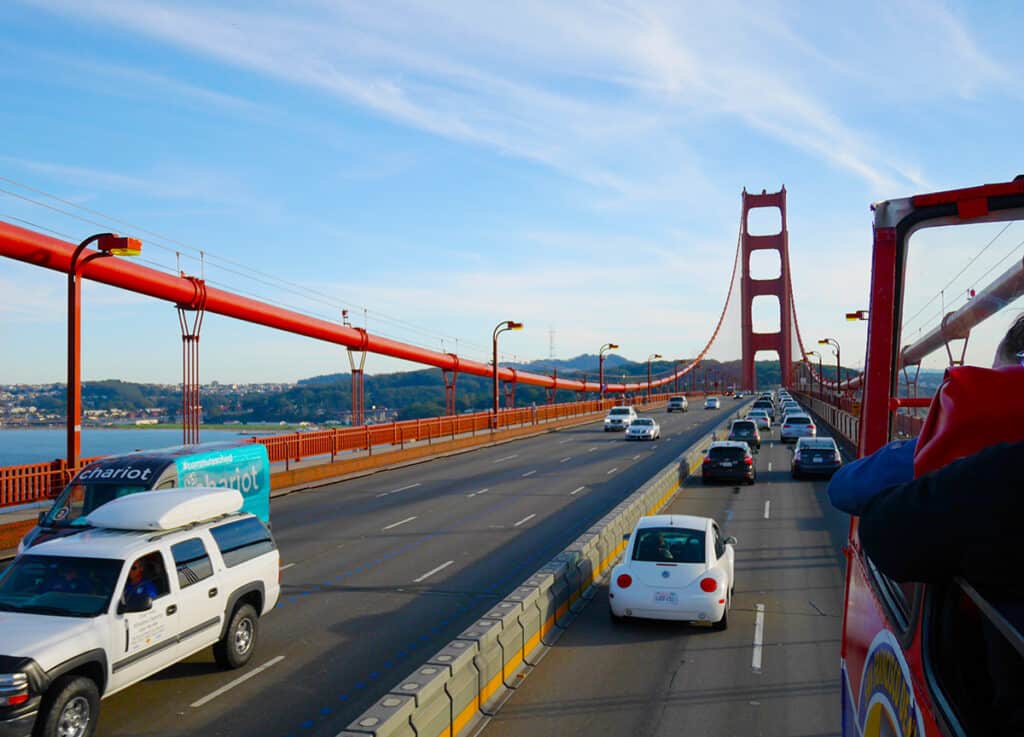 Getting around San Francisco
Start with a Hop on Hop off bus tour
My top tip for visiting any city for the first time, or even if I've been before but just want an easy way to get around, is to buy a 24 or 48-hour Hop On Hop Off bus ticket.
Ride the cable cars
There's nothing quite as cool, and quintessentially San Franciscan, as riding the cable cars up and down the steep hills. They are a tourist attraction in their own right!
Buy an all day Muni pass for rides on trains and cable cars, or it's $8 per ride. If you're going to pick up the cable car from Powell & Market, Bay & Taylor and Hyde & Beach Streets, you must purchase your fare in advance online. Otherwise exact change is required.
For all-day travel, purchase a Visitor Passport for $13.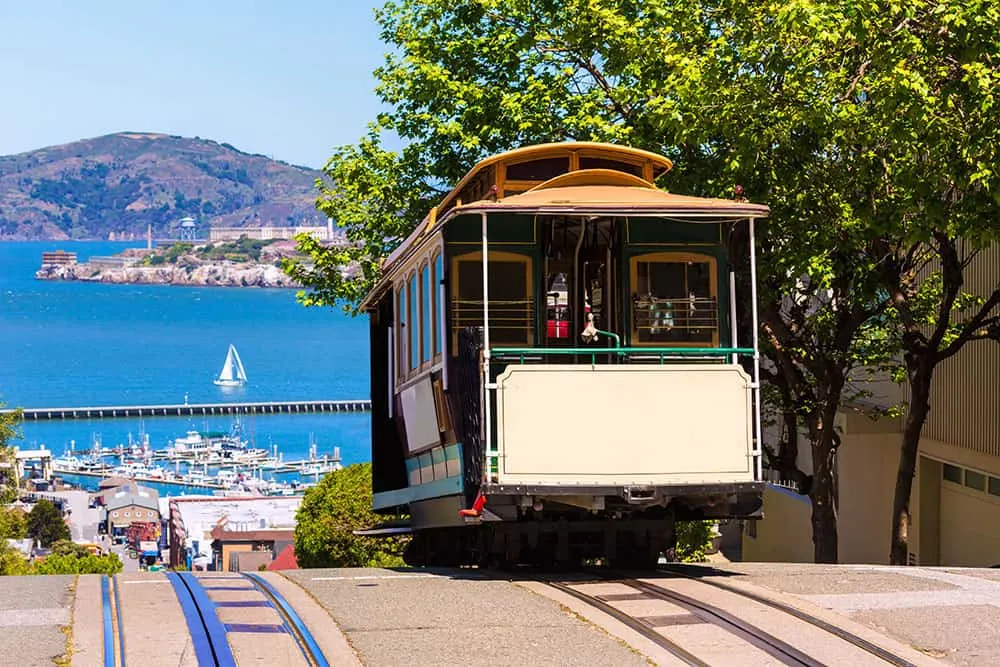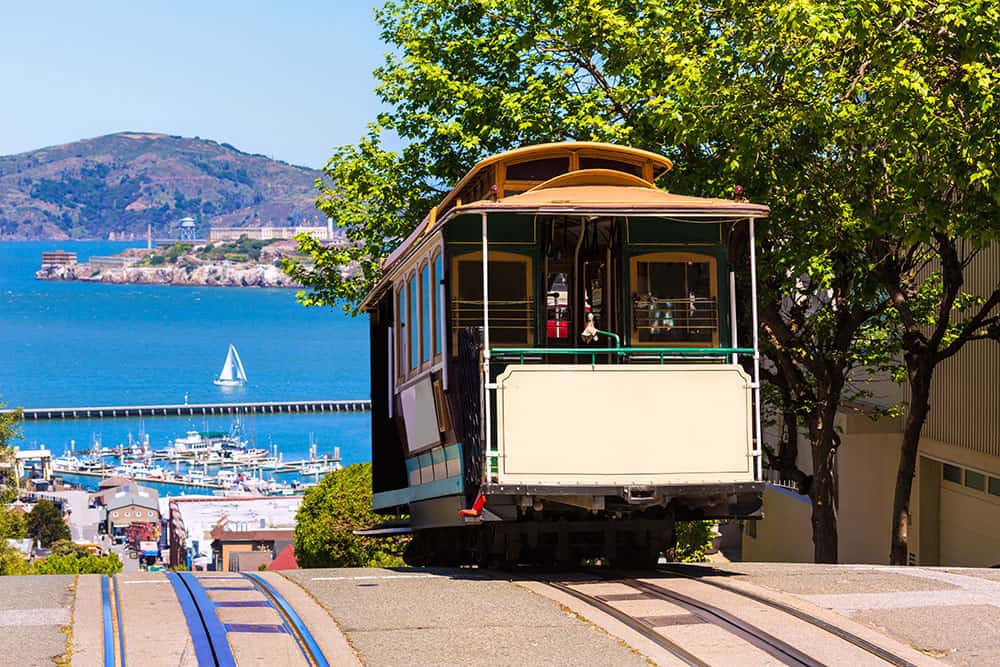 Where to stay in San Francisco
I personally like to stay around Union Square. It really is a great hub for shopping and dining, shows and bars. It's also very easy to take the cable car down Market Street and around the Embarcadero to touristy Fisherman's Wharf. The Hop on Hop off buses also stop here for easy pick up (and drop off).
Lately however, with the soon departure of Westfield Mall on Market, I think I'd opt for down nearer the water and closer to Fisherman's Wharf.
I have stayed at the Embarcadero, near the Ferry Building and this is a great location. They have an outdoor market down here on Tuesdays, Thursdays and Saturdays, and if you like a sea view and to be within walking distance of Oracle Stadium, and the surrounding restaurants and bars, this is great spot.
But probably the most popular spot to stay is at Fisherman's Wharf. If this is where you plan to spend most of your time, taking tours, strolling around the pier, eating out. Then this is a good spot and on the cable car line.
Visit Fisherman's Wharf at PIER 39
By Grace Roberts from Pixie Dust and Passports
If you're looking for waterfront views, excellent activities for kiddos, and street performers for miles, then you'll want to visit the famous PIER 39.
This iconic spot is technically an open-air shopping center, but it's absolutely crammed with incredible things to do. From boutique shopping and the Aquarium on the Bay (no need to line up for tickets if you book online here) to the sea lions that playfully lounge on the pier, it's unsurprising that this place is perpetually packed with tourists.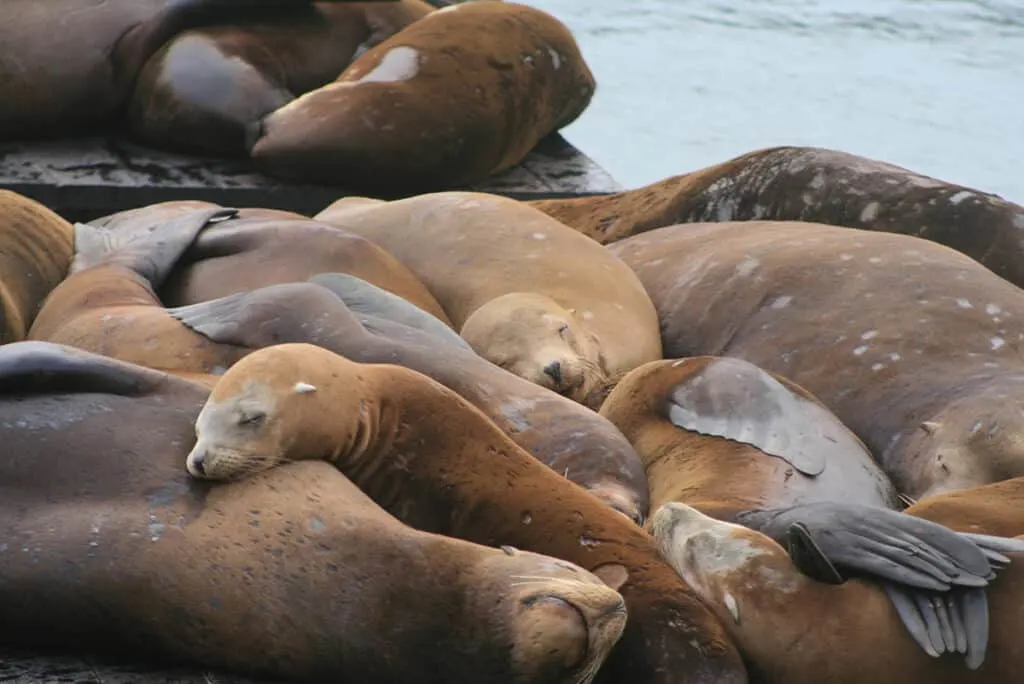 But it's the ever-popular Musée Mécanique that makes this spot a must-visit. Believe it or not, this arcade has been family-operated and owned since 1933, and is full of classic 20th-century arcade games. Over 300 mechanically-operated ones in their original working condition, in fact!
Children usually spend their time turning the music boxes and watching the slightly creepy Laffing Sal. If you're wondering what this is, it's essentially a funhouse model from the 1930s that laughs at passersby. It's fascinating and is definitely worthy of a photo or two!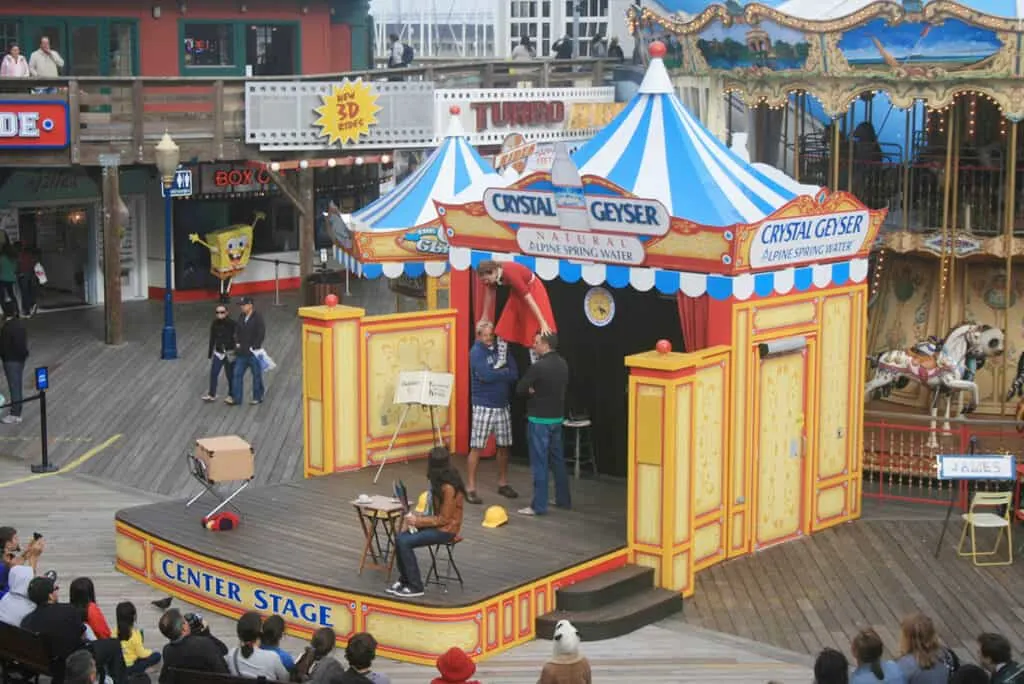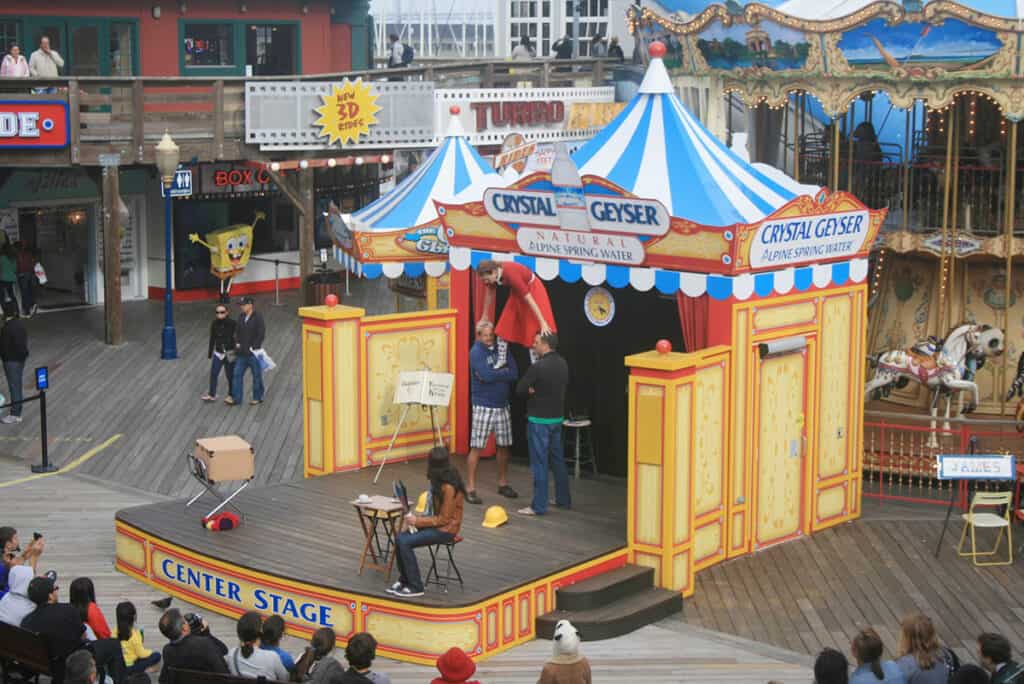 And if you're looking for more, check out the foosball tables or get your fortune predicted by a bizarro gypsy. There's no guarantee that her predictions will be accurate, but it's a great way to have a chuckle with your travel mates. If nothing else, it's a good way to keep toddlers off your back about driving several hours to Disneyland!
When you're done, you can grab a glorious scoop of ice cream from Dreyer's or pick up a hot chocolate from Ghirardelli in Ghirardelli Square, or try a classic clam chowder in a sour dough bowl from several outlets.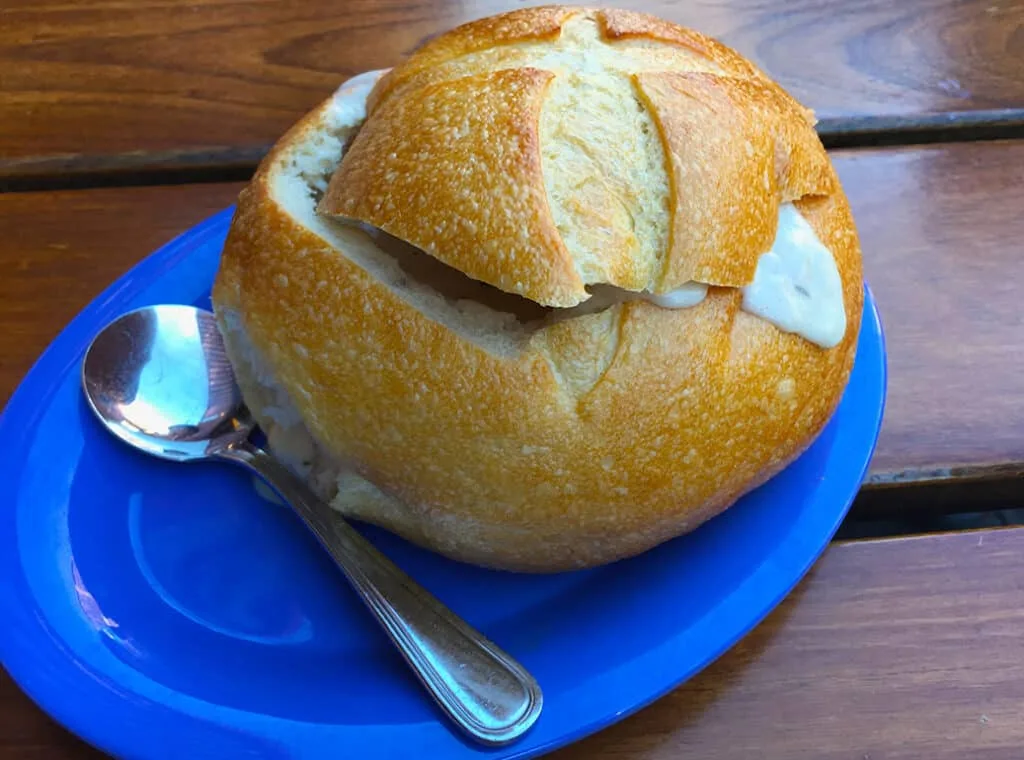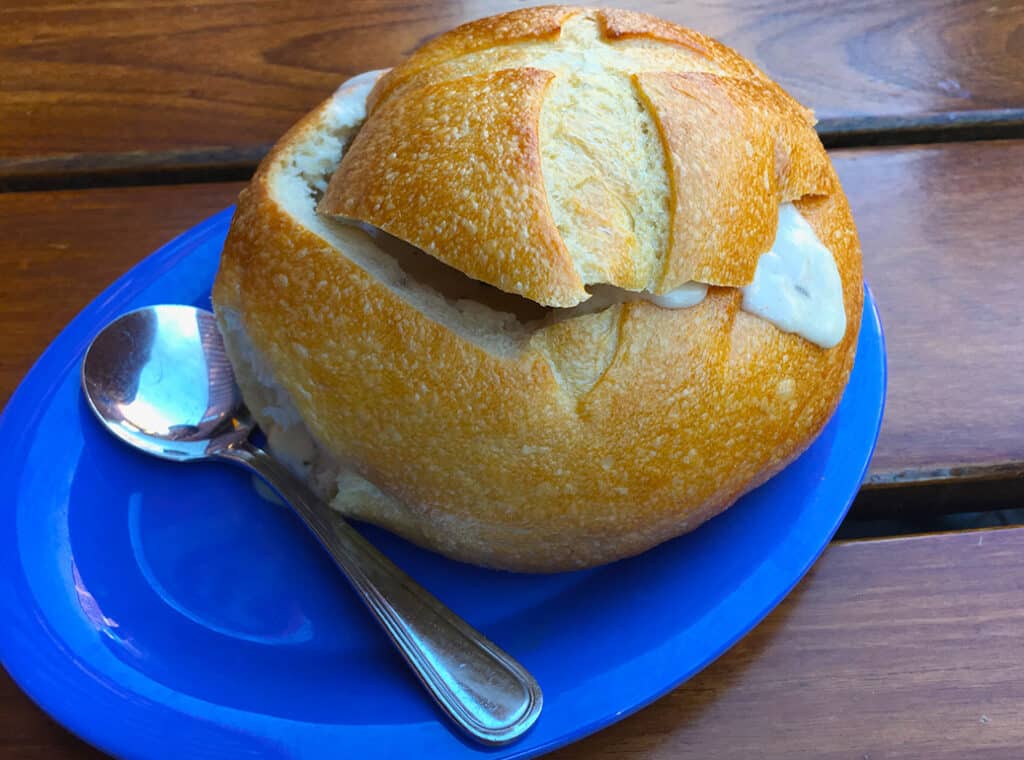 Sail to Alcatraz
If you've never been to San Francisco, a visit to The Rock will be on your must-do list. The foreboding prison rises up out of Alcatraz Island in the middle of San Francisco Bay, 1.25 miles (2km) from the shores of the city, and could tell many a story.
In fact, not only could it, but it does! Your ticket will include an audio guide which you can listen to at your own pace as you walk past prison cells, through the corridors and outside around the gardens and ruins.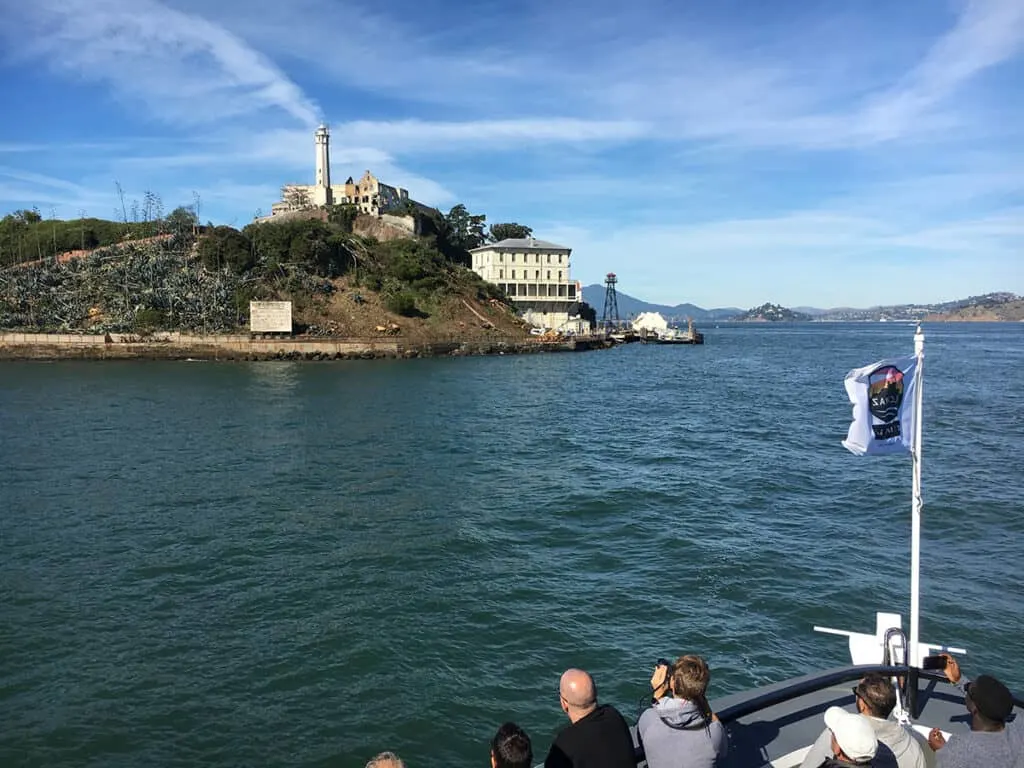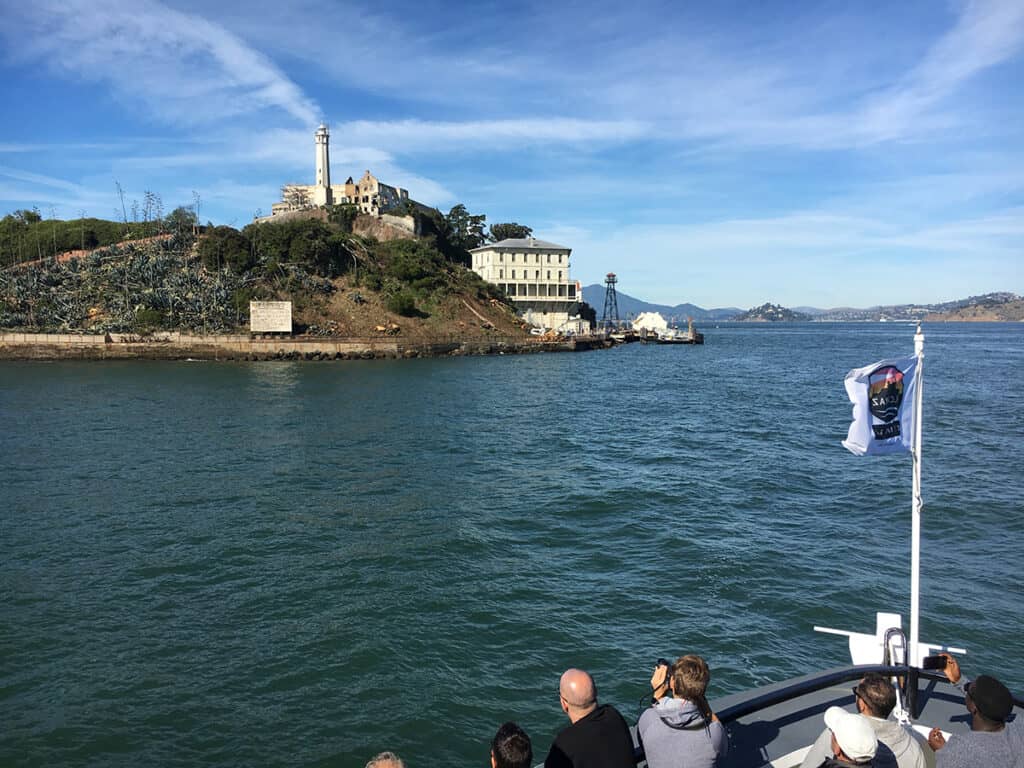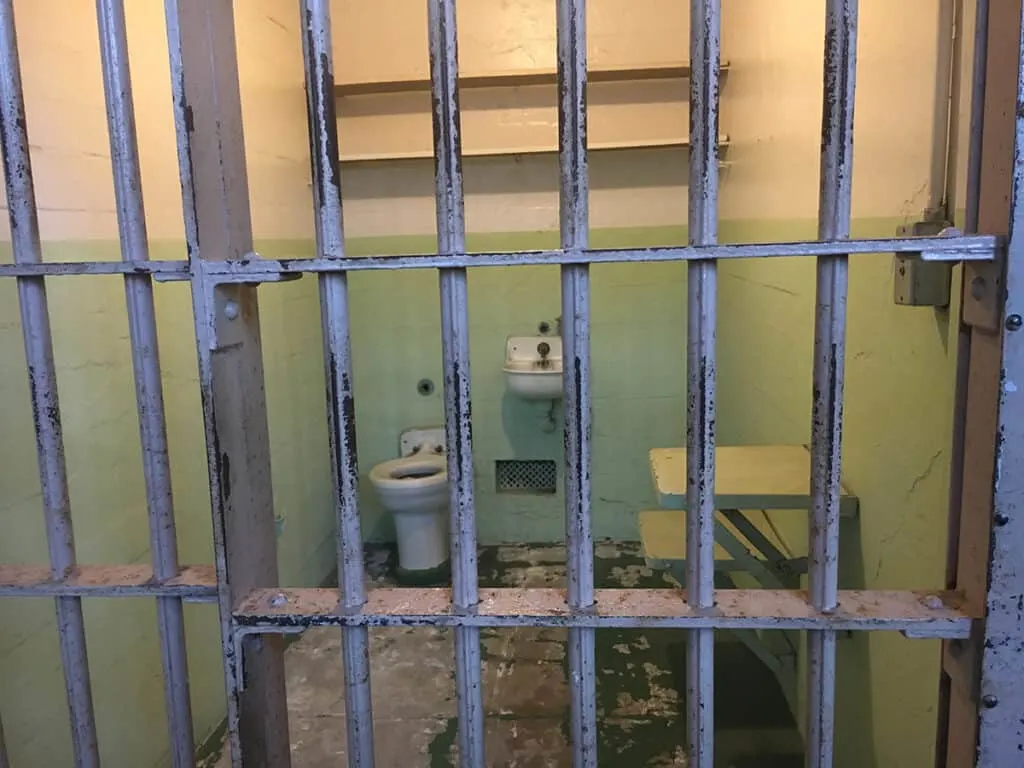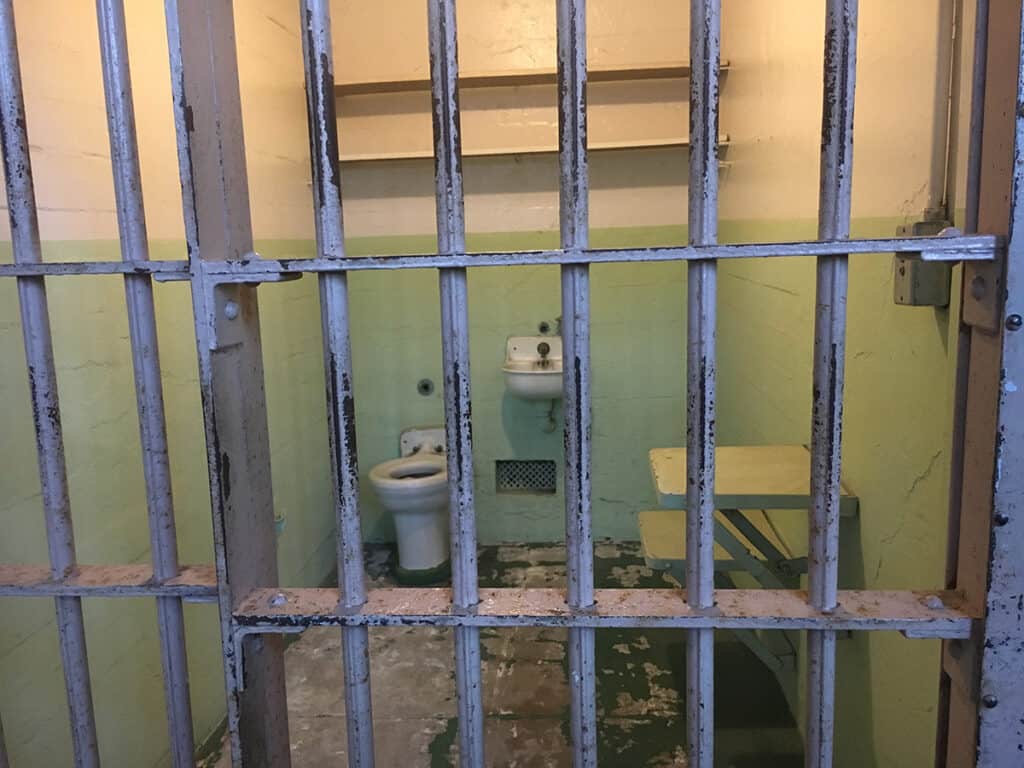 You'll hear from former inmates like Al Capone, and guards recalling their time here and you'll wonder whether the ones that escaped and were never found, actually did get away or perished in the harbor.
Originally opened in the mid to late 1800s as a military fort, military prison and had facilities for a lighthouse. It was converted into a federal prison and closed in 1963. It is now an national historic landmark.
It's about a 15-minute boat ride to the island from Pier 33. Alcatraz Cruises is the official provider (also Hornblower Cruises). If you buy a ticket from another company you will not dock but just tour around the island.
You can also bundle an Alcatraz ticket to your Hop On Hop Off bus tour >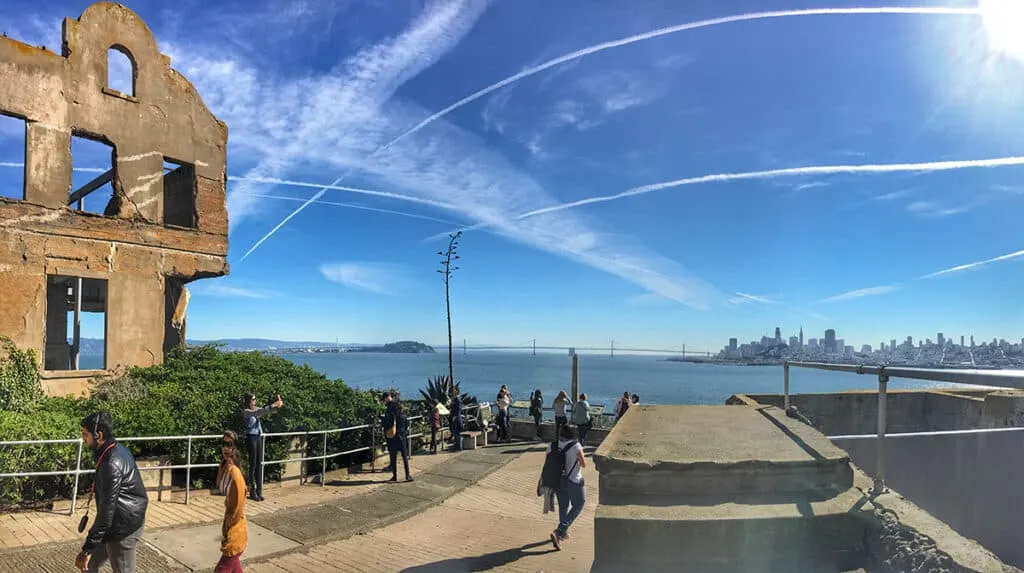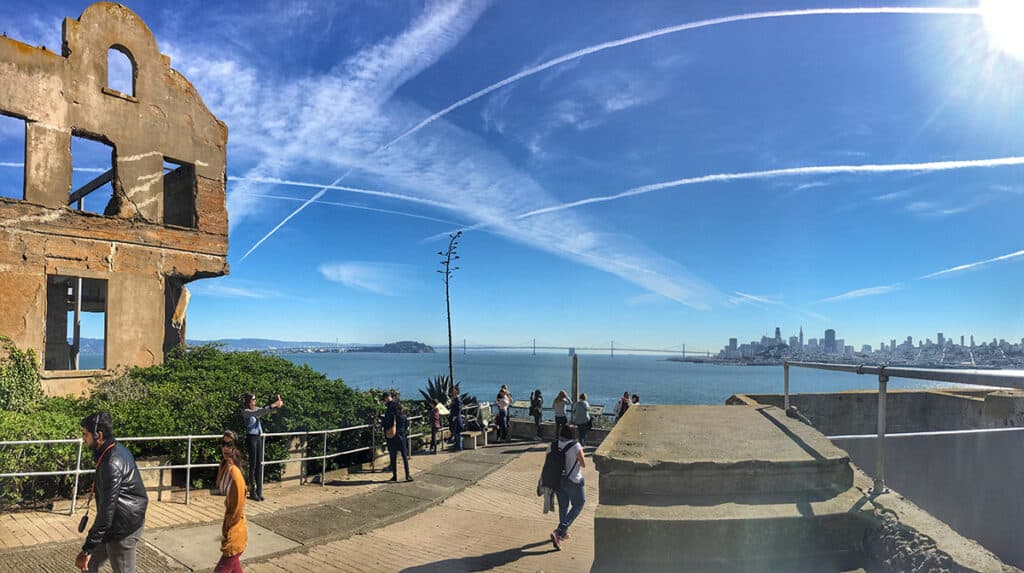 Visit the Ferry Building
By Denise of Chef Denise
The Ferry Building Marketplace is a must on any San Francisco itinerary for foodies. You can walk, or take the cable car to this landmark building and clocktower located at the foot of Market Street.
In 1898, the Ferry Building did indeed operate ferryboats to and from the peninsula. Years later when the Golden Gate and Bay Bridges were in full swing weaving together the San Francisco Bay area, the ferries became obsolete. Offices took over the space shortly thereafter until the early 2000s.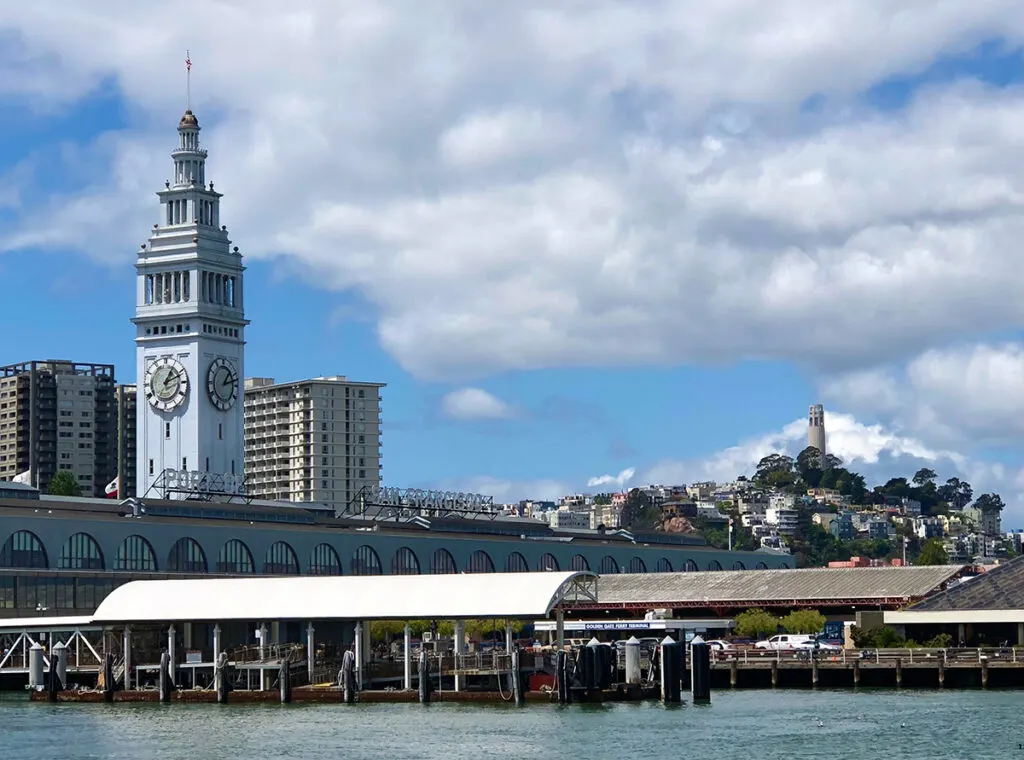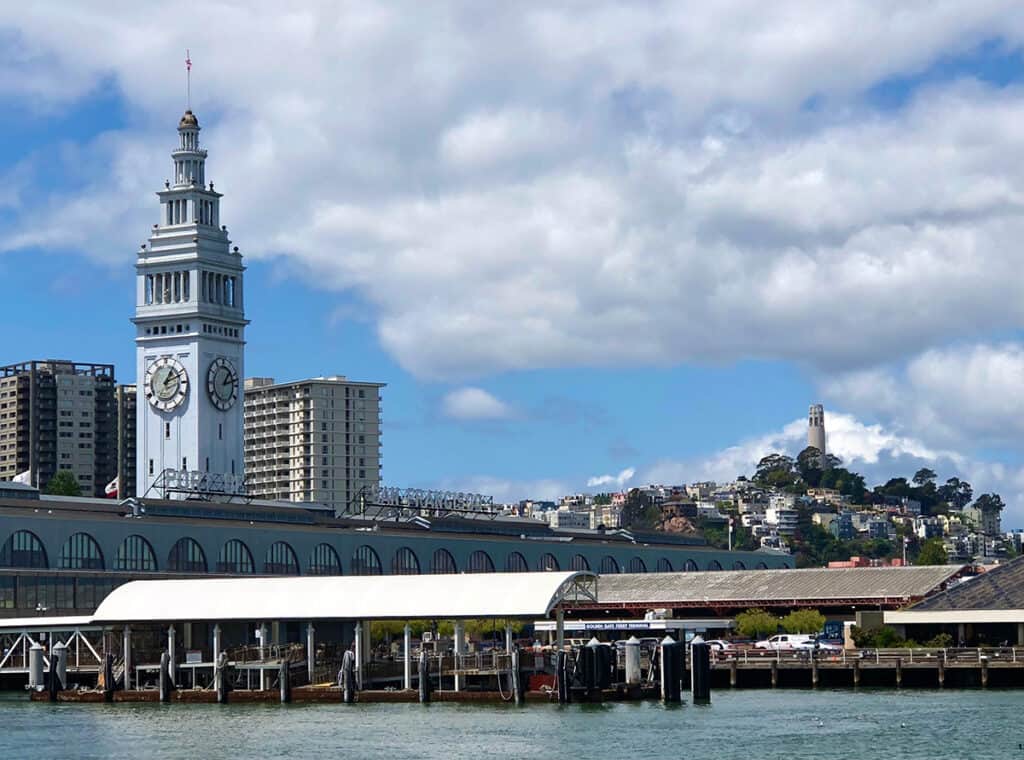 After a massive restoration, a marketplace for restaurants and local food and wine artisans was created.
This is a great venue to take in the San Francisco food scene. You can graze your way through, snacking on baked goods, seafood, ice cream, and more. If you prefer a meal, there are plenty of fabulous eateries for breakfast, lunch, and dinner. Make a reservation for Hog Island Oyster Company or Boulette's Larder. If that doesn't work, try Gott's Roadside.
You'll also find wonderful shops and markets to pick up foodie souvenirs like local olive oils, wines, spices, craft beers, cheeses, and an array of sweets. You can spend an hour or a day depending on your enthusiasm for food and level of hunger.
After exploring the inside of the Ferry Building, step outside the back and enjoy the views of the bay.
And on Tuesday, Thursday, and Saturday mornings make sure to leave time to explore one of California's best farmers markets in front of the building.
Browse City Lights Booksellers
By Sharon of Exploring R World
Exploring an independent bookstore is always a great way to learn about a city. A visit to the City Lights Booksellers will give you a flavor of San Francisco's innovation, resistance to censorship, and progressive ideas.
This three-story delightful bookstore bills itself as "a literary meeting place since 1953." Not only are books sold, they are also published and discussed here.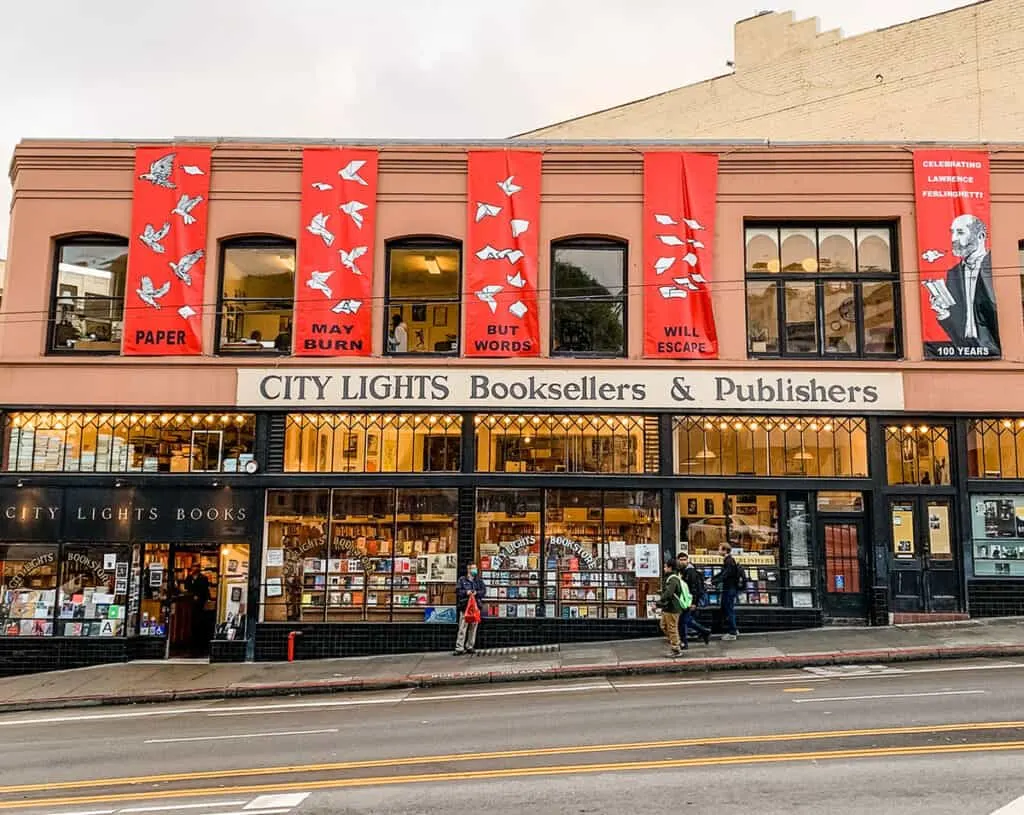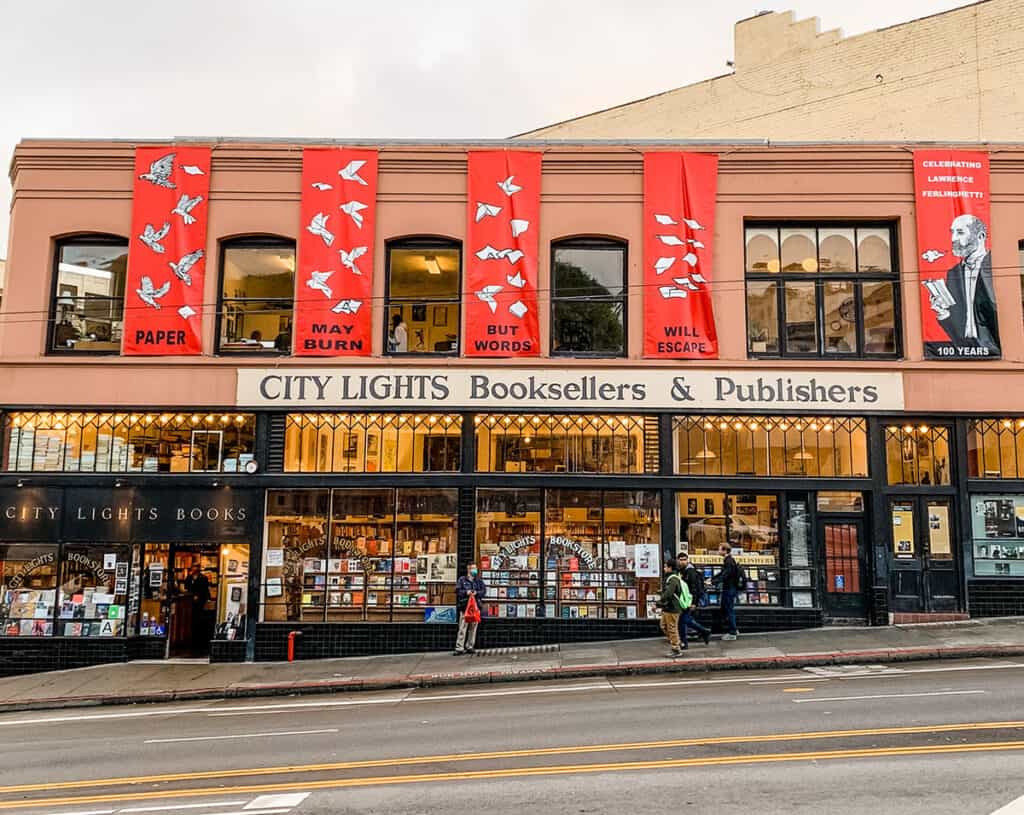 You'll find books from traditional publishers as well as indie houses. Browse the sections on poetry, fiction, politics, history, philosophy, music, and film. Be sure to venture down the narrow stairway to the lower level for a full experience.
Founder Lawrence Ferlinghetti said of City Lights, "It is as if the public were being invited, in person and in books, to participate in that 'great conversation' between authors of all ages, ancient and modern."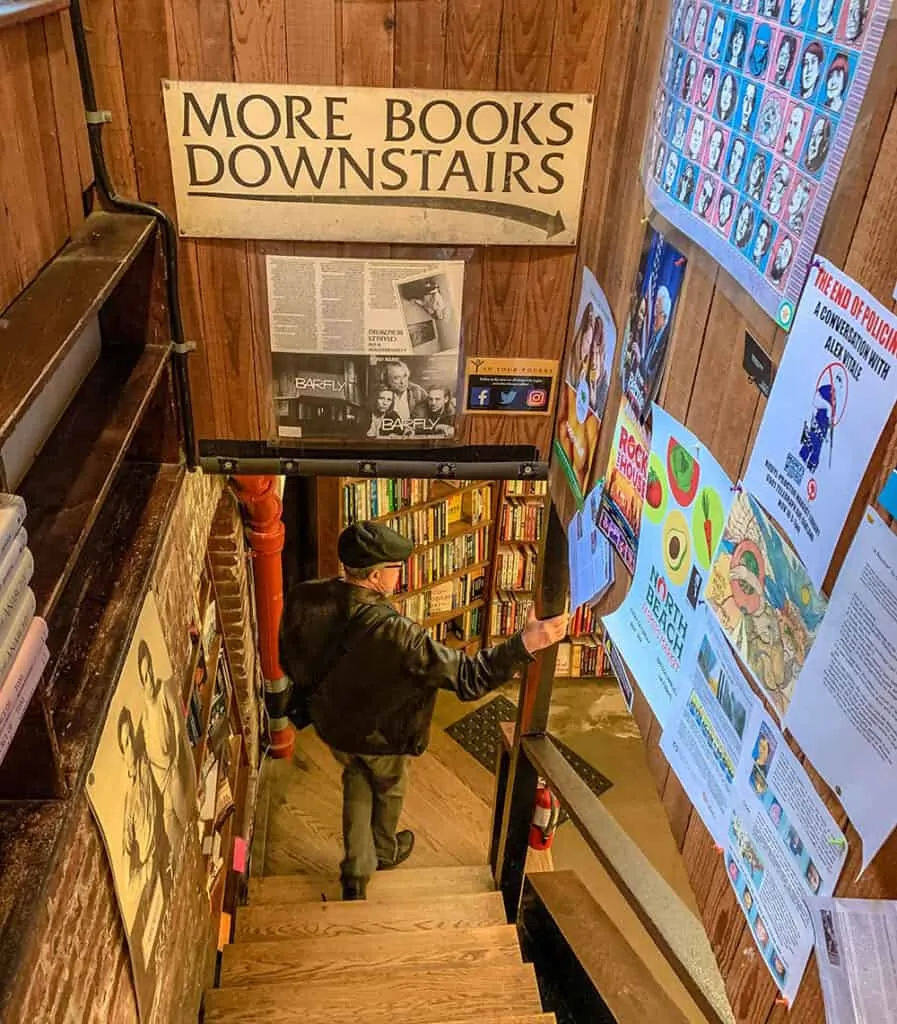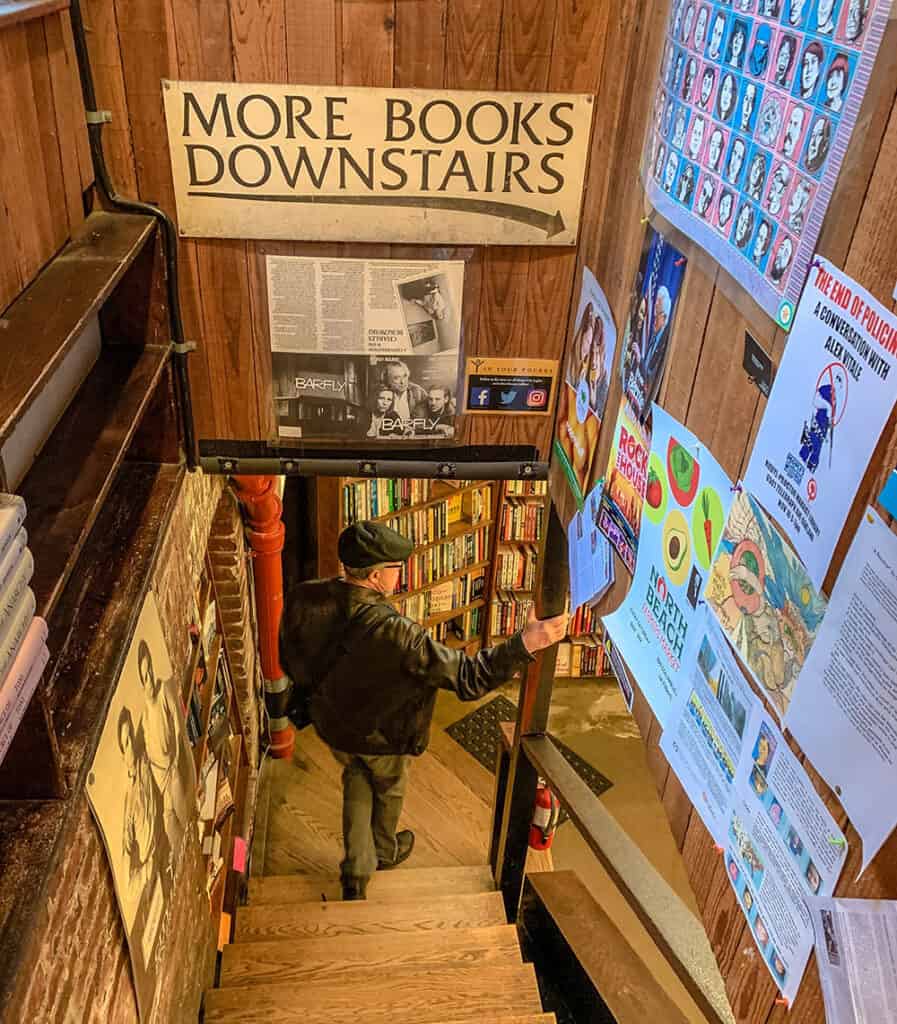 From early days, the bookstore has drawn the curious. During the 1960s, tour buses came here so tourists could sight "beatniks."
Today, when you visit, note the display of banners outside above the store name. These changing banners may express political or philosophical sayings. To celebrate the 100th birthday of Ferlinghetti, the banners read: "Paper may burn but words will escape."
While you are enjoying San Francisco's hidden gems, include a visit to the City Lights Bookstore at 261 Columbus Avenue at Broadway. Meander through the towering stacks of all sizes and shapes of books. Choose a book, sit a while, and read.
Whether you come to this literary landmark out of love for reading or out of a desire to see a slice of San Francisco history, you will be so glad you stepped through the doors of this iconic place.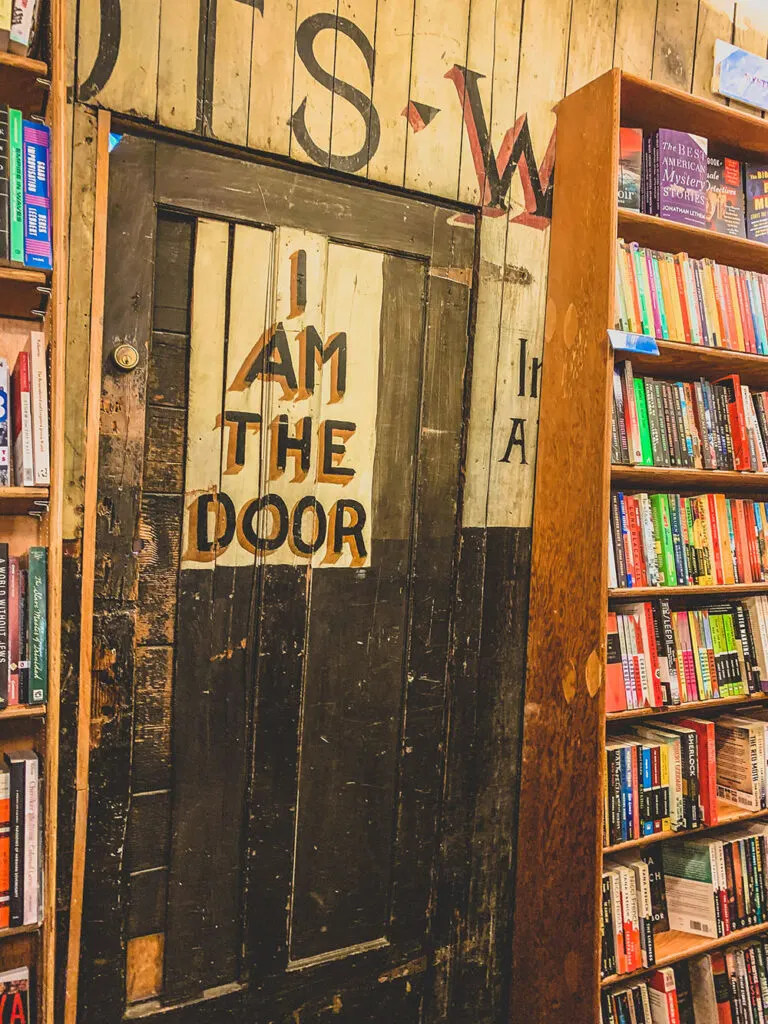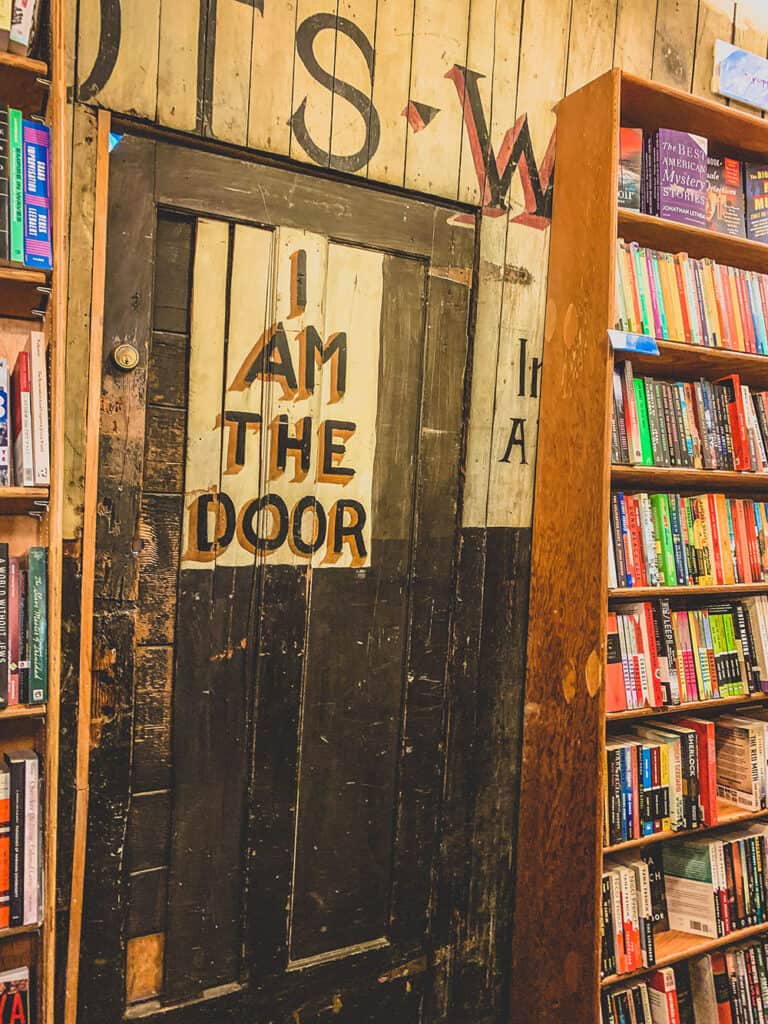 Explore Chinatown
By Victoria of Guide Your Travel
San Francisco's Chinatown is a must-see for anyone looking for a unique cultural experience.
This neighborhood is the oldest and largest Chinatown in the United States and offers a glimpse into the history and traditions of Chinese immigrants in the city. It is bustling with vibrant street markets, colorful lanterns, and traditional Chinese architecture, creating an atmosphere that is both exciting and authentic.
One of the main attractions in Chinatown is the markets, where you can find everything from traditional Chinese herbs and spices, to hand-embroidered silk garments, to exotic fruits and vegetables.
You can also explore several of the city's oldest Chinese temples, such as the Tin How Temple and the Kong Chow Temple, which offer a glimpse into the spiritual and cultural practices of the Chinese community.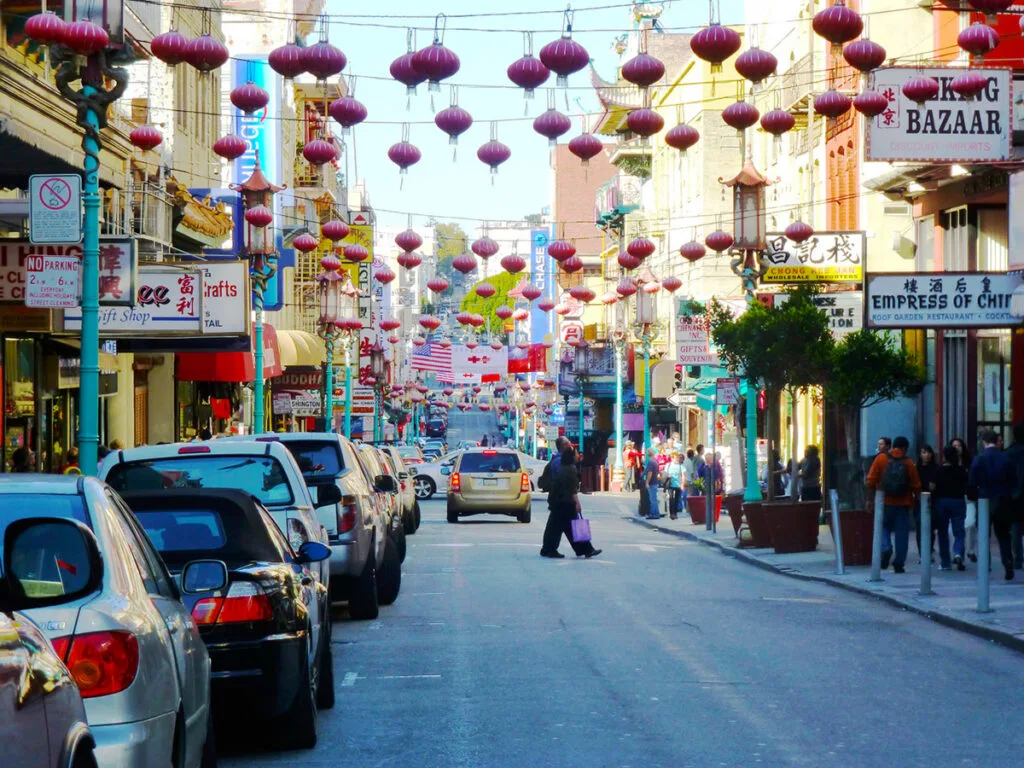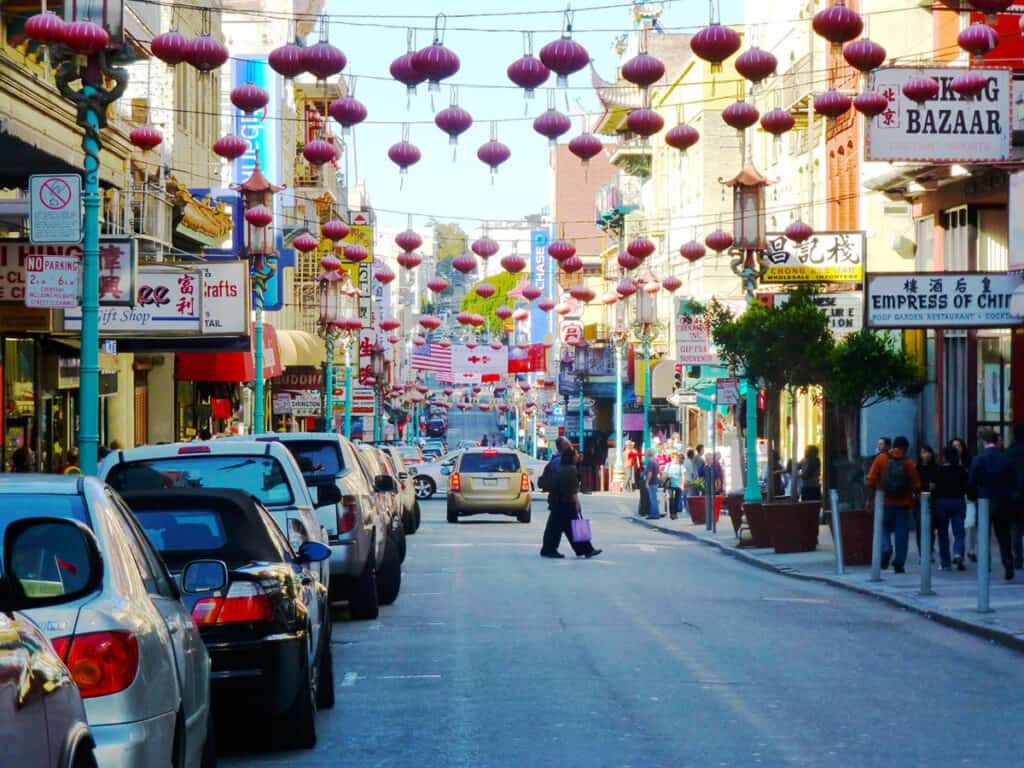 When it comes to food, Chinatown offers an abundance of delicious and affordable options. There are many traditional Chinese restaurants, street vendors, and markets where you can try a variety of dishes from different regions of China.
Some popular dishes to try include dim sum, dumplings, Peking duck, and Cantonese roast meats.
For a sit-down restaurant, some of the well-known places to eat would be R&G Lounge, well-known for their Chinese style roast meats, like the crispy skin roast pork; the House of Nanking, known for their Cantonese-inspired dishes and Pacific catch seafood; and the Yank Sing, a Michelin-starred restaurant known for their high-quality dim sum.
There are also many other Asian cuisines available in Chinatown like Vietnamese, Thai and Filipino. If you're looking for something sweet, you can find a variety of traditional Chinese desserts too, such as delicious egg tarts and sesame balls.
Take this 3-hour walking food tour of Chinatown to get to taste authentic Cantonese, Mandarin and Szechuan cuisine from five Chinese owned and operated restaurants and bakeries.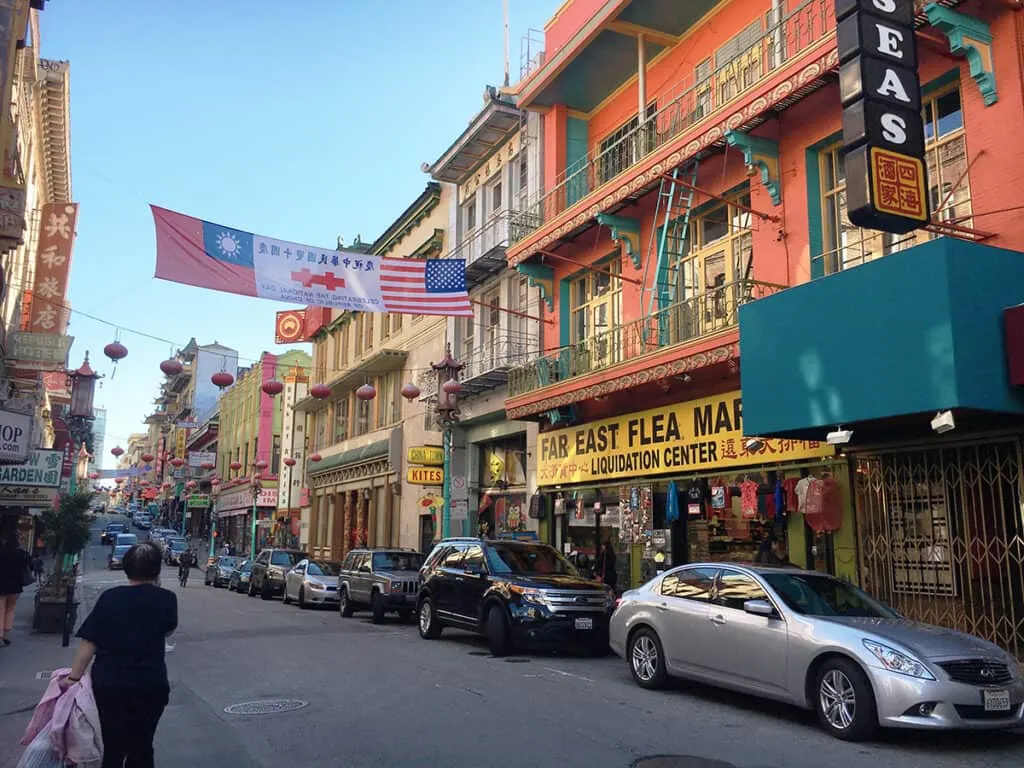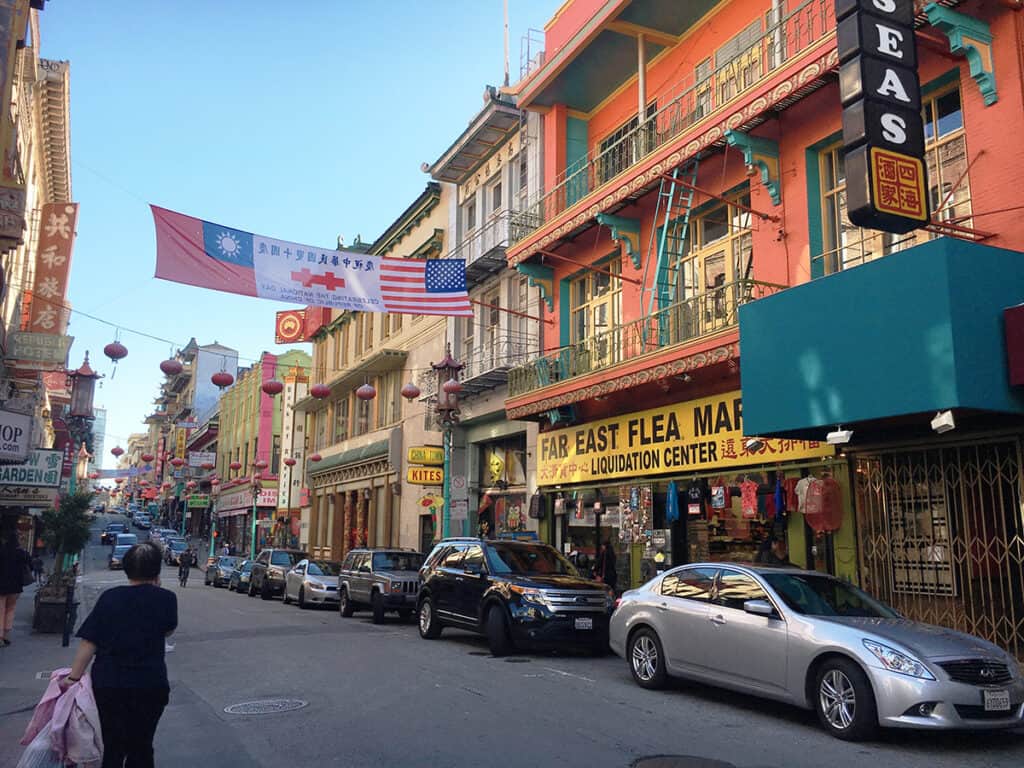 Visit iconic Haight-Ashbury
By Anu Agarwal of Destination Checkoff
Haight-Ashbury is a quirky neighborhood in San Franciso, rich in history and famous for its hippie vibe, vintage shopping, original Victorian homes, and funky stores.
Haight-Ashury became famous in the 1960s when thousands of people came to this neighborhood during the Summer of Love movement. The effects of that hippie culture are still seen in this neighborhood in the quirky stores.
Strolling on Haight Street is a great way to spend a morning and enjoy some lunch at the many restaurants here.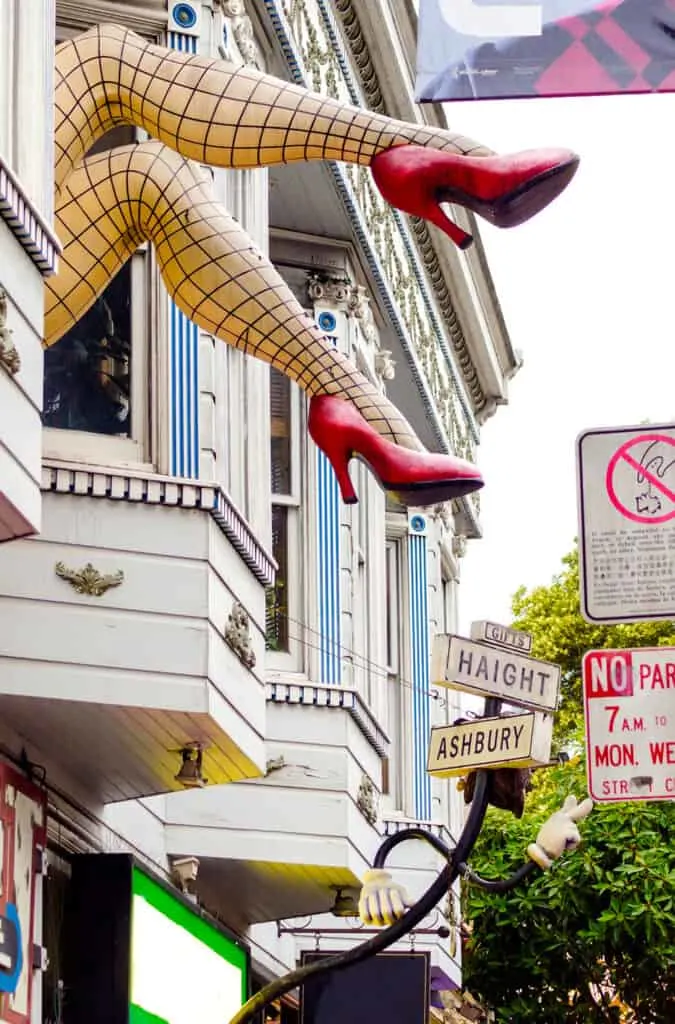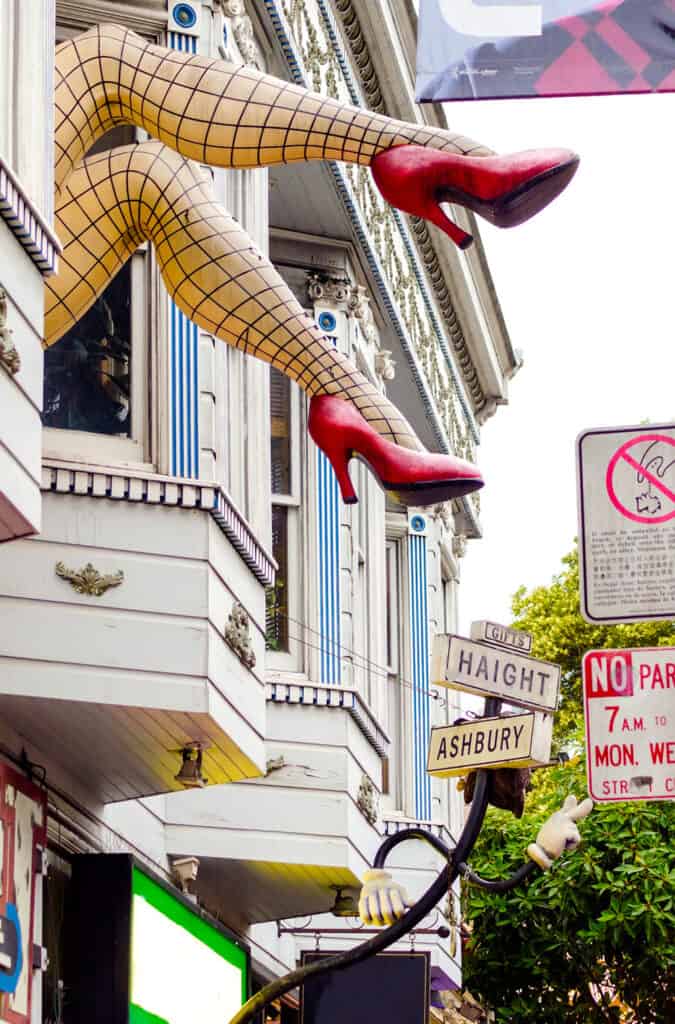 Make sure to take a selfie at the iconic Haight St and Ashbury St intersection where it all began in 1967 and check out the famous legs statue at the Piedmont Boutique!
The area has a lot of original Victorian homes still intact and you're not far from Alamo Square and the most famous row of Victorian houses, the Painted Ladies. There are some famous homes here where musicians lived during the 1960s like The Grateful Dead house and Janis Joplin's house.
The vintage stores here, like Relic Vintage, are great for window shopping and you might find a new favorite piece. Amoeba Music is the largest record store here and Booksmith is great for new reads.
Make sure to buy a tie-dye shirt at Love on Haight store. The colorful exterior of the store is awesome.
Coffee to the People is a nice cafe and Cha Cha Cha and Magnolia Brewery are some great places to grab some lunch.
If you don't have time to come for a visit, the Hop On Hop Off bus takes you through this area so you can snap you pics without getting off the rooftop!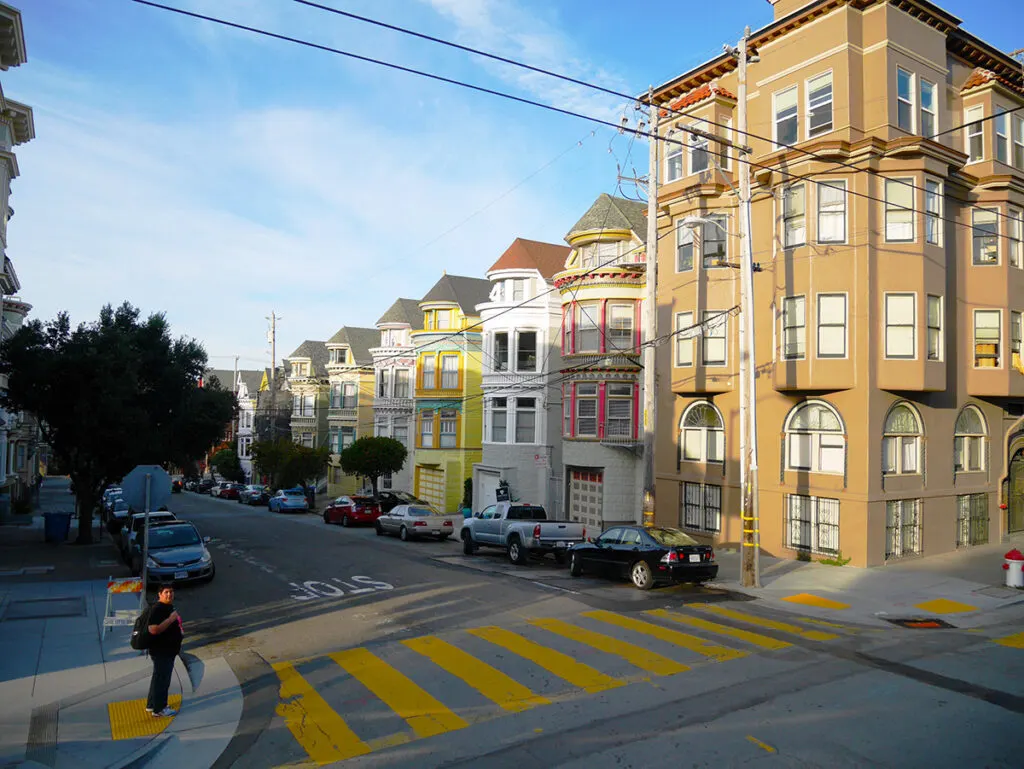 Visit Golden Gate Park
By Candice, CS Ginger www.csginger.com
One of the must-see San Francisco attractions is Golden Gate Park. This is one of the best things to do in San Francisco with kids and adults alike.
Spanning 1,017 acres of lush grasslands and meadows, you can visit gardens, sports courts, picnic areas, museums, playgrounds, and beautiful trails.
Be warned: the park is so big that it can take days to explore every corner of it. The Stow Lake is a tranquil body of water surrounded by majestic trees and views of San Francisco's skyline.
The Japanese Tea Garden, an authentic Japanese tea house with a beautiful garden, is one of the most popular spots in Golden Gate Park. The San Francisco Botanical Garden displays over 8,000 species of plants and flowers from all around the world.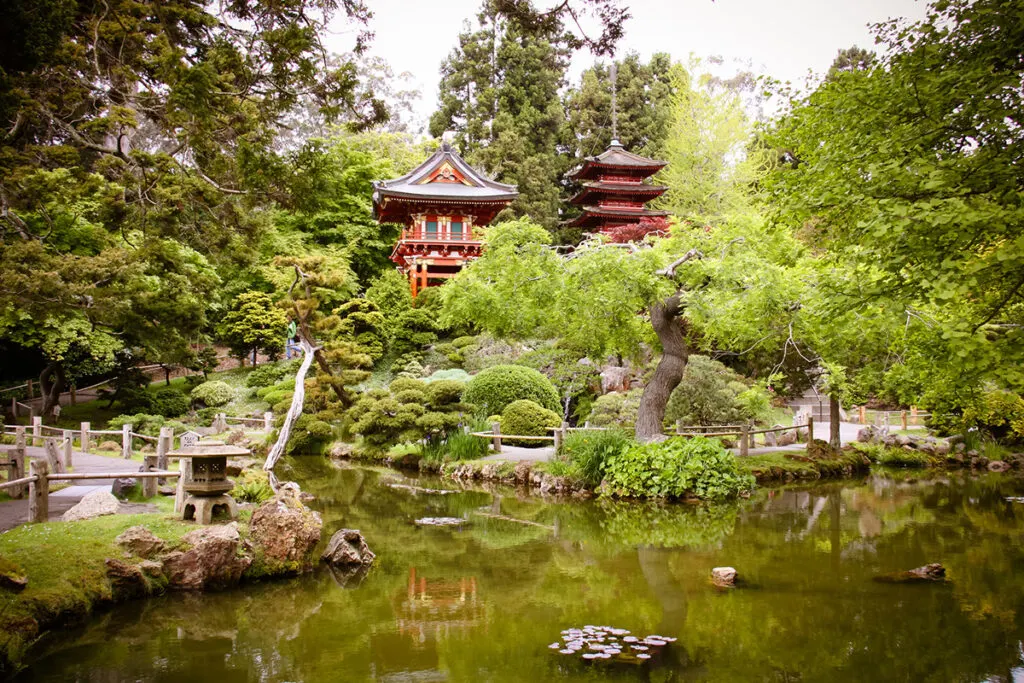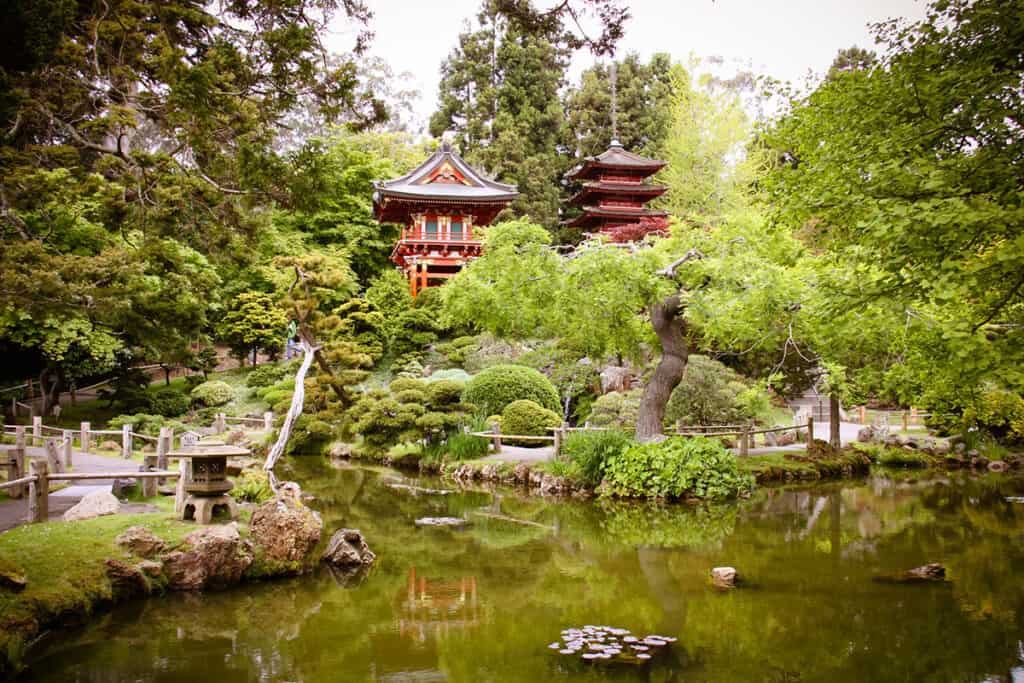 For sports enthusiasts, Golden Gate Park offers plenty of recreation areas to choose from. Visit the Polo Fields for a game of polo or go jogging on the running track. You can also try your hand at archery or go biking on the park's trails. Other activities include picnicking and playing disc golf, baseball, softball, tennis, basketball, and volleyball.
You can also catch free concerts and performances in the Bandshell.
The Golden Gate Park is also home to some of San Francisco's best museums, including the California Academy of Sciences and the de Young Museum.
There are also some wonderful dining options. Grab a bite to eat at the Stow Lake Boathouse or the Park Chalet, both of which provide delicious meals in a beautiful setting. There are also several food trucks located around the park that offer quick snacks and drinks.
Find more info about things to do and see in Golden Gate Park, including how to get there and photos that really show it off too.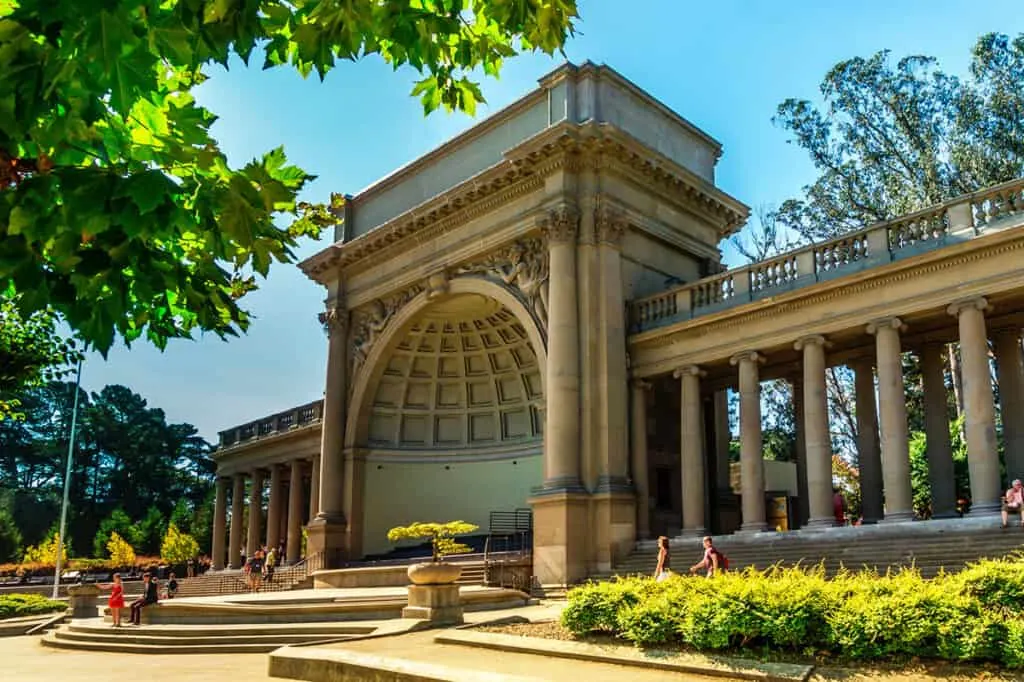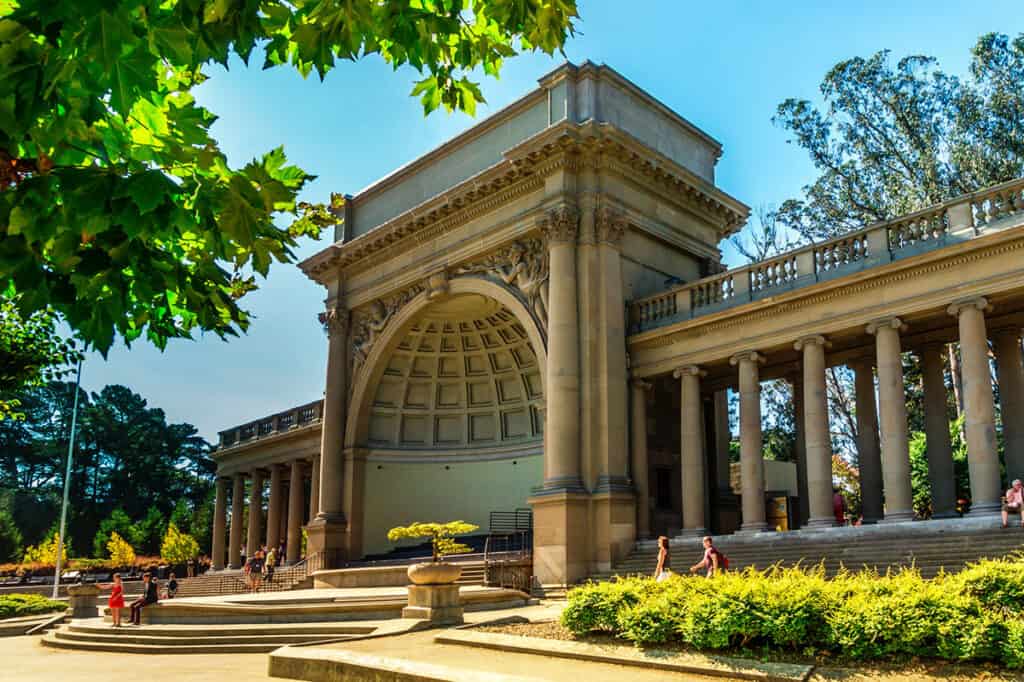 Explore the De Young Museum
By Francesca of Homeroom Travel
The De Young Museum is one of the things to do in San Francisco, especially if you only have a weekend in San Francisco.
This palace of fine arts museum is located in Golden Gate Park and is the perfect stop for any art lover. They also have a sister museum, the Legion of Honor which is also worth a visit.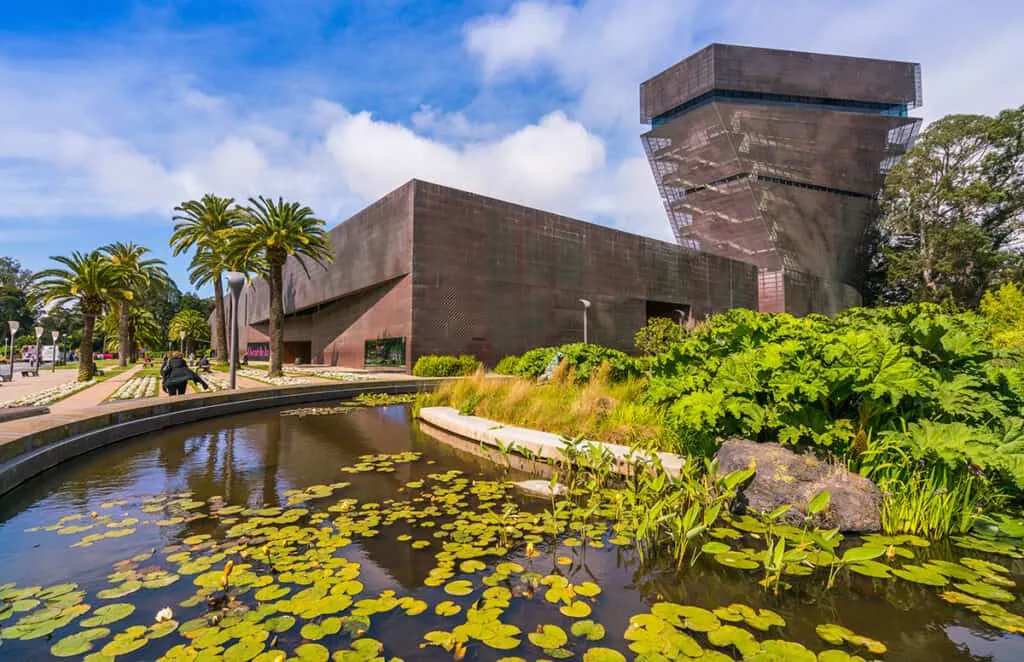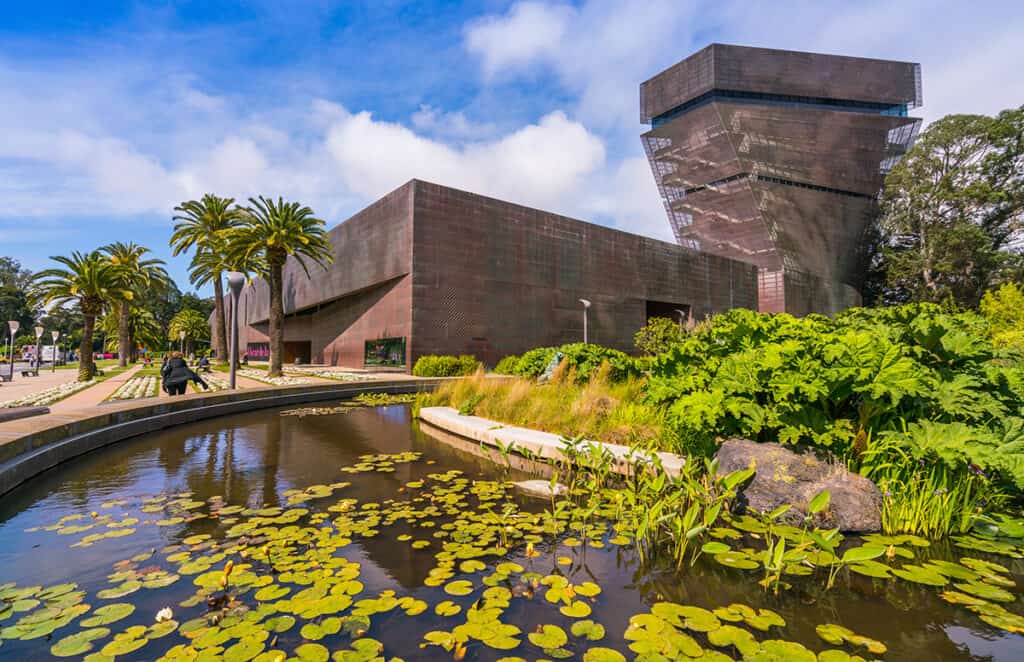 The De Young was established in March of 1895 and is named after M. H. De Young, a San Franciscan newspaperman. The original building was damaged in the 1906 earthquake and closed for a year and a half for repairs.
While the De Young Museum mostly contains American art from the 1600s-2000s, there is also a small section that includes art from Asia, Africa, Europe, and many textile arts. A constant rotation of special exhibits have previously included Egyptian art and Asian artists.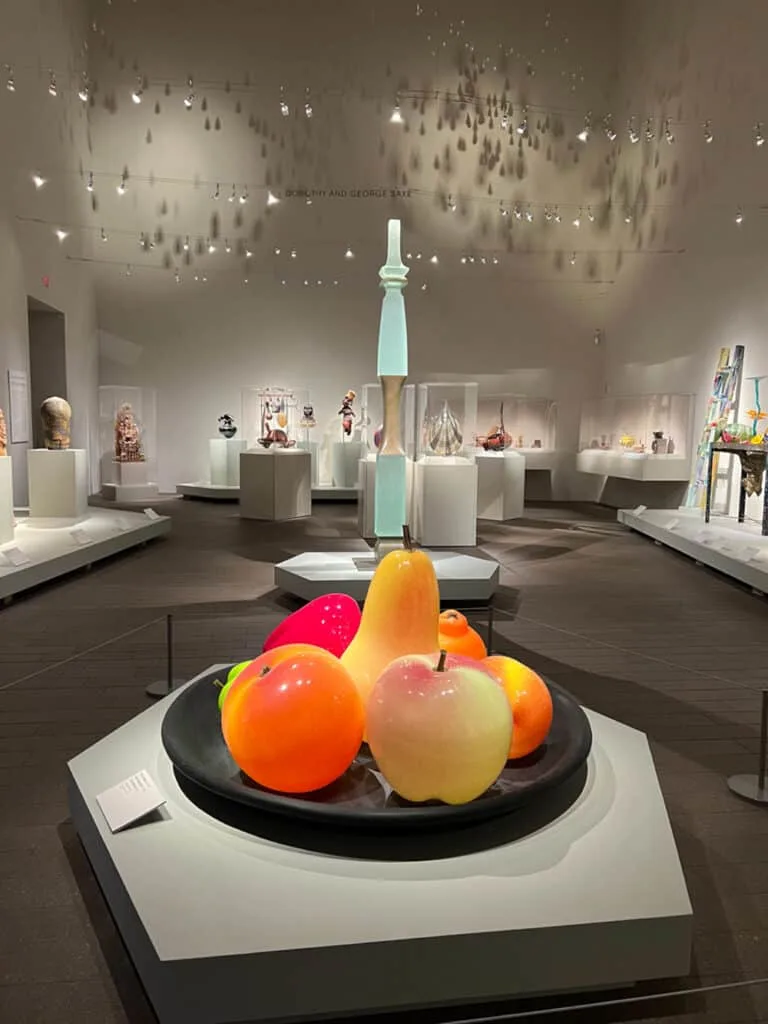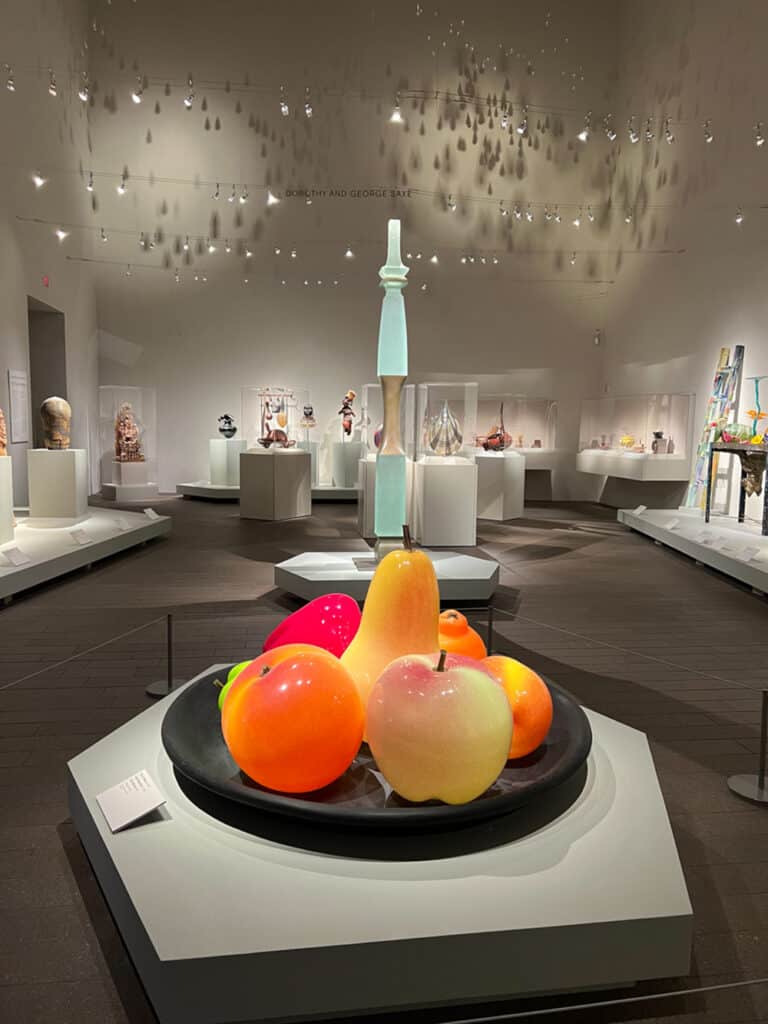 Visit the tower for a view of the surrounding area and great for pictures. The tower is included with your admission ticket.
Admission is $15, but is free the first Tuesday of every month, free for locals on Saturdays, and free in the evenings after 4:30pm. You can also receive $2 off your ticket if you take public transportation there, making it a budget friendly activity during your San Francisco trip.
This is one of the stops on the Hop On Hop Off Bus route. But your tickets online here for 2 days and use it as your taxi around San Francisco!
Picnic on Crissy Field
By Kristin of Global Travel Escapades
If you're looking for a relaxing activity with friends, family or even by yourself, consider a picnic at Crissy Field, a lesser known spot where you can enjoy beautiful views of the iconic Golden Gate Bridge, Alcatraz Island, San Francisco skyline and the surrounding Bay Area.
At Crissy Field there are plenty of picnic benches available, or bring your own blanket if you prefer sitting in the grass and let the kids run around and play games.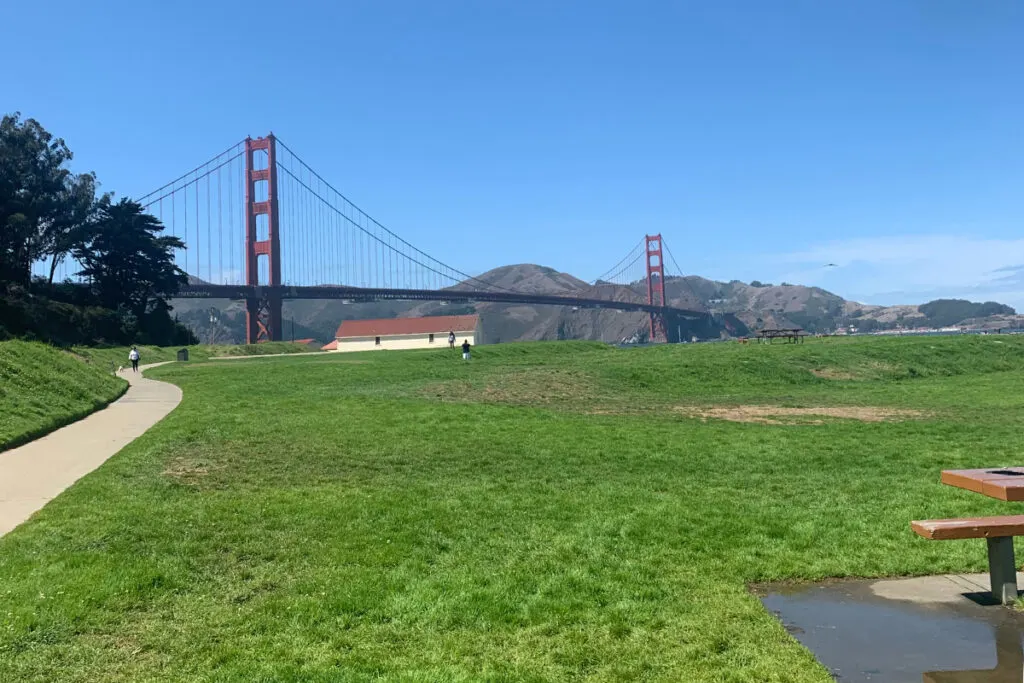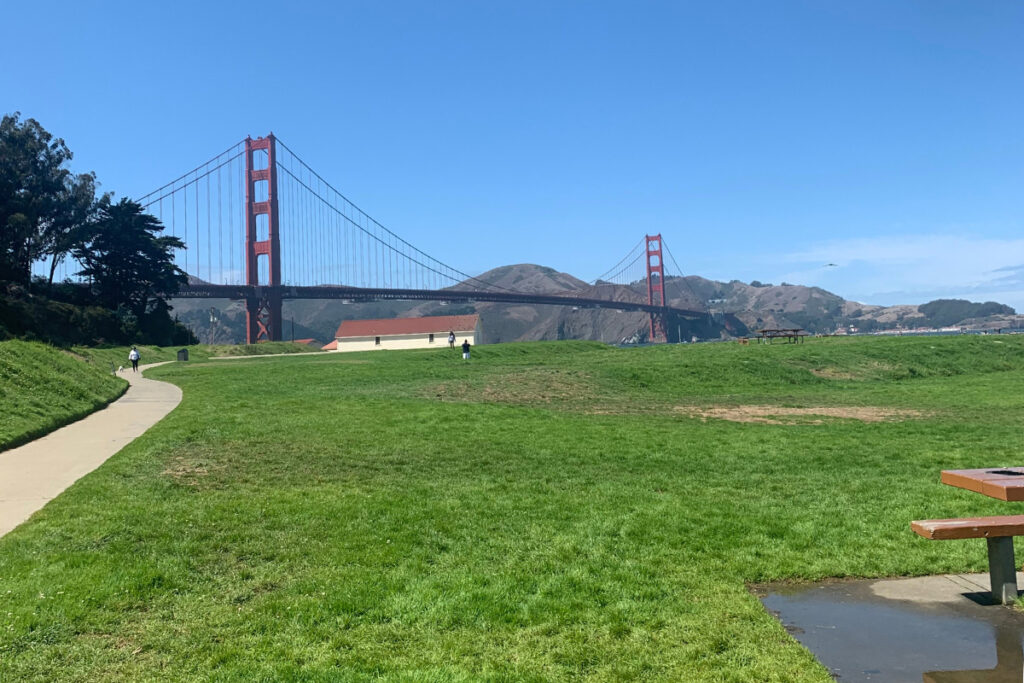 There's a smaller beach in the area for visitors to enjoy. The beach isn't as scenic as the beaches in Nice, France nor will you witness any surfing, but it's still pleasant for an afternoon stroll. Plus, if you have a dog, you're permitted to let them walk around!
There is a cafe nearby as well as a bathroom. You'll also be pleased to know that there's a good amount of public parking for cars or campers too.
But the best part about Crissy Field is that it's much less crowded than other places like Golden Gate Park or Mission Dolores Park. So, if you're craving a peaceful afternoon with fantastic views of some of San Francisco's greatest landmarks, stop by Crissy Field.
Picnic with the Painted Ladies
By Rasika of Bae Area And Beyond
It's difficult to find free things to do in San Francisco, as it's an expensive city in California, but here's one of the best free things to do: have a picnic at Alamo Square.
The park has the best views of the famous Painted Ladies, a row of popular and pretty Victorian houses that were built in the 1800s, and behind them to the metropolis of the city.
The houses are well preserved and are one of the most popular tourist attractions in San Francisco. You'll know them when you see them. This Painted Ladies view has been used in many TV shows like Full House, and movies.
This is my pick if you're looking for a great view. I love the juxtaposition of the old with the new rising up behind it.
Alamo Square Park is a dog-friendly public space with a playground, a tennis court, benches, and several picnic spots, bounded by Hayes Street to the south, Steiner Street to the east, Fulton Street to the north, and Scott Street to the west.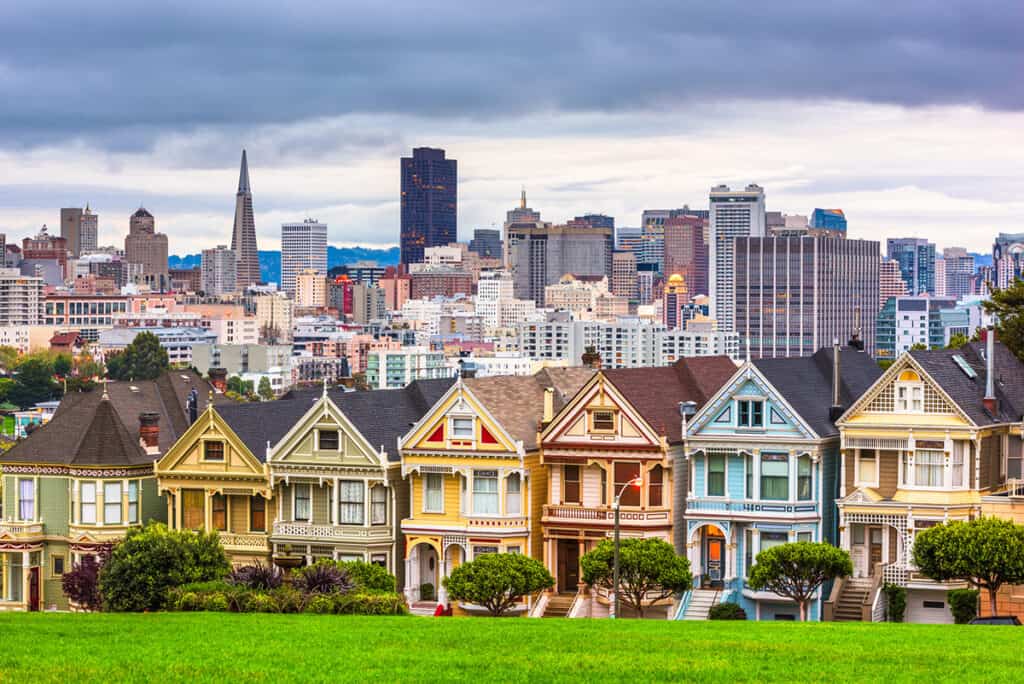 Visit Mrs Doubtfire's house!
By Catrina of 24 Hours Layover
For those of a certain age who loved the movie Mrs Doubtfire starring the late Robin Williams, a quick stop to see the original house that was used in the film is a must do for an Instagram pic when you are in San Francisco!
The iconic house is located on the corner of Steiner Street and Broadway in Pacific Heights, near Alamo Square – a really lovely and affluent neighbourhood with many stunning houses. The exact address is 2640 Steiner Street (avid fans will recall the Hillard's address being given in the movie).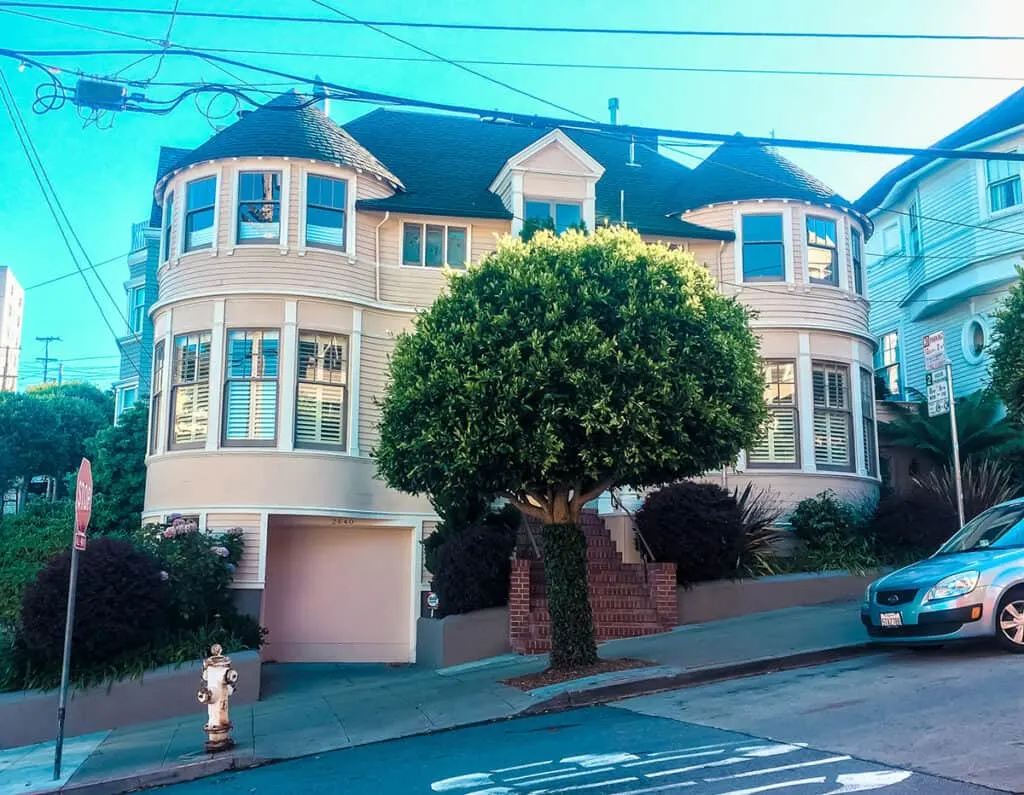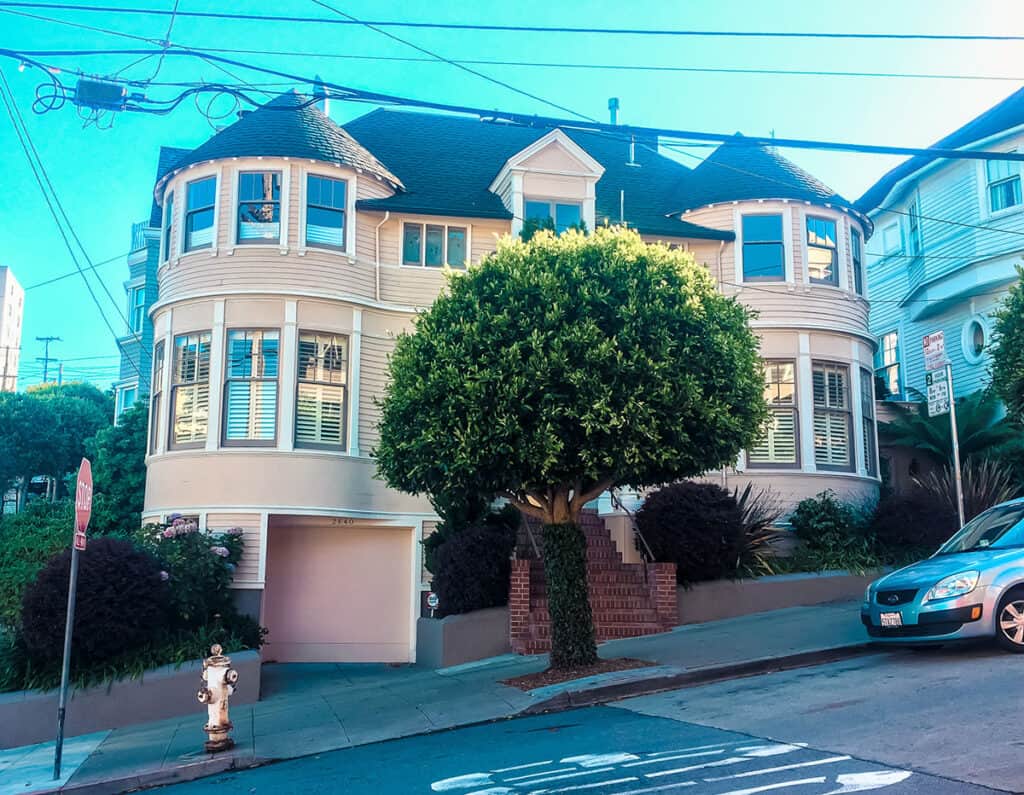 The Mrs Doubtfire House is situated on a very steep street, so you'll definitely get a work-out if you walk here!
It's located in a convenient neighbourhood of San Francisco, just 2km or a half hour walk from both The Painted Ladies and Lombard Street, so be sure to add it on to your itinerary when you are in the area.
The house has been painted a slightly different colour since the movie and a tree has been planted in front of the house, however it is instantly recognisable and still looks remarkably similar to how it did in the movie.
On the tree outside the house you'll see lots of tributes to Robin Williams which is incredibly moving. Do remember this is a residential area and it is somebody's home so you can't go inside, but just seeing it from the outside and getting some photos is great: it's one of the best things to do in San Francisco!
Explore the Exploratorium
By Kris Esparza of JJ & The Bug
Visiting the Exploratorium is a right of passage for anyone who grows up in the Bay Area, but it's not just a fun spot for kids!
Anyone who enjoys a hands-on exploration of science and art, or puzzling out the quirks of human perception can easily spend hours at this unique museum.
Exploratorium visitors are encouraged to follow their curiosity through more than 600 interactive exhibits in galleries like, "Tinkering," "Human Phenomena," and "Living Systems."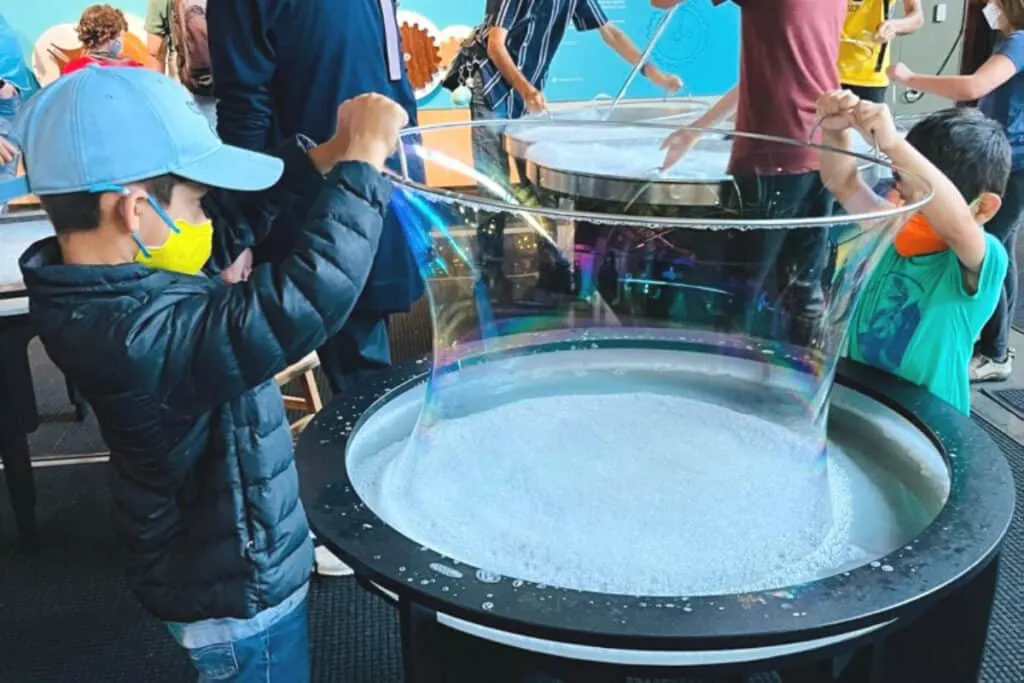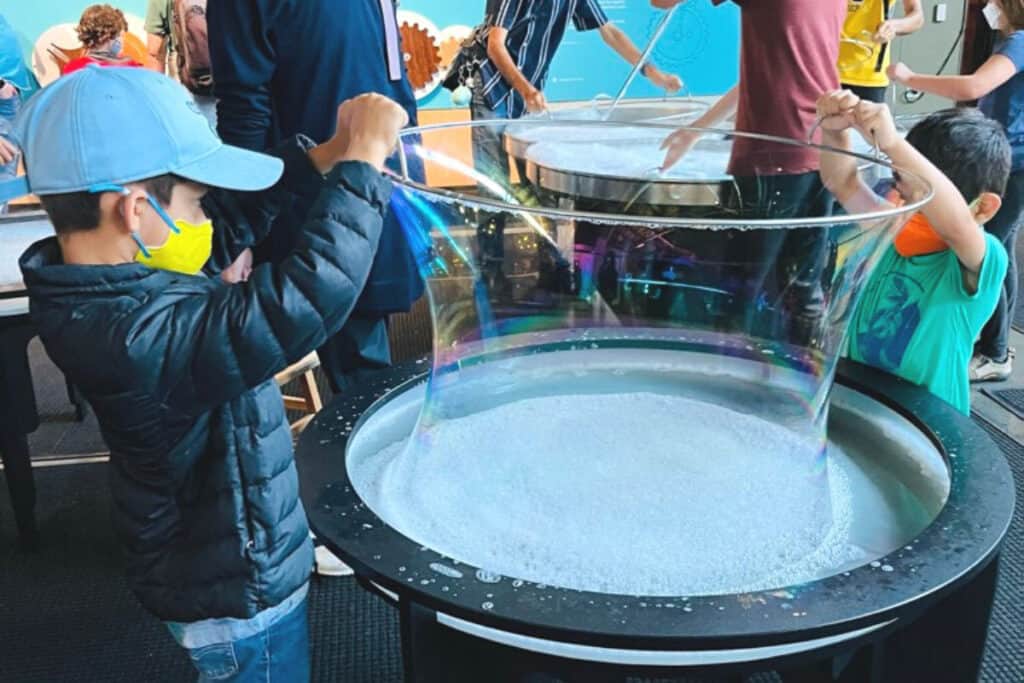 Unlike other museums, you won't find detailed explanatory labels here. You are encouraged to learn through experimentation and play, so go ahead and press the buttons and turn those knobs. Curiosity, inquiry, and collaborative problem-solving are what this place is all about.
What makes the Exploratorium even more magical is the museum's location at Pier 15. The setting provides visitors with views and experiences unlike those found anywhere else.
The "Observing Landscapes" exhibit has floor-to-ceiling windows that face the water. The powerful combination of this location and the museum's interactive approach to learning helps visitors understand the history, geography, and ecology of the Bay Area in memorable ways.
The views continue in the Exploratorium's Seaglass restaurant, which was designed to compliment the natural beauty of the museum's surroundings. When you've worked up an appetite from all of the exploring, the restaurant offers comfort food, creative desserts, and even craft cocktails for mom and dad.
Though it is easy to lose yourself for a full day here, when you finally tear yourself away, the Exploratorium's location on the Embarcadero ensures that there is plenty more fun to be had nearby.
Buy your timed Exploratorium entry ticket online.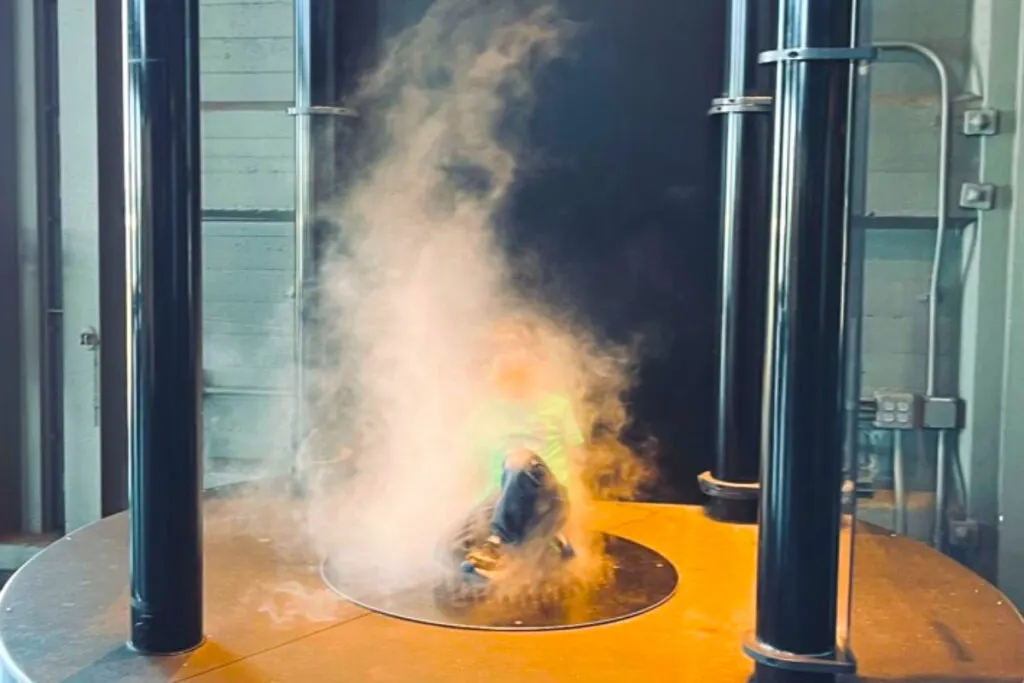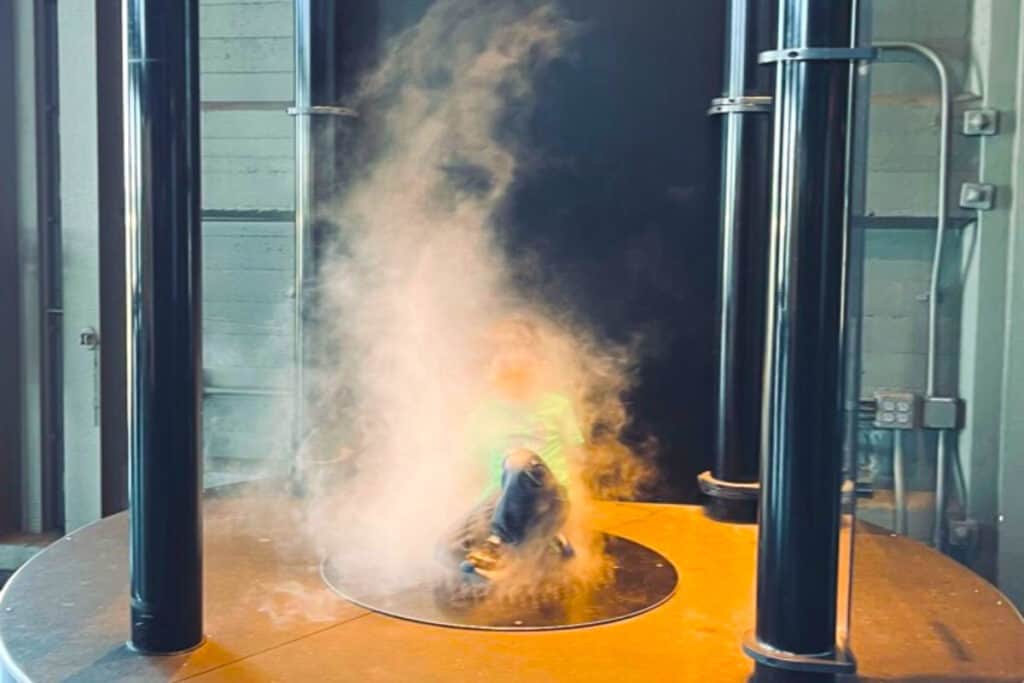 Catch a game at Oracle Park
We love live sport whenever we travel and Oracle Park is one of the best stadiums I've been to.
Home of the San Francisco Giants, you can get cheap tickets for spring training games against teams like the LA Dodgers, White Sox, Cubs, Rangers and the rest for around $50. But it's the backdrop of gorgeous bay views that'll have your eyes wandering off the ball.
Oracle Park is an easy walk from the city, located along the waterfront, about a 2km walk from the Ferry Building or Union Square.
Part of the reason I love getting to a baseball game in the US is the stadium food. Don't judge me! But with choices like grilled Dungeness crab sandwiches, poke bowls, and Ghirardelli ice cream, as well as fan faves of hotdogs, burgers and pizzas, can you blame me?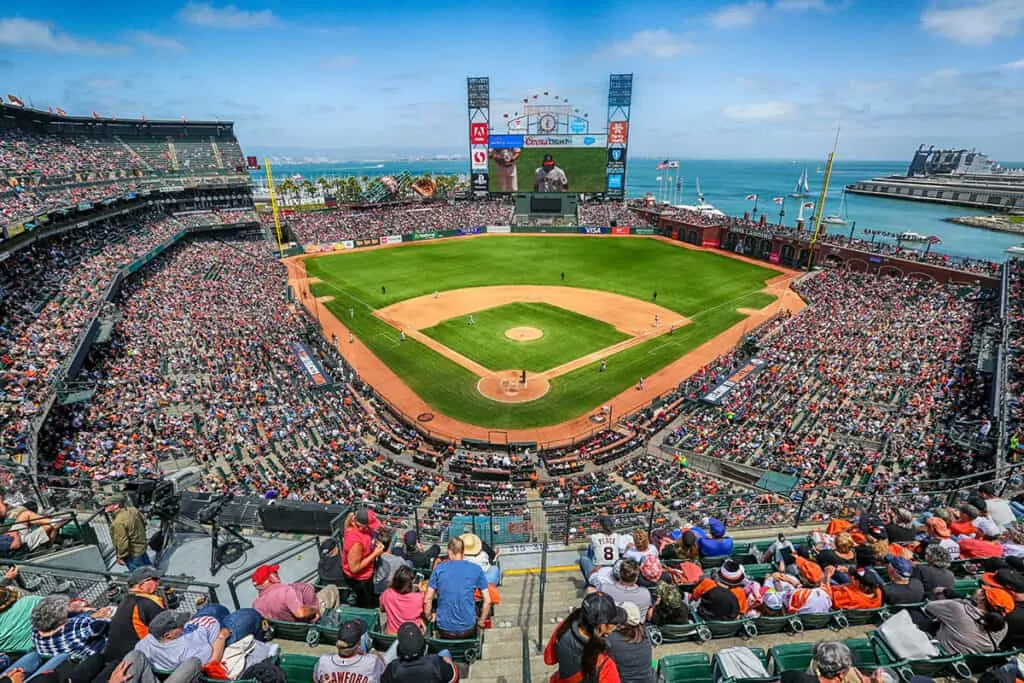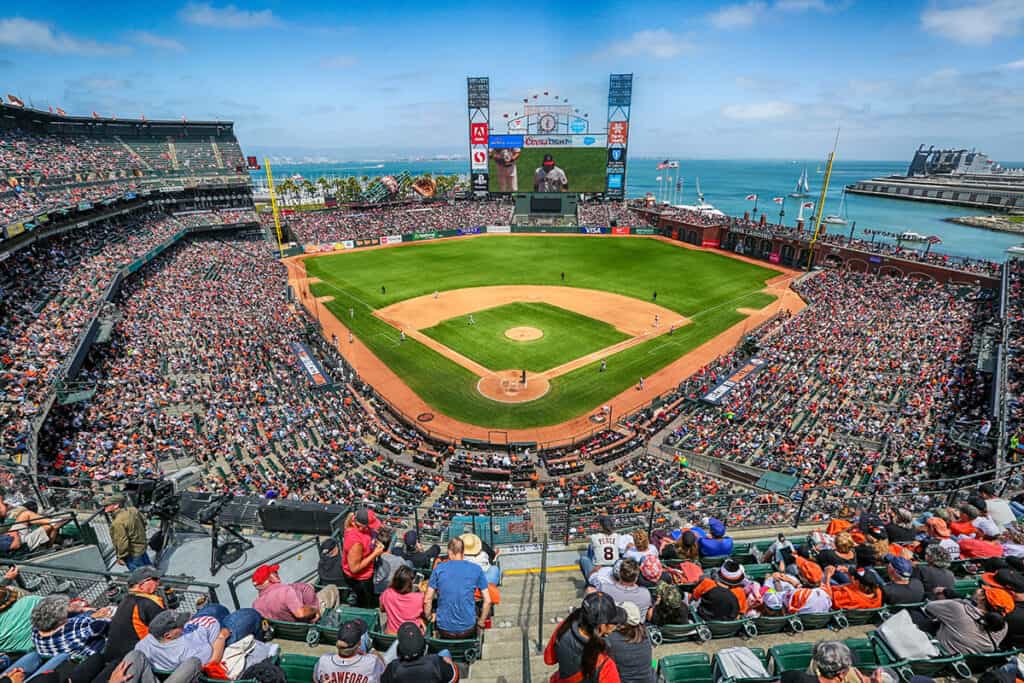 Visit Sutro Bath ruins and Lands End Trail
By Alisha Rose of Travel Today Work Tomorrow
A must thing to do in San Francisco is to visit the historic Sutro Baths and hike the Lands End Trail. The views here are epic.
Situated along the rugged pacific coast, the Sutro Baths and trail offer some of the best views in the city.
The Sutro Baths are an iconic landmark, and have become a unique part of San Francisco's history. In 1894, the baths were once the largest indoor swimming pool complex in the world. Unfortunately, after many misfortunes, the Sutro Baths are no longer open.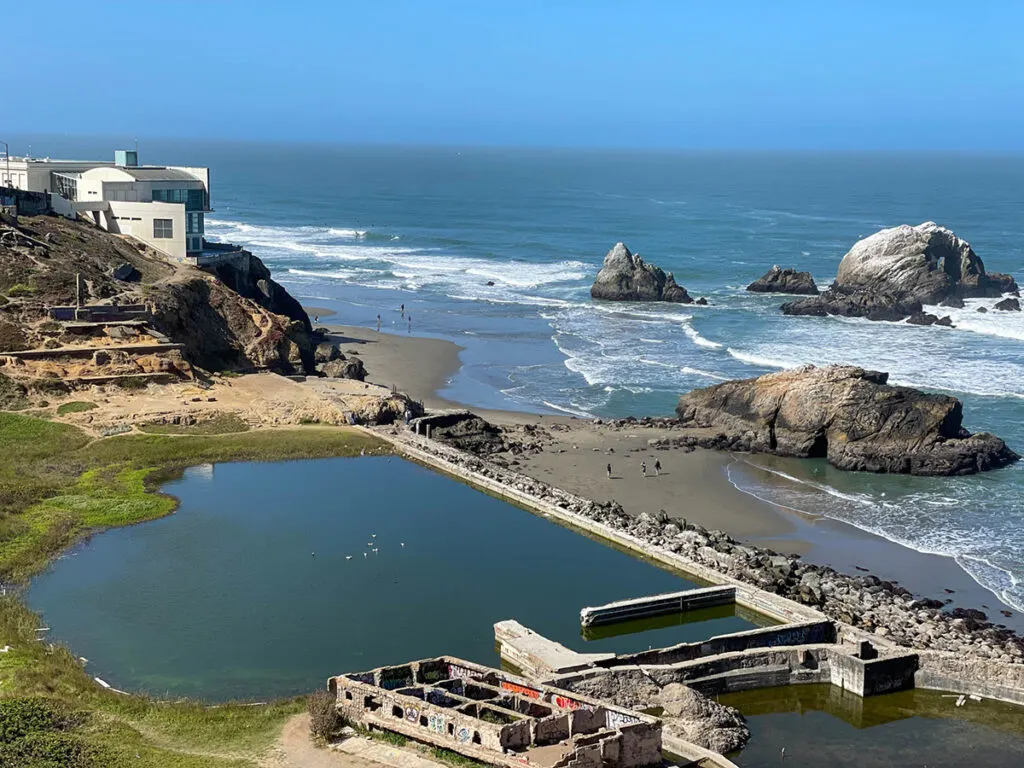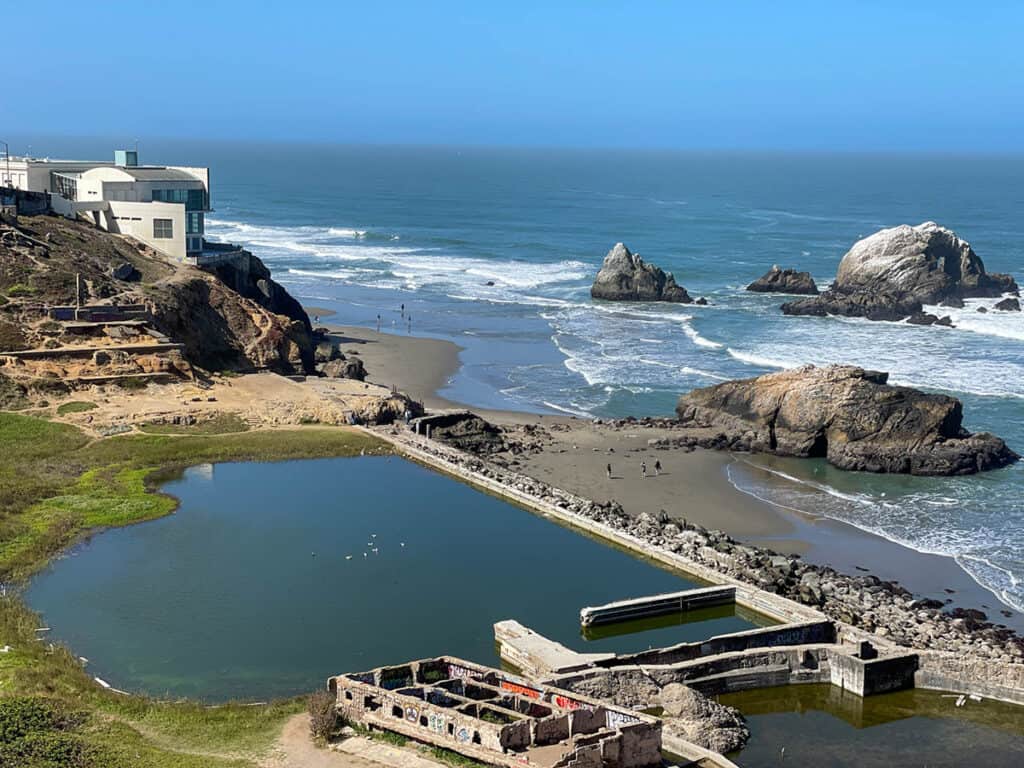 Today, you can admire the remnants of the baths and breathtaking views from the vista above. However, the best way to see the baths is by venturing down the flight of stairs to the waterfront to get a closer look at the ruins and the mysterious sea cave.
After exploring the Sutro Baths, continue your day to the Lands End Coastal Trail for sweeping views of the Pacific coast.
The trail is located next to the Sutro Baths and runs along the coastal bluffs. On the 3.4-mile loop, there are numerous opportunities to catch views of the famous Golden Gate Bridge.
Lands End Trail and the Sutro Baths are dog friendly, so you can enjoy this wonderful hike and view with your furry best friend as you escape the city for the afternoon and explore off the beaten path.
Hike down to nudey Marshall's Beach
By Taylor Deer of Brown Eyed Flower Child
One of the best things to do in San Francisco is to enjoy a beach day, picnic, sunset, bird watching, or a romantic walk along Marshall's Beach. This breathtaking beach offers a stunning view of the Golden Gate Bridge!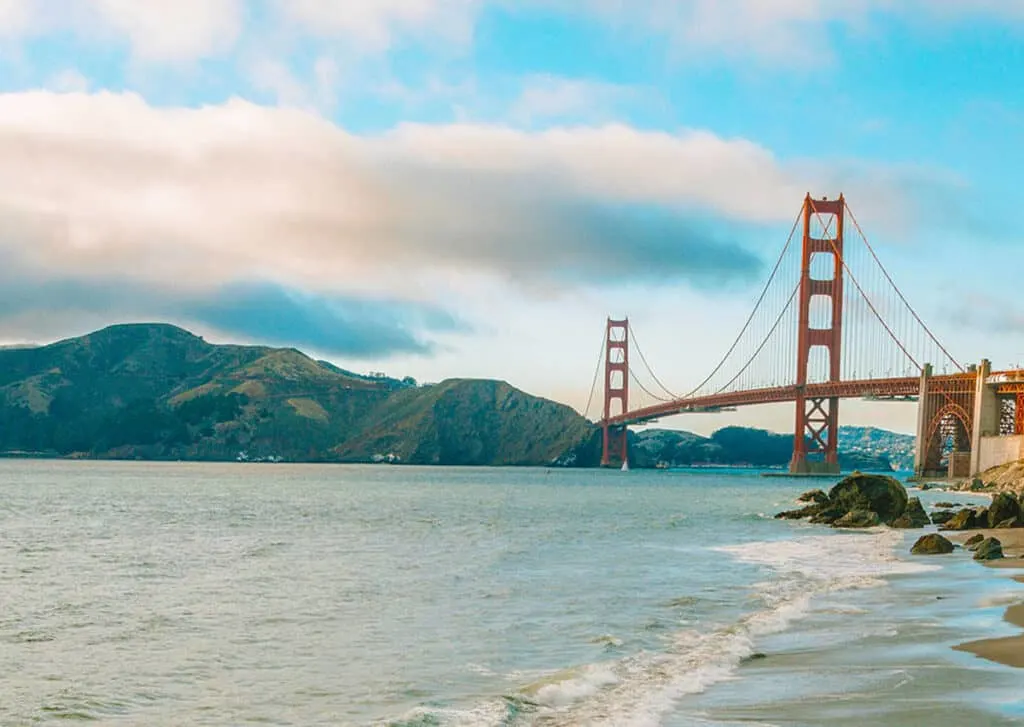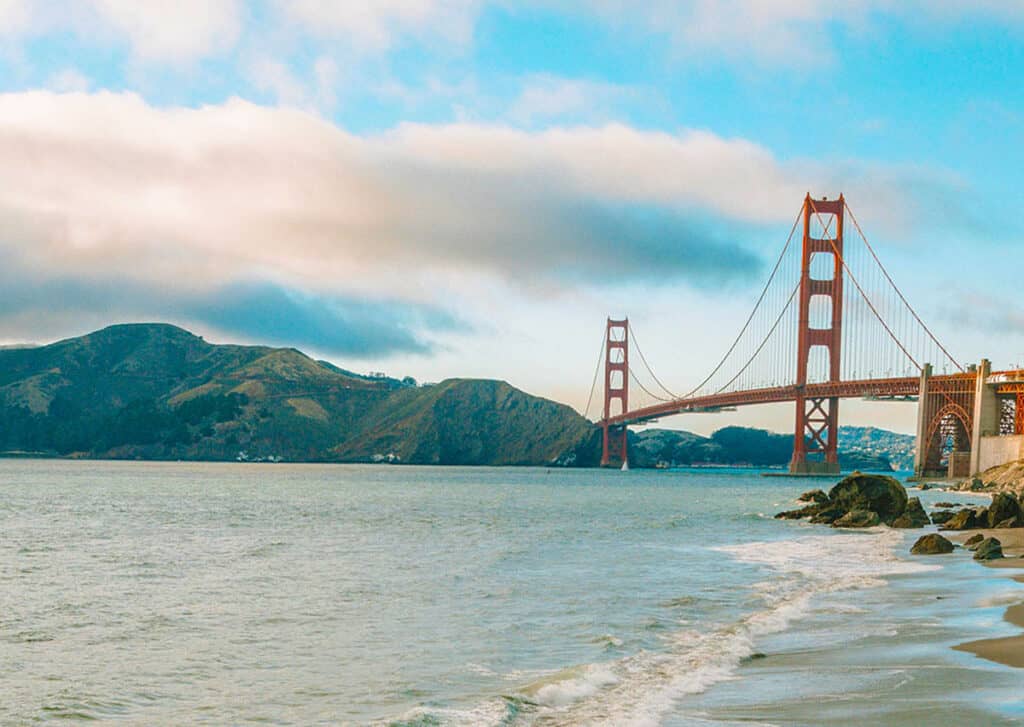 Before visiting this beach, please be mindful of the weather. San Francisco is famous for being the Fog City since the Bay Area brings in a decent amount of fog.
The best time of the year to visit Marshall's Beach is between September and October when it's sunny and temperatures fall between the upper 60s° to upper 70s° Fahrenheit. Even on a sunny day, the weather is still chilly and windy, so always pack something to keep you warm!
To access Marshall's Beach, you can park your car at the Langdon Court Parking by the Golden Gate Overlook, and there are signs for the trailhead that leads you to the beach. It takes around 15 minutes to hike down to Marshall's Beach, and it is recommended that you bring comfortable walking shoes with you.
In addition to enjoying all the beauty Marshall's Beach offers, you can continue and hike the rest of the Batteries to Bluffs Trail, a 2.3-mile, easy loop that allows you to enjoy breathtaking views of the Pacific coast. Please note that dogs aren't allowed on this trail!
Overall, Marshall's Beach is the best place to enjoy nature in the Golden Gate City; it's also a great destination to stop at on a Santa Barbara to San Francisco road trip.
Oh, and you need to know that Marshall's Beach is clothing optional, so you may run into a nudist or two! Because of this, it's recommended that everyone visiting Marshall's Beach be at least 18 years or older.
Visit Muir Woods
By Rebecca Gade Sawicki of Veggies Abroad
If you've ever wanted to marvel at California's towering Redwoods, here is your chance.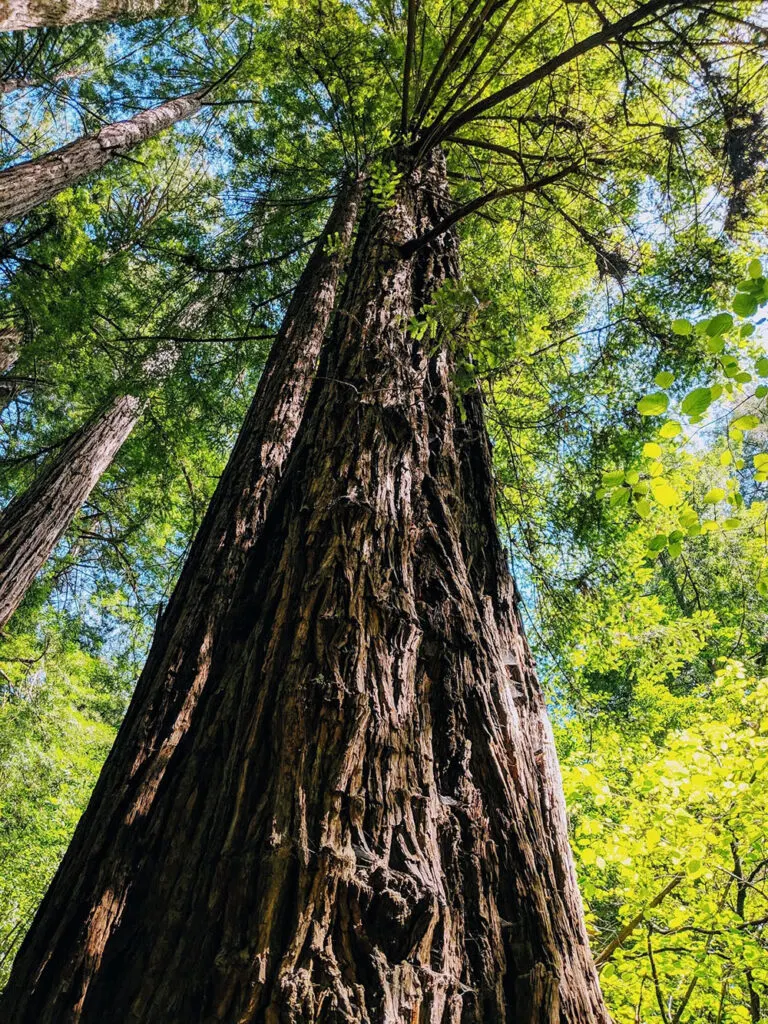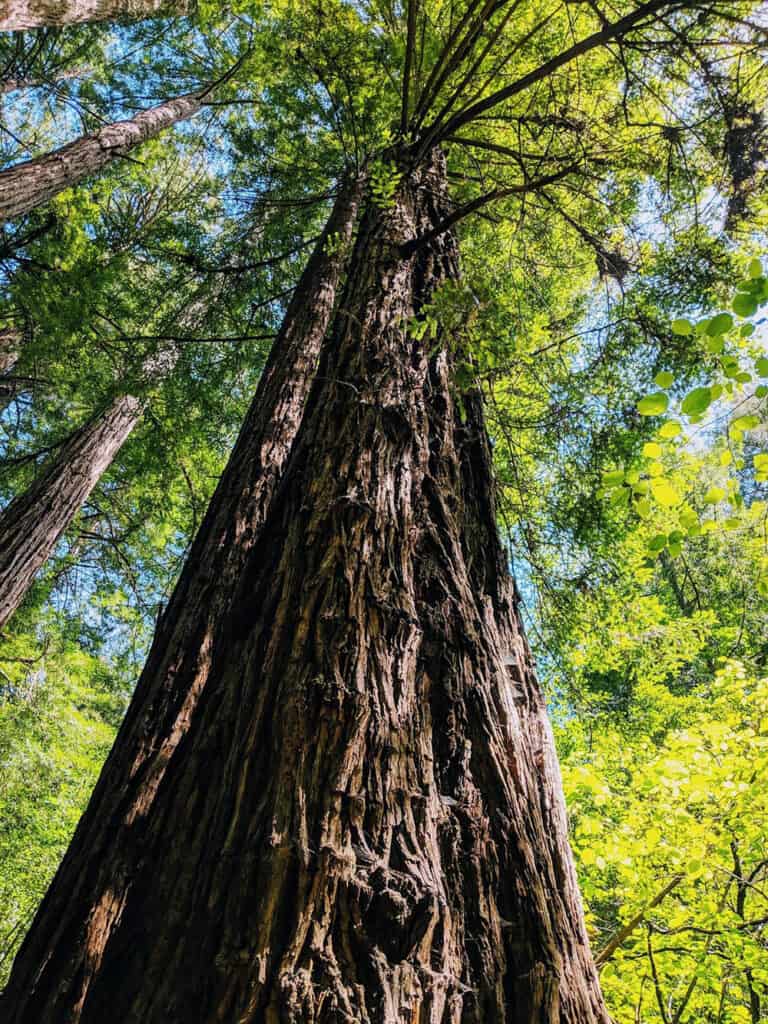 Just under 40 minutes from San Francisco is the 554-acre Muir Woods National Monument which is home to a diverse array of flora and fauna. But the stars of the forest show are the giant coastal Redwoods. The tallest is 258 feet (approximately a six-foot table stacked end to end 45 times)!
Aside from getting a sore neck from Redwood gazing, visitors can also enjoy six miles of hiking trails.
Most visitors stick to the main trail, which starts at the visitor's center and loops through the old-growth forest. This trail can be as short as .5 mile or up to 2 miles. The park's hiking trails loop throughout the forest and all the way to Mount Tamalpais State Park.
To see all your hiking options, it's best to grab a park map at the visitor center. For a long hike (6 miles), consider taking the Muir Beach trail, which you probably can guess leads to gorgeous Muir Beach.
Before you head to Muir Woods, it's important to know that parking reservations are required. You can reserve parking and purchase your entry at GoMuirWoods.com. Standard parking rates are $9 per car, and the park entrance is $15 per person; children under 15 years are free.
After your hike, head back to the city and reward yourself with a special treat from one of San Francisco's best vegan bakeries.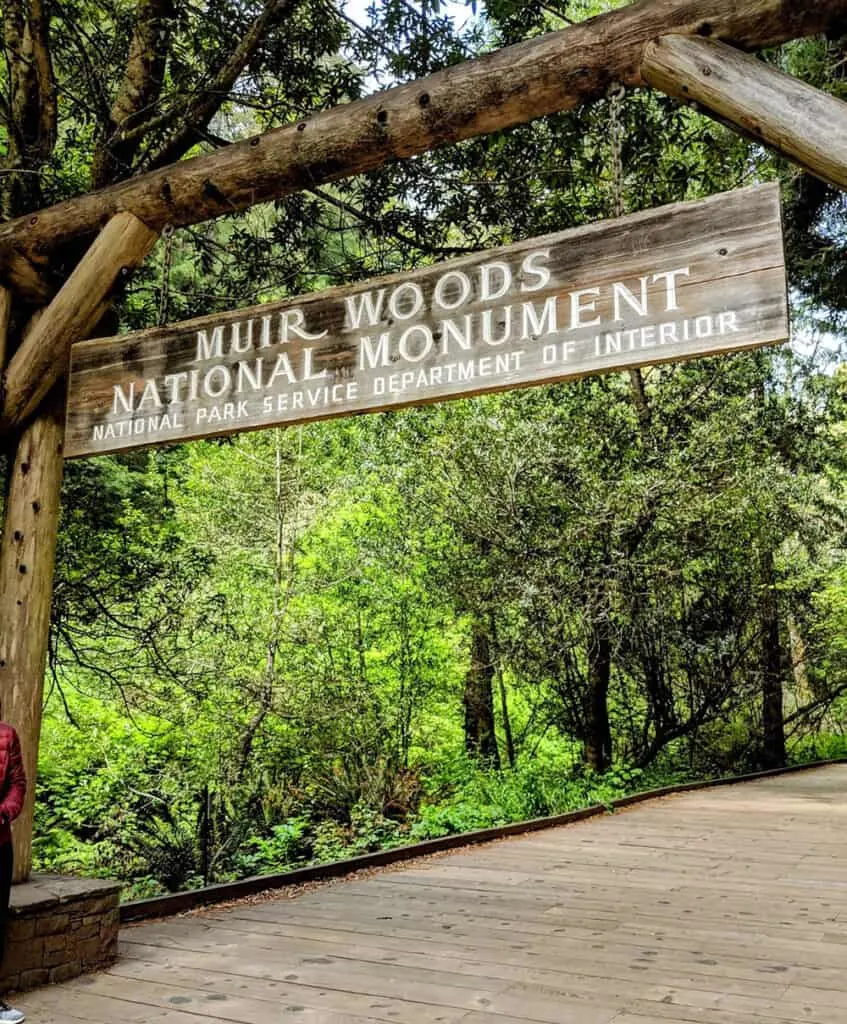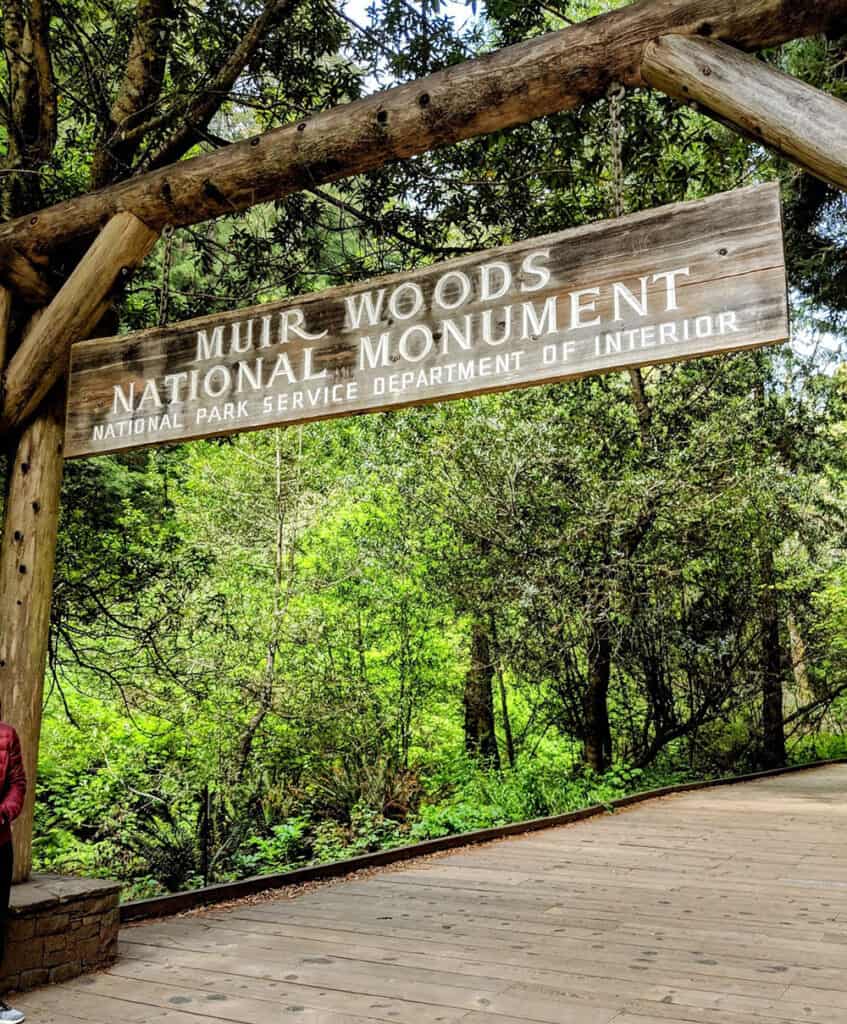 If you're planning on driving the Pacific Coast Highway from Los Angeles to San Francisco, I did it in 5 really fun days and wrote this itinerary post that will give you some great ideas. Or just follow it yourself!
San Francisco Resources List
Book a Hop On Hop Off Bus tour to get your bearings and to use as an easy way for getting round San Francisco. See more >
Add a ticket to Alcatraz to your Hop On Hop Off bus tour. See more >
Grab your entry ticket to the Exploratorium here. See more >
Grab your admission ticket to the Aquarium By The Bay here. Book now >
Cycle across the Golden Gate Bridge to Sausalito on this 3-hour guided tour. See more >
Rent an electric bike for the day and take yourself around San Francisco! See more >
Take a 3-hour walking food tour in Chinatown for the best tastes of Asia. See more >
Buy the San Francisco City Pass which gives you discounts of up to 44% on 4 major attractions. This pass is ideal if you have a couple of days and want to see: California Academy of Sciences, Blue and Gold Fleet San Francisco Bay Cruise, and your choice of admission to two of the following: Aquarium of the Bay, The Walt Disney Family Museum, San Francisco Zoo & Gardens, Exploratorium.