Spending just 2 days in San Francisco is almost cruel!
But if you're on a stopover and you only have a weekend to see as much as you can of this great city, this post gives you my picks for the best things to do in San Francisco to get the most out of your quick visit.
Of course, if you have longer there are loads more things to do including these fabulous highlights and off-the-beaten-track things to do in San Francisco that has something for everyone from kids to adults and everyone in between!
There are also five great hikes in the Bay area as well as fantastic nearby destinations for easy road trips from San Francisco.
Or why not work through your USA Bucket List with 100 places to see and things to do?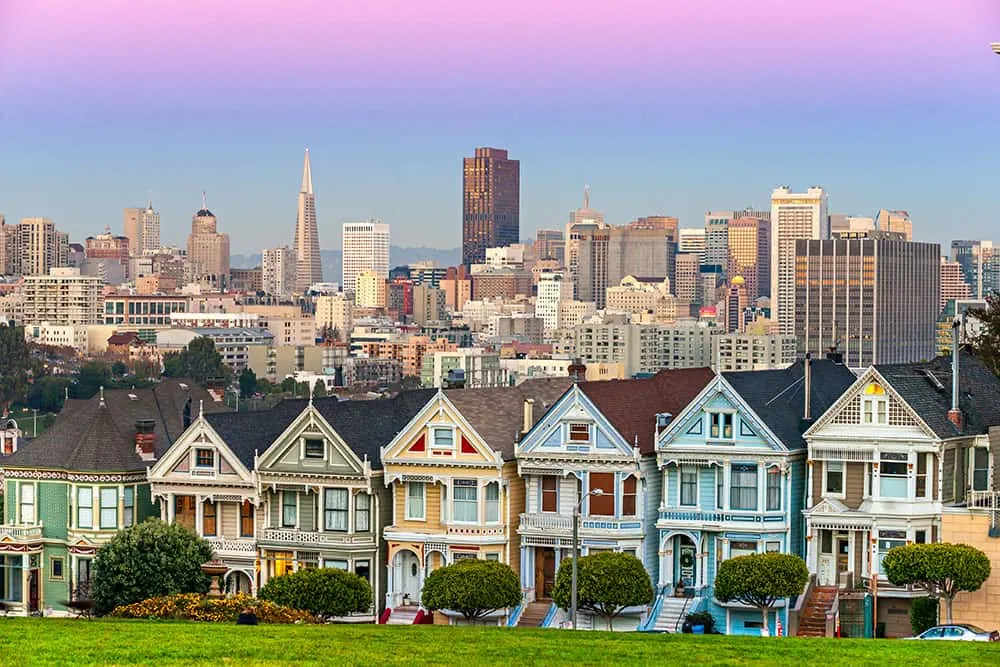 But you'll find so many things to in San Francisco that you could run yourself ragged in a weekend, including things you would never have thought of like these really unusual things to do in San Francisco!
If you're like me, you hate to rush from pillar to post seeing as much as possible and pulverising your feet into stumps. So just don't.
No need to rush off and try and tick all these suggestions all off. Sometimes just sitting with a clam chowder in a sourdough bread bowl at Fisherman's Wharf and people watching for a couple of hours is the perfect thing to do!
In this post I have written my weekend itinerary for those who really do want to see all the highlights. If you have more time you might be interested some great weekend trips from San Francisco.
I have been to San Fran several times. It's a gorgeous city with so many crazy cool instagram spots in San Francisco to visit.
This time though my husband and I brought our friends for just one night/two days on our way to Chicago. They had never been here before, so it was all about the San Francisco heroes for us!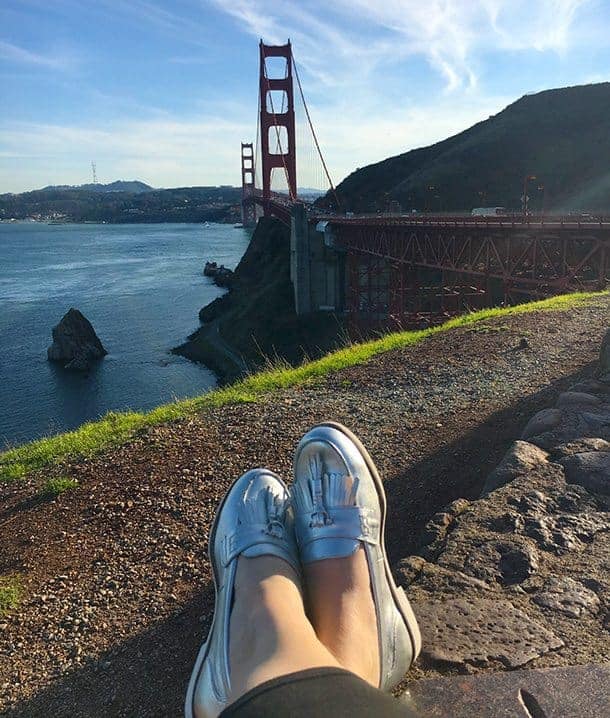 We landed after a 12-hour flight from New Zealand at about midday and sadly SFO Airport is about as annoying to pass through as LAX these days with not enough customs officials manning the long row of very empty cubicles. #Hashtag frustrating!
About an hour later and we plucked our bags from the carousel and headed into the sunshine. As there were four of us we decided to split a cab, mainly for ease of departure direct to our door (it was about $50), but there is an excellent train connection to the city.
Look for the BART signs and if you're staying in or around Union Square, it's very simple. Or Uber. Next time I'd Uber.
Here's my 36-hour itinerary in San Francisco:
Day 1 in San Francisco
2pm We checked into the Handlery Hotel right on Union Square (rooms are quite reasonable per night for this fab location) and owner Jon Handlery, always dressed in a three-piece suit, came out to greet us personally.
He's a bit fan of Kiwi and Aussie travellers and you can expect a handshake whenever he's in. This is quite possibly the best value hotel for the location and I've stayed here at least three times now.
Our room was nice and roomy with a little lounge area and bedroom in an L shape. No view, but hey, we're literally on Union Square, there was no time to spend in our room anyway!
3pm With our trainers on we decided some fresh air was in order so headed out for a walk through Chinatown all the way to Fisherman's Wharf.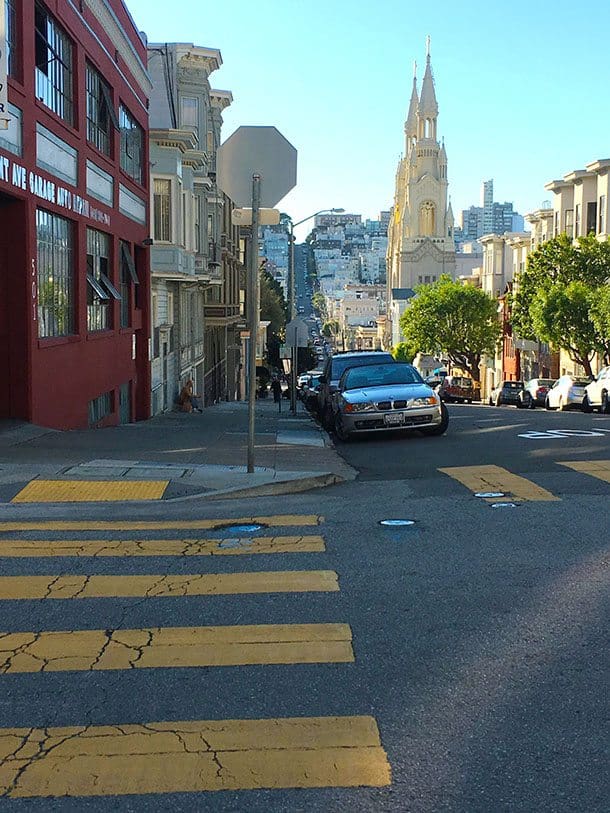 It was longer than we thought, but a great way to blow the cobwebs away after our long flight as we wandered past the really great shops of authentic Chinese food and furniture – and yes, a few tat stores. The streets roll up and down over the hills made famous by Steve McQueen and his car scene. Great photo ops along the way!
5pm After wandering through the hubbub of shops and eateries at Pier 39 on Fisherman's Wharf and taking photos of the seals that live in the marina, we decided to find somewhere to watch the sun set for an early dinner (afterall it was tomorrow in NZ!)
We settled on Swiss Louis a seafood and Italian restaurant (not sure where the "Swiss" comes from) with windows facing the Golden Gate Bridge across the marina and watched the sun slip away over crab cakes, oysters and pasta dishes.
8pm We intended to ride the street car back to Union Square but we'd just missed one and as it was dark and the next one was taking ages, we cabbed it (under $10).
Got back in time to hit Handlery's bar in the front of their adjoining restaurant, The Daily Grill. Why? Because the Chicago Cubs were up to game 6 in the World Series! (See my post on 11 Things To Do On A Long Weekend in Chicago here>>)
10pm Snoozing – in fact I might have departed the Cubs when it went past the 9th inning.
____________________
Check out the best rate for the Handlery Hotel on Booking.com>>)
____________________
Day 2 in San Francisco
8.30am The Ferry Building Marketplace on the Embarcadero (about 2km along the wharf from Pier 39 towards the Bay Bridge) is a great breakfast or lunch spot, so on the trolly we went from Market Street (around the block from our hotel), getting off right outside.
They serve a real proper flat white coffee here at Blue Bottle Coffee! There are also several stalls selling fresh bread, cheeses, gelato, even an empanada shop and cafes for sitting down, or you can head outside and sit along the waterfront.
10.30am We had booked tickets online overnight for an Alcatraz tour. (Note: you MUST book online, especially in summer even weeks in advance, as they fill up fast!), so jumped on the bus again and headed along to Pier 33 to wait in line for our turn.
Tours of Alcatraz depart by boat from here every half hour, but once you get there, you get an audio headset and they're self guided so you can take your time.
"The Rock" is crawling with tourists, but it's done really well with everyone going at their own pace.
You'll hear stories from former prison guards and prisoners of what it was like. You'll see cells in the condition they were when the prison stopped running in 1963 (it ran for 28 years).
This was the prison for prisoners expelled from elsewhere for bad behaviour. You'll hear tales of riots and escapes and there is still the mystery of whether three prisoners who escaped and were never seen again are over 100 years old and living in South America!
Famous prisoners who were incarcerated at Alcatraz include Al Capone, Robert "Birdman" Stroud, James "Whitey" Bulger and George "Machine Gun" Kelly.
Allow about 2-3 hours for the round trip including sailing across and back and to take the tour. But stay as long as you like.
1pm we returned from Alcatraz and walked along to Pier 39 again, this time for lunch at Wipe Out Bar and Grill which is a cool surfy style restaurant. The sourdough bread bowl is made across the road at Boudin and was filled with a delicious seafood chowder!
2pm we spent the afternoon on the Hop On Hop Off Bus. There are three companies and we chose Big Bus Tours because they were offering the day for $35 (instead of $45) and also drove over the Golden Gate Bridge for a 10-minute photo stop. The whole circuit they drive takes about two hours but of course you can get off and on whenever you like and take all day – in fact buy the two-day pass and it's your way around tomorrow too.
4.30pm We hopped off at the Union Square stop and had a couple of hours to dash into Macy's and some of the surrounding stores, plus put our feet up for a few minutes! With an extra day I would totally have hit up the Westfield Mall two blocks away and all the shops in between!
6.30pm Tonight we felt like Mexican so I took our little party to Colibri Mexican Bistro. It's just one block up Geary from the Handlery Hotel and is a buzzing, styly Mexican restaurant and bar. It's busy so if you're here Friday or Saturday I would book. The guacamole is delicious and they have some creative spins on chicken dishes with chocolate, chilies and nuts blended into a sauce (Mole Poblano) plus a duck breast that was highly acclaimed as well as the filet mignon that our table liked.
9pm and it was the final Cubs game back at the bar. And as history has it … they WON for the first time in 108 years. The next morning we were off to Chicago to get amongst it!
If you're looking for inspiration on delicious cheap eats in San Francisco, I love these suggestions. Mmmm burrito!
With more time in San Francisco I would…
• Hire bicycles to ride over the Golden Gate Bridge and have brunch/lunch and a shop in Sausilito then take the bikes on the ferry and head back to Fisherman's Wharf.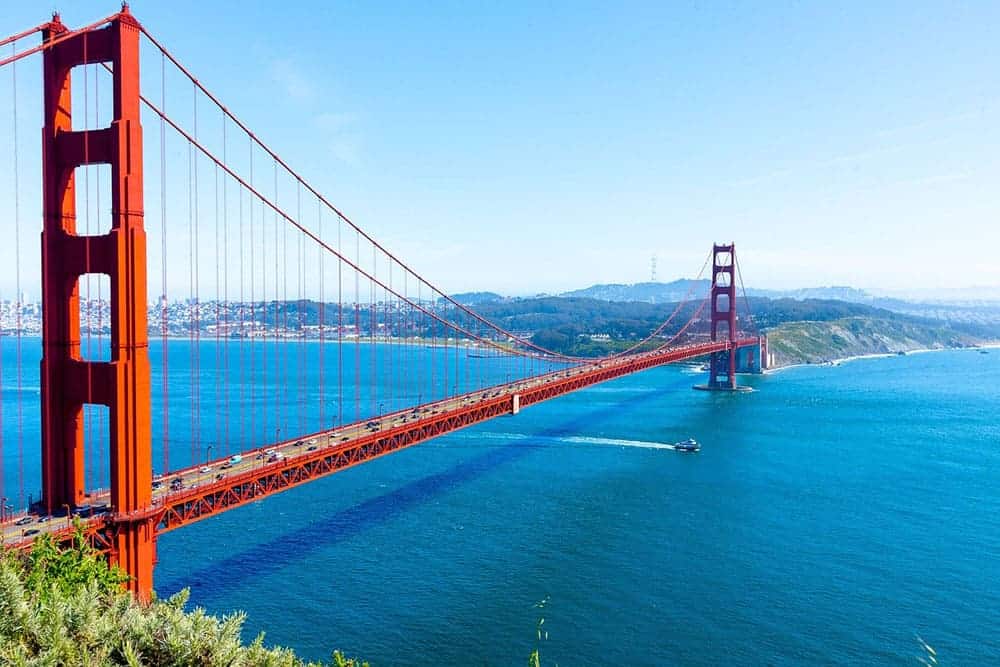 • Get off the Hop Off bus to take photos of the famous Painted Ladies at Alamo Square with the modern SF skyline behind.
• Get off a Hop On and Off bus (get the 2-day pass!) at the California Academy of Science in Golden Gate Park (the largest natural history museum in the world with a huge aquarium too) and across the square the fine arts de Young Museum.
• Wander though the hippy neighbourhood of Haight-Ashbury for vintage clothes, books, records, tattoos and piercings!
• Shop! Not only at the Westfield Mall on Market Street, but all along Market and Powell Streets, which run from Union Square.
• Go to a Giant baseball game right on the waterfront at AT&T Park
With a few days I would rent a car and drive an hour and a half to Sonoma County (see my post 5 Things You Didn't Know About Sonoma here >>) or 15 minutes further on to Napa.
If you have always wanted to drive the Pacific Coast Highway, you will like my post on 5 days from LA to San Francisco (you can just do it in reverse!) >>
You might also love these 6 Airbnb's in San Francisco for quirky places, ones with a view, near the beach or right in town.