What to expect with travel in 2022, post pandemic – and still in – the pandemic.
What a rough couple of years it's been for the travel industry. Obviously all industries have suffered, but with the almost total shut down of the travel and tourism industry globally, a heck of a lot of upheaval has happened to a heck of a lot of people.
Did you know 1 in 4 people were employed by the travel and tourism industry pre 2019? (Stat from WTTC World Travel & Tourism Council). By the of 2020, 62 million people had lost their jobs globally.
So what can we expect 2022 to look like in my beloved travel industry?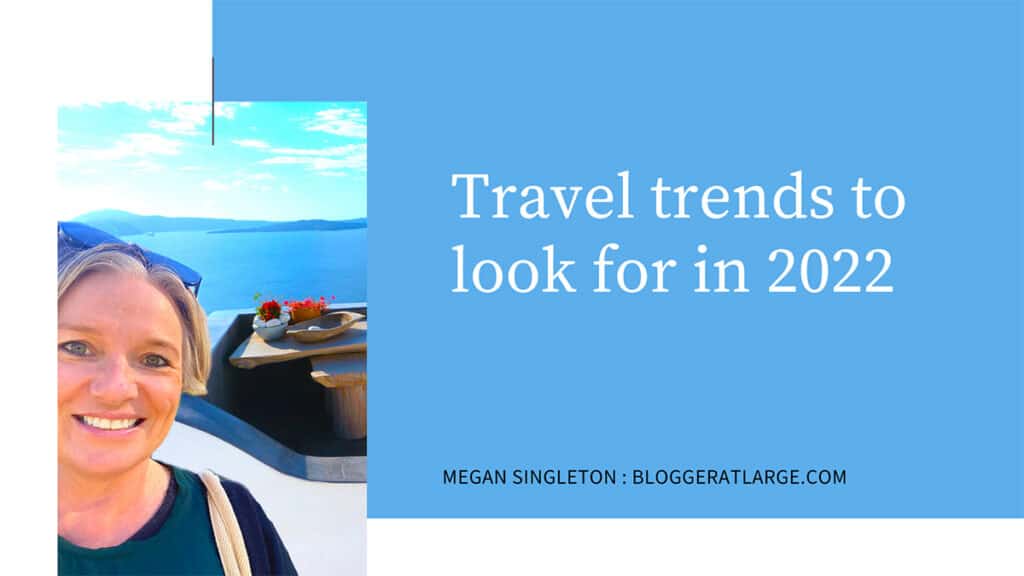 The pandemic has changed people. It's rearranged priorities and placed an emphasis on what is important. Families and loved ones have been split apart for longer than they would have ever wanted so in 2022 and 2023 we will see travel priorities shifting to reconnection.
Sure, there will be (and has already been through 2020 and 2021) lots of innovation when it comes to contactless payments and even room entry, new hygiene protocols, working remotely and online booking and communication, but that doesn't spin our wheels and soothe our hearts quite like a hug from mum.
The WTTC is expecting 2022 to be more popular for travel than even pre-pandemic levels.
Here's what the experts are predicting in 2022 as well as some of my own views:
GOAT trips (greatest of all trips)
People are planning to go big for the next trip. After nearly two years of not travelling – and saving more money than ever before (according to American Express report), people are amping to get away, but this time their eyes are on trips of a lifetime.
They don't want to risk not getting to add that tick to their bucket list, so instead of putting that off they're booking the Greatest of all Trips.
What we'll see in 2022 and beyond is an emphasis on exploring cultures, creating experiences and memories, and there's an emphasis on excitement that we're also seeing. Adventure trips, that sort of thing. African safaris, cruises and multi-generational trips are being sought at American Express Travel.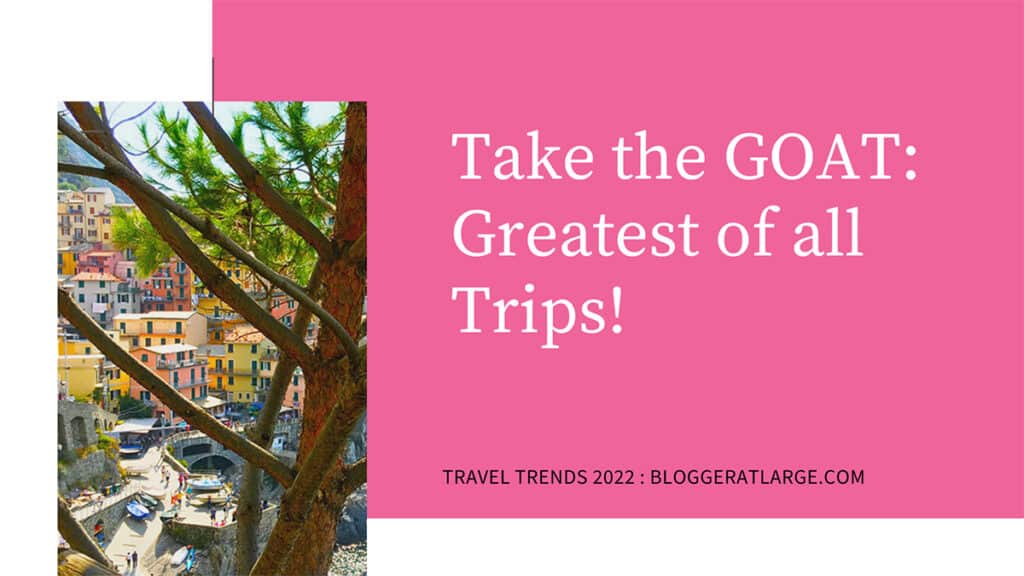 Multi-generation travel
Multi-generational travel is super popular. Families have been separated for months, even years now, so trips are being planned that includes mum and dad, the grand parents and the children.
Cruises are popular with this group as there's something for everyone on board the ship. Beach and island destinations where everyone can relax together is also popular. As said above, safaris in Africa as well as US National Parks are trending.
From New Zealand that means places like Fiji, Rarotonga and other Pacific Islands are going to be winners. From the West Coast of the US you can expect Hawaii to cater for those family groups looking for beach escapes.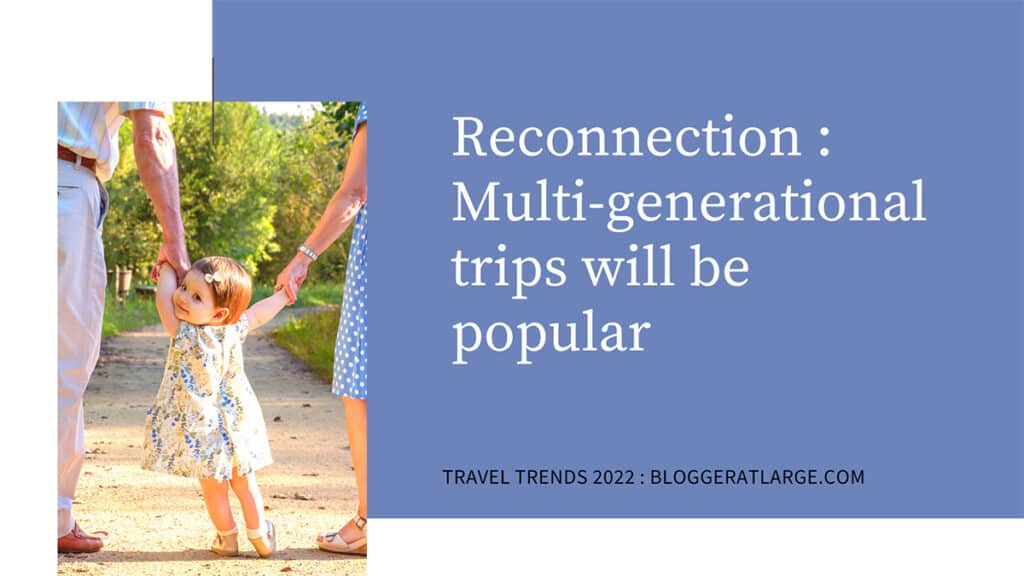 Revenge Travel
This trend started coming through as soon as borders eased in Europe and the US. The trend of people desperate to travel, don't care where just take me there! They're off.
Cheap flights, weekends away, splash out, treat yourself. I just want to get away, is this group's prevailing attitude.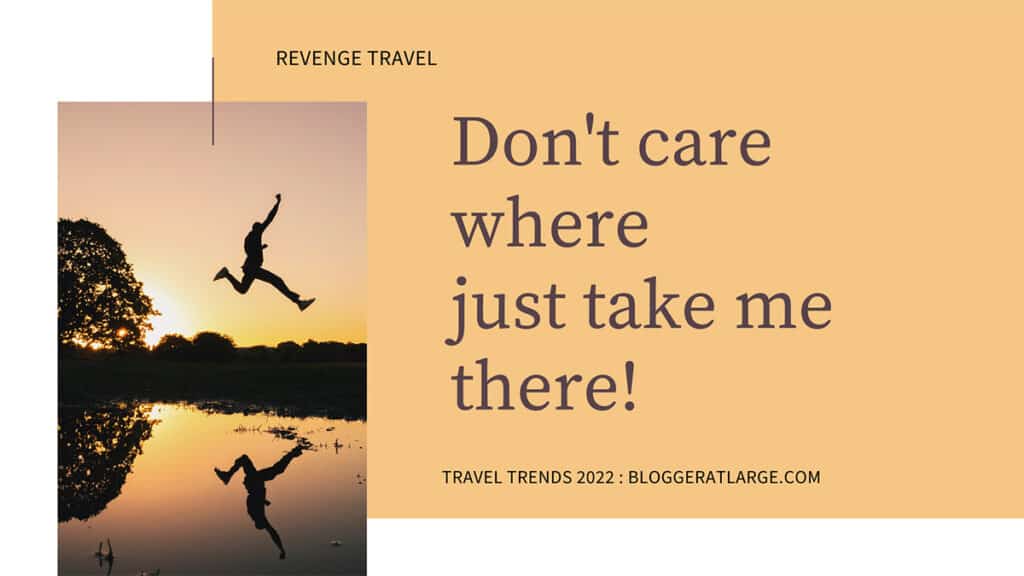 Postponed life events
A lot of people had plans cancelled in 2020 and 2021, big life events. They want to achieve those things. The 70th birthday that was meant to be spent on a cruise will now be the 73rd birthday. The honeymoon that had to be delayed. The 20th wedding anniversary trip to New York will now be the 22nd anniversary, but they're booking it anyway.
By the way, if you did miss out on a significant anniversary – or any anniversary for that matter, I have this fun post I've written taking the traditional anniversary gifts and turning them into travel destinations.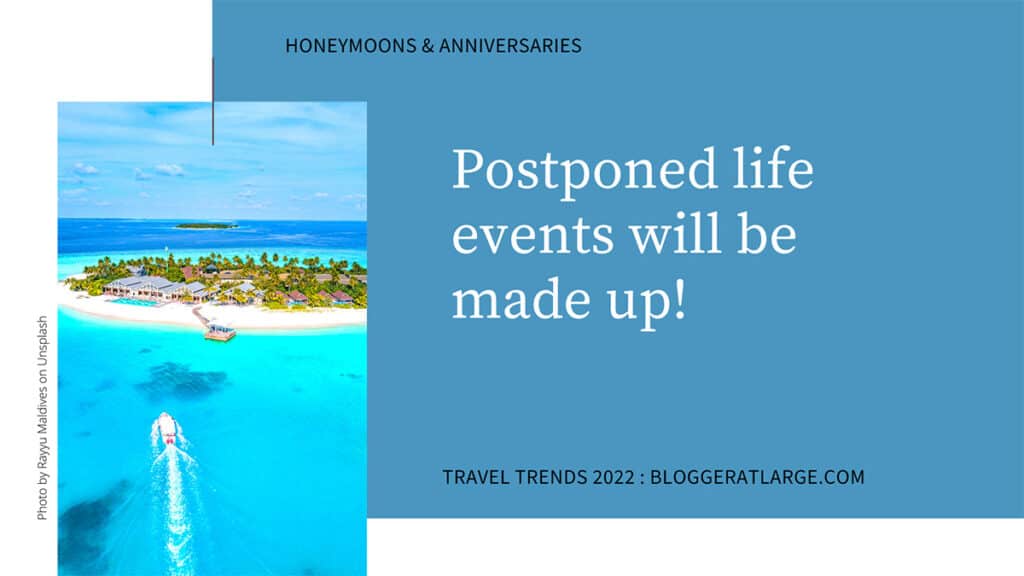 Road trips
Self drive road trips are going to be more popular as people think about avoiding air travel and getting away from the madding crowds and all the airport delays and testing rigmarole, and more about exploring locations in just their bubble.
Obviously we've seen an upsurge in domestic road trips for this reason, and because international destinations haven't been open by and large. But in the next few years we will likely see a general increase in flying to a destination, then renting a car or an RV, and tootling off to explore on your own.
Personally I love a road trip and have written about loads of great road trips with itineraries which you can browse here.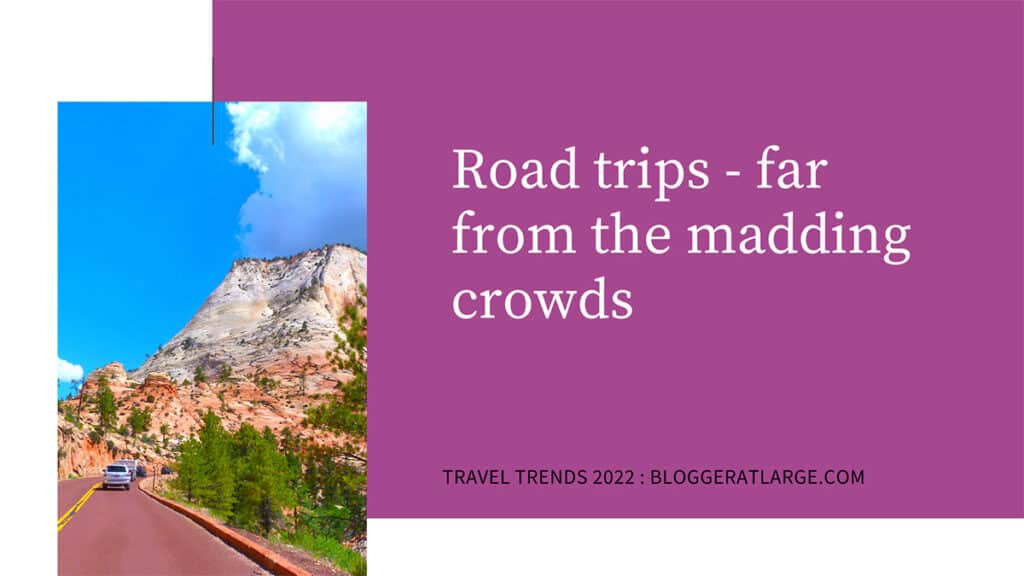 Traveling with a purpose
Purposeful travel has had a huge spike in recent years with tour companies like Hands Up Holidays and G Adventures creating itineraries that include giving back to the community, while also spending time actually on vacation and exploring.
But expect to see even more emphasis on sustainability when it comes to people's travel choices. I don't know about you, but I hate plastic waste and one-time use packaging. In New Zealand we banned all plastic bags from supermarkets and we've taken about two years to remember to take our own bags into the store! (You can buy paper and fabric bags in store if you forgot yours. I now have about 47 fabric bags in my house!)
Sustainability is very important to younger generations of travelers. And we're not talking that young actually. Anyone who's travelled to the likes of Bangkok and seen the mountains of plastic rubbish knows that we need to change our habits.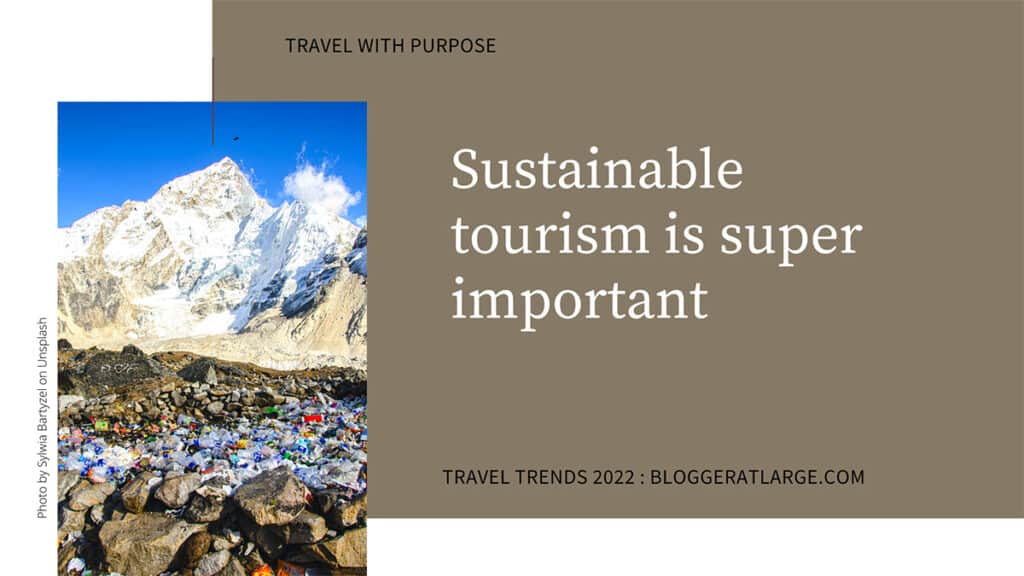 Fast fashion is being replaced by a love of local, smaller designers. The older we get the better quality our stuff, as we can afford to replace those K-Mart plates with handmade ceramic ones made locally. (Yes that's what I got for Christmas!)
In hotels we've seen the replacement of tiny toiletries with larger refillable bottles. Some even insist on their own biodegradable products going into the sewage system over commercial products.
In New Zealand we also banned high energy lightbulbs several years ago, replaced by low power ones. Expect to see major hotels making enormous savings by doing the same things.
Pet travel
Pets have had the best couple of years ever with their owners working from home. You probably know a few friends (or maybe even you!) who bought pets during all the lockdowns of the past two years? Well it's hardly surprising that there is an increase in searches for pet-friendly travel. Expect to see hotels offering pet-cations soon.
Booking.com's Tarundeep Singh, Product Manager, says "The pet-friendly filter is the third most-used filter in the facilities section, behind swimming pools and parking."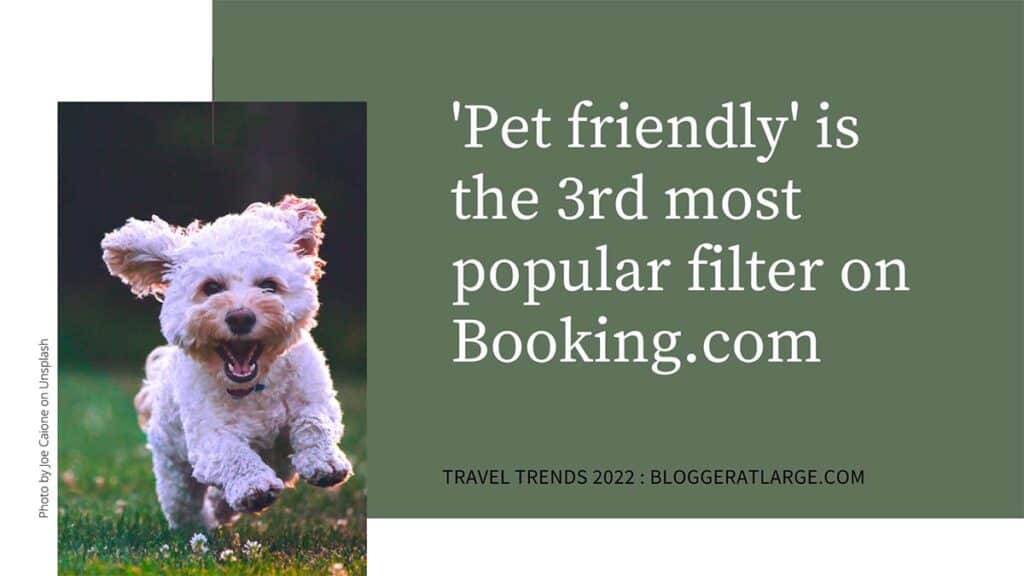 Staycations
Staycations are here to stay. With the uncertainty around testing protocols, vaccine passes and insurance going into 2022, expect to see many travellers opting to see more of their own countries rather than dust off the passport and get to the airport three hours early.
For little countries like New Zealand, this is not actually sustainable as we just don't have the population size to sustain our $49b travel industry with domestic travel alone. But for countries like the United States and China, they barely need international arrivals anyway!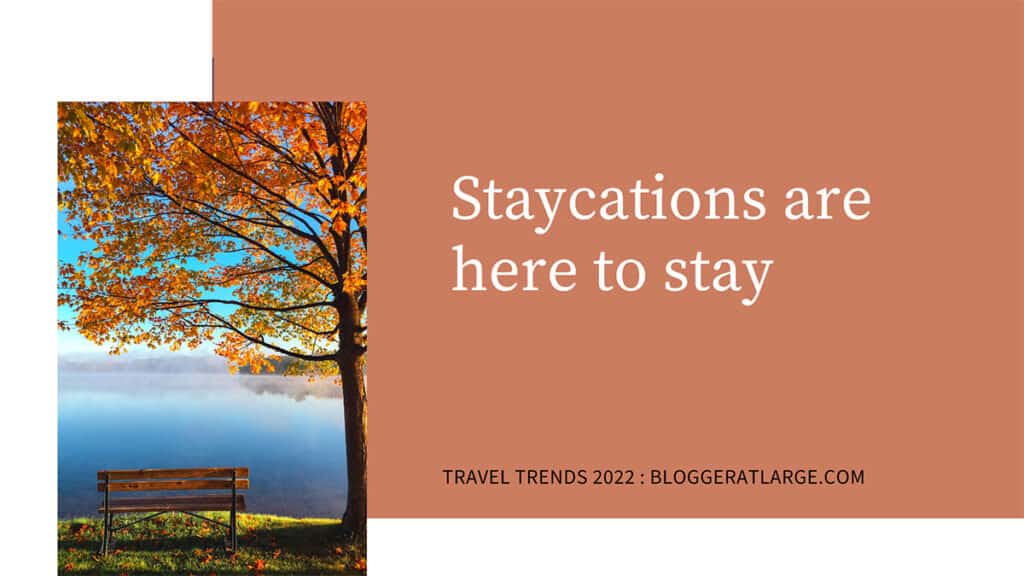 Last minute travel
Last minute deals will be even more popular than ever as folk seek to nip away on a trip with the surety of knowing that destination is safe for travel next week or the week after. People who are willing to be flexible with their dates and even destinations will reap the benefits of grabbing great deals at hotels and resorts for last minute travel.
Here's a tip: if you do need to book a few months or even a year in advance, make sure it is refundable or choose the 'cancel for any reason' fare if you can.
Which leads me nicely into travel insurance. What will we see when it comes to pandemic travel insurance?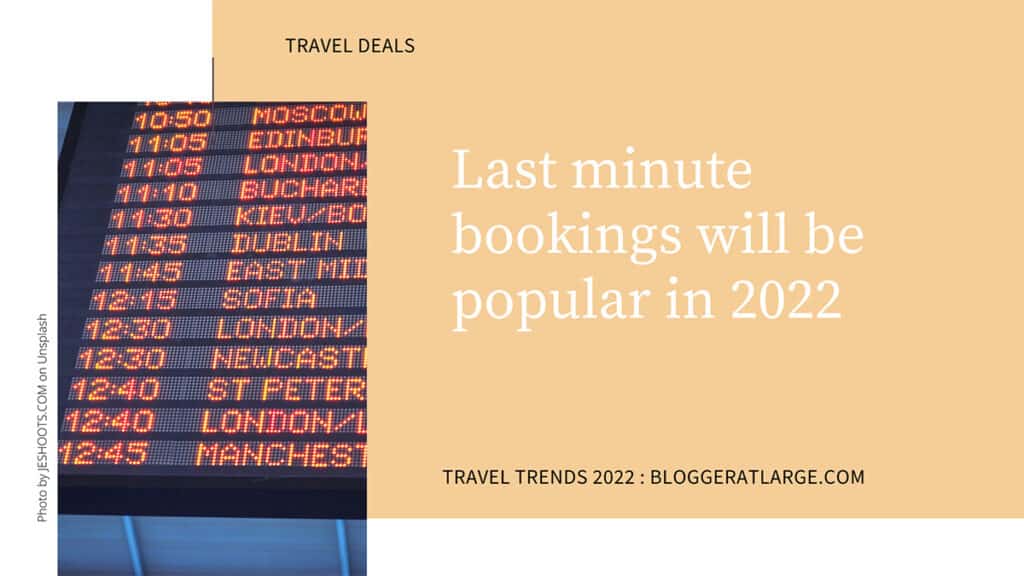 Post Covid travel insurance
When it comes to travel insurance, you will find companies that will insure you should you contract Covid on your trip. But what you won't find (please let me know if you do!) are companies who will pay out if your travel plans are changed due to lockdowns or other quarantine requirements.
When you are booking, my advice is always to use a travel agent. They have the relationships and the knowledge to have their finger on the pulse and can not only recommend the best policies, but will know if airlines, cruises, hotels, etc have refundable or creditable fares.
Have a look at my post on What to be Aware of when choosing Travel Insurance.
If you fly with Air New Zealand, you can upload your Vaccine Pass to your account on the app. Here's my step-by-step guide on how to add your vax pass to the Air NZ app.