I stayed in Chip and Joanna Gaines' Shotgun House in Waco, Texas!
My entire week in Texas was built around our one night in Waco, fan-girling at Magnolia Marketplace and staying in one of the homes that featured on Fixer Upper!
You can see all my photos and "walk through" Magnolia Market at the Silos with me here.
In case you live under a home decor rock, Magnolia is the name of the company owned by Chip and Joanna Gaines who made their names as the stars of Fixer Upper, a show about flipping the worst houses in the best streets in Waco.
We started in Galveston, just over an hour's drive south of Houston where we flew in on a Monday (yes we still found things to do in Houston on Monday!), then we drove from Galveston to Waco in about four hours, then spent a few fab days in San Antonio staying on the River Walk, exploring the Alamo and finding some great Mexican food (which incidentally was not on the River Walk!).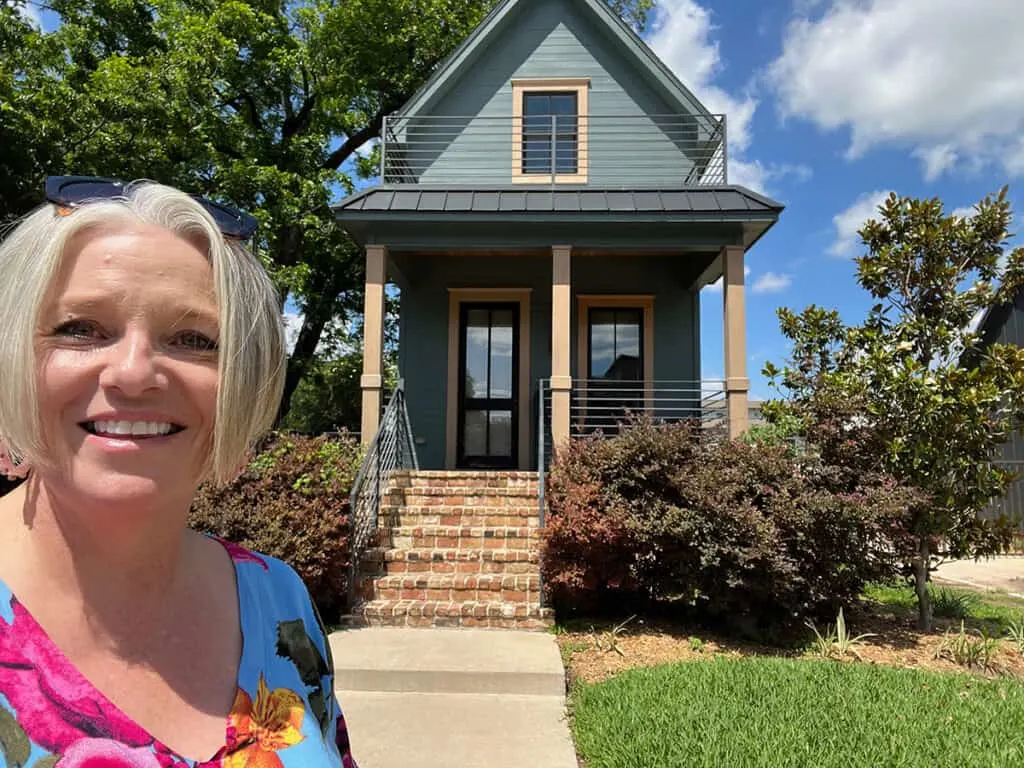 This local Waco couple now run an enormous empire, after such a successful series of TV shows. They have stores, cafes, a restaurant – and Magnolia Market which is built around two enormous old silos that have been preserved here in downtown Waco.
They are currently renovating a downtown Waco hotel.
Chip is the builder, a bit of a goof, and nothing is too much trouble as his wife Joanna does her industrial-chic, country house interior design work. I love it!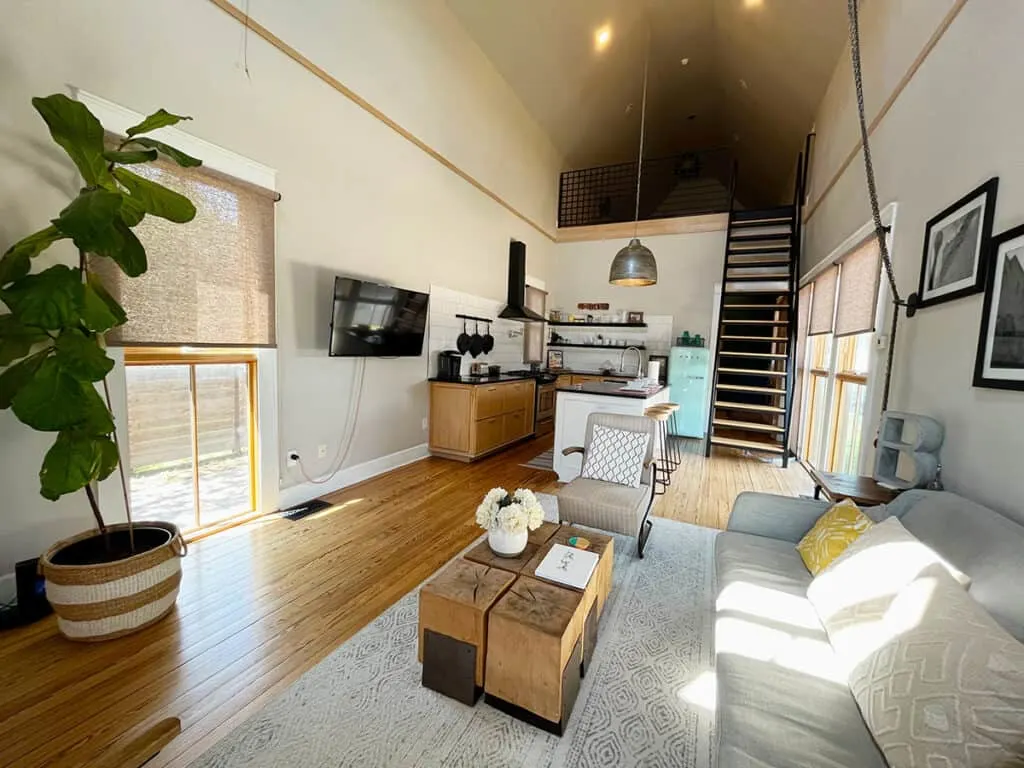 The premise of the show is to take a client to three run-down properties in and around Waco (and now having driven around Waco, there is no shortage of run down properties still to be fixed up!)
They choose one of the three and Joanna goes to work with the design (and Chip the demolition) which she presents to them in 3D, usually from a garden table at their own farmhouse just outside Waco.
I am addicted to the series, and when they left HBO to start their own Magnolia Network, international fans lamented as they lost all ability to follow the Gaines's and their exploits.
Annoyingly, the Magnolia Network website (which covers their stores, restaurants and BnB, as well as everything related to the TV series – which now includes Joanna's cooking shows and recipes) is blocked for international readers and fans. Clearly someone at the network doesn't think much of their international fans, and certainly doesn't expect them to ever want to visit in real life! Ahem.
I've emailed more than once and was told it's due to the license agreement with Magnolia Network – Chip and Joanna Gaines' own TV network. But don't worry dear international reader, as at the travel conference I've just attended in San Antonio, I met with Waco Tourism and pointed out this catastrophe and was assured he will get the Magnolia marketing team on to it!
Until the rest of the world gets unblocked from visiting the Magnolia website, you'll need to use a VPN (virtual private network), which is also helpful when travelling to countries like China where many websites are blocked. What is does is allow you to select the destination is "located" in privately. So chose USA for Magnolia. I recommend Nord VPN and have used them in China.
Not one to give up easily, I scoured hotels and AirBnBs for accommodation near Magnolia Marketplace in downtown Waco and found the Shotgun House, still owned by the OGs.
How to stay at the Shotgun House – and other places in Waco
The reason my week in Texas pivoted around one night in Waco was for the accommodation. The Shotgun House is available for rent on Air BnB. Chip and Joanna fixed this house up in season three and happily for fans, it's available to stay in for $325 a night.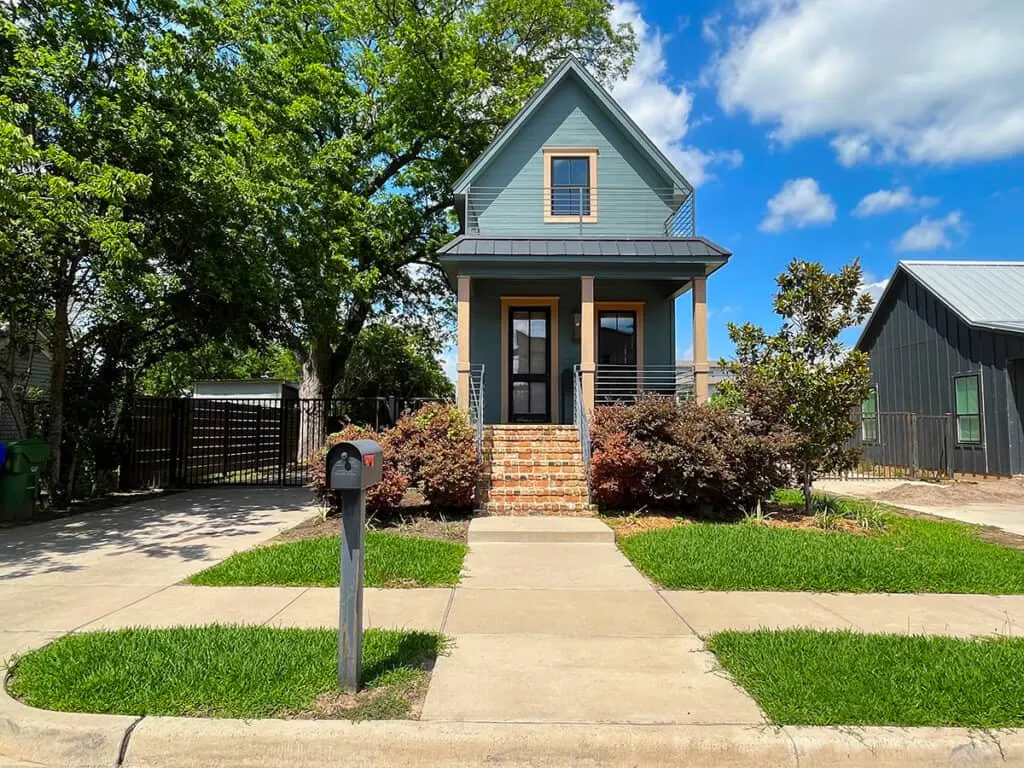 Owned by Cameron and Jessie Bell, the original owners who paid $10,000 for it and spent $100,000 on the renovations, now have a property worth nearly $1 million.
This house is two levels, and if you're a fan you'll remember they added a pulley system ladder to access the mezzanine floor. The ladder stays permanently down, which means one has to shimmy between it and the fridge to access the bedroom and bathroom.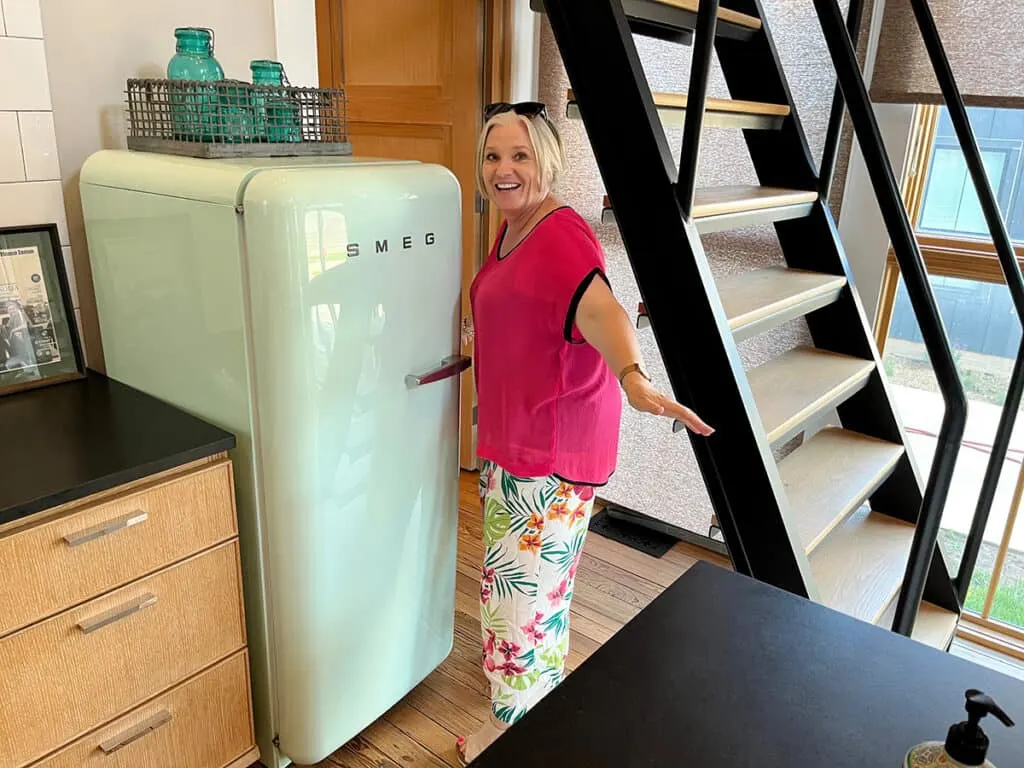 Upstairs is just a couch (which looks like it folds out in to a bed) and a side table, but the steps are steep so there's no way I'd want to sleep up here and have to find the loo in the night!
The kitchen/living room is still pretty much set up the way Joanna left it. Cute bowls and plates were laid out on the bench and the kitchen has all the cooking utensils if you wanted to cook. But who wants to cook on vacation?!
Behind the steps is the bedroom with a queen size bed and a huge oversized mirror leaning against one wall. The air con system in the window was noisy – and I don't think original to Chip and Joanna's design. But as the house has floor vents for air conditioning, we switched it off and just used the main house air.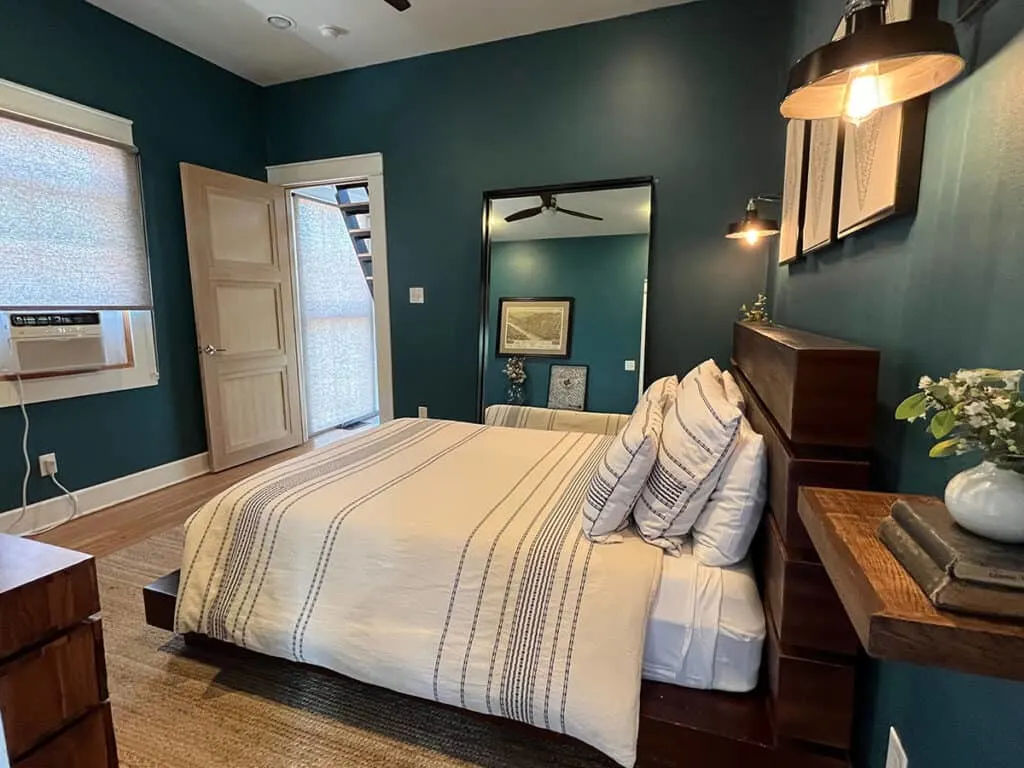 Behind the bedroom is the side entrance from the driveway with a laundry – which is super convenient for travelers. Then the sweet bathroom with French country floor tiles, twin basins in the concrete vanity top and a massive oversized shower. I shaved my legs in Jo's shower on the seat she'd designed!
The front porch has an eternal gas flame lamp burning and two chairs, but if you sit out here – facing a block of apartments, you're going to photographed by folks in the tour bus which goes past Chip and Joanna's houses!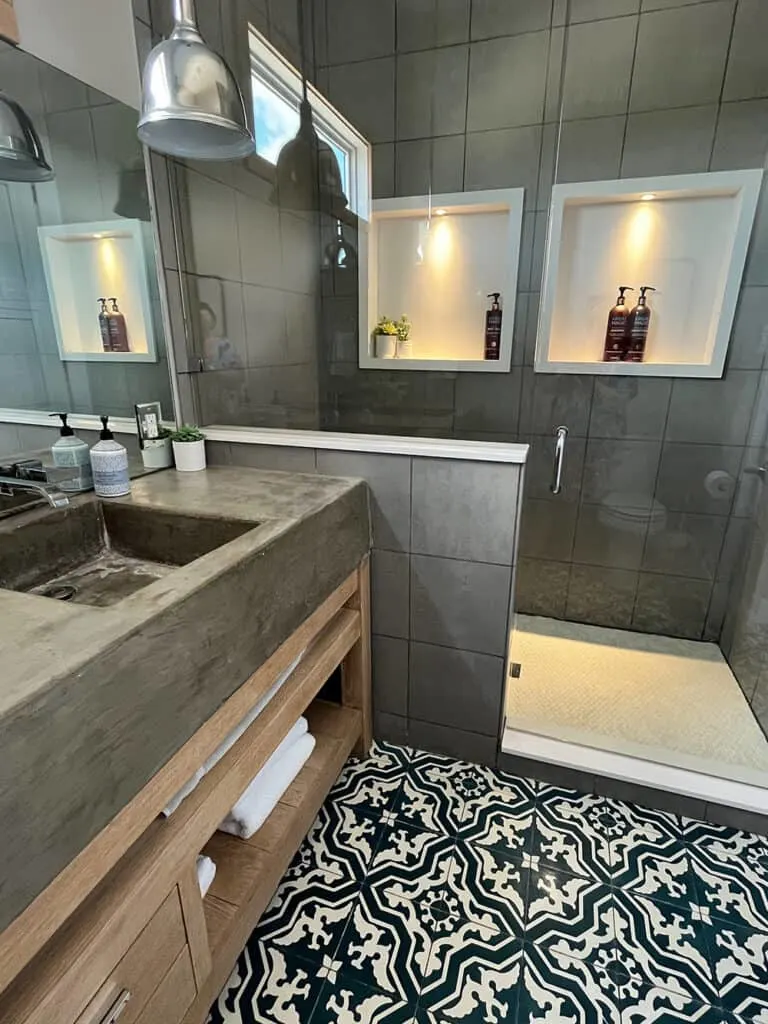 The Shotgun house is located about three blocks from Magnolia Market, but we had a car so we drove. Be warned, parking is busy, but there is also no sidewalks around the streets, so it's probably best to drive and circle around a couple of times until a park becomes free.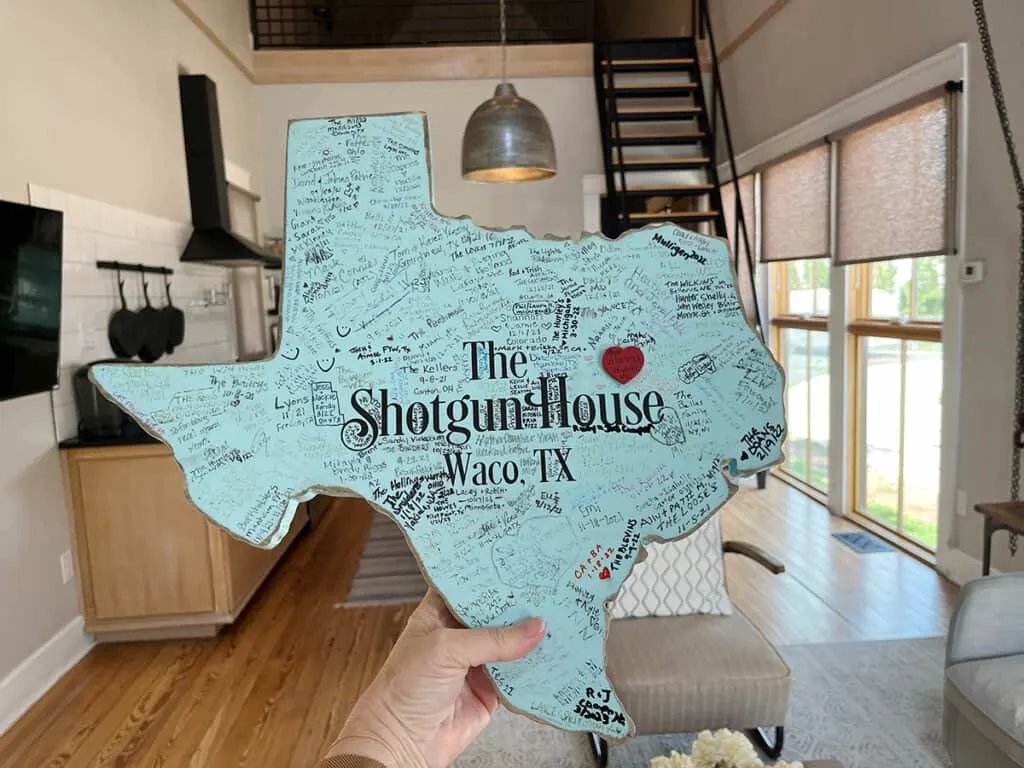 Other Fixer Upper houses to stay near the Silos
There are lots more houses that Chip and Joanna have fixed up for rent. I've picked out some below.
Some of these links will take you to VRBO to book direct. Disclaimer, these are affiliate links. That means if you do book, I may make a small commission at no extra cost to you.
Do you remember this one from Season 3? (Below). It's the German Schmear house that Chip painted. This four bedroom house can sleep 8 and has a separate cottage on site for even larger groups. Joanna added the front pillars, gas lighting, and window treatments. But check it out inside. It's gorgeous!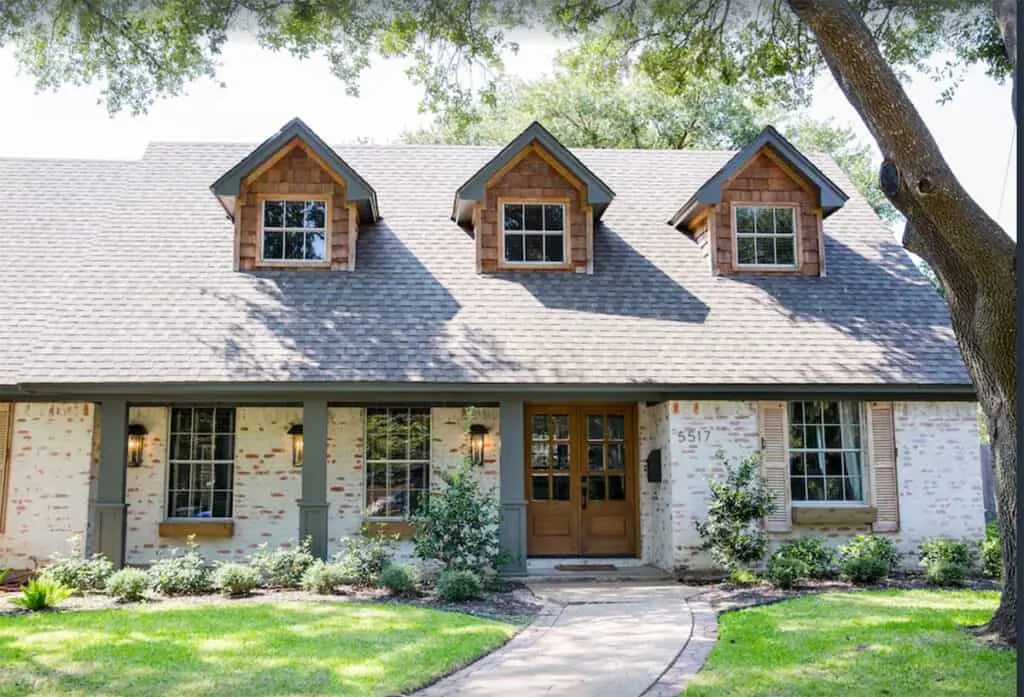 For another authentic Fixer Upper house, check out The Brick House (below) which sleeps 8 in three bedrooms. A cute 1927 house renovated and refurbished with Joanna's signature shiplap. It starred in season 3, episode 2. It's a short drive to Magnolia Market from here.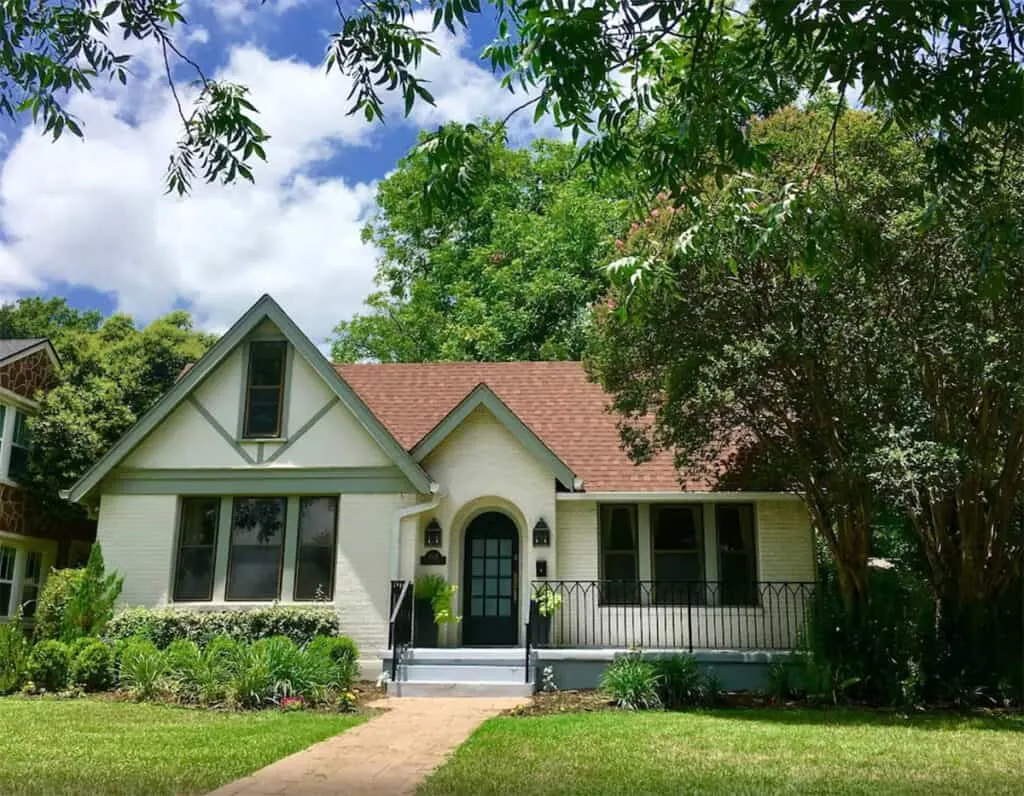 Do you remember the Bachelor Pad from Season 3? (Below). It's four bedrooms and sleeps up to 10 located about 15-minutes drive from the Silos, Magnolia Table, and Baylor. It has the double kitchen island benches and a volley ball court out back. It would be great for larger groups.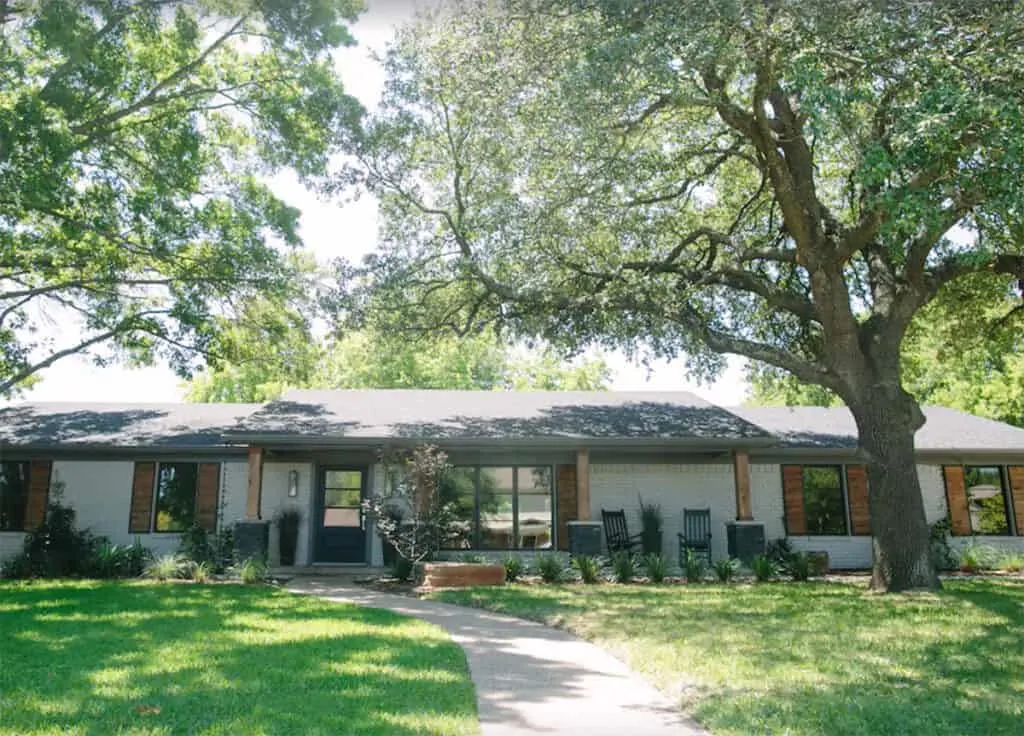 Below the 'As Seen on HGTV's Fixer Upper 2' is a 5 bedroom house that can sleep 12, including in a fold out bed. It's also a short drive to Magnolia Market at the Silos. I don't think I saw this episode! There is also a smaller guest house if you're just one or two.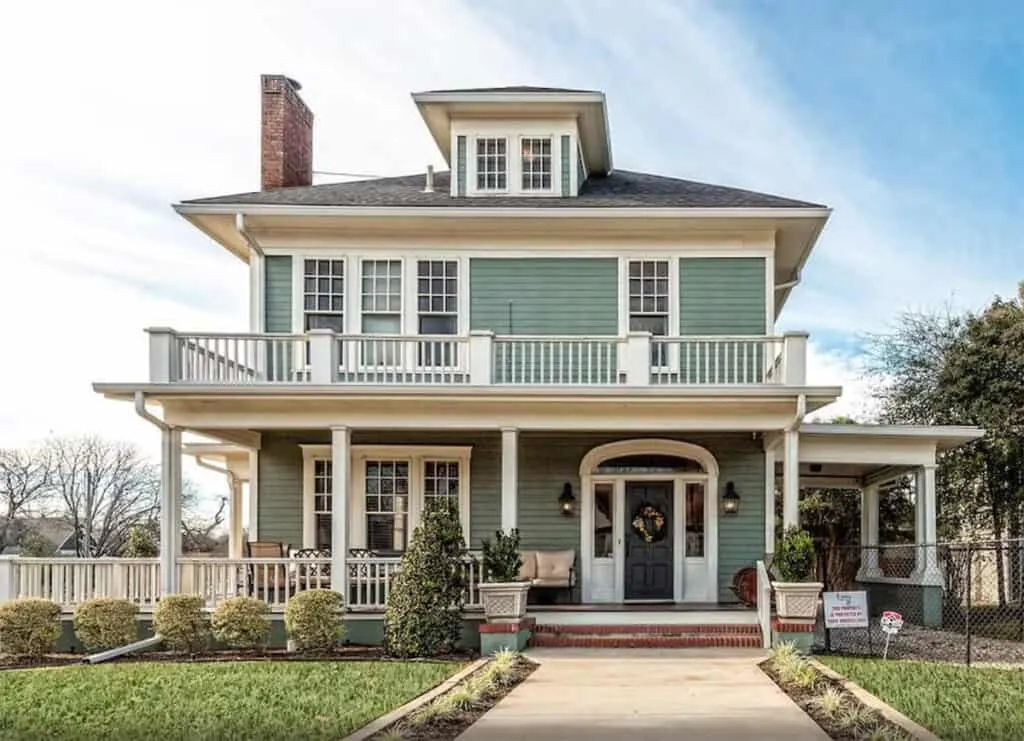 The Giraffe House featured in Season 4. It has three bedrooms and can sleep up to 7. This is the house with wide arched doorways, shiplap on the ceiling and large rock walls and chimney that gave it its name. It's located two miles from Magnolia Market at the Silos.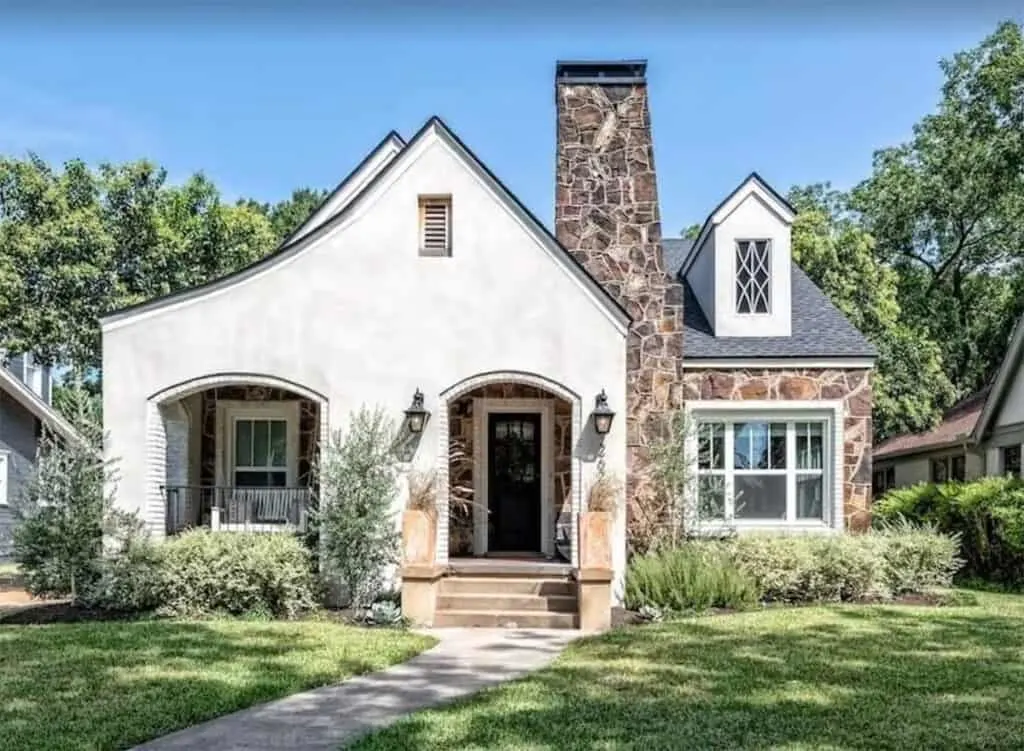 Other cute places to stay in Waco
Downtown Estate is a cute cottage which sleeps up to 8 and walking distance to the Silos. It's not done up by Chip and Joanna, but looks like it!
The Blue Door Inn is another very cute cottage, located one block from the Silos and can sleep up to 8 in three bedrooms. Another Joanna Gaines lookalike 🙂
This adorable little Cosy Waco Apartment apartment sleeps 2 and is located in downtown, about four blocks from the Silos. All it needs is some shiplap and you'd think Joanna had been in!
Other things to do and see in Texas
We spent a nice night in Galveston to check out this cruise port town and was so surprised to find some great things to do, places to eat and shop, that I'd recommend spending a couple of nights here before you sail out.
We like Houston for a stopover, with all the museums, galleries, baseball and open spaces to enjoy. Not to mention the space center!
But if you arrive in Houston on a Monday, you might be wondering what to do! This post has you covered.
I really liked San Antonio and found a great food scene that I wasn't expecting.
And if you missed it at the start, check out my photos and tour of Magnolia Marketplace at the Silos.