If the idea of a shopping spree in Los Angeles fills you with excitement, then read on, for I have visited five great shopping places dotted all over LA, and revisit them often. Here's what you can expect.
Note: if the idea of shopping in LA fills you with dread, you might like to read about my day zip lining on Catalina Island or fishing at Marina del Rey and these other fun things to do in LA besides shopping!
*This post contains some affiliate links. That means if you make a purchase I may make a commission, at no extra cost to you.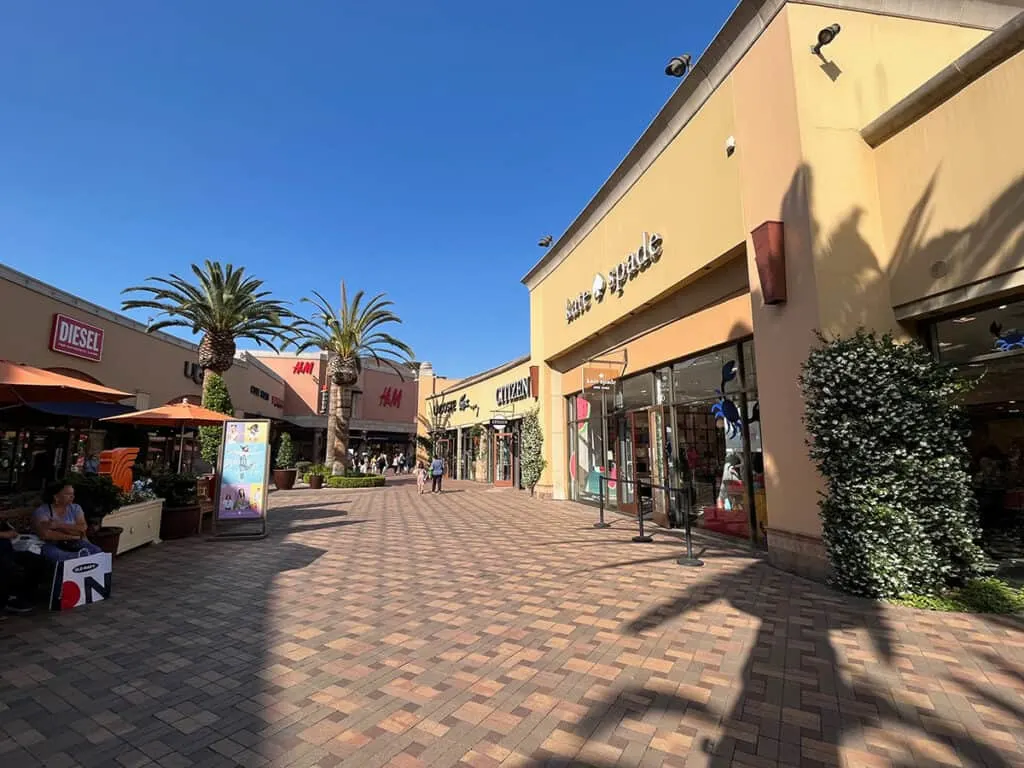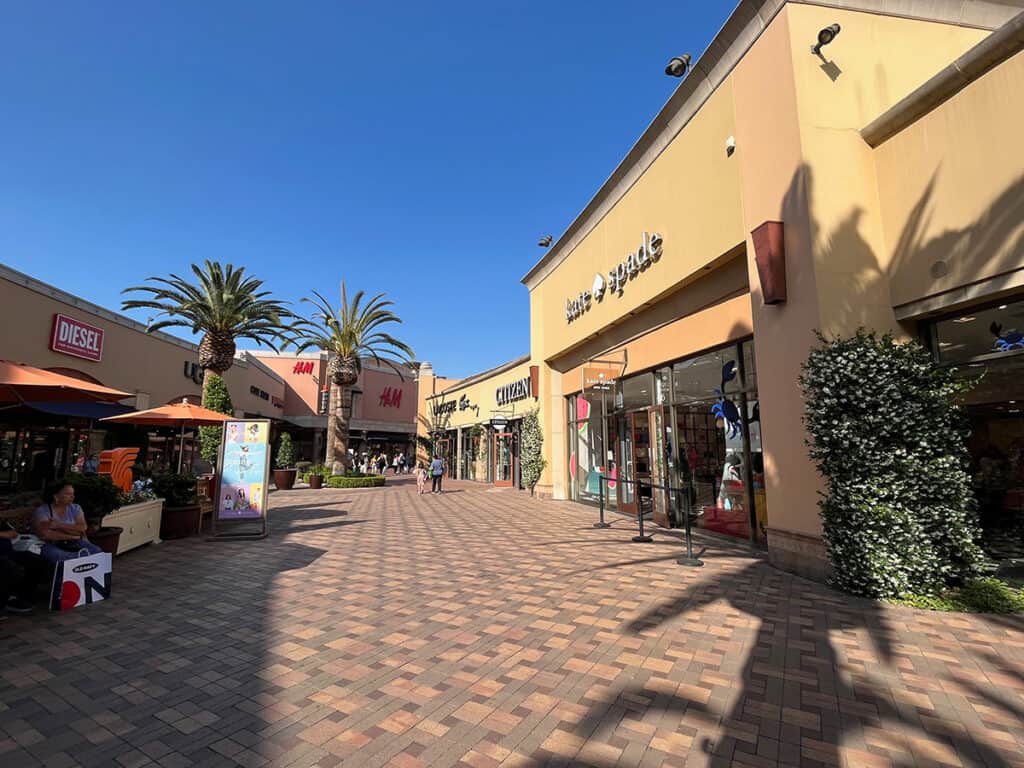 1 Shopping in Santa Monica
My first love for where to stay in Los Angeles is Santa Monica.
I've visited this styly seaside town over 20 times and I'm never disappointed and have written this post on 7 beautiful hotels in Santa Monica all within easy walking distance to the shops and restaurants and bars.
The main shopping here is along Third Street Promenade, over four pedestrianised blocks that end at Santa Monica Place. Waaay back in the day, the Place used to be a sad little shopping mall and all the action was stretched along the street, but it had an extreme makeover several years ago and Robinsons May made way for Nordstrom and Bloomingdales.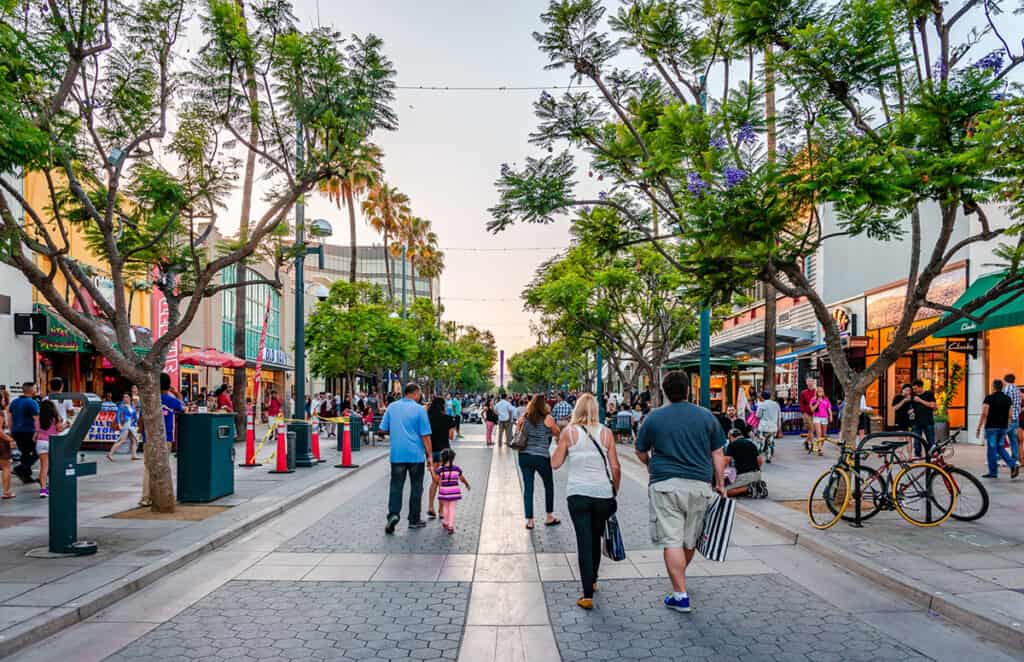 There are 90 shops, restaurants and food outlets on the roof top of the indoor mall where you can snatch views of the ocean from the cabanas as you eat your burger.
But in the outdoor mall, along the promenade you'll pop into stores like Anthroplogie, Zara, Apple Store, Aldo, Banana Republic, Gap – and the rest. And you're only three blocks on the beach to head to one of these great Santa Monica bars for sunset views over the Santa Monica Pier.
2 Shop at The Grove
The Grove is very near Hollywood and Beverly Hills.
Pro tip: If you buy a Big Bus Hop On Hop Off bus ticket for a day or 2 days, the red route will take you there. This is a great way to see the city and also hop off and shop for as long as you like.
The Grove is a beautifully designed shopping precinct with
It has a really popular farmer's market that has been here since 1934. But in 2002, the fabulous mall you see now opened. You'll find lots of great eateries lining the outdoor areas, and more inside. You'll find many of the same stores as Santa Monica but they also have American Girl Store (if you have a little girl who is into dolls, you'll never come out of here!), Top Shop, Top Man, J Crew, Crate and Barrel and more.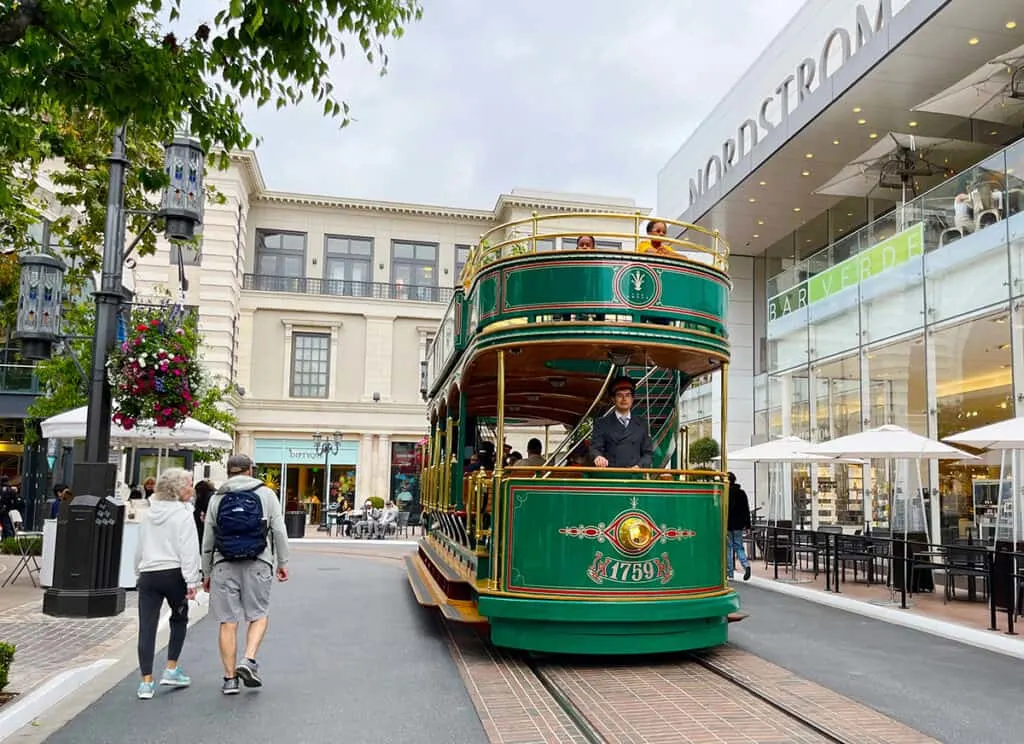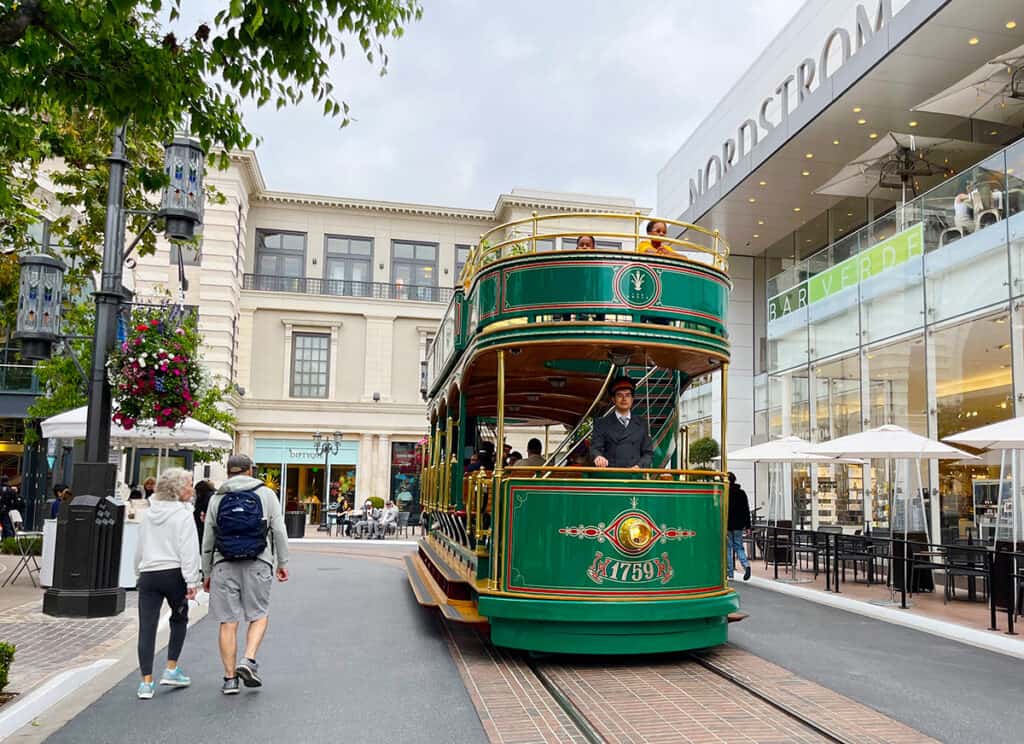 It's very quaint with a trolley car that circles a water fountain and plenty of benches to rest your weary shopping legs.
Food outlets include The Cheesecake Factory (serving a LOT more than cheesecake. Huge portions. Reasonable prices) and you really should poke your head into the American Girl Store Cafe just to gawp at the children sitting with their dolls at tables having lunch.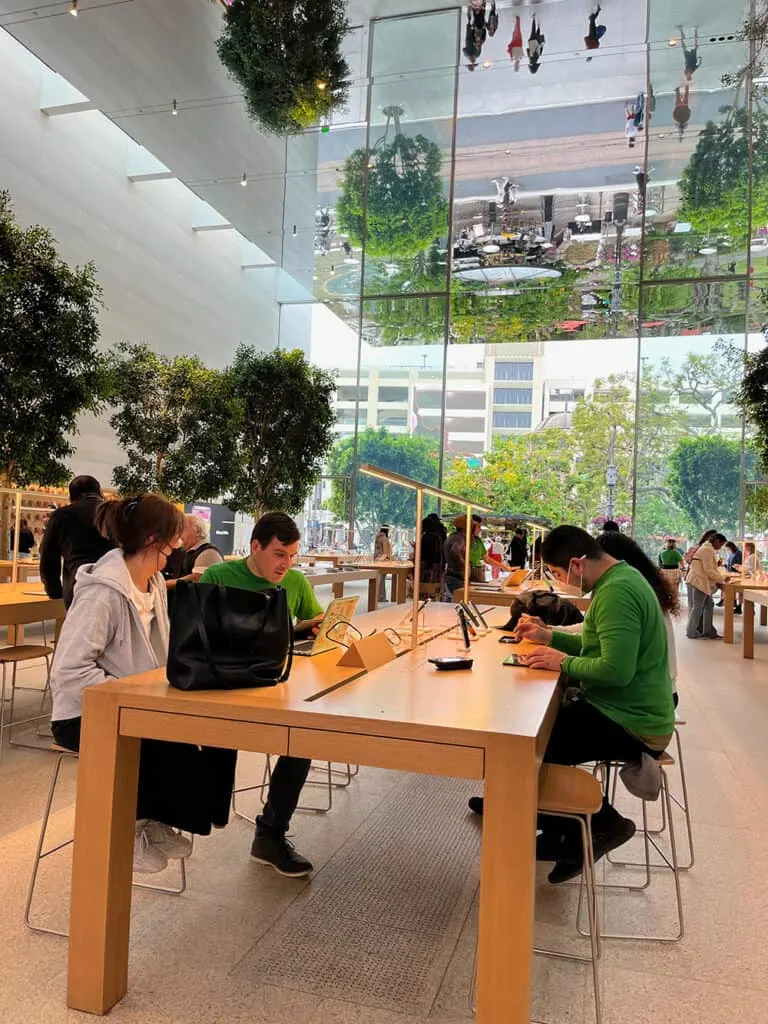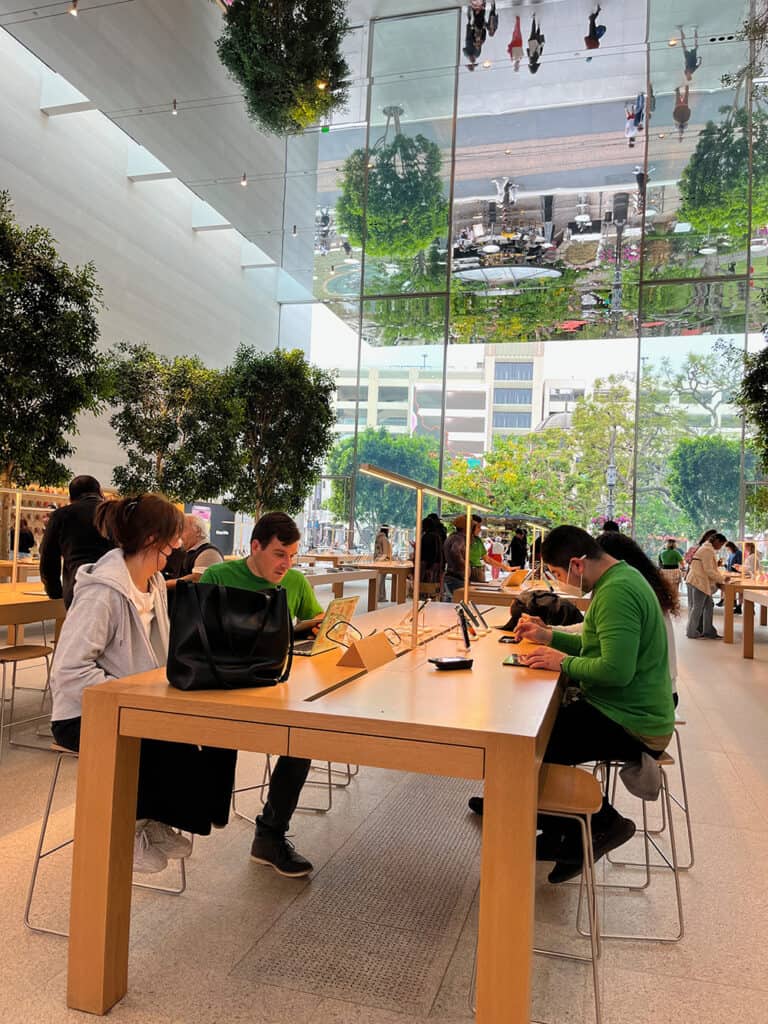 3 Shop at Westfield, Century City
Westfield Century City is close to Beverly Hills and has 175 stores and 60 eating outlets, including Eataly which is a delicious Italian dining and shopping space, and 11 movie theaters. You'll find a great mix of high end and high street brands. Macy's, Bloomingdales and Nordstrom are the department stores for all your cosmetic and fabric-stroking needs.
For a bit of entertainment with your shopping, visit Dreamscape where you can don VR goggles and disappear into fantasy worlds. This would be great for the teens while you shop!
Oh and watch out for celebs because the Fox Studios are right next door so you can expect power lunches at these restaurants and a sneaky shop with the stars.
I got here via the Hop On Hop Off bus, having switched from the red route at Beverly Hills to the yellow route that actually goes all the way out to Santa Monica.
4 Citadel Outlets
If you really want a bargain, shopping at Citadel Outlets is a must, and is what I do on my last day in LA every time.
Or heck, if you're like my sister and mother you'd probably want to know that there's a Doubletree by Hilton right next door! Allow about 45-minutes to get here from Anaheim and the same from Hollywood.
You'll find over 100 outlet stores including high street brands like Old Navy, Gap, Banana Republic, Guess, Nine West, Nike and Adidas, but you'll also drool over the bargains at DYNY, Kate Spade, Armani Exchange, BCBGMaxazria and Michael Kors.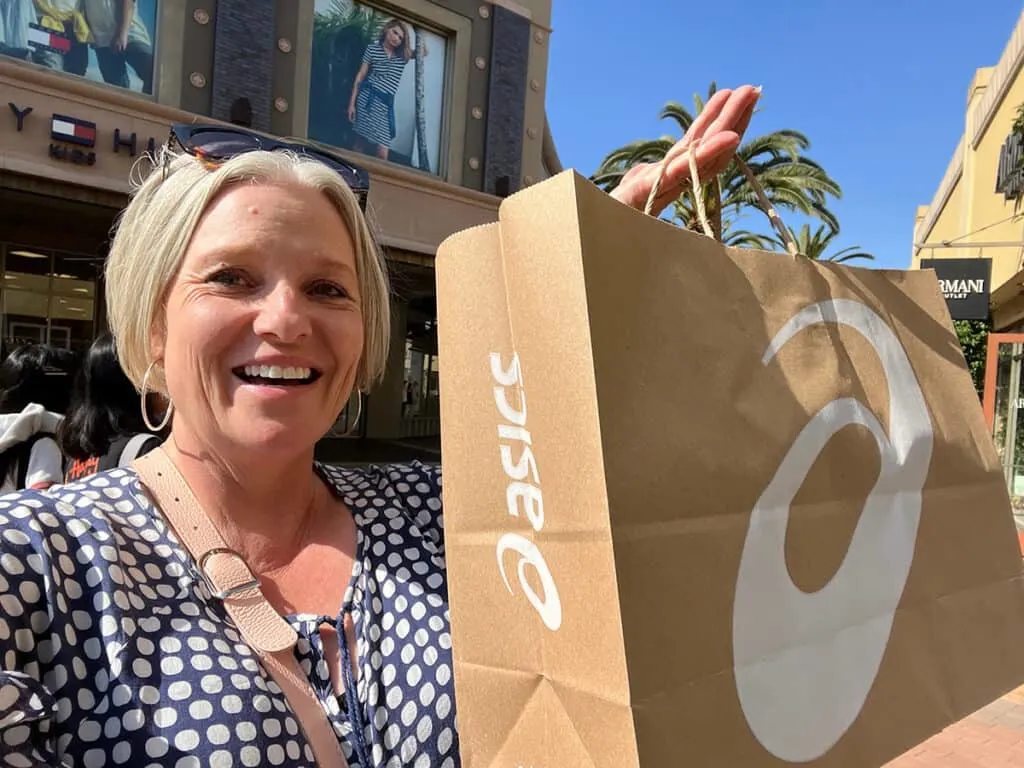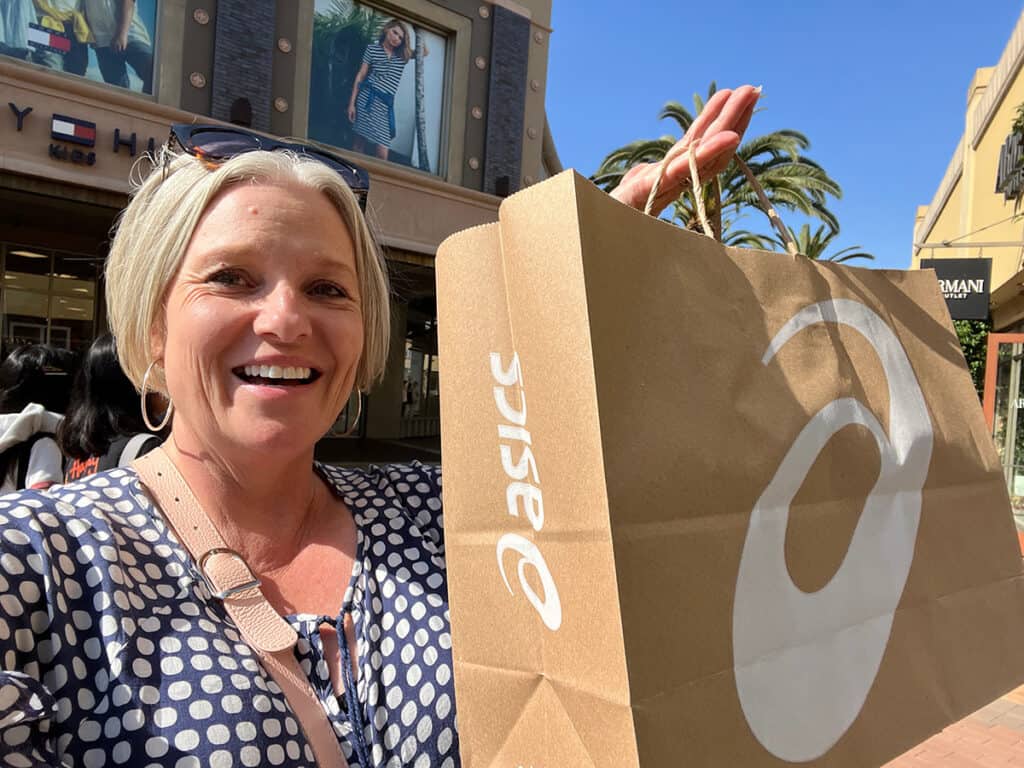 And here's a very cool idea for travellers: if your flights leave late at night from LAX, check out of your hotel you can book the Citadel VIP Pass which gives you access to their VIP lounge (free WiFi and snacks), store your luggage for the day, receive a bunch of extra coupons for even more discounts and then get transferred to the airport to catch your flight home.
Note: there are luggage stores at the outlets – and it's been known to happen!
You can buy your pass here for $30 (NZ$50)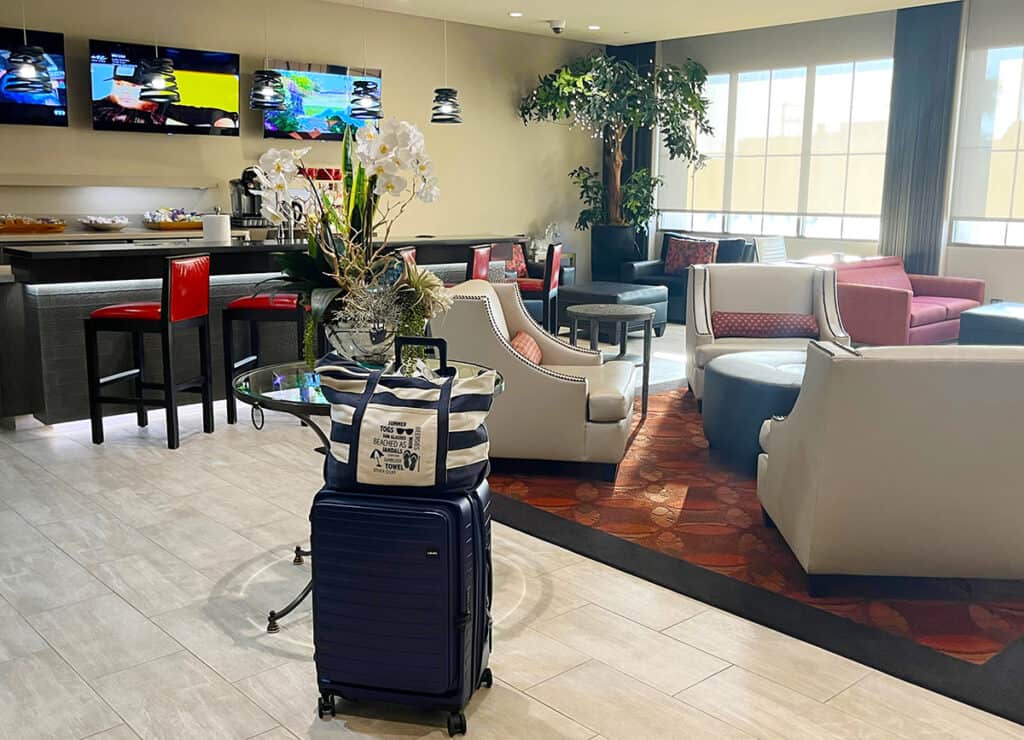 5 Shop in Beverly Hills!
No seriously, it IS possible to shop and not just stare with your nose pressed against the windows in Beverly Hills.
Of course you'll want to wander along Rodeo Drive making sure to make eye contact with everyone just in case they are famous. But while some shops are appointment-only (like House of Bijan menswear, whose celebrity clients typically spend $100,000 a pop and whose owner used to park his iconic yellow and black Bugati out the front for plebs like us to take photos of), you will find the odd store you can browse through that won't require a down payment on a house.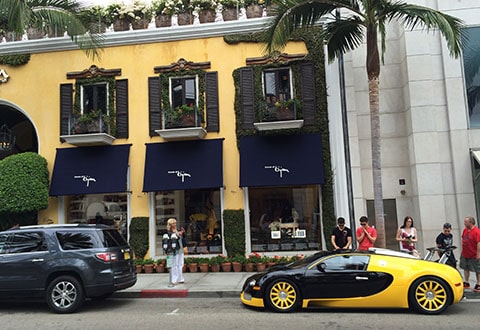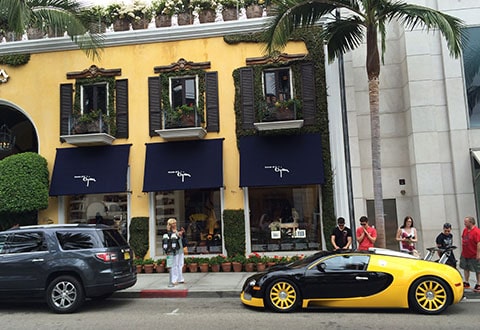 What a lot of people don't realise is that the street parallel, Beverly Drive, is full of affordable shops like Aldo shoes, Anthropologie, Crate and Barrel, Gap, Levi's, Lucky Brand, Lululemon, Mac Cosmetics and you can even pick up your Nespresso – and hopefully spot George Clooney!
On the edge of Beverly Hills and West Hollywood, is the Beverly Center. It's about two miles from Rodeo Drive, and about three miles to Westfield Century City (get an Uber is what I'm saying!). This mall has 90 stores and 10 eateries including Michelin starred restaurants.
Pro tip: Pick up your free Passport to Shopping booklet for discounts at many stores.
So you can shop in Beverly Hills, get the bag and go celebrity spotting at the same time. Again, the Hop On Hop Off (HoHo) bus will get you here (well, it stops a couple of blocks away) for a sight-seeing and commentary experience.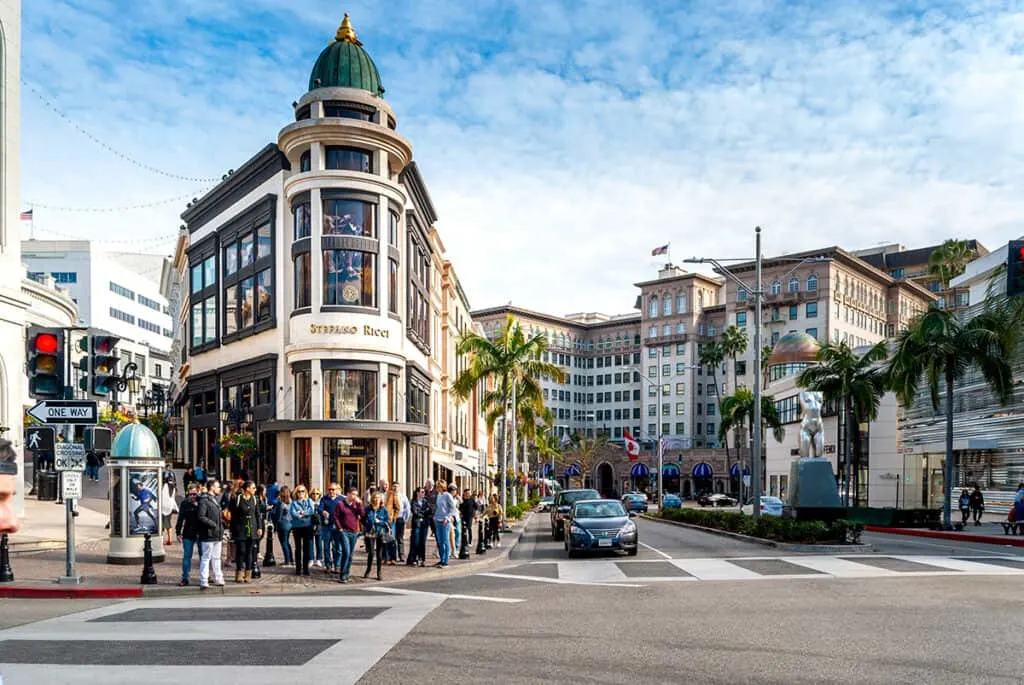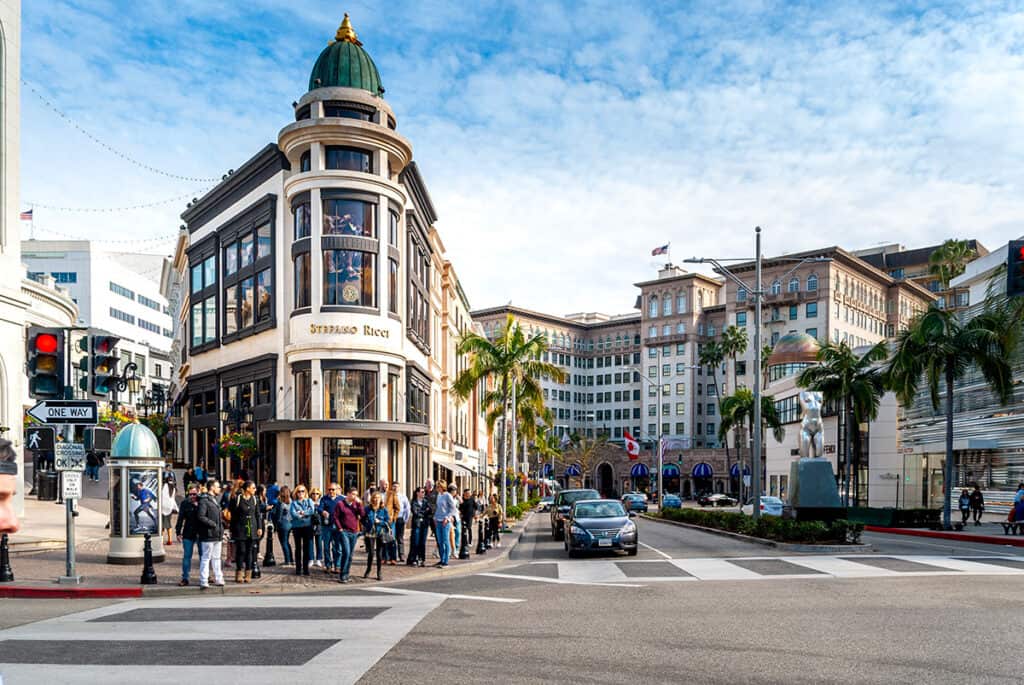 We also use a lot of Ubers in Los Angeles. They come in all forms from Teslas to Audis and BMWs, to Toyotas and Hondas these days. Download the Uber app before you go so you have the option.
Another good option is to take this all-day tour of LA which includes stops for (quick) shopping plus a great way to see the sights. Then you'll have hit all the highlights on Day 1 and the next day, just Uber back to the place you hadn't finished with!
Where to stay in LA
We love Santa Monica, in a hotel right on the beach if the budget can afford it, it's one of the best place to stay for shopping, dining, drinking and taking in the sunset views. I've stayed in these 7 boutique Santa Monica hotels over the years, but also an AirBnB just up the road from 3rd Street for shopping.
I've stayed seven times in West Hollywood and wrote the leafy, cool vibe of this neighborhood. There are great rooftop restaurants here, good cafes, and a Fred Segal store. Here are 7 West Hollywood hotels I can totally recommend here for some celebrity spotting.
Right next door is Hollywood, and it's a totally different vibe than its chic sister! It's, shall we say, edgy? It's rough in places but there are some really cool gems here too and great places to stay. I have stayed here twice now and wrote this post about Mama Shelter, but I'm putting a new post together covering cool rooftop restaurants here too.
If you want a really low key vibe away from all the hustle and bustle. Maybe you're stopping over and you love getting out on the water. I stayed in Marina del Rey and went paddle boarding and also fishing here.