Updated 2022: the official Shanghai Shopping Tours company has closed
Shopping Tours Shanghai was owned by NZer MJ Bethell who had been living in China for 10 years pre the Covid pandemic. She used to lead tours back when I first met founder Suzy Fewtrell and bought the company from her.
While MJ is no longer in China running these tours, I will keep my eye open for other tour operators who might step in when Western tourists look to go back to China.
This 2-day shopping tour was a key part of my tour when I brought a small group to China in October 2019.
We did an amazing highlights of China tour which started in Beijing to see the Great Wall, then we took a train to Xi'an for the Terracotta Warriors, then down to Chengdu for the pandas and a three day cruise on the mighty Yangtze River before ended with three more days in Shanghai to hit the shops.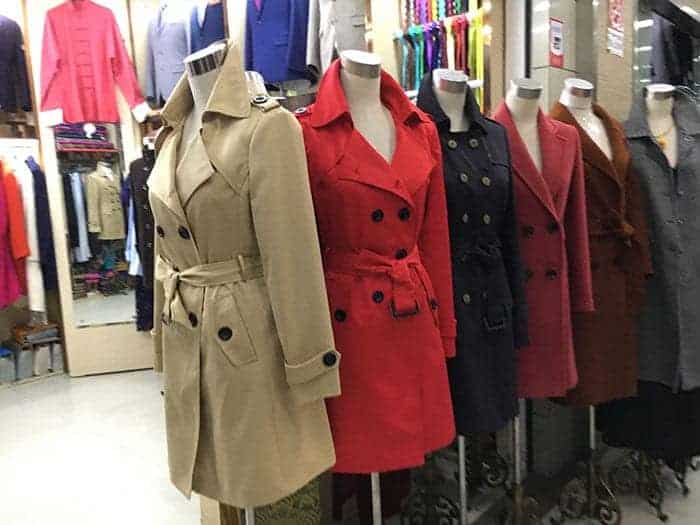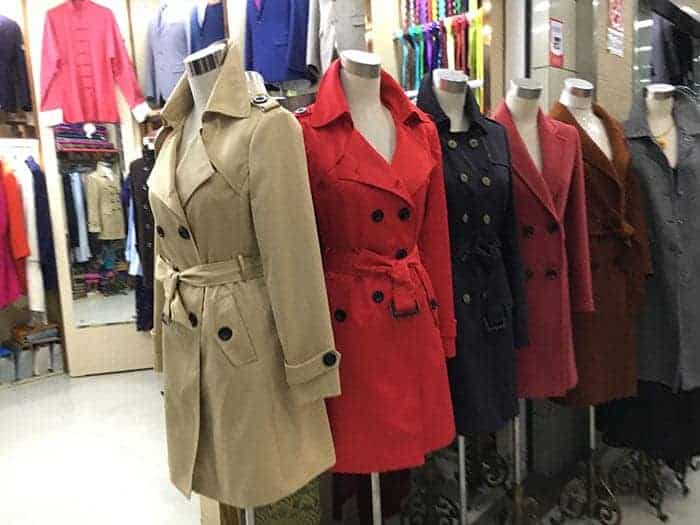 It was winter when we were there so the market was all about cashmere coats and suits. It was a veritable wonderland.
Going on a shopping tour means you can get prices are definitely better than we non-bartery-type shoppers can get and they are also on hand to help with any bargaining that you might want to try at other vendors. They also speak the language which is helpful when trying to negotiate.
On my first shopping tour I bought two 100% silk ties, two scarves, three pairs of cuff links, a belt and that coat for less than $200. Stoked. Back to the bus we went and compared purchases. Two of our group had coats being made overnight that were duly delivered to the hotel at 8.30am the next day, all fitted and lined.
Next we went to a place that sells gorgeous ceramics – plates, bowls, vases – but I decided my luggage didn't need the weight.
We stopped for a delicious lunch so we could taste a bunch of different dishes, then off we set to the Silk Factory where the worms were being boiled and their silk cocoons unravelled by machines into fine spider-web like threads to be made into duvet and pillow fillers. Don't judge me!
Along the chain I went and saw how they stretch the wet threads over a frame, then four ladies holding a corner each stretch at least 100 layers over a bed to make the duvets. I bought a king size duvet and two pillows which were vacuum packed for travelling for $200.
These are some of the most popular items guests buy and often they are asked to send them overseas to those who wished they'd bought them on her tour.
Next stop was for antiques and collectibles. I was after a sculpture of a Chinese coin – which I eventually found in marble at the next stop. Christmas decorations were out in full force, homewares, fresh flowers and the most amazing fake flowers I've ever seen. I wanted it all! #ShowsRestraint
Finally it was the Pearl Market, which is a misnomer as it's three floors of all kinds of jewellery, luggage, handbags and nick knacks. I spent the remainder of the contents of my wallet here on gifts galore – including some very cute chopsticks and my piece of art.
But one last story I must tell you before you stop reading and click onto another website (don't do it!) is about the couple from Wellington who had built a new home and had a quote of $28,000 for curtains. They contacted Suzy and she sorted out which factories to take them to, so over they flew and got all their curtains made, lined and bought the tracks and tie-backs. And even including the 250kg of overweight luggage to bring it home rather than ship it, they got the whole lot for $6,000. YES they did.
_________________________
If you're visiting China you may want to find out about using a VPN to access sites like Facebook and Google. Here's my recommendation >>