This free travel packing list covers pretty much everything you'll need for a vacation that ranges from a few days to several weeks!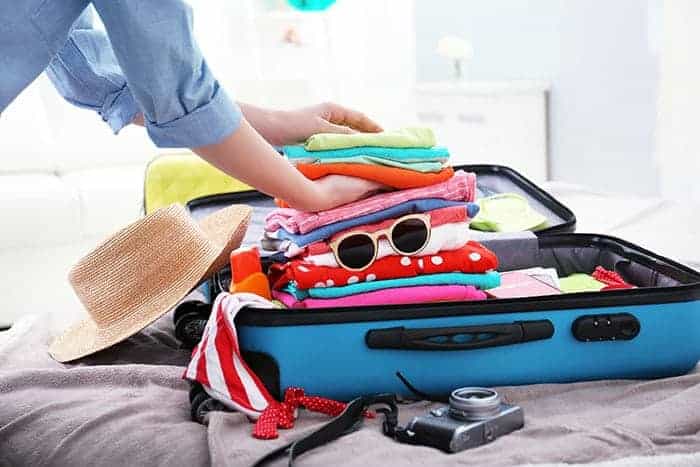 I pack the same things whether I'm travelling for a week or a month as I know I'll do laundry about every five or six days and I also pack a little laundry powder if I'm on the go and will need to wash smalls in the hotel.
I've written this check list (below) for you to print off and add the quantities of what you'll take in the little boxes, cross off the things you don't need, then when it comes to actually packing your bag you can run down the list and simply tick them off.
AND my best tip for packing is to take less than you think you need to. From years of over packing I have learned that I usually return with a few items unworn as I will wear everything at least twice and I also forget that I usually buy a couple of new things too!
Here is your free packing check list:
(Click/double click/right click on this list to open it in a new window if you'd like to print it out)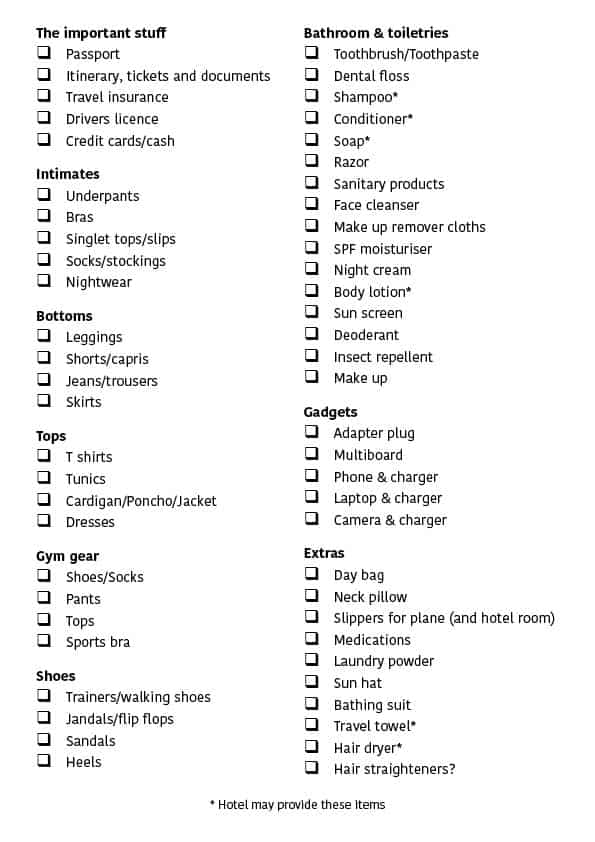 How to choose the best luggage for your trip
I'm a hard-shell rolling suitcase kinda gal. I like four spinning wheels as that is the easiest to zoom through airports and hotels, or when on carpet (at said hotels) you can tip it onto two wheels and drag it.
I also like a cabin bag that has an outside pocket for my laptop and travel documents for easy access when checking in at the airport and then once on board to get to my computer if I plan to do some work.
If you're going on a cruise or if you'll be out and about all day on things like walking tours, a day pack is handy.
For my New Zealand readers, jump into my Travel Store and browse my favourite pieces of luggage which you can buy online and they'll shipped to you in 2-5 days.
______________________________
My selection of best travel accessories to make life simple*
Packing cells to keep everything organised and easy to find.
Neck pillow to be able to sleep on the plane – even in economy class. Check out the Cabeau pillow, New Zealand's best selling travel pillow.
Travel adapter and I also pack a multiboard to charge all my devices from one plug.
Travel hair straighteners are my new favourite thing. These are USB charged so just via my laptop and they also have up to 50 hours of stand by battery time so just throw them in your hand bag and turn those wayward tresses from back packer to fine diner in minutes!
Make up removal cloths are also in my travel essentials and I use them every night. They are soft micro fibre cloths that require no cleansers, just warm water to take off all my makeup. I use cleanser in the shower in the mornings and these at night. They're also great for the environment as they are machine washable.
*All the above travel accessories (and a whole lot more) are available in my Travel Store, so click through and shop now before your next trip!

If you're reading this and you're outside NZ, I have collated similar products on Amazon for international delivery. Click here to see my list >>