Los Angeles has loads of wonderful things to do like movie studios to tour through, museums to wander through, theme parks to squeal through, hiking trails for photos and fitness, and its fabulous beaches.
In fact there is so much to do, I have listed 21 fabulously cool things to do in LA in this post.
If you're a shopper you will love the splashing the cash at the best outlet shopping in the city, sipping cocktails at fabulous rooftop bars (see my picks for the best bars in Santa Monica), cheering at live sport and so much more.
But what about a day trip from LA? One of the best things to do is get out of dodge and take a day trip.
There are so many different places to visit within one to three hours' drive, which makes a day trip from Los Angeles a marvelous idea in your Los Angeles itinerary.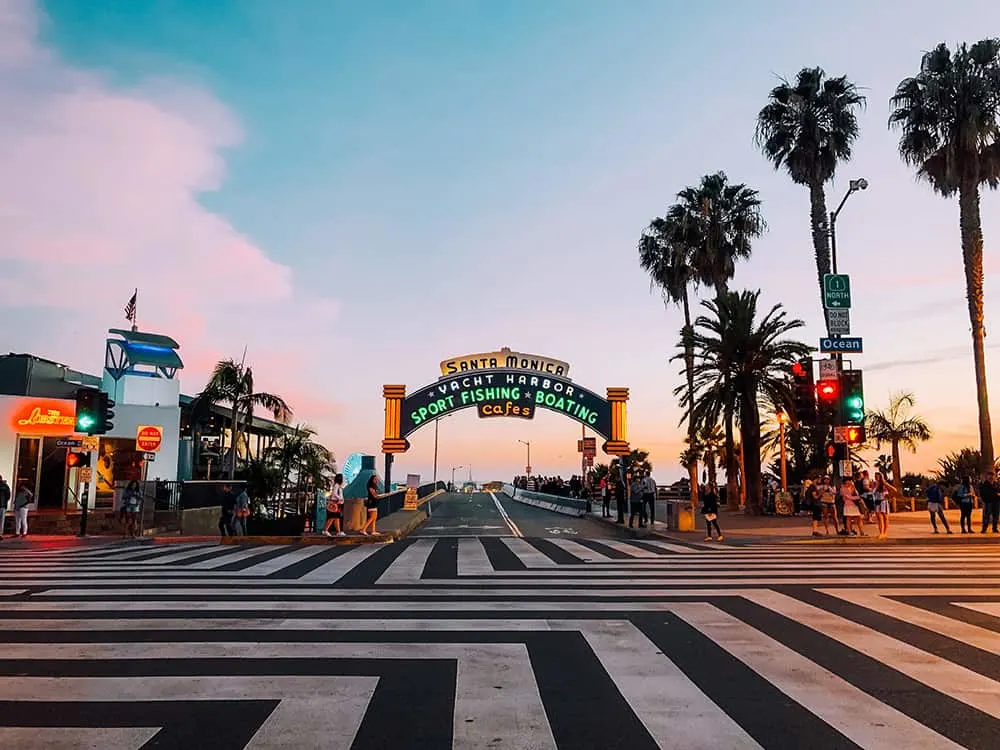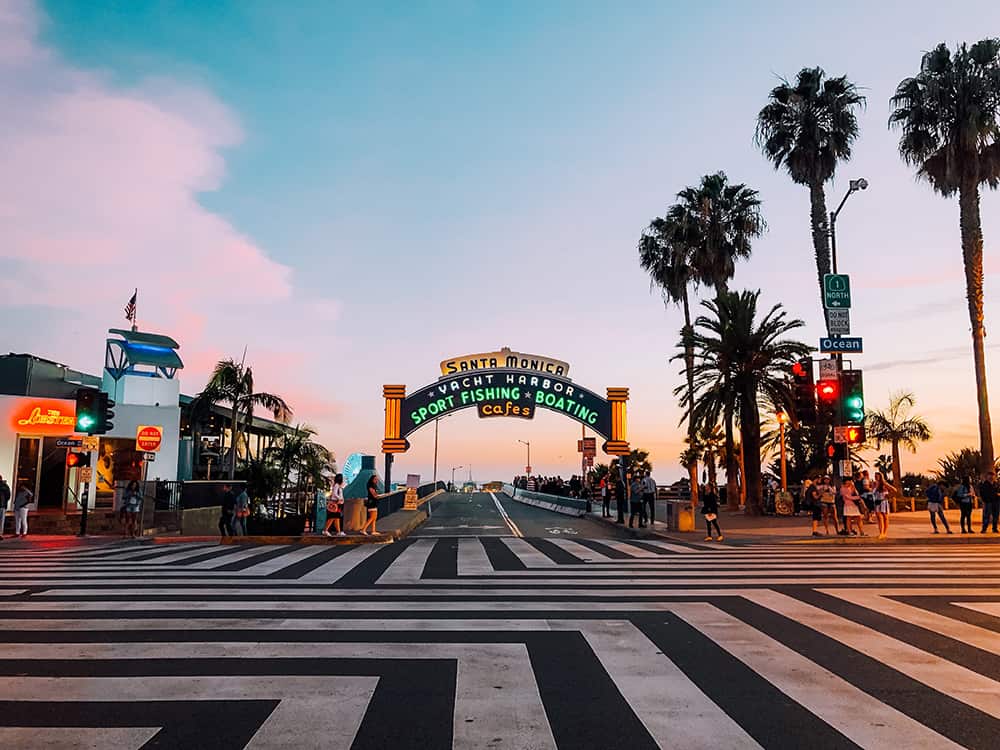 If you're planning a larger vacation, maybe even a California road trip up to San Francisco and need some hints on what to do – and what not to bother with – this post covering so many things to do in California from north to south, will give you a great place to start.
Los Angeles doesn't have to be an expensive destination to visit either, believe it or not there are plenty of free and cheap things to do in LA including museums, galleries, beaches, hikes and so many Instagramable photo ops. You'll also find cheap day trip ideas in this post too.
But if you want to get out of dodge and spend a day at beautiful beaches, poke around in small towns or take thousands of photos in the nearby desert landscapes beyond the borders of LA, I've got you. Although be warned, you might want to make it a weekend getaway once you get there!
Need to rent a car? If you need your own wheels (i.e. you're not a local!) I like Discover Cars. They are a car rental search site and will how you the best deals across all the major car companies, as well as local ones in the area.
*This post contains affiliate links. That means if you make a purchase I may make a commission, at no extra cost to you. Thank for your support of this blog!
Here are my picks for 12 marvelous day trips from LA
Los Angeles is a city that is made up of over 80 cities! This post covers cities near Los Angeles to visit and most within the greater LA area.
1. Joshua Tree National Park
Drive time: LA to Joshua Tree just under three hours
Let's start with possibly the most spectacular: Joshua Tree National Park is about 130 miles south-east from Los Angeles— a two-hour 45 minute drive. And there's a lot more to do in Joshua Tree National Park than just rock climbing.
This park is remarkable. Think Dr Seuss books with spiky Joshua trees dotted among monstrous rocks that beg more photos. You can drive through the park in less than an hour, but why not visit for the day (or even overnight to enjoy camping), hiking, biking, or walking along the many trails.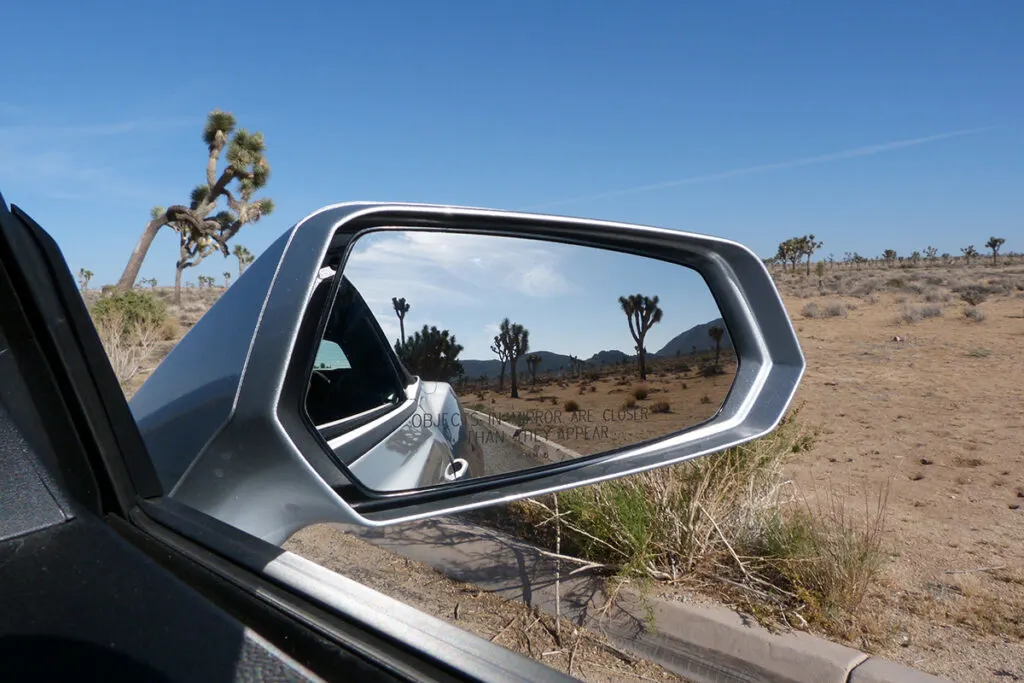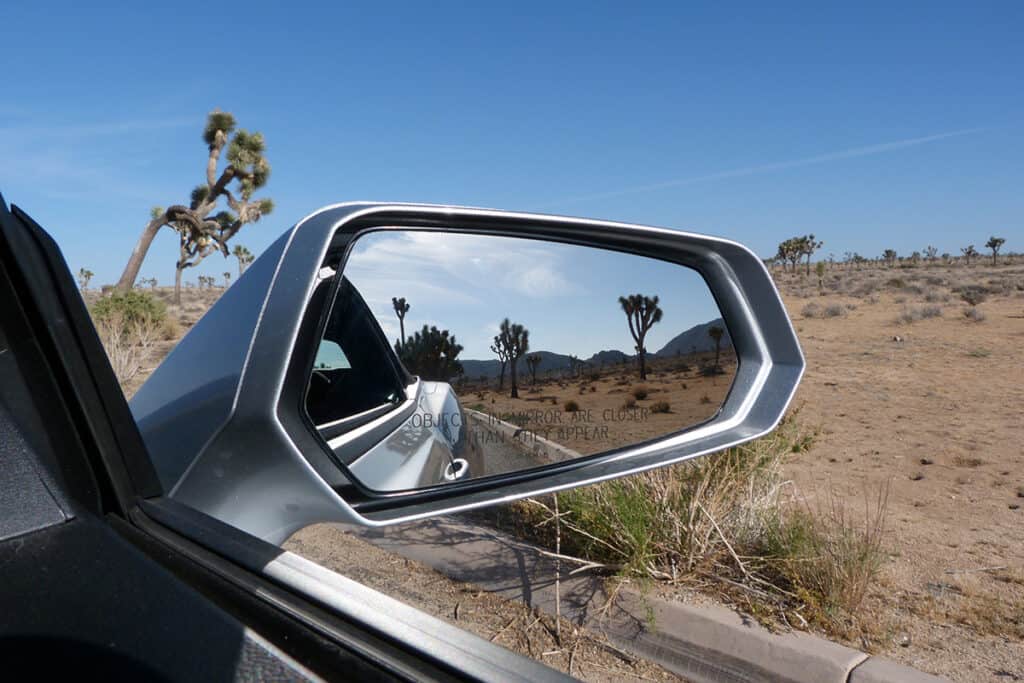 If you're a fan of walks, then be sure to hike the 49 Palms Oasis trail. It is a strenuous three-mile trail that covers an area of palm trees with glimpses of water. If you visit during the summer you can also enjoy the view of the wildflowers in full bloom. (Bring plenty of water to drink!)
This desert landscape will amaze you, the views will thrill the photographer in you and the activities will satisfy the adventurer in you.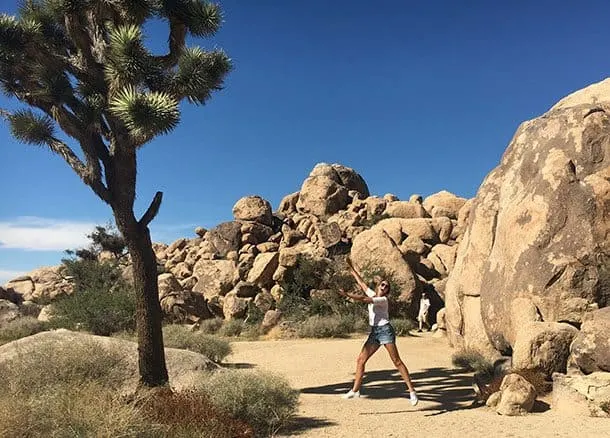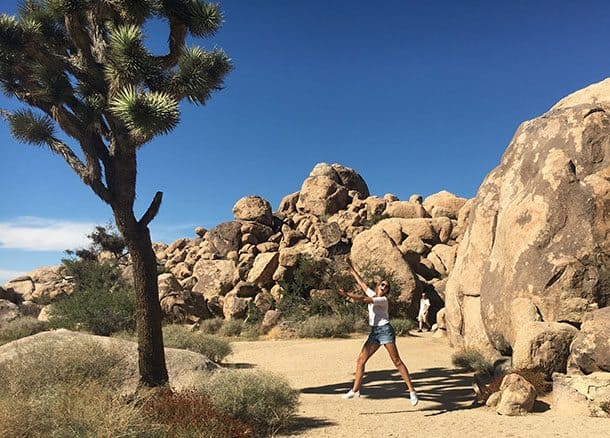 If you're traveling with the family, stop at the Cabazon exit to explore the dinosaur park. Some other notable spots include Pappy and Harriet's, an old fashioned western bar for lunch and sometimes live music. You can take a ghost town stroll and shop for cactus there too.
Stay late in Joshua Tree to enjoy the stargazing. You can organize an overnight camping trip if you wish. However, if you're only here for a day trip, make sure to go on a walk to the Cottonwood Spring oasis. You may spot hummingbirds and Gambel's Quail in this oasis.
For more appealing trails, go to the Hidden Valley trail. It is a loop trail that is about one mile long and is doable with kids.
Joshua Tree National Park also has some fantastic campgrounds (which you need to pre-book) and you can also go horse riding and biking. Plus rock climbing with 8000 climbing routes.
Overall this alluring mix of desert, rocks, and palm trees provide a great environment for a beautiful day trip from Los Angeles.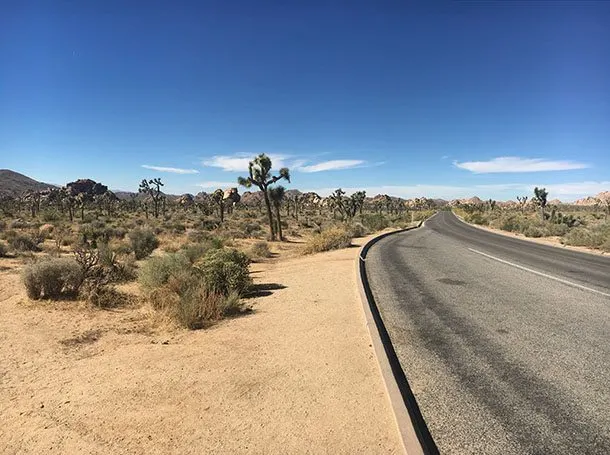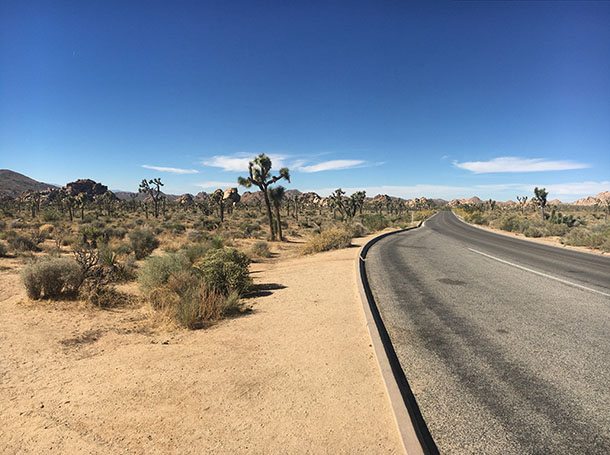 2. Malibu
Drive time: LA to Malibu about 45 minutes
Hit the beach! Head north from Los Angeles and visit Malibu. It's super close, only about 33 miles from LA, and is famous for its beaches dotted with surfers and edged with celebrity homes.
There are a few lovely places to eat, a nice pier to stroll for photos and a drink or a meal at one of the restaurants and a really great hotel (if you stay over).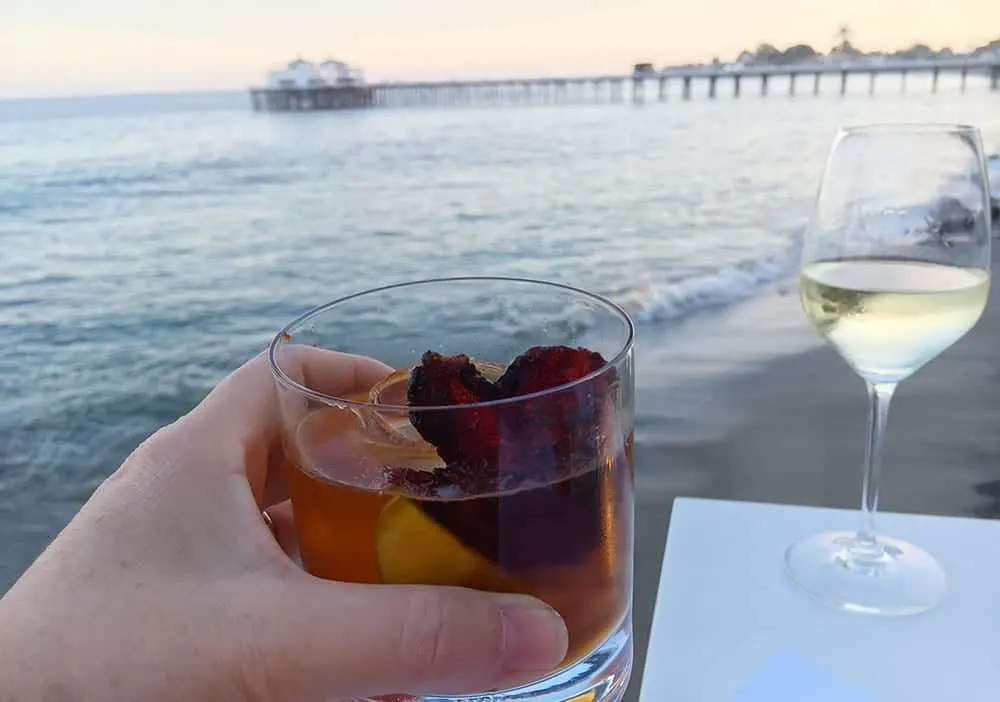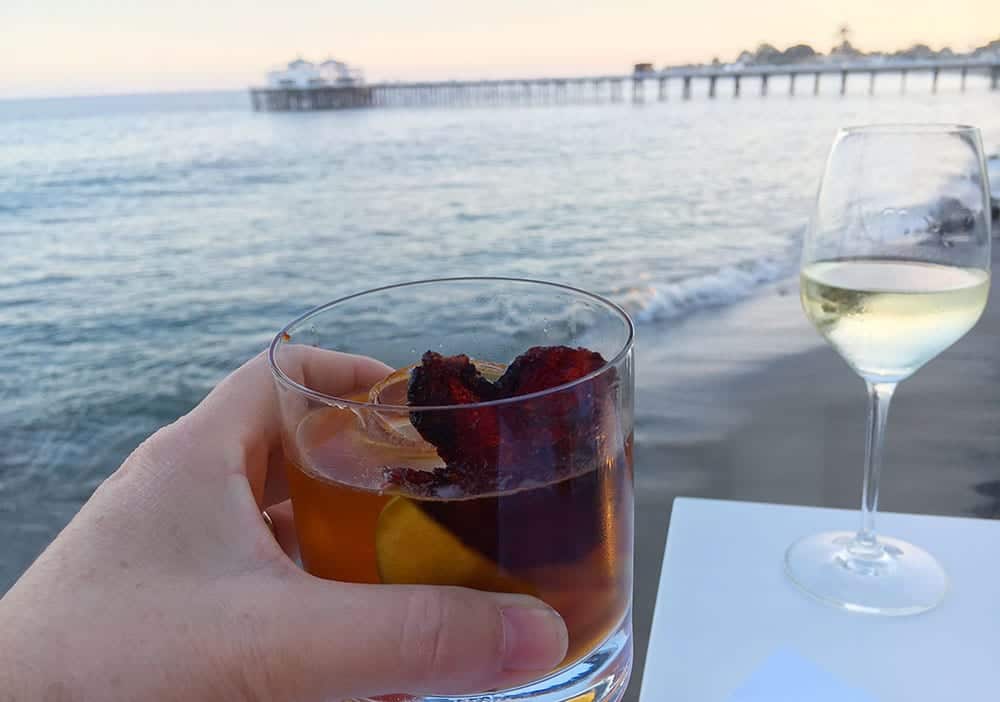 Malibu has a fantastic coastline that is about 27 miles long where the Pacific Ocean waves lure surfers, so be sure to pack your board! (Or you could rent one).
Hiking trails weave through waterfalls and low-lying grassy areas, if you love a stroll. In fact the Santa Monica National Recreation Area offers about 500 miles of hiking trails.
You can visit any of the beaches here but the Malibu Lagoon State Beach is the best for surfing. El Matador Beach has sea caves. Zuma Beach has the most expansive shoreline where you can play a game of volleyball at the nets.
If you're thinking about staying, I loved the Surfrider Malibu, across the road from the beach with a great rooftop bar/restaurant.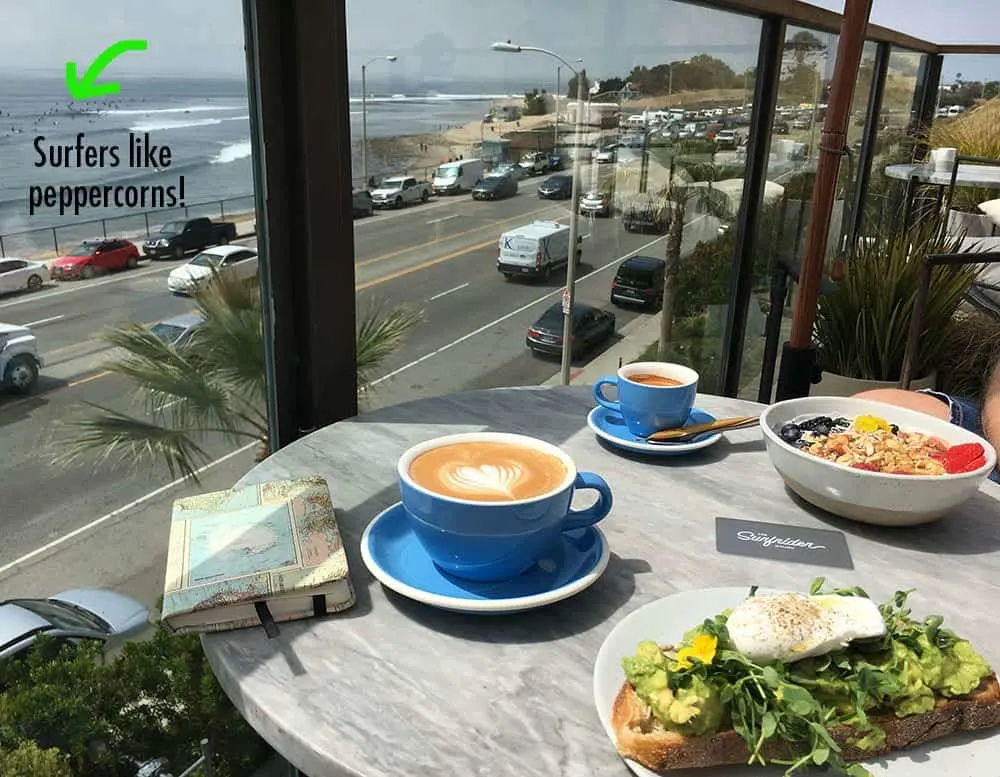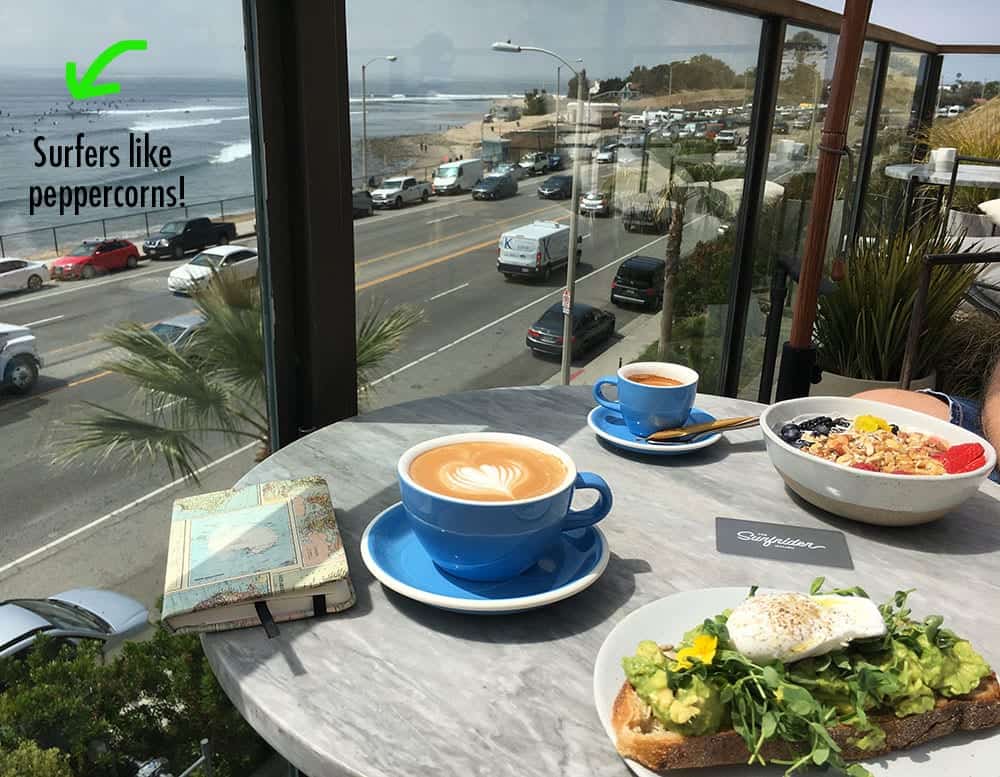 3. El Matador Beach
By Kasia Kalemba from Perfect Day Somewhere
El Matador Beach is a beautiful and secluded beach located in Malibu, California, about an hour's drive from Los Angeles. It's a popular spot for swimming, sunbathing, and photography due to its stunning rock formations and clear blue waters. Here's what you need to know about visiting El Matador Beach for the day: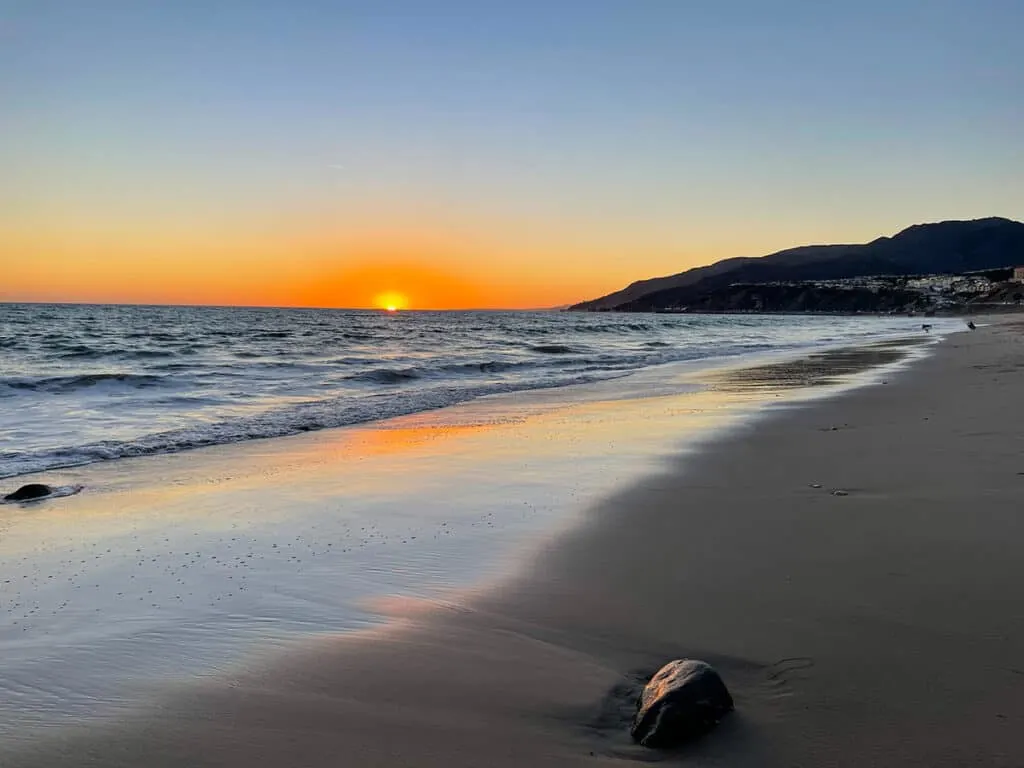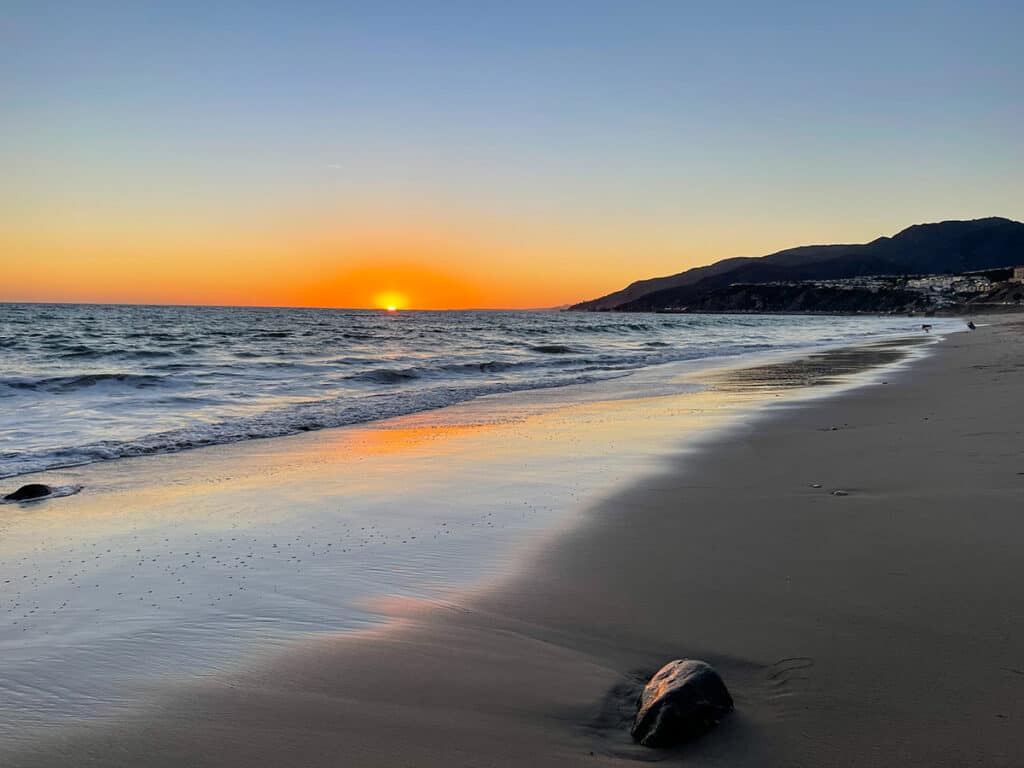 Opening and closing information: El Matador Beach is open to the public from sunrise to sunset. It is a state beach, so there is a small fee for parking.
Where to park: There is a small parking lot at El Matador Beach, but it fills up quickly on weekends and holidays. Alternatively, you can park on the street along Pacific Coast Highway, but be aware that you may have to walk a bit to get to the beach.
What to do there: The main attraction at El Matador Beach is its beautiful and secluded setting, so simply relaxing on the beach and enjoying the scenery is a great way to spend the day.
You can also go swimming or surfing, or take a hike along the nearby bluffs to get a different perspective on the beach. Having a picnic on the beach is also a popular activity at El Matador Beach, so throw a blanket in the car and bring sandwiches or snacks to enjoy while taking in the views.
Just be sure to bring plenty of water and sunscreen, as there are no facilities or concessions at El Matador Beach and arrive early to secure a parking spot. You can also pick up picnic food at Malibu Country Mart.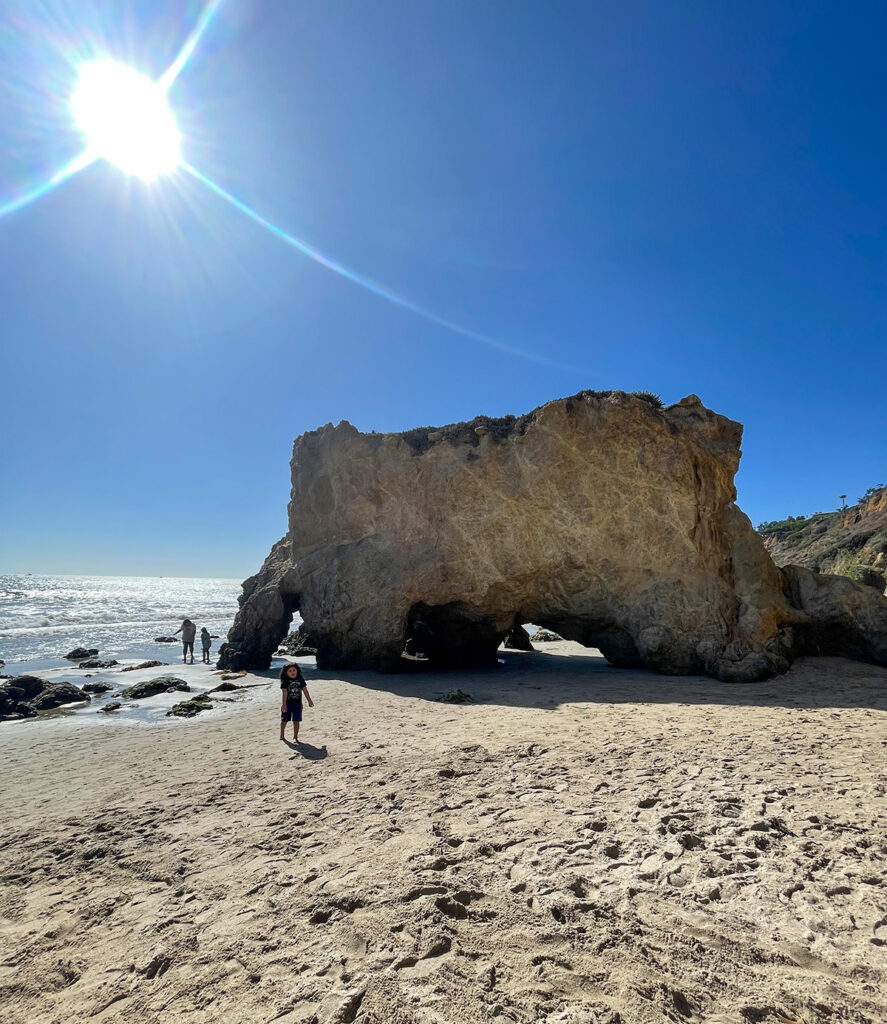 4. Santa Catalina Island
Drive time: LA to Catalina Island about two hours (including ferry)
If you want a panoramic view of the Pacific then visit Santa Catalina Island, one of California's Channel Islands. You can take the Catalina Express ferry from San Pedro, Long Beach, in about an hour.
If you travel from LA, then it takes about two hours to reach the island which is the perfect destination for a true change of scenery.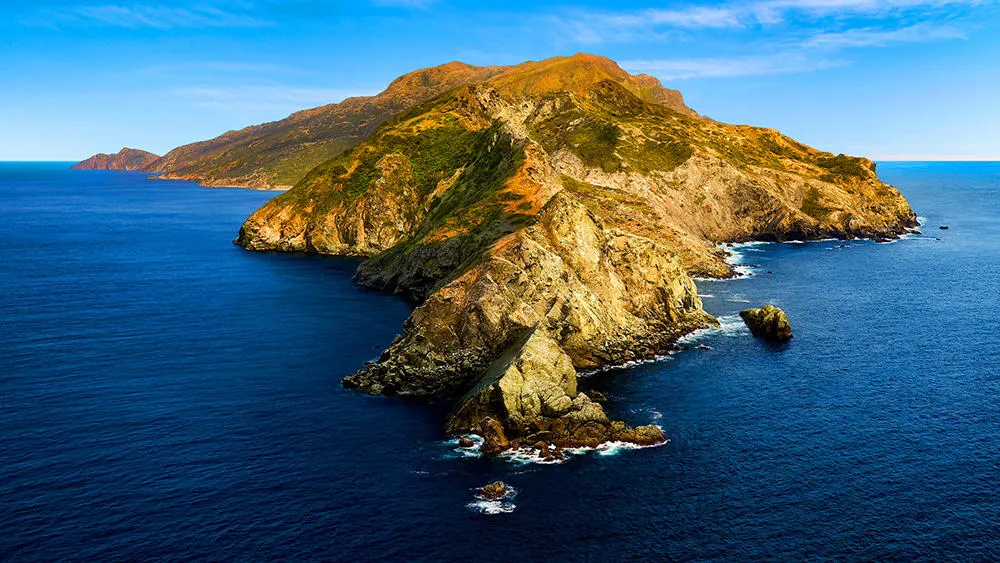 Resorts were first built here in 1894 by the Banning brothers, then in 1919 William Wrigely Jnr (he of chewing gum and Chicago Cubs fame) bought it and it became a haven for the rich and famous, and also the spring training location for the Cubs.
Then in 1975 the Wrigley family deeded 42,000 acres of the island to the a Catalina Island Conservancy and thus we can all visit today.
You'll love the scenic beauty out here – even just getting here, the beaches and pottering around the small village into souvenir shops and finding a beer or an ice cream.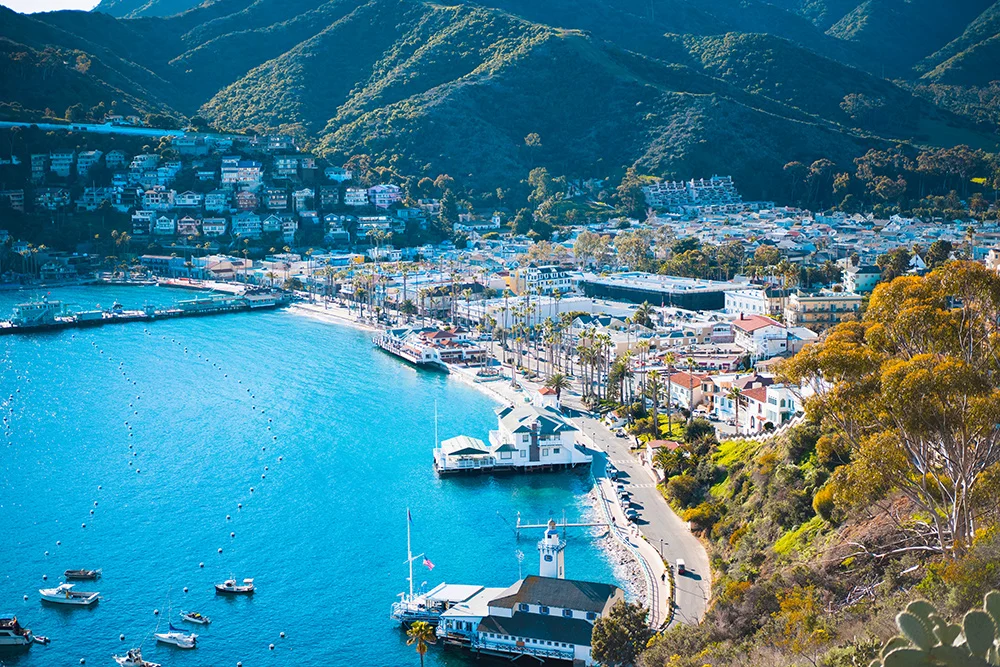 Take a glass-bottom boat ride, go scuba diving, and even a zipline experience (which I did!). But it would be wise to make bookings in advance.
An organized day trip will help you enjoy recreational activities including hiking, sailing, sunbathing, cycling, scuba diving, ziplining. You can also go boating and fishing or enjoy a spa. If you want more adventure, you can take a ferry to Two Harbors to enjoy hiking trails, kayaking, and diving.
Or you can have a mini-vacation in Avalon which has many hotels and restaurants with beautiful views of the ocean and botanical gardens. Also the beaches of Avalon have crystal clear water that enhances the beauty of the town.
The swaying palm trees, soothing ocean waves, and pleasant weather add to your experience as you sip the island's signature cocktail at the beach clubs.
Check out all the hotels on Santa Catalina Island for a sneaky overnight!
5. Coronado Island
Drive time: LA to Coronado about 2 hours
Gorgeous beaches, luscious landscape and a plethora of choices to enjoy in the sun, Coronado Island offers it all in a one-day trip from Los Angeles.
Think fine-grained sand, vast shores, and crystal clear beaches.
Hotel del Coronado is an historic beachfront hotel just across the bay from San Diego. It is one of the few remaining wooden Victorian beach resorts in the USA.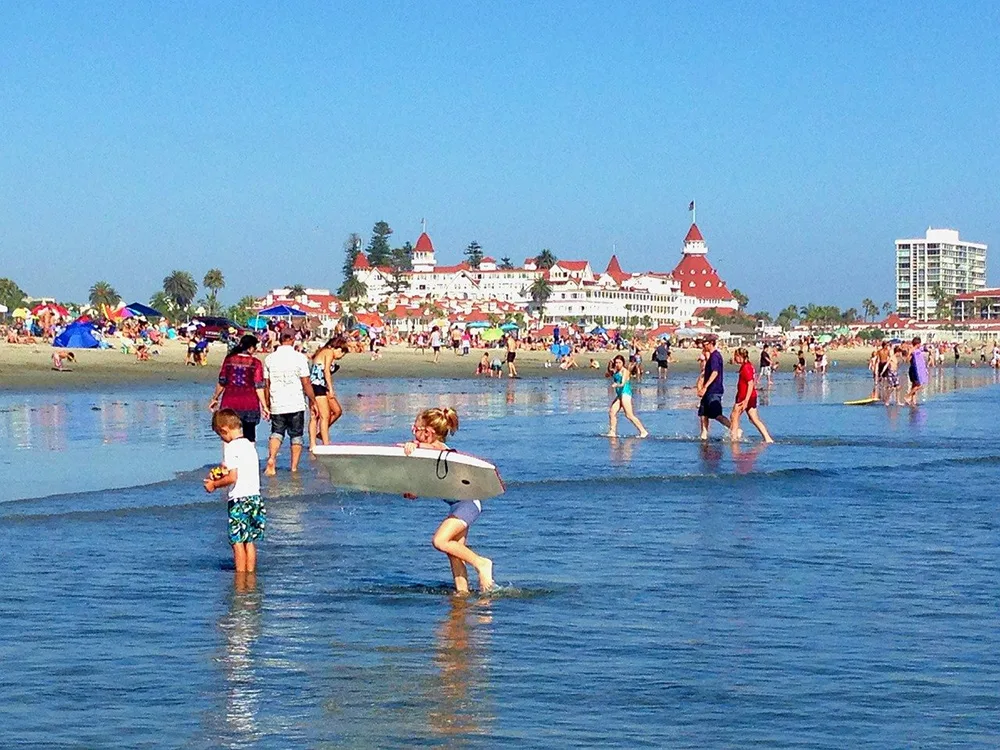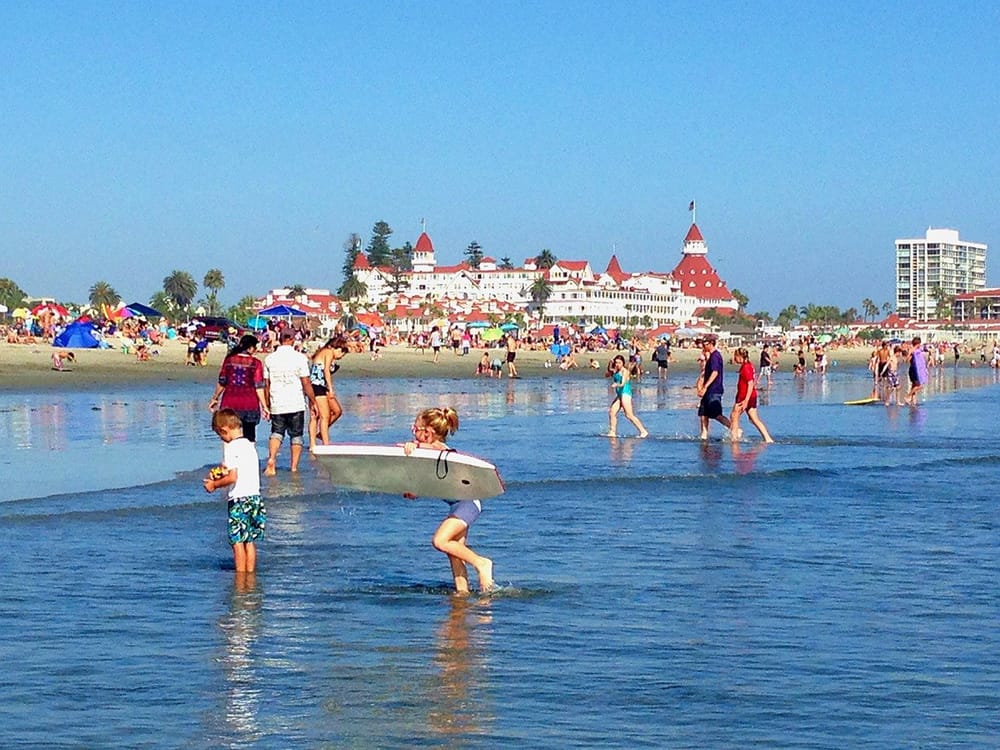 This resort city has about five white-sand beaches: Central Beach, Glorietta Bay Beach, Silver Strand State Beach, and Coronado Dog Beach.
The vast beaches attract surfers, so don't forget to take along your surf board, camera, and your bathing suit to this destination!
You can also get to Coronado via a ferry from San Diego. Coronado Ferry Landing has restaurants and a small beach so you can enjoy a meal with a breathtaking view of the ocean.
Read more: If you love camping, these fabulous coastal spots for beach camping in California will be a bit of you!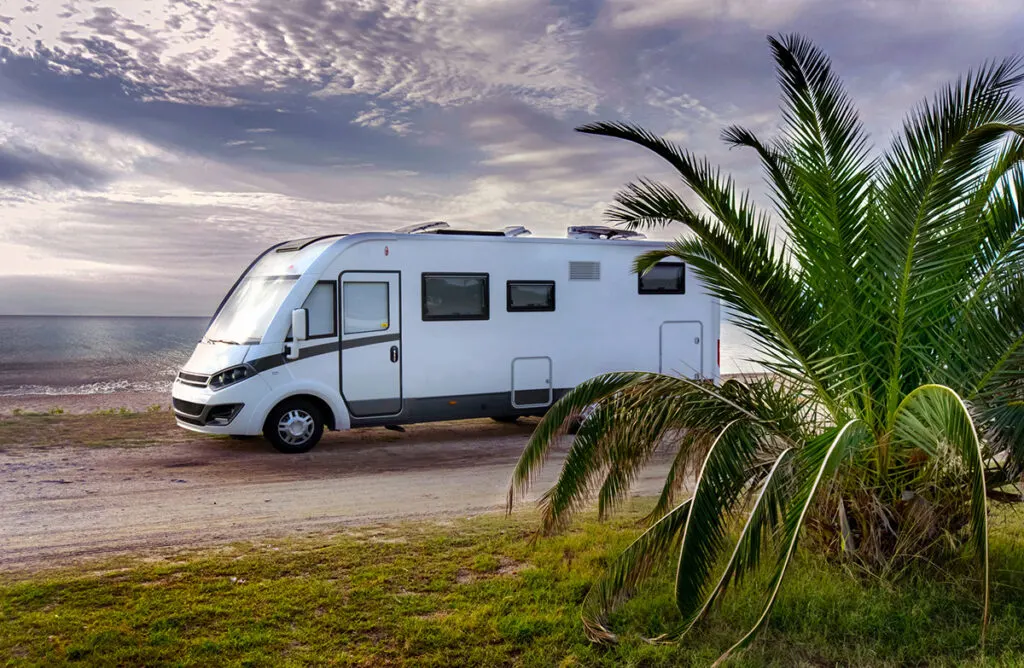 6. San Diego
Drive time: LA to San Diego just over 2 hours
With beautiful beaches, parks, and many other tourist attractions, San Diego might be further away, but it's a winner in my book. San Diego is about 120 miles or precisely a two-hour, eleven minutes drive from LA. Or take a bus from LA to San Diego.
It has warm weather year round, so make sure to go for a swim at one of the best beaches in San Diego. It also has the Gaslamp district for the very cool San Diego nightlife scene.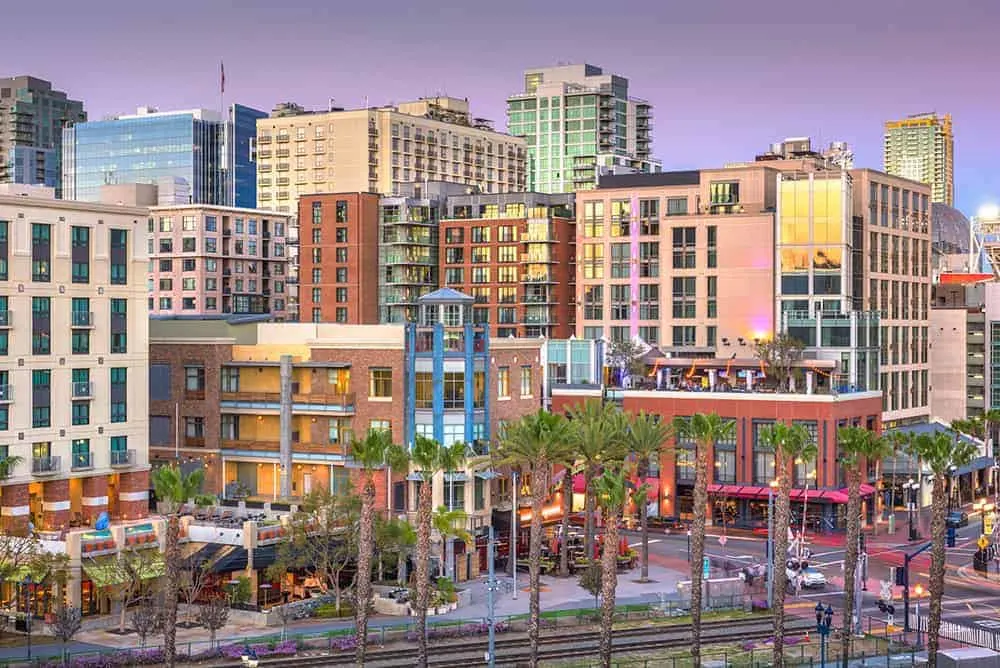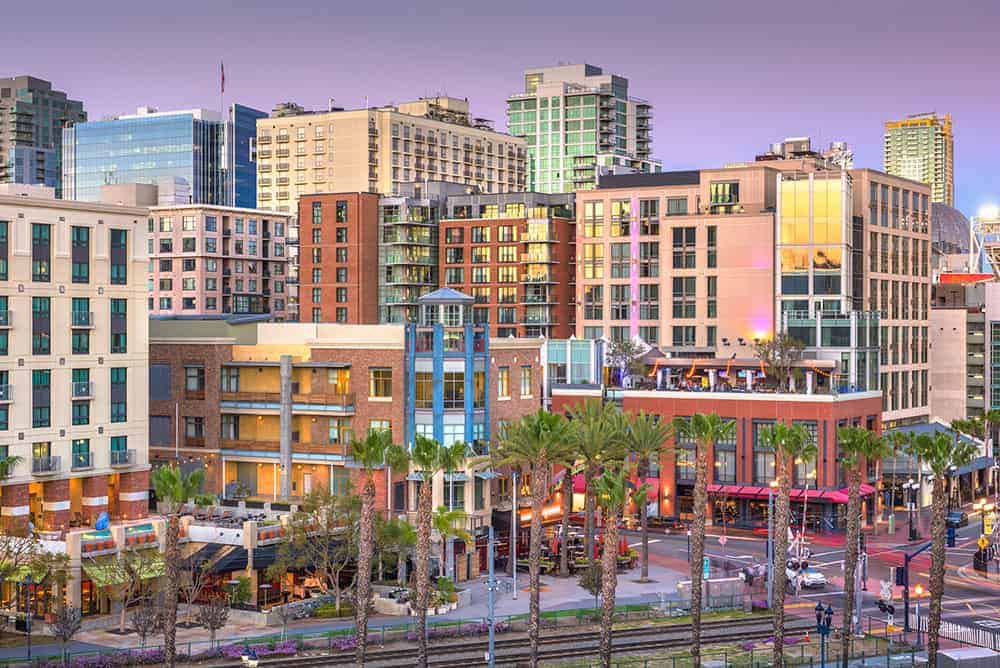 You must visit the Old Town to look at the architecture – and try some of the delicious Mexican food washed down by a few tequilas. You can also take a guided tour that will help you explore the museums and art galleries.
San Diego has many artist studios too, and because of its deep harbor you can visit an actual aircraft-carrier-turned-museum, the USS Midway with fighter planes on the deck.
You might also like my post of 13 must-do's in San Diego.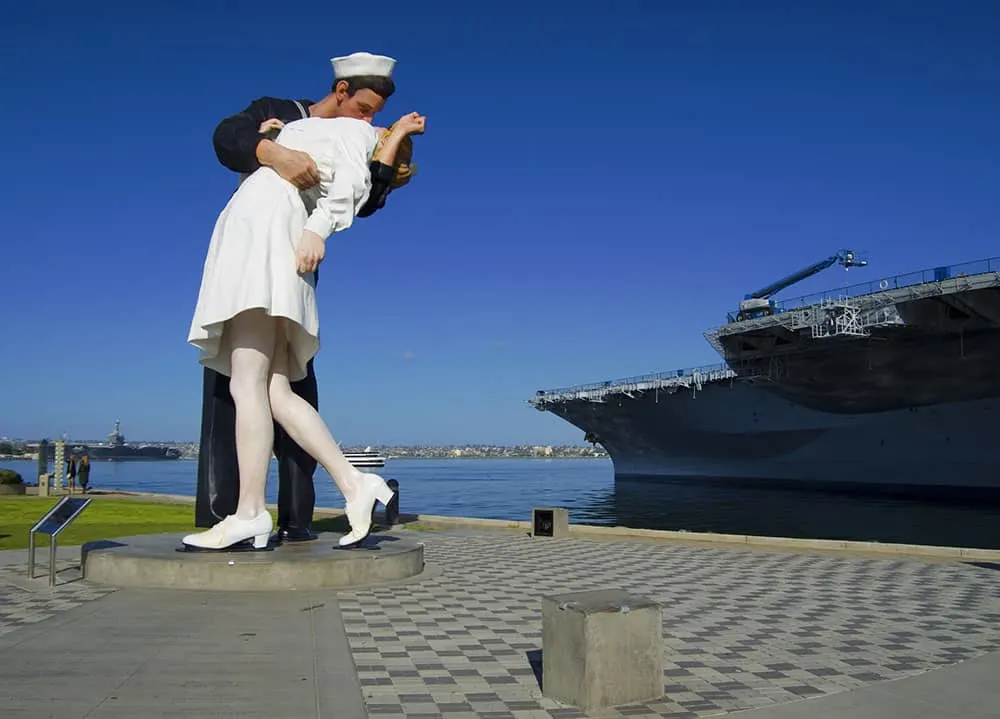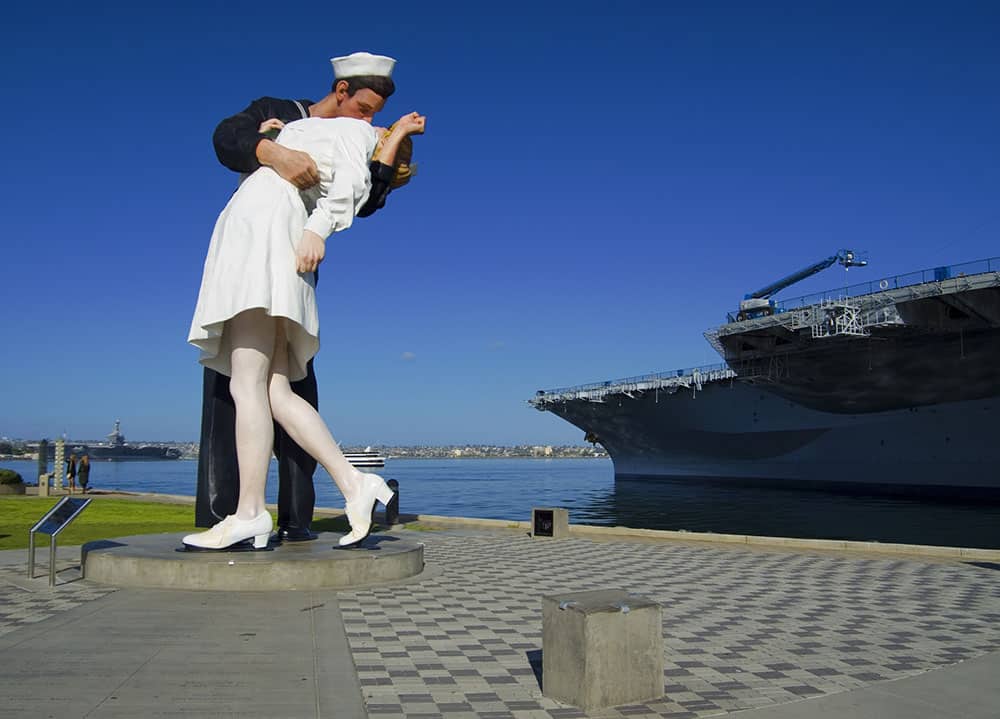 7. Disneyland
Drive time: LA to Disneyland about 30 minutes (depending on time of day. Allow up to an hour).
Disneyland, the happiest place on Earth, is definitely worth the visit! Since we are talking about the best day trips from Los Angeles, we can't miss out on Walt Disney's first theme park.
Disneyland is about 30 miles away from LA and was built in 1955, then got hemmed in by surrounding development – so Walt secretly bought 70 hectares in Orlando, Florida and built Disney World. And if you visit Disneyland in California you can enjoy about nine rides that are still there from the first day.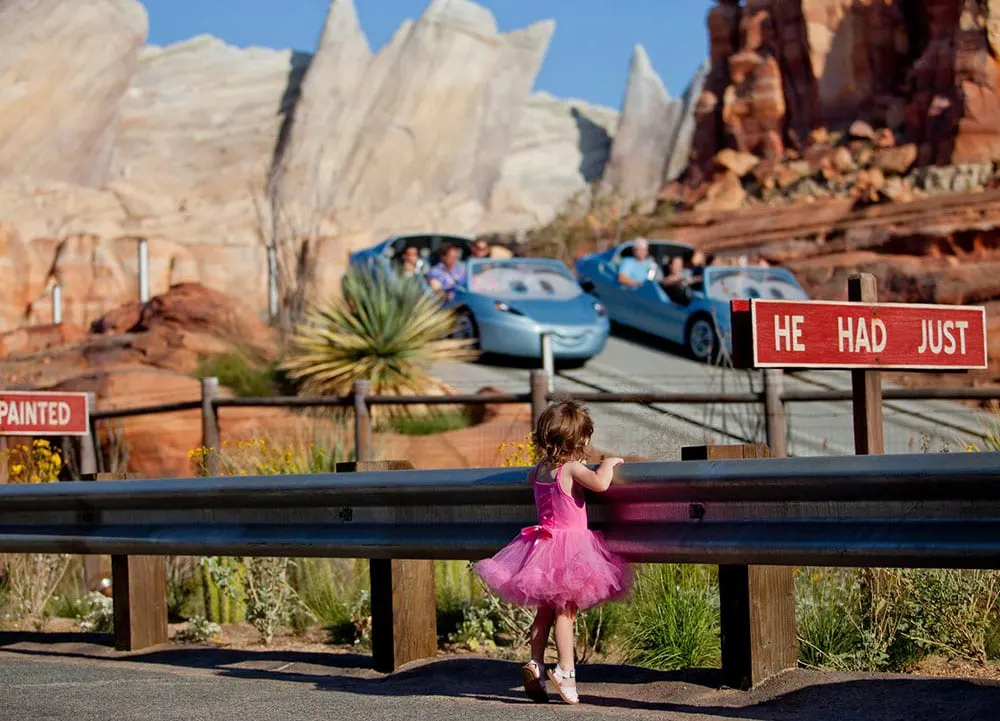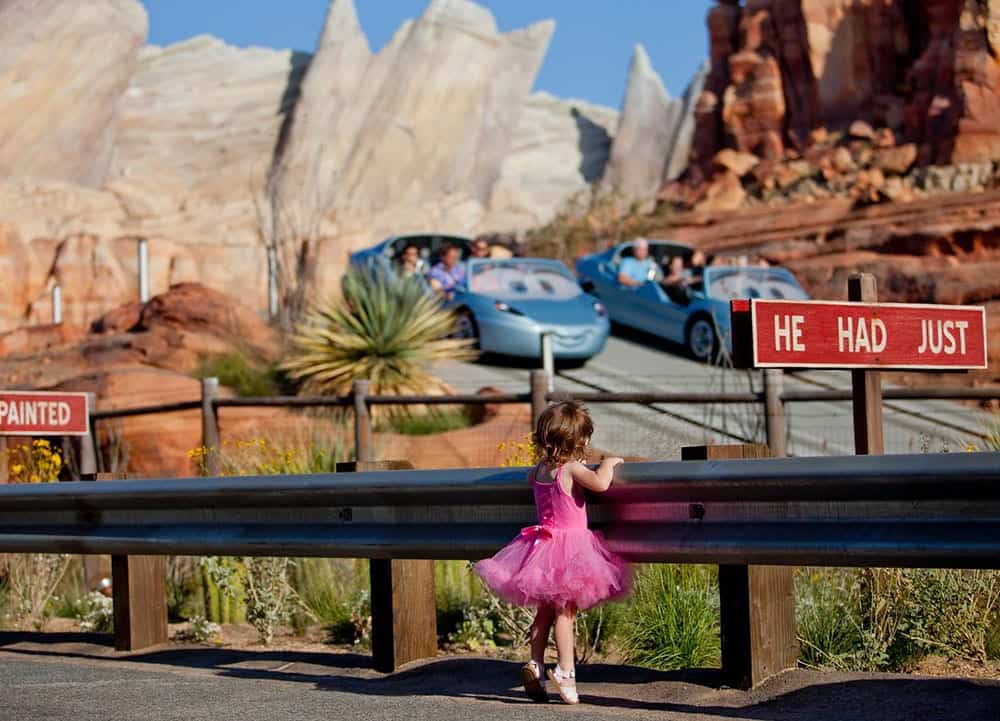 I'm sure Disneyland is on your list already, but if you have a spare day and are wondering if you need to be a kid to enjoy this theme park, the answer is no! I took my parents (in their 70s) and they loved it.
If you're wondering when the best time to visit Disneyland is, I've covered it in this post. It's deceptively large, despite what I said above about Disney World, so get here early to blitz the best rides. Including the newest Star Wars quarter, Galaxy's Edge which I videoed when I rode the Millennium Falcon.
Disneyland also has many restaurants so that you can stop by for food, or bring your own and save your money for the merch. You can also have a guided tour to make the best of your trip and don't forget to buy the mouse ears as souvenirs!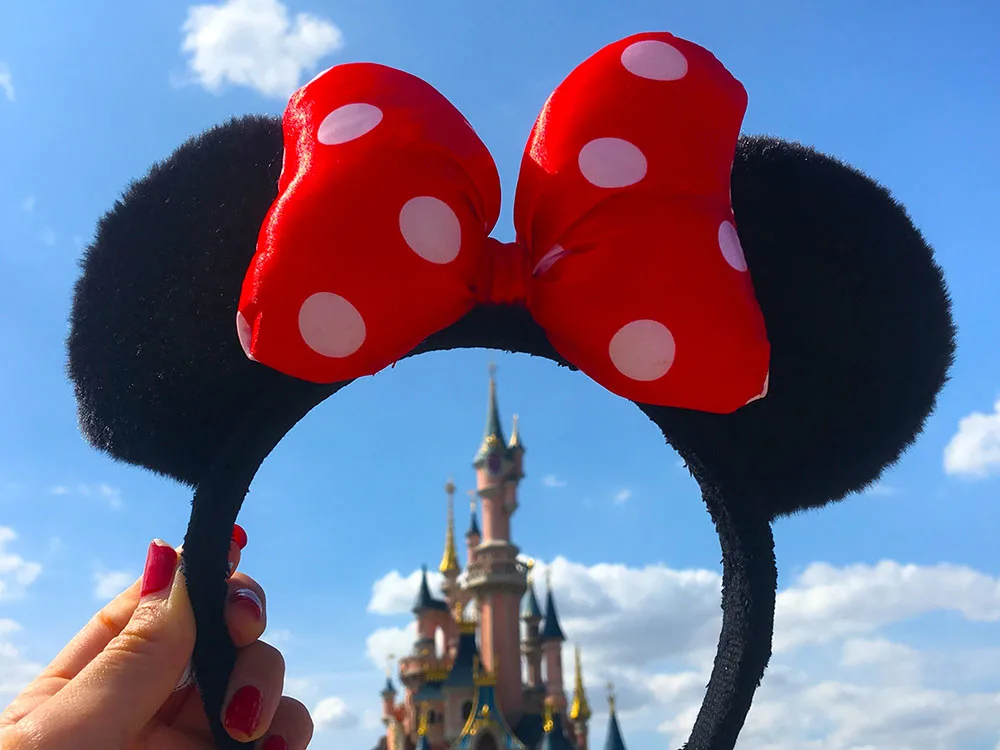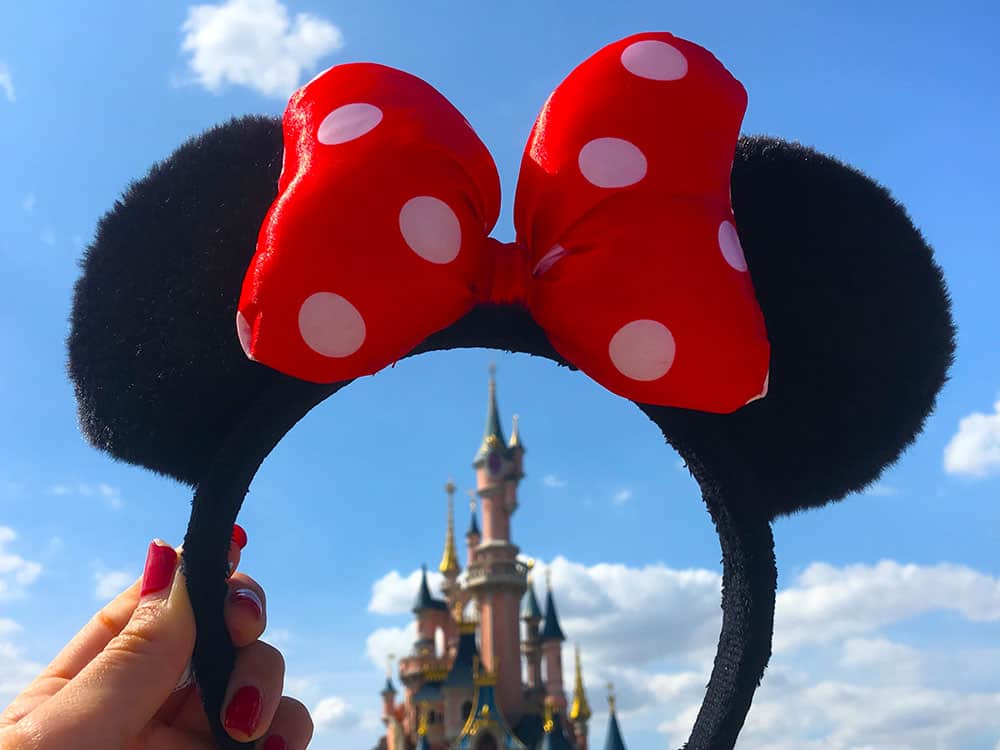 8. Santa Barbara
Drive time: LA to Santa Barbara 90 minutes
Santa Barbara is a gorgeous coastal California city about 100 miles up the Pacific Coast Highway, north of Los Angeles. It'll have you at wide south-facing beach and Adobe architecture.
Of course not to mention this is also wine country! There are loads of wineries dotted in the Santa Ynez mountains too – but you're on a day trip… Oh maybe you should stay over!
I've found a hosted day trip you can book through Get Your Guide if you want to go wine tasting in Santa Barbara for the day and don't want to rent a car and drive – because wine.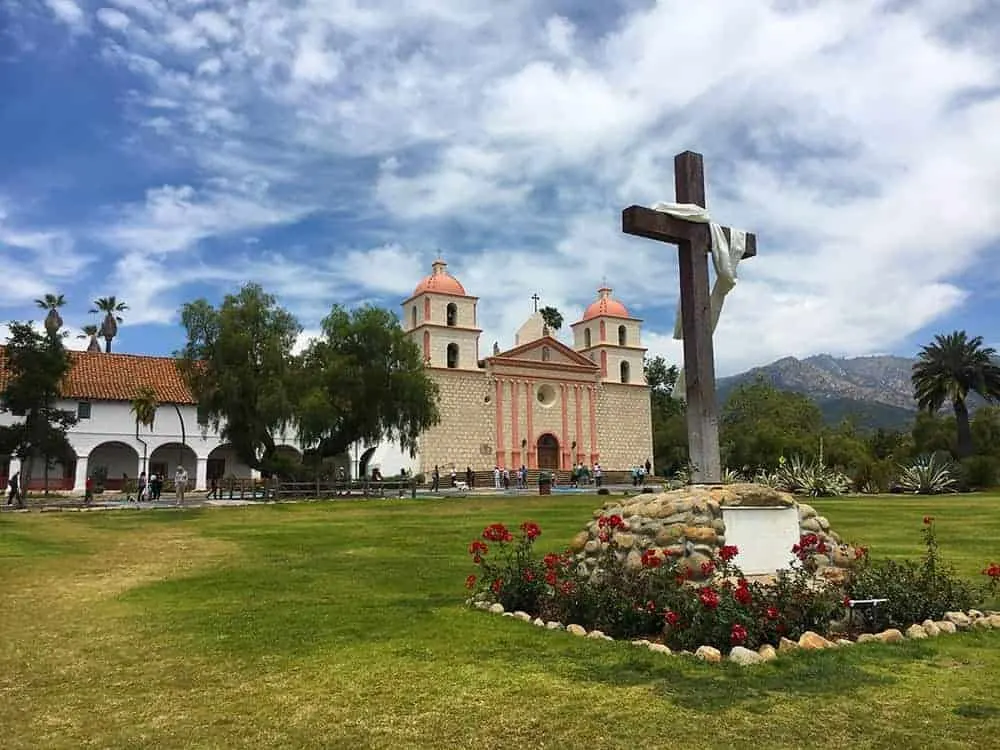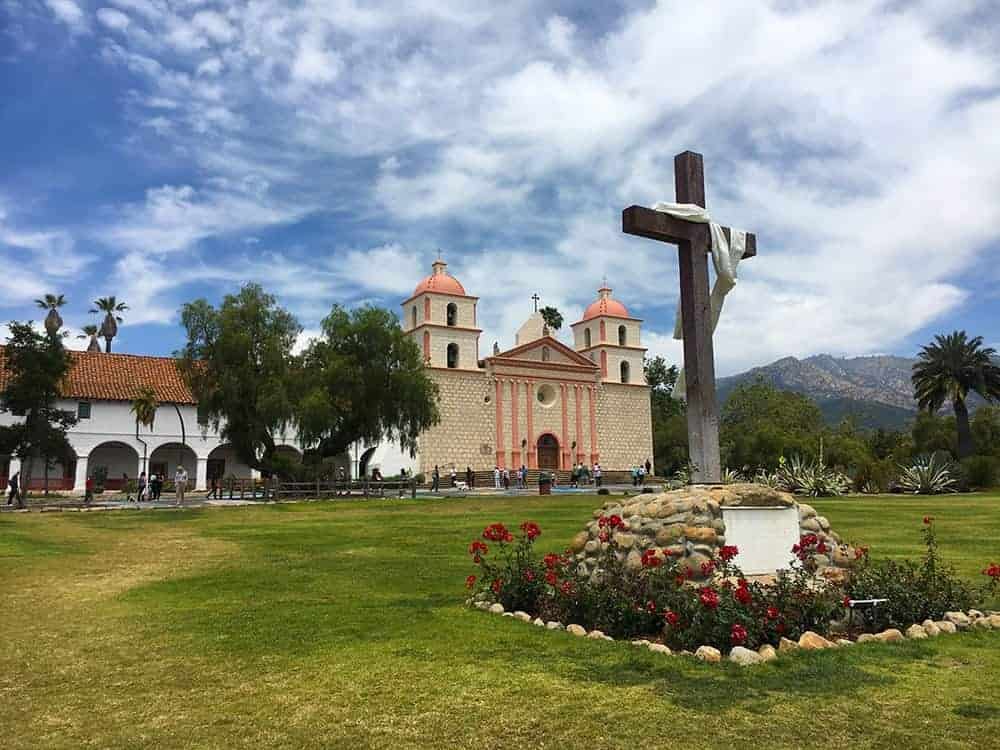 Santa Barbara offers many things to do from beaching, hiking and boating to visiting Santa Barbara Zoo (online bookings required), strolling through the 78-acre Santa Barbara Botanic Garden, getting your history and culture fill at the Mission and so much more.
You can also make a short trip to Stearns Wharf. It is located next to the harbor and has many restaurants, bait shops, and a shellfish market, as well as the Marine Museum.
Shop on State Street, visit the Santa Barbara Museum of Art, the Museum of Natural History, dine in the Funk Zone or take a whale watching tour. Santa Barbara's water is a feeding ground for several whales, making it a fantastic spot for sightings.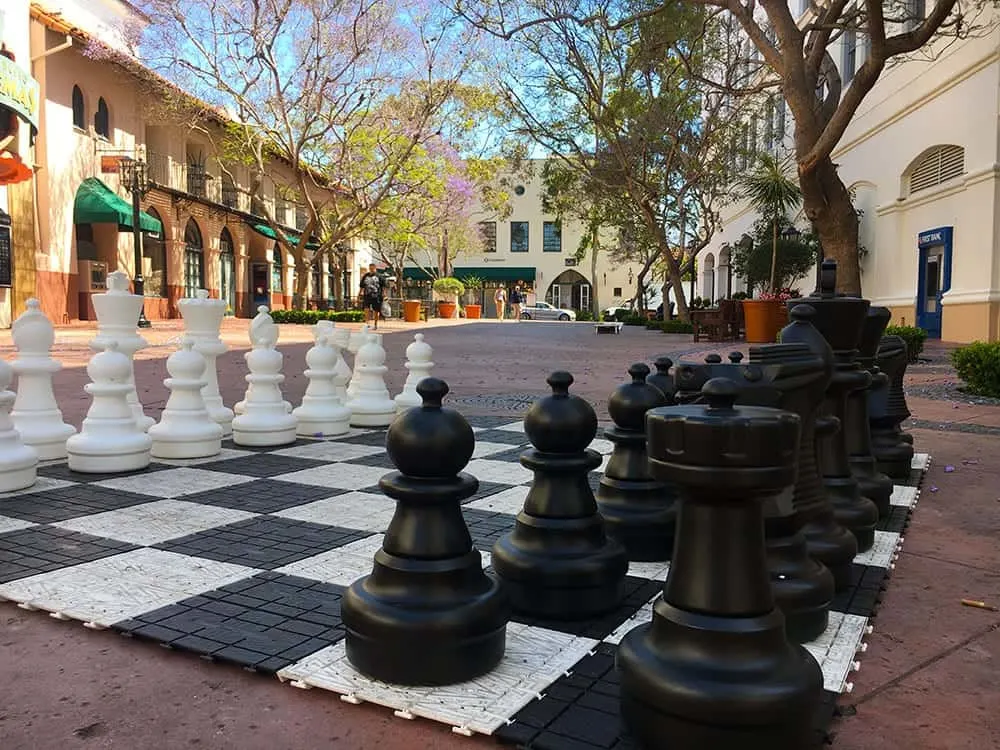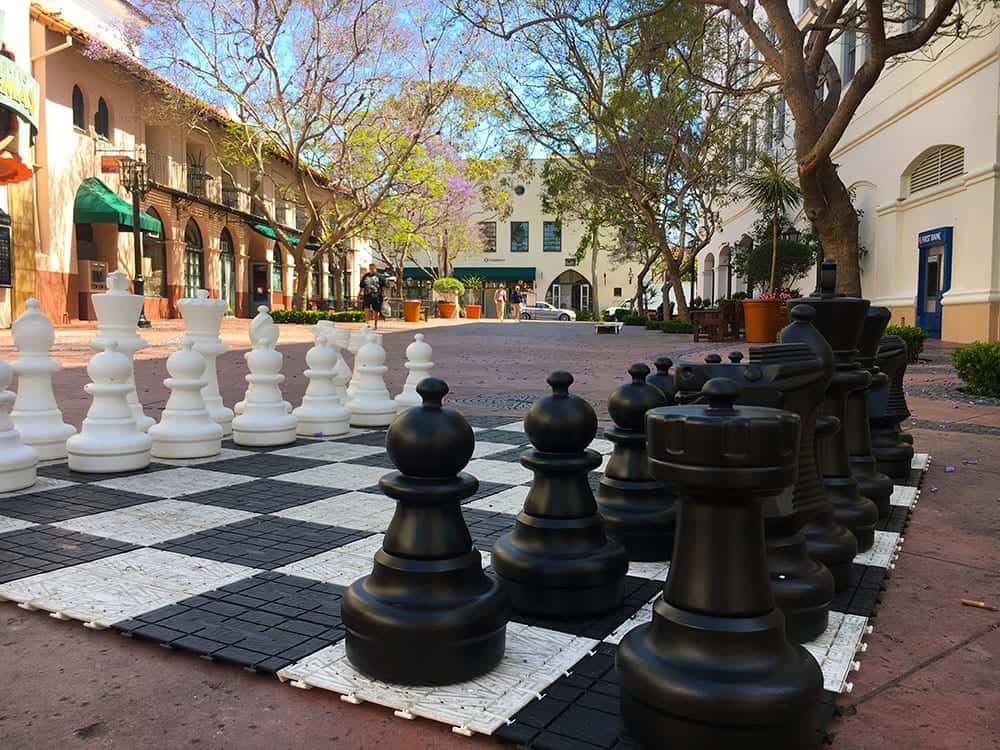 9. Palm Springs
Drive time: LA to Palm Springs just under 2 hours.
Palm Springs is a resort city in the desert. It is located 106 miles (172 km) south-east of Los Angeles and has more hotels than you can shake a stick at. There are also loads of things to do and places to stop on the road from Los Angeles to Palm Springs.
You're very close to Joshua Tree National Park here, so maybe stay over and make it a two-day trip. I've stayed in Palm Springs twice and can thoroughly recommend making a weekend of it as there's plenty to do – and eat!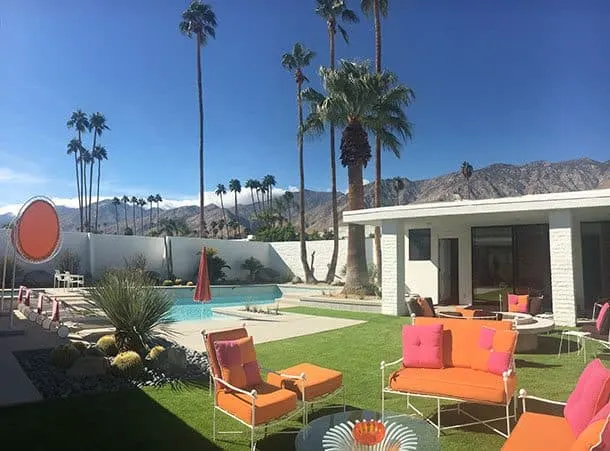 If you're a golfer you'll love the golf courses. Architecture fans will love the mid-century modern houses and twice a year you can enjoy mid-century modern events, including wandering through fabulous homes! Hikers will love a tour to the San Andreas fault line too.
For spectacular views over the resort town take the Palm Springs Aerial Tramway, a rotating cable car that turns while it ascends the mountain – kinda freaky at first! Bring a jacket, it's chilly up there too.
You'll also want to drink delicious date shakes made from fresh dates grown here, and engineering boffins might like a windmill tour. (Even I loved the wind mill tour!)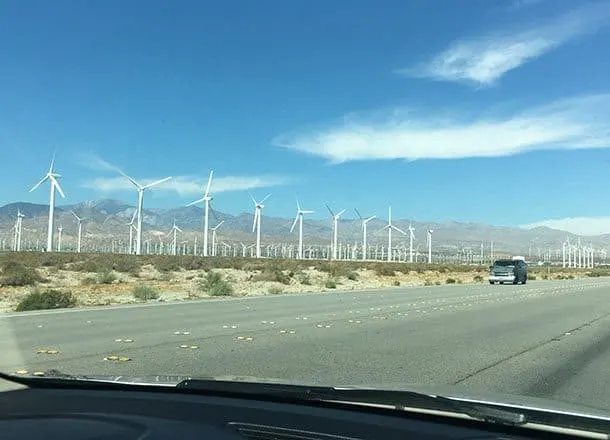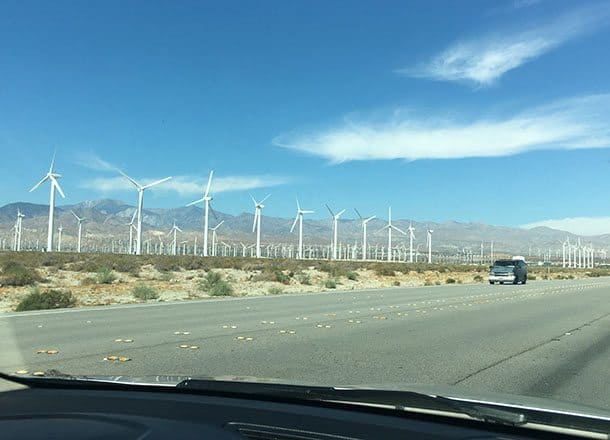 Check out my post for 9 things to do in Palm Springs to round out your list.
10. Laguna Beach
Drive time: LA to Laguna Beach under one hour
Laguna Beach is a beachside city in southern Orange County. It is about 72 miles south of Los Angeles.
Laguna is a beautiful coastal destination with several sandy shorelines, exquisite restaurants, and captivating art galleries. The perfect getaway spot for your day trip from Los Angeles!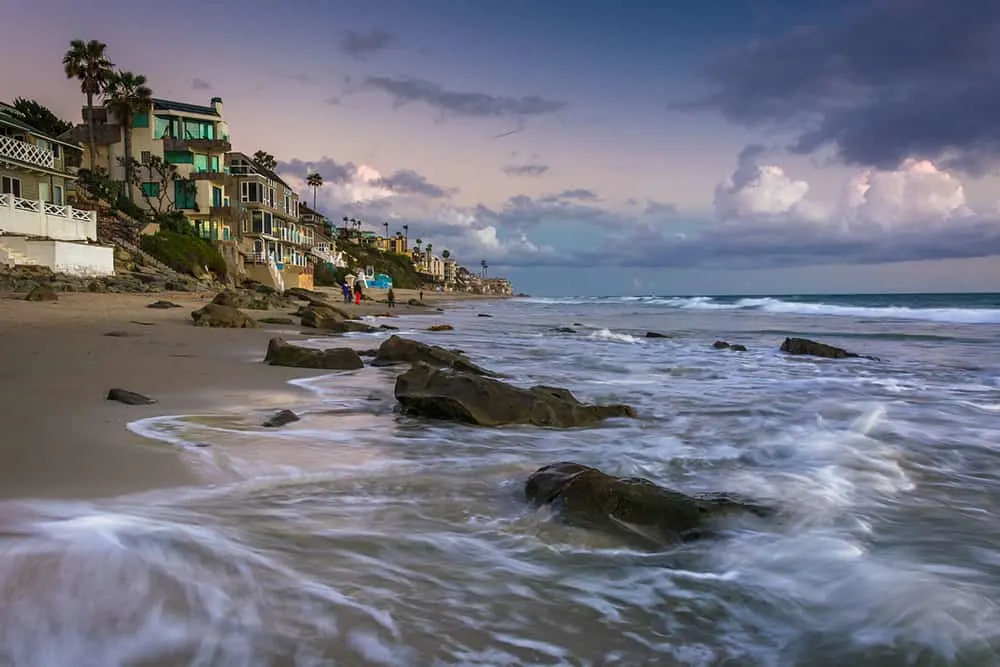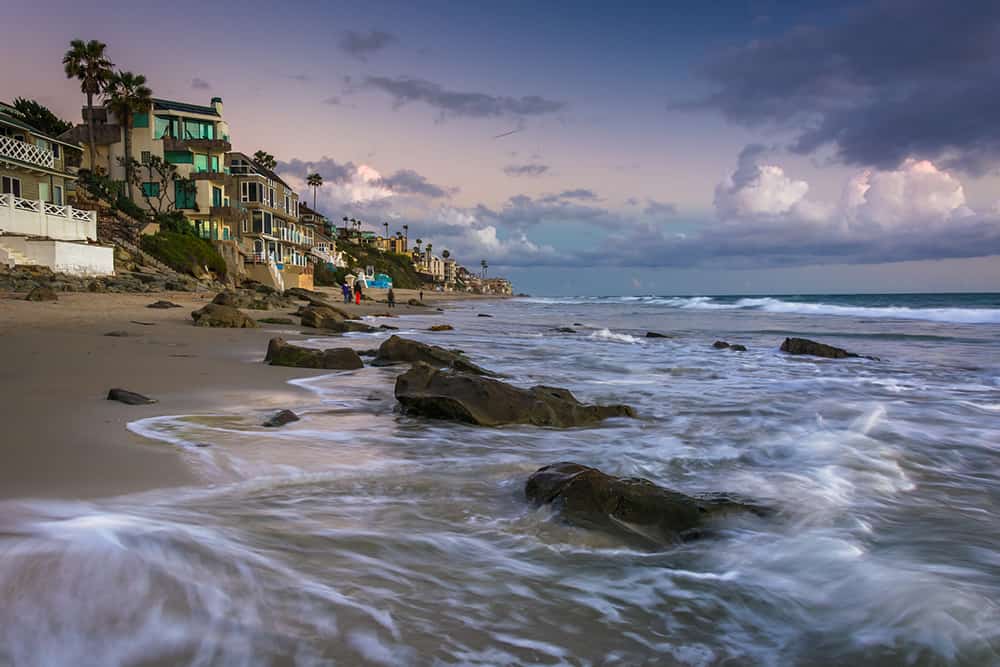 This resort city offers many recreational sports and tourist attractions such as the Laguna Art Gallery, the Pacific Marine Mammal Center, and an Art Museum. You can also go on a self-guided public art tour or ride a beach trolley.
One of the most popular tourist attractions here is Crystal Cove State Park, famous for its natural coastline. Make your way to Heisler Park, which stretches along the coast and offers mesmerizing ocean views.
For Laguna hiking trails you should visit Crescent Bay Point Park. It is a well-maintained park that has fantastic hiking trails with breathtaking views.
11. Huntington Beach
Drive time: LA to Huntington Beach 45 minutes
Surf City USA is in Orange County in Southern California. It is about 35 miles south of LA, with a beach edged in palm trees, world class surfing, a lovely pier and captivating sunsets. Huntington Beach shouts beach vibes!
I've stayed here twice and wrote about 2 days in Huntington Beach. I really like it. It has a beautiful beach, some fun shopping and a few lovely bars and restaurants to keep you happy.
SouthSide and NorthSide Huntington Beach Pier are some of the most famous surf spots of all time.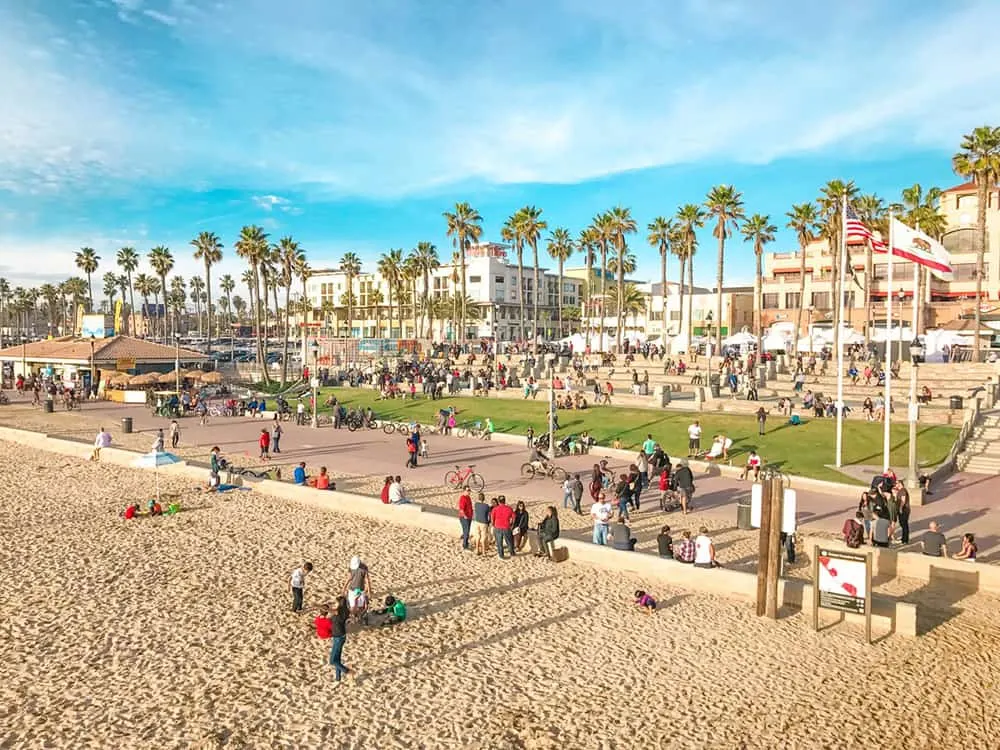 For a change of scenery, visit Huntington Central Park to enjoy a picnic in about 350 acres of lush greenery with various fishing spots. You can also explore some of the best biking trails here.
A trip to Huntington Beach would be incomplete without visiting the Huntington Beach International Surfing Museum. Here, you'll explore surfing artifacts, including the world's most giant surfboard.
The Huntington Beach dining scene is also really great. Try Dukes, Sandy's Beach Shack, Sushi on Fire, get a burger from 25 Degrees or dine at my favourite: Pacific Hideaway on the 2nd floor of the Shorebreak Hotel.
My favorite Huntington Beach hotel is the Kimpton Shorebreak Hotel. I've stayed here twice. It's in the heart of the action, has a great bar and is pet friendly. It even has fire pits for smores fixings in your room!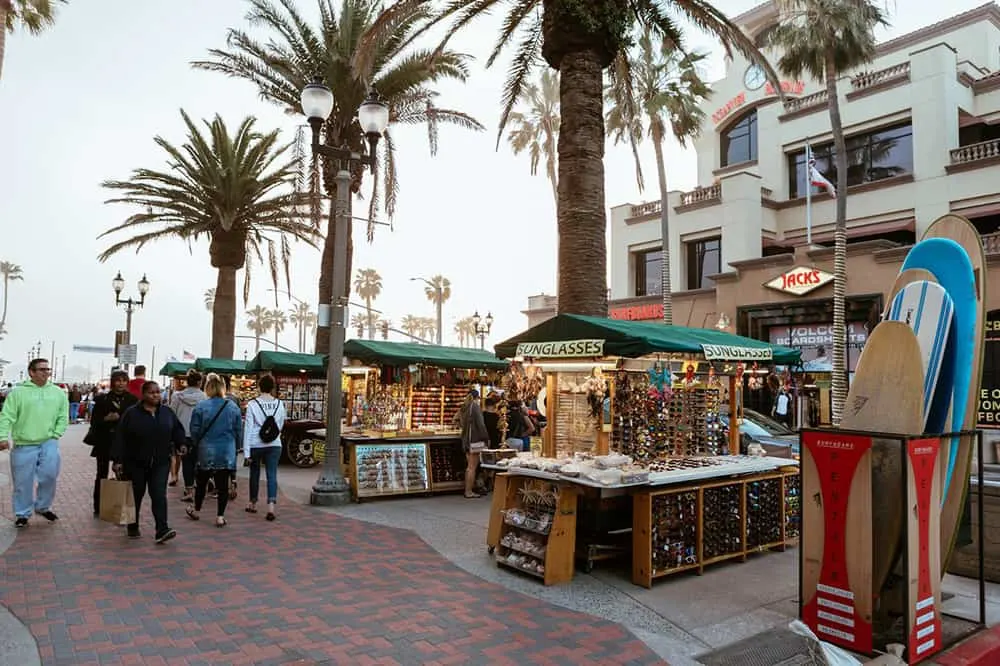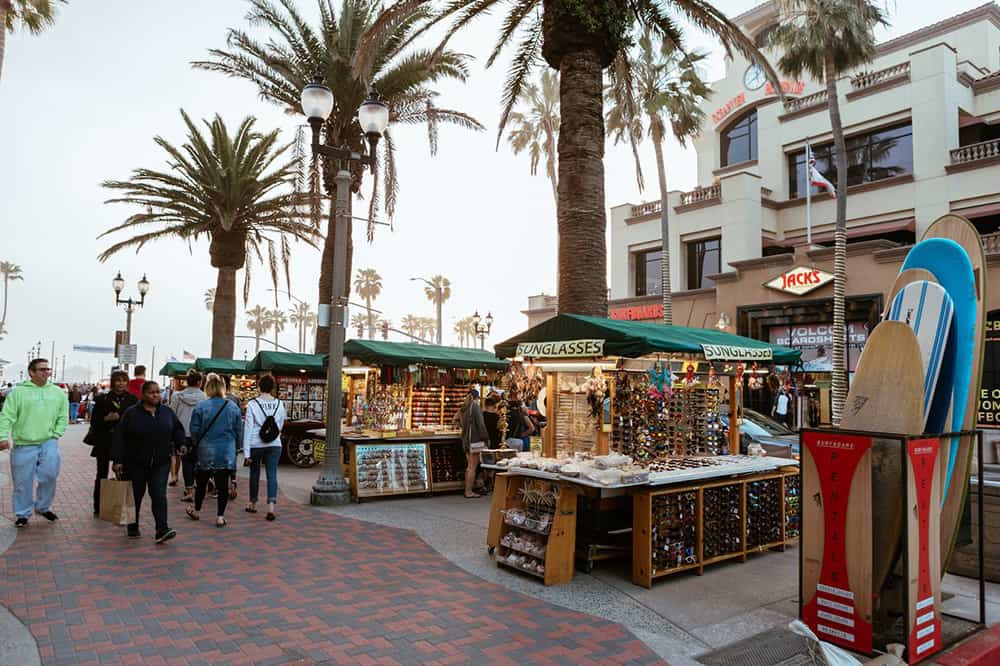 Drive time: LA to Pasadena about 20 minutes.
Located about 12 miles from Los Angeles, the short drive to Pasadena is a great place if you don't have a lot of time. It's also home to the stunning Huntington Botanical Gardens, Library and Art Museum – three-for-one in one place. Honestly you could spend all day just here!
Discover culture and curiosity is the Pasadena tagline, nestled at the base of the San Gabriel mountains. You'll also find great examples of historic architecture and national landmarks including the Rose Bowl (which is worth coming to for the flea markets, if not a game!)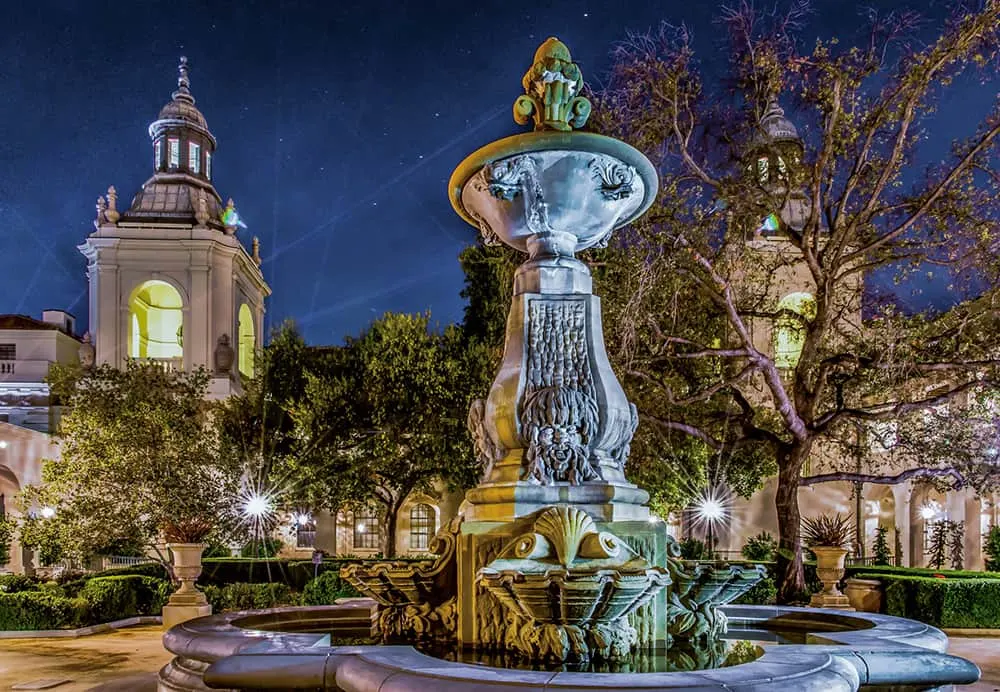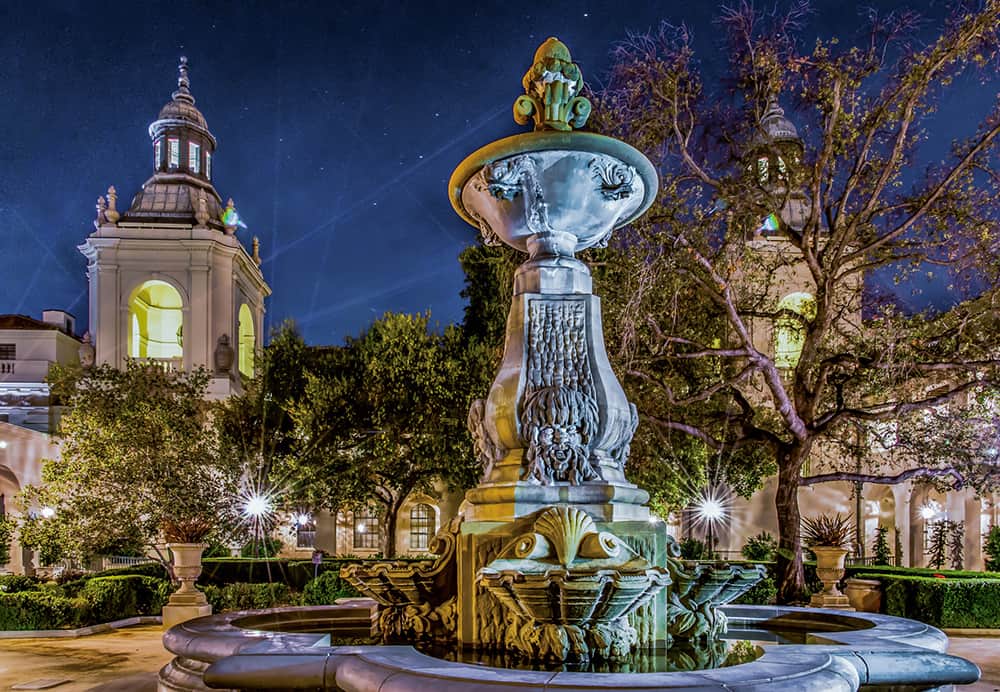 Take a tour of The Gamble House, the epitome of craftsman-style architecture. It is considered the best historic home museum in LA. Visit The Norton Simon Museum, considered one of the best art museums in LA. They have an Unseen Picasso exhibition coming up. Visit The USC Pacific Asia Museum, the Pasadena History Museum and if you're staying over, see a performance at the Pasadena Playhouse.
A great fun thing for history and architecture buffs is to take the Old Pasadena Walking Tour. It is a monthly historical and architectural tour of Old Pasadena, and the perfect way to explore the city. If you have kids with you, take them to the Southern California Children's Museum for some play-based learning as they explore their creative sides!
For your shopping fix head to One Colorado, foodies will love dining out at the many local restaurants (with a summer sangria. I first came upon a white wine sangria here many years ago and have loved them ever since!).
13. Balboa Island
Drive time: LA to Balboa Island under an hour.
Balboa Island is 47 miles away from LA in Newport Beach, California. You can visit Balboa Island over a bridge, ferry, and public docks.
There are plenty of things to do on Balboa island such as exploring piers, whale watching or wine tasting. The Balboa Fun Zone was the most well-known Newport Beach attraction where the whole family could enjoy rides and play arcade games. It closed years ago and is currently under construction by new owners, so watch this space!
Balboa Island also has many chic restaurants, so don't miss out on the top-notch culinary choices.
And a must-do is visit Marine Avenue, home to coastal shops for beach fashions and trends, beautiful delicate jewelry, and pick up some souvenirs!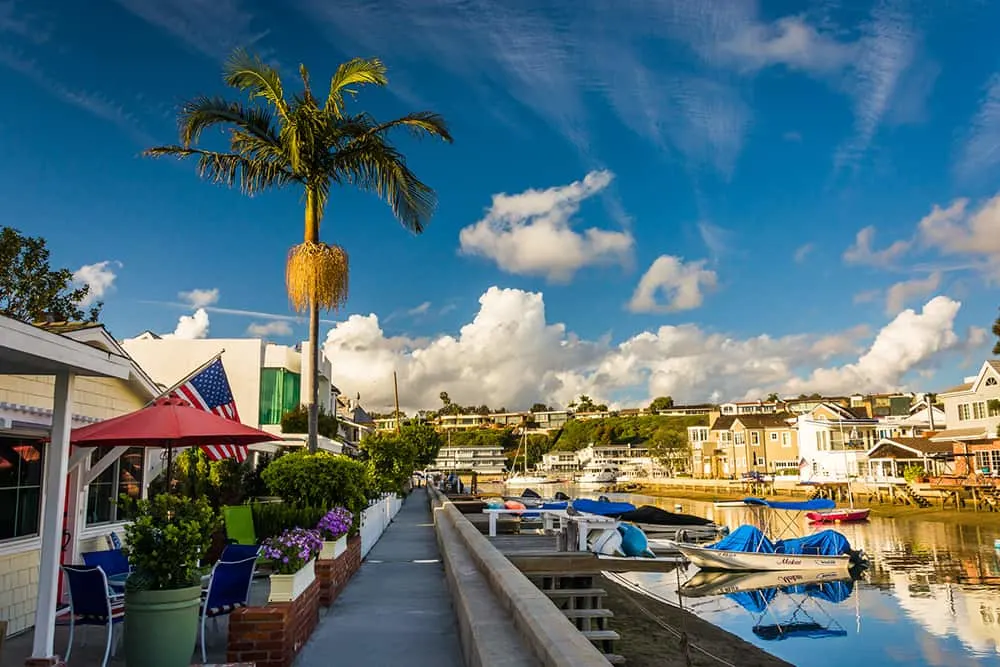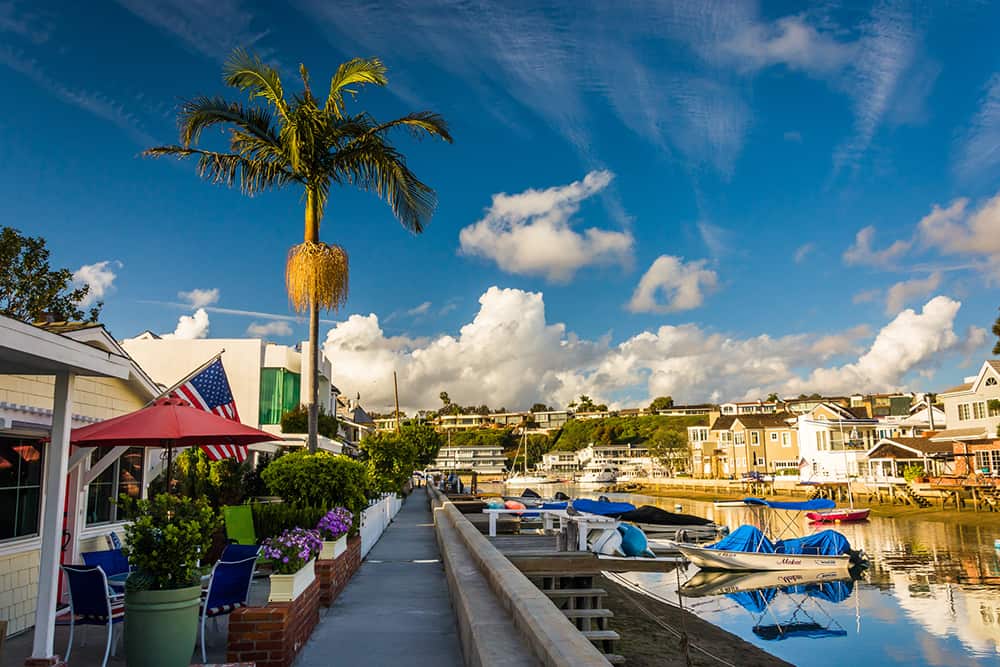 This post has been put together in collaboration with Kyle Kroeger, travel blogger at ViaTravelers.com.
Need a car rental?
I like websites that show me all the deals in one place, and that's what Discover Cars does. Just input your pick up and drop off locations and dates, and voila, up will come all your choices across all the major companies as well as some local businesses.
Day trips within LA!
If you don't have a car, or don't want to venture out of Los Angeles but are looking for other ways to spend the day, you take a skip-the-line Warner Bros Studio Tour which will take about 3 hours. Tour behind the scenes and hang out at Central Perk Cafe from Friends and sit on Sheldon's couch from the Big Bang Theory.
Another fun guided tour is the Hollywood homes tour in an open-air coach through Beverly Hills and past fancy houses. Keep your eyes peeled for celebs!
I have also put this post together with the help of several other travel bloggers to come up with these fabulously cool things to do in LA – some you may not have even thought of.
You could easily spend a whole day just checking out the sights, hiking in the hills and posing for selfies with celebrities in Hollywood! I wrote 24 awesome things to do in Hollywood here >>
If you want more than a day trip, you might love my 5-day road trip from Los Angeles to San Francisco!